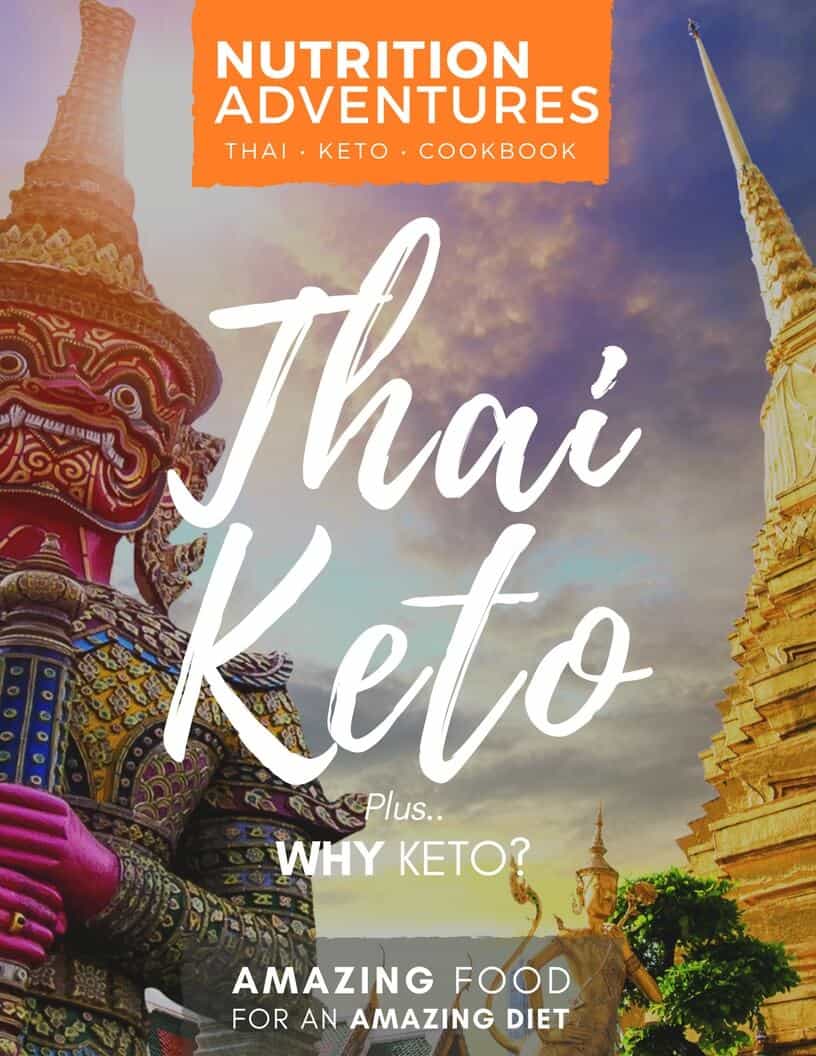 This Thai Keto Shopping List will give you everything you need in order to cook authentic Thai Food at home.
Thanks to Amazon.com, and because Thai food is super popular in the states, almost all the ingredients are really easy to find.
If you can't find an ingredient at your local Asian market or the grocery store, then you can probably find it online.. even fresh kafir leaves!
Here's the main Thai Keto shopping list in no particular order.
Master Thai Keto Shopping List
I will be updating the Master Thai Keto Shopping list.
Next, ingredients listed according to their recipe.
Some recipes are only available within our soon to be released, Thai Keto Cookbook.
Thai Keto Shopping List (according to recipe):
Hinlay Curry (Hung-Lei Moo)
Masala Powder
Pork Belly
Hinlay (Masala) Powder
Thai Red Chili Paste
Organic Palm Sugar
Stevia Leaves (if not using palm sugar)
Galangal (fresh or dried)
Organic Coconut Oil
Bragg Coconut Aminos
Pickled Garlic Cloves
Oyster Sauce
Fresh Tamarind Fruit (paste works too)
Black Soy Sauce
Keto Green Curry Chicken (Gaeng Khia Wan Gai):
Chicken quarter
Small round eggplant (not optional)
Tiny round eggplant (the ones that look like green lemonheads)
Red pepper
Sweet basil (not optional)
Kefir lime leaves (not optional)
Coconut oil
Stevia Tea
Bone Broth:
Pork Rib Slide Bones
Pork Soup Bones
Chicken Wing and Thigh Bones
White Onion
Coriander Root
Galangal
Cinnamon Sticks
Clove
Peppercorn
Spice Mix (dried galangal, cinnamon sticks, clove, peppercorn)
Lemongrass Stalks
Himalayan Salt
Tom Yum Goong:
Shrimp
Limes
Shallots
Chilis
Fish sauce
Roma tomatoes
Straw mushrooms
Coriander
Culantro
Pad Krapow Moo:
Pork
Coconut Oil (for stir frying)
Shallots
Dried chili peppers
Holy Basil
Garlic
Ginger
Fish sauce
Oyster sauce (or mushroom sauce alternative)
Black soy sauce (optional)
Pork Liver Larb (laab):
Pork Liver
Limes
Culantro
Cilantro
Green Onion
Shallots
Organic Palm Sugar (optional)
Stevia Leaves (if not using sugar)
Rice Powder (or ground sesame)
Ground Sesame (for lowest carb)
Dry Red Chili Flakes
Fish Sauce
Raw Oyster:
Oyster
Large Avocado
Himalayan or Sea Salt
Fish Sauce
Lime Juice
Culantro (or cilantro if can't find)
Shallots
Coriander
Chili Flakes
Garlic (fresh)
Eggs and Cucumber with Chayote: 
Duck eggs
Chicken eggs
Cucumber
Chayote
Garlic Cloves
Flaxseed
Coconut oil
Black pepper
Himalayan Salt
Golden Tamarind Turmeric Chicken:
Chicken Quarter (thigh with drumstick):
Lemongrass
Turmeric
Black Pepper
Sauce:
Tamarind flesh (de-seed it) mashed in water
Red chili flakes
Shallots
Rice Powder (or Sesame Seed Powder)
Organic Palm Sugar
Stevia Water
I will update this page with more Thai Keto recipes.