Thai Crab Curry Recipe is a perfect way to enjoy a tasty, creamy red curry with home-cooked crab.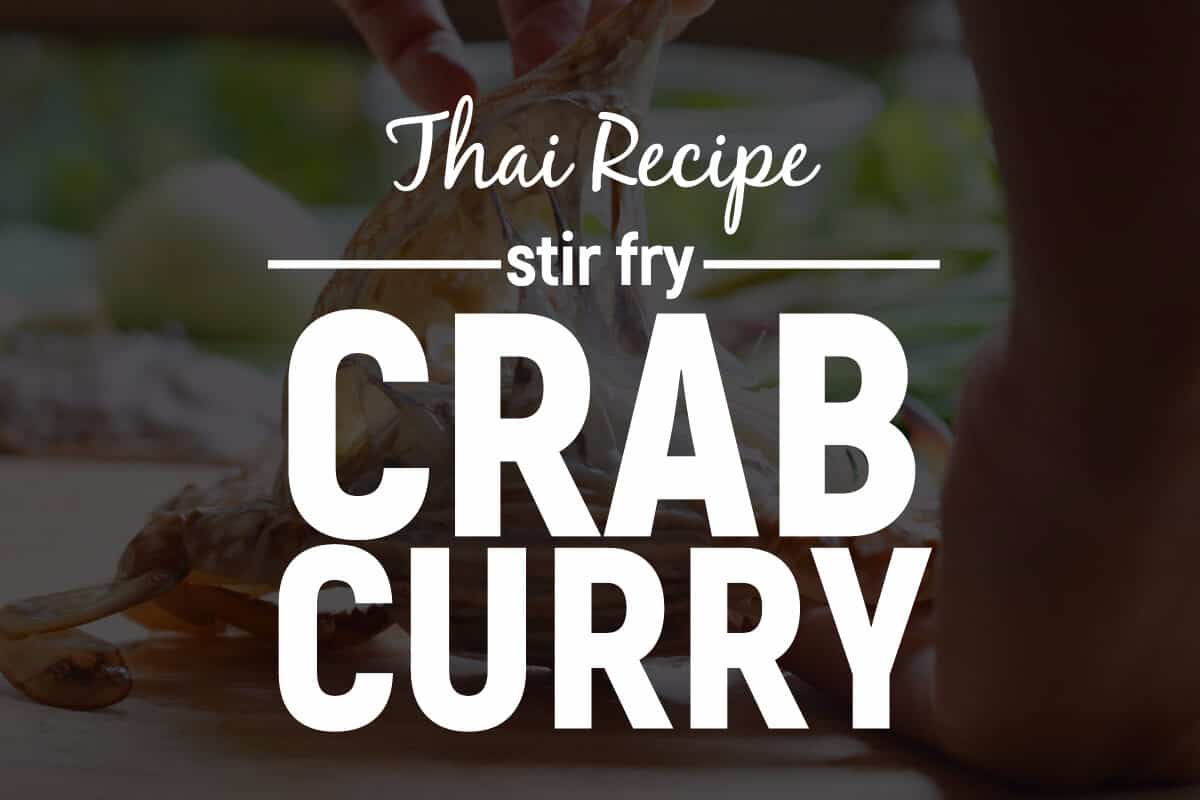 The creamy curry added to the garlic crab makes for an exciting recipe that is full of flavor. Larger crabs are better for this Thai Crab curry recipe, but it can be made with any size crab. We used smaller crabs for this one because they were just local caught crabs and all we had at the time. The bigger the crab, the easier to cook and easier to eat as well.
On a scale of 1 to 10, the Thai Crab Curry is a 10 in taste. The creamy curry curry makes any extra efforts cracking open the crab legs to eat it fully worth it. 
---
Crab Curry Recipe Ingredients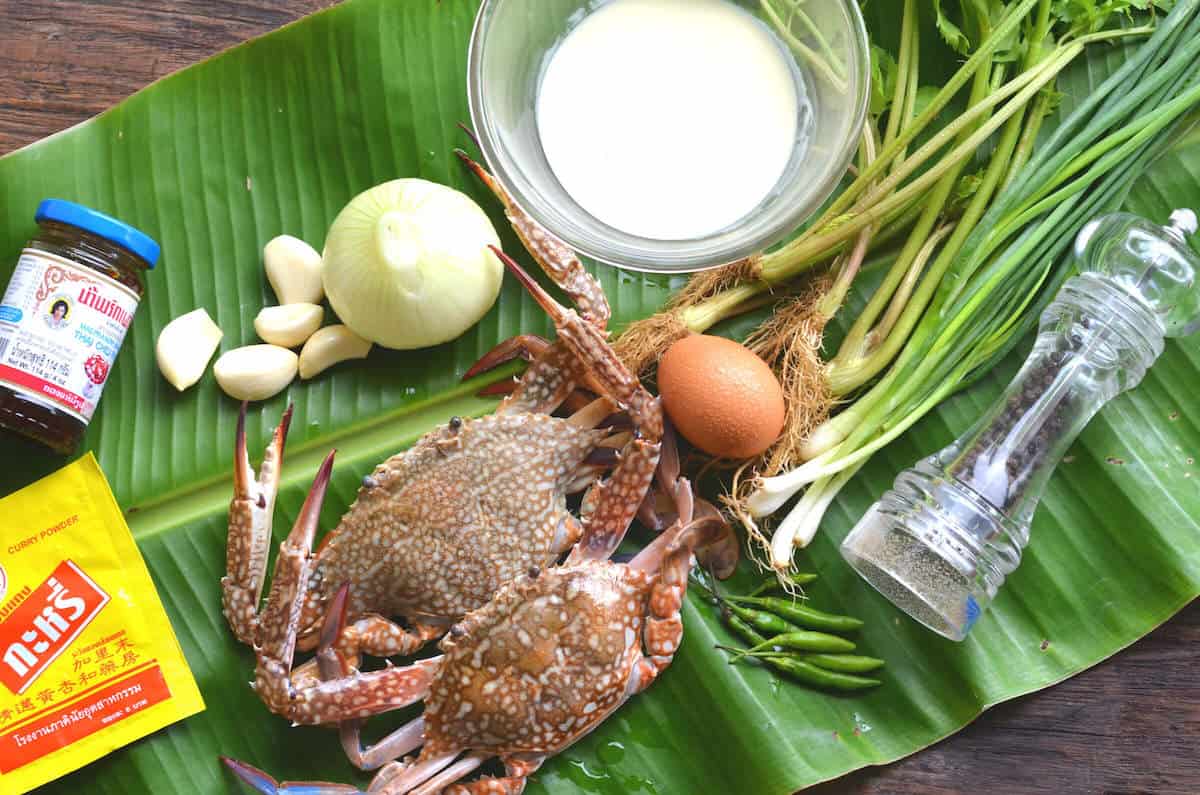 Here are all the ingredients laid out. The only thing not pictured is the coconut oil and the fish sauce.
Fresh Crab

Fresh Garlic

2 Eggs

White Onion

Spring Onion

Green Chilis

Thai Parsley

Thai Chili Paste (red)
Coconut Oil (use one with no flavor preferably!)

Heavy Cream
---
Step 1. Ingredient prep
Because there are so many ingredients with this one, even though it's easy to make, it can get difficult if you're disorganized. It's no fun needing an ingredient at an exact time and having to ruin your cooking flow because you don't have your ingredients prepared. That is why I like to prep my ingredients first always. That's step 1.
---
Step 2. De-shell and cut
Before cutting the crab, you need to take off its shell. The crab you see us de-shell in this image is a female crab. You can tell by the big flap. Female crabs have eggs inside, which makes them that much more nutritious.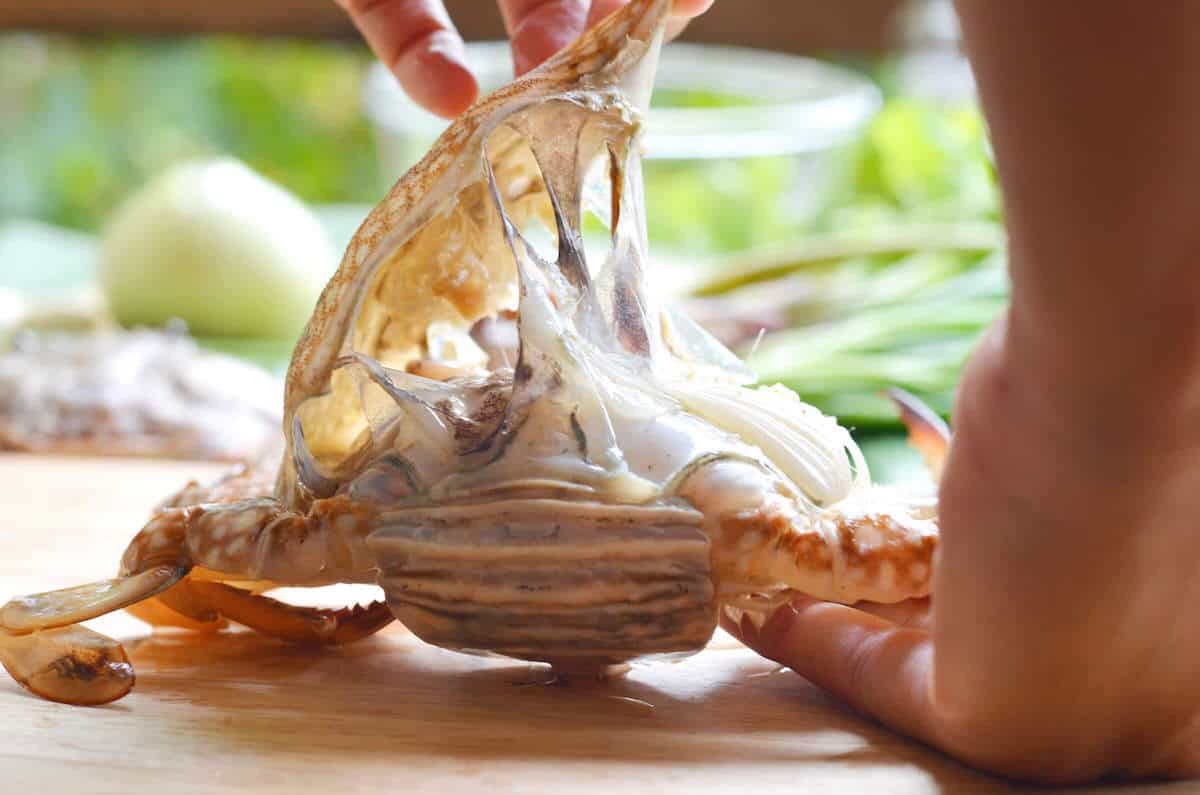 After you take off its shell, pull off the legs and crush them with something heavy.
We use the pestle from our mortar and pestle.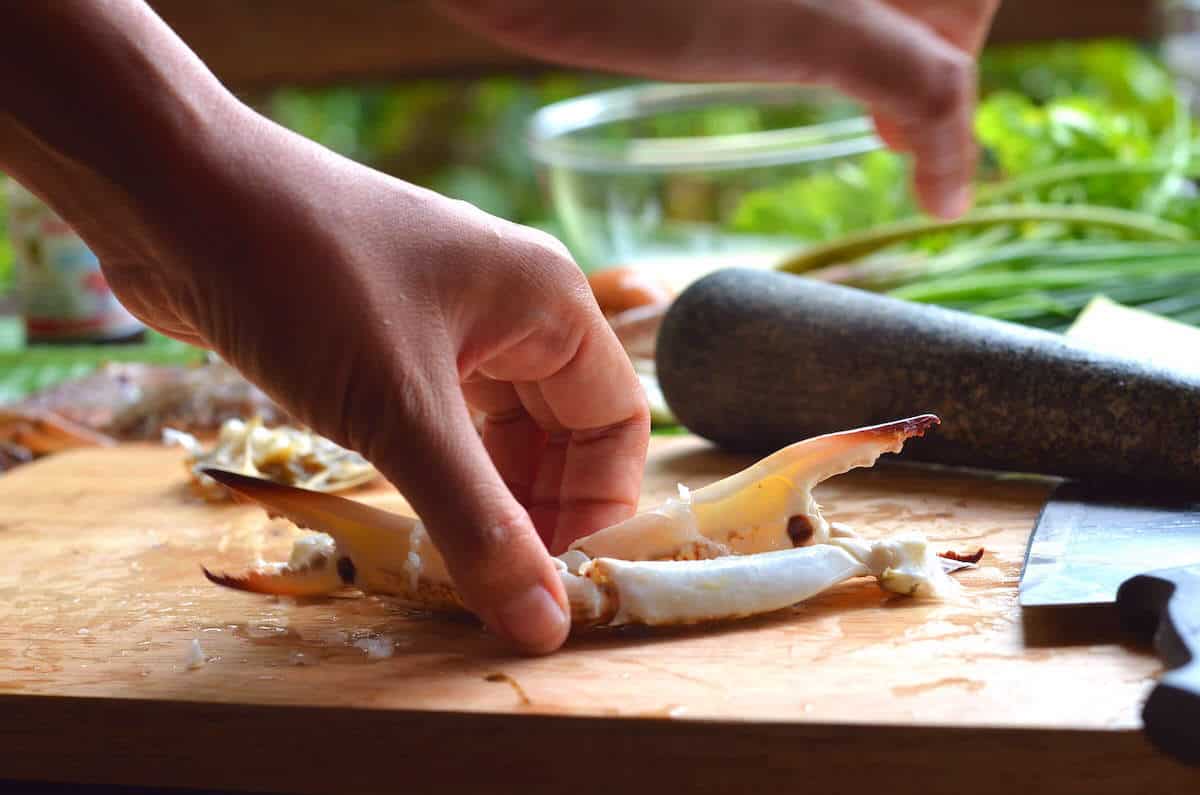 Then cut the crab in half. And in half again. 
This will give you 4 pieces or blocks of crab. You should have the legs there with their out shell crushed a bit.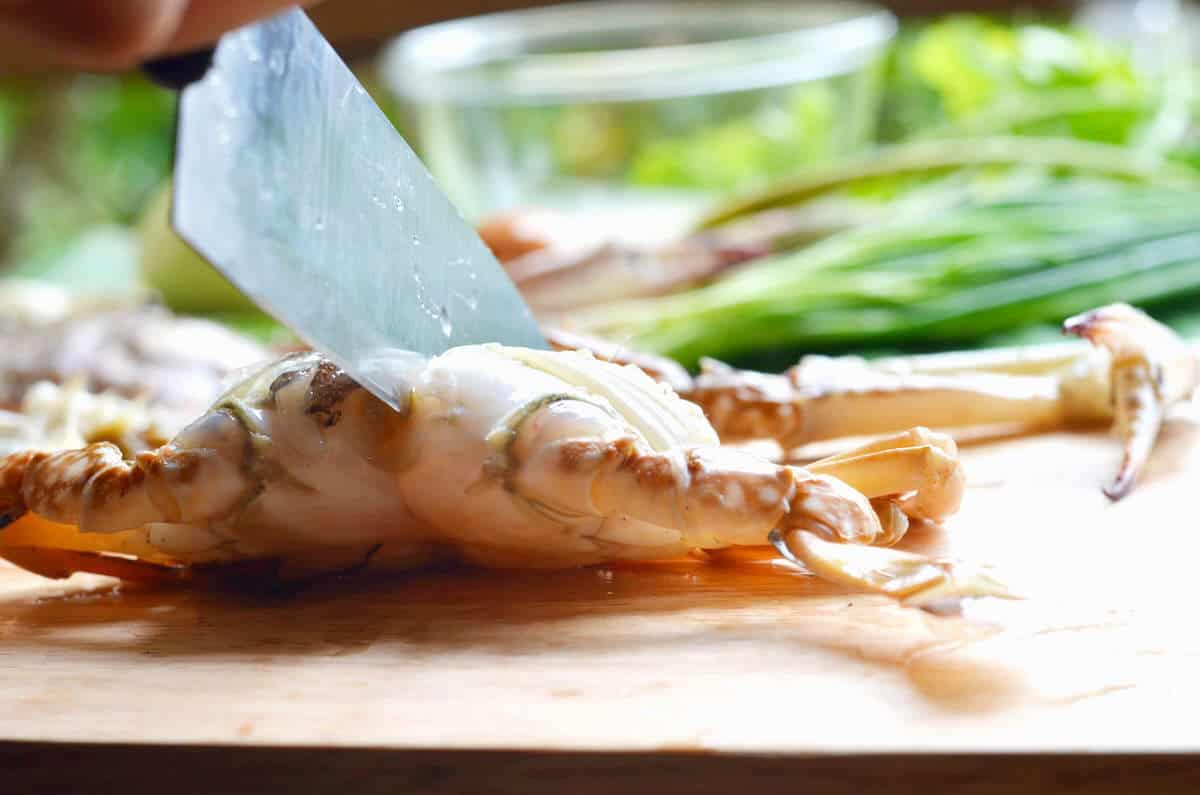 You'll put everything into the stir fry, including the crab's outer shell pieces.
---
Step 3. Chop the garlic, white onion, and chilis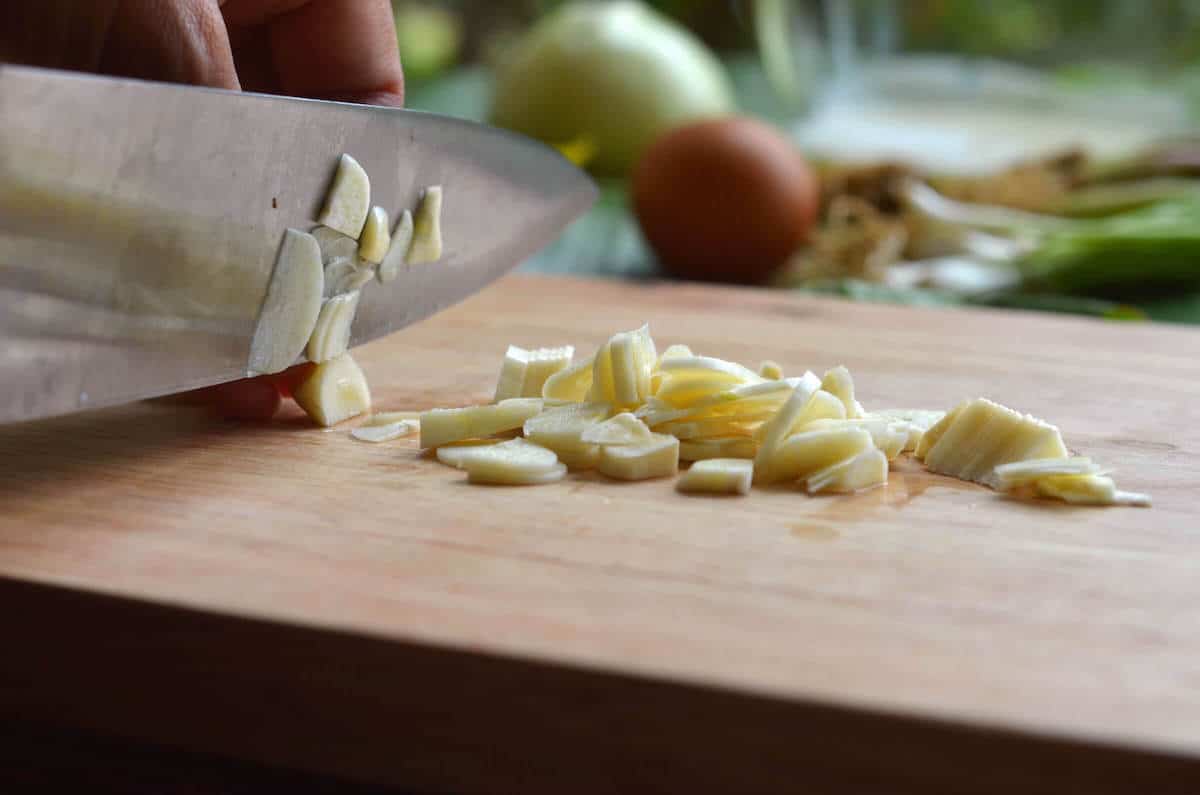 The smaller the slices of garlic, the more flavor you bring out for the next step…
Slice these up after cutting up the crab, and then get some coconut oil heating in your saute pan. Once the coconut oil is heated, put in the garlic first. Then after a couple minutes, put in the sliced chilis.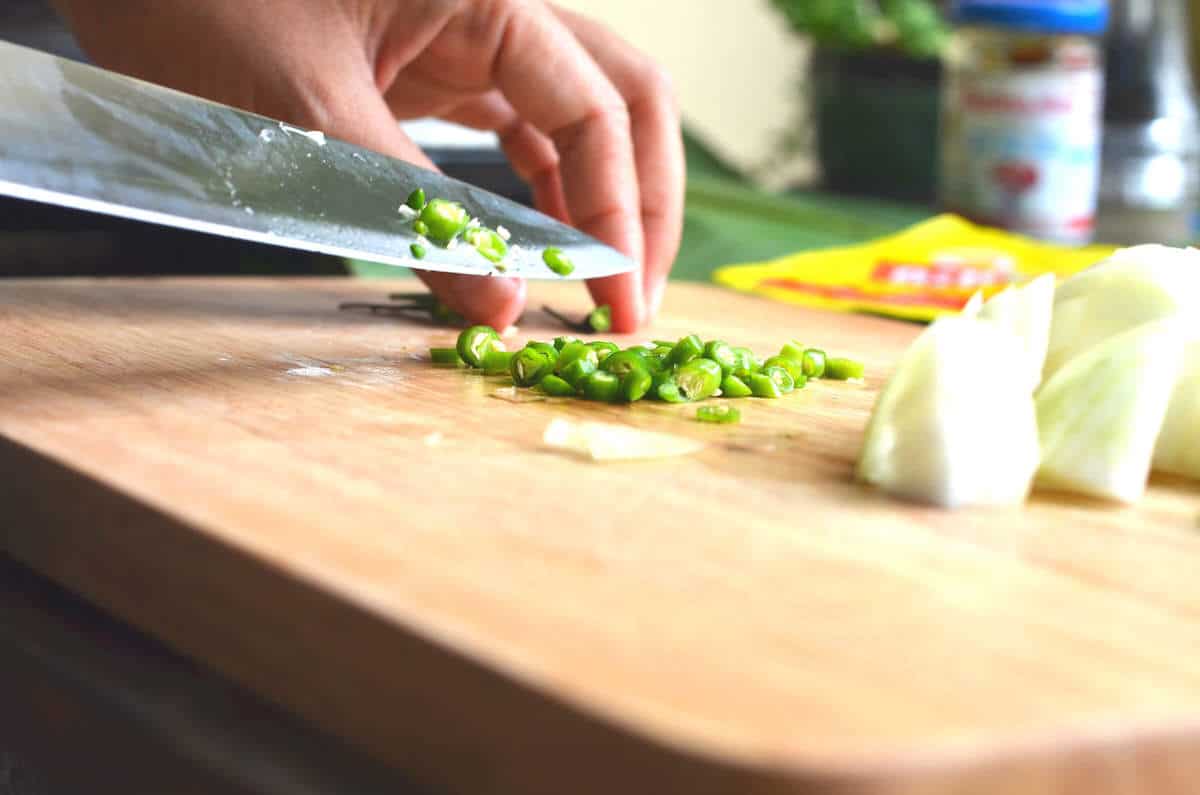 So you should at the point have some very delicious and almost intoxicating smells filling up your house.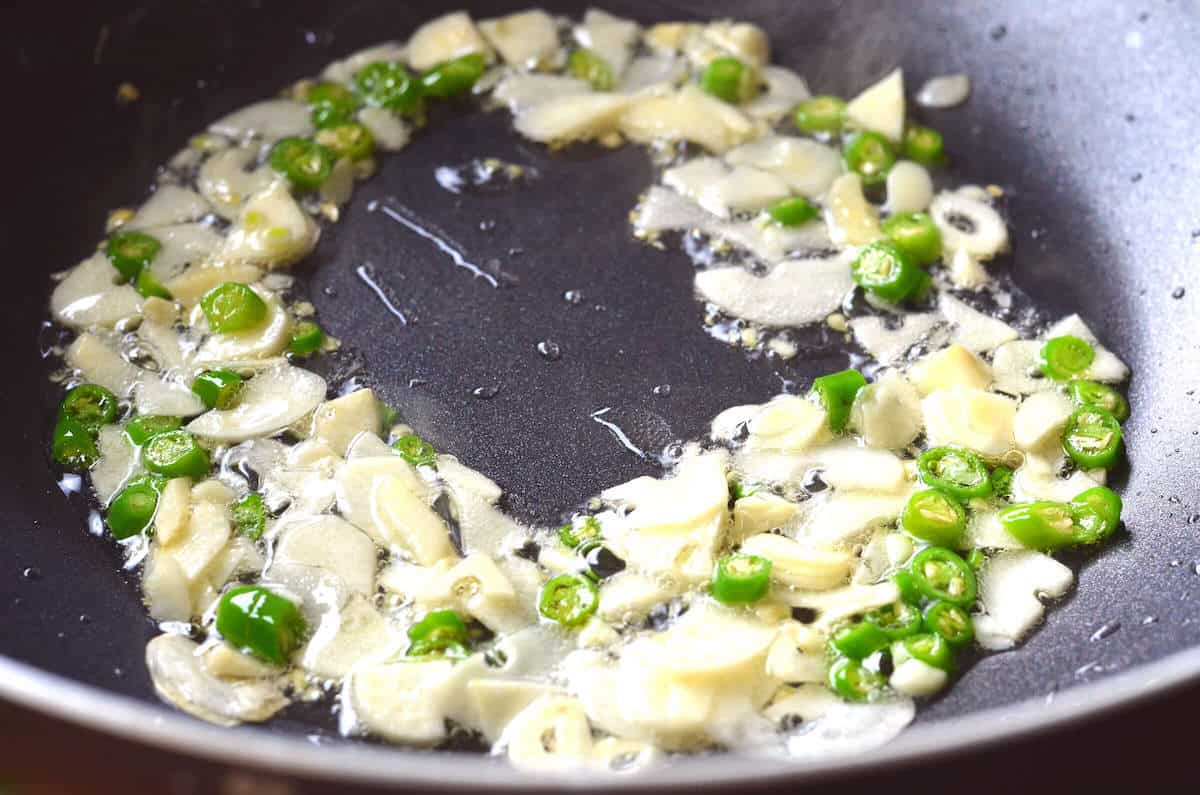 ---
Step 4. Add crab to the garlic mix
In no particular order, add in the cracked shell crab legs, the blocks of crab that you cut, and any outer shells you pulled off. It will look nice a smokey like this: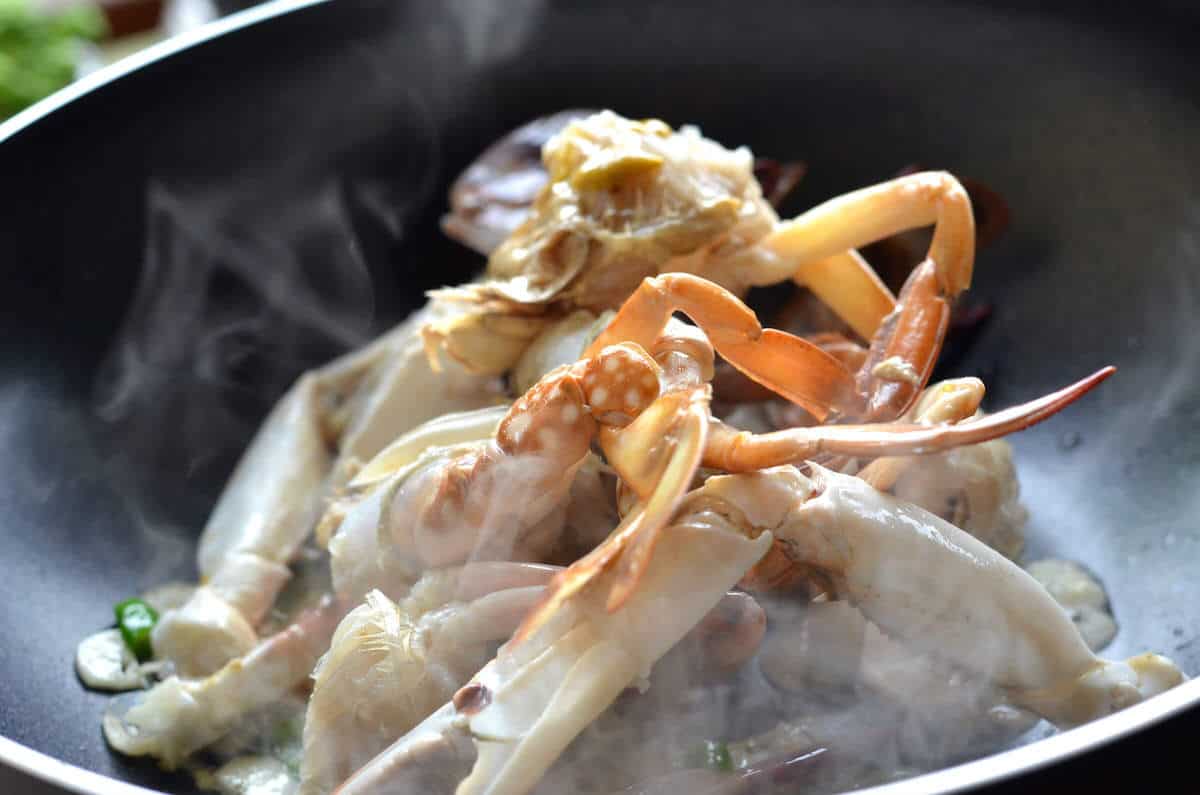 This is when you will add the curry powder.
Along with curry powder, add in crushed black pepper.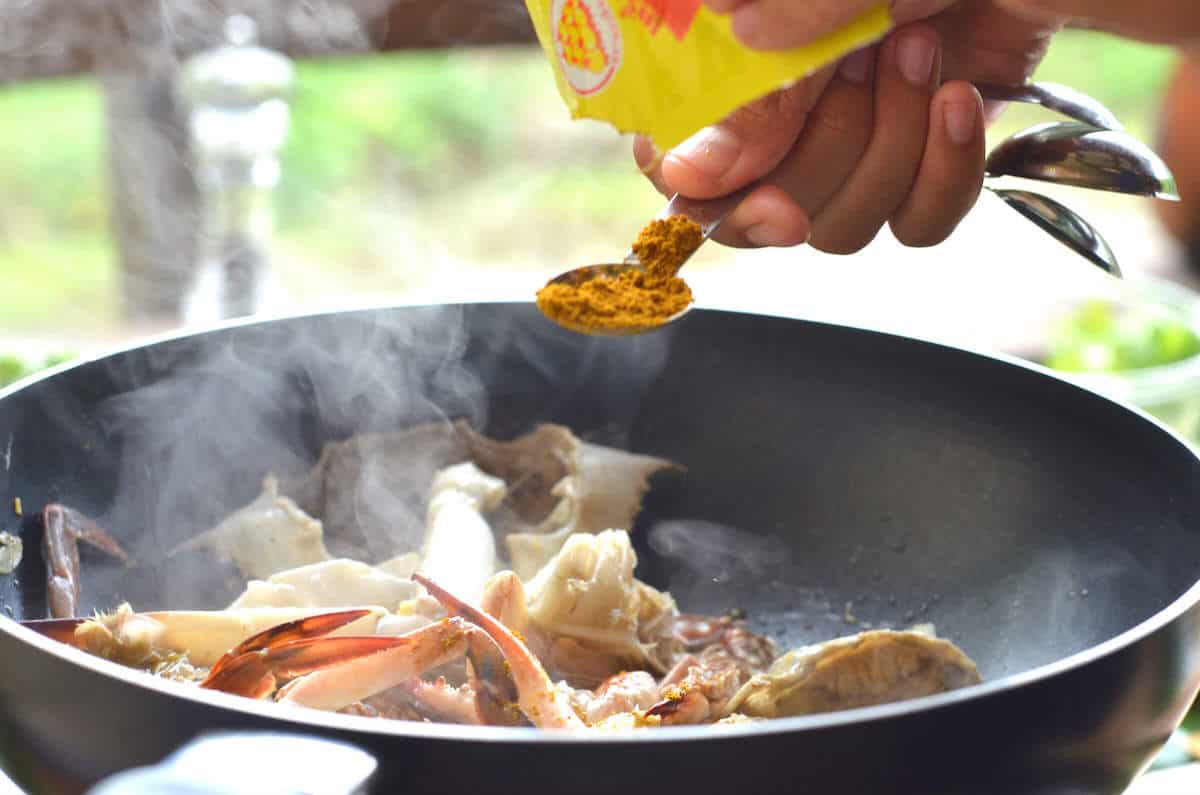 The key with curry powder is to find one with only natural ingredients. Watch out for additives. You can find good ones online. Simply Organic Red Curry Powder is a good curry powder that's certified organic. This other one, Thai Red Curry Powder, is just as good for this crab curry recipe and many other Thai recipes as well. This is the one we used for our crab curry recipe.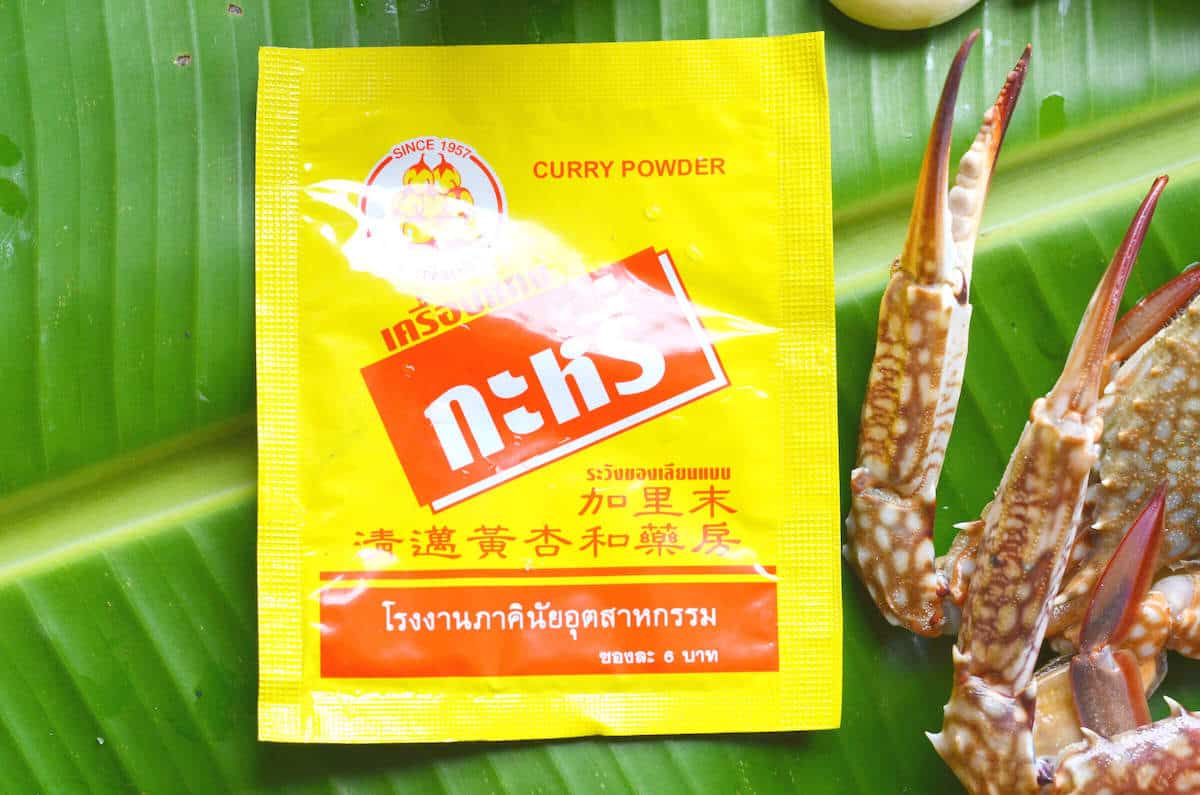 Your local Asian market or grocery store's international aisle might have a proper red curry powder.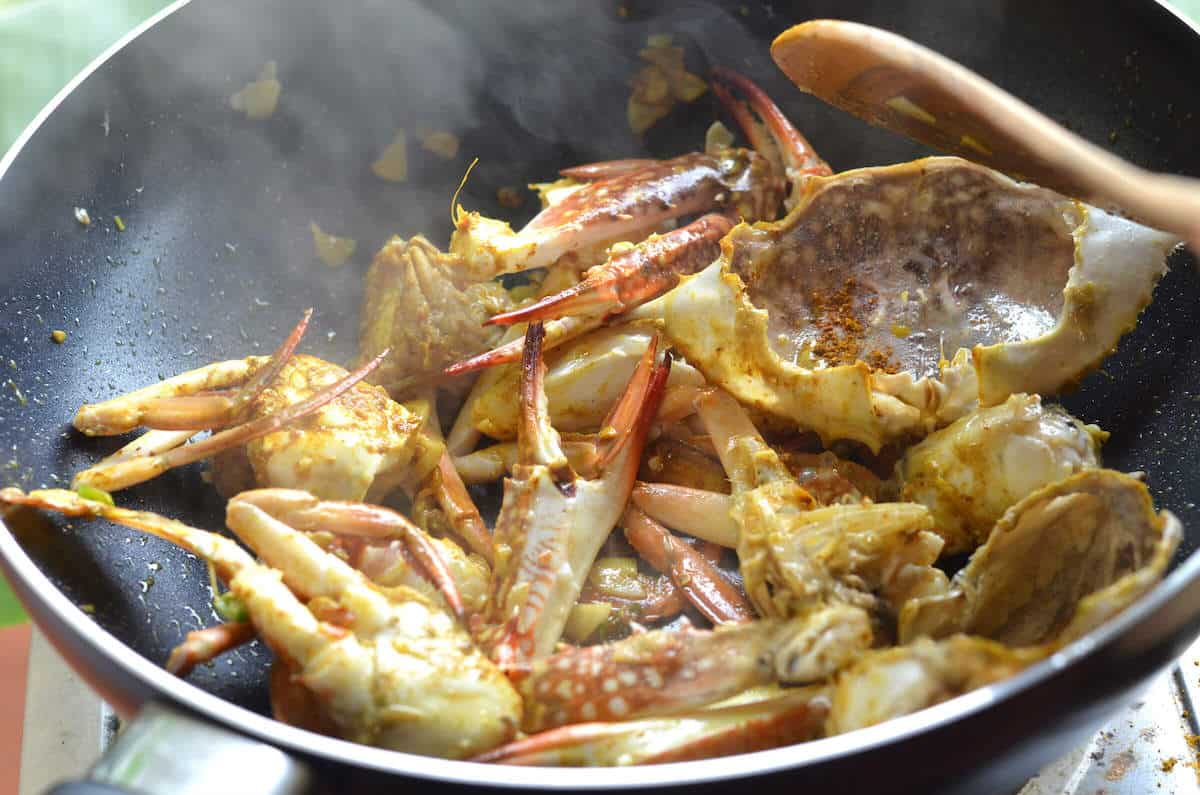 Let the flavors soak into the meat as it cooks. Stir occasionally. As you stir, add a bit of coconut oil if needed.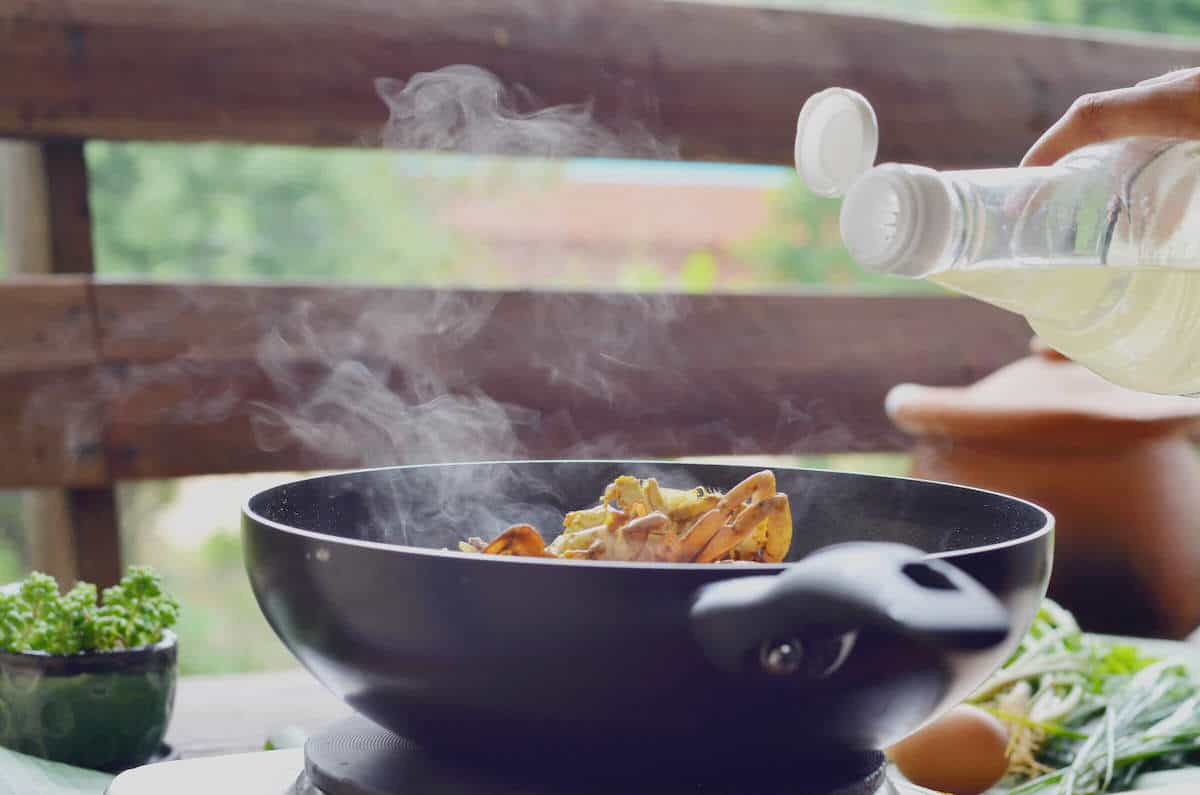 Next, the creamy curry sauce…
---
Step 5. Make Your Thai Crab Curry Stir Fry Cream Sauce
No crab curry is a real crab curry unless it has the creamy curry sauce.
These are the ingredients in the sauce:
Heavy Cream
Eggs
Red Thai Chili Paste
Fish Sauce
First, put heavy cream in a bowl and crack 2 eggs into it.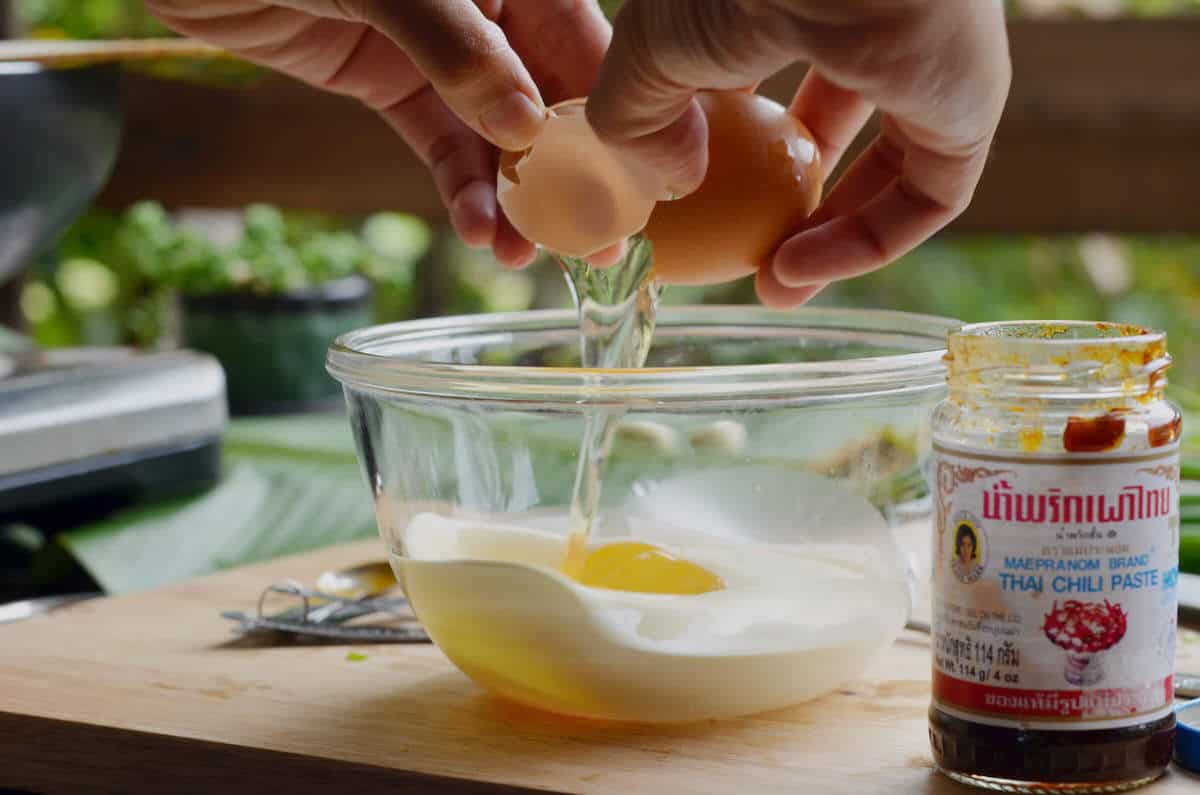 Then add red chili paste. Mae Pranom is the best red Thai chili paste brand.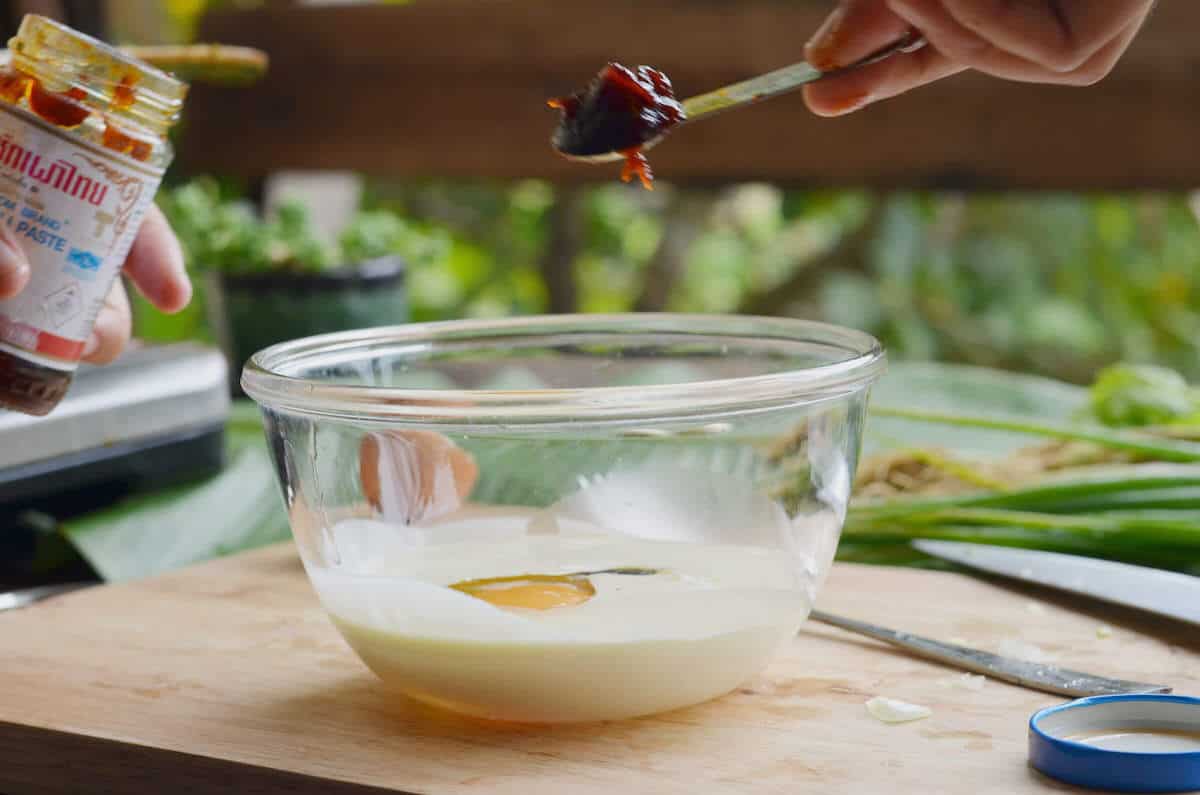 Next, add in a teaspoon or 2 of fish sauce. The best fish sauces will be made from ONLY fish (such as anchovies) and salt. Ours is 90% anchovies and 10% salt. Red Boat Premium Fish Sauce is a great fish sauce for cooking Thai food. Its ingredients are only anchovies and salt. It's gluten free and nothing else is added. Once the eggs, Thai chili paste and fish sauce are in the heavy cream, whisk it in the bowl for a minute.
The crab curry cream sauce will turn more red like this: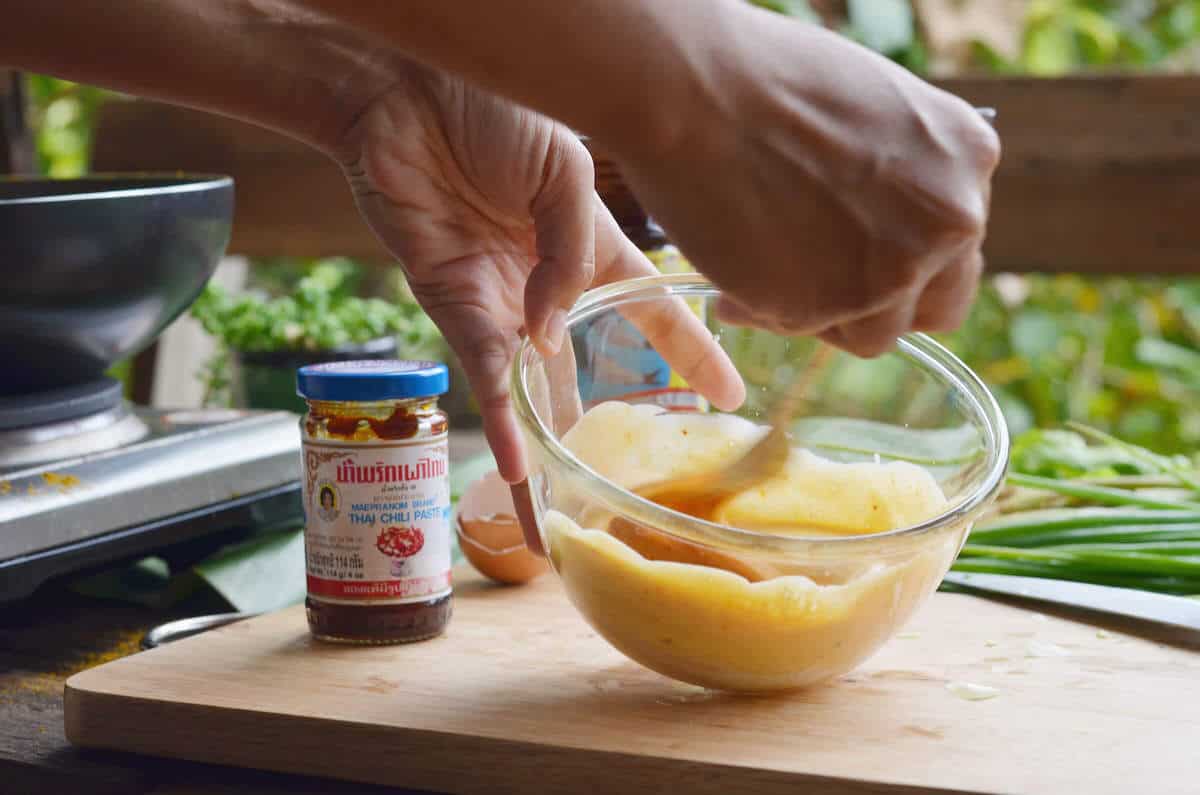 Once it turns a bit red in color,
And the eggs are nicely blended in,
Add it to your stir-fry that's cooking over low heat.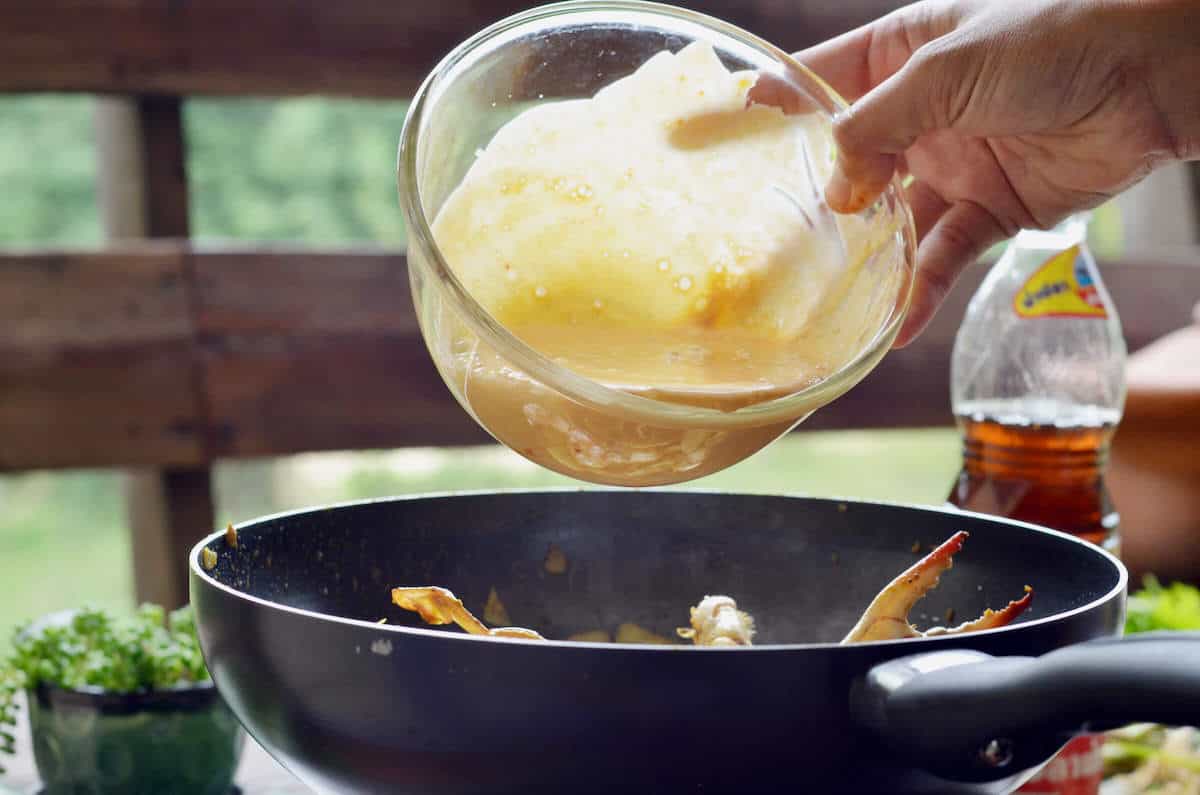 Almost finished.
It will now look like this: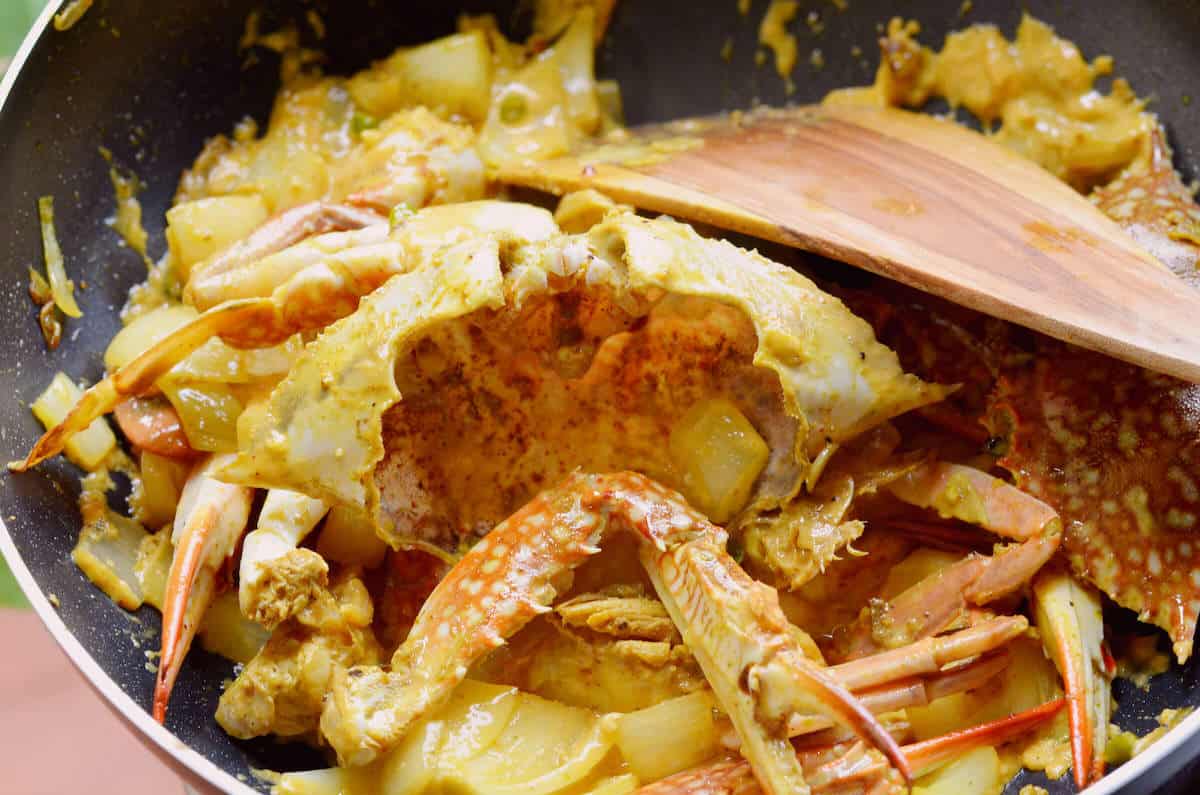 ---
Step 6. Chop the green onion and Thai parsley
Chop these two up and add them in the saucepan. You'll stir them in and then you're done.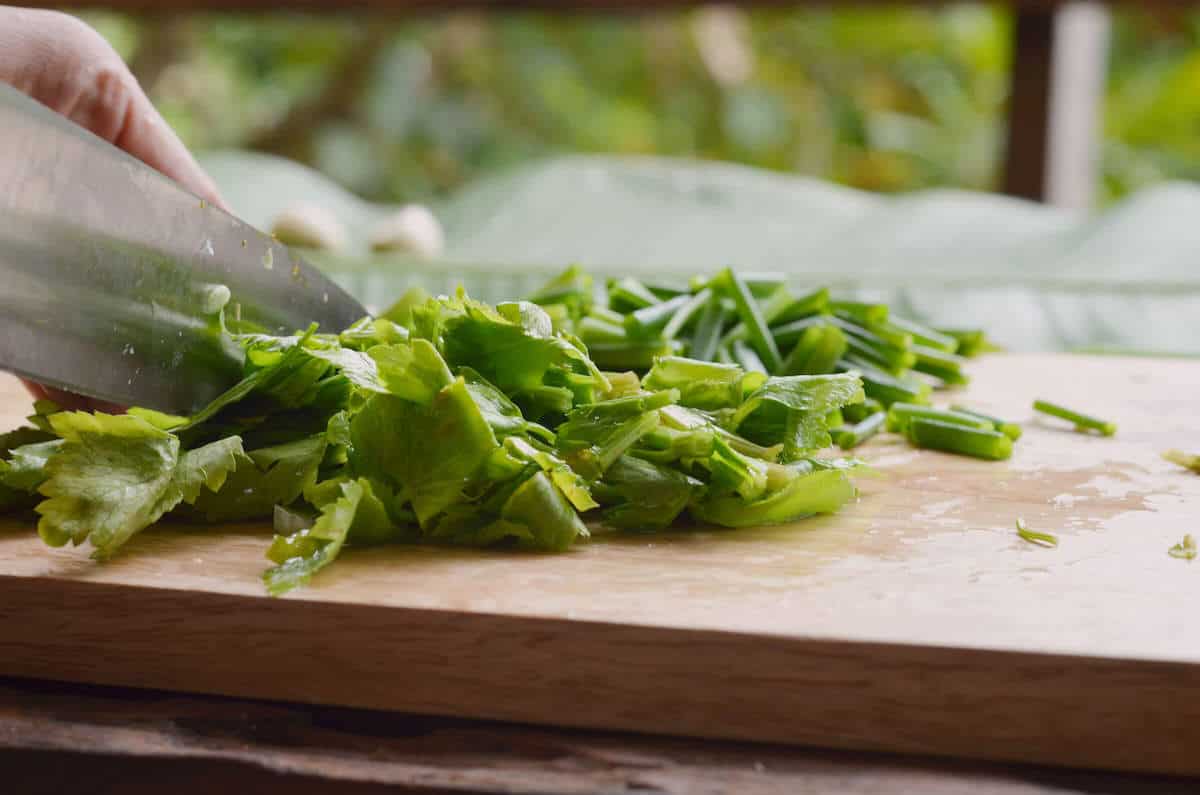 I've included many pictures so you can see the cooking process. This recipe is quite easy to make. The only hard part is the initial crab dismantling. This one, like many crab recipes, eating is harder than cooking it due to the de-shelling required. That's why the bigger the crab the better for this Thai crab curry recipe.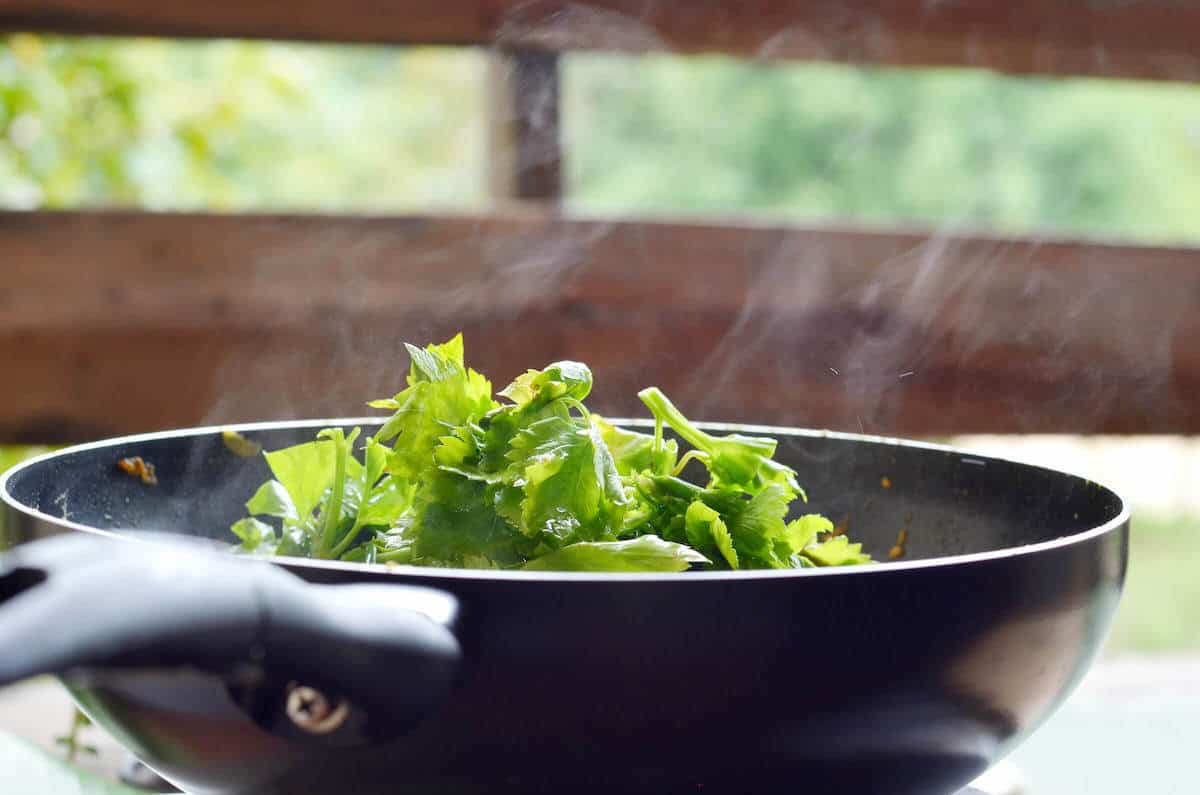 Once you toss in the spring onion and Thai parsley, you're basically done. Thai parsley is best, but you can use any parsley variety if needed.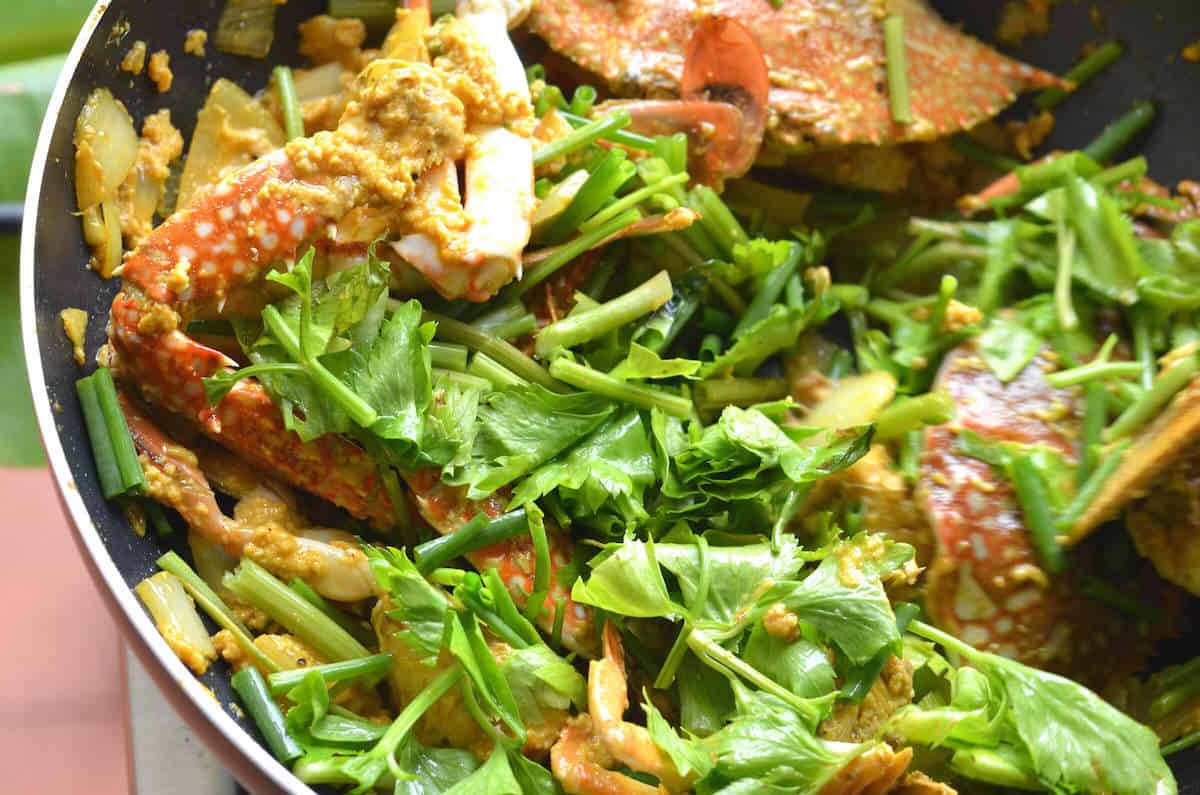 And that's it! The crab curry is now finished. This is the final result: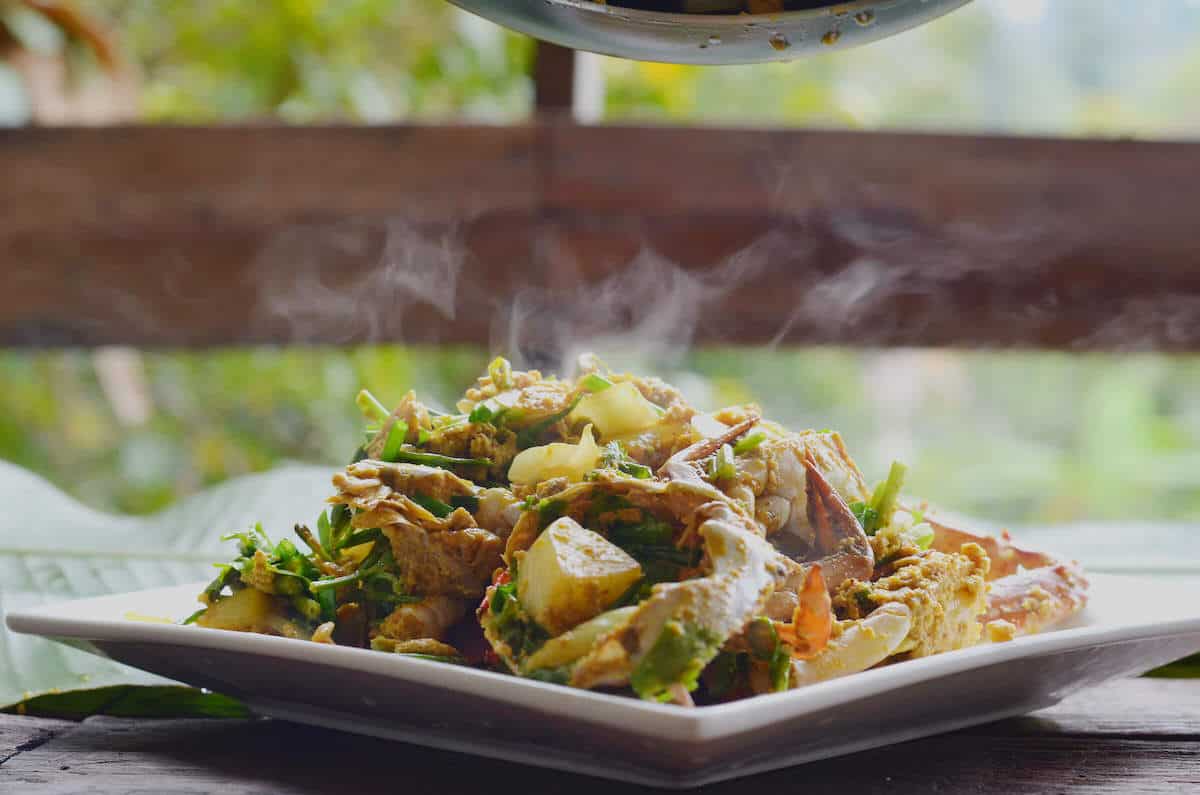 Now get some napkins or a side plate to put your shells, and dig in. We hope you enjoy the Thai Crab Curry! If you do make it, let us know how it went! Comment below or contact us via email or on social media to get in touch! We'd love to know how your crab curry went!
We hope you enjoy cooking this Thai Crab Curry Stir Fry!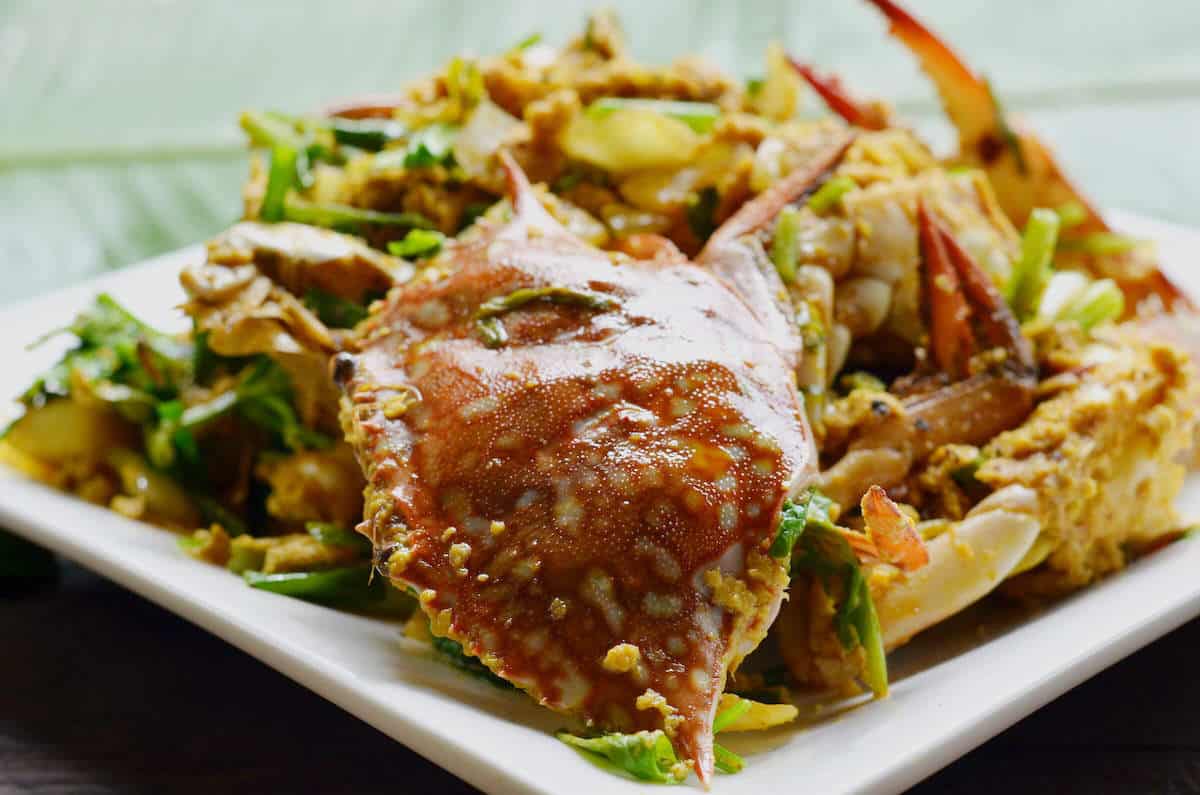 ---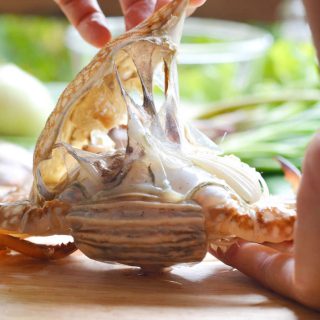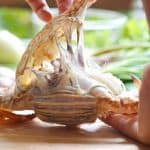 Thai Crab Curry (Bu Pad Pong Karee) Recipe Card
Thai Crab Curry is a wonderful, authentic stir-fry recipe to make. We hope you enjoy it!
Keyword:
crab curry recipe
Instructions
Gather your ingredients.

The key ingredients for this Thai crab curry are the Red Curry Powder, the Fish Sauce, the Red Thai Chili Paste (Mae Pranom brand), and the heavy cream added at the end.

Prep the crab.

Next, de-shell the crab and cut it into quarter pieces. When finished, give the legs a wack to crack and open the shells a bit before stir frying.

Garlic and chili peppers.

Slice your fresh garlic and cut up the white onion and green chilis. Heat the tasteless coconut oil in a sauce pan and add in the garlic and sliced chili peppers once it's starting to simmer. This will create a powerfully good aroma, but you'll need airflow or you'll cough a lot if you directly breathe in these garlic and fresh chili pepper smoke fumes.

Add crab.

When the garlic and chili pepper has cooked for a bit, add in the crab legs and all the crab shells removed. These help keep flavor in, but at the end you will not serve them on your plate.

Add the red curry powder.

It's easy to find a good red curry powder that is all natural because of the popularity of Thai food and curries worldwide. Once the crab is in your pan, add the red curry powder. Stir over medium heat. Add coconut oil and turn down the heat if you sense it getting overheated and dry.

Make the cream curry sauce.

Use the following: heavy cream, eggs, red Thai chili paste, and fish sauce

Put heavy cream in a bowl, and crack 2 eggs into it.

Then add the red Thai chili paste.

Then add the fish sauce.

Whisk it in a bowl for a couple minutes before adding it to the cooking crab in the pan.

Last step; garnish vegetables.

Chop green onion and Thai parsley, then mix them in the final crab curry stir fry once it's done. Then the Thai Crab Curry is complete! Enjoy.
Nutrition Facts
Thai Crab Curry (Bu Pad Pong Karee) Recipe Card
Amount Per Serving
Calories 236
Calories from Fat 153
% Daily Value*
Fat 17g26%
Cholesterol 217mg72%
Sodium 1703mg74%
Potassium 234mg7%
Carbohydrates 8g3%
Protein 12g24%
Vitamin A 565IU11%
Vitamin C 7.1mg9%
Calcium 57mg6%
Iron 1.6mg9%
* Percent Daily Values are based on a 2000 calorie diet.
---
Thanks for stopping by our blog and we hope you enjoy the crab curry recipe!
Let us know if you have any questions or how it went for you if you made it. And if you liked it, please share this recipe post on social or with your friends!
UP NEXT: The only way I enjoy eating liver is with my wife's special Thai Larb Recipe. It's made using pork liver and it's pronounced, "laab."