Pad Krapow Moo is also called, Thai Basil Stir Fry. This is a very popular dish in Northern Thailand amongst both tourists and locals. You'll find it in high end restaurants as well as street food stalls where you can grab one for a buck.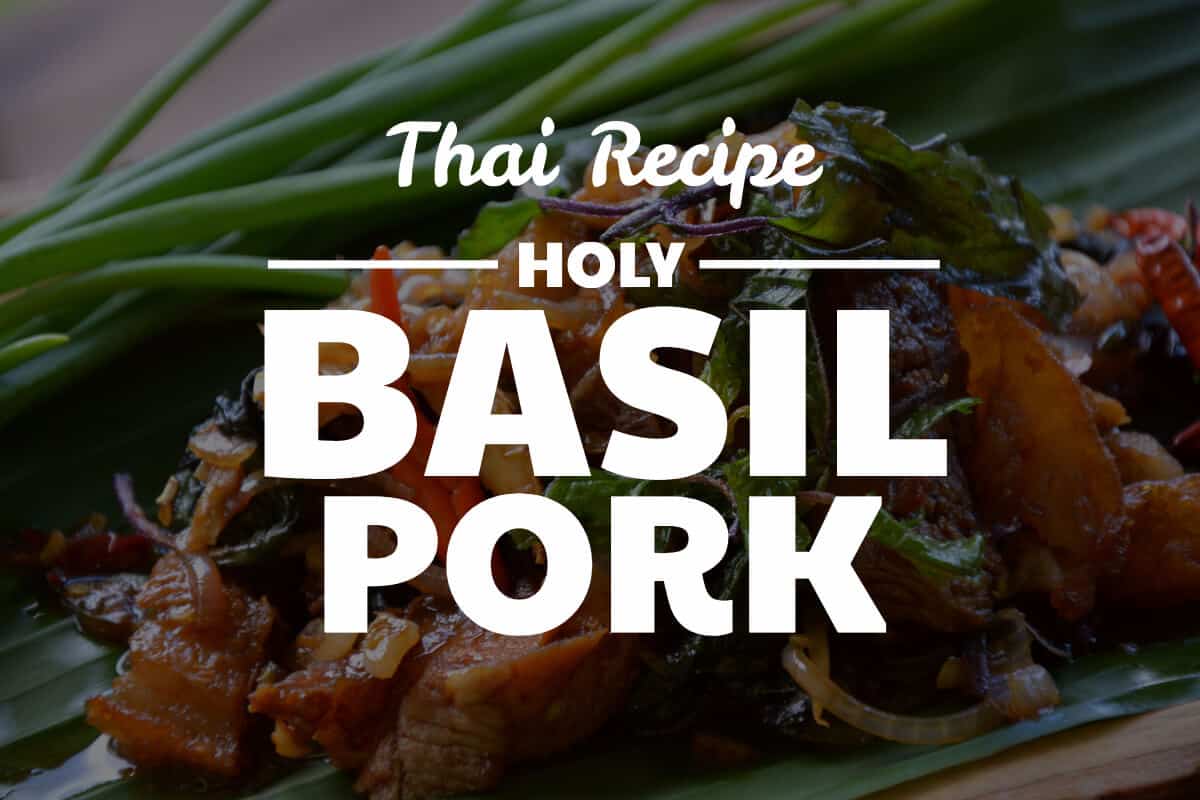 Pad Krapow Moo has a unique flavor thanks to the Holy Basil. Thai Basil Chicken is almost as popular as pork. Minced pork Thai Basil stir-fry is the most common Pad Krapow found among local eating spots in northern Thailand. Pad Krapow relies on Holy Basil for its authentic and unique flavor.
The one drawback most any local and delicious Pad Krapow moo has, is that it's cooked with unhealthy oils and uses MSG. When eating out you must specify that you do not want MSG. Other than that, it's a wonderful dish.
Cooked with pastured chicken, this Pad Krapow recipe makes for a very nutritious and flavorful dinner. The chicken version is called Gai Pad Krapow, or Pad Krapow Gai (meat type goes on the end. "Gai" means chicken). The recipe is exactly the same as this pork one, only you'd stir-fry the chicken in with the ingredients.
Our recipe uses a slightly crisped pork which I'll go into below. It's a nice way to enjoy a healthier version of fried pork, as it's mostly cooked in water with salt before being finished off with a light fry. Whether you use crisped pork, minced pork or sliced chicken. It's going to be the same flavor and same great taste.
---
Thai Basil Pork (Pad Krapow Moo) Ingredients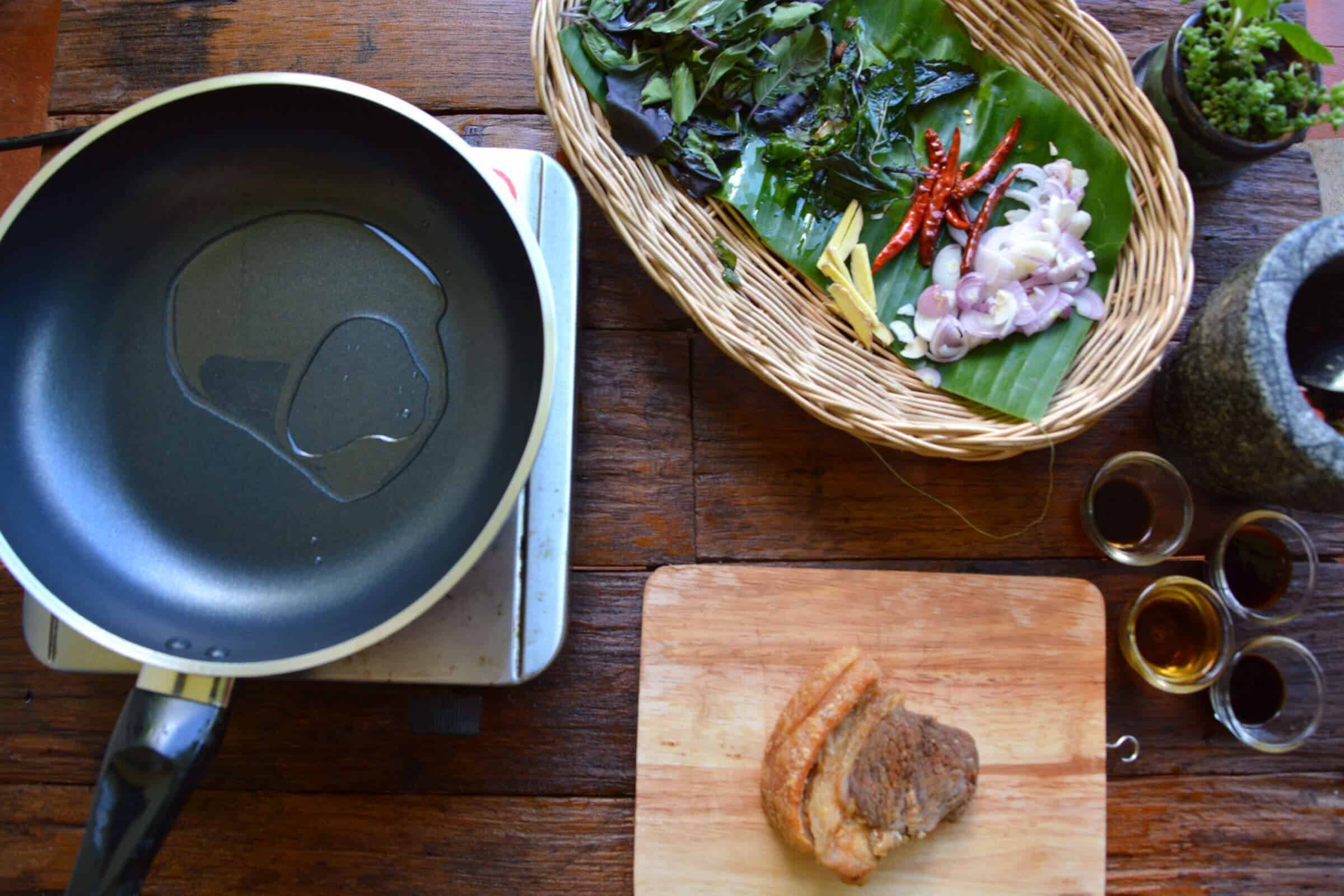 Pork
Coconut Oil (for stir frying)
Shallots
Dried chili peppers
Holy Basil
Garlic
Ginger
Oyster sauce (or mushroom sauce alternative)
Black soy sauce (optional)
The most important ingredient? Holy Basil. You cannot make this recipe without Holy Basil. Other than that, you have the basics in Thai food, fish sauce, oyster sauce and an optional black soy sauce (we replace with coconut aminos).
Here are a good options for fish sauce and coconut aminos available online:
The image below shows the ingredients before we boiled and crisped the pork belly for this Thai Basil stir fry.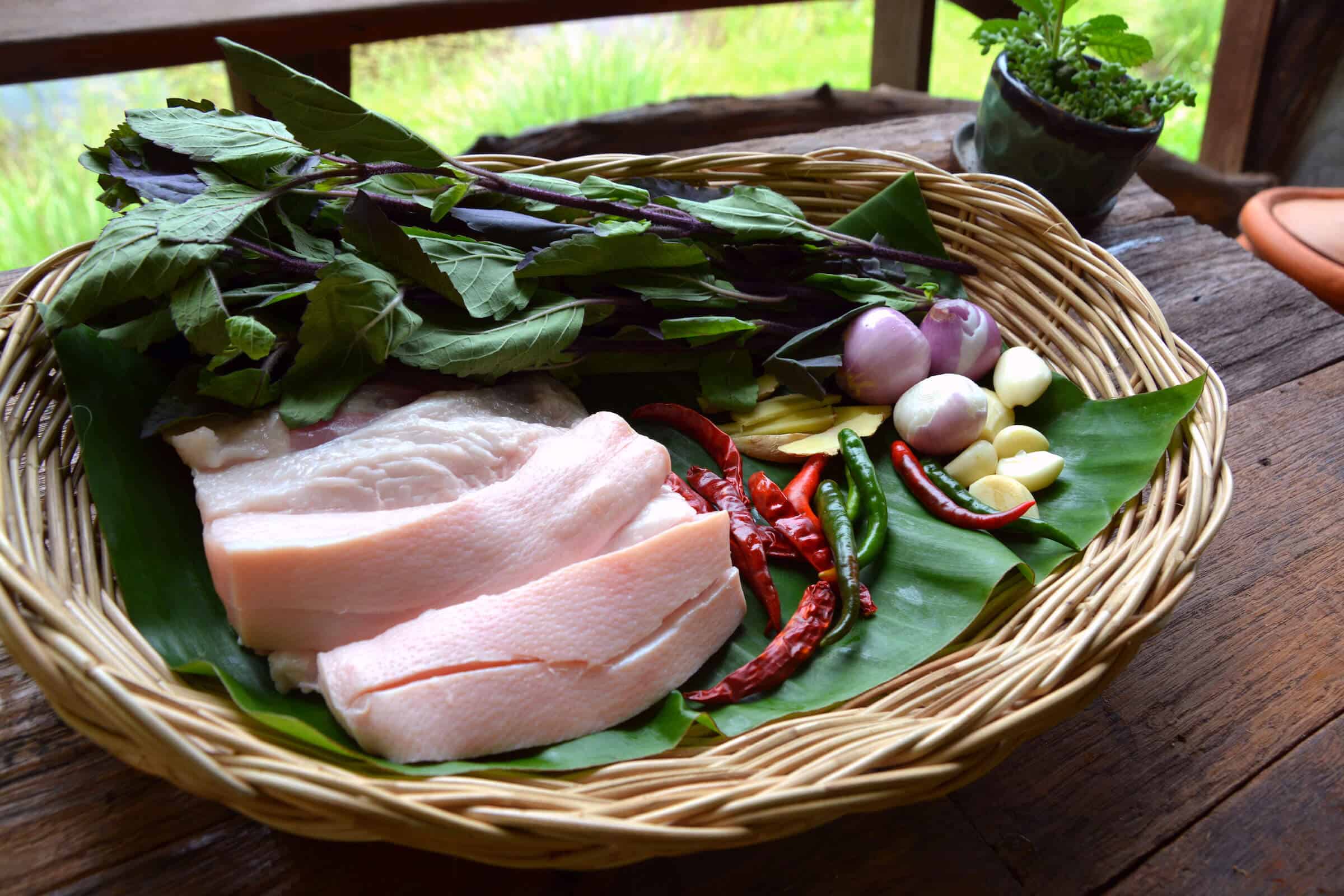 First, pull out a mortar and pestle. There are ways around this, but if you haven't ever used a mortar and pestle, it's a fun way to crush herbs and spices and make sauces or rubs. Crushing and grinding in a mortar and pestle brings out the flavor more than any electric blender can.
You can find them on Amazon if you cannot find one locally. Granite ones work best for Thai sauces and most cooking needs.
---
Step 1. Crush & Slice The Herbs
Leave the Holy Basil alone and prep all the rest of the herbs and vegetables.
NOTE: If you don't have a mortar and pestle, just use a garlic press or any other method you can come up with to crush these up a bit. That's all that's needed. It helps bring out the flavors.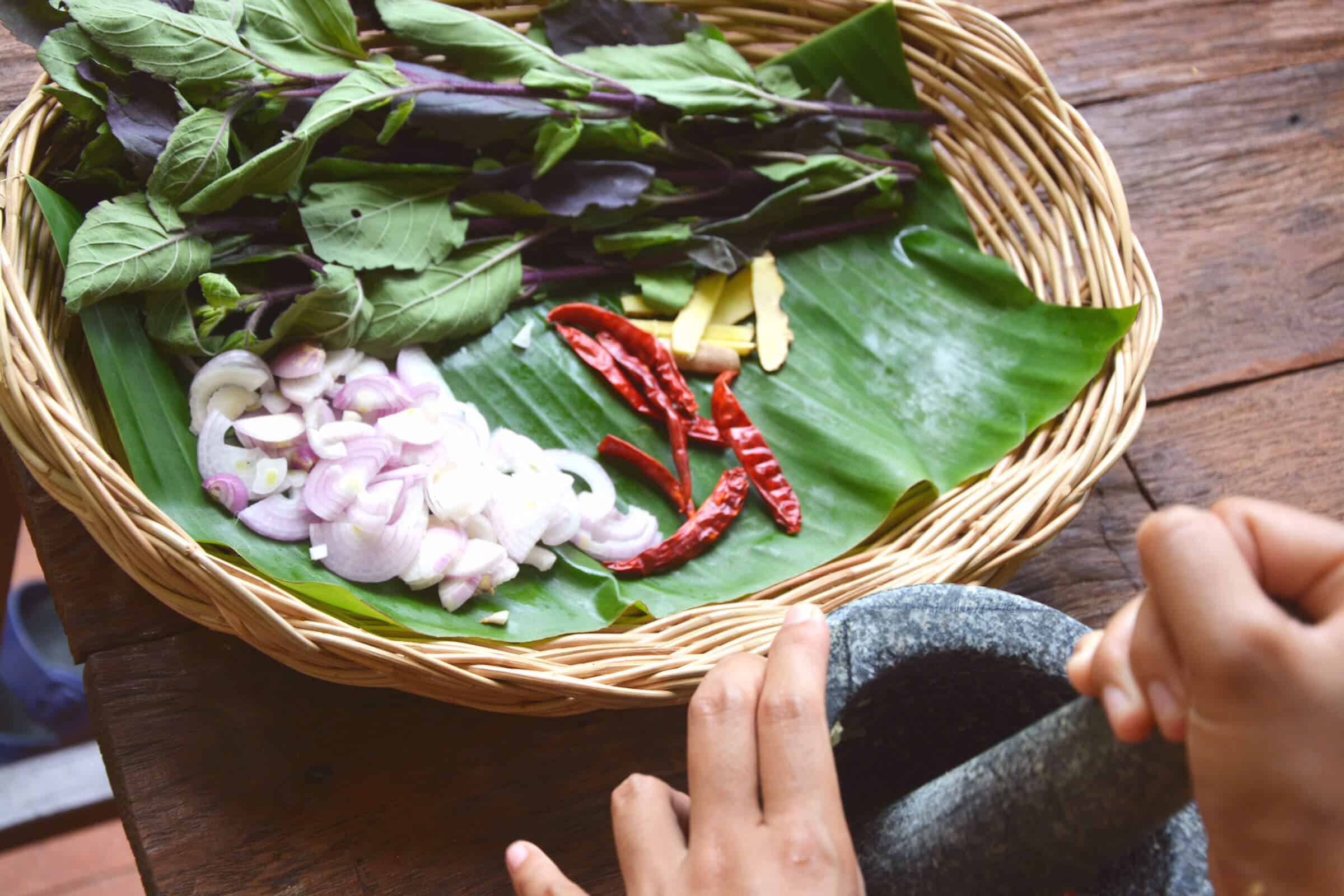 Our Thai Basil Pad Krapow Moo (also spelled Pad Krapao Moo or Kapow Moo) uses my Thai mother-in-law's pork crisping technique to cook the pork belly.
It involves boiling the pork in water with a touch of salt and vinegar before then frying it in coconut oil to completion. This way you're not frying it from raw, but it's more of a finishing-off fry. The finished result should be tender and easy to cut through and eat.
---
Step 2: Secret Pork Crisping Method
The boil comes first. Add some salt and vinegar to the water before adding the pork belly in.
Then comes the fry once the pork is already cooked up.
We use a tasteless coconut oil for stir frying.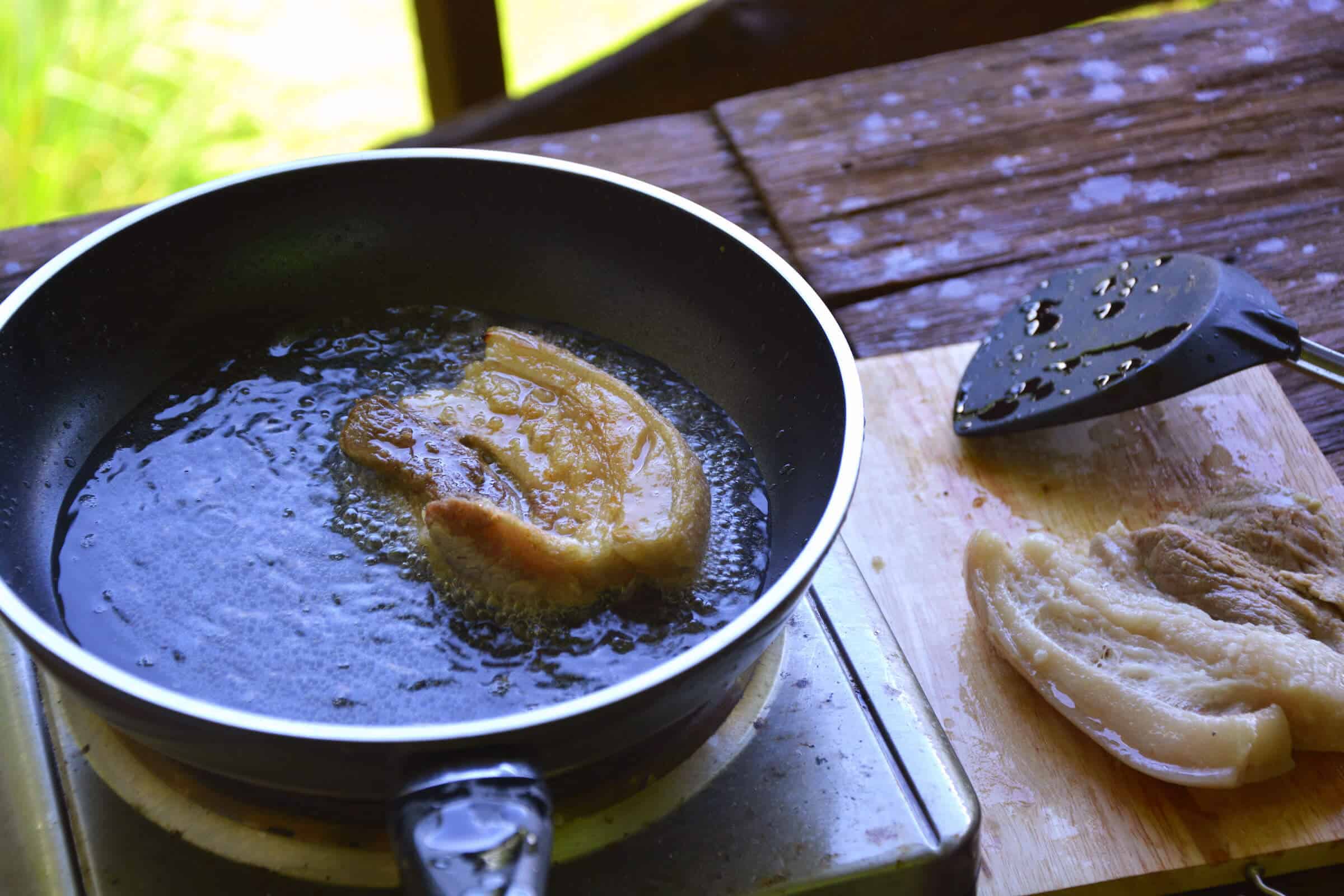 ---
Step 3. Thai Basil Sauce
Here's where it starts to smell delicious. First, put coconut oil in the pan and add in the smashed garlic and chili peppers.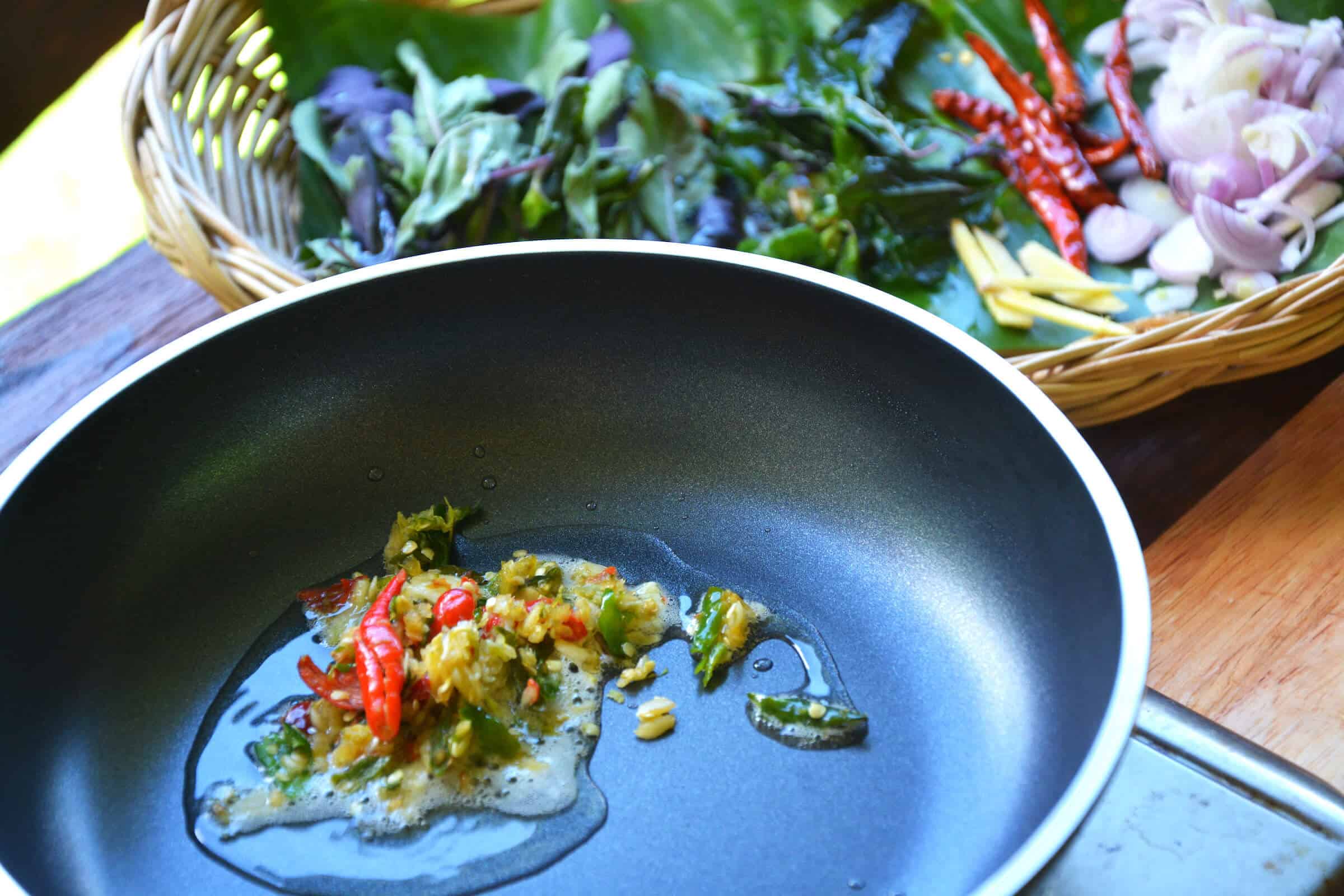 Coconut oil's smoke point is 350 degrees, so it's semi-safe to get it cooking pretty hot. Get it cooking until it looks like this: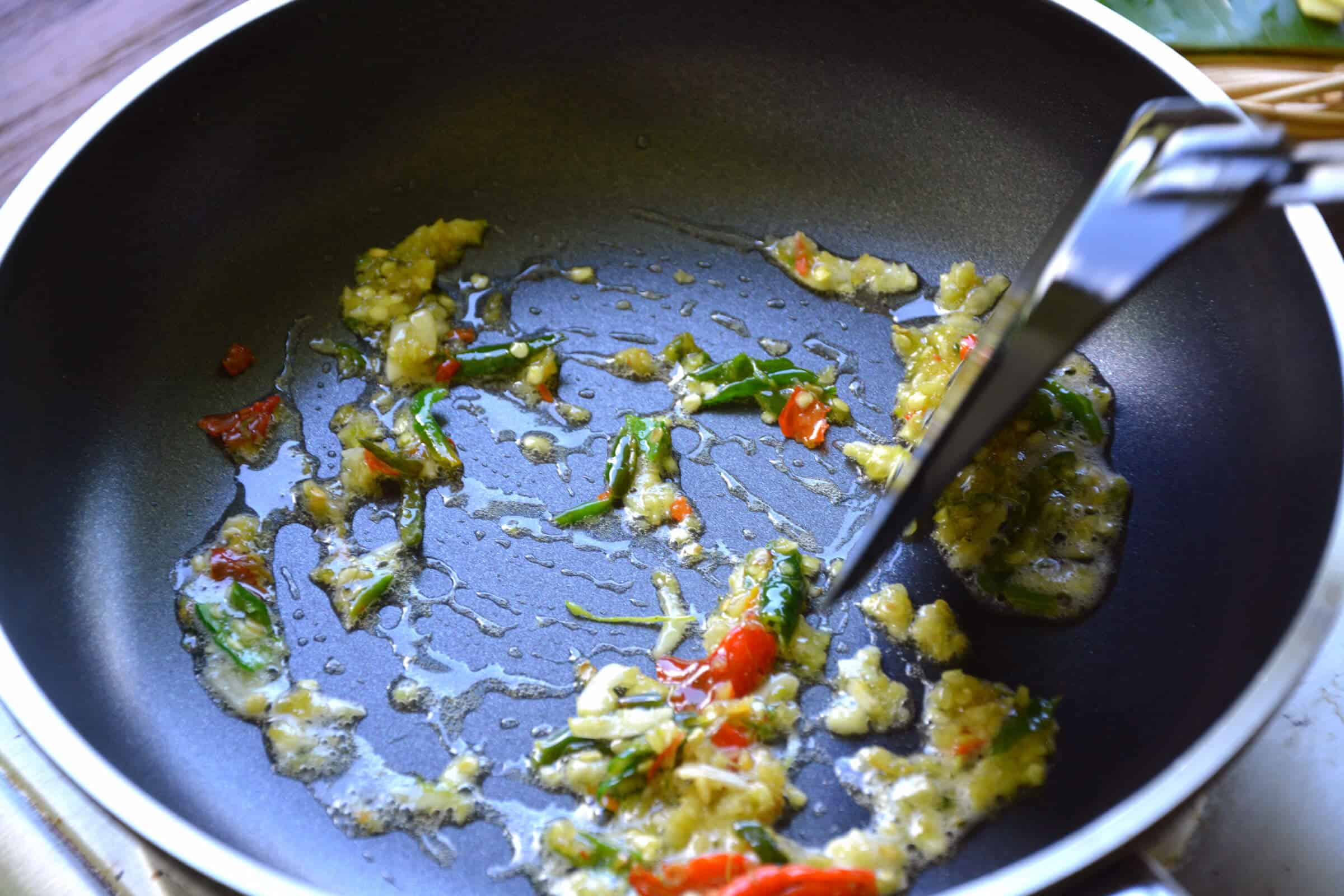 Next, add the sliced shallots.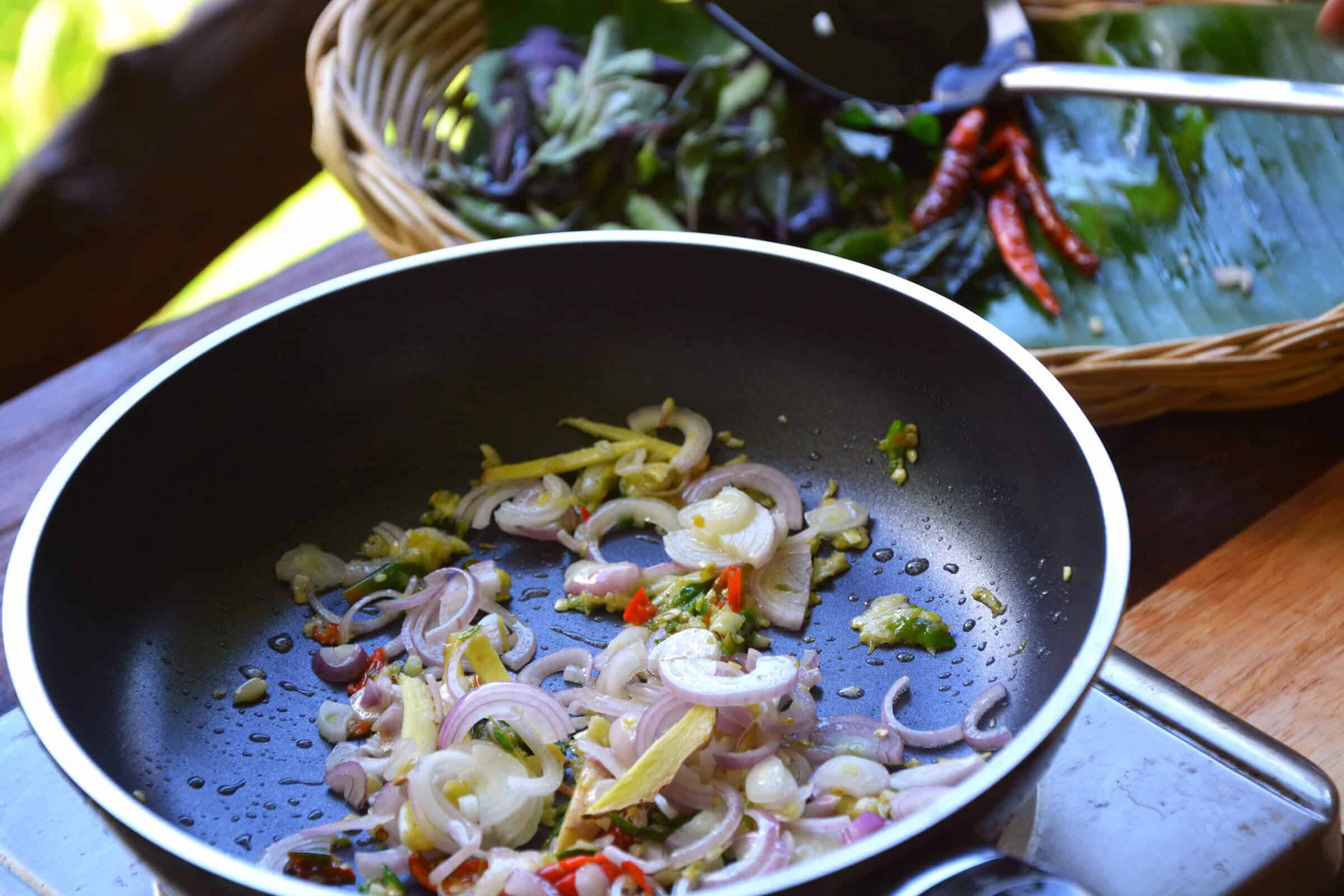 At this point, we're almost finished with the Thai Basil Pad Krapow. Next, chop up the pork and bring it all together, including the Holy Basil and the sauces.
---
Step 4. Chop the Pork (or Chicken)
After you've chopped the pork, add in the oyster sauce and coconut aminos (the traditional method is to use both regular soy  sauce and black soy sauce at this step). Oyster sauce adds a much-needed saltiness and flavor, but if you prefer not to use oyster sauce, mushroom sauce is a very good alternative.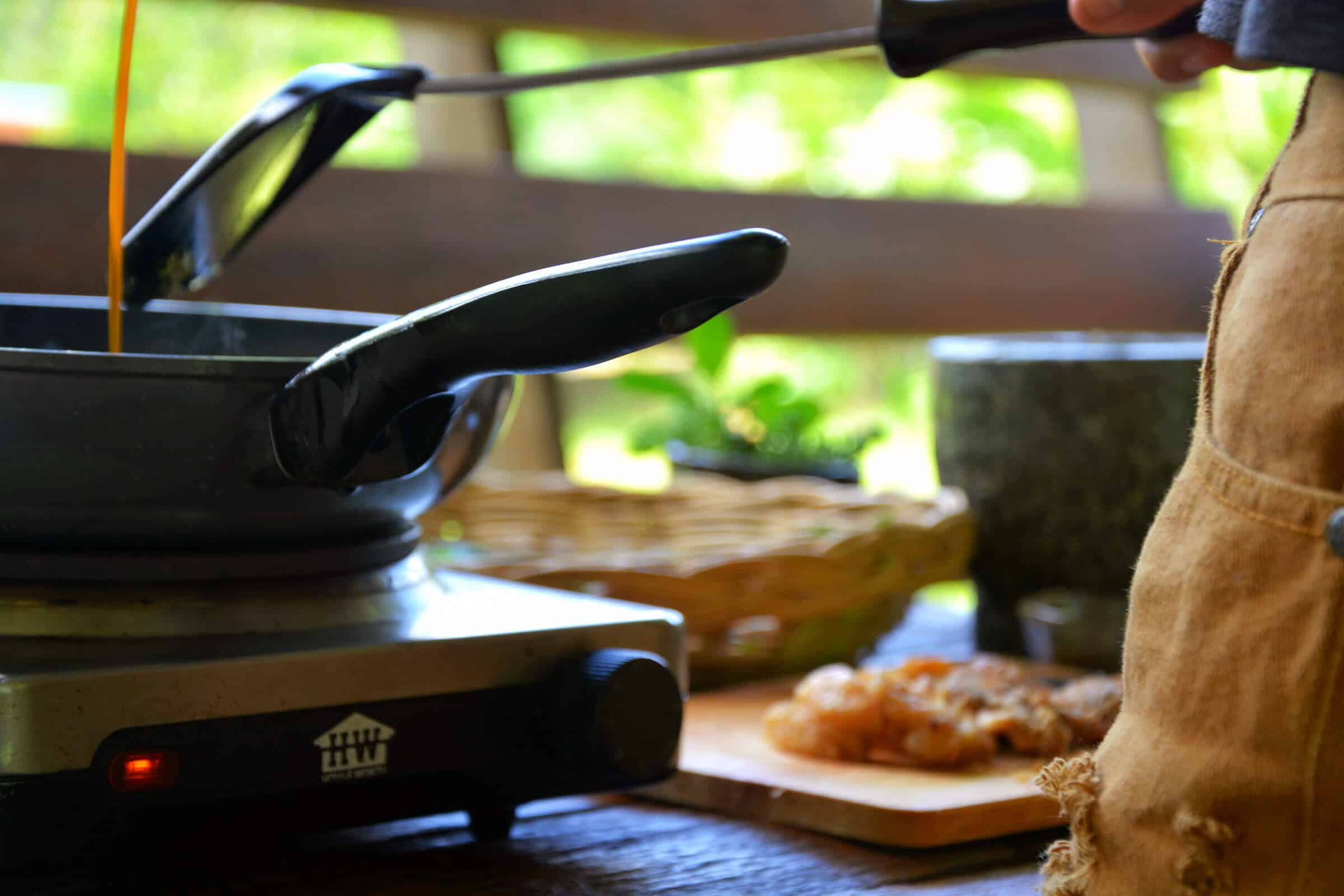 Next, add the fresh Holy Basil to the pan. You can turn the heat off and stir the basil in the remaining heat for a minute before serving. This is the last step.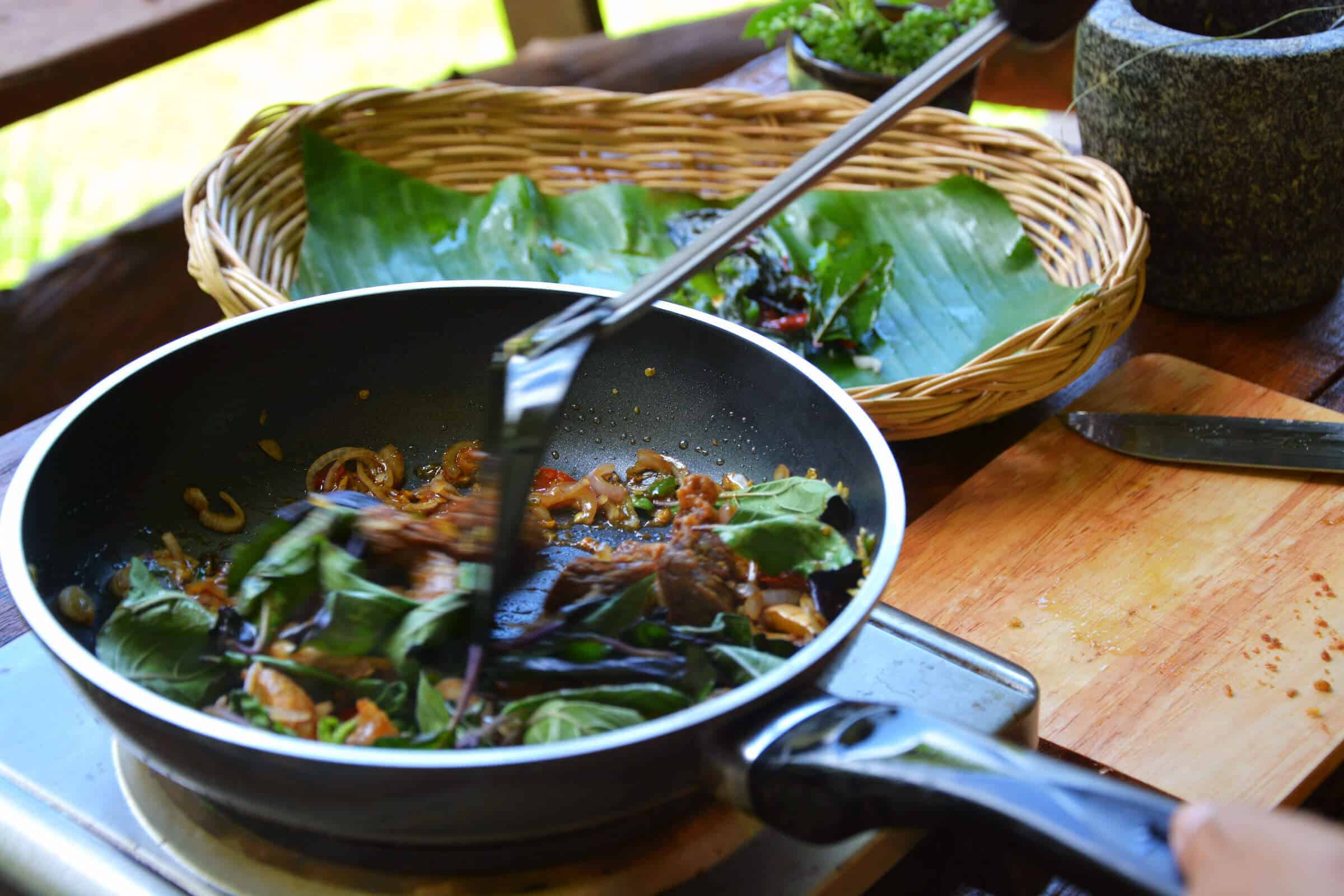 When it's finished it'll look like this in the pan: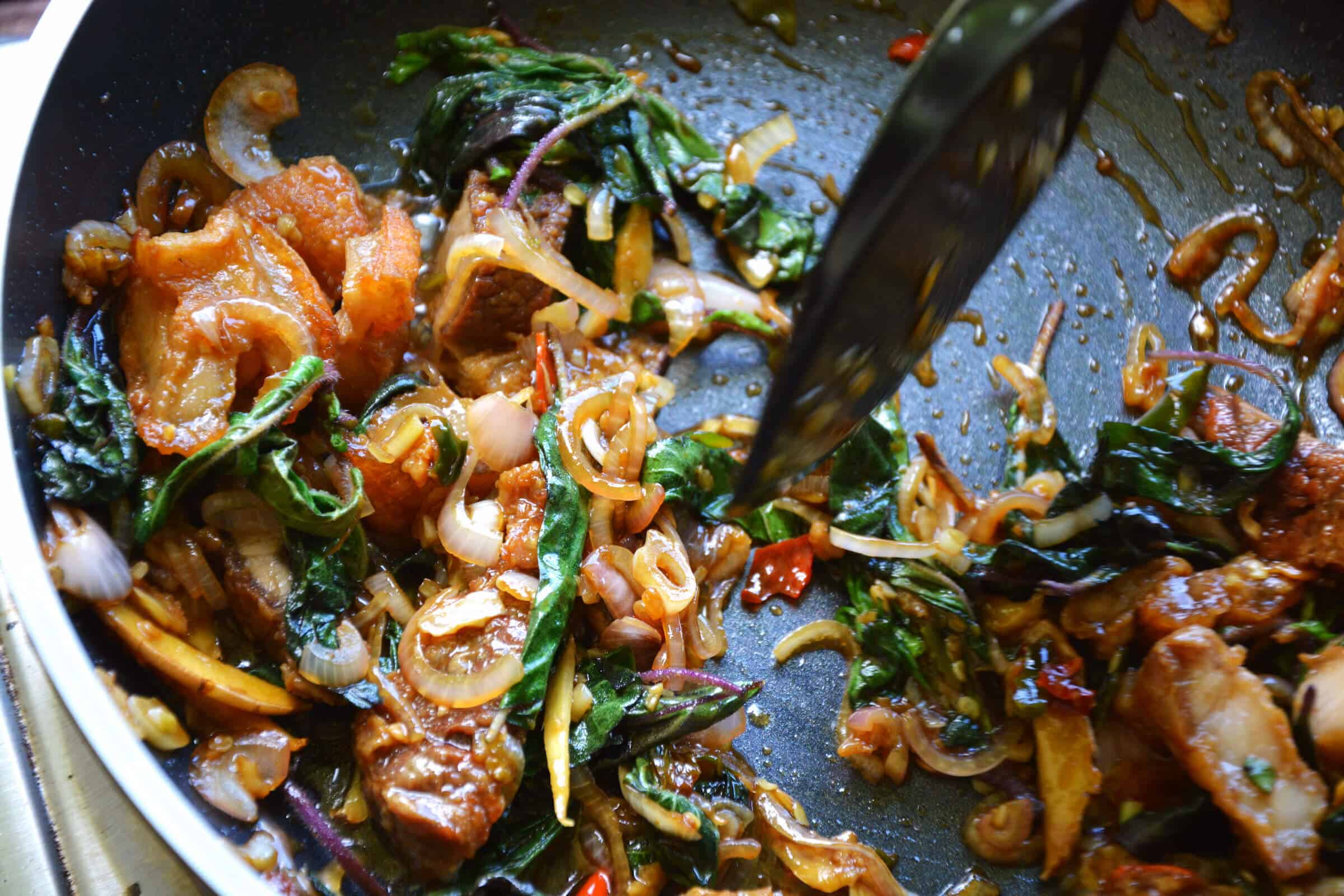 Pad Krapow Moo is traditionally served with a side of white rice and with a semi-runny egg on top.
As ours is designed for the keto and paleo diet (coconut oil, no sugar, etc.). We skip things like sugar and soy sauces that are traditionally used in Pad Krapow stir-frys, but white rice or cauliflower rice with a sunny side up egg on top makes this a great Thai style breakfast, lunch or dinner.
The Finished Thai Basil Pad Krapow Moo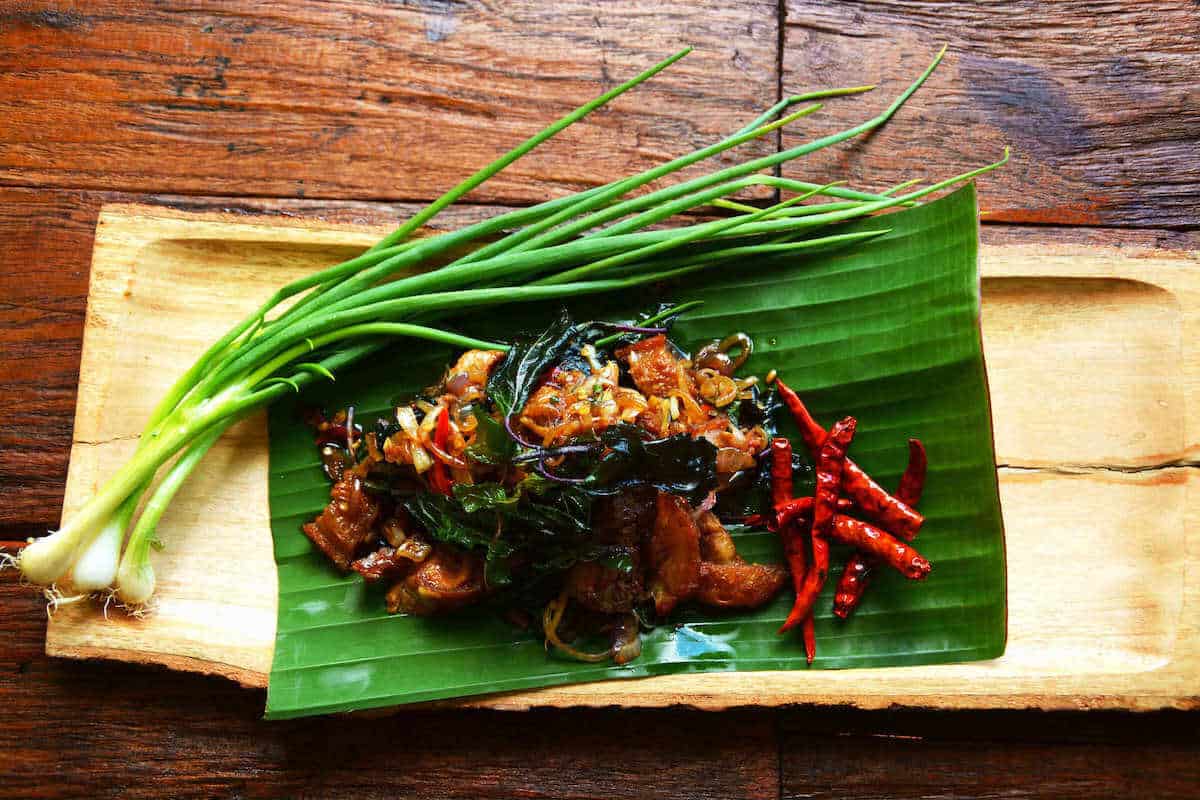 Easy right?
Here's a side shot with the master chef Ling's legs.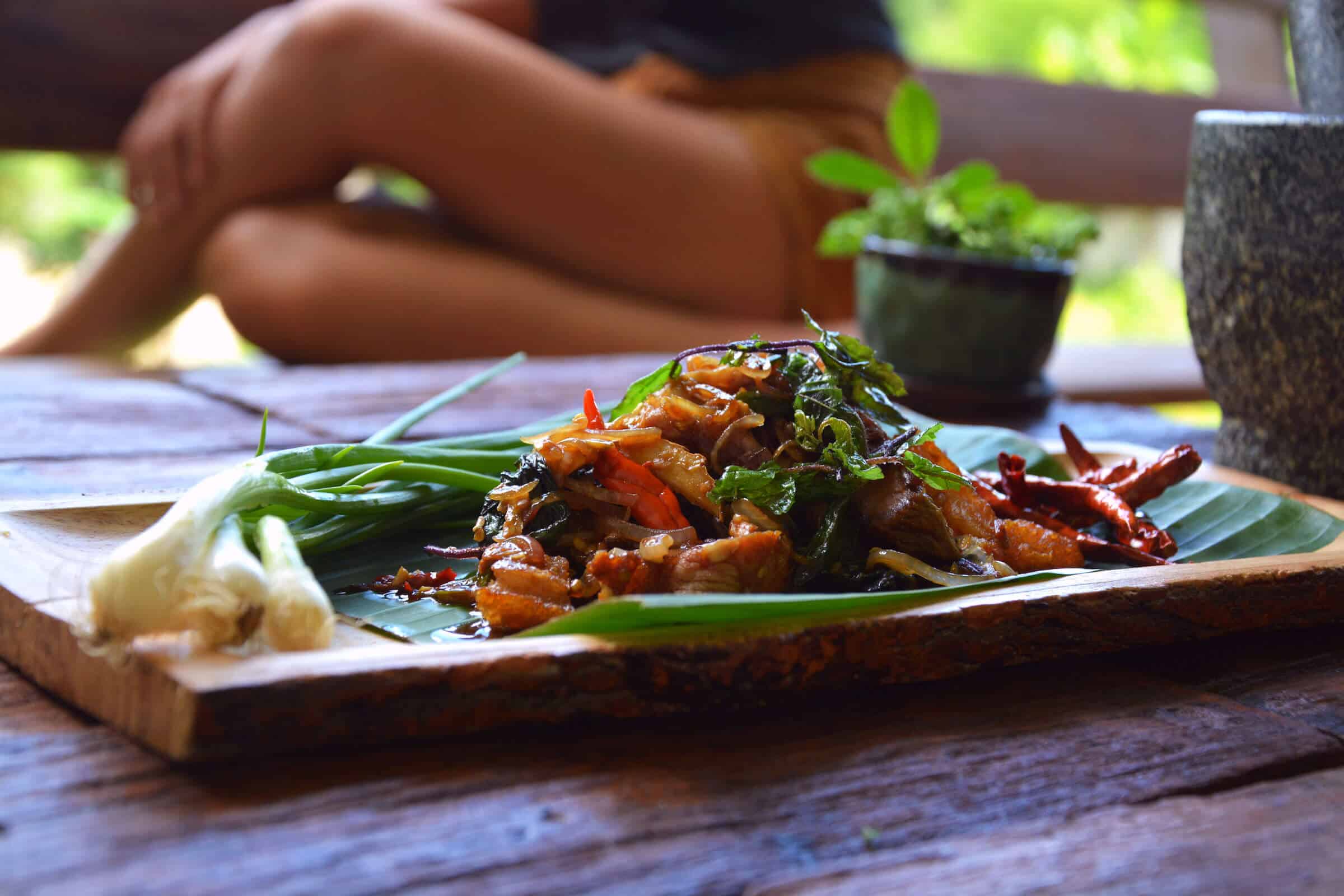 ---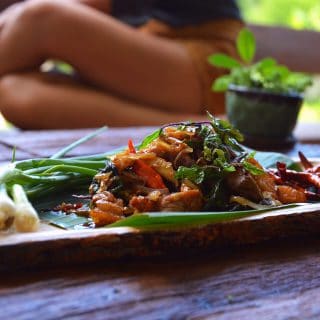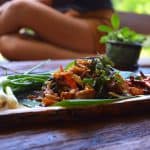 Pad Krapow Moo (Thai Basil Pork) Recipe Card
Pad Krapow Moo is a local staple in Northern Thailand. It can be made with chicken, pork, and even just eggs.
The key ingredient?
Thai Holy Basil
And garlic too.
Keyword:
pad krapow, thai basil pork
Ingredients
pork belly

shallots

Thai chili peppers

Holy basil

garlic

ginger

oyster sauce

alternative: mushroom sauce

black soy sauce

(optional, but preferred to keep it authentic)
Instructions
Smash the herbs. Slice the shallots.

We use a mortar and pestle.

Prep the pork belly.

For this version, boil the pork in water with salt and vinegar before stir frying it in coconut oil to give it a light crisp. This allows for the pork to be perfectly cooked at the end of the recipe, and not just stir fried from raw.

Make the Thai Basil sauce

In a saucepan or skillet, place your smashed chili peppers and garlic in some coconut oil over medium heat.

Then add the sliced shallots.

Chop the pork, mix everything together, and serve.

After chopping the pork, add in the oyster sauce and coconut aminos. This is the last step before adding in the fresh Thai Holy Basil to the stir fry once it's complete.

Once you add the holy basil, you can turn off the heat, stir it around a bit more and serve.
Recipe Notes
Traditionally this will be served with a side of white rice and an optional fried egg on top (with runny yolk).
---
If you enjoyed this recipe, please give it a share on Pinterest!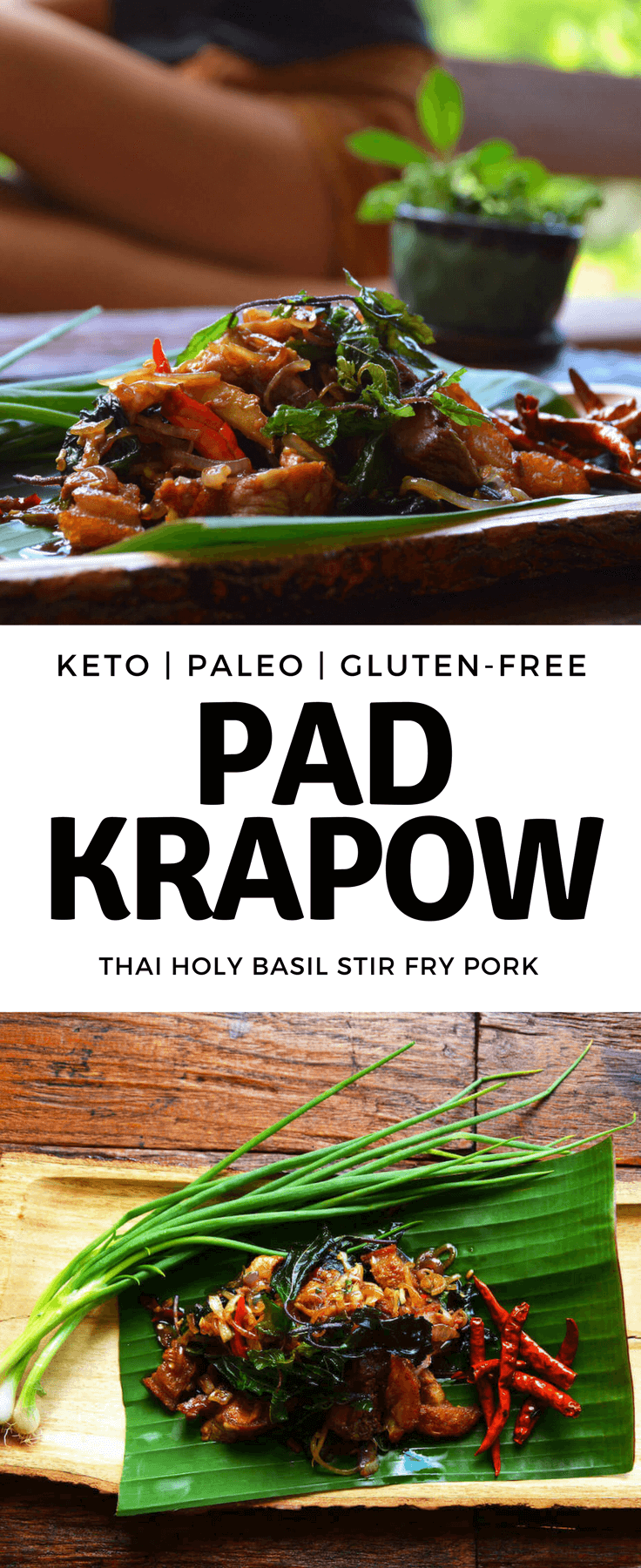 ---
Thanks for coming by the blog.
Let us know if you cooked up this Thai Basil Pad Krapow Recipe. We'd love to hear how it went for you. You can leave a comment below or send us a message. Or get in touch on Facebook or Instagram! 
UP NEXT: My favorite Thai Keto recipe, Khao Soi. This delicious curry noodle soup comes from Burma and Yunnan province of China, but made its way down to Northern Thailand over 100 years ago. Today, it's a staple for many locals with it's filling qualities and fantastic flavor. We tweak it slightly to make a low carb Khao Soi.