No Thai cuisine is complete without a Panang Curry recipe. Also spelled Penang, Panaeng, Phanang or Phanaeng Curry, this red curry dish is a sweet and spicy stir fry that uses a red chili paste made from herbs and spices to create an exotic, very sought after dish for all Thai food enthusiasts. Panang Curry originates from the west facing city island of Malaysia called, Penang. With its welcoming rich, creamy, spicy and sweet flavors, Panang is a very popular dish for Westerners not fully submerged into Thai food.. yet.
Panang Curry Recipe
Panang Curry can be made with beef, chicken, or pork. I've also fully enjoyed it made with shrimp as well. Because we're shooting for low carb Thai catered to a ketogenic diet, this recipe uses pork belly. The end result is not meant to be dry, nor soupy, so try to aim for a tender and moist finished result. Like in the picture below.
If You Want To Make Paste From Scratch
Making the Panang Curry paste from scratch takes a bit longer. Most Thais use this red paste called, Mae Pranom red chili paste. You can visit our keto resources page to see all the low carb and often used ingredients for Thai keto recipes.
This is another one of those recipes, much like the Khao Soi Gai, where you can use the many spices and herbs it takes to make a Panang curry paste, or you can simply use the Thai Chili Paste made from fresh herbs to attain an almost identical, and far easier and faster way to create the Panang Curry.
---
Step 1. Prep Pork and Panang Curry Ingredients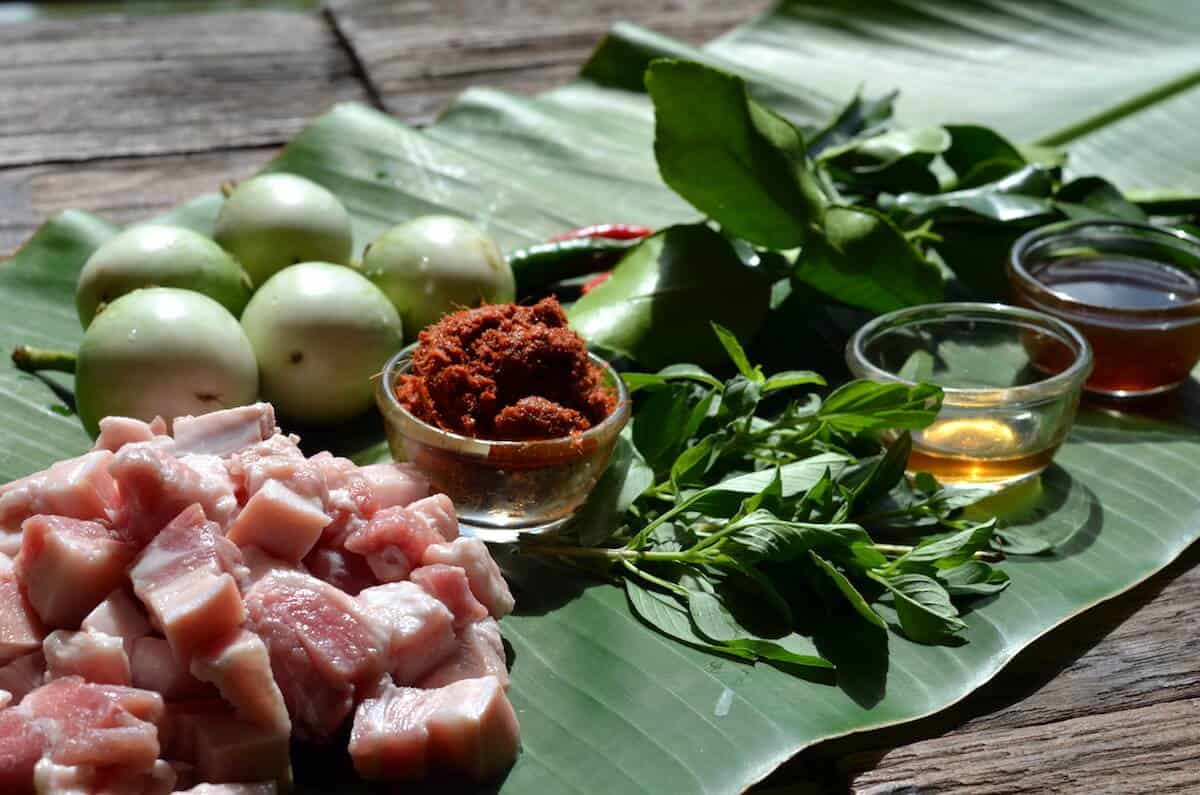 Ingredients
Pork belly, 200g
Small eggplants, 3-4p
Red Thai Curry Paste, 2 tbsp
Coconut aminos, 4 tbsp
Fish sauce, 1 tbsp
kafir lime leaf, 3-4 leaves
Thai Sweet Basil, small handful
Water, 1/3 cup
Coconut oil, 1 tbsp
---
Step 2. Slice Chilis, Eggplant, Herbs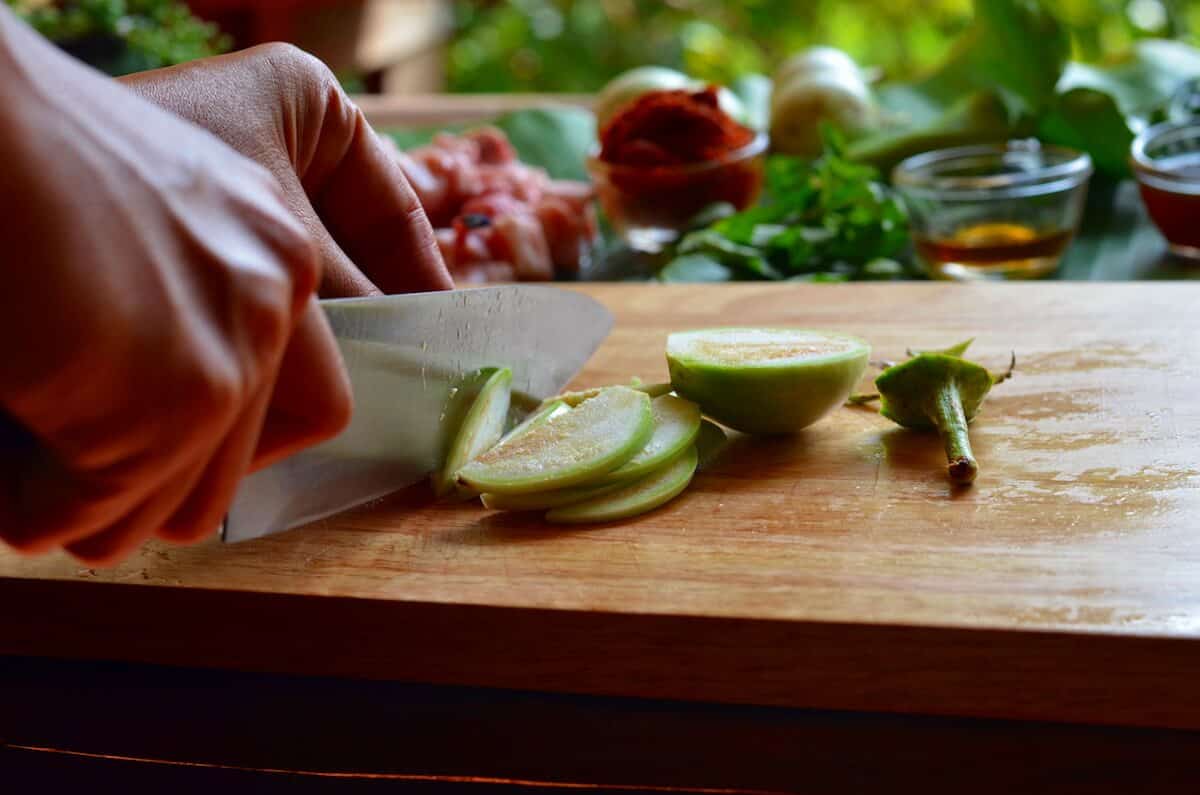 Slice the eggplant into thin slivers, then slice, then slice the chili peppers in a diagonal fashion as you can see in the image below.
Once sliced, you can scrape the sides of the chilis to de-seed them. This is an optional step I like to do. If you like the FIRE, feel free to leave them in. They make it spicy with or without the seeds. If you're not an acclimated "falang" like I am, then I'd suggest to keep it to two chili peppers, max. You can always add more.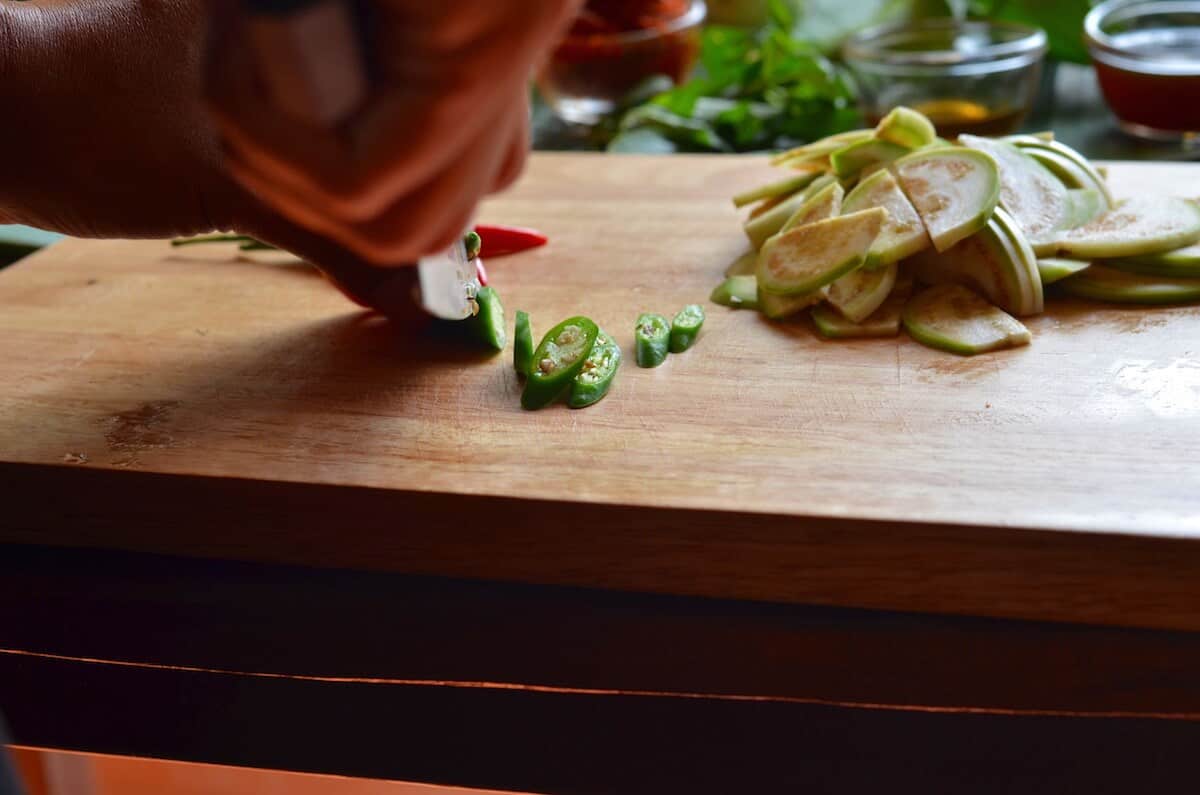 After you've de-stemmed the kafir leaves, slice them as well. You can toss the stems because we'll only be using the kafir leaf, not any of the leaf's stem.
Set these aside as you prepare the saute pan for what is next, the coconut oil, curry paste, and pork.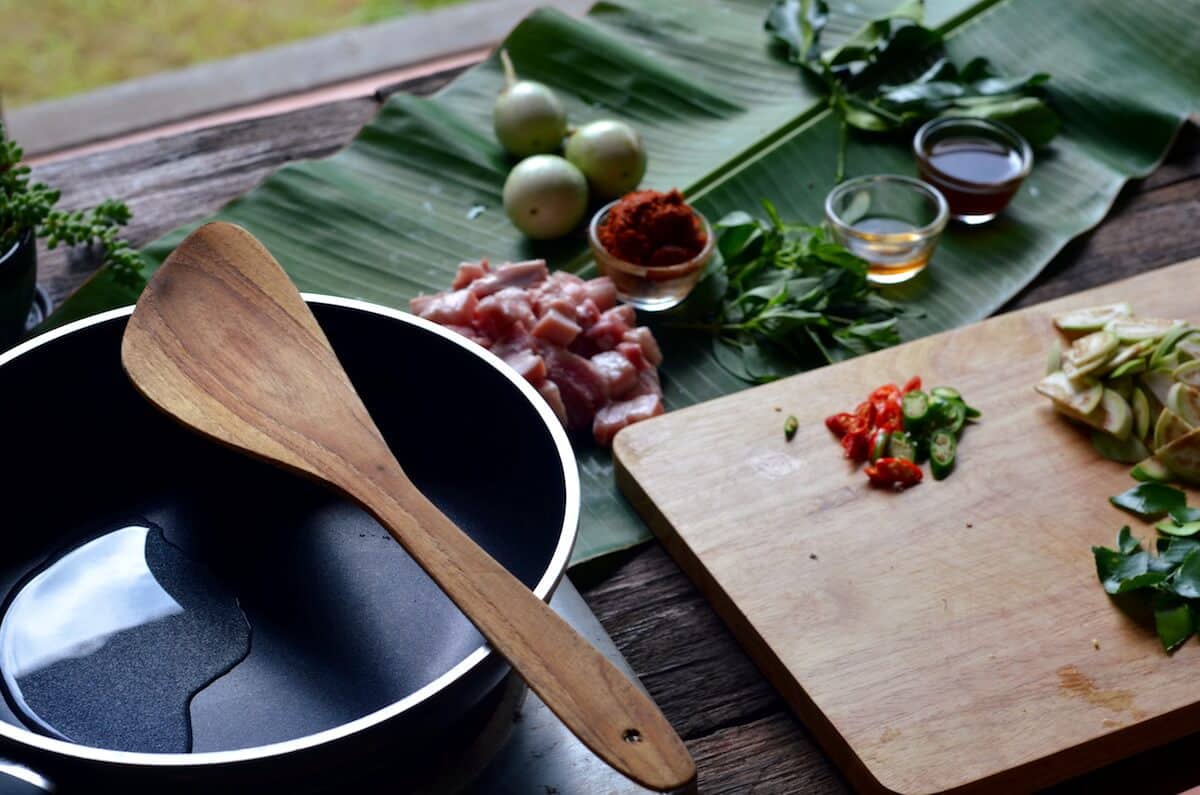 ---
Step 3. Panang Curry Paste
We're using the Mae Pranom brand Red Thai Chili Paste. Everyone in Thailand uses this one it seems, so I'd recommend it for your Thai cooking as well. However, there are many other just as good red chili pastes out there. I've never been disappointed with any of them. Just make sure they're all natural and Thai.
To start the curry paste process, put the coconut oil on the stovetop pan over medium heat. After a minute or two, once the oil is getting hot, add the red chili paste. Stir this combination of chili paste and coconut oil around a bit and let it cook. Once it gets pretty hot, add the sliced pork belly pieces.
---
Step 4. Add the pork
Once the chili paste is starting to sizzle, add the sliced pork belly pieces in.
If this were a Panang Chicken recipe, you'd add the chicken here instead.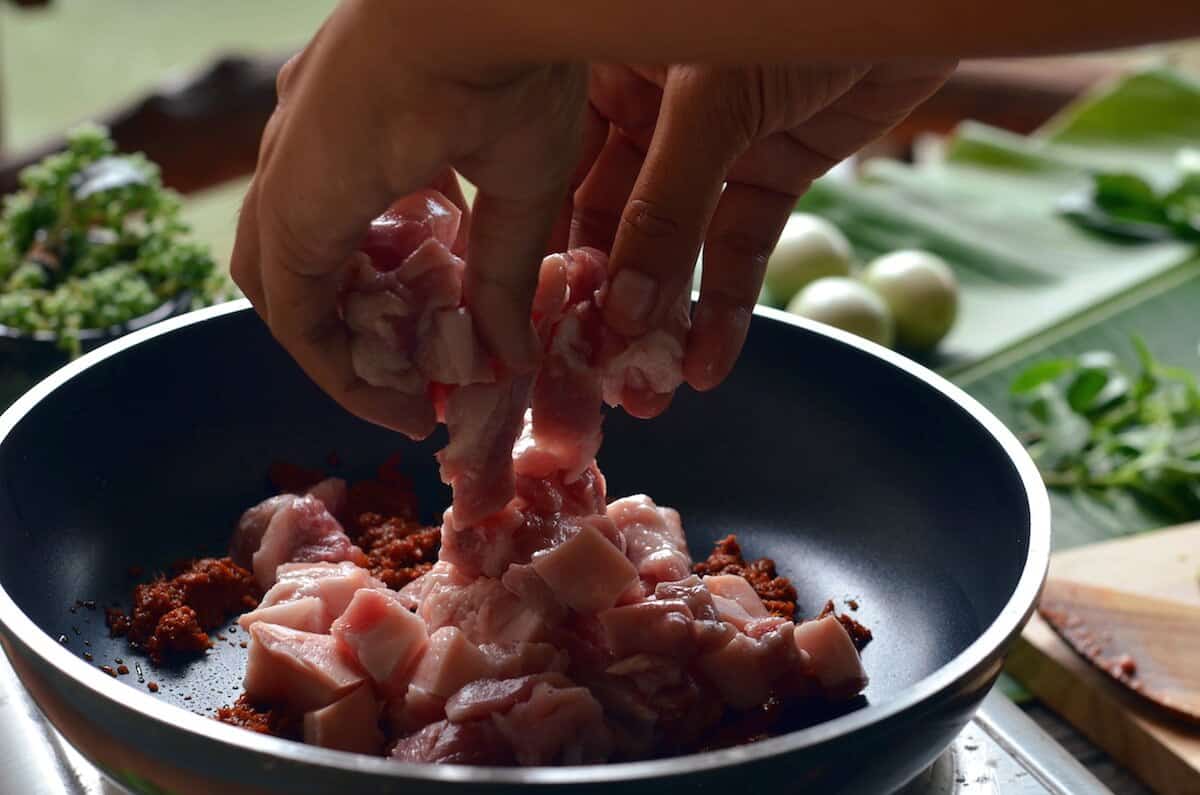 Next, stir the pork into the sauce.
Keep stirring around, then let this cook over medium to high heat before adding the rest.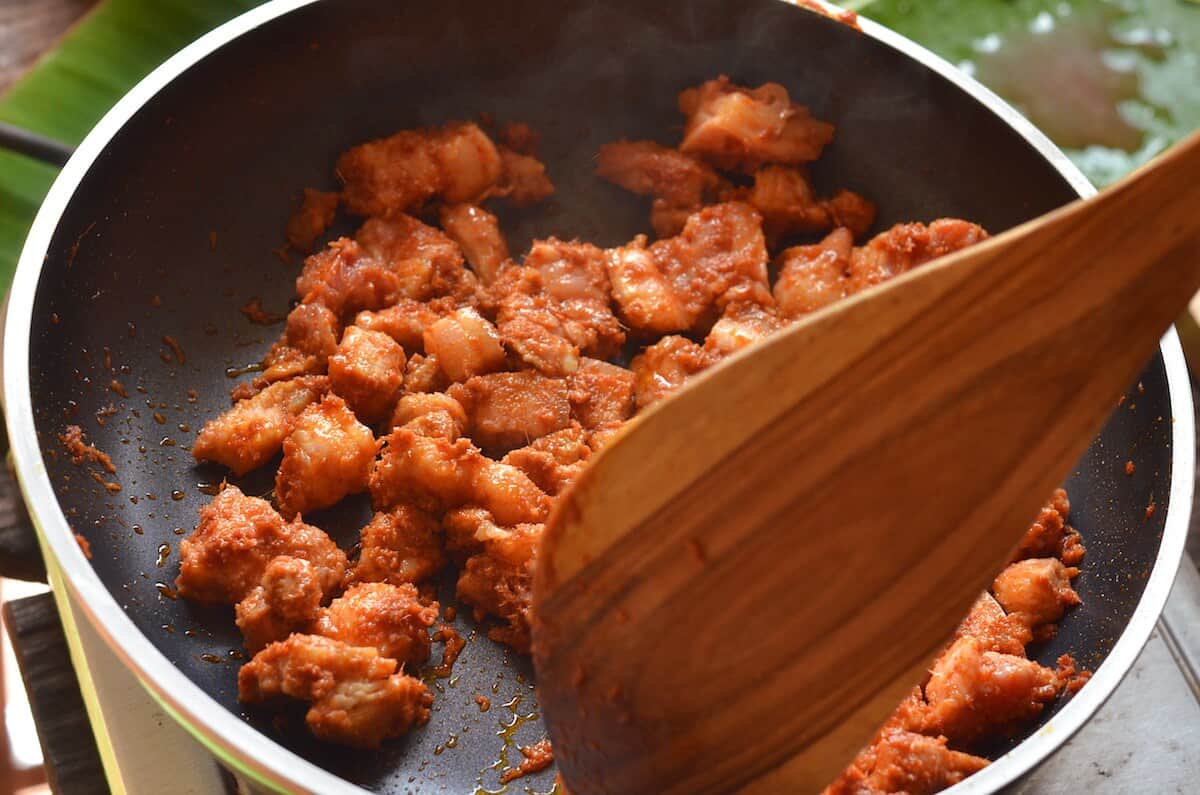 ---
Step 5. Add the eggplant, fish sauce, coconut aminos, water
In order of sequence, add the eggplant slices in first.
These need to be cooked the most, so you want those in right away at this point.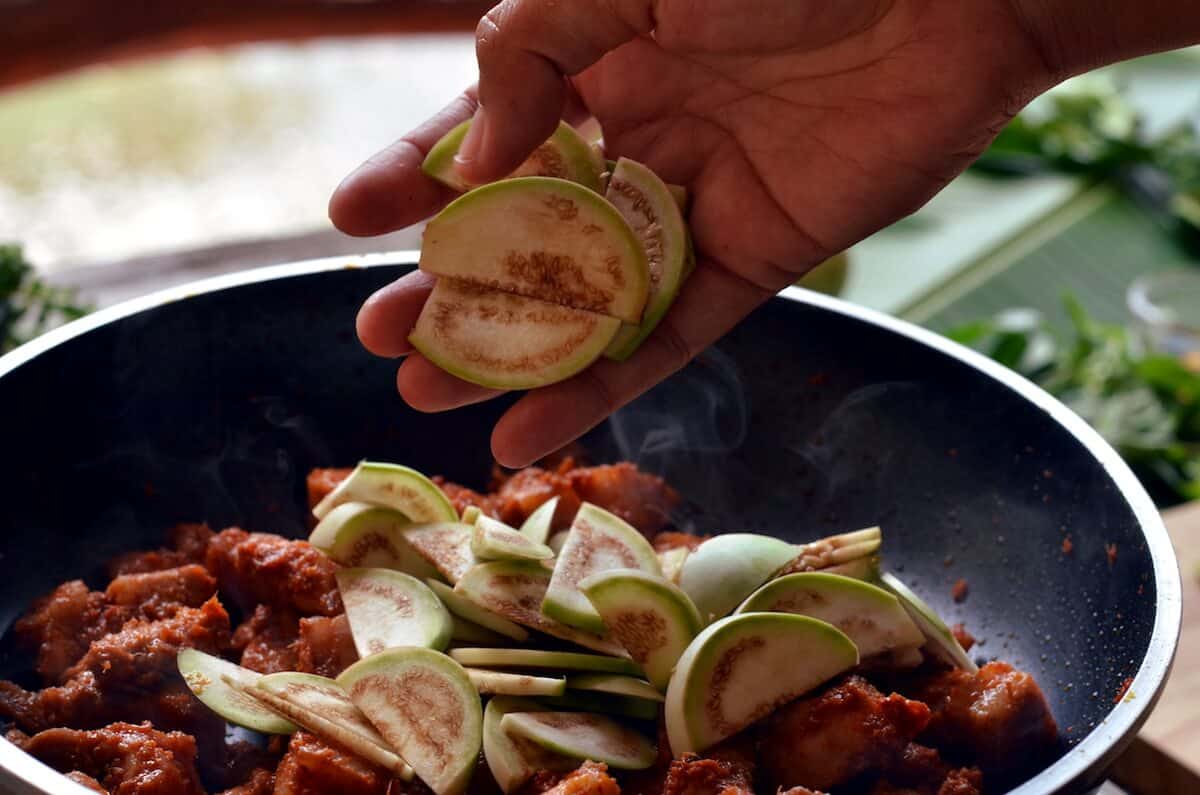 Once the eggplant has been placed inside, and you've stirred it around enough to have a light coat of curry spice, add in the rest: water, fish sauce, coconut aminos, then the herbs at the end.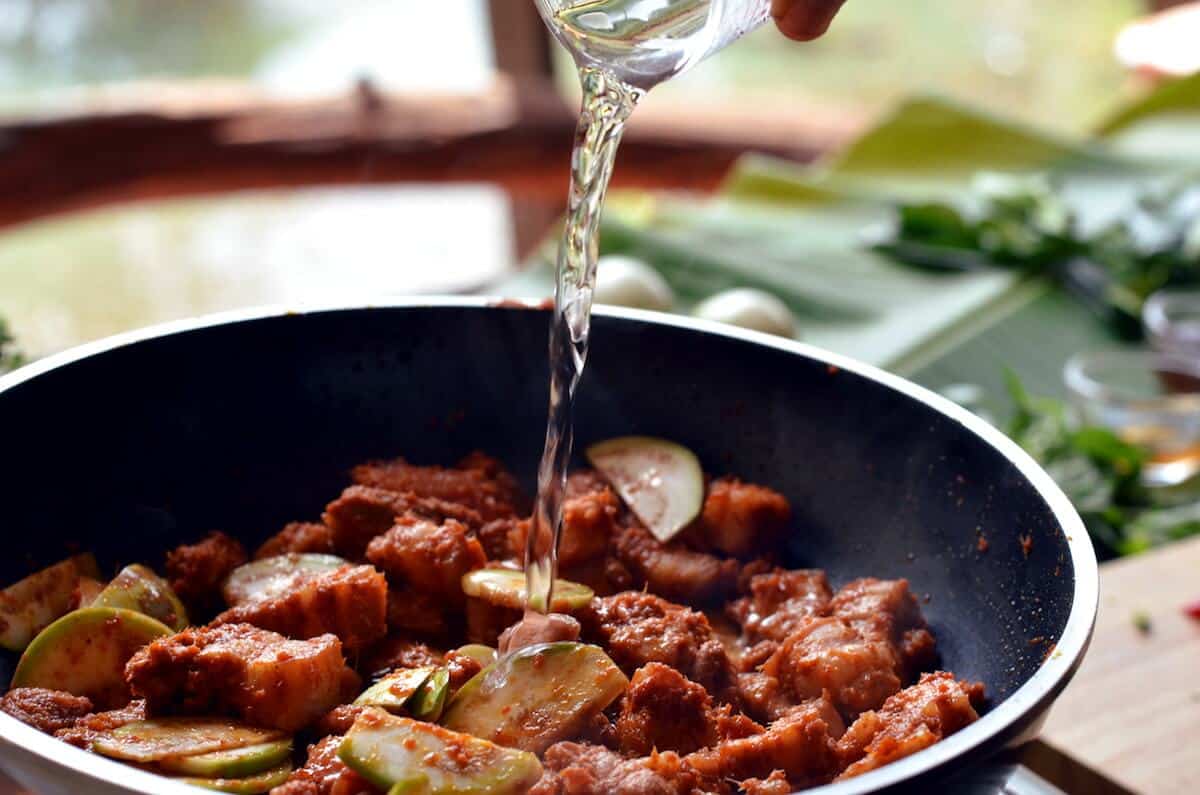 The order of sequence doesn't matter with these.
To clarify one more time, at this step you are adding three things.
water
fish sauce
coconut aminos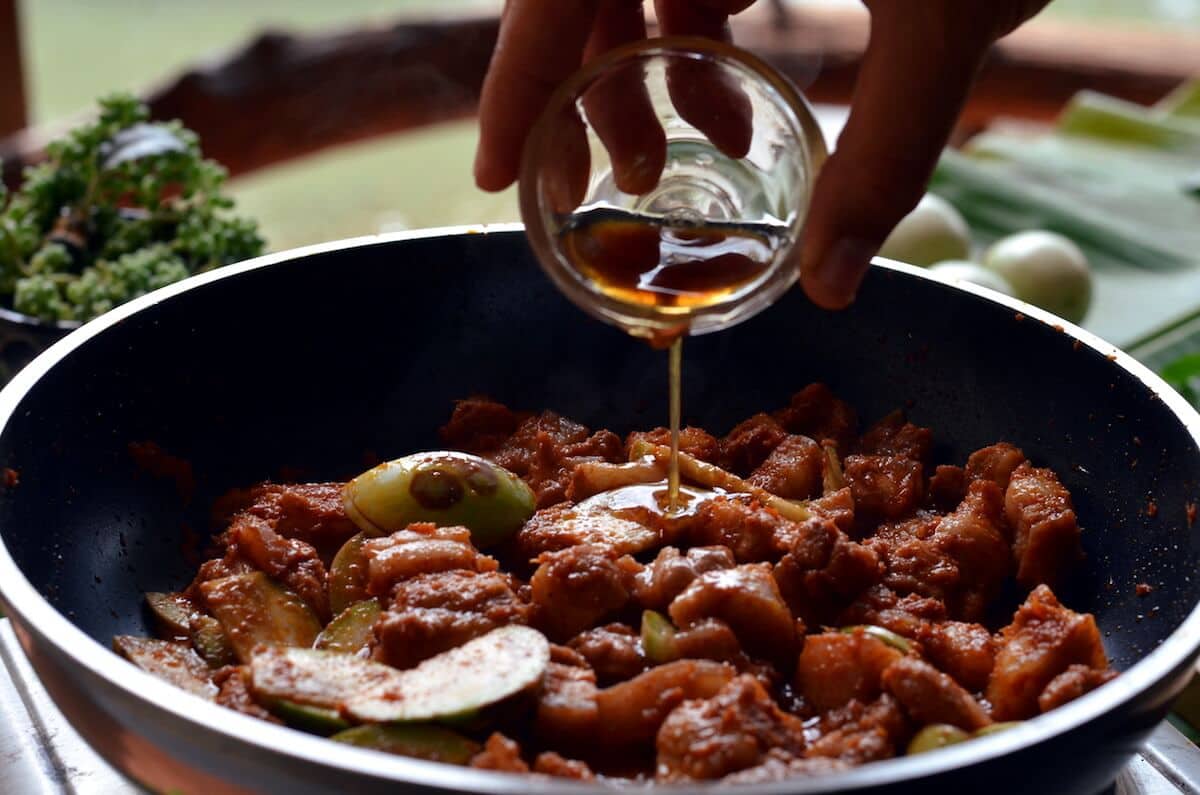 Let this combination of greatness cook for around 10 minutes, stirring occasionally, until the pork is cooked through.
This is what the final result will look like. Once it looks like the image below, the pork or chicken should be cooked all the way through, and then you just need to add the chopped chilis and herbs.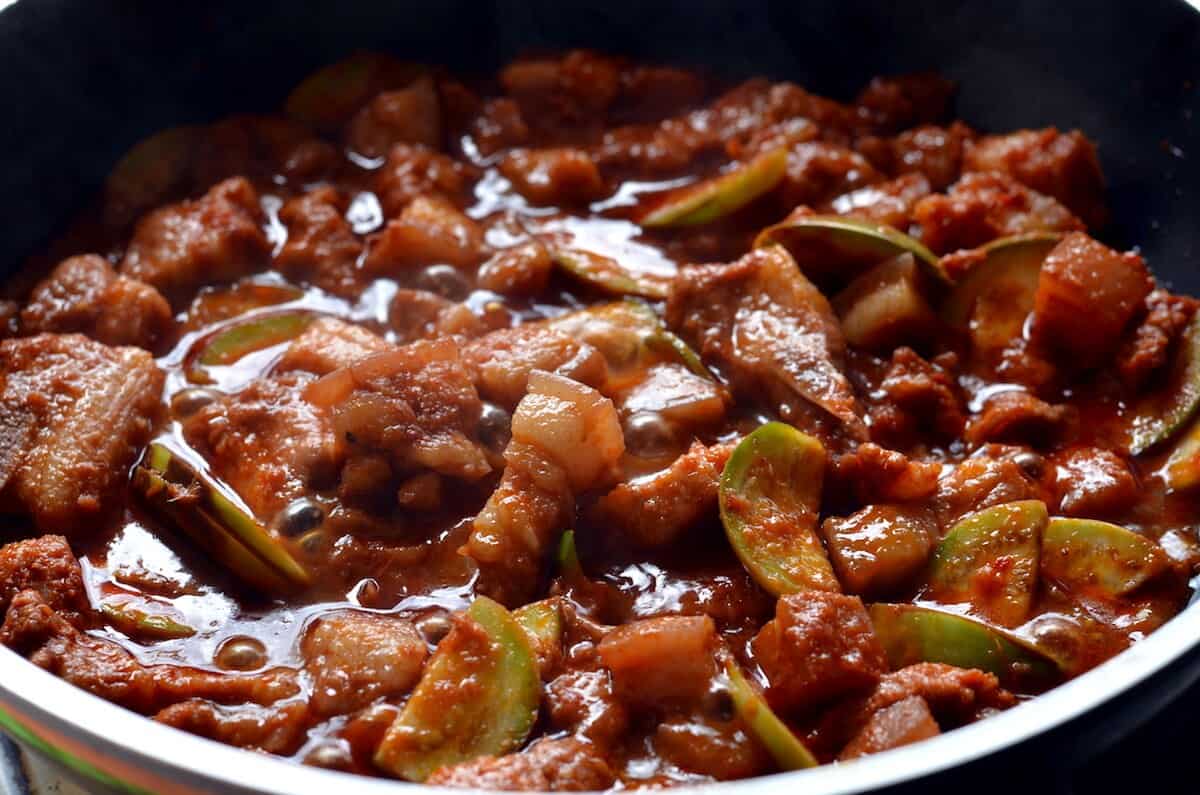 These are the final additions added to the curry at the very end:
sliced kafir lime leaves (or kafir lime zest)
sliced chili peppers
whole Thai Sweet Basil leaves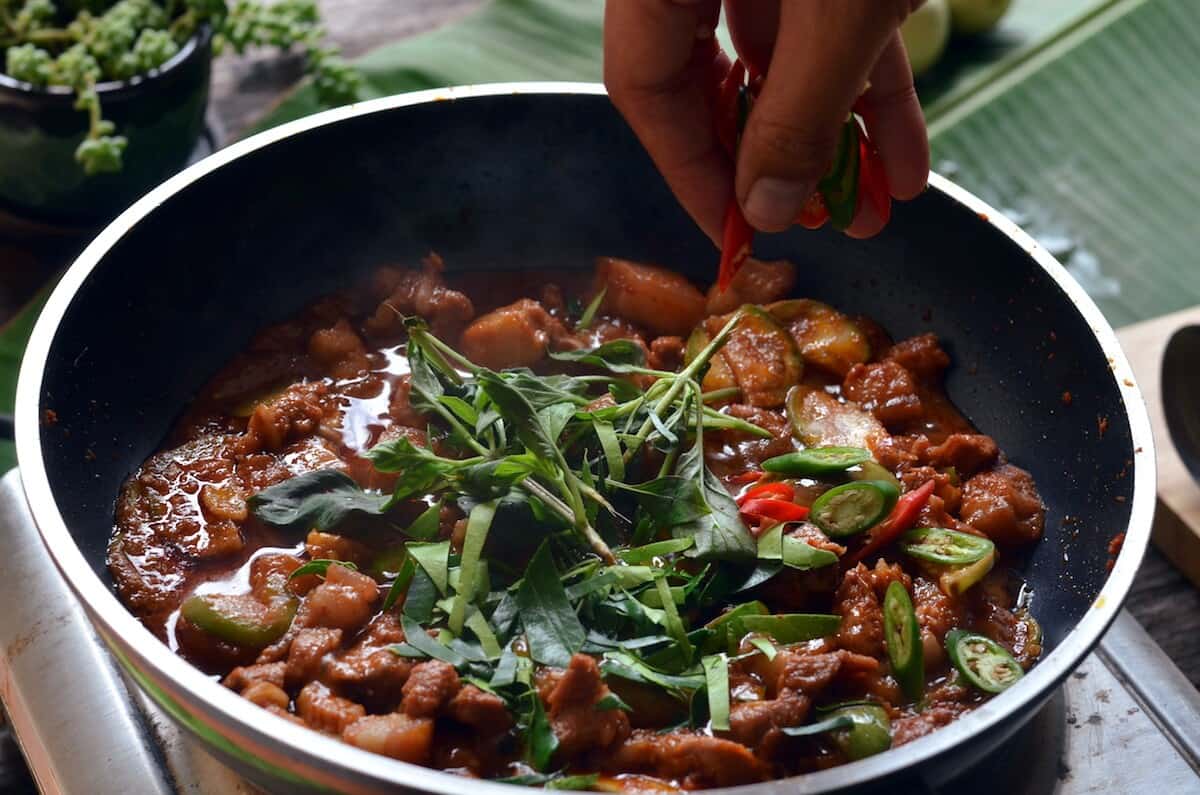 That's it!
Then serve.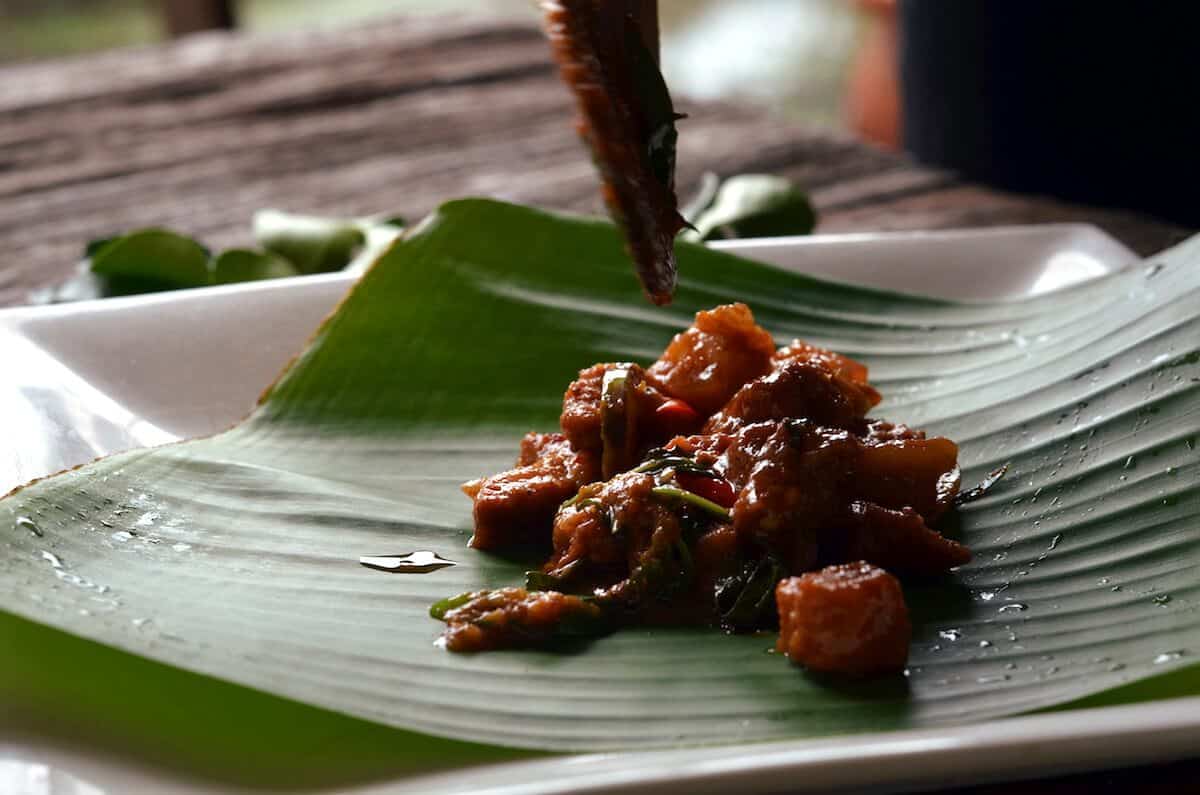 In case you're wondering, Ling is the one who does all the magic both in the kitchen and with the garnishing. She taught me how to chop down banana leaves to use them for plating and for cooking. We have a "khi bam" recipe that is actually cooked entirely over an open flame or stove top, using banana leaf. They're biodegradable. They make cleanup MUCH easier, and they're everywhere, available to everyone. I love banana leaves.
Panang Curry Recipe Complete
We hope you enjoy the Panang! I wouldn't call this dish the most picturesque of all the low carb Thai recipes we've created, but the taste is fantastic. Thanks for checking out our recipe, and if you make it, please let us know!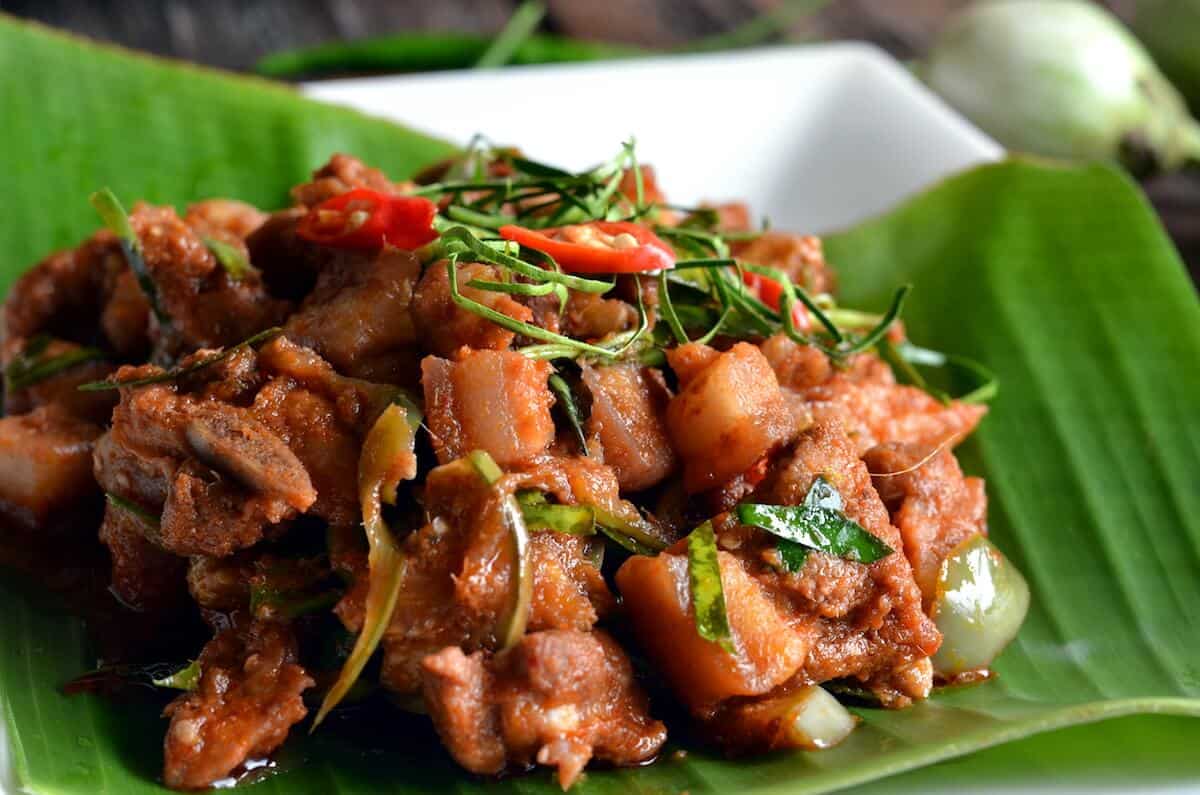 ---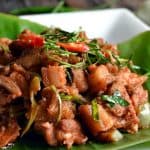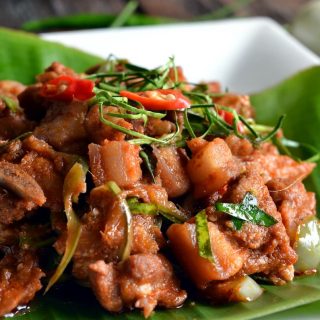 Thai Panang Curry Recipe (With Pork Belly) Keto Version
One of the tastiest Thai recipes, Panang curry also happens to be one of the easiest to cook if you use the pre-made red curry paste.
The purpose of Panang, I believe, is to activate every taste bud you possess. It's an exciting flavor that puts your buds to work.
This Thai Panang Curry is made with pork belly to make it more Keto worthy.
It is thick, salty, sweet and the fatty pork belly leaves you feeling completely satisfied for hours.
Traditionally served with a side of white rice, it's also perfect on its own without the white rice. Or you can make cauliflower rice to keep it strict Paleo style.
Keyword:
panang curry recipe
Ingredients
200

grams

pork belly

beef, pork meat or chicken work great too

15

grams

eggplant

2

tbsp

Red Thai Curry Paste

1

tbsp

Coconut aminos

1

tbsp

fish sauce

4

leaves

kaffir lime leaves

5

grams

Sweet Basil

1

tbsp

coconut oil

1/3

cup

water
Instructions
For the Panang Prep.

At least 1 hour before serving


Slice the eggplants and peppers and kefir lime leaves. For the kefir leaves, remove stems and slice into thin strips.


For the Panang Curry

At least 20 minutes before serving

Pour the coconut oil into a saucepan over medium heat. After a couple minutes, put in the Red Thai Chili Paste. Stir for a couple minutes before adding in all the raw pork belly.

Final steps.

Stir over low heat for 4 minutes then add the thinly sliced eggplants, the fish sauce, and coconut aminos into the cooking pan.

It will have a soupy consistency at this point. Stir occasionally over low to medium heat for 5 minutes, then add the chopped Thai Sweet Basil as well as the kefir lime leaves. Stir and cook a bit more, then serve.

To Assemble

It can be enjoyed with a side of cauliflower rice if you want to keep it low carb. Or enjoy as is for a truly unique, quick and easy to make Thai Panang Curry.
Recipe Notes
Looking to make a vegetable panang curry?
You can replace fish sauce with vegetable stock or simply omit and use the coconut aminos and no fish sauce. Tofu can replace the meat. This dish is a great one to make vegetarian if that's what you're trying to do. Vegetarian Panang is one of the few vegetarian main courses I really love.
Nutrition Facts
Thai Panang Curry Recipe (With Pork Belly) Keto Version
Amount Per Serving
Calories 409
Calories from Fat 360
% Daily Value*
Fat 40g62%
Cholesterol 48mg16%
Sodium 607mg26%
Potassium 140mg4%
Carbohydrates 3g1%
Protein 6g12%
Vitamin A 1665IU33%
Vitamin C 1.2mg1%
Calcium 14mg1%
Iron 0.6mg3%
* Percent Daily Values are based on a 2000 calorie diet.
---
Bonus: Authentic Panang Curry Paste Recipe
Here's the bonus I promised you above. The very best red Panang Curry paste will always be made from scratch. If you're feeling adventurous, homemade Thai pastes and sauces are always the best. The Panang curry paste recipe ingredients:
1 stalk fresh lemongrass, smashed and sliced
2-3 sliced fresh garlic cloves
1 tbsp sliced fresh ginger
1 sliced red chili
1 tsp coriander root (ground in mortar and pestle)
1 tsp lime juice
1 tbsp organic palm sugar (or try to replace with some fresh stevia tea)
3 tbsp fish sauce
Himalayan or Sea Salt to taste
Pound all the ingredients in this curry paste ingredient list minus the fish sauce. As it gets pasty, add a tablespoon of fish sauce, keep pounding and then taste test. Keep adding fish sauce until your desired taste is acquired.
---
Thanks for stopping by and checking out our low carb Keto Panang Curry recipe!
We hope you enjoyed it and if you make it please let us know! We'd love to know.
Comment below or send us a message to let us know how it went.
UP NEXT: Our Keto Thai Green Curry is one of the best recipes on this site. This one's up next, enjoy!