Do you enjoy eating cereal and oatmeal? Chances are yes, everyone likes cereal! But sadly, the fun is over. Glyphosate in cereal is killing us all. I say all because it's not just in cereal. From Lucky Charms to Cheerios, most all of the non-organic cereals tested contained glyphosate herbicide.
Did you know that each year, 250 million pounds of the toxic glyphosate weed killer from Monsanto are sprayed onto our American crops? And this is not exclusive to the U.S.
Plants suck it right up into the parts that we eat. It's called a "systemic herbicide" because of this way that it goes straight to the parts of the plant that we eat. And not only us, but animals too. So that means it comes from meat too.
Glyphosate In Cereal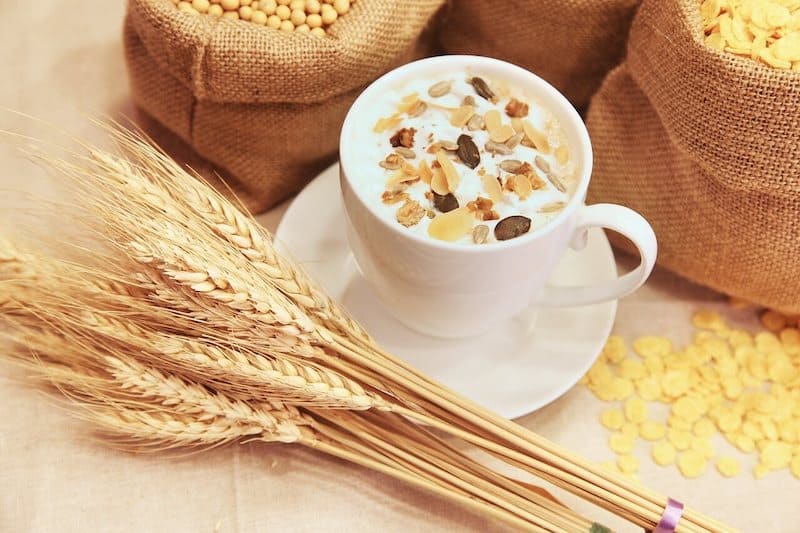 They're putting weed killer in Cheerios and all popular cereals.
KIDS have more weed killer in their bodies than adults.
Is it a coincidence it's found more in kids and kid foods than in adult-foods? Why does it seem like there is an attack on our young ones?
Monsanto says it's safe.
EPA says it's safe (no risks from currently registered uses they say).
WHO – probably carcinogenic to humans
European food safety authority – unlikely to pose a carcinogenic threat
California EPA – known to cause cancer
In this article by the Environmental Working Group (EWG), they share how major food makers like General Mills continue to make popular kid cereals among other popular foods despite the high amount of the carcinogenic glyphosate Roundup used to make them.
This image below shares 21 popular foods that use oats that were tested in a study commissioned by the EWG: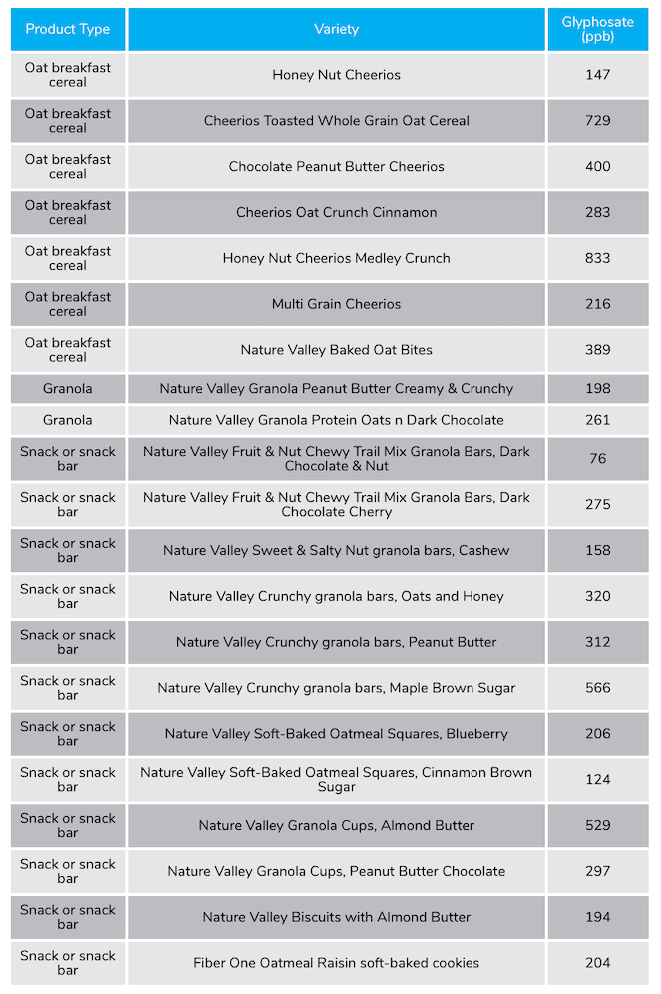 As you can see, Cheerios are the worst.
Even though they have a benchmark that's an "acceptable number of Glyphosate ppb", the only real acceptable number is 0.
There should be no glyphosate in food. Especially not in popular children's cereal.
In this other EWG article titled, "10 Food Companies Join EWG Glyphosate Petition", they share a harrowing fact about Roundup glyphosate:
Over the past 25 years, the EPA has increased the amounts of glyphosate residue allowed on oats 300-fold. The first increase, to 20 ppm, was granted in response to a 1997 petition from Monsanto, when farmers around the world first began using glyphosate widely as a late-season desiccant. It was increased to the current 30 ppm level in 2008.
So are there any glyphosate free oats at all? Are all Cheerios glyphosate ridden? The answers are not good.
Unless you make your own oats, then you need to start avoiding them… even the classic "Nature's Valley" bars are no longer safe.
But if they start pushing us to choose local, then maybe it can start making us change the way we purchase food. Most of the food in the inner isles of a grocery store is usually trash anyways.
Monsanto claims their weed killer is safe.
The EPA says it's safe too.
New Report: 90% of families have it in their bodies <— insane!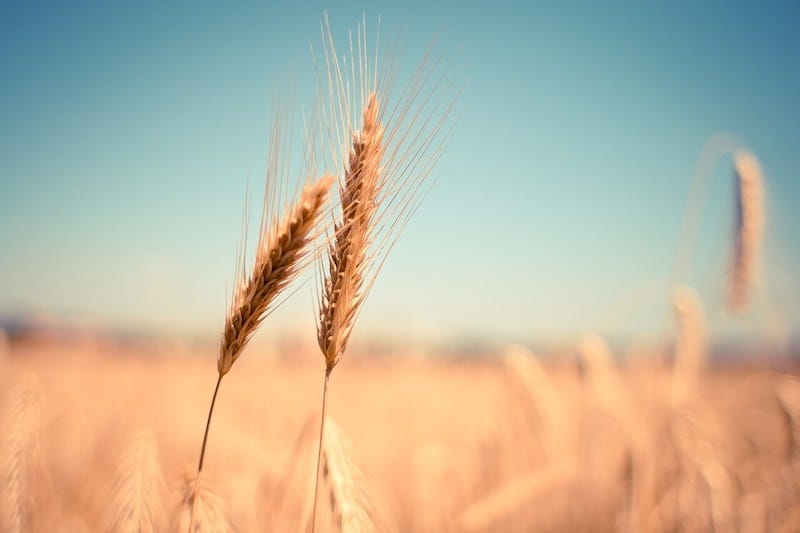 In this biomonitoring study shared on the Center for Environmental Health (CEH) website, they used an independent lab to study parent-child pairs. Nine of the children had higher amounts of glyphosate in them than their parents. 1/2 had twice the amount of glyphosate in their bodies vs their parents. One had almost 100% more.
Is it from glyphosate in cereal?
Most likely this is one of the culprits.
Here's a quote sharing this from the CEH article:
The lab found nine of the children had higher concentrations of the weed killer in their body than their parents. Half of the children had twice the amount of glyphosate in their body as their parents, and one had nearly 100 times more weed killer in their body.

Source: CEH
Here's a link to get a PDF of that glyphosate in kids compared to parents, report.
Glyphosate Weed Killer Usage Goes Berserk
Farmers who look at dollar signs before health use this poison herbicide as a pre-harvest drying agent. This is so sad. They use this cancer-causing herbicide to dry out plants so they can harvest them and sell them off to be turned into food faster. It's unbelievable. They make sure to soak our foods in glyphosate, just in case.
Nobody cares or pays attention so "they" go on dumping chemicals into our foods. Because it is a slow death and slow punishment to our bodies (which are our temples), we seem to ignore it.
Ever wonder why 1 out of 2 people gets cancer now? Autoimmune diseases?
WEED KILLER is one reason.
But yet it remains in popular store-bought foods and in most the foods in public school lunch menus. Look at the ingredients of the cereal boxes of today: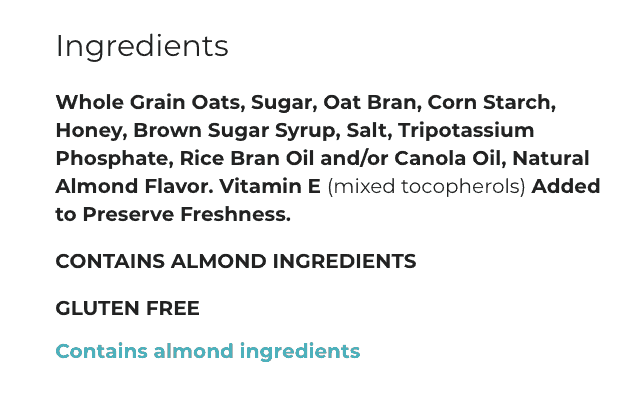 Then look at the ingredients list of the same cereal box in the '50s (if you can find one let me know)
My guess is that the one from the past is 100% better, because today's is trash. The only thing the new labels are missing are the glyphosate in cereal fact. It should be in the ingredients label.
Glyphosate In Food: the problem goes on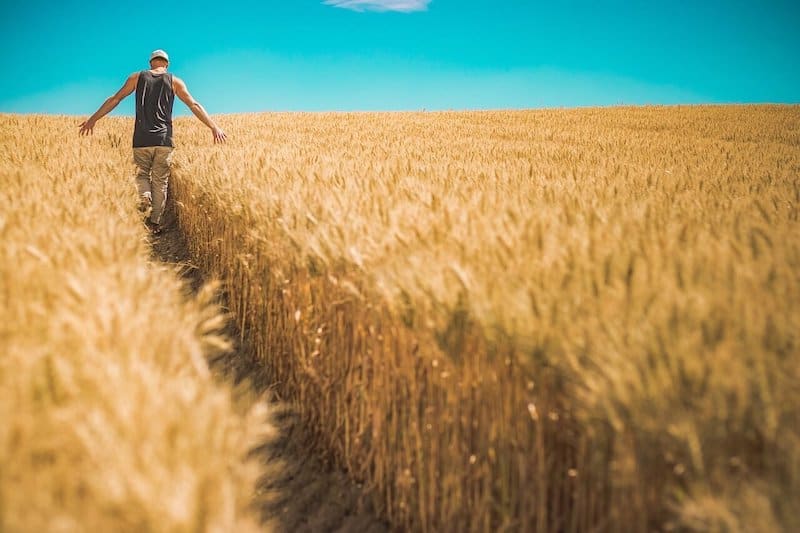 Be extremely careful about what you eat. Better yet, stop eating wheat. Don't go to public areas where they use the weed killer. Go to natural spaces that aren't groomed for perfect looks just to go on and poison everyone that enjoys it there.
Today's environmentalists are part of the problem. What's wrong with them today? They attack CO2 levels, but they never turn around and look at Monsanto/glyphosate or microplastics or metals in the air we breathe, or never ask themselves, "should we be dumping fluoride in our water?" Why don't today's environmentalists ask these KEY questions? My opinion is that TRUE environmentalists are being usurped by these fake ones that are used (maybe unknowingly?) to forward some agenda that will end up militarizing these opinions. It's truly an evil plan that's unrolling before our eyes, but we're too busy fighting each other instead of seeing this.
Next Post: Here's another great solution to glyphosate in food. Dropping the wheat is a great idea, but if it suits you, go "Carnivore".
Here's a carnivore diet plan that has done many good things for people with autoimmune conditions.
Summary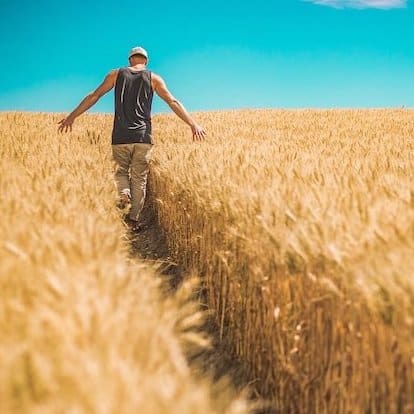 Article Name
Glyphosate In Cereal Has Ruined A Great Breakfast
Description
Glyphosate in food has been found to be an increasing problem that is not going to go away any time soon.
Author
John at Nutrition Adventures
Publisher Name
Publisher Logo