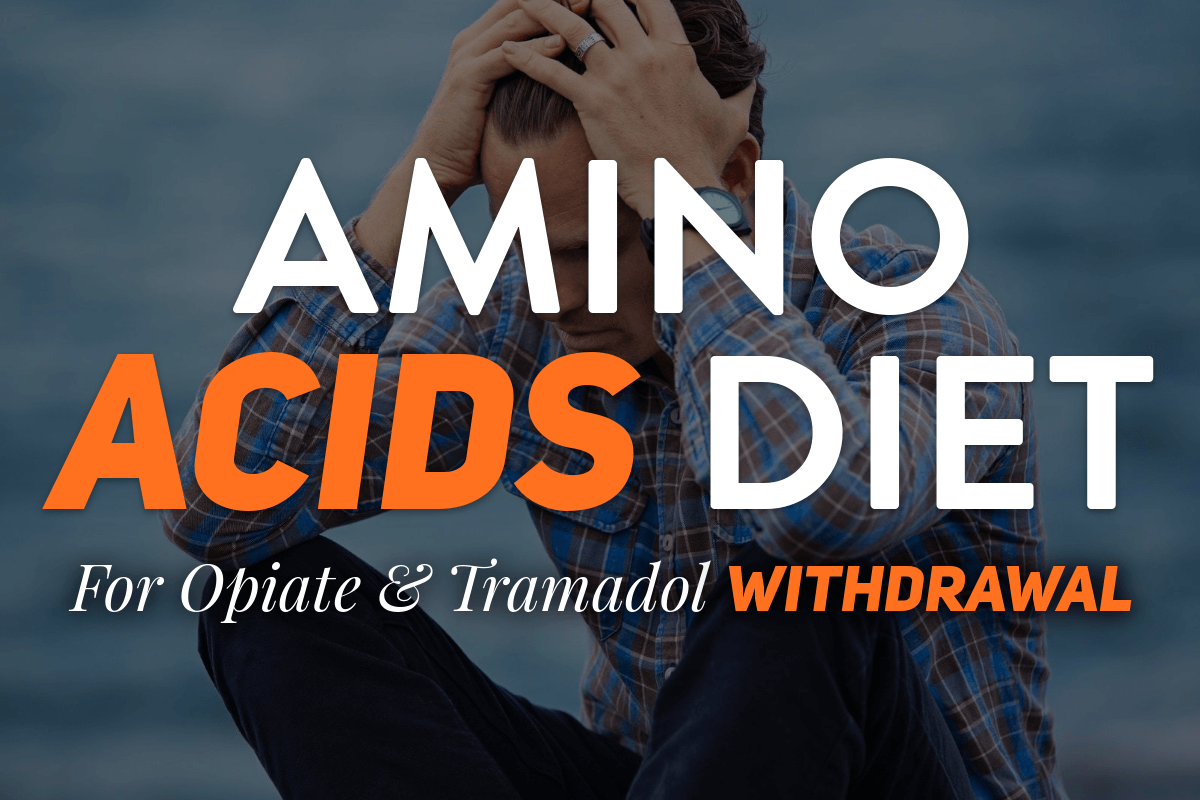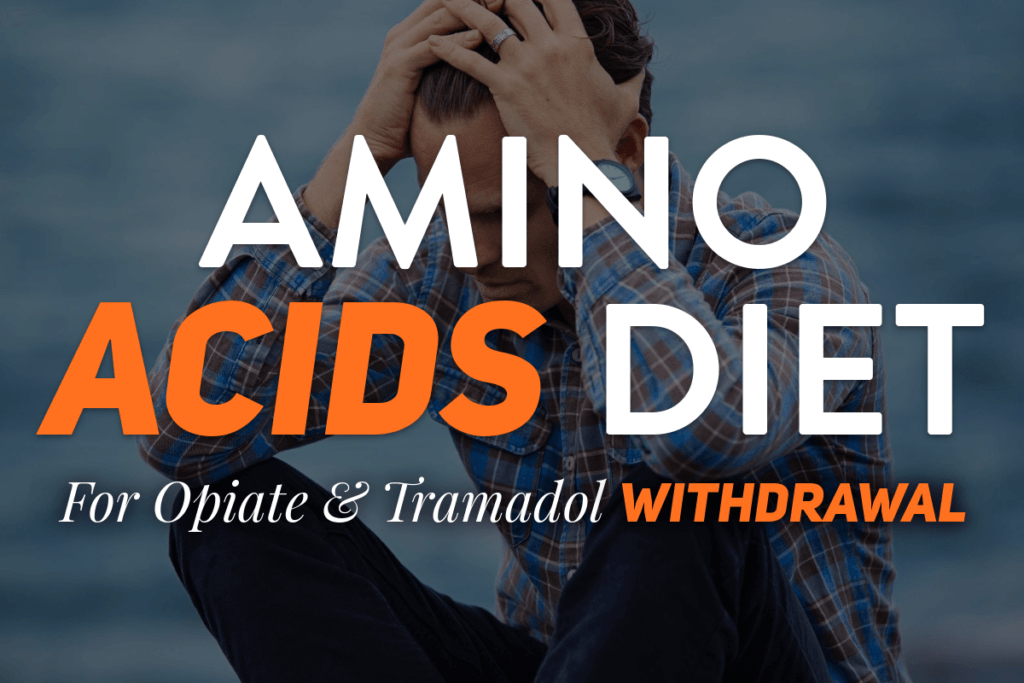 Tramadol withdrawal (or any opioid withdrawal) is something you may have had to deal with if you've had a bad injury, major dental work, or surgery that had them prescribed to you.
The danger in prescribed pain pills is the withdrawal, even if you take them as prescribed.
This amino acids diet for opiate withdrawal is not just for those on hard drugs looking to get off them.
It's for any average person not taking more than prescribed. Anyone can easily fall into this pharma trap.
Take tramadol withdrawals for example.. if you simply take the prescribed amount, you still need to wean off in order to not deal with the bad feelings from withdrawal.
In the past 3 years, I've met multiple people who've dealt with accidental physical addiction to this drug. And they are by no means "drugs addicts." And so this got me thinking. What if there are certain foods that could help? A little research led me to find many people who tout a high amino acids diet as an opiate withdrawals food that really does help.
Tramadol Withdrawal & The Amino Acids Diet
Tramadol withdrawal symptoms can be eased in many ways. Nutrition is one of many, and the one that deals with the food side of things. When you're coming off tramadol or any opiate medication, you'll have to deal with some biochemical imbalances that happen after using it for an extended period of time.
The recent stories I've heard of tramadol are pretty scary. They say it's worse than heroine to get off of. When learning about this drug, I found out that Tramadol is an opioid agonist, and a serotonin and norepinephrine reuptake inhibitor, all in one. What this means is that when you come off your [hopefully prescribed] tramadol medication, you have to deal with two things:
The opiate withdrawal. Even though it's not a full-on opiate, it does rub the receptors and gives you a lighter version of the same euphoria. Endorphins and serotonin are inhibitory brain chemicals that create these euphoric and relaxed feelings.
The SSRI withdrawal. Norepinephrine is an excitatory chemical messenger that is said to help with focus as well as depression.
This is what you're dealing with when taking this powerful pharmaceutical! They are what make tramadol's side effects very addictive for many people.
This article on tramadol, titled "Is Tramadol An Opiate?" shares more on this subject, as well as has a lot of information to help get you off them if that is what you're currently battling.
Some people don't feel anything when they take it. They don't get the benefits of pain reduction, nor the euphoria that many get hooked on it for.
But for those that do get hooked, whether on accident or purposely, there are ways to ease tramadol withdrawal symptoms. Next I will share some remedies for withdrawal with food.
What you eat is important to look at when weaning off tramadol (they say going cold turkey is a bad idea, so you should definitely talk to your doctor about this if that's your plan). Along with anything fresh, like vegetables and fruits that will give you good vitamins and fibers to help with diarrhea and any depletions, amino acids foods are very important to speeding up your recovery.
Amino Acids Diet For Faster Recovery From Addiction
While you likely won't want to eat during your opioide withdrawal, when you do get yourself to eat, it's important to not eat crappy foods (packaged foods, anything processed, etc.).
When you're dealing with the bad feelings of stopping a powerful, prescribed pain killer such as tramadol, amino acids foods help re-balance your brain chemicals.
An amino acids diet leads to increased neurotransmitters, thus their positive benefits for your imbalanced brain due to the pain killers.
Amino acids foods can be found easily for vegetarians too. So whether you eat everything or you're a vegetarian, you can help ease your withdrawals with amino acids foods.
There are 20 different amino acids your body needs for normal functioning.
9 of these are essential amino acids, meaning they only come from food or supplementation. You have to make sure you're getting these 9 from food when dealing with drug or opioid pill withdrawal symptoms.
Luckily the 9 essential amino acids are common in many foods. Chances are you're already getting enough of them. An amino acids diet is simply a diet high in these types of foods:
meats
eggs
tofu
soy
buckwheat
quinoa
legumes
dairy
The Best Amino Acids Foods For Opioid Withdrawal
Glutamine rich foods: As far as foods for addiction treatment, glutamine foods help promote relaxation when you're nothing but restless. According to Sober Living:
Glutamine promotes relaxation and helps reduce the loss of GABA which is an amino acid and the most abundant inhibitory neurotransmitter in the brain.

Sober Living on foods good during opiate withdrawal
Foods high in glutamine include:
beans
beets
chicken
fish
tofu
cabbage
peas
spinach
dairy foods
The 9 essential amino acids for drug recovery through nutrition
Here's the 9 essential amino acids, how they help with things like opioid withdrawal, and then food sources you can find them in, plant-based and fish, poultry & meats. (source)
Tryptophan
Tryptophan is an essential amino acid that is a precursor to serotonin. Serotonin is a neurotransmitter that regulates sleep and mood as well as appetite. Serotonin will be off when dealing with any kind of pain pill withdrawals. For this reason, it's important to consume foods that contain the amino acid, tryptophan.
When you're low on natural serotonin, you're going to feel down. Getting sleep is very important during these times as well as consuming tryptophan rich foods. Nuts, milk, fish, and brown rice are some to name a few.
Tryptophan Foods: NutritionData.Self.com has a nice list of 20 pages of the highest content tryptophan foods. Below is a screenshot of the top 20. You can visit this page to browse all 20 pages.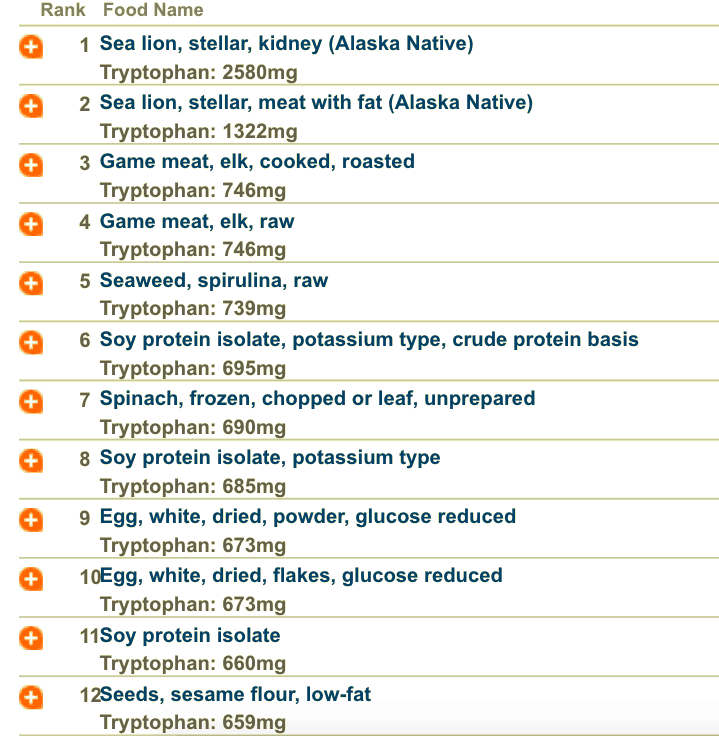 Phenylalanine
Precursor for the neurotransmitters tyrosine, dopamine, epinephrine and norepinephrine. Like most of these essential amino acids, it's available in many common foods from meat to fruit and vegetables.
Phenylalanine Foods: This NIH.gov article shares an in-depth table with how much phenylalanine content is within certain foods.
dairy
meats
poultry
soy
fish
legumes
nuts
Valine
Valine is one of three branched-chain amino acids, meaning it has a chain branching off to one side of its molecular structure. Valine helps stimulate muscle growth and regeneration and is involved in energy production (5).
Valine Foods:
cheeses
nuts
mushrooms
whole grains
vegetables
Threonine:
Threonine is a principal part of structural proteins such as collagen and elastin, which are important components of the skin and connective tissue. It also plays a role in fat metabolism and immune function (6).
Threonine Foods:
Methionine
Methionine plays an important role in metabolism and detoxification. It's also necessary for tissue growth and the absorption of zinc and selenium, minerals that are vital to your health (8).
Methionine Foods:
Leucine
Leucine is one of the branched-chain amino acids that helps produce growth hormones among many other things not directly related to withdrawal treatment foods.
Leucine Foods: similar to its fellow essential amino acids.
Isoleucine
On of the three branched-chain amino acids, helps with energy regulation.
Isoleucine Foods:
eggs
turkey
lamb
cheese
fish
meat
rye
soy
cashews
almonds
oats
lentils
beans
brown rice
cabbage
hemp seeds
chia seeds
spinach
pumpkin
pumpkin seeds
sunflower seeds
sesame seeds
cranberries
quinoa
blueberries
apples
kiwi fruit
Lysine
Among many other things, it helps with hormone and energy production. Foods include:
avocados
dried apricots
mangoes
beets
leeks
tomatoes
pears
green and red peppers
potatoes
tempeh
tofu
soybeans
soy milk
beans, including:
kidney beans
navy beans
black beans
chickpeas
hummus
lentils
edamame
pumpkin seeds
pistachios
cashews
macadamia nuts
quinoa
amaranth
buckwheat
yogurt
cheese
butter
milk
oysters
shrimp
snails
Meats
beef
pork
chicken
Histidine
Histidine produces histamine which is a neurotransmitter important for many things: immune response, digestion, sexual function and sleep-wake cycles. According to this Healthline article:
It's critical for maintaining the myelin sheath, a protective barrier that surrounds your nerve cells.

Healthline, on amino acid roles in your body
Histidine Foods: All of these are major sources.
all meats
poultry
seafoods
nuts
whole grains
---
Conclusion: food for tramadol withdrawal
If you have a need for a pain killer, kratom (not legal in many countries for some reason) is good to try instead of any pharmaceutical. When it comes to tramadol withdrawals, take heed due to the long half life and the SSRI withdrawal that comes with it. Because of these withdrawal symptoms from tramadol are some of the worst, you'll need to use many factors in easing the pain. Nutrition is one. High amino acids foods will help, and if you can only eat so much, try to get at least some of these foods in. The good news is, all the people I've talked with who became very addicted to these pills, successfully got off them by weaning themselves off and replacing the bad with good, like good food, sleep, sunshine and willpower to get clean.
Thanks for stopping by the blog, and if this is something you're having a bout with at the moment, I pray you will overcome it and in time get back to your true best self.
Leave a comment below if you have more nutrition tips for dealing with pain pill withdrawals!
Next: The Anti Inflammatory Diet – Lower your body's inflammation with simple lifestyle factors and nutrition. It will help make you live longer!