I'll just start off by saying that if you've never looked into nootropics before, but you're a coffee drinker and you love coffee for its ability to kick you into gear in the morning, then you should most definitely take a look at this Kimera Koffee review.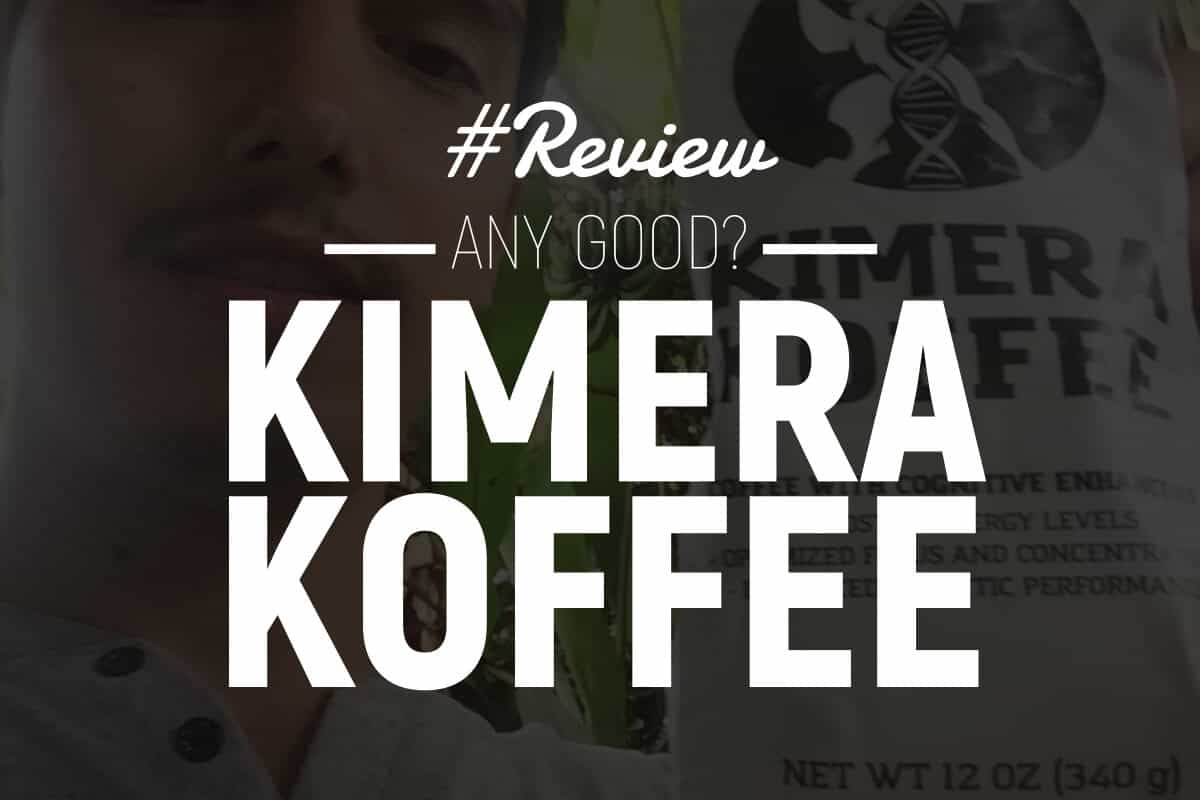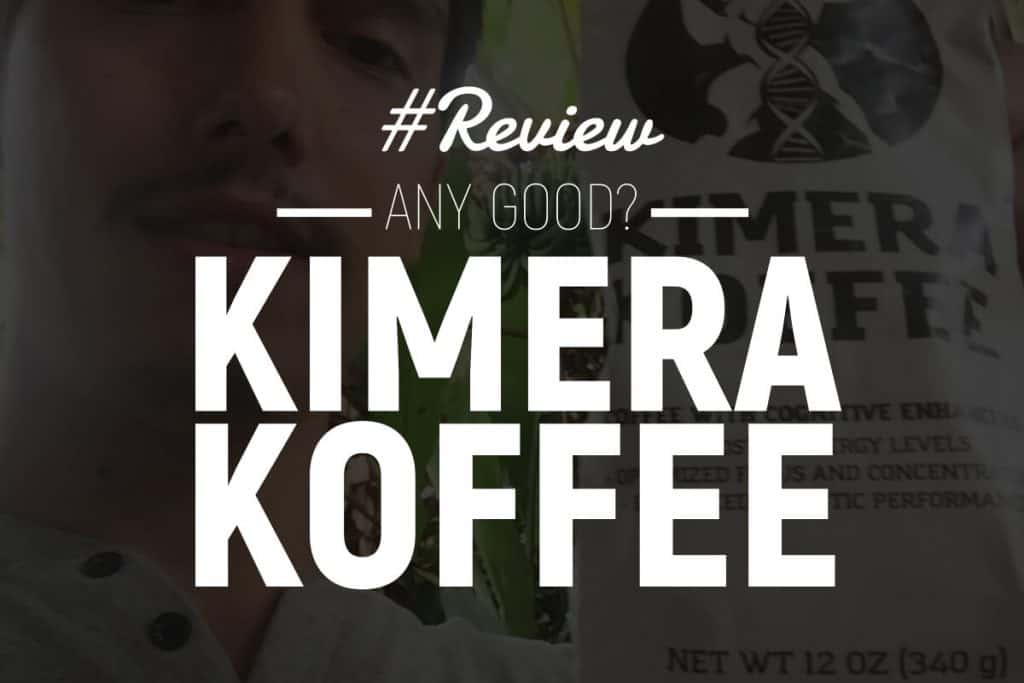 If you've experimented with nootropics before in hopes of attaining a mental and physical edge in a safe and natural way, but ended up with disappointment, then me and you both have been there. 
I love my morning coffees, and I also love natural cognitive enhancers. Years back I tried piracetam, then Alpha Brain, then Ciltep. I never got too deep into nootropics, and then I ended up ditching them all for just coffee and tea.
---
Kimera Koffee Review
After hearing a lot about Kimera Koffee, it finally came to my attention that I should buy a bag and try this stuff out. So one day I did. I've always toyed around with nootropics, starting with Ciltep back in like 2011. My final consensus was that they were all a waste of money. That's why I started a keto diet. I wanted my brain to run on ketones and so I learned more about ketosis and fasting. To this day I utilize ketosis for all its benefits. Then came along this company, Kimera Koffee. I thought their Instagram posts were funny, so I bought a bag of their organic nootropic-infused coffee on a whim. I wanted to see what all the fuss was about. It had been years since my first foray into nootropics, so figured why not. Let's see if this stuff actually works.
Check out this cool bug on the water bottle!
My first cup on that first day I really didn't notice anything. I noticed the caffeine, but was that it? Maybe I hadn't slept much the night before (a full night's rest always makes everything better), or maybe I was looking too hard. But every cup after that first day's, I noticed the difference. I was so surprised when I actually felt the brain-enhancing effects of the added nootropics inside this Kimera Koffee. It tastes just like coffee, but this is more than just coffee!
---
The Experiment:
I needed a second opinion, and who better than someone that shares the same genetics? I've read all the reviews, but I don't know those people. In order to confirm my beliefs that this Kimera Koffee really works, I sent a package over to my brother's house. He's an architect with multiple creative side gigs and appreciates having his mental edge. I actually forgot about the coffee I sent him, and a few months later out of the blue, I got this text:
This helps let me know that the positive effects from this coffee are not just caffeine mixed with placebo.
---
Did Border Patrol Want My Kimera Koffee?
The backstory of how this Kimera Koffee bag got into my grubby hands is a long one. Let me just throw it out there really quick, because yeah, it sucked. I live in Thailand, and If I ship anything to myself from the states, I have to declare what it is and its value.
On this package, I had a few other things in a box worth around $300. I figured the package was lost in transit, but at least a month or 2 after the delivery was shipped out, I got a notice saying my package was being held up because I under-declared its value. I had some blue-blocker shades in there and a few other valuable things not easily found here in Thailand, so I needed to get this package! After line item-ing everything with screenshots and images so I could get my package, turns out I did under-declare by a small amount. I don't know if it was a penalty, or if they wanted their hands on my goods, but they charged me a whopping $120 just to release the package. It's laughable, but it is what it is. And it was fully worth it.
Kimera Koffee really gives you a noticeable, natural brain boost feeling that sustains itself for quite some time. It was the mental edge I'd been hoping to get from this coffee when I first ordered it. With Kimera Koffee, you just want to put your brain to use. I like it before work, but it's also a great pre-workout supplement.
---
Kimera Koffee Ingredients
There's no point in writing this Kimera Koffee review without sharing information about the prized feature of their brainfood coffee, the nootropics. So let's go over the coffee then the 4 nootropics added to the Kimera Koffee.
Organic coffee beans:
They work directly with the farmers in the Dominican Republic… no middleman. And I've also heard somewhere that they live near the coffee farm itself, which adds some novelty to the brand.
---
The Nootropics
Alpha-GPC, Taurine, DMAE, and L-Theanine are inside. You'd think that adding nootropics would affect the outcome of the flavor. You would never suspect any nootropics are in this coffee by the looks, aroma, or flavor. The coffee doesn't have a nootropic-y taste which I imagine would be far worse than unflavored bhb salts. It just tastes like good coffee, depends on how you make it. Here'a bit on each one of these from some quick research:
1. Alpha GPC (mental boost)
As a supplement, "Alpha-GPC is a cholinergic compound that is used for its cognitive-promoting properties, and to enhance power output in athletes." (source)
From Brainiac:
Alpha GPC is a natural choline compound that works two ways: on its own it's a respected nootropic known as a potent memory booster, and in combination with other nootropics is a powerful potentiator that can take cognitive enhancement to a new level. It's the choline source of choice for millions of nootropic users, considered by many to be an essential component in every stack.
From Wikipedia:
Studies have investigated the efficacy of alpha-GPC for cognitive disorders including stroke and Alzheimer's disease. An Italian multicentre clinical trial on 2,044 patients suffering from recent stroke were supplied alpha-GPC in doses of 1,000 mg/day for 28 days and 400 mg three times per day for the five ensuing months. The trial confirmed the therapeutic role of alpha-GPC on the cognitive recovery of patients based on four measurement scales, three of which reached statistical significance. Commonly used doses are 300 to 1,200 mg daily.
---
2. DMAE (the brain & skin nutrient)
DMAE is another naturally occurring cholinergic compound used for its cognitive function-promoting abilities and naturally found in small amounts in the brain. DMAE is used in the antiaging market for everything related to antiaging; skin, hair and even age-related cognitive decline.
---
3. Taurine (used in most energy drinks)
It's in every energy drink, most likely because it helps reduce stress, fatigue, and increase metabolism.
I hope the people over at Nootriment don't mind me using their little infographics! I'm linking to them which is the common courtesy thing in the online world. Here's their image about Taurine.
---
4. L-Theanine (stress-free endless focus)
Helps with daily stressors and so much more. I love L-theanine.
Kimera Koffee has L-Theanine in it. My ultimate favorite thing about tea! L-Theanine I compare to runner's high. It's a natural way to just feel good. If you ever go to China, you'll notice that everyone carries around a glass tea diffuser travel bottle and there are hot water machines all around the city. People are always refilling and drinking their teas, all day long. I think it's because of the L-Theanine found in tea more so than the caffeine or catechins.
According to Examine, "L-Theanine is one of the main active ingredients found in green tea, alongside caffeine and green tea catechins. It helps promote relaxation without drowsiness, making it synergistic with caffeine."
It's synergistic with caffeine. That fact deserves to be bolded, underlined and italicized…
L-Theanine is synergistic with caffeine.
Let me throw it in a yellow box too, because that's how impactful this factoid is to the life of a coffee connoisseur…
---
My nootropic "stack" that I had already been unknowingly doing for a long time before learning of Kimera Koffee, is freshly brewed black coffee followed by a local organic Ginseng Oolong tea I buy out here from a local organic tea farm (Maesalong Tea Farm in northern Thailand). Little did I know, this is actually a thing people are doing in the biohacking community. Check it out.
---
Price & Value
For $21.95 per 12oz bag, you get around 24 servings per container. This equals out to around $0.92 per cup of organic nootropic coffee. This is a steal.
Downsides
The only downside to Kimera Koffee is its biggest strength. What I mean is, I love grinding up my beans right before putting them into my Moka pot and brewing. Few things match the aroma of freshly ground coffee beans in the morning. You don't get fresh grind aroma filling the kitchen with Kimera because it's pre-ground. And it's pre-ground because it has to be in order to infuse the exact thing that makes this coffee so dang good. On the bright side, the organic pre-ground coffee is fresh, lush and has a wonderful strong coffee scent. So you're not getting a lesser product because of it.
---
Kimera Koffee Recipes
A few recipes for you to boost your morning even more with Kimera.
Cold Brew:
How to make a great cold brew coffee with Kimera:
2 cups of Kimera Koffee ground, pour in 7 cups of water, let it sit 12 hours at room temp
Then put it in the fridge for 24 hours
That's it: this cold brew lasts 3 weeks without going bad
The cold brew will be in a concentrated form you can then use in many ways from soaking your meat before a barbecue to diluting with a bit of water and ice (1 part to 1 part) before drinking. Or drink it one small, strong and cold espresso shot at a time.
Norwegian Egg Coffee Recipe
We also have a very simple recipe on the blog, the keto coffee recipe, which is just coffee, cacao powder, butter and coconut milk. It's a super fatty coffee that helps you hit your ketogenic diet macros.
Light Roast Vs Dark Roast
Light roast has more caffeine. You'd think a dark roast gets you more hyped up and caffeinated, but no. It's actually less. Dark is more for the flavor. I prefer dark roasts, but for the most part, I stick to the original Kimera Koffee bag. The white one.
Just For Fitness People?
I'm writing this Kimera Koffee review for anyone and everyone. This coffee is not just for fitness enthusiasts. It's for soccer moms and dads alike. Kimera Koffee uses a great selection of safe cognitive enhancing nootropics. Notice there's not anything like piracetam or other research-chemical style nootropics inside. Their nootropic blend is food-derived and made of natural nonessential amino acids and other naturally occurring substances. The four nootropics it uses are actually naturally occurring amino acids that your body already produces. They blend it into the coffee after it's roasted and ground.
---
How To Buy Kimera Koffee:
Nootropic Infused Ground Coffee (12oz), Rich,...
The Ultimate Coffee to Jumpstart Your Day - Kimera Koffee is packed with powerful nootropics and several other natural ingredients that do much...
Your morning brew just got a reboost! Kimera Koffee includes cognitive-enhancing benefits, thanks to all-natural add-ins like Alpha GPC. Plus, it...
All-Natural Ingredients - The Nootropics in Kimera combines coffee blend are composed of all-natural brain enhancing amino acids typically found...
Drinking straight black or bulletproof Kimera Koffee while intermittent fasting will not only accelerate your results but will have you feeling...
725mg of all-natural brain vitamins - 1 bag of Kimera Koffee (Pre-Ground) High Altitude Artisan Coffee infused with Alpha GPC, Taurine, DMAE, and...
---
Final Thoughts
In the same way I use a ketogenic diet for sustained mental energy, I use Kimera Koffee nootropic infused organic coffee to double that and give me laser focus for my work. I have focusing issues combined with extreme procrastination bad habits, but when I drink Kimera Koffee I am a very productive human being. If you're looking for an organic coffee with an edge you can really feel (and with the potential to delay cognitive decline associated with aging), then you must try Kimera Koffee out.
If you're looking for a mental edge, the Kimera Koffee Review hopefully shares some good information about how this cofee can help. Here are its pros and cons.
Organic coffee
Nootropic choices
Aroma & flavor
Great value
Possesses the all-powerful coffee and L-Theanine synergistic combo
Not in whole bean form. It's impossible to infuse the coffee with nootropics without roasting and pre-grounding it, so this is just a coffee snob's con. The pros far outweigh this slight con.
Buy this nootropic coffee on Amazon.com!
Kimera Koffee Review
Aroma & Flavor

Quality

Price/Value

Cognitive Function

Sustained Energy
Summary
I'm going to have to give these guys the full 5 stars. The value is there for the price. It still comes out to under a buck per cup, and it's infused with Alpha GPC, Taurine, DMAE, and L-Theanine. These naturally occurring nootropics (no research chemicals!) provide a safe and EFFECTIVE mental boost that lasts longer than a normal cup of coffee. It's a great cognitive enhancer and a brilliant idea to add to organic coffee. The coffee must have a potentiating effect because it does enhance mental & physical energy. I'd give it a go if that's what you're looking for.
---
UP NEXT: 9 Keto Supplements (Vitamins & Minerals) To Support A Healthy Ketogenic Diet
Be sure to like us on Facebook and follow us on Twitter so you can be the first to know about our latest articles, reviews and original recipes!