If you currently drink Bulletproof Coffee, you will love this "Feel Good" Keto Coffee recipe.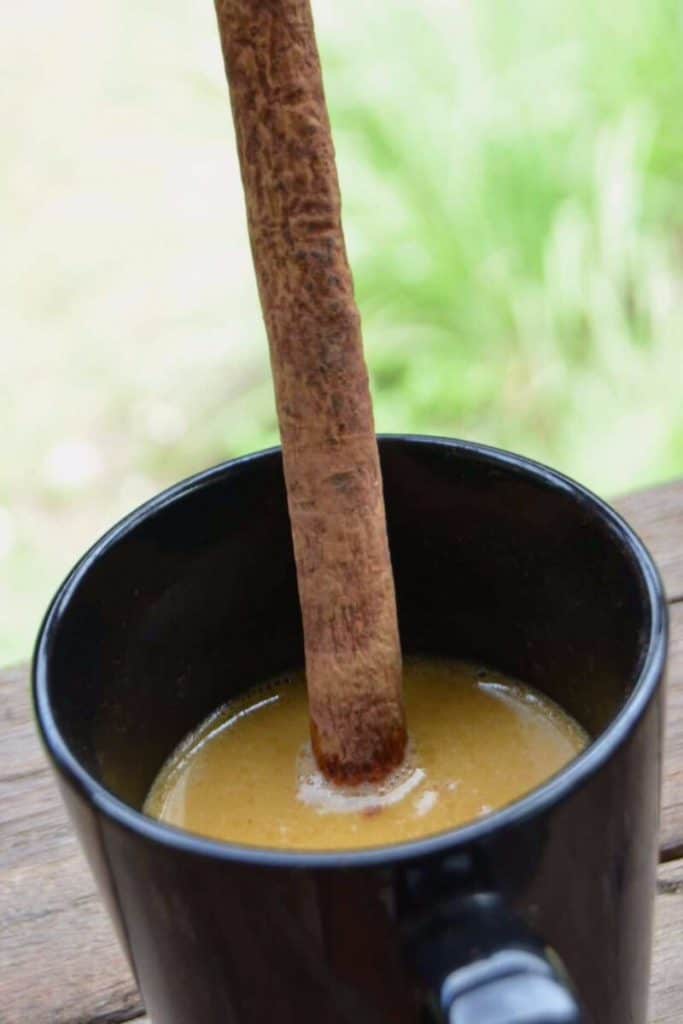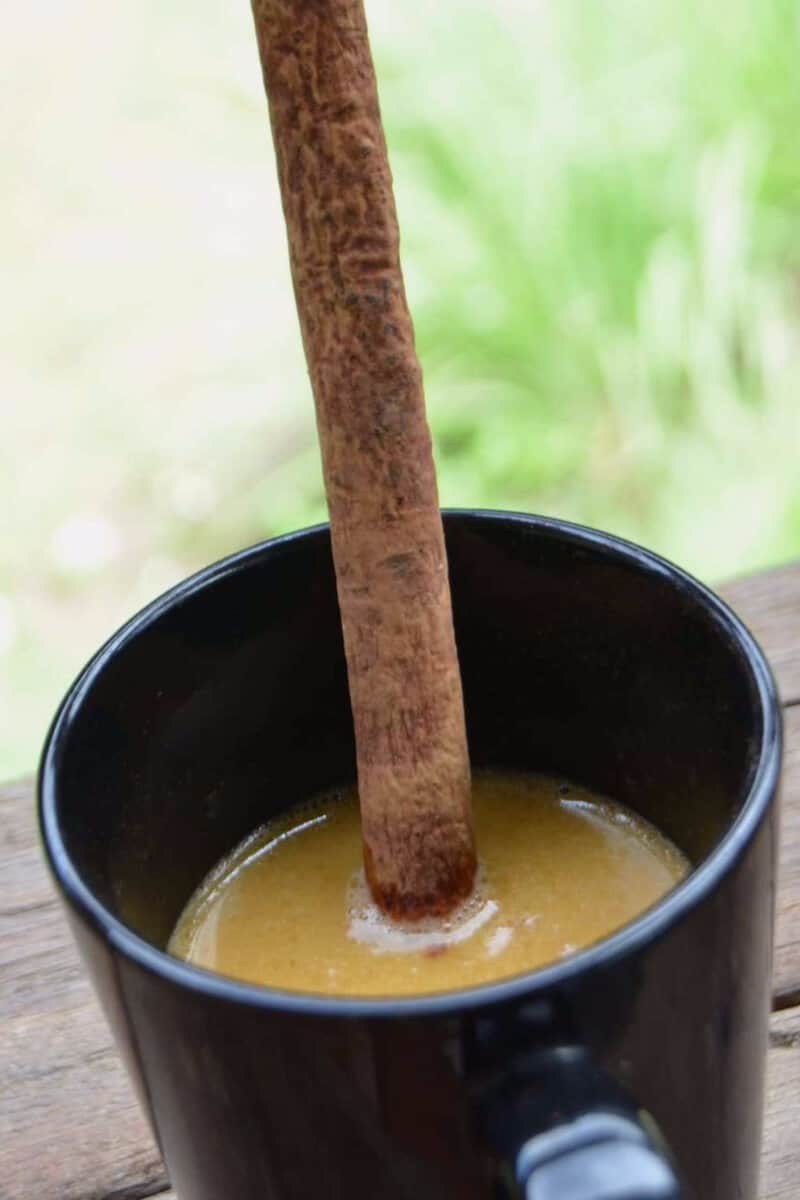 The "Feel Good" keto coffee is inspired by the Bulletproof Coffee; a staple in breakfast coffees for keto-heads worldwide, and what first introduced many, including myself, to the low-carb, high-fat ketogenic diet.
If you're on a keto diet, this coffee is a great option. This coffee is for low carb dieters who can afford to shift calories over to fat versus protein and carbohydrates.
"Raw cacao powder has more than 300 phytochemicals, nearly 4 times the antioxidant power of regular dark chocolate."

This coffee is just my personal version of the "Bulletproof Coffee."
---
"Feel Good" Keto Coffee Recipe Ingredients: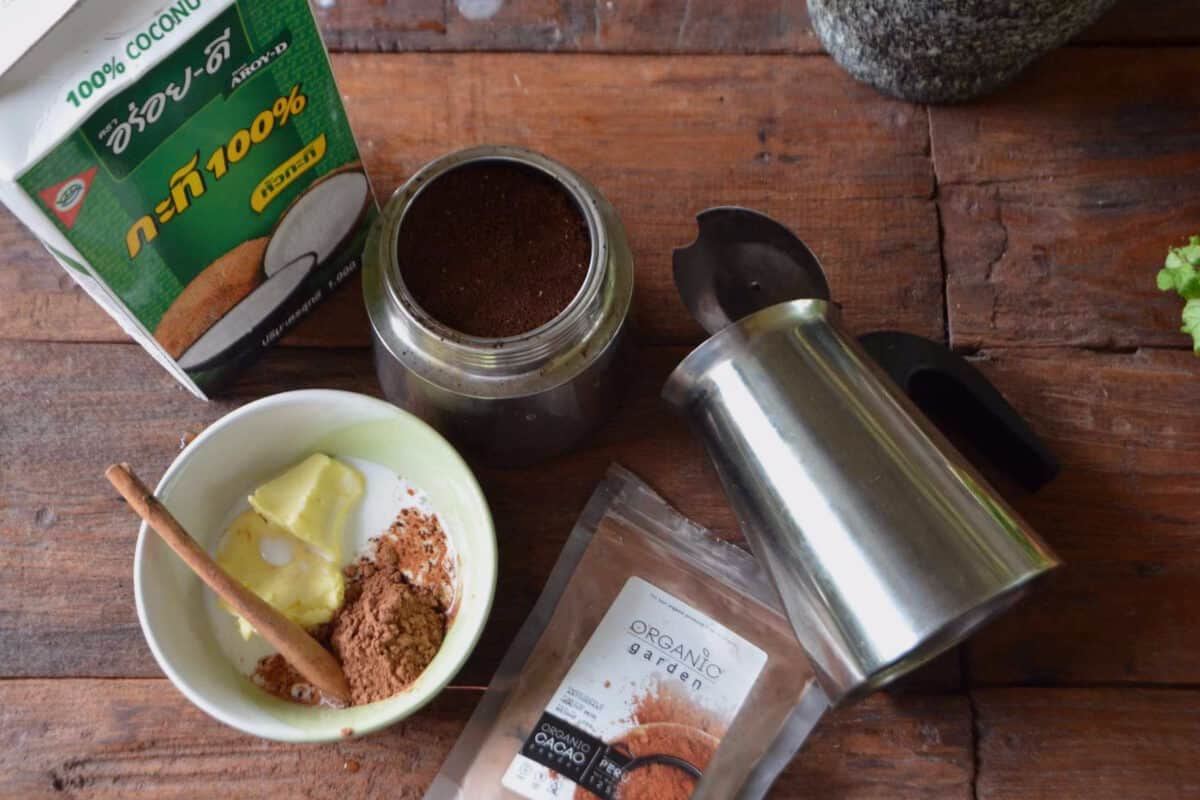 The Feel Good Keto Coffee features cacao powder, coconut milk, ground coffee and grass-fed butter. It's never been made in anything other than a steel moka pot (pictured) but is also great with any drip coffee or Americano. 
Raw cacao powder contains:
protein
calcium
carotene
thiamin
riboflavin
magnesium
and sulfur
The key when drinking high-fat coffees is to make sure you're getting your micronutrients either alongside it or later in the day. Once you're fat-adapted, keto coffees have the power to carry you through to lunch or dinner, or even the next day.
---
---
Grass Fed Butter Health Benefits
Just as with beef, butter from grass-fed cows is far more nutritious vs grain fed cows. This is because the grass is rich in vitamin K1 and the cows convert that into a bioactive K2. Grain fed cows' digestive bacteria do not convert as much bioactive K2. Grass-fed butter done right can provide a ton of health advantages.
Butter from grass-fed cows is high in Omega-3 fatty acids and vitamin K2. And it blends wonderfully with coffee as if it were cream, yet it's a much healthier choice. Here are 8 more benefits of grass fed butter:
Weight loss: Contains Conjugated linoleic acid (CLA) which is known to promote weight loss by helping burn visceral fat, especially around your belly, among other benefits like supporting muscle growth and protecting against cancer.
Increased Energy and cognitive function: Grass-fed butter provides sustained energy, while the coffee itself will provide an initial power boost that lasts for hours as well. When you combine these two with the added MCTs from coconut milk PLUS the mood-boosting antioxidants from the cacao, you have yourself a powerful way to start off your mornings. Even more so, motivation to get up, get going and tackle your day ahead with purpose.
Conjugated linoleic acid (CLA): Grass-fed butter is packed with the best form of conjugated linoleic acid (CLA). I say the best, because of this study, which tested CLA in milk from cows fed different diets. Grass-fed cows were the richest source:"Cows grazing pasture and receiving no supplemental feed had 500% more conjugated linoleic acid in milk fat than cows fed typical dairy diets."While CLA is often used to promote accelerated fat loss, it's also been shown to help those suffering from various chronic illnesses, from chronic inflammation to cardiovascular disease and more.
Omega-3: There are a few things us humans must get from our diets, Omega 3 is one of them. Whenever you can find a plant or non-fish based source of it, that's great news (if you don't eat much fish). Grass-fed butter is one of these alternative sources. Omega-3 is important for many bodily functions and can help treat and prevent various medical conditions including brain conditions like Alzheimer's, diabetes, anxiety, depression, inflammation, weight-loss, skin health, infertility and high cholesterol. You can see why it's important to incorporate more omega-3s into your life while lowering your Omega-6's too. Those who munch on a lot of processed foods need to watch for high Omega-6 and bad 3 to 6 ratios.
Healthy Saturated Fat: Morning tablespoons of butter means a large intake of saturated fat and cholesterol. But this is good for you. Our indoctrination of low-fat diets in the states is part of the reason we're scared of healthy fats. From a Dr. Jockers blog post on butter benefits, he shows 2 research studies that show how saturated fat is great for our health."Dietary saturated fat and cholesterol have been shown to improve hormone regulation and cell membrane function. They also have been shown to: Raise HDL Levels – the good protective lipoprotein (1)Change LDL Particles – From the dangerous small dense particles to the benign, large buoyant particles (2)"
Inflammation: Grass-fed butter is rich in butyrate, known for its anti-inflammatory properties. 
Vitamin K2: Vitamin K2 has many health benefits ranging from bone and heart health to cancer. Grass-fed butter seems to be one of the best ways to get this special K2 vitamin.
Stress: Satiety and time saving are two major stress relievers. When you don't have to waste your day's allotment of mental energy figuring out what to eat or stressing about how long breakfast is taking you, you feel better. The nutrients inside the morning feel good keto coffee are great. But the time savings in the morning and in focusing on your hunger might be even better.
---
Making The Keto Coffee
Simply add some grass-fed butter, a bit of Aroy-D coconut milk and a couple teaspoons of organic cacao powder and you will be off to the races or whatever is ahead feeling good.
The "Feel Good" Keto Coffee Recipe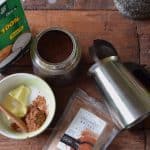 This is a basic coffee with butter, coconut milk and cacao powder.
1 tbsp butter (grass fed)
2 tbsp coconut milk (Aroy-D)
1 cup coffee
1 tsp cacao (organic powder)
---
Thanks for coming by the blog!
Most of our recipes are more complex and better than this one. I just wanted to share my version of the Bulletproof coffee with my "Feel Good" keto coffee!
Do you have your own version of the Bulletproof coffee? 
UP NEXT: Next will be another great keto breakfast, the Egg, Cucumber and Chayote recipe.