Brace yourself for this Thai pork curry recipe. After you take a bite you might do something crazy, like scream obscenities or throw something at the wall because you can't believe how good this northern Thai dish is.
Gaeng Hinlay Moo (Hinlay Curry) is a Thai style Massaman curry made with pork belly. It is the perfect dish for dinner night, or for every night. And it may even be the ultimate #1 keto Thai food recipe in the world…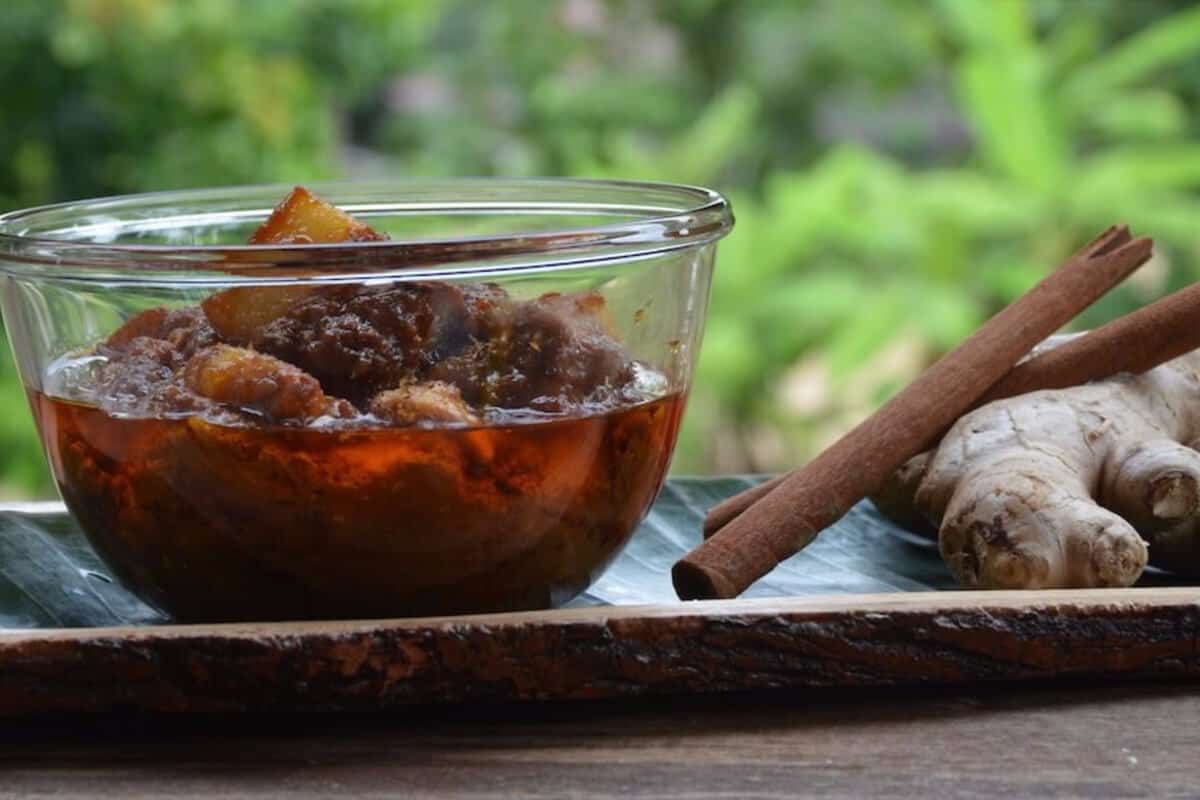 For the sake of authenticity, this recipe is an original Hinlay Curry recipe with pork.
What's inside the Hinlay Curry
Hinlay Curry uses oyster and black soy sauce. These can be replaced with coconut aminos and organic mushroom "oyster" sauce. Instead of soy sauce, I use Coconut Aminos. The recipe calls for about 15 grams as well as with 11 grams of black soy sauce in combination.
A Low Carb Thai Curry Recipe
It's naturally a low-carb, high-fat recipe due to it's ingredients, but to lower the carbs further and make it fully "keto-approved", you can replace the organic palm sugar which is exactly what we do in this recipe. We like to use a stevia tea as a replacement. It works perfectly.The resulting flavor is exactly the same deliciousness as if we had used organic palm sugar. 
Northern Burmese Thai Yai laborers introduced this dish to Thailand after settling in & around Chiang Mai, generations ago.

Hinlay Curry Recipe Backstory
The delicious pork belly recipe, Gaeng Hinlay Moo, originally had a different name and style. It's from Burma. Northern Burmese from the Shan Region migrated to Chiang Mai and the north, bringing their great food influences with them.
---
Ingredient List
Pork Belly, 427 grams
Hinlay Powder (or any Masala Powder), 3 grams
Garlic Cloves, 31 grams
Red Chili Paste, 50 grams
Organic Palm Sugar, 20 grams
Tamarind Water, 50 grams
Chopped Ginger, 25 grams
Coconut Oil, 20 grams
Pickled Garlic, 22 grams
Soy Sauce (or coconut aminos), 10 grams
Oyster Sauce (or mushroom "oyster" sauce), 27 grams
Black Soy Sauce, 11 grams
Water, 1 Liter
Pork Belly
This mouthwatering dish calls for fatty cuts of pork stomach. That's what makes this dish so perfect for keto diets. Pork is a complete dietary source of protein. It's also a great source of vitamins, minerals and essential amino acids our bodies need. Pork gives us creatine, glutathione, taurine, zinc, vitamin B12, vitamin B6, thiamin, niacin, phosphorus, iron and more.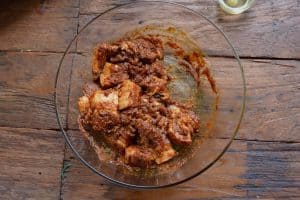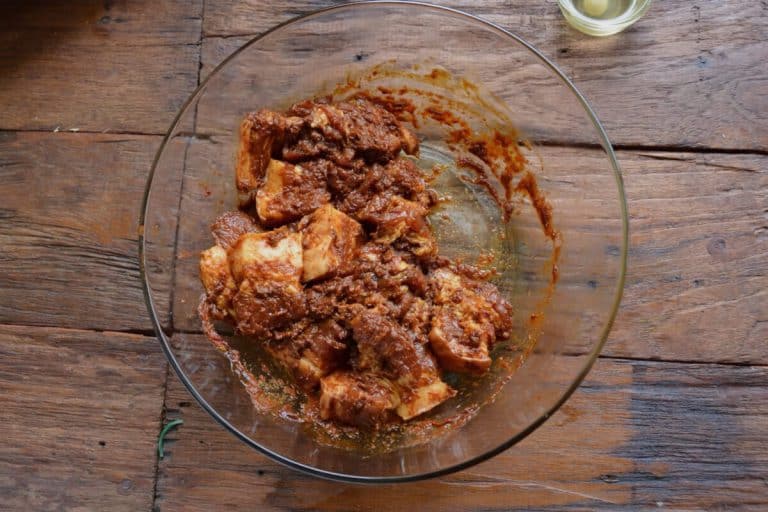 The fatty cut of pork stomach you'll cut into cubes, and blend in a bowl with an array of tasty flavorings that will confuse you at first with how good they make it. This is because we're not used to having all our taste buds activated in a single bite. This Hinlay Curry will do that, even if you substitute the standard oyster sauce and soy sauce. 25 grams of chopped ginger, red Thai curry paste mixed with Masala Hinlay Curry Powder.
Funny story right before cooking up this recipe up for this post: So I bought a Hinlay Curry Powder pack at the Warorot market in Chiang Mai, but it mysteriously disappeared when I got home 45 minutes away up in the mountain.
Luckily this powder is a local staple and I was able to pick up a different brand one at the small nearby market.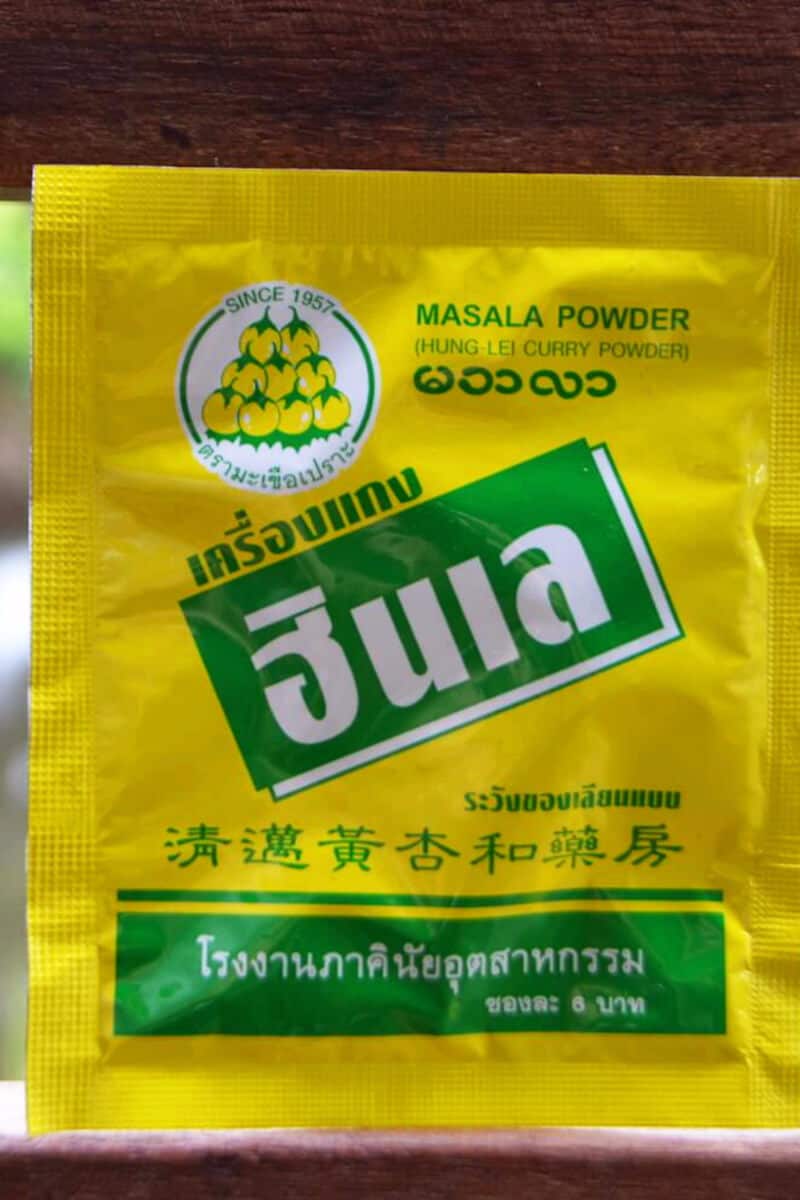 It contains what I believe is cumin, coriander, fenugreek seeds, peppercorns, cloves, cinnamon turmeric, and nutmeg.
In America, Hinlay Powder can be found online or at your local Asian market. Sometimes it is labeled "Masala" powder, and there are Indian versions of this powder that will work just as well. I haven't tried it with the Indian masala powder, but the ingredients are the same, so I'd imagine it tastes the same (if that's all you can find online). Currently, on Amazon, that's what I see.
Cooking Hinlay Curry
The recipe uses 31 grams of regular garlic cloves, peeled but not chopped. Once everything is in your pot and cooking, you can add these in at the same time as the tamarind juice you will make. They might sell tamarind juice as is, but if possible, you'll want to find some fresh tamarind that you can play with inside a bowl of warm water. Once you squish it around a lot, use the water. This is your tamarin flavoring sauce. The leftover skin can be used to make tamarind sauce.
The best thing about cooking bone broths, stews and plates such as this Hinlay Curry, is that anything that goes into the bowl will be 100% cooked and ready to eat by the time it comes out – so in case you made your tamarind juice and realized you handled the raw pork and forgot to wash your hands, it doesn't matter. Anything in there will be cleansed by fire.
An easy, slow-cooked low-carb, high-fat recipe
After you mix the ingredients in a bowl (minus the coconut oil, garlic, and tamarind water), put your coconut oil in the bowl you will cook in (the clay bowl). Right after you place the coconut oil, add the ingredients in the bowl and let the pork cook in the oil a bit. 
The only ingredients not used up to this point should be the coconut oil, tamarind sauce, and the garlic cloves. Once you stir the pork in the coconut oil, let it cook over medium heat for a few minutes while stirring. Dump in the garlic cloves and the tamarind water after a good few minutes of cooking and continue to let it cook. At this point it shouldn't be soupy, you're letting the pork cook to about 50% before you add in the water.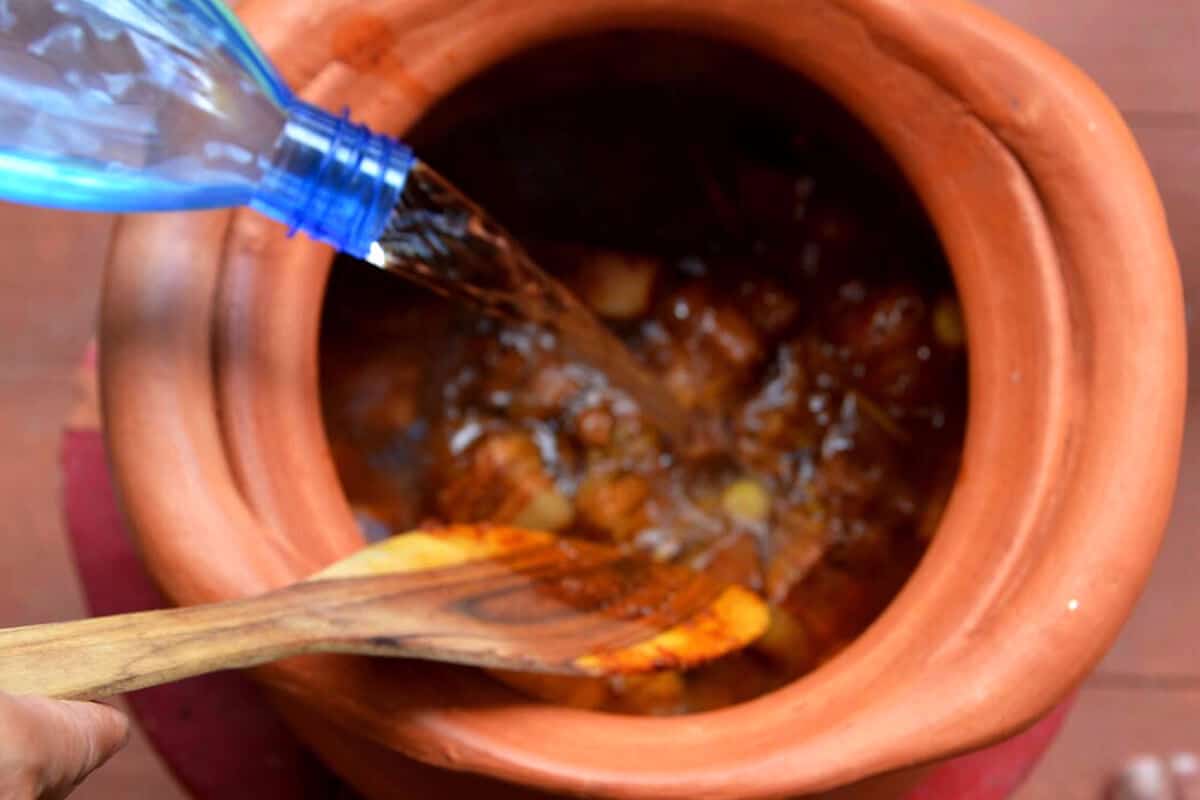 Along with the water, add the tamarind juice you made by playing around with fresh tamarind in a bowl of fresh drinking water. If you have kids who want to help out, this is the perfect part of the cooking for them. Because you'll use the tamarind skin and meat for something else (you can drop some inside the Hinlay pot for extra sweet and sourness), you should do the tamarind milking before you handle the raw pork. Otherwise, it wouldn't matter as it's getting cooked up.
The tamarind left over is perfect for another sauce, tamarind sauce, unlike one you've ever had before. But that one is for another recipe post.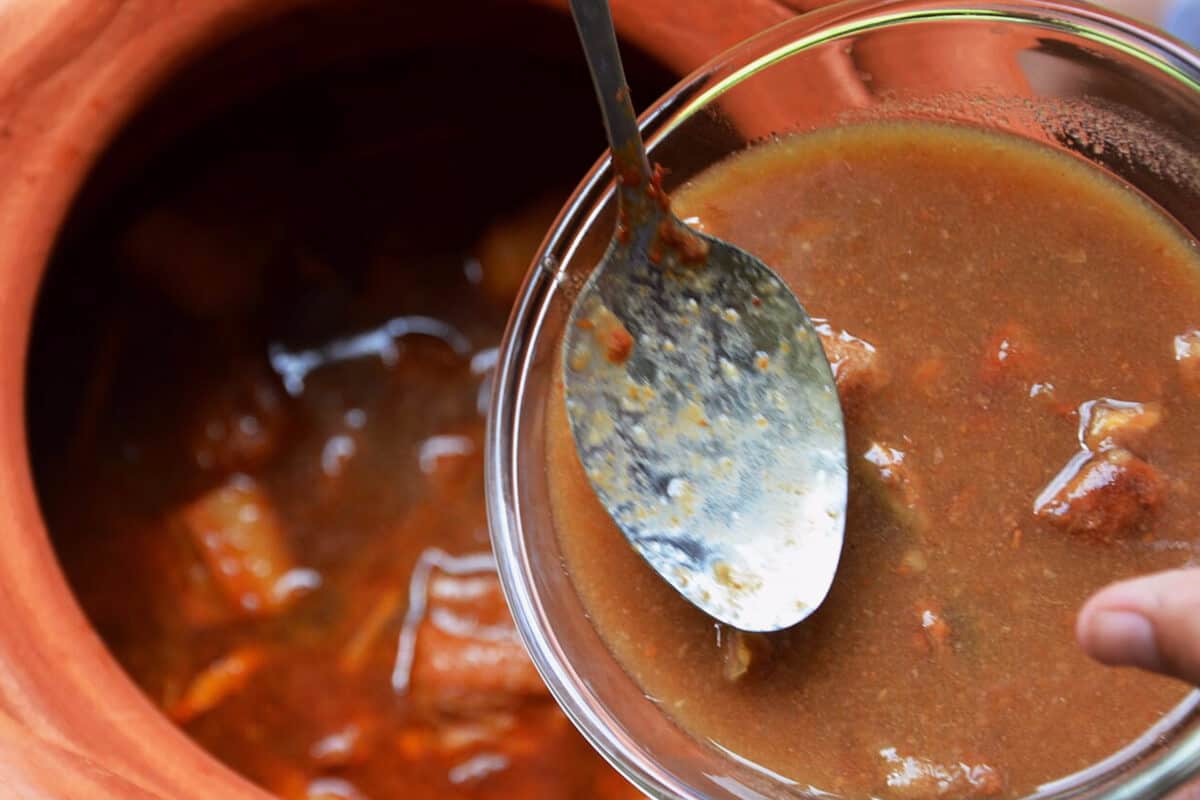 Simmer it over low to medium heat for 1 to 2 hours. If your water dries up and you find yourself needing to add more, your flame may be too hot. To avoid overcooking or tougher pork, make sure to keep the heat low. Be patient with this one. It's worth it….
This might be the longest 1 to 2 hours of your life if you know of the greatness that is coming. Maybe you can try practicing mind control and tap into eastern influence even more via some silent meditation while waiting nearby the goods (but don't forget to make sure it's not drying up).
The key is to use low heat.
The water shouldn't evaporate before an hour, making you put in more water.
Ideally, you will add water only once, maybe two times, during the whole duration of its cooking. By the time it's ready around one to two hours later, it should look a bit like this:
The finished result
It's probably the best thing I have ever been lucky enough to learn how to cook.
This dish in itself is tolerable to most low-carb high-fat diets, but the organic palm sugar will add carbohydrates to it.
The way around this is to use a stevia tea brewed from dried stevia leaves.
I always do this, and it's a perfect replacement if you brew the tea not too strong.
This will work 100% better than any store-bought stevia extract. It is healthier, all natural (really), and makes this Hinlay Curry an amazing keto dish.. super low carb and super high fat.
The optimal health factor lies in the quality of pork you use.

Hinlay Curry (Pork Belly) Recipe Card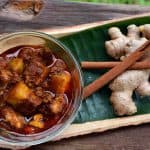 If you're on a low carb high fat keto diet, you should definitely try this one out.
You don't need the Thai bbq setup to do it. It can be done on a stovetop.
If I had to choose just one, this Hinlay Curry would be it. It's that good.
Hinlay Curry is a type of Thai massaman curry recipe that actually originates from Burma. After making its way down to the North of Thailand, it became a fixture in Thai cuisine of these Northern Thai mountains and cities. While the south of Thailand is known for its curry's, the north has these Burmese influenced recipes.
427 grams Pork Belly
3 grams Hinlay Powder ((Masala Powder or Massaman Curry Powder))
31 grams Garlic Cloves (raw)
50 grams Red Chili Paste
20 grams Organic Palm Sugar
10 grams Tamarind
25 grams Ginger ((chopped))
20 grams Coconut Oil
22 grams Pickled Garlic
10 grams Coconut Aminos ((or soy sauce))
27 grams Oyster Sauce ((or mushroom "oyster" sauce))
10 grams Black Soy Sauce
1 L Water
Chop up the ginger.

Peel but don't chop the garlic cloves.

In a bowl, mix together the pork with the soy sauce (or liquid aminos), Thai chili paste, and Hinlay powder.

Put coconut oil in your pot and start warming. Before the coconut oil heats up too much, add the mixed ingredients. Cook the mixed ingredients in the oil until pork is halfway cooked (this soaks the flavors deep within the pork).
The Hinlay Curry secret is in the slow cooking.
Just mix the ingredients with the pork belly and get it cooking nice and slow until it's finished.
---
If you enjoyed this recipe, please give us a share on social or leave a comment below to let us know how it went for you!
Thanks for coming by the blog!
UP NEXT: Another great keto recipe, KETO Pad Thai (with zoodles and carrot noodles, too!)