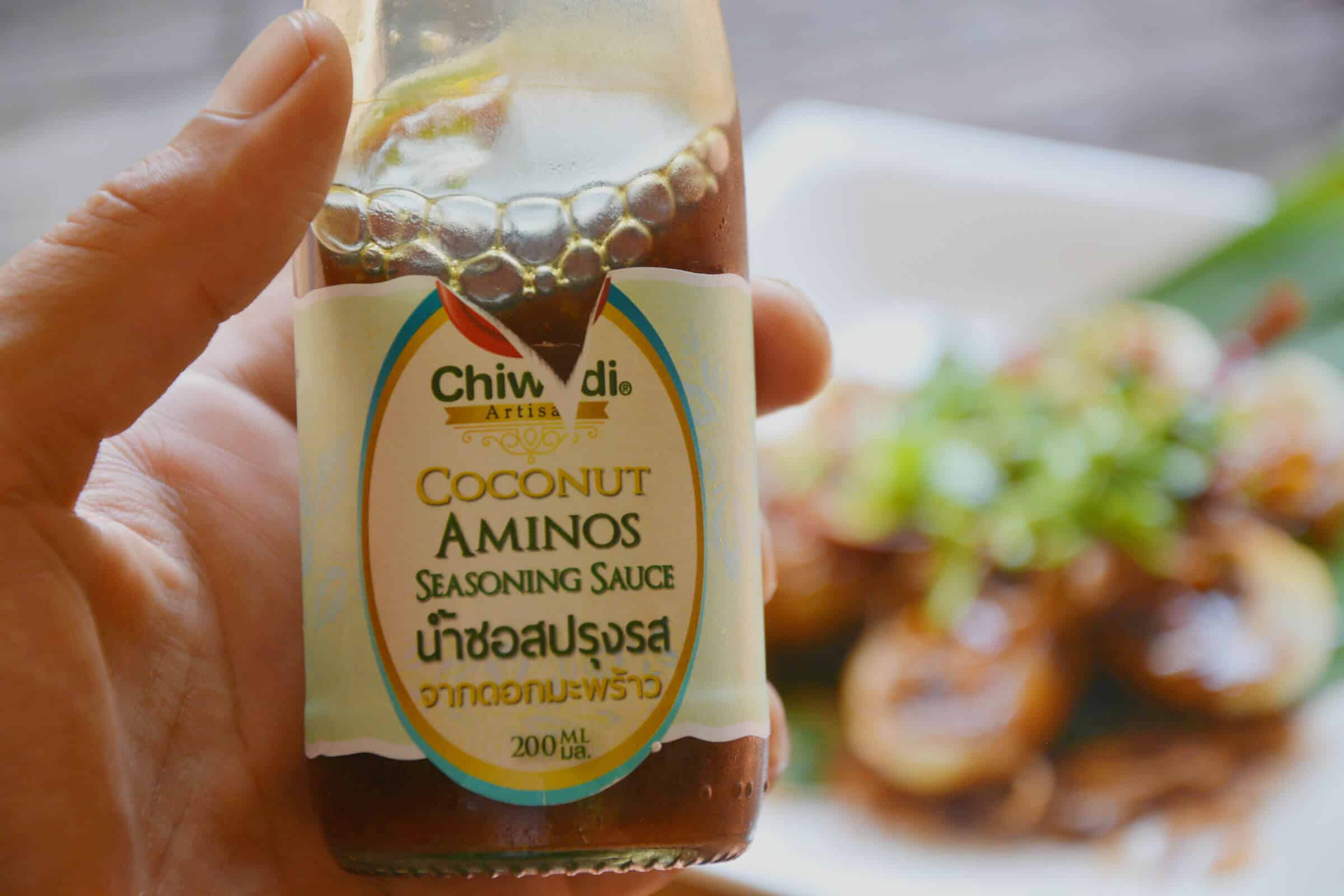 Soy Sauce alternatives like Bragg Liquid Aminos are Paleo-friendly, right?
Soy sauce is one thing. But Bragg Liquid Aminos? If you're shooting for a strict Paleo diet, Braggs Liquid Aminos is just a more processed soy sauce, so yeah it is off limits.
One random day after a salmon sashimi dinner the night before, I decided to look up soy sauce's healthiness. I always let soy sauce fly. I figured it may not be Paleo because soy is a legume, but I eat it so seldom (once per week or less when eating sushi), that the "everything in moderation" rule should probably apply. And I still think this. This soy sauce research lead me to looking into how liquid aminos are made.
Soy Sauce alternative Bragg Liquid Aminos is not Paleo
At first inspection, I concluded that Bragg Liquid Aminos was not only not Paleo, because it's just a more processed soy sauce, but I also figured it not healthy because of how its made. Here's what I learned about Bragg's Liquid Aminos from a forum poster on PaleoHacks.com when I first looked into it.
Braggs is made by treating soybeans with hydrochloric acid. This creates free amino acids which are neutralized by the remaining acid with sodium bicarbonate, resulting in sodium chloride (giving it its salty taste). I avoid it.
I was using Braggs in my cooking quite a bit. But once you go Paleo, no matter how healthy you thought you were or weren't before, it's only then a matter of time before you start to investigate all the food items you consume. But after hearing from a reader, and looking into it more, I now feel it's still a perfectly healthy soy sauce alternative. It comes 3rd on my Best Soy Sauces hierarchy underneath coconut aminos and traditional fermented soy sauce.
I've used Bragg Liquid Aminos since I was a kid. I always figured it a great all natural alternative. I still do, but now I use coconut aminos more often. At the end of the day, even though liquid aminos is not Paleo, it's still a perfectly healthy soy sauce alternative. Bragg Liquid Aminos' flavor is top notch, but if you are looking for a Paleo alternative to soy sauce, there are options to choose from. I stick to just one.
A Paleo Soy Sauce Alternative: Coconut Aminos
My Instagram post image below shows the coconut amino sauce we're currently using.
Since I grew up with the Bragg brand, and I like them, I'm glad to have found one made by them as well. I've tried a few different brands and they were all great. Luckily, Coconut Aminos are widely available.
Bragg Coconut Aminos.
Sale
Bragg Coconut Aminos, All Purpose Seasoning,...
Bragg Coconut Aminos, all purpose Seasoning is natural & organic soy-free option to traditional soy sauce with great flavor!
Made from Non-GMO, organic coconut tree nectar and sea salt (coconut trees in Indonesia and Bali)
An excellent gourmet replacement for tamari, Worcestershire & soy sauce.
Great in salads, Veggie, rice and bean, potatoes, tofu, stir-fries, meats, poultry, fish, jerky, tempeh, marinades, sauces, most foods, &...
Perfect for healthy, low-sodium diet to lend flavor to your favorite meals.
Another popular bottle.
No products found.
When you add the right amount of fish sauce, you can attain any classic soy sauce flavor you're shooting for using a coconut aminos and fish sauce mix.. even good enough to dip sushi and sashimi in to. I'm glad to know I'm putting healthy ingredients in my body when I use coconut aminos. Made from ONLY coconut tree sap and sea salt (ours is 90% Organic Coconut Nectar + 10% Sea Salt), coconut aminos is raw, unprocessed, and contains natural amino acids, enzymes & a ton of health benefits. Let me jot some down.
Coconut Aminos Health Benefits
Nutrient Rich: potassium, vitamin C, inositol. They say inositol is as powerful as an SSRI without the horrible side effects, and a natural treatment for PCOS, the #1 cause of infertility in the U.S
pH Balanced: its neutral pH helps keep your body alkaline (great for keto diets)
Essential Amino Acids: out of all amino acids, 9 are essential/our bodies can't produce them. Coconut aminos have all the essential 9 + more
Antioxidants: battle free radicals
Heart Healthy: coco products including these aminos increase HDL cholesterol
Blood sugar: 1 in 3 come down with diabetes these days. It's low on the GI scale so doesn't spike blood sugar
Gluten-free, organic, MSG-free & Non-GMO
We now use coconut aminos and fish sauce exclusively, in our Thai Hinlay Moo pork belly recipe.
Coconut Aminos is better in some dishes, while in others, it's a great alternative that doesn't sacrifice the greatness of dishes that rely on soy sauce. It still isn't soy sauce though.
Occasionally I'll have to just go all in on soy sauce. But when I do this on the special occasion, I'll make sure to have a traditional style, unprocessed and fermented soy. This traditional Asian method of using and eating it is still widely available in Thailand and other Asian countries. However, it may be harder to find in the states, and in other western or Latin countries.
And while we're on the coconut aminos topic, I'll give coconut vinegar a shout out as well.
Quick Side Tangent: Coconut Vinegar Is Good Stuff Too!
Coconut Vinegar is aged for a long time which makes it very nutrient dense. It has a high amino acid, mineral and vitamin content compared to other kinds of vinegar. Coconut vinegar also has a prebiotic within it called, FOS.
This little excerpt from a post on the Well and Good blog talks about coconut vinegar compared to other kinds of vinegar:
The "sap" that's produced from tapping the coconut blossoms is packed with good stuff from amino acids to vitamins B and C, fiber, and naturally occurring FOS (a prebiotic for digestive health). Apple cider vinegar has many of the same things, but in trace amounts.
If you're on a keto diet, coconut vinegar is great to have stocked at all times because of those gut healthy prebiotics. Here's a popular coconut vinegar you can find on Amazon.
So back to the question posed in the headline of this article..
Is coconut aminos superior to soy sauce and Bragg liquid aminos?
Healthwise? YES, coconut aminos is far healthier
Taste? I'd call it a draw.
Soy Sauce vs Liquid Aminos vs Coconut Aminos
Conclusion: Just because Bragg Liquid Aminos is not Paleo, doesn't mean it is not a perfectly healthy soy sauce alternative. But coconut aminos is an amazing alternative that is also far healthier than both soy sauce and liquid aminos.
Do you use a soy sauce alternative?