Vitamin K2 Supplements come in various forms and quality ranges. This post shares some of the best k2 supplements out there right now in 2022 as well as information about this important nutrient that's not as well known as it should be.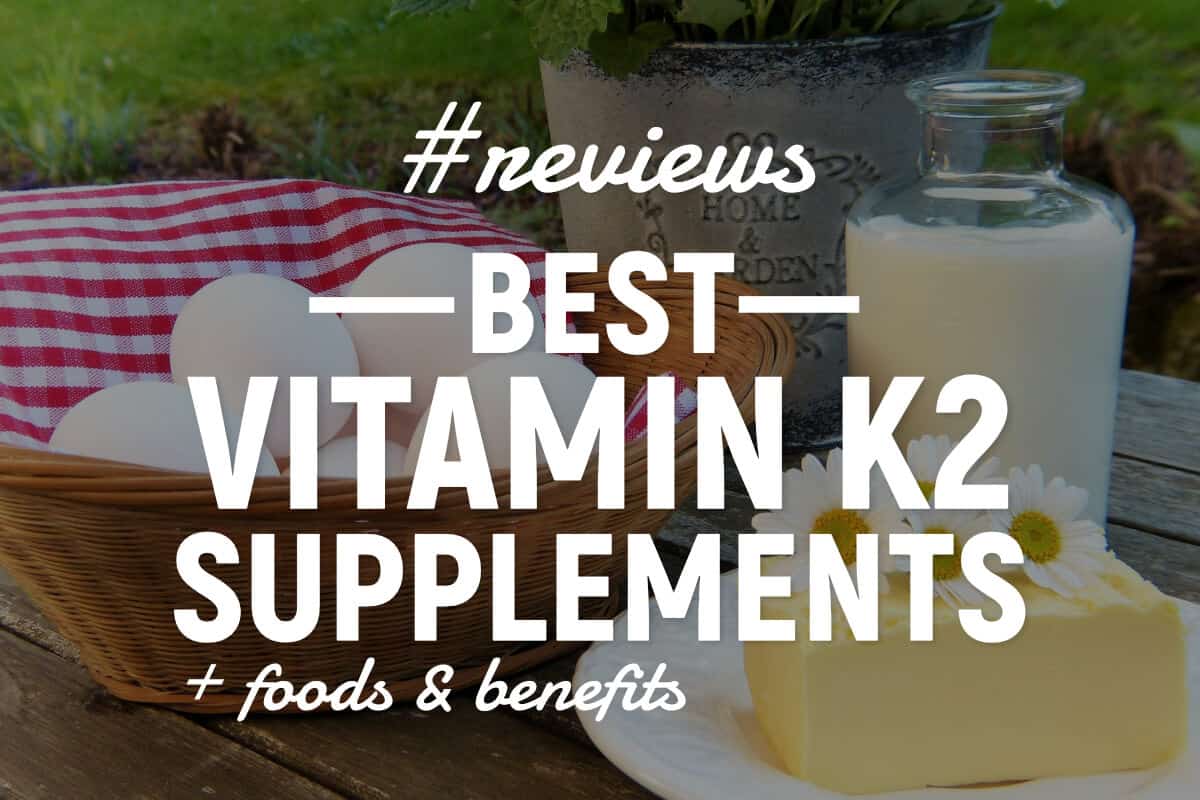 This top 4 list includes Vitamin k2 in the following forms:
Soft Gels (MK7)
Liquid Spray (MK7)
Liquid Drops (MK4)
Gummies (MK7)
Just like how magnesium is essential for your health, or how Vitamin D is essential for a long and healthy life, vitamin K2 is too.
While the effects of Vitamin K deficiency can show up in more serious problems like cardiovascular disease, bone loss and tooth decay, it can also manifest in smaller symptoms like easy bruising, heavy periods, or nosebleeds. (1)
Magnesium you get from deep greens, bone broths etc., and vitamin D you get from the sun. But what about Vitamin K2? What foods vitamin K2 comes from is a question you'll have soon after learning about its important roles. Or the best type of K2 supplement to get.
Due to its lack of exposure or "popularity" as a health supplement or nutrient in general, many don't know about vitamin K2 benefits for the human body.
Heres a quote from Chris Kresser:
The role K2 plays is still not entirely understood, but research suggests that a deficiency of this vitamin can have far-reaching consequences for your health.
They estimate that over half of the adult population is Vitamin K deficient. (1)
If you have vitamin k2 deficiency, it's an easy thing to fix. It's as easy as eating more vitamin K2 foods or taking a vitamin K2 supplement.
---
The Top 4 Vitamin K2 Supplement Products Reviewed:
These are the 4 high quality K2 supplements reviewed in this article:
First, here is more information about vitamin K2 and why you may want to eat more foods with it or use a K2 supplement.
---
What is Vitamin K2?
Danish scientist Henrick Carl Peter Dam discovered vitamin K in the early 1900's. He discovered vitamin K1 (phylloquinone) as well as Vitamin K2 (menaquinone)
Vitamin K's name comes from "koagulations vitamin."
That's how Scandinavians spell "coagulations."
Types of Vitamin K2
Vitamin K2 MK-4
Vitamin K2 MK-7 (menaquinone-7): most bioavailable
The sources of vitamin K are plentiful in normal, healthy, everyday foods. K1 is easier to get from food, but you can eat enough K2 foods easily once you know what they are.
If you don't get enough vitamin k2 foods, but you get plenty of K1, some of the K1 gets converted into K2. But this is not enough to rely on.
The K1 you consume is converted into Vitamin-K2 in the large intestines, but in us humans, the process is inefficient. The conversion is even more inefficient if you're on broad spectrum antibiotics or if you have gut health issues. (2, 3)
More on the conversion process or lack thereof:
There is also a misconception that the body can convert K1 to K2. The research actually showed that while some other animals can effectively convert K1-K2, humans need food or supplemental sources of K2 for good health. (2)
Chris Kresser explains why the K1->K2 conversion is not effective in humans:
It was once erroneously believed that intestinal bacteria are a major contributor to vitamin K status. However, the majority of evidence contradicts this view. Most of the vitamin K2 produced in the intestine are embedded within bacterial membranes and not available for absorption. Thus, intestinal production of K2 likely makes only a small contribution to vitamin K status. (Unden & Bongaerts, 1997, pp. 217-234)
---
Natural Sources Of Vitamin K2
You get some K2 from K1, but it's best to go for K2 food sources directly.
Vitamin K1 is naturally found in plant-based foods and dark leafy greens like kale.
Here's an interesting K1 Factoid (4):
When it comes to your body, Vitamin K1 is a co-factor (a substance that's essential for the activity of an enzyme) for the enzymes involved in clotting your blood. If you didn't have any vitamin K1, even a tiny nick while cutting your veggies would cause you to bleed to death!
Vitamin K2 Foods
Vitamin K2 is found in grass fed meats fermented foods, eggs and various cheese, like gouda cheese, for example. Natto is a wonderful vitamin K2 rich food. Kefir and other ferments are foods containing vitamin K2 as well. Vitamin K2 is produced by bacteria during the fermentation process.
If you don't eat meat or fermented foods, or at least salads with vitamin K1 containing vegetables that your body then converts into K2, then you might be dealing with a vitamin K2 deficiency.
If you eat "real food" that includes fermented foods and organ meats (liver, kidneys, heart etc.), then chances are high that you get enough vitamin K2.
It's a good idea to get your much needed vitamin K2 directly through foods that contain it; ferments, eggs, natto and grass fed meats and more on the k2 foods list below.
---
Vitamin K2 Foods List:
Natto – a popular Japanese dish that is one of the best food sources of Vitamin K2 Mk-7 there is.
Kefir
Organic egg yolks
Sauerkraut
Milk
Cheeses (gouda, parmesan, cheddar, more)
Grass-fed butter
Ghee
Salami
Beef
Pork
Chicken
---
Here are some of the most well-known health benefits vitamin K2 provides, followed by the top vitamin K2 supplements currently available online.
---
Well-Known Vitamin K2 Health Benefits
Here, Dr. David Jockers explains in an article on his website about the unique benefits of Vitamin K2 (5):
Vitamin K2 is necessary to convert a critical bone-building protein called osteocalcin. Osteocalcin is a necessary protein that helps maintain calcium homeostasis in bone tissue. It works with osteoblast cells to build healthy bone tissue. Inadequate K2 inhibits osteocalcin production and reduces calcium flow into bone tissue. This leads to reduced bone mass and a weakened bone matrix.
I'll start off this list of benefits with a special one for my fellow dental woes sufferers (I feel your pain!). Vitamin K2 helps to strengthen your teeth.
Oral and Dental Health (teeth, gums, breathe, more)
Vitamin K2 needs to stand alongside calcium and vitamin D3 in terms of importance and publicity. That's how important this nutrient is for us.
Vitamin k2 dental health benefits include teeth remineralization, improved oral microbiome health, and it even cavity prevention and reversal.
From AskTheDentist (6):
…calcium, alone, isn't enough to ensure dental health. It is vitamin K2, working synergistically with calcium and other minerals, that is most responsible for preventing cavities and even reversing some pre-existing cavities.
Here's another quote from that same article on AskTheDentist:
It wasn't until 1975 that Harvard researchers realized that vitamin K2 wasn't just a different version of vitamin K1 with the same benefits. On the contrary, they discovered the protein osteocalcin, which is dependent upon Vitamin K2 for activation. Once activated, osteocalcin pulls calcium from the bloodstream into your bones and teeth to keep them strong and disease-free. (2) Vitamin K1 doesn't have the ability to activate that process.
And here is the direct link to the quoted study above on the therapeutic effects of vitamin k2 and vitamin d3 on gingival inflammation and periodontitis: https://www.ncbi.nlm.nih.gov/pubmed/25569194
I also came across on an online forum of health minded people called, Longecity. Someone started a thread wondering if vitamin k2 was bad for teeth. On the contrary, many people replied with great information on its positive health benefits, both personal experiences and research studies are cited.
Here is a comment from that online forum conversation thread on the subject of vitamin K2 and teeth (7):
"Less plaque and 2 cavities are now gone. K2 (mk7) has been nothing short of a miracle for me. Along with co-factors such as magnesium, D3 "
Bone Health (Osteoporosis, more)
One of the main vitamin K2 benefits is that it helps your bones stay strong.
How does vitamin K2 benefit your bones?
Calcium, vitamin k2 and vitamin D are a trio of nutrients that work together to make sure your body gets the most of each.
Vitamin D helps you absorb calcium and Vitamin K2 helps activate the proteins that direct the proper location of where that calcium should be absorbed within your body.
You already know that calcium is good for your bones. It's why we've been pushed to drink commercial, pasteurized milk our whole lives. I won't go into how calcium can be found in many other sources than commercial pasteurized milk in this article though. However you get calcium, when you do get it, you MUST have enough vitamin K2 in order to benefit from it. Otherwise it's not going to do what it is supposed to.
Vitamin K2 activates the two proteins that regulate where the calcium you consume goes in your body (4):
Osteocalcin: Directs the calcium you consume to where it's needed (your bones)

Matrix Gla Protein: keeps calcium out of the places you don't want it (blood vessels, kidneys, brain and soft tissues).
Without vitamin K2, no matter how much calcium you consume, you're not getting the bone health benefits from it.
Did you know that consuming sugar leads to osteoporosis (8)?
So does a lack of vitamin K2 (9).
Its anti aging benefits include keeping your bones strong to avoid osteoporosis. Brittle bones is an important longevity factor. Falling down and breaking a hip at an older age has been the downfall to many.
Another study shows that K2 specifically helps postmenopausal women with osteoporosis, from helping to prevent fractures to increasing bone mineral density (10).
Longevity
Decrease your mortality rate with a higher dietary intake of vitamin K overall.
A study on the diet showed that over a 5 year time period, people who took vitamin K had a 59% lower chance to die from cancer and a reduced risk of 45% for mortality in general. (11)
Anti Aging
This is a quote from clinical paleo nutritionist named Beverly that runs OnDietAndHealth.com:
Vitamin K2 and Facial Structure

Vitamin K2 delivers calcium where it needs to go. It is the carrier of calcium. (K Karries Kalcium is a way to remember this).

Vitamin D aids the absorption of calcium. Without Vitamins K2 and D3, children can't build big sturdy jaws, cheekbones, and 32 teeth. The face and palate will "collapse in", forming narrow jaws, receding and pointed chins, underbites, over bites, and impacted teeth.

Children need K2 to build the rest of their skeleton too. Supplementation is "cradle to grave".
More Vitamin K2 Health Benefits:
Brain Function – the brain uses vitamin K2 specifically
Heart Health, Cardiovascular Health (12)
Inflammation (13)
Autoimmune diseases: This study is on Rheumatoid (14)
Helps prevent some cancers. For men, K2 specifically, not K1, was shown to help prevent prostate cancer. (15)
---
Some Of The Best Vitamin K2 Supplement Products In 2022
There are many great options with minimal, pure, and high quality ingredients. The following vitamin K2 supplements come in these 4 supplemental forms:
Gummies
Softgels
Liquid Drops
Liquid Spray
Many say liquid drops are the most bioavailable form to take it in.
And of the types of k2, Mk-7 is the most bioavailable.
The liquid drops from Thorne feature vitamin k2 MK-4. The rest of the supplements on the list are the MK-7 form of vitamin k2.
---
Sports Research Vitamin K3 are one of the very best health supplement companies out there. Their prices are great and their quality is high. Sports Research Vitamin K2 is a clean product. It has no additives or stearates.
Sometimes you have to go for the most expensive to get the best quality. But with K2 supplements, there are great, high quality supplements that are very reasonable. Sports Research is a good K2 option.
In contrast, Dr. Mercola's vitamin K2 plus D3 is also a great product. It has basically the same ingredients and uses the same form of Vitamin K2 MK-7, from chickpea (MenaQ7®). But its price is much different.
More Details:
There are 60 soft gels per container and they say to take 1 per day so that's 60 servings per container when taking the recommended 1 per day. That's 2 month's worth per bottle.
No Magnesium Stearate: Magnesium stearate is an ingredient found in many health supplements that provides nothing for you and in actuality might harm your immune system.
Value: You get a great quality supplement for what you pay. The value is there 100%.
High Quality Ingredients: It uses Mk-7® form of Vitamin K-2 and coconut oil for better absorption of the vitamin K2.
Sale
Sports Research Vitamin D3 K2 with 5000iu of...
D3+K2 - BETTER TOGETHER: On their own, Vitamins D3 and K2 are essential micronutrients, but together, they're an essential team. Vitamin D3 helps...
PLANT BASED: Our Vitamin D and K supplement for women and men contains vegan D3 (cholecalciferol) from lichen and K2 from fermented chickpeas...
JUST 1 MINI-SOFTGEL: Get the best of both worlds with Sports Research D3 + K2. Just one easy-to-swallow mini-softgel provides 125mcg (5000iu) of...
DEDICATED TO QUALITY: Take a supplement you can trust. Our K2 with D3 vitamin supplement is Vegan Certified, Non-GMO Project Verified, and free...
THE SPORT OF LIFE: Founded over 40 years ago in Southern California, Sports Research is a family-owned business born from a passion for fitness...
---
This is one of the most popular K2 supplements on Amazon. It's great for those on plant based diets without dairy that leaves you more limited in vitamin k2 foods options.
It's a calcium gummy with vitamin K2 plus D3. It's for all ages and has very clean ingredients for a gummmy, and there are no artificial flavors. It's vegan, organic, and the flavors are great choices! It comes in mango, peach and apricot.
More Details:
One gummy contains an organic, vegan friendly 1000IU of vitamin D3 from Lichen, 100 mcg of MK7, zero soy vitamin K2, and 100 mg Calcium as Tribasic Calcium Phosphate. Each gummy contains only 10 calories if you're watching calories for any reason, and there are 60 servings in each bottle. At one per day, the recommended serving, that's 2 month's worth per bottle. That's a great value.
From Wild Lichen: Most vitamin D comes from sheep wool (lanolin), so it's great to see a plant based option.
Wonderful Reviews: People who rely on K2 supplementation and prefer gummies are loving this product and many have become repeated, loyal customers.
Natural Flavors: Apricot, peach and mango flavors. Mango is one of the best flavors a gummy can. have.
Vegan Friendly: They are vegan, plant-based, organic and non-GMO.
On their online listing, they don't make finding the ingredients list easy. These should be highlighted and featured. Luckily it's findable, but they should make it one of the featured images on their online listings.
MaryRuth's Calcium with Vitamin D3 & Vitamin...
K2+D3 Calcium Gummies: Our delicious K2 + D3 Calcium gummies with three flavors in one: Peach, Mango & Apricot are made from non-GMO, vegan...
Multiple Benefits: The combination of Vitamins D3 and K2 is crucial in aiding the body in Calcium absorption, keeping your bones strong and...
Easy-to-Chew Gummies: No more hard-to-swallow pills or capsules! Ages 2 or over can take 1 gummy per day or as recommended by a physician or...
Vegan Formula: Per Serving (1 Gummy): Vitamin D3: 25mcg (1000IU); Vitamin K2: 100mcg; Calcium: 100mg. Other Ingredients: Organic Tapioca Syrup,...
For Most Lifestyles: MaryRuth's K2 D3 Calcium Gummies are Non-GMO, No Gelatin, Pectin Based, Vegan, Made in a GMP (Good Manufacturing Practice)...
---
Thorne Supplements Vitamin K2 plus D3 is a high quality Liquid K2 supplement. Thorne makes some of the highest quality supplements out there.
They're well known amongst supplement aficionados as one of the better supplement companies out there.
This supplement contains 600 servings per bottle. Each serving is 2 drops. So you have 600, 2 drop servings in each bottle. The recommended serving size is 1 serving per day.
Other Ingredients: MCT Oil (medium chain triglycerides) and "mixed tocopherols"
Transparency: The nutrition facts and ingredient list is the second featured image. Thorne is known for their transparency.
Value: There are 600 servings per container! That's an amazing value for this product.
High Quality Ingredients: There are no BPAs, nut based ingredients, high fructose corn syrup, dairy, artificial ingredients and preservatives, no gluten, metals, eggs or stearates.
Form of Vitamin K2: It uses MK4 (menatetrenone). This can be a pro or a con depending on the form of K2 you are looking for. MK7 is the most bioavailable, but there may be a good reason they chose to use MK4 for the highly bioavailable liquid. This one can easily be a PRO.
Thorne Vitamin D + K2 Liquid with a metered...
Bone & Muscle Health: Both vitamin D and vitamin K2 support bone and muscle health, as well as cardiovascular health and immune function*
Promotes Calcium Absorption: Vitamin D is necessary for calcium absorption, and vitamin K is important for directing calcium to the bones and...
Combo Effect: Vitamin D + K2 Liquid is a convenient way to supplement both vitamins D3 and K2, which offer greater support together
Self-Dispensing Top: To provide accurate and individualized dosing, the bottle includes a self-dispensing top that meters individual drops....
Trusted: Thorne is trusted by 45,000 health-care professionals and 100+ pro teams and U.S. Olympic teams. Thorne is the only supplement...
---
This liquid comes from the same company that makes the organic, plant based gummies above on this list. MaryRuth's Vitamin K2 Plus D3 liquid drops are also plant-based, vegan and non-GMO.
However, while Thorne's liquid comes as liquid drops with a metered dispenser, this MaryRuth's K2 liquid is taken as a spray.
Another positive is that the liquid vitamin K2 in this product is in MK7 form. Thorne's liquid is MK4. However, Thorne's liquid drops contain 600 servings and these have 30. That's quite a difference in value. The different form of K2 must have something to do with this.
More Details:
One serving size is 5 sprays (1mL) and there are 30 servings per container, so each little bottle should have around 150 sprays.
The 1000IU of vitamin D3 comes from the wild lichen and the vitamin K2 is in the MK7 form.
Transparency: they use a 3rd party certification and offer their information so you can verify.
Spray Option: some much prefer spray to capsules or soft gels and even liquid drops.
Same high quality ingredients as used in their gummies
Label visibility: just like with their gummies, it is hard to see their label and more detailed information on their images provided from their online listings. The product is high quality, but this con is about their presentation of it.
---
Conclusion: Vitamin K2 Health Benefits
Why Take A Vitamin K2 Supplement?
You may have only recently become acquainted with Vitamin K2. You may have been searching for something related to your cardiovascular health, dental health, bone health or even your mental well being. Yes, vitamin k2 helps your heart, your teeth, your mind and more.
Luckily, it's available as a soft gel supplement, liquid drops, and even as a liquid spray.
If you're not eating enough food that contains vitamin K2, then a K2 supplement can help you get the proper amounts, so you can get its essential health benefits to the human body.
---
Thanks for coming by the blog!
UP NEXT: 6 Best Exogenous ketones of 2022 (1 MCT Oil & 5 BHB Salts)
Related Reads On Nutrition Adventures:
---
Sources:
(1) https://chriskresser.com/vitamin-k2-the-missing-nutrient/
(2) https://www.ncbi.nlm.nih.gov/pubmed/7895417 (k2 deficiency from antibiotics)
(3) https://www.ncbi.nlm.nih.gov/pubmed/1492156
(4) https://www.algaecal.com/algaecal-ingredients/vitamin-k2/
(5) https://drjockers.com/vitamin-k2/
(6) https://askthedentist.com/vitamin-k2-benefits/
(7) https://www.longecity.org/forum/topic/68279-vitamin-k2-mk-7-bad-for-teeth/
(8) https://www.ncbi.nlm.nih.gov/pubmed/30228731
(9) https://www.ncbi.nlm.nih.gov/pubmed/15320745
(10) https://www.ncbi.nlm.nih.gov/pubmed/25516361
(11) https://academic.oup.com/jn/article/144/5/743/4615722
(12) https://www.ncbi.nlm.nih.gov/pubmed/25694037
(13) https://www.ncbi.nlm.nih.gov/pmc/articles/PMC3151653/
(14) https://www.ncbi.nlm.nih.gov/pubmed/23124653
(15) https://www.ncbi.nlm.nih.gov/pubmed/18400723