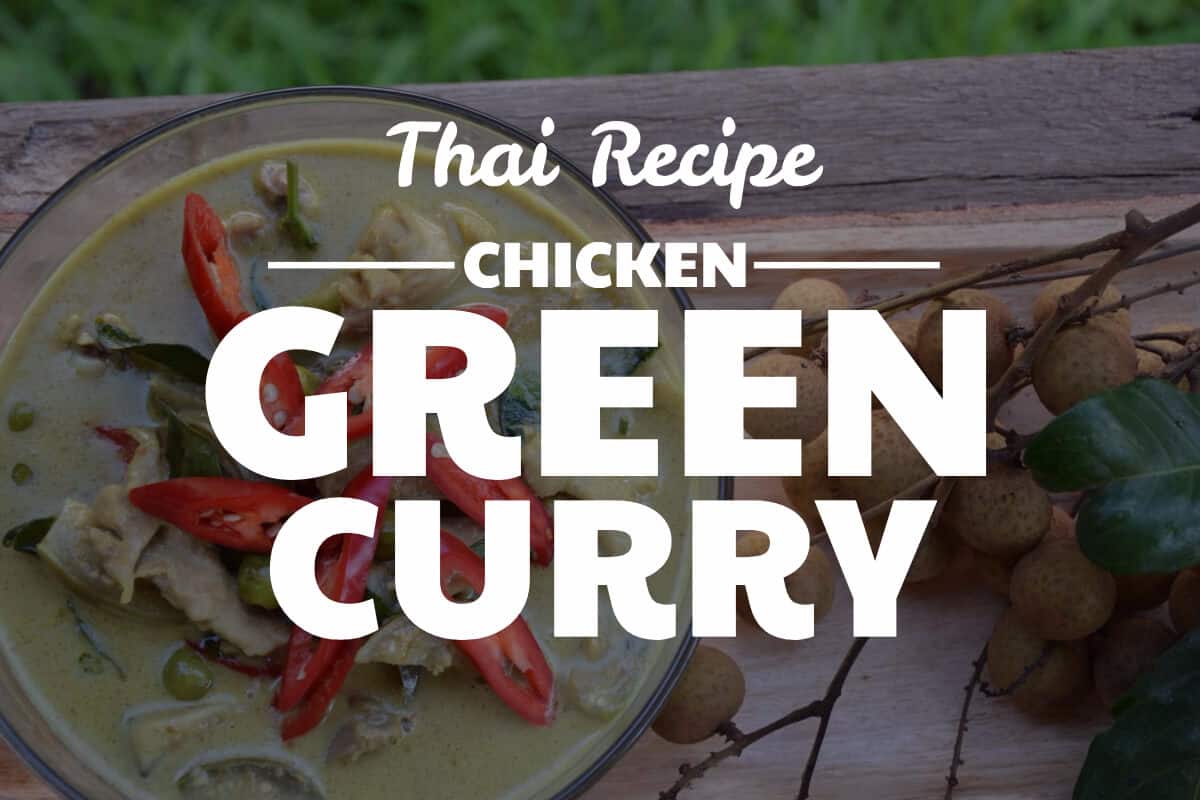 If you want to learn how to make Thai Green Curry, this blog post has step by step image directions for you. This dish is a standard in Thailand. You'll find that many Thai Green Curry recipes online are quite involved and require a lot of time and effort to cook properly. That's because they make the curry paste from scratch.
Those are all amazing recipes, but the truth is, when you go out to eat in Thailand, most places make it like we do here in this recipe.
The best part about our Thai Green Curry recipe?
It's FAST and EASY to make.
Outside of its amazing taste, the very best part about this green curry is that it is SUPER easy to make!
It'll only take you around 30 minutes in total. It's all cooked on your stovetop, so the cleanup is easy. So whether you're on a ketogenic, Paleo, gluten-free, or even a vegetarian diet (this is one of the best Thai recipes to make vegetarian), you will love this recipe.
Thai Green Chili Paste is easy to find. Your local Asian market, the grocery store, or online on Amazon are all good options. These pastes include all the fresh ingredients you'd use to make it from scratch. As long as you get a good quality green chili paste, you're able to cook up a quick and tasty authentic Thai Green Curry. And thanks to the coconut milk, it is the perfect compliment to a Thai food loving ketogenic diet too.
Green Curry v Red Curry: Both are "standard" delicious Thai recipes. Red curry recipes will be slightly sweeter. We have a tasty red curry, Panang Curry recipe here on the blog.
Onto the Keto Thai Green Curry recipe:
Green Curry Ingredients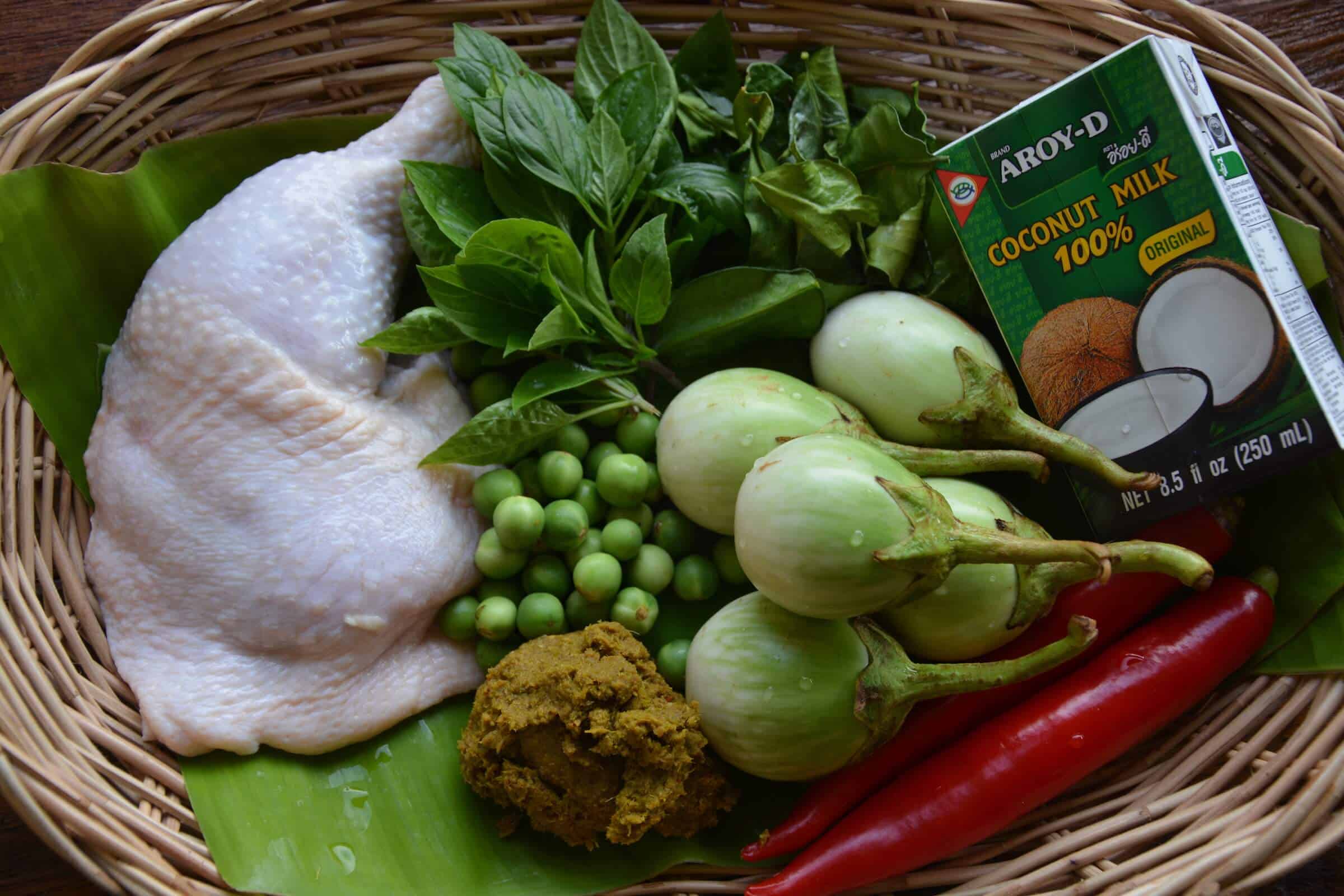 Thai Green Curry Ingredients:
green Thai curry paste (no MSG, all natural)
sweet basil
chicken quarter
small eggplant
red pepper
smaller round green eggplants.
stevia tea (made from brewing fresh stevia leaves)
bone broth (water works just as good if you don't have broth)
Step 1. Slice the vegetables
Everything will get sliced except for the small green lemonhead-looking eggplants. This is how we sliced these ingredients.
The larger eggplants first:
And the red peppers which are added towards the end.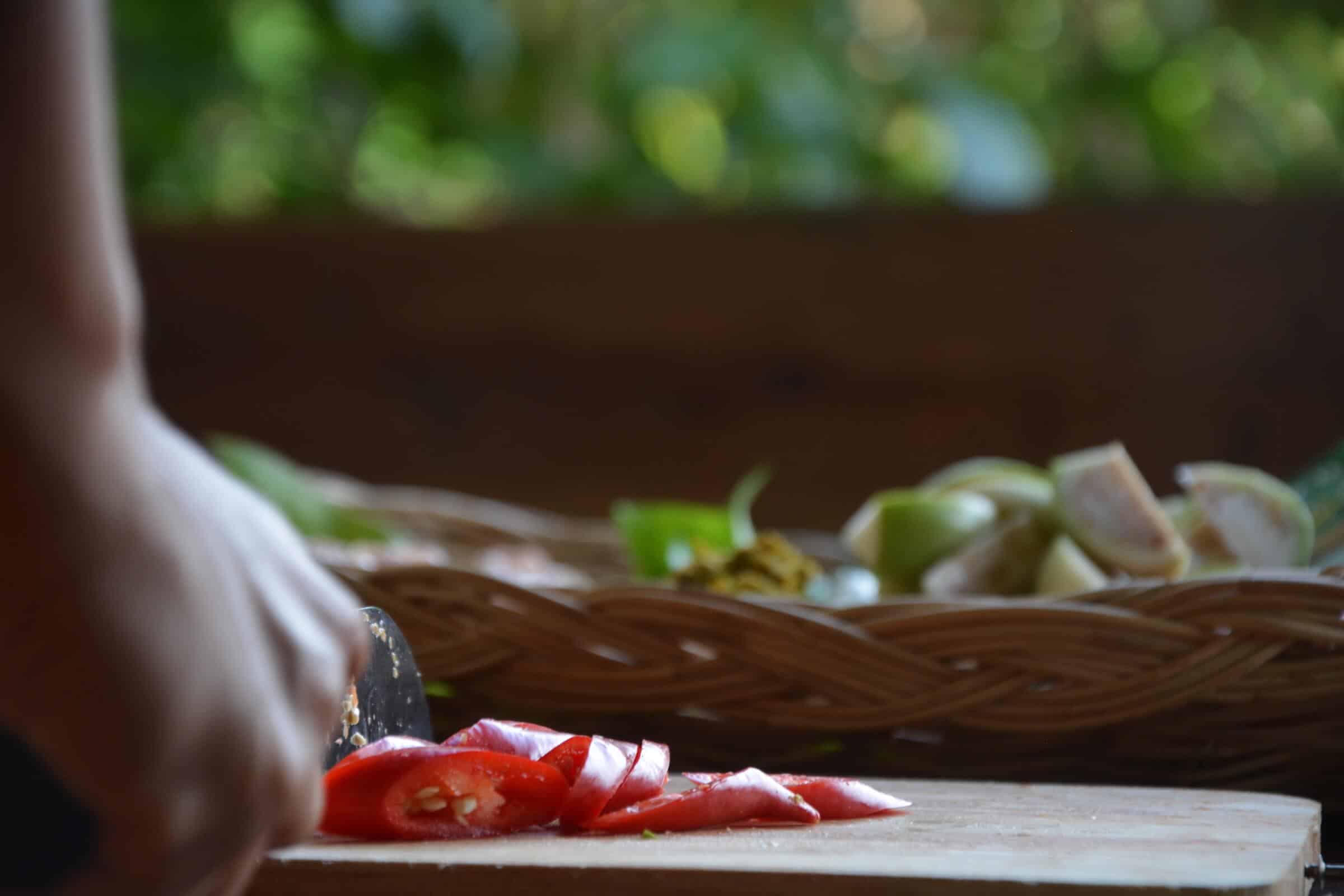 The only slicing image I did not show here is the chicken.
Once you've sliced the chicken and vegetables, the cooking starts.
Step 2. Heat the Thai Green Curry Paste
Turn on the stove, put the saute pan on and add coconut oil. Let the coconut oil heat up a bit before adding the Green Thai Curry Paste. Remember though, coconut oil's smoking point is 350 degrees. You can let it get pretty hot when you use coconut oil, but you still don't want to get it too hot though in case you cross that 350-degree mark.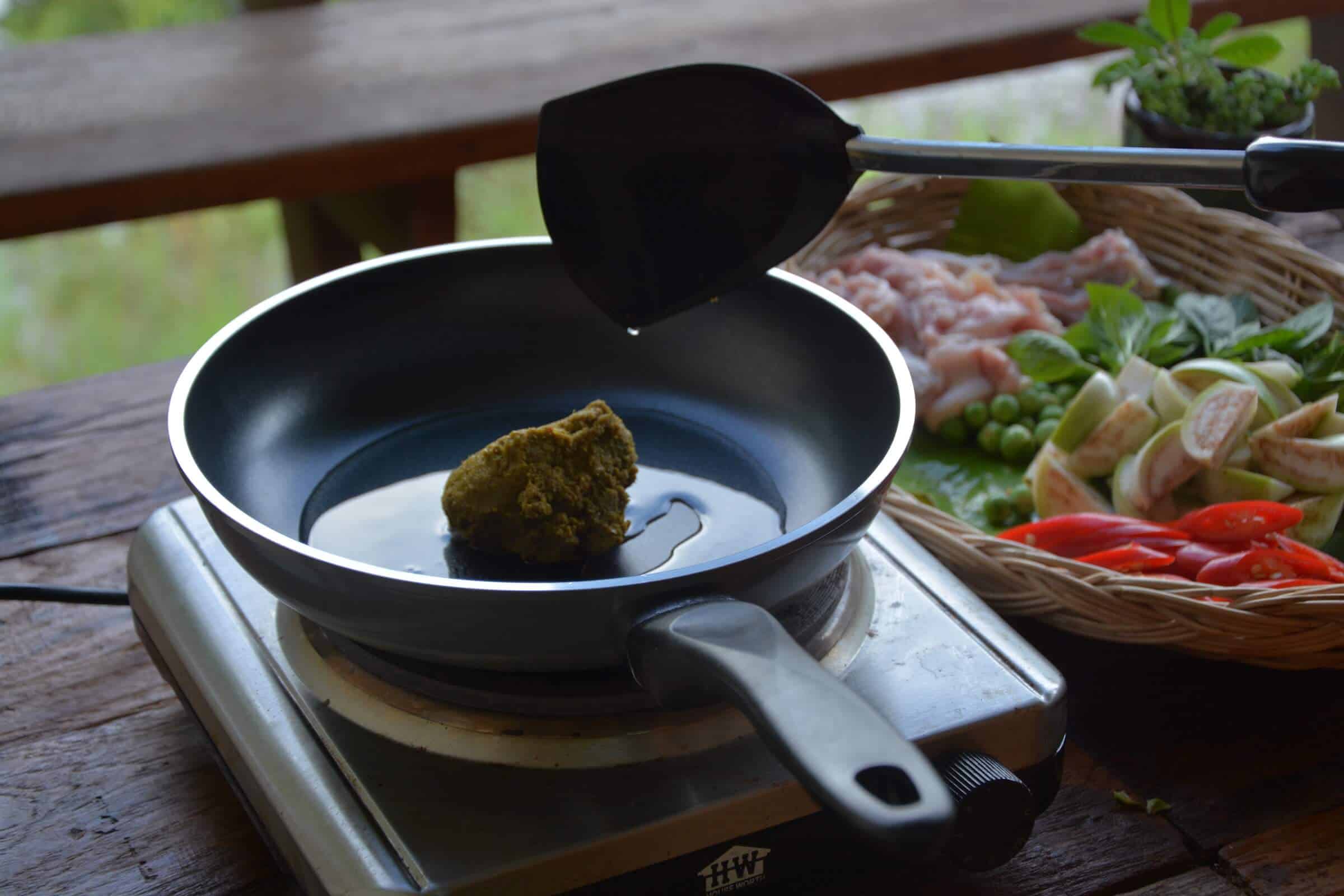 This is how much coconut oil we used.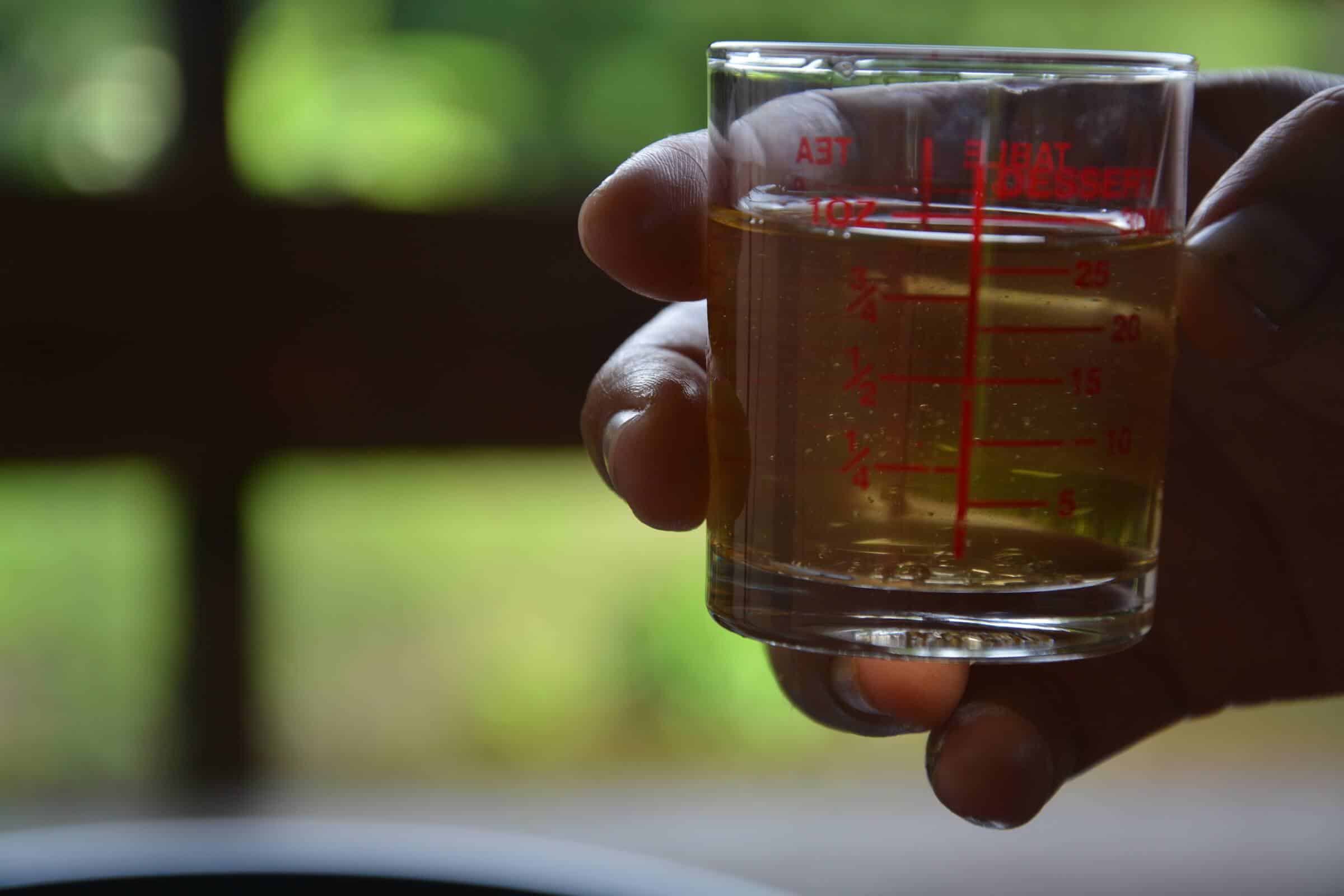 Step 3. Cook the chicken
Before adding the chicken, add about 5 tablespoons of coconut oil. Then put the chicken in once the coconut oil, green Thai chili paste and coconut milk have cooked together for a minute.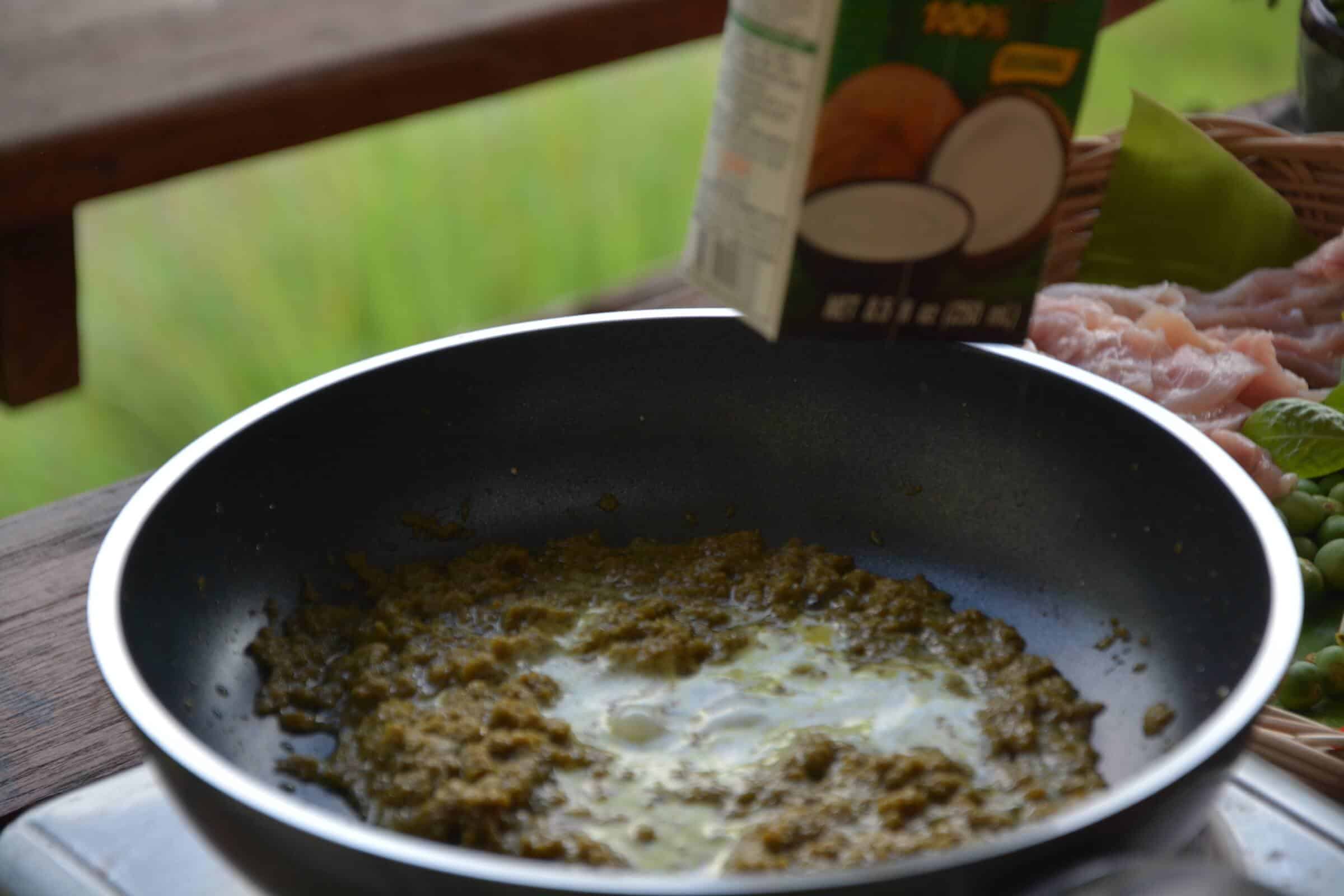 Here's what this step looks like when you add the coconut milk to the chili paste in your sauce pan.
Let it cook a bit, then add in your raw sliced/torn chicken: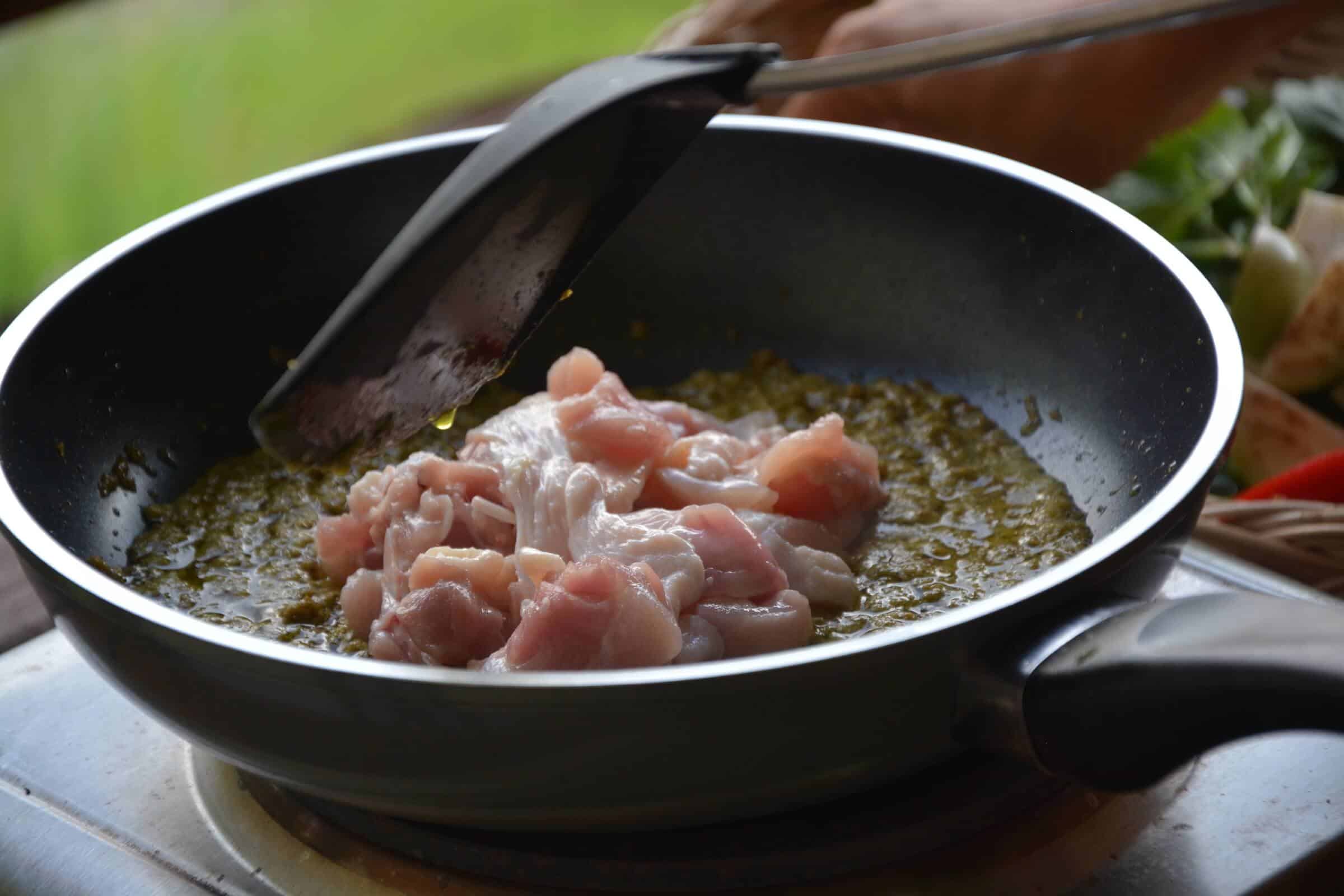 Step 4. Add more ingredients
Let the chicken cook for 10-15 minutes, stirring over low to medium heat.
If you like to consolidate time and do things fast, this is a good time to heat up some water and make stevia tea from dried stevia leaves for your low carb or no carb sugar replacement. Authentic Thai green currys do use a bit of organic palm sugar. A bit of stevia tea is a perfect replacement.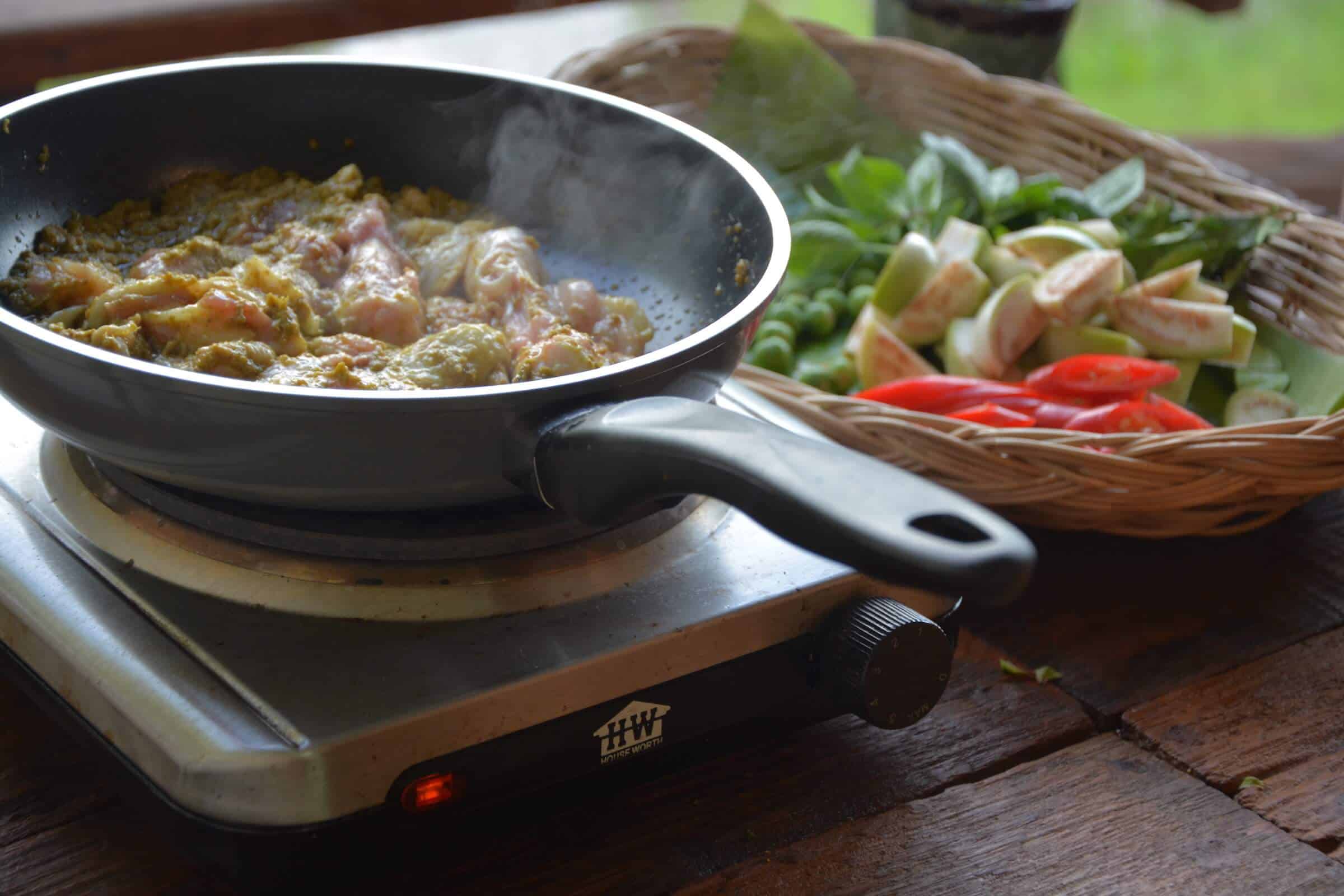 First add the bigger, sliced eggplants.
Then add in more coconut milk.
But first, let this medley cook for a minute or 3 (over low to medium heat).
Then, the coconut milk: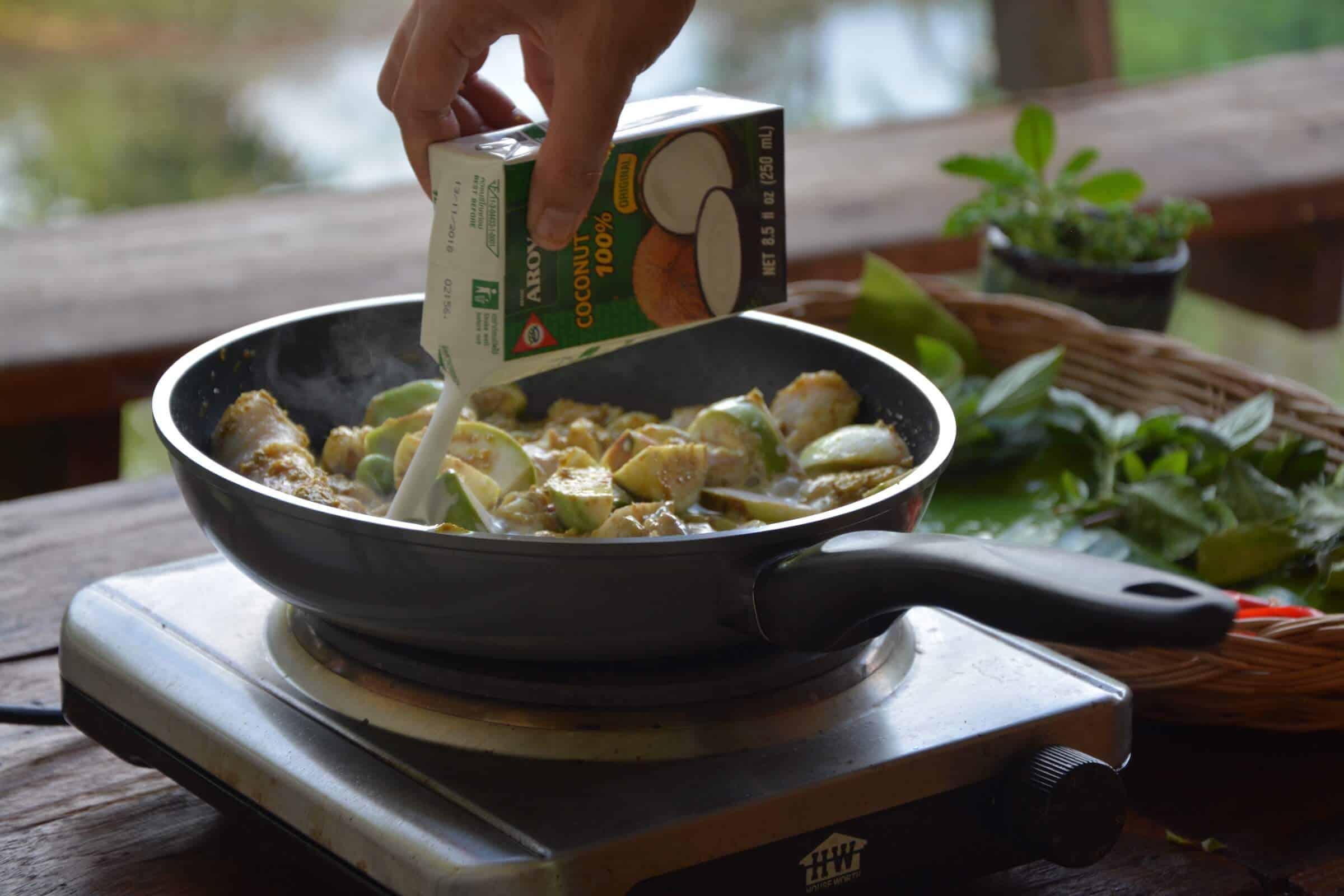 The only things left to put in are the tiny caper-looking eggplants, the sweet basil, the stevia tea, the kefir lime leaves and the red peppers.
Add in the tiny-caper-eggplants (I will one day find out their official name!), and let it simmer over low heat.
At this point, your table should be looking a bit like this image below.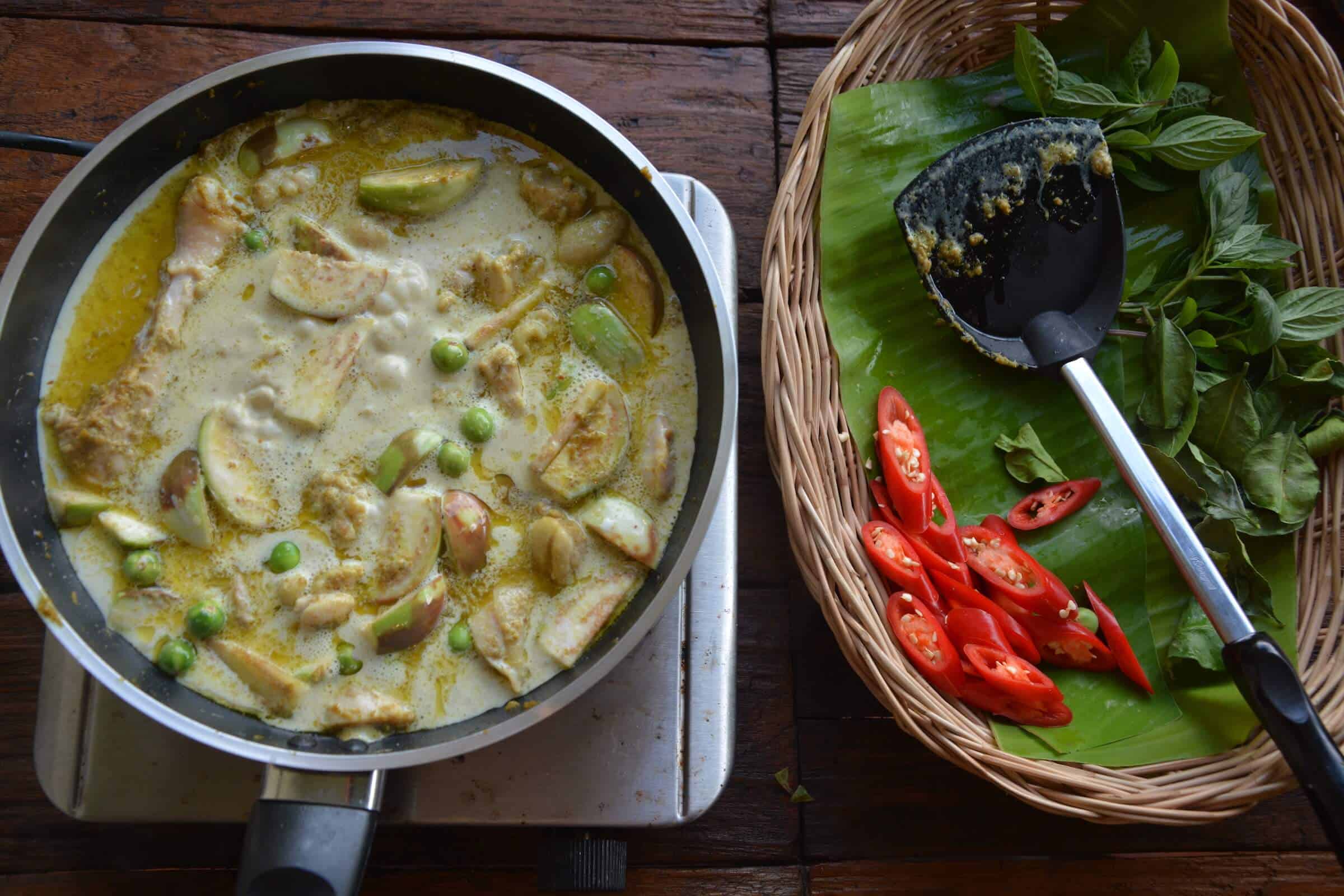 Step 5. Add water or bone broth
There are a few different ways to do this step.
Use bone broth to add and make the green curry soup
Use water to make the green curry soup
Don't add broth. Don't add water. Make this a non-soup dish and place over a cauliflower rice (a very fine option as well!)
I will include the image of the bone broth-adding we did just to show you.
We just added a bit to make it more soup-like.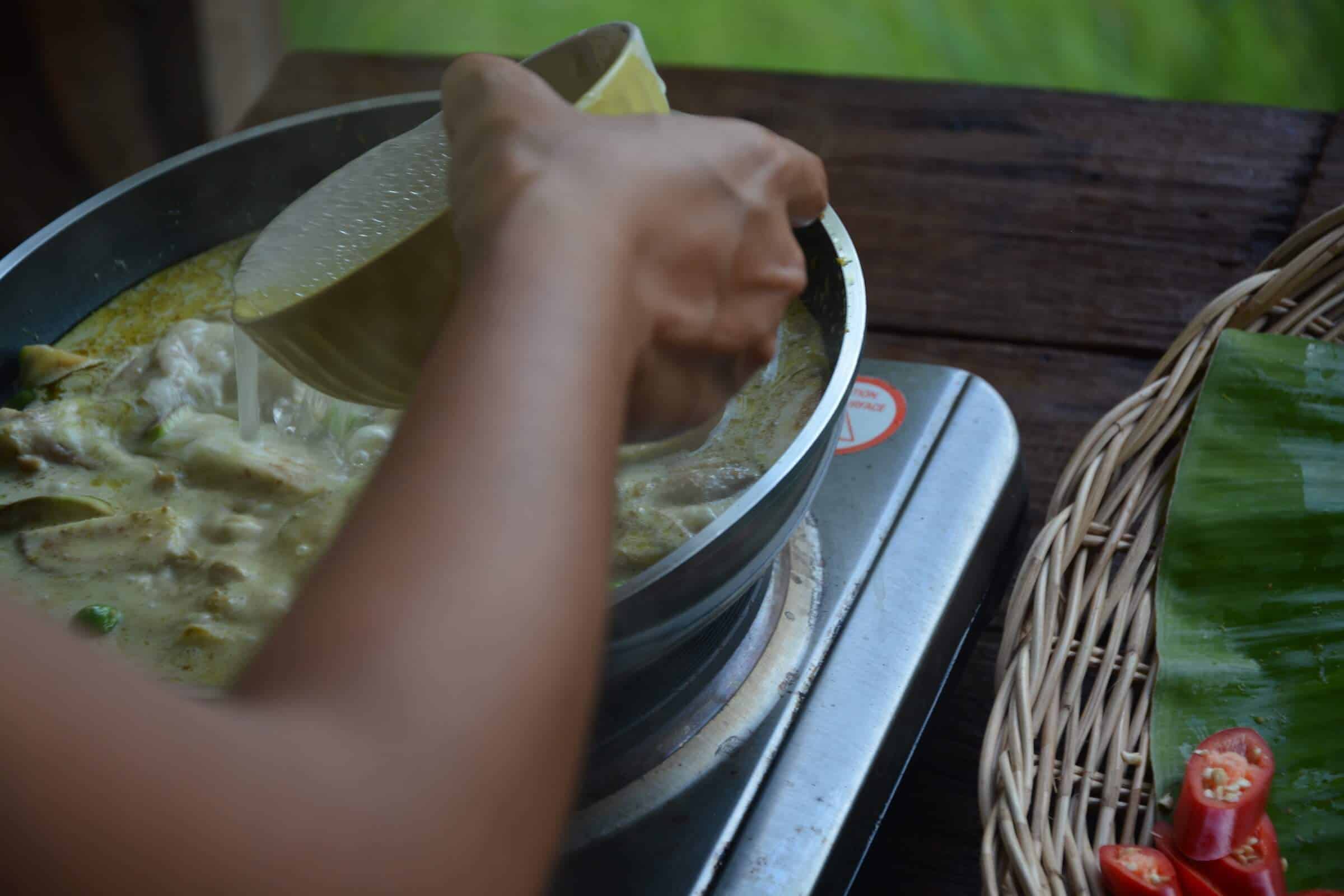 If you don't have the bone broth handy, that's 100% fine – you can use water.
Using bone broth to make it into the green curry soup is ideal for optimal health reasons. But both water or broth at this step works fine. Kettle & Fire have a good boxed bone broth. Making it from scratch will always be best and it doesn't have to take a long time.
Lastly, add the final ingredients:
sweet basil
kafir lime leaves
red peppers
a few tablespoons of stevia tea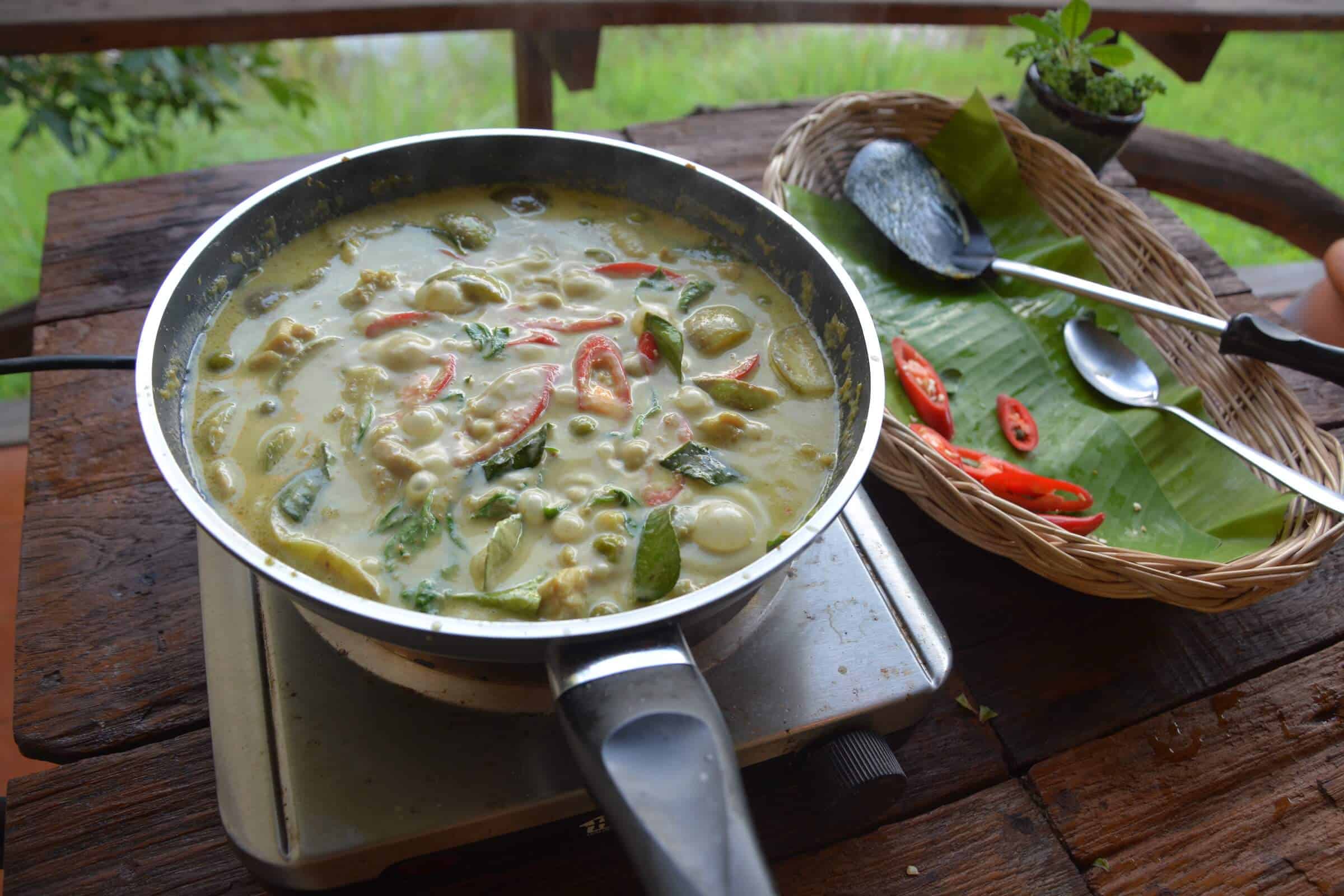 You can see after we added the broth, it made it more like the green curry soup we're shooting for.
You can do this with water all the same. Or you can leave both out, and make a less soupy green curry chicken dish. You really cannot go wrong with this one.
The Final Result: Thai Green Curry Chicken Coconut Soup!
The creamy, sweet and spicy coconut soup is now finished. The chicken Green Curry…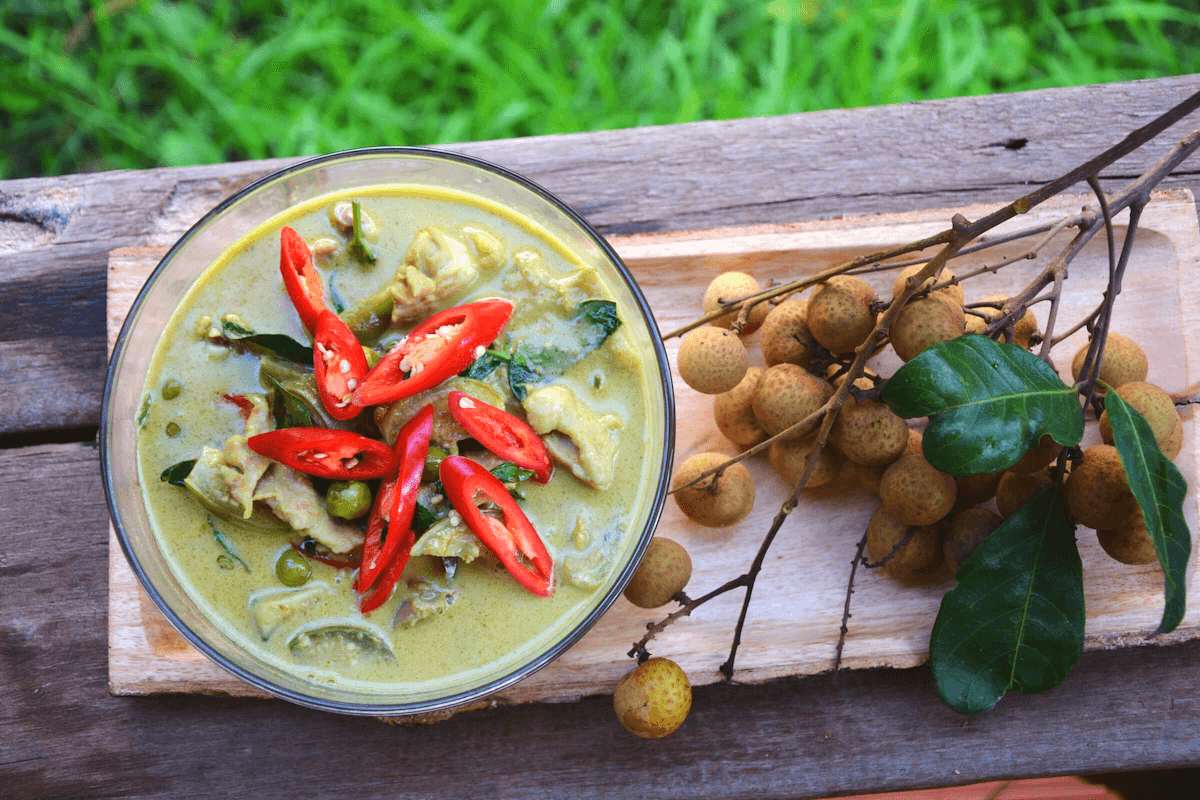 Some of the harder-to-find ingredients for low carb Thai cooking can be found online.
Green Curry Ingredients On Amazon
We hope you enjoy it!
The printable recipe card is below.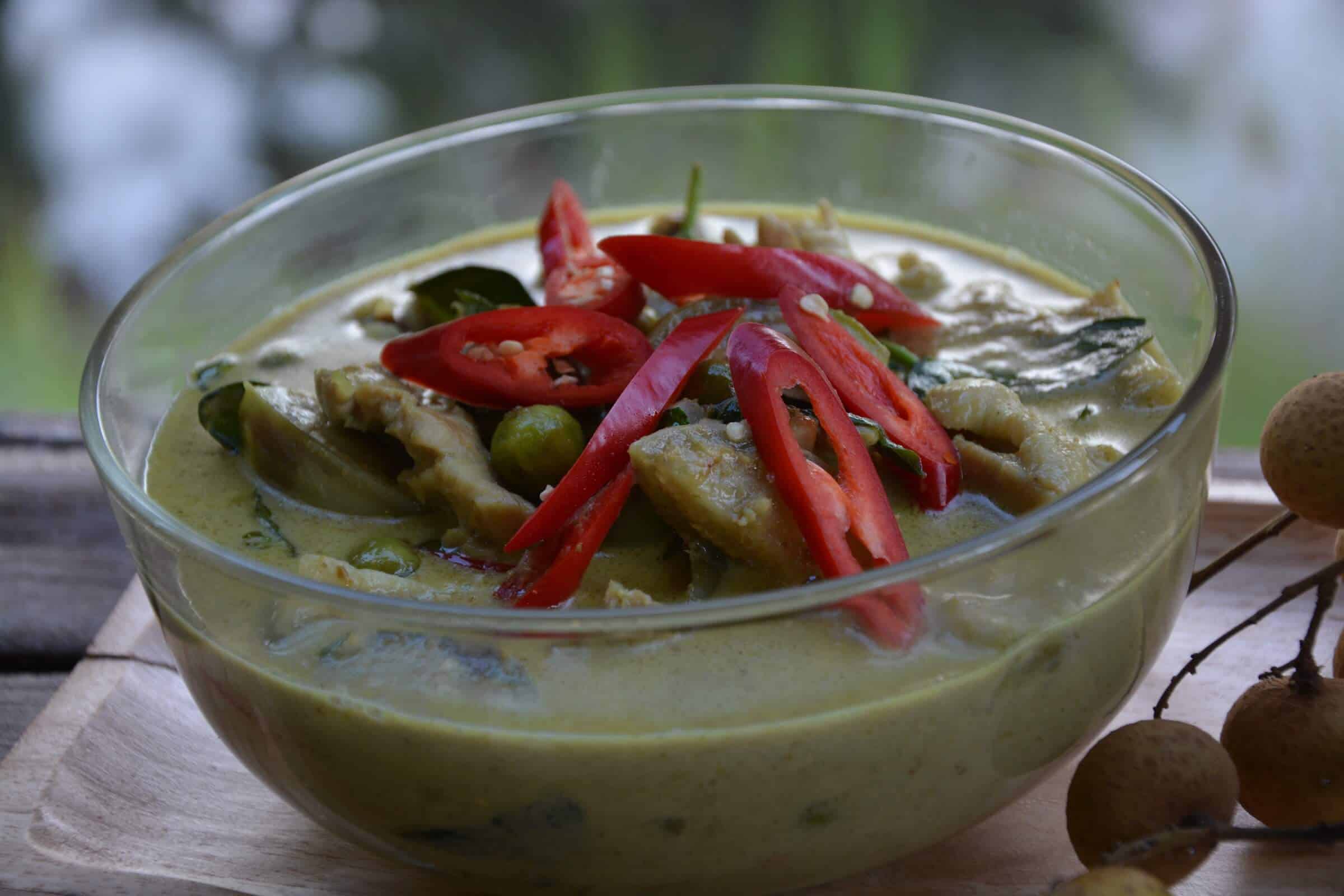 Print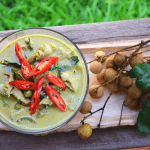 Thai Green Curry (Gaeng Khi Wan Gai) Recipe Card
Author:

Prep Time:

15

Cook Time:

35

Total Time:

50

Yield:

2 people

Category:

Keto, Paleo

Method:

Sti Fry

Cuisine:

Thai
---
Description
Thai Green Curry Chicken Recipe…
Good for the ketogenic diet.
Good for Paleo diets.
Good for everyone on any diet.
This Thai Green Curry has healthy fats from the chicken skin and coconut milk which make it good for a light keto lunch. It's low carb and uses zero sugar. It has Paleo suitable ingredients and is an all-around amazing dish!
Traditionally, you would eat this with a side of white rice. White rice is gluten-free so this will work for both Paleo and ketogenic diets, but if you're looking to cut down the carbs, then another option is cauliflower rice which has fewer carbs and more fiber than traditional white rice.
I like to just eat it as a soup when looking to keep carbs low… a tantalizing, tasty Thai Green Curry Chicken with Coconut Milk soup. But the flavor combination you get from dipping spoonfuls of white rice inside is almost unbeatable!
---
Ingredients
Keto Thai Green Curry Chicken Recipe Ingredients
Chicken quarter
Small round eggplants (not optional)
Tiny round eggplants (the ones that look like capers)
Red pepper
Sweet basil (not optional)
Kafir lime leaves (not optional)
Coconut oil (tasteless)
Stevia Tea (or organic palm sugar)
Bone Broth or water
---
Instructions
For the Green Curry Ingredient Prep
At least 1 hour before serving
Chop all your herbs and vegetables. The only ones not getting chopped are the tiny round eggplants (and the Sweet Basil can stay whole as well).
Start your pan over low to medium heat with coconut oil. Once the coconut oil is heated, place the green chili paste in the pan with it. Then, stir for 3 minutes before adding in your coconut milk, about 5 tablespoons. After this heats up, you will add in your freshly cut chicken. Cook these together for 10 minutes in the sauce over medium heat.
Wrapping things up
Once the chicken has cooked enough to serve
Combine all the ingredients now into the saute in this order. First, the sliced eggplant. Second, more coconut milk. Third, the small round caper-looking eggplants. At this point, add in a small amount of water or preferably bone broth if you have some. This is what transforms it into a green curry coconut soup.
To Assemble
Serve and enjoy with white rice…
---
Notes
I cannot find the paper where I weighed out all the ingredients for the life of me, so you'll have to eyeball this one according to the images.
We have many Thai style low carb recipes here on the blog or you can browse and find other ones I like over on our Pinterest page.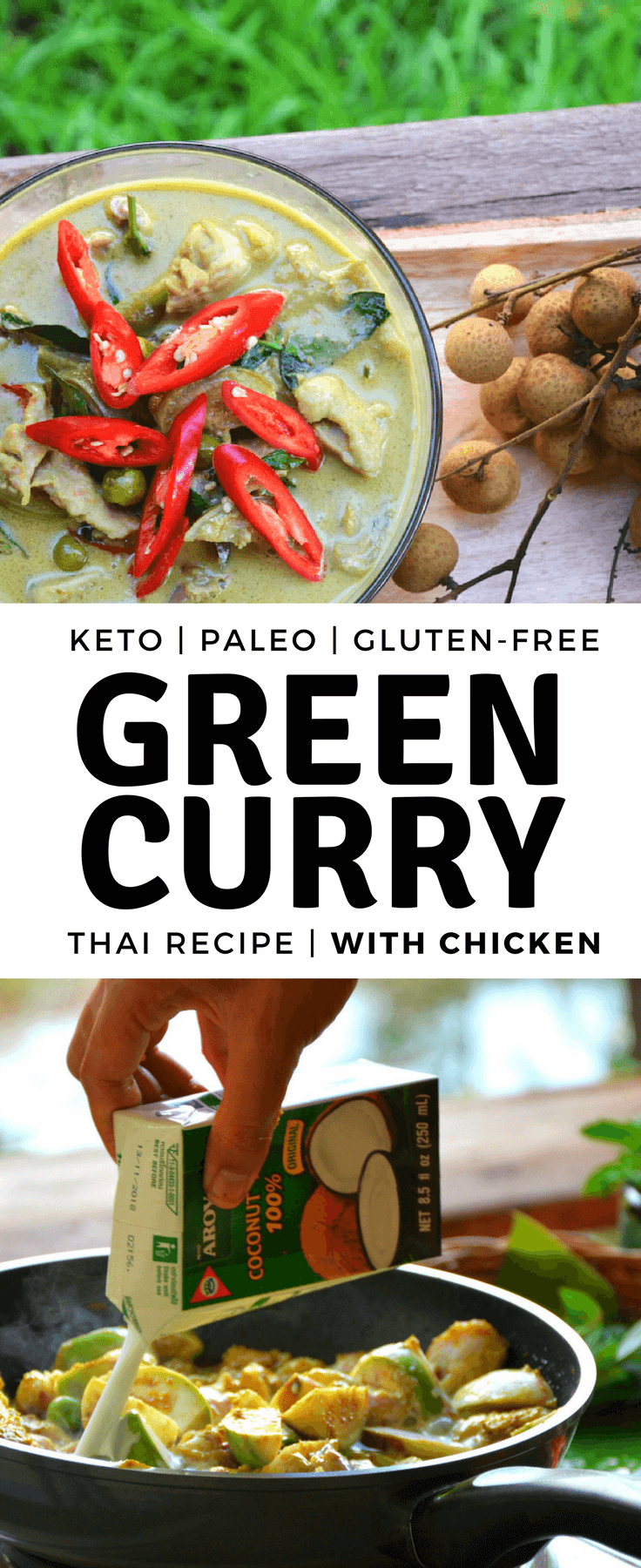 Recently when searching for others' methods of making a Thai Green Curry, I found many great ones online. As for the videos, it was great to see a pro like Jamie Oliver make a green curry. Here's the video of him making it. Imagine the parts where he uses a food processor, done with a mortar and pestle.
That's the only thing I'd do differently. Here's his green curry recipe video:
If you regularly ate Thai food each week, you'd have only so much meal-space to fit this Thai Green Curry in because of how many other standard amazing Thai recipes there are. If you cook our Nutrition Adventures version of the Thai Green Curry, we'd love to hear about it.. comment below or send us a message!
Our Top 3 Low Carb Thai Recipes Cookbook
Get the cookbook and more interesting stuff to your inbox!
Thanks!
Something went wrong.