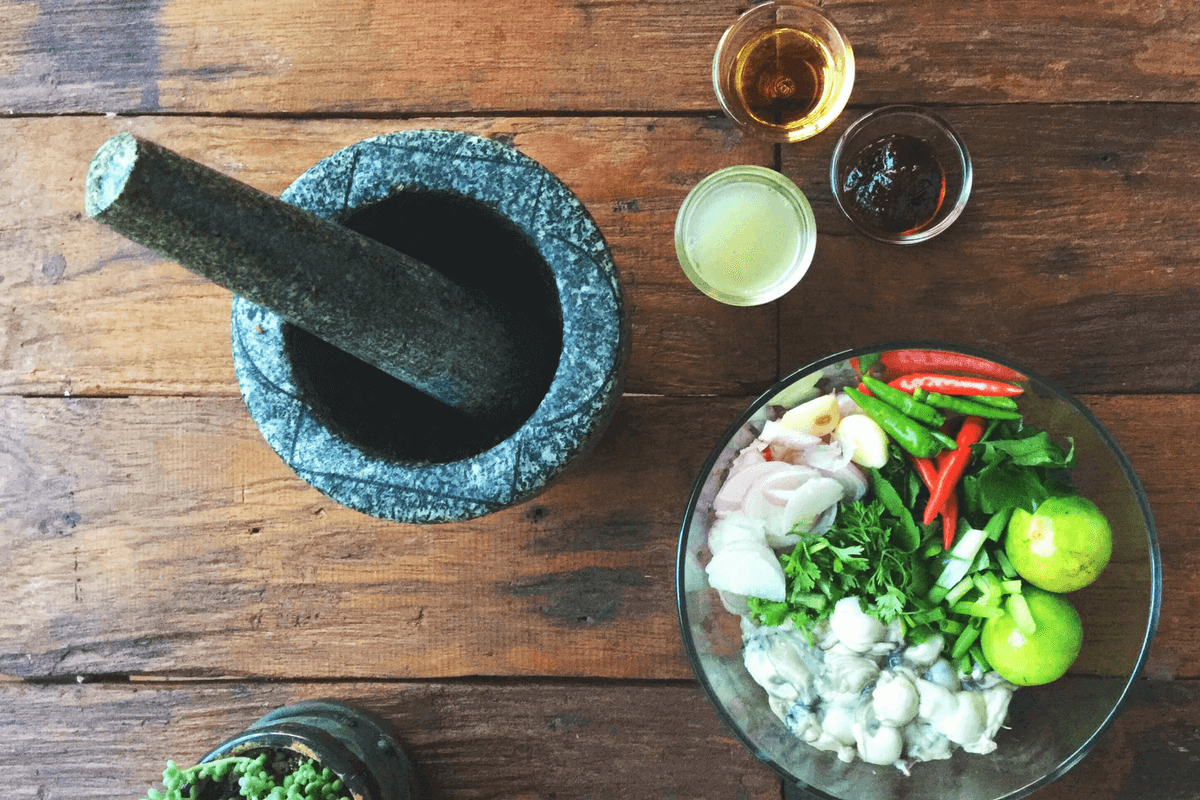 Do you ever eat raw oysters or wonder how to eat raw oyster?
I always avoided it until I learned how healthy it is for us. Then I began to seek ways to include it in my diet. Luckily I found the PERFECT way to enjoy all of the raw oyster nutrition I can get.
This raw oyster recipe is for people who don't like eating raw oyster.
If you're a fan of raw oyster recipes, then you know all about eating it raw. For those of us who are not big on eating oyster raw, it's great to have a go-to raw oyster recipe. That's what this Thai raw oysters recipe with seafood sauce is here for.
---
Thai Seafood Sauce
The secret to making it as delicious as it is raw is this sauce. Its mix of chilis, garlic, and fresh lime juice makes eating raw oysters very enjoyable. I never knew I was a raw oyster fan until the day I tasted this seafood sauce with it. The images have come from an iPhone when the sun was going down. I did my best to edit them and bring some colors out, so get ready for some funky looking photos.
---
Raw Oyster Recipe Ingredients
This oyster recipe is really just a sauce recipe.
The Thai Seafood Sauce is called "nam prik bpla."
Combined with lime juice, it blends PERFECTLY with the raw oyster.
You need a mortar and pestle to truly mash up these ingredients and make this authentic Thai style sauce.
---
First, Make The Thai Seafood Sauce
You just need to smash everything. 
That's how you make the delicious and essential Nam Prik Pla sauce.
You smash EVERYTHING, but the raw oysters.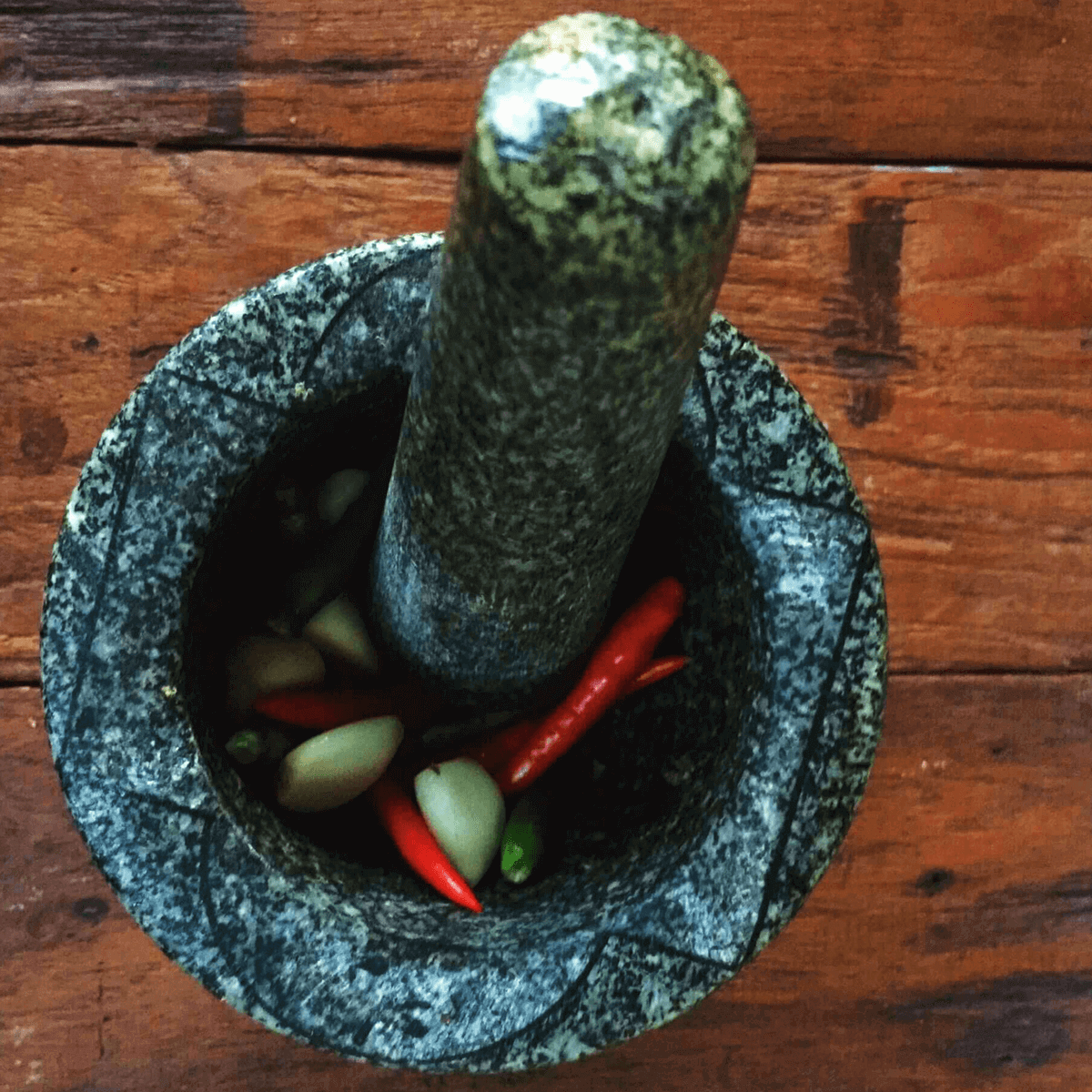 If you don't have a mortar and pestle, you can get away with mashing on a cutting board, but to truly make a delicious nam prik pla Thai seafood sauce, you need a mortar and pestle.
I like the heavy dark ceramic ones like this one.
[amazon table="2010″]
To bring out all the flavors, you'll want to get it mashed up pretty good though. 
Then you put mix the fresh raw oyster in with this and you'll end up with this hippie looking dish you see below.
I was trying to grasp the last of the day's sun.
The hippy part is the blocks of Himalayan Salt.
The keto part is the avocado.
The authentic Thai raw oyster greatness part is in the middle.
---
The final result: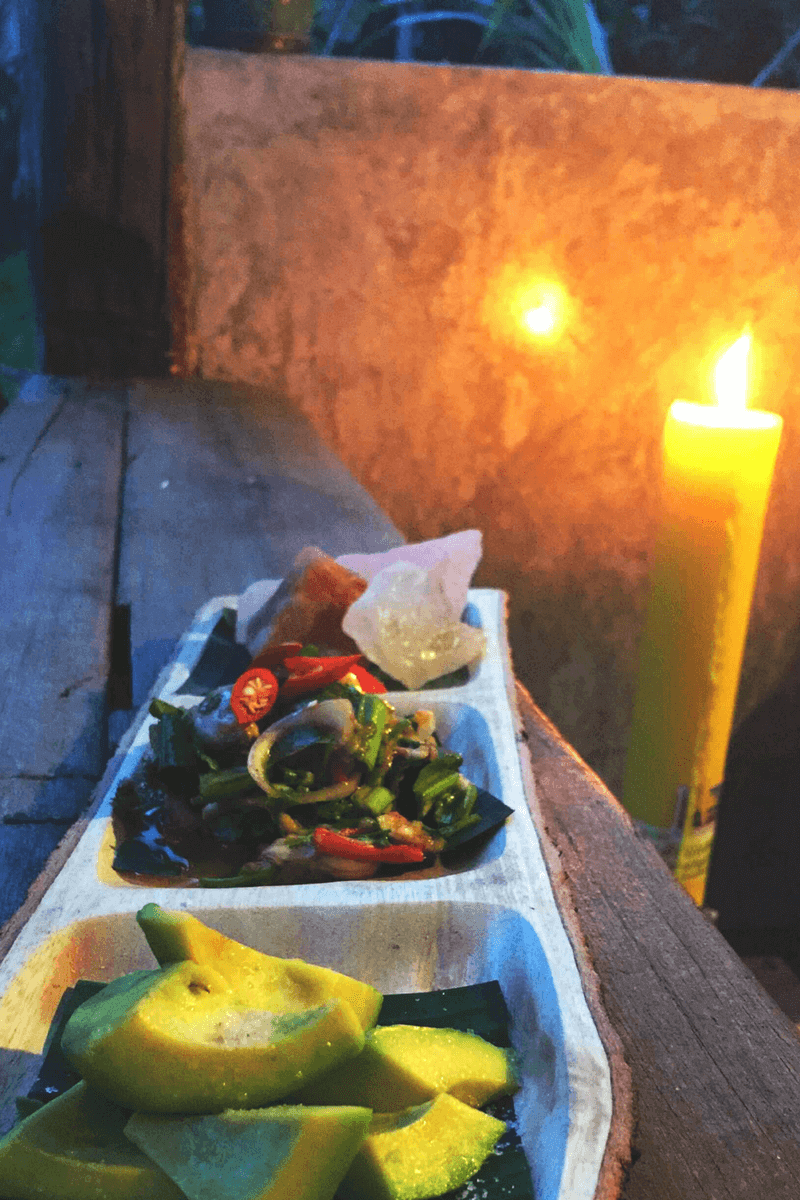 The secret to enjoying raw oysters
Thai Seafood Sauce.
I'm telling you, this is what you need. Nam Prik Bpla is the best. After you mash the chilis and garlic, then combine them in a bowl with the lime juice and sauce, you're done. That's all it takes.
This raw oysters recipe is basically a recipe for Nam Prik Bpla Thai Seafood Sauce.
Just make the sauce.
Add in the fresh raw oysters.
And enjoy.
This recipe makes eating oysters fun.
If you have never tried eating raw oysters or even live oysters, I'd try it out with the seafood sauce.
The best part is that it will enable you to eat oyster if you really, really don't like it.
Your taste buds will never be the same…
Enjoy this? Pin it on Pinterest!
Here are the printable recipe directions:
Thai Raw Oyster Recipe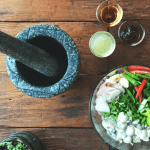 A perfect raw oyster recipe for you if you don't like raw seafood. It's a delicious way to enjoy raw oyster.
200 g Raw Oyster
1 whole Large Avocado
1 g Himalayan Sea Salt
22 g Fish Sauce (authentic)
30 g Lime Juice (fresh squeezed)
25 g culantro (cilantro is good alternative)
20 g shallots
20 g coriander
10 g chili flakes
15 g garlic (fresh garlic)
First, get all of your recipe ingredients together. These are all of them outside of the sauces we have in separate small dishes, poured out and waiting to be used.

Make the seafood sauce first. This is the essential step that makes the recipe.

This is the final result of the zesty, sweet and sour and full of fresh lime juice, fresh seafood sauce.

All ingredients go in there outside the sauces and oyster.

Then you mix it all together and eat alongside an avocado to make it more of a meal.
UP NEXT: Tom Yum Soup Recipe With Shrimp
Thanks for coming by the blog!
Here are more of our recipes: