Bua Loi or Bua Loy is a beloved, colorful Thai coconut milk pudding dessert enjoyed throughout all of Thailand. You can find it both in high-end fancy restaurants and street food stalls alike. It has its different versions: some have pumpkin, some have taro, and now we have introduced our avocado, strawberry, turmeric version of this wonderful Thai dessert recipe.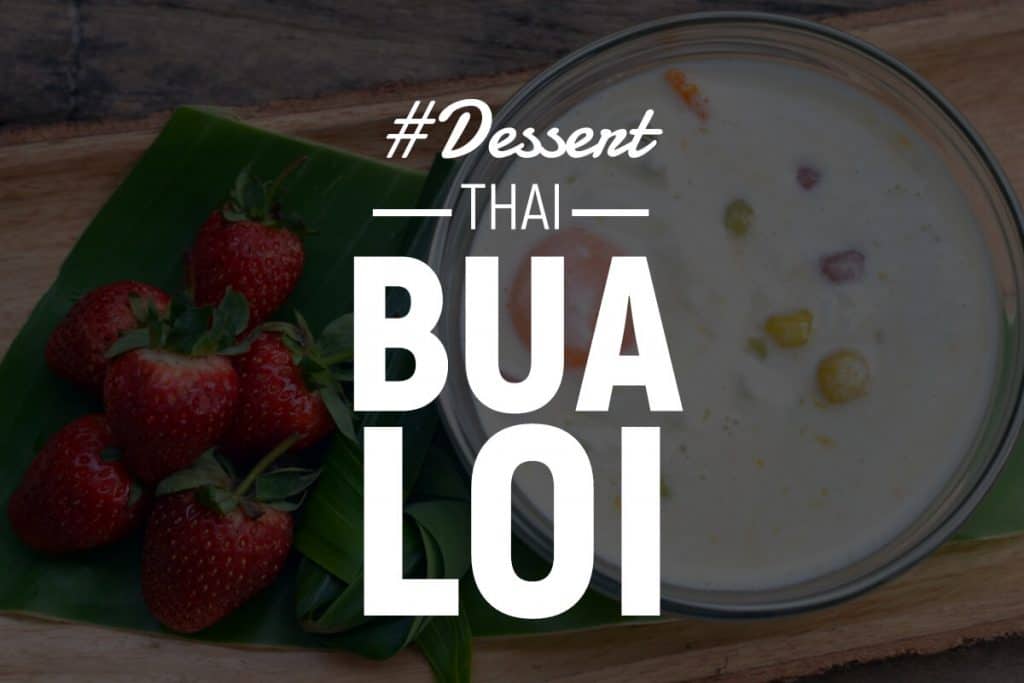 Not only does Thai cuisine give us some of the most flavorful coconut soups in the world, they also have a bunch of wonderful coconut milk dessert recipes as well. Bua Loy translates to "floating lotus." And the floating lotuses in this dessert we have here are balls of glutinous rice mixed with turmeric, avocado, strawberry and egg yolk. Combined with fresh, sweet coconut milk, this is a treat that's hard not to love.
Bua Loi Recipe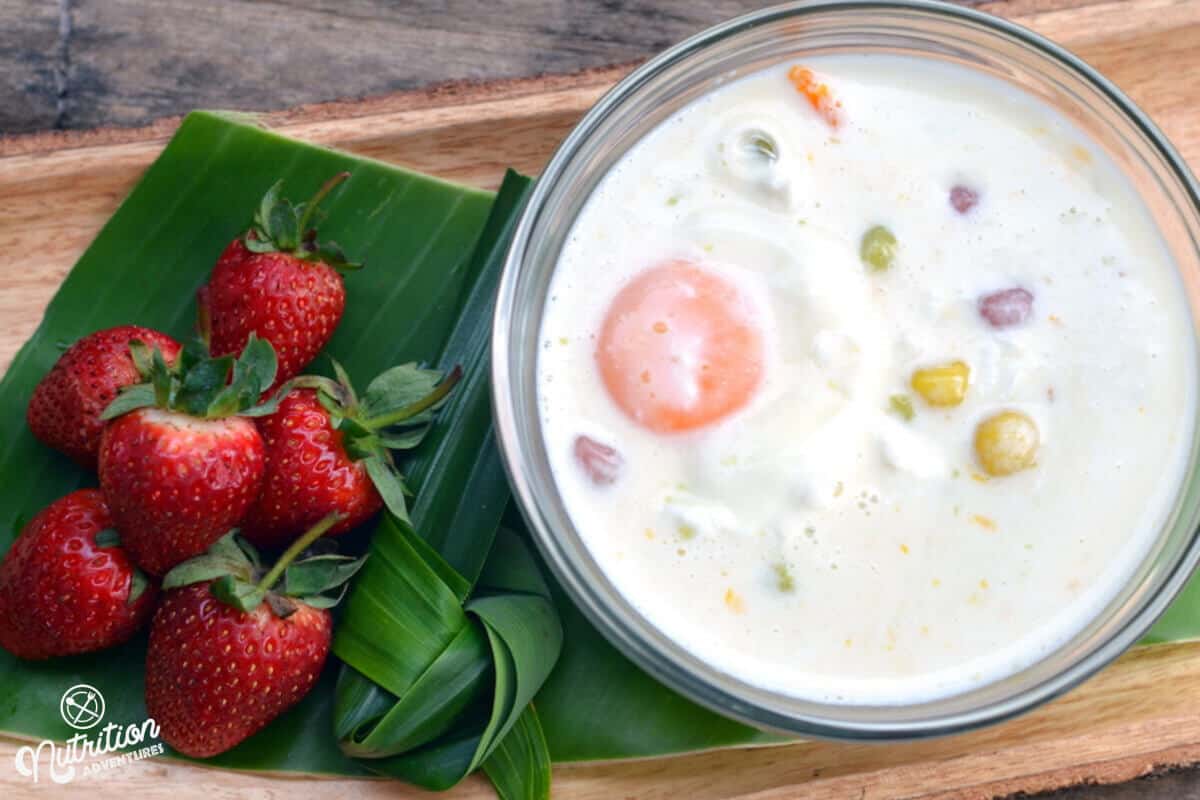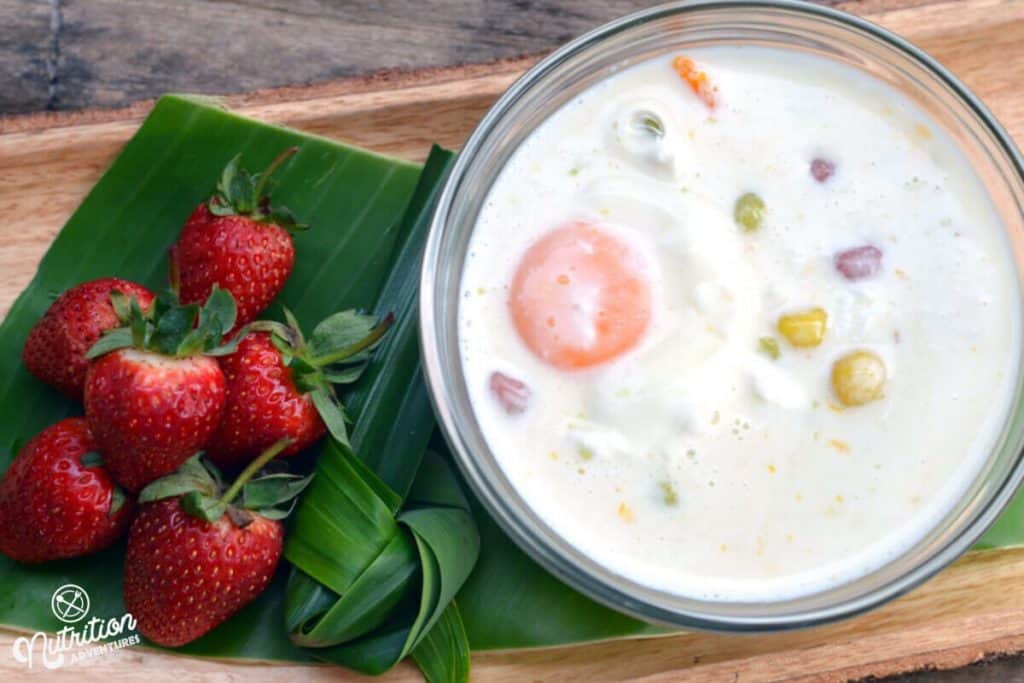 Ours is basically the same as you'll find here in Thailand, except a bit more keto friendly. With the avocado and coconut milk, this Bua Loy is actually a Bua Loy Fat Bomb!
we use honey instead of sugar in traditional Thai dessert recipe
we use avocado balls to make it even more healthy, fatty and keto worthy
We leave out the sugar, and instead opt for a healthier (albeit not low carb), honey. For extra low carb greatness, you can use salt with stevia leaves to sweeten the coconut milk over the stove instead of salt and honey. However, with the small amount of honey used here, it's still a low carb high fat ketogenic diet worthy recipe if you're in search of some good keto desserts.
Diet Considerations: Paleo, Keto, Gluten-Free
Keto Diet: Yes, it's a good keto dessert recipe.
Paleo Diet: Grains are the big NO with Paleo diets. And white rice is techinically a form of grain. However, many still consider white rice suitable to a Paleo diet. This recipe is a fringe Paleo dessert recipe.
Gluten-Free Diet: Yes, this is a gluten-free dessert recipe – more on that below.
Is glutinous rice flour gluten-free? Yes
While the name implies it full of gluten, glutinous rice actually IS gluten-free.
Glutinous rice flour and sweet rice flour are actually the same thing. They're both gluten free. Sweet rice flour comes from glutinous rice flour. According to TheKitchn,
…the fact that it's called glutinous rice does not mean that it contains gluten. Rather, this rice has a much higher starch content than other kinds of rice, making it an extremely efficient thickening agent for sauces or binder for things like mochi and noodles.
---
Bua Loy Recipe Ingredients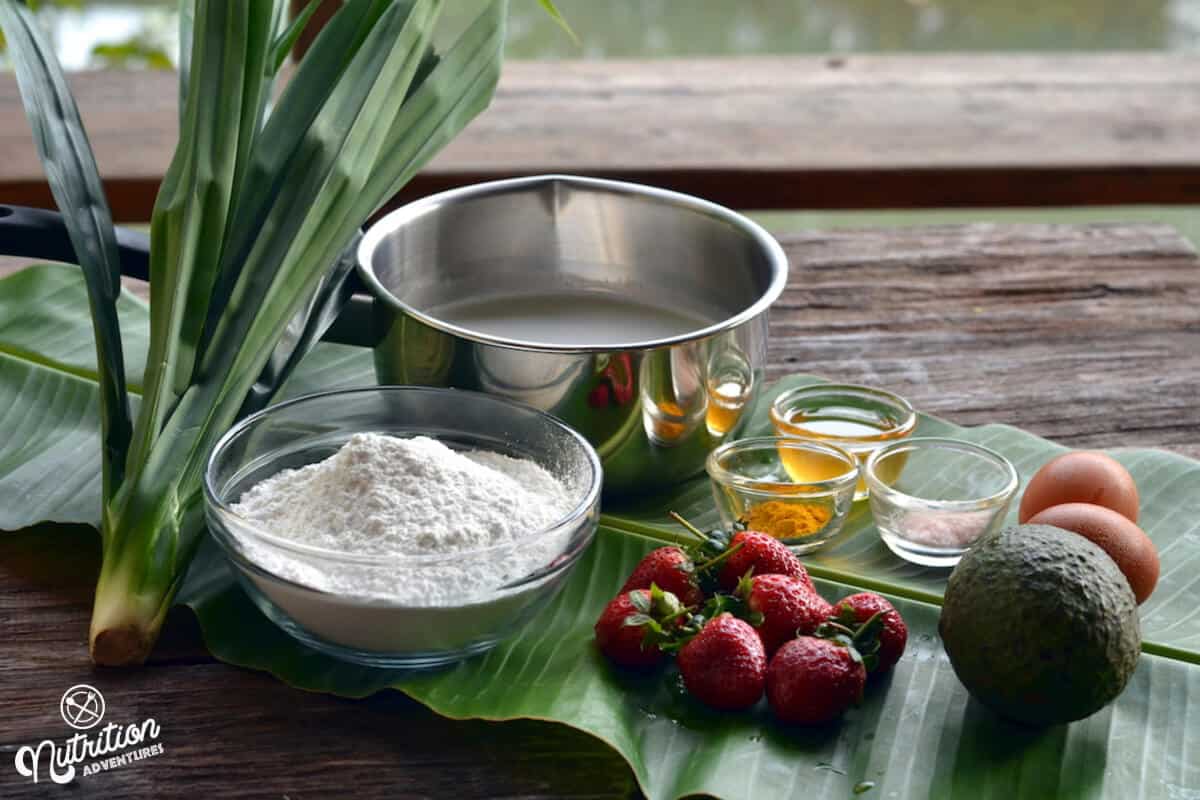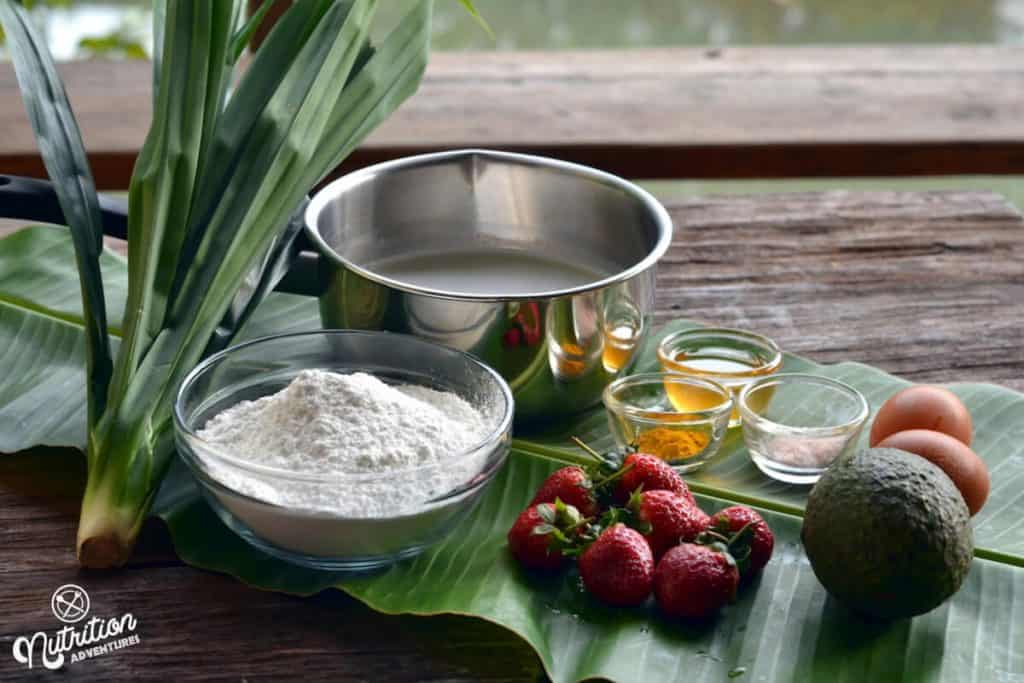 Coconut Milk (Aroy-D or fresh pressed)
Glutinous Rice Flour
Pandan Leaf (optional)
Strawberries
Avocado
Turmeric
Eggs
Salt
Honey
Bua Loy Cooking Directions:
Here we'll go over this recipe step by step by step so you can see exactly how it's done. It looks quite involved and time-consuming, but other than the fact that it's a little messy, it's actually a semi-fast and very easy Thai dessert recipe. There are so many images that instead of cramming them all one by one I combined them to their related actions, so you can really see every step of the creation of this Bua Loy dessert.
Step 1. Coconut Milk & Breading Prep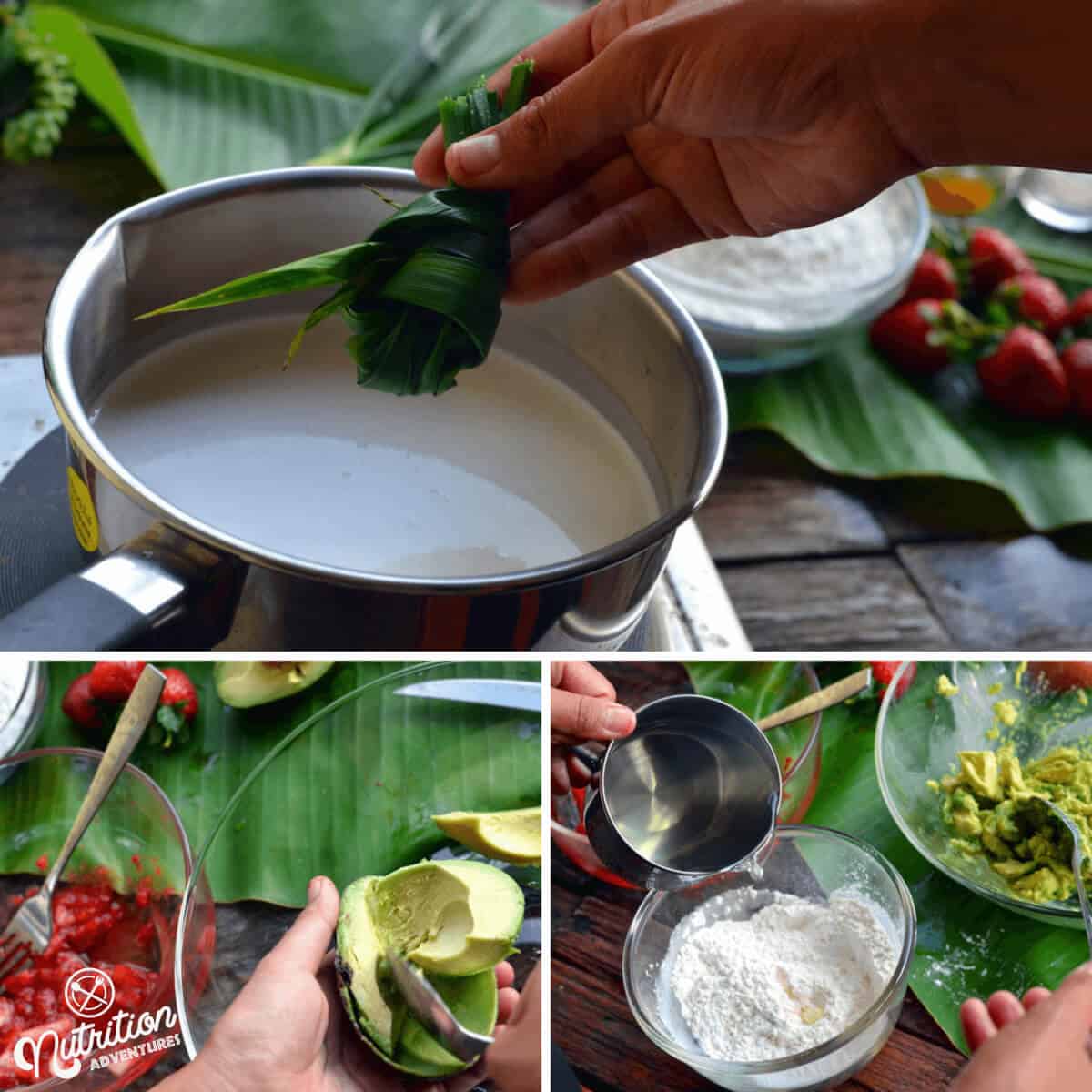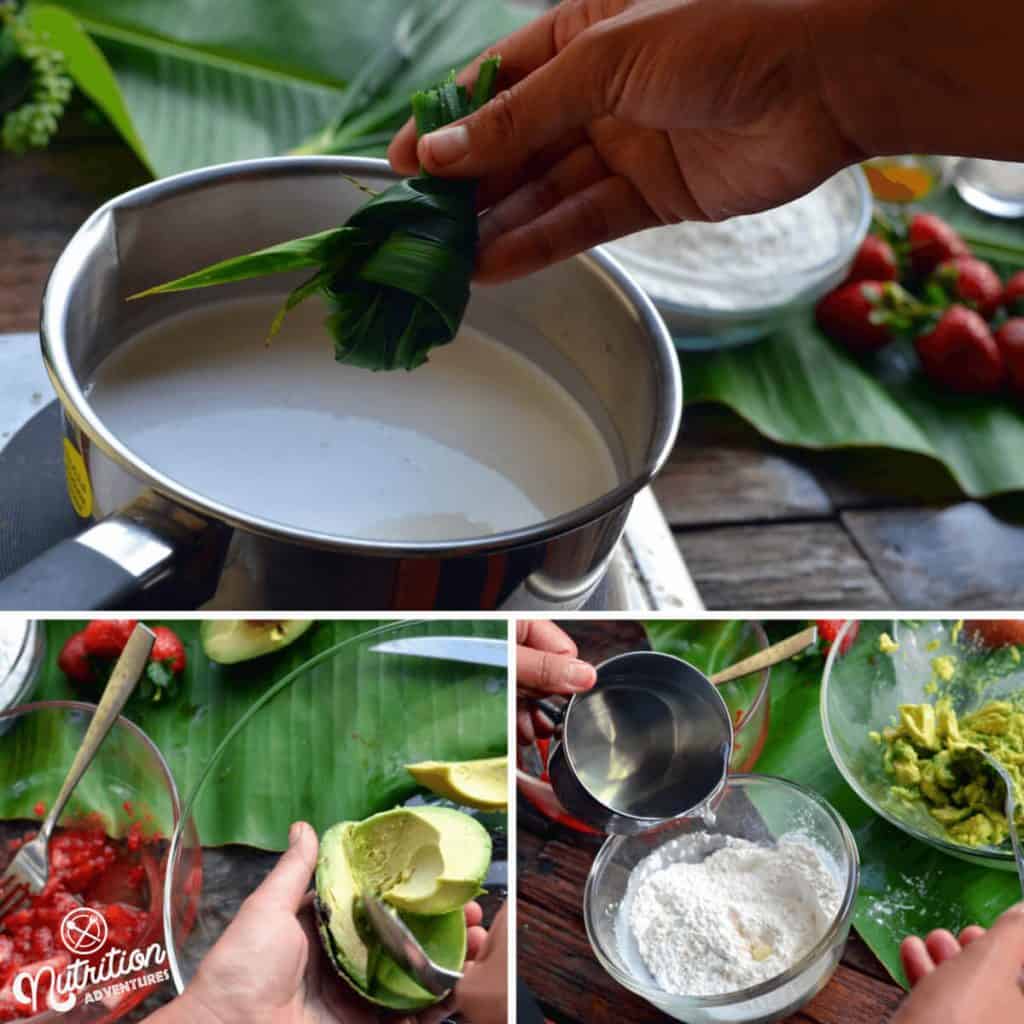 At this step, heat up the coconut milk on the stovetop and if you have pandan leaf, tie a big strand into a knot and drop it in the coconut milk heating up.
Next, you will create the turmeric, strawberry and avocado balls.
First, you need to mash them and roll them into large balls, about the size of a baseball.
---
Step 2. Make Big Bua Loi Balls
Turmeric Flour Ball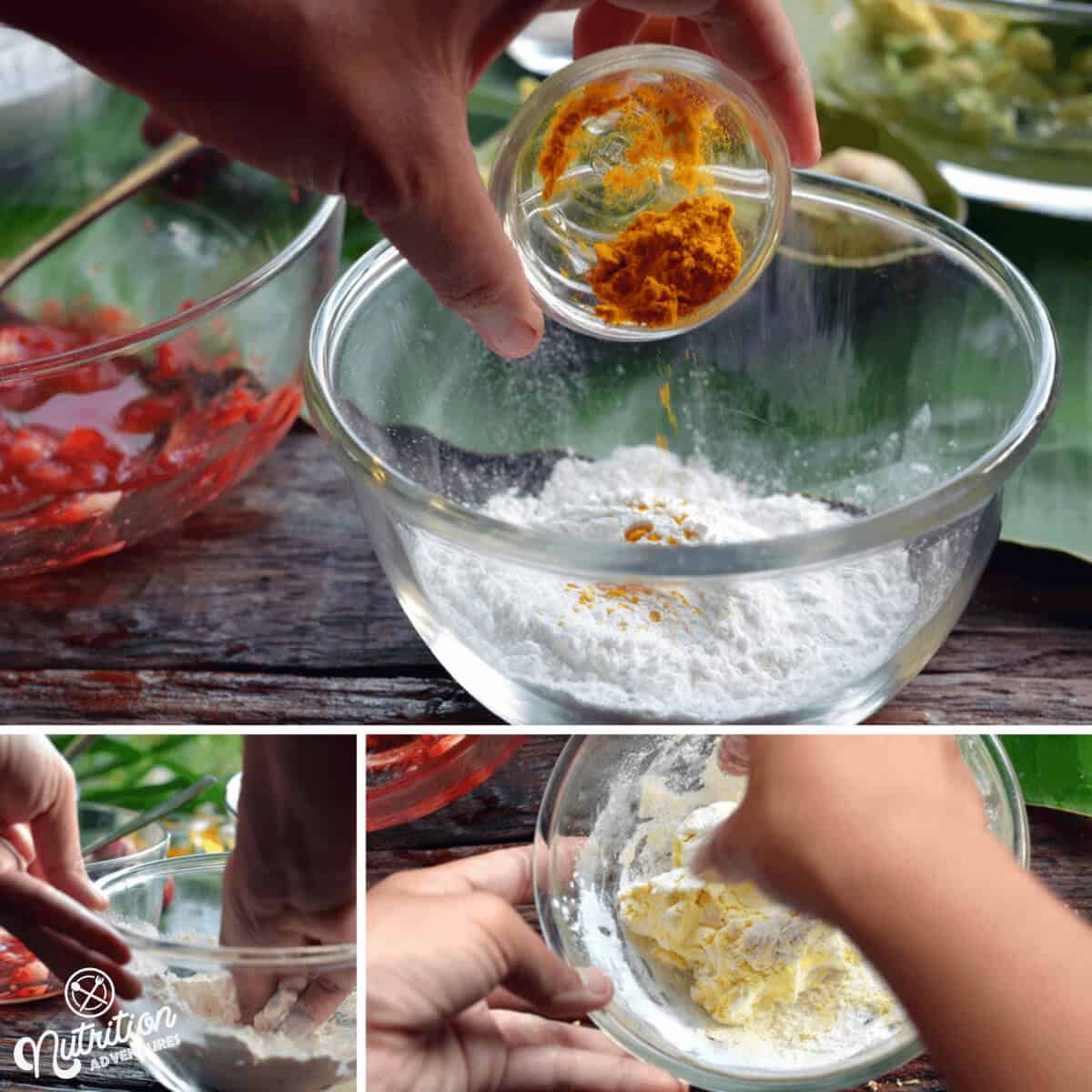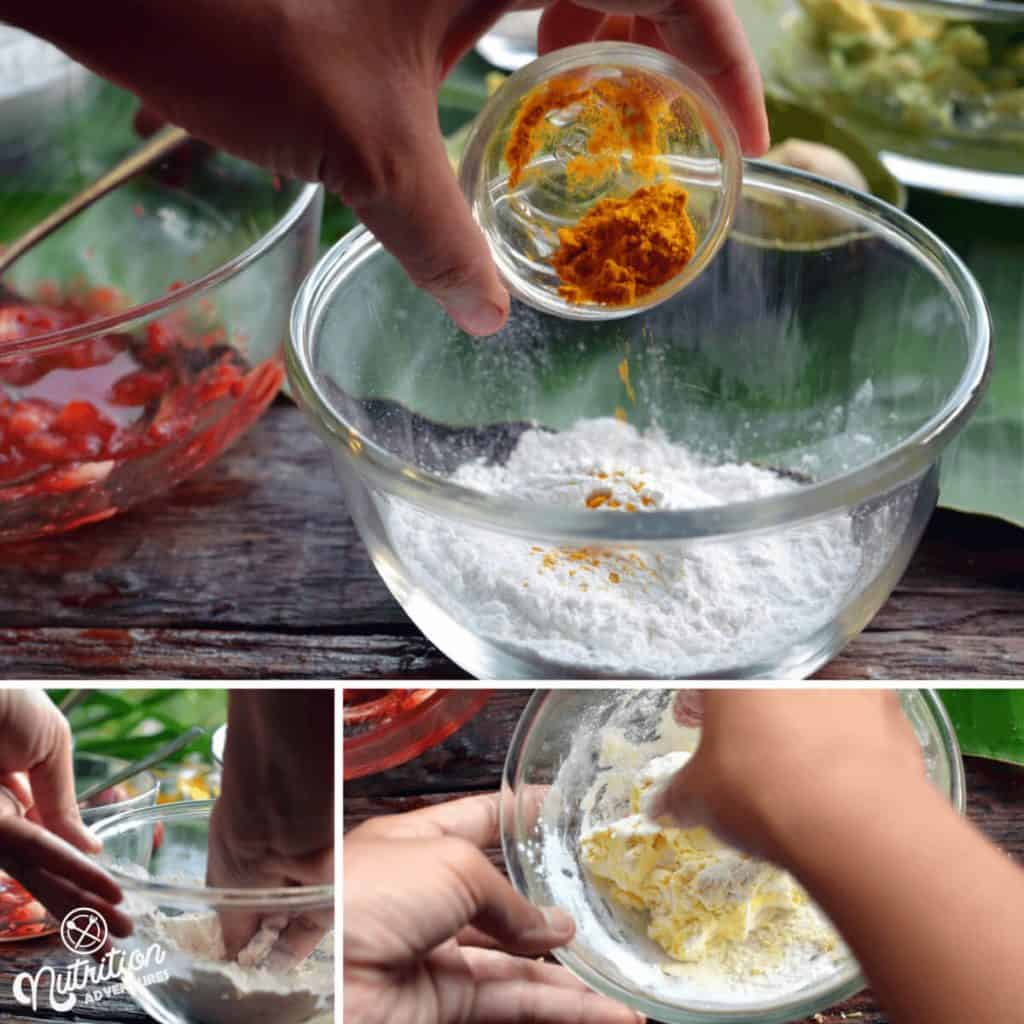 This turmeric one is mostly going to be water and flour. The turmeric added into the mix gives it a yellow color and when this recipe is finished, you do taste the turmeric a bit. It's more than just a coloring. You can get as generous as you need with the turmeric powder here.
Just kneed it for a while and then work it into a ball in the palm of your hand. If you find it too sticky, add some more glutinous rice flour in its bowl and on your hands, until it looks like this: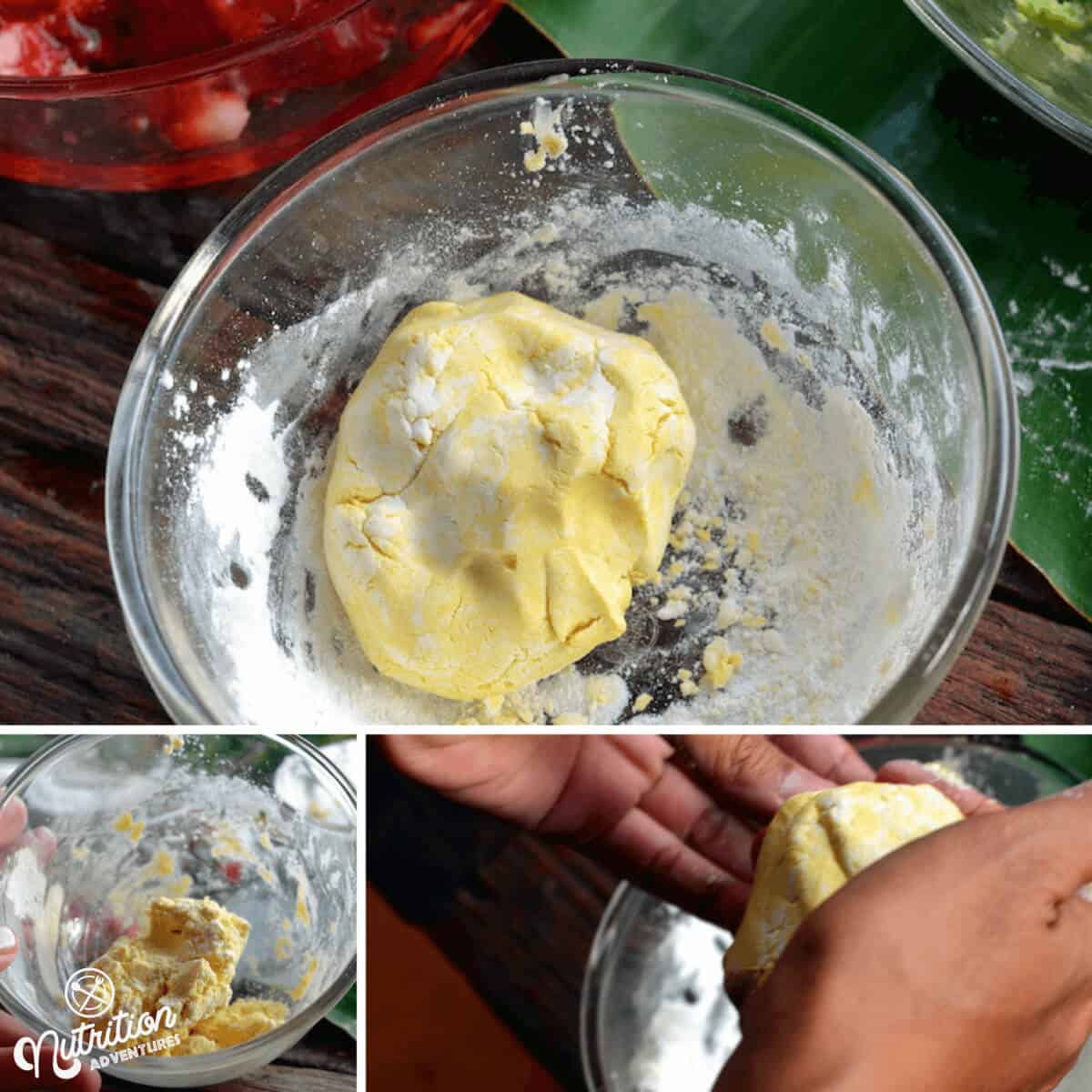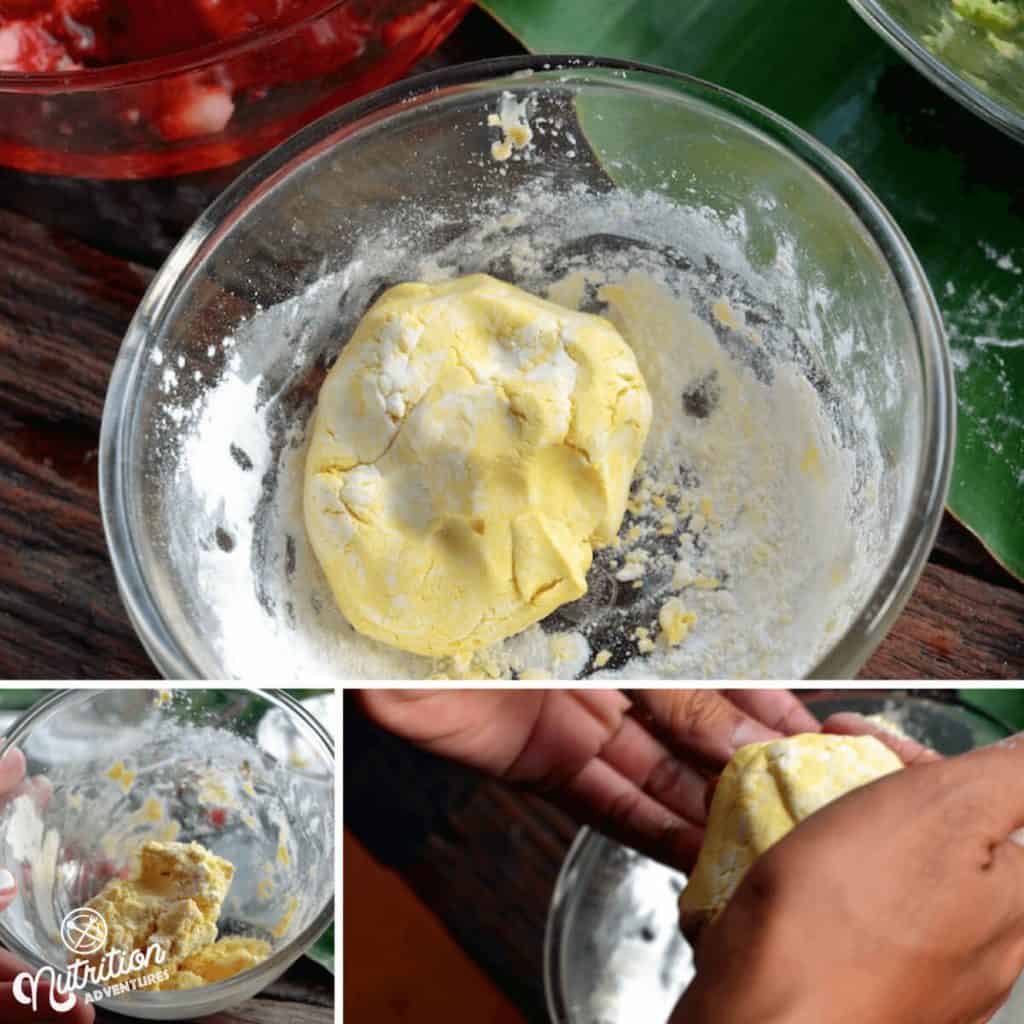 The same process will be done for all.
The strawberry is easy.
The avocado is the most finicky.
Strawberry Flour Ball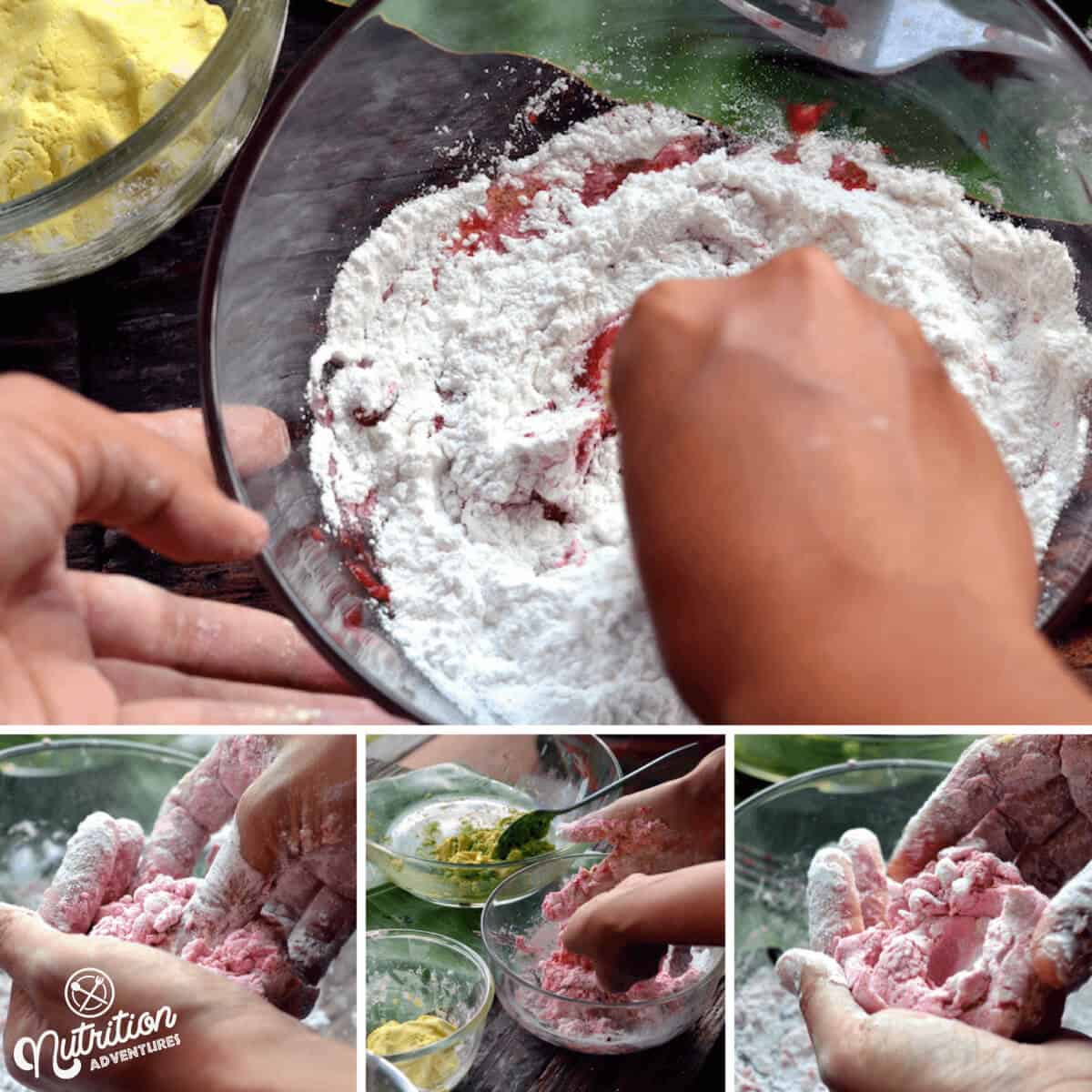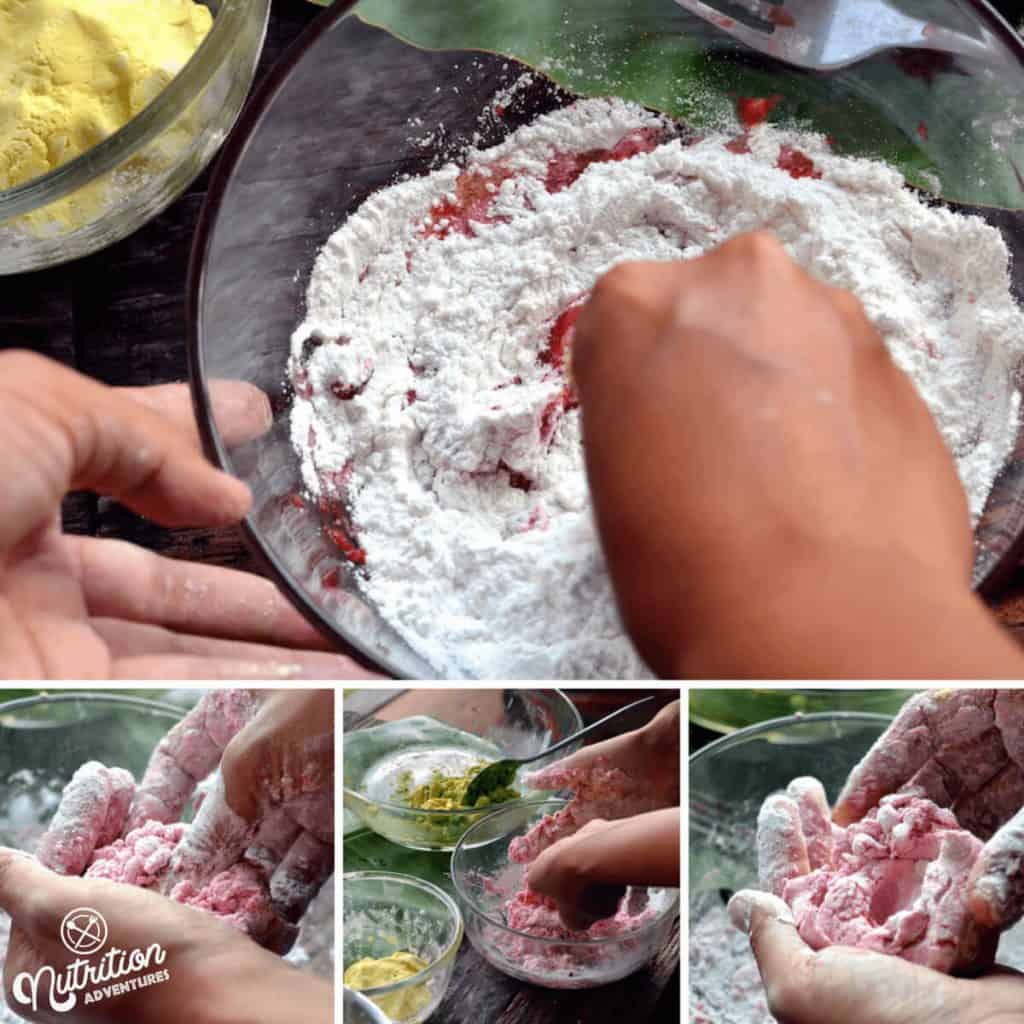 The strawberry and the egg yolks are my favorite tasting ingredients once this is finished.
However, the avocado and turmeric balls are delightful as well.
Here is what the avocado process will look like:
Avocado Flour Ball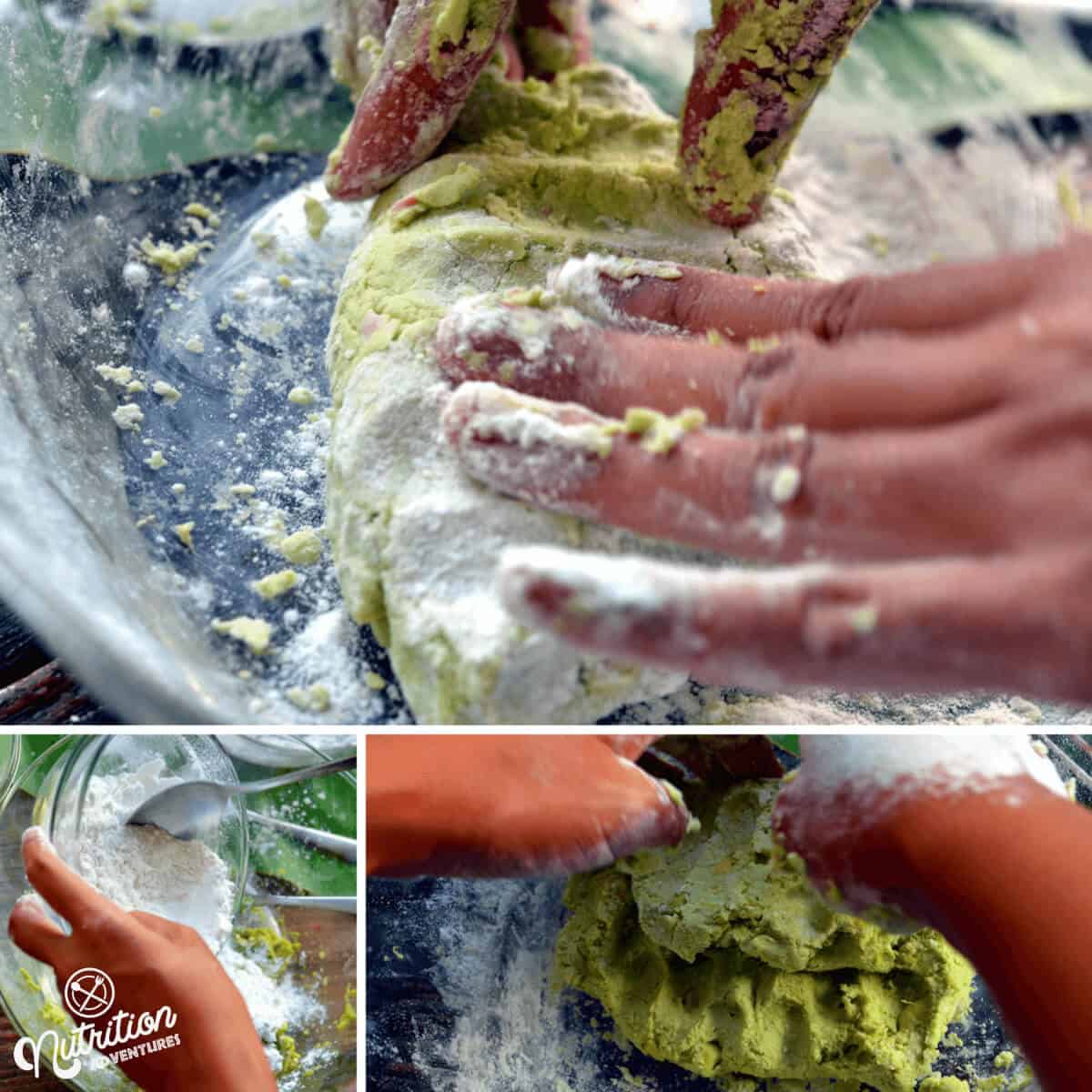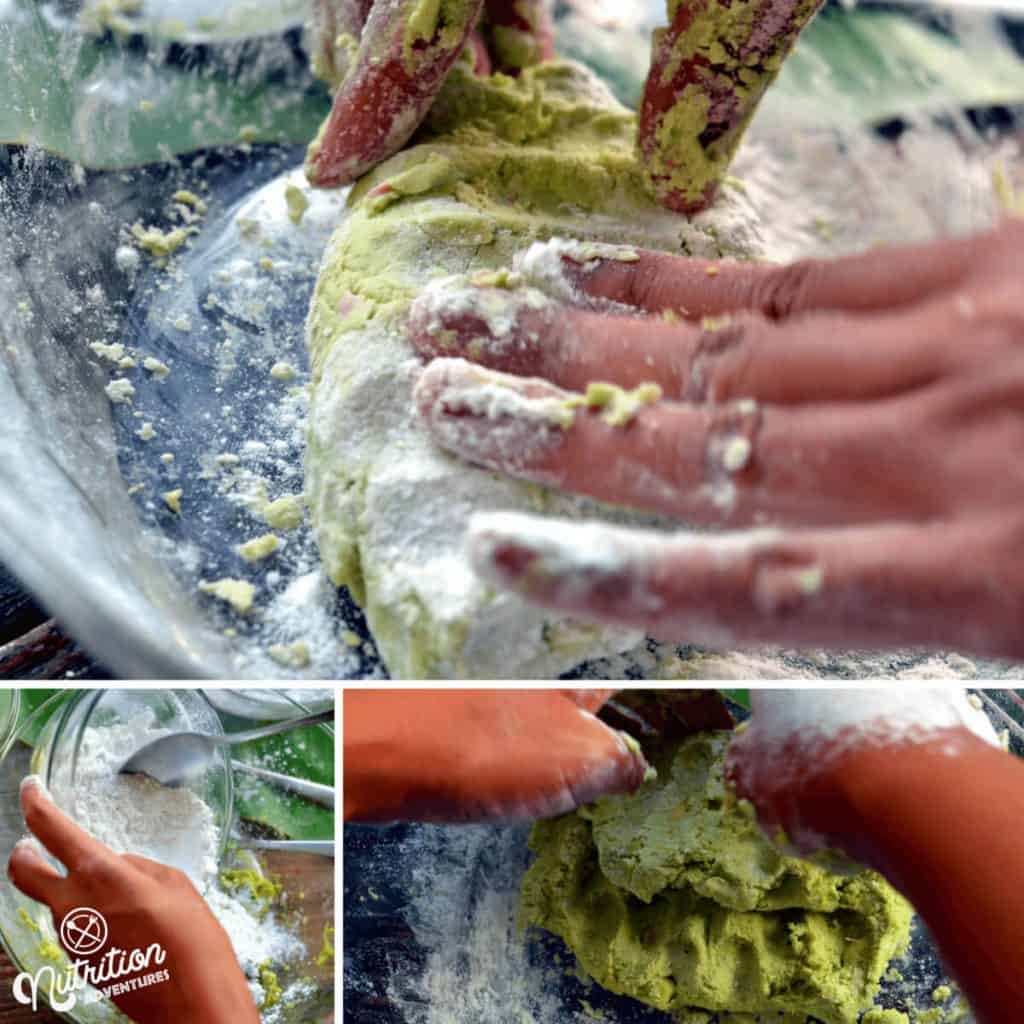 At this point you should have THREE large flour balls:
Turmeric
Strawberry
Avocado
Next, you will make these larger balls into very small ones…
---
Step 3. Roll Into Little Bua Loy Balls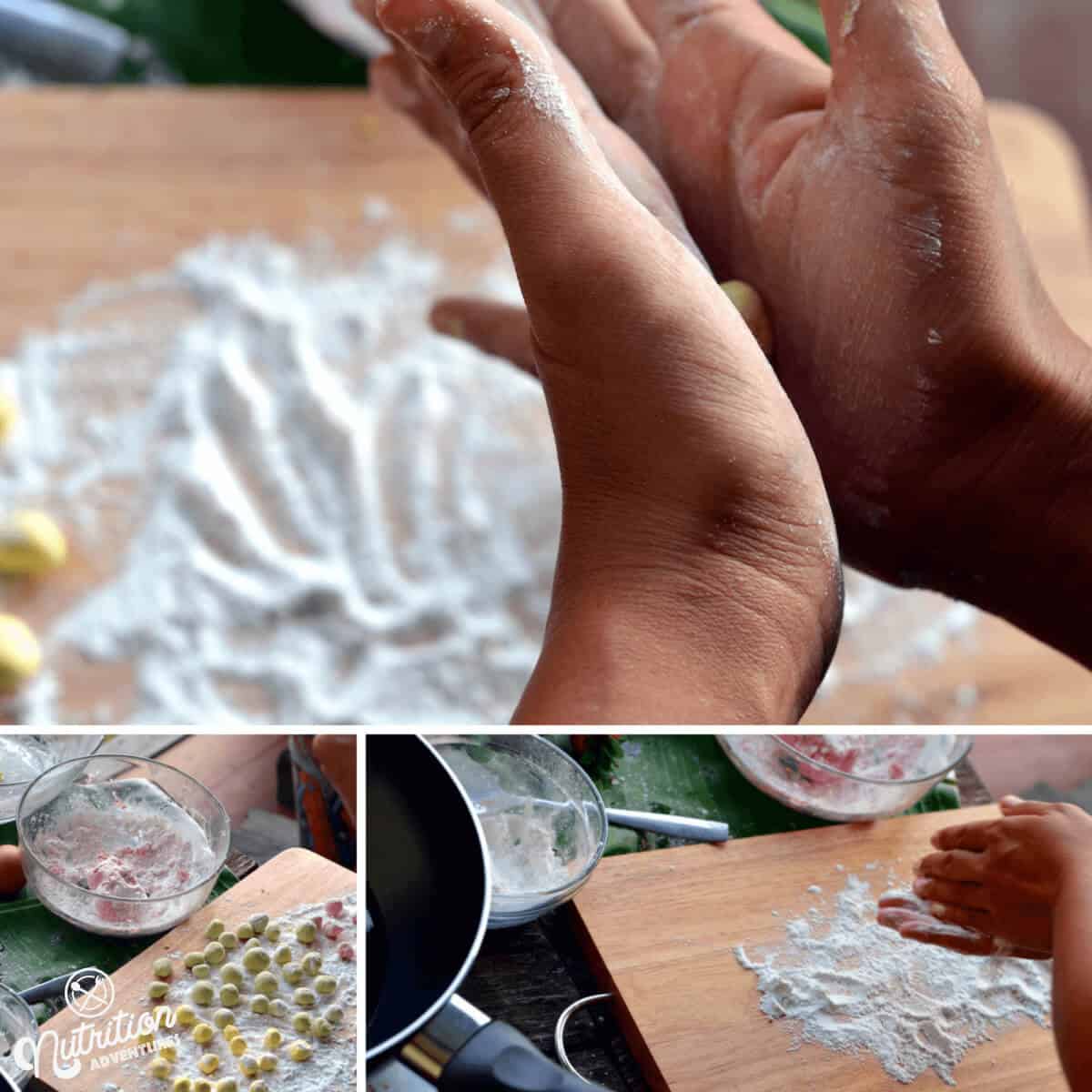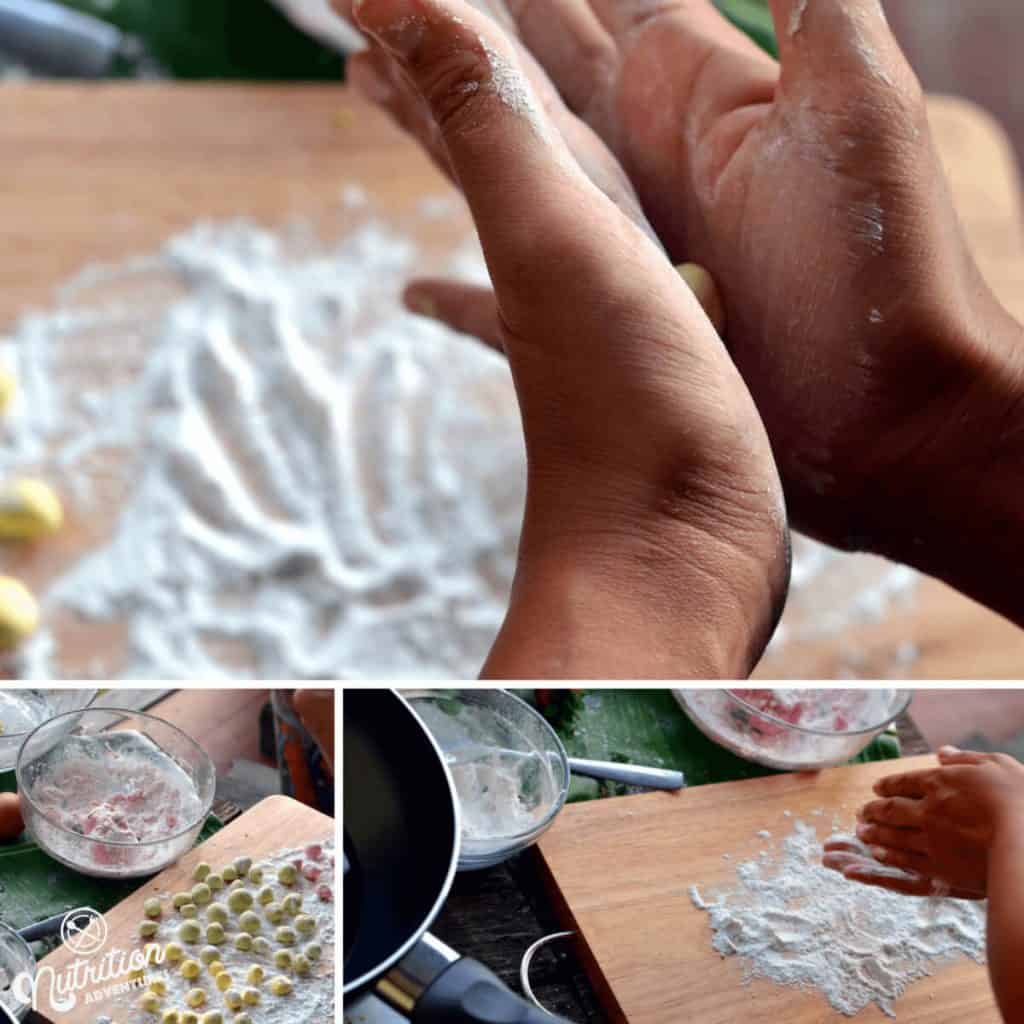 First, sprinkle the glutinous rice flour all over a large cutting board.
Tip: Cover your hands with the rice flour to ensure the ingredients don't stick to your skin.
From there, start with whichever one you want, and start rolling out these small bua loi balls.
You need to pull a piece off the big flour ball, and roll it inside your palm. The picture above hopefully shares this form of rolling so you can see how it's done. We didn't take video, but we can update this with video of the process if anyone requests it.
Final result of this step: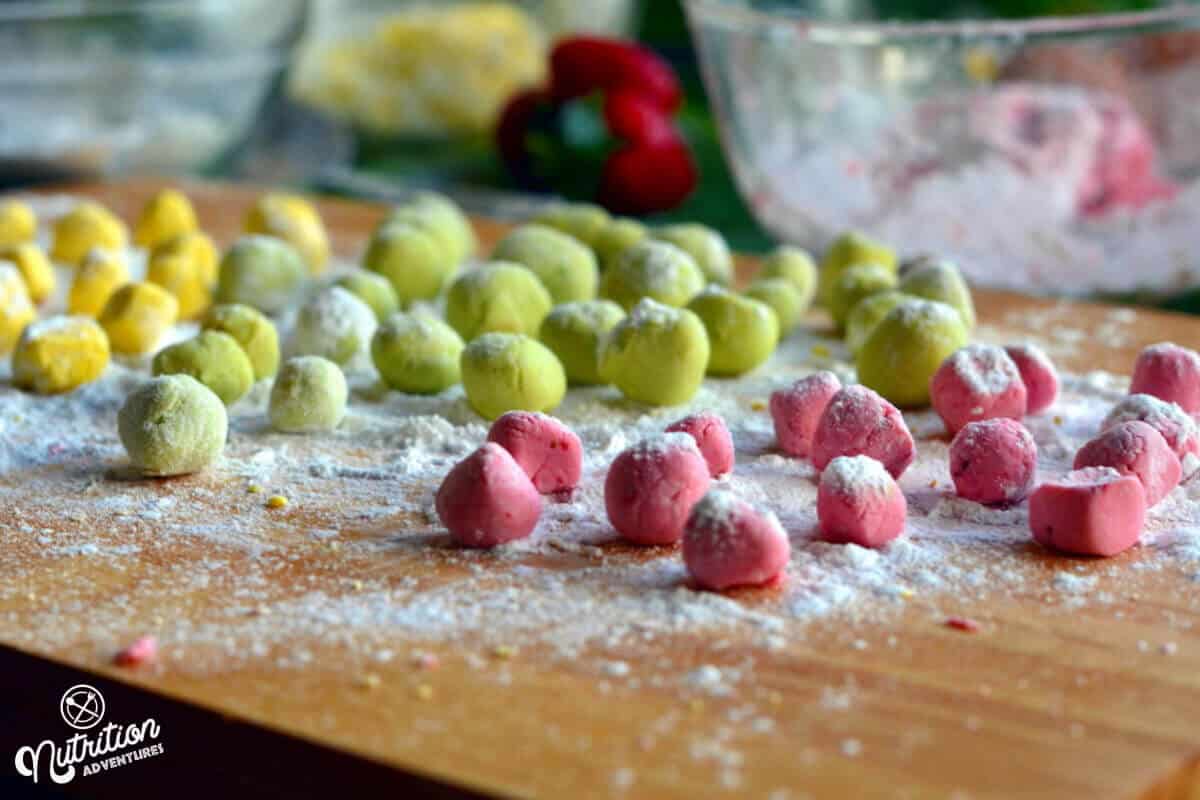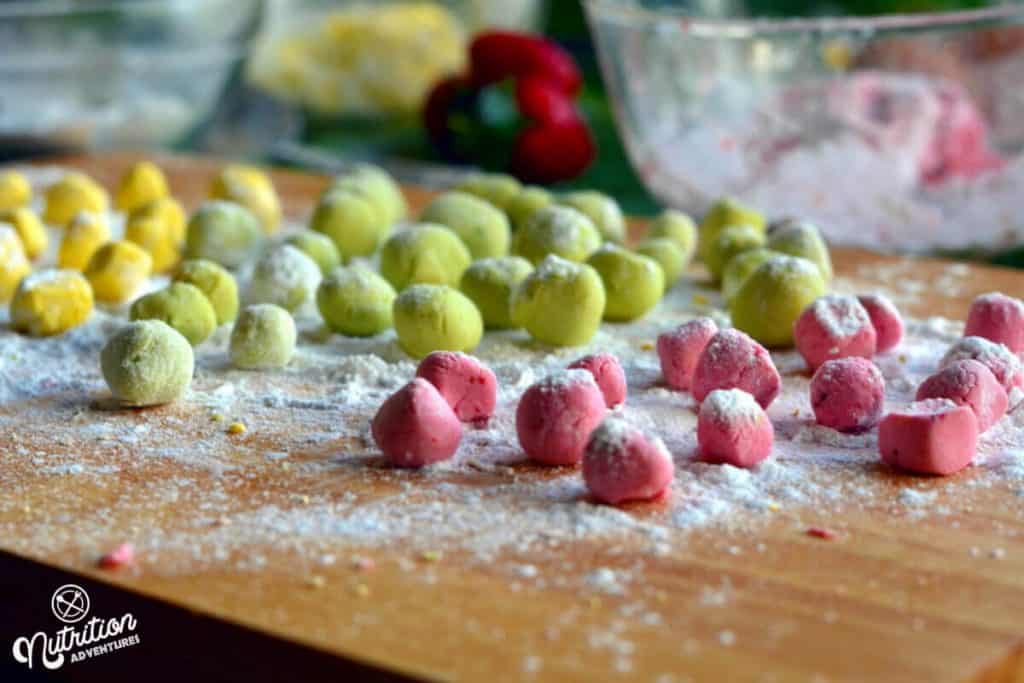 ---
Step 4. Cook Bua Loy Balls In Hot Water
Next, dump the small rolled balls into a saucepan filled with barely boiling hot water over the stove.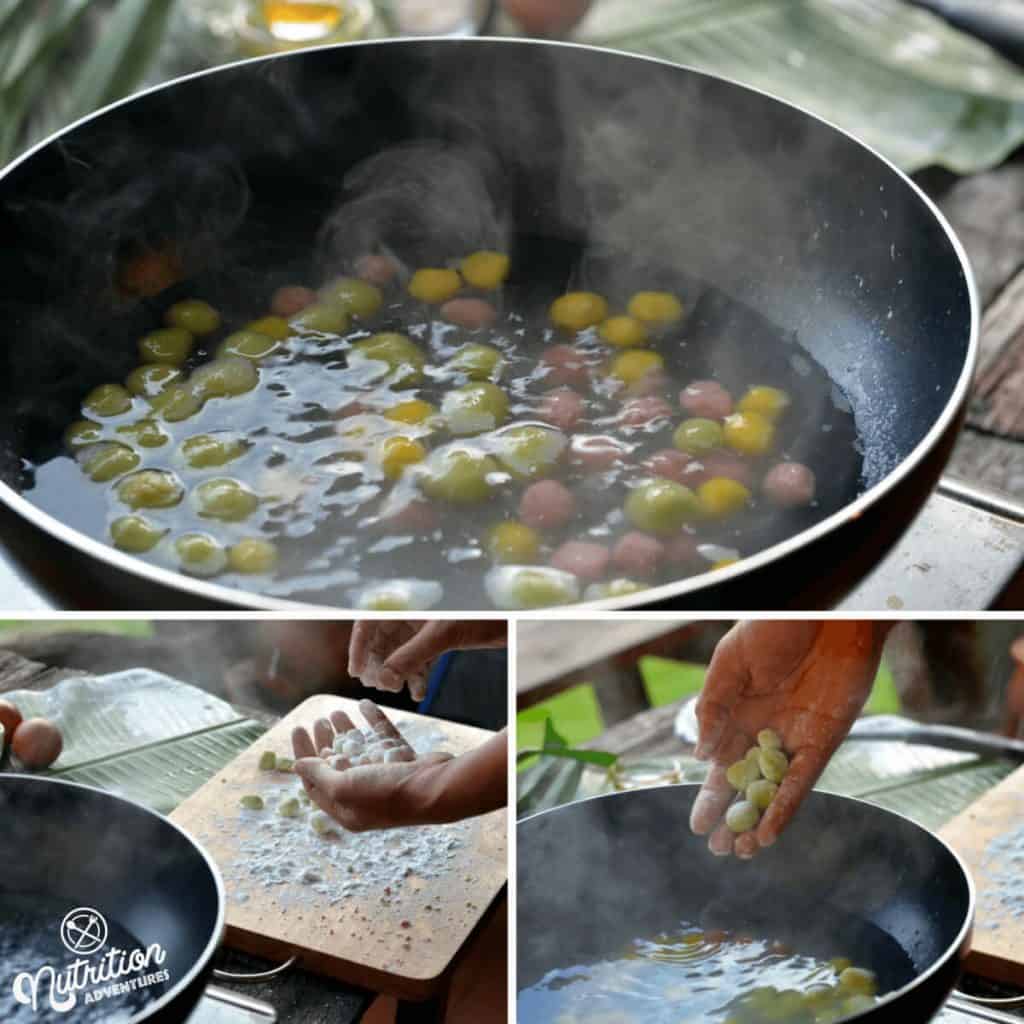 ---
Step 5. Cool Down Before Final Steps
Before putting the cooked balls into the coconut milk, you need to drain them from the saucepan of hot water and then put them inside a bowl of cool water.
Next, drain (or is the correct term, strain?) the hot water out..
Then place them in a bowl of cool water, like so: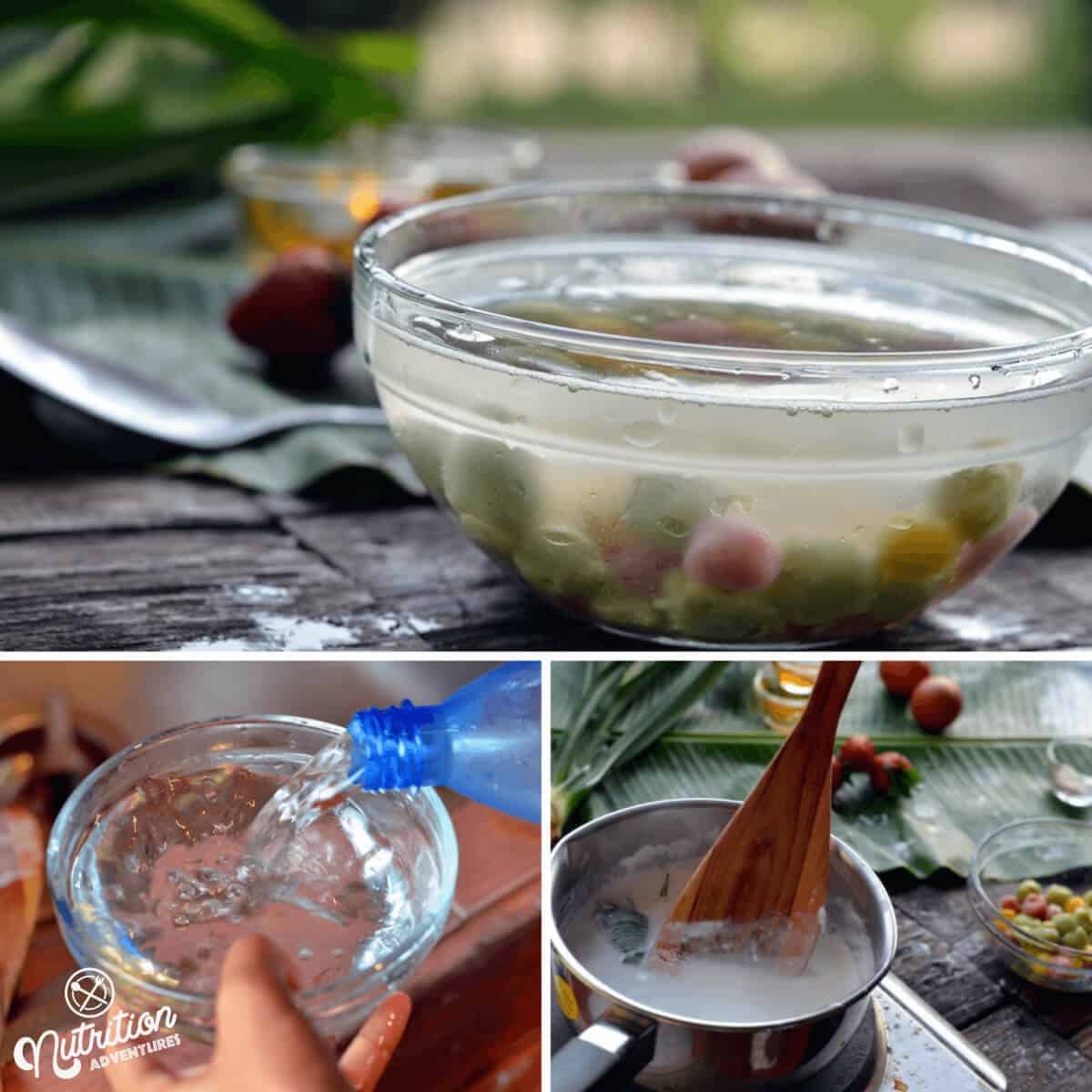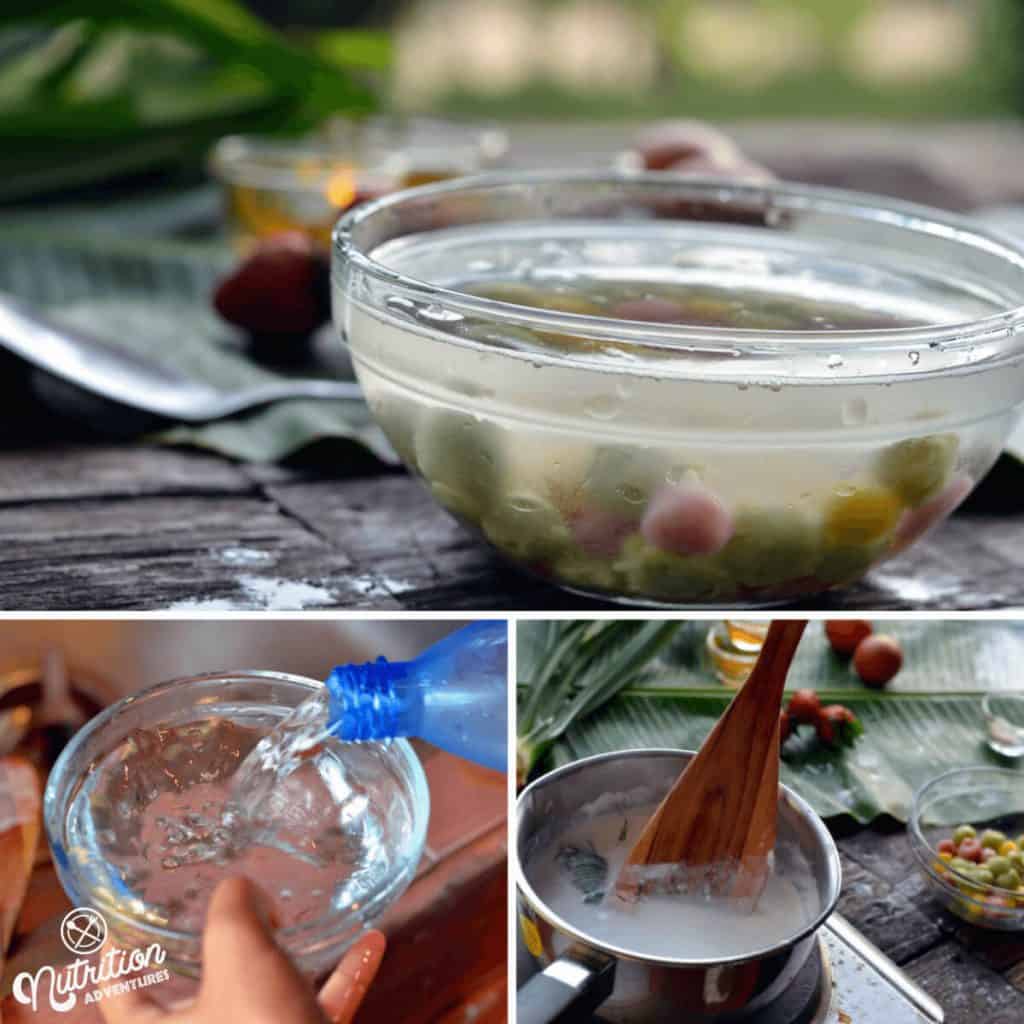 While they are cooling down…
Add in the salt, the honey and then the coconut balls into the heated coconut milk, like so.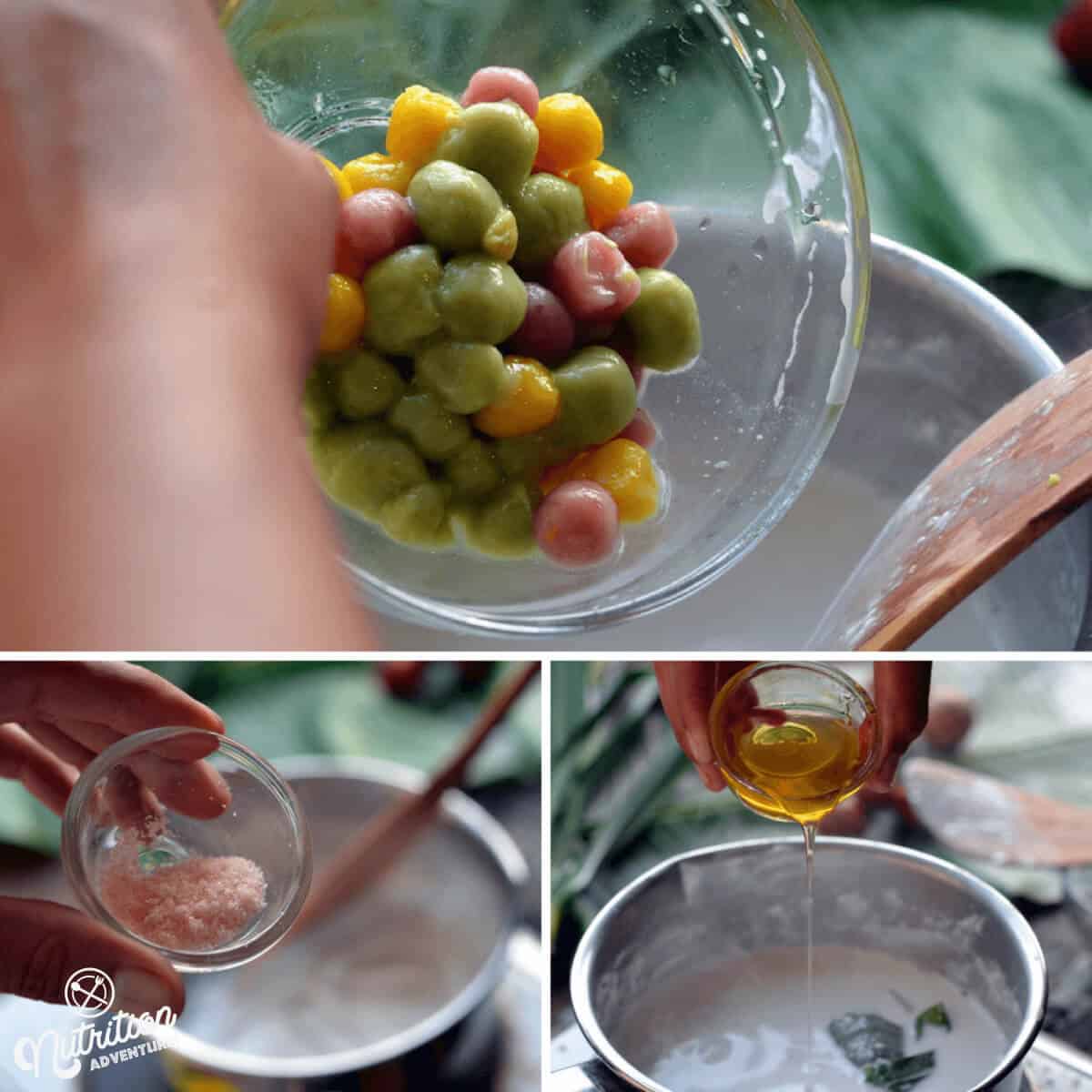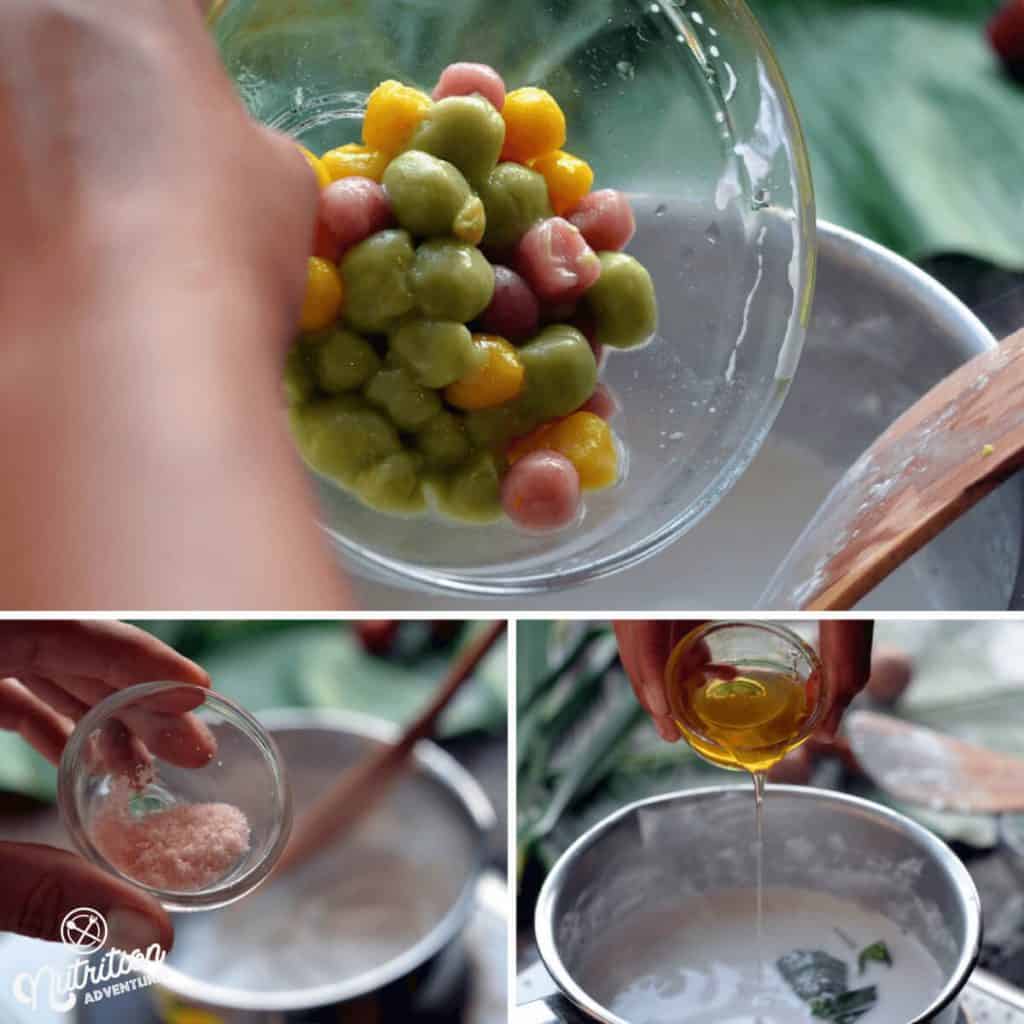 Once you've added the salt and honey, plop the bua loy balls gently into the coconut milk.
NOTE: Just as a reminder, that pandan leaf you see inside the coconut milk is a local plant here that is easy to attain. It adds a nice unique flavor to the milk and the final result. However, if you don't have access to pandan leaf, it's ok. Not all Bua Loy recipes use this leaf. It's nice if you can find it though!
---
Step 6. Add Egg Yolks & Whites (final step)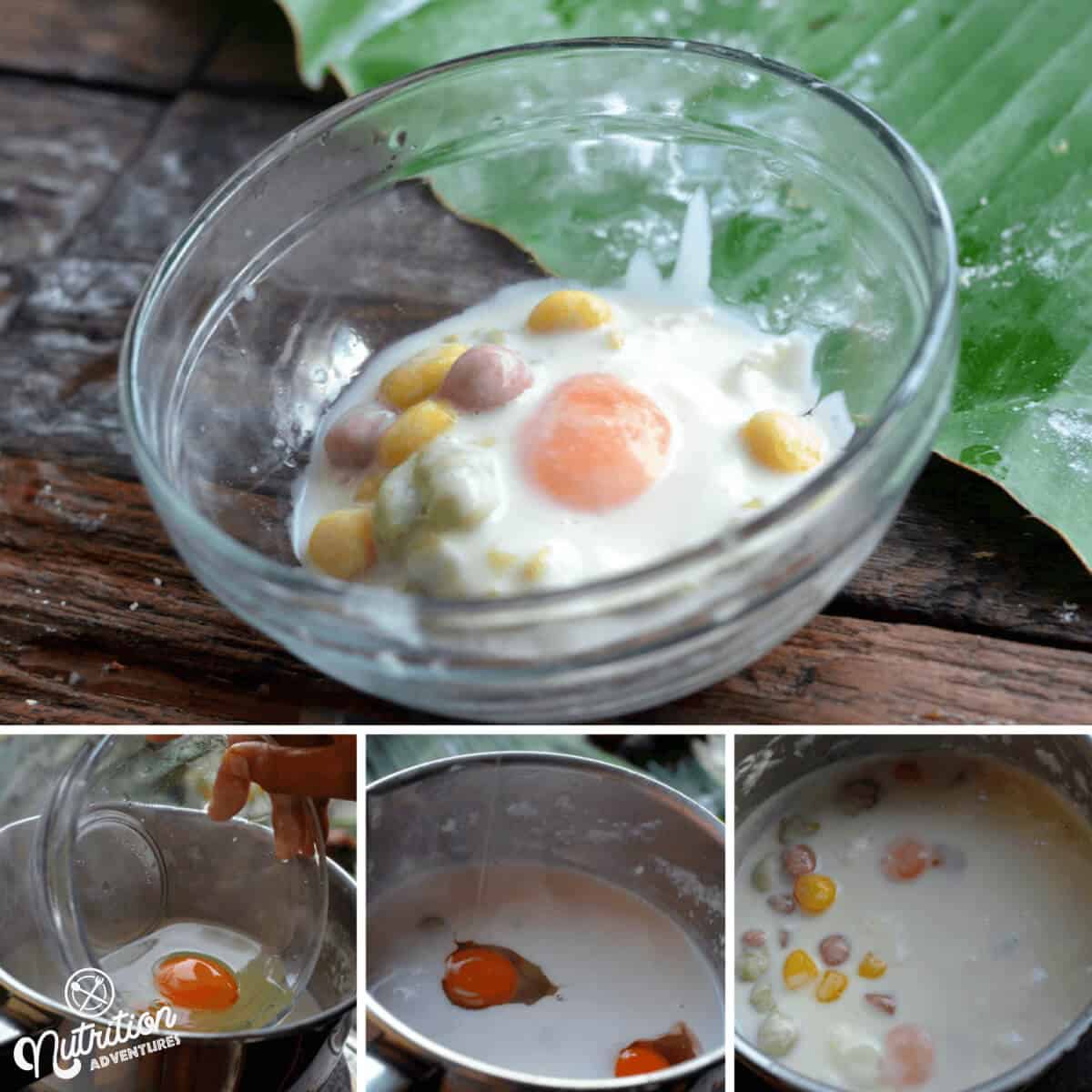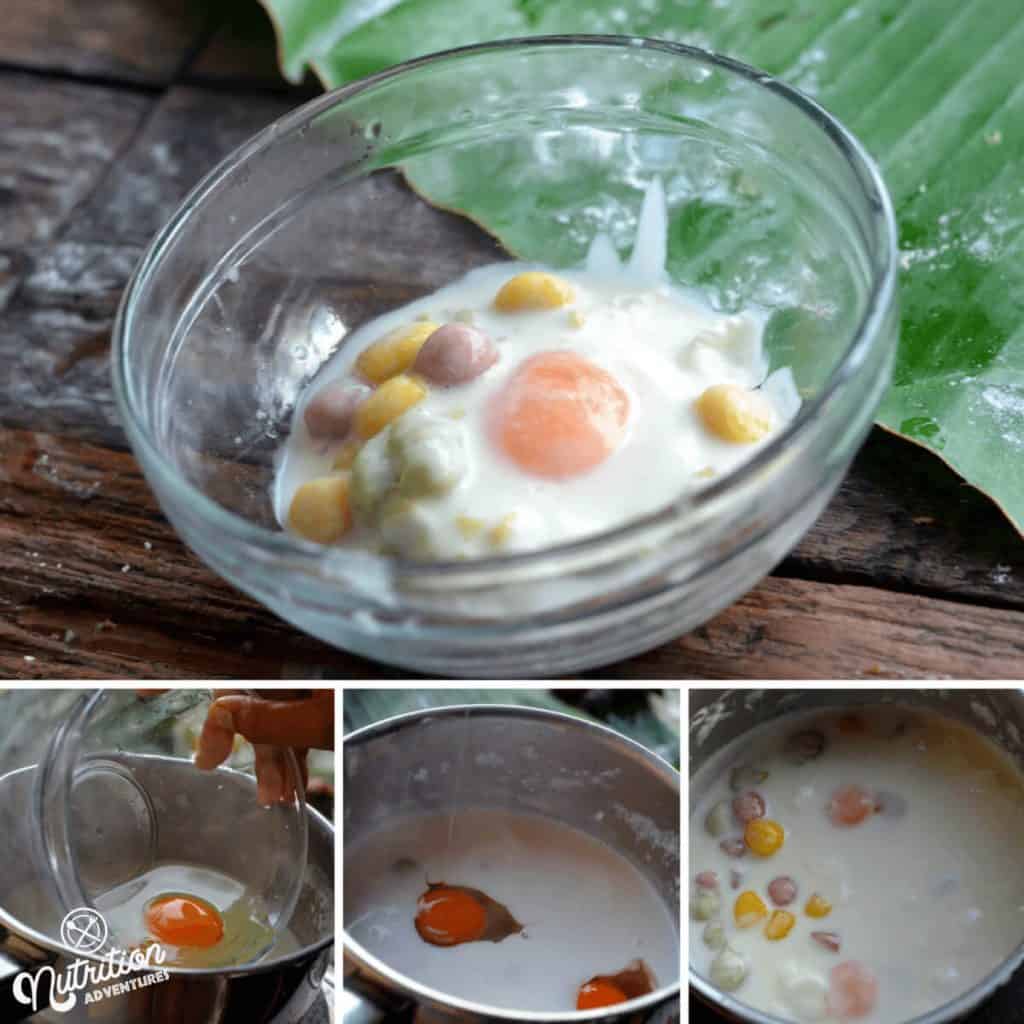 You want to include both the egg whites and the yolk, whole.
If you break the yolk on accident, that's fine, just add in an extra that's not broken because you need them to stay intact to enjoy this recipe as it should be.
And that's pretty much it!
At this point, you can let the whole eggs cook for a bit. When they've hardened up to your liking, the recipe is complete.
Serve and enjoy…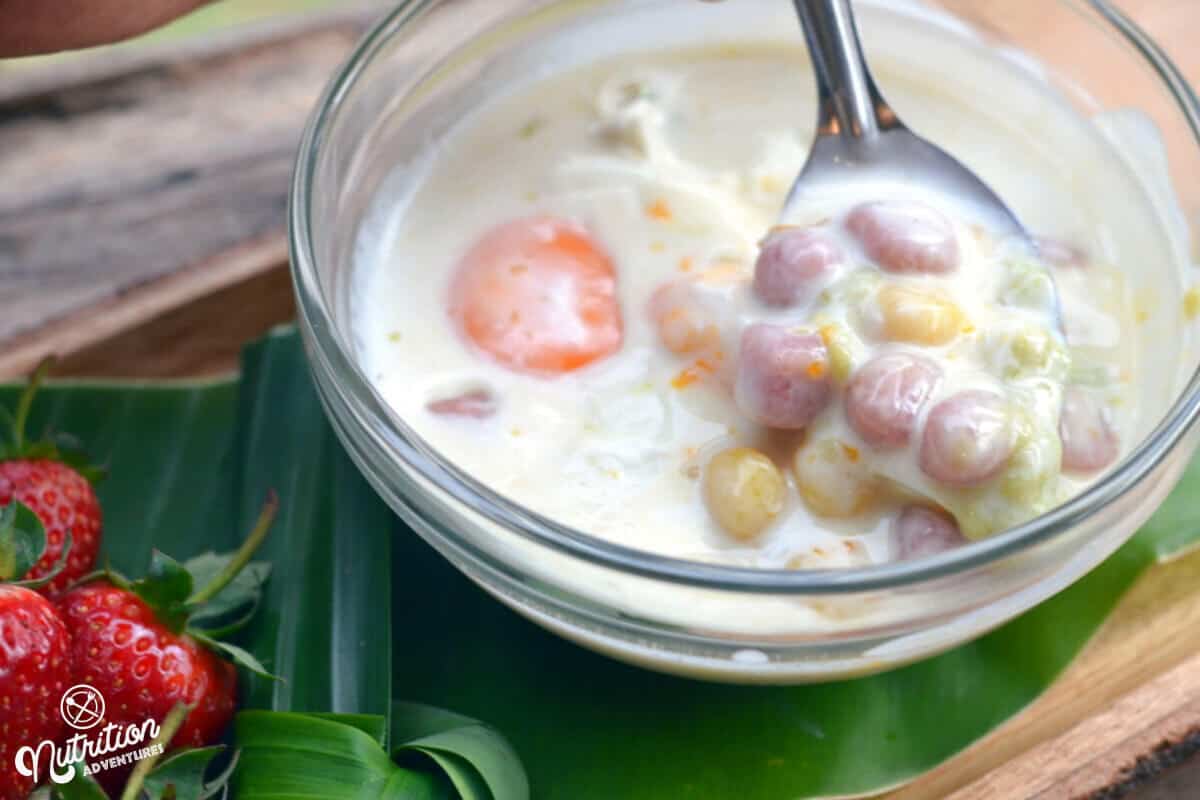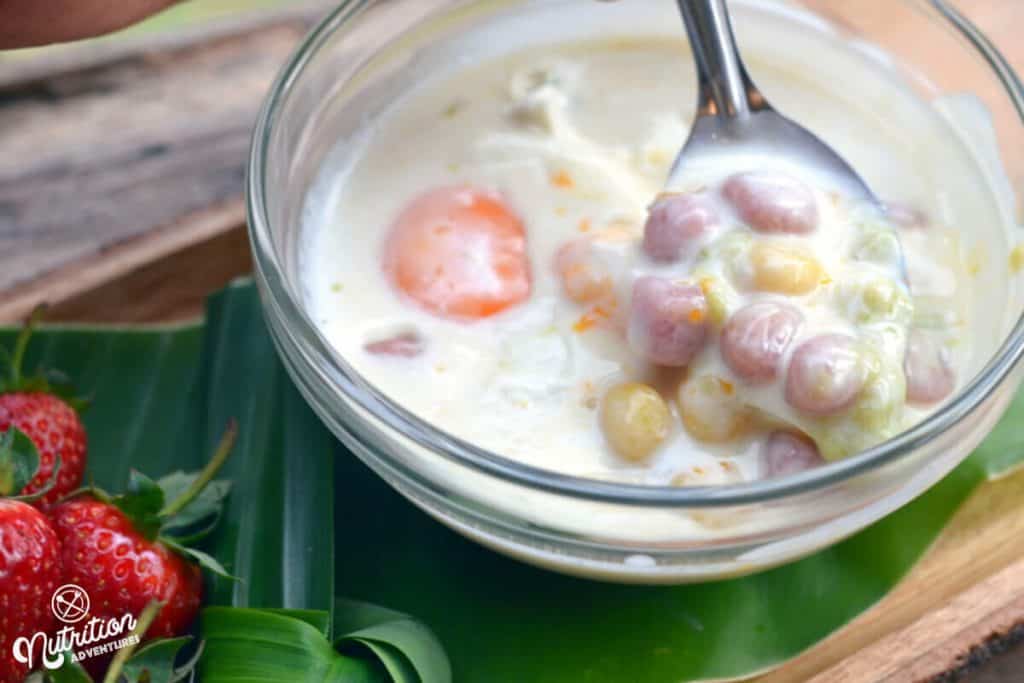 Bua Loi is a wonderful dessert that is enjoyed all year long.
In fact, if you have ever watched the episode where the late Anthony Bourdain (RIP) goes to Chiang Mai, Thailand and eats at the cowboy hat lady's booth, about 100 feet to her right is a Thai street food vendor that makes this Bua Loy.
This night vendor man's Bua Loy doesn't use avocado, turmeric or strawberries like ours. His is more traditional in that it uses sweetened pumpkin, lots of sugar and straight glutinous rice flour balls. It's very delicious and when I'm wanting to treat myself I pick this one up because I drive by it so often. You know, I will actually update this post in the future with a little video where I'll go buy some from him so you can see what I'm talking about! He's only open in the evenings.
The strike-a-pose shot of this Thai dessert recipe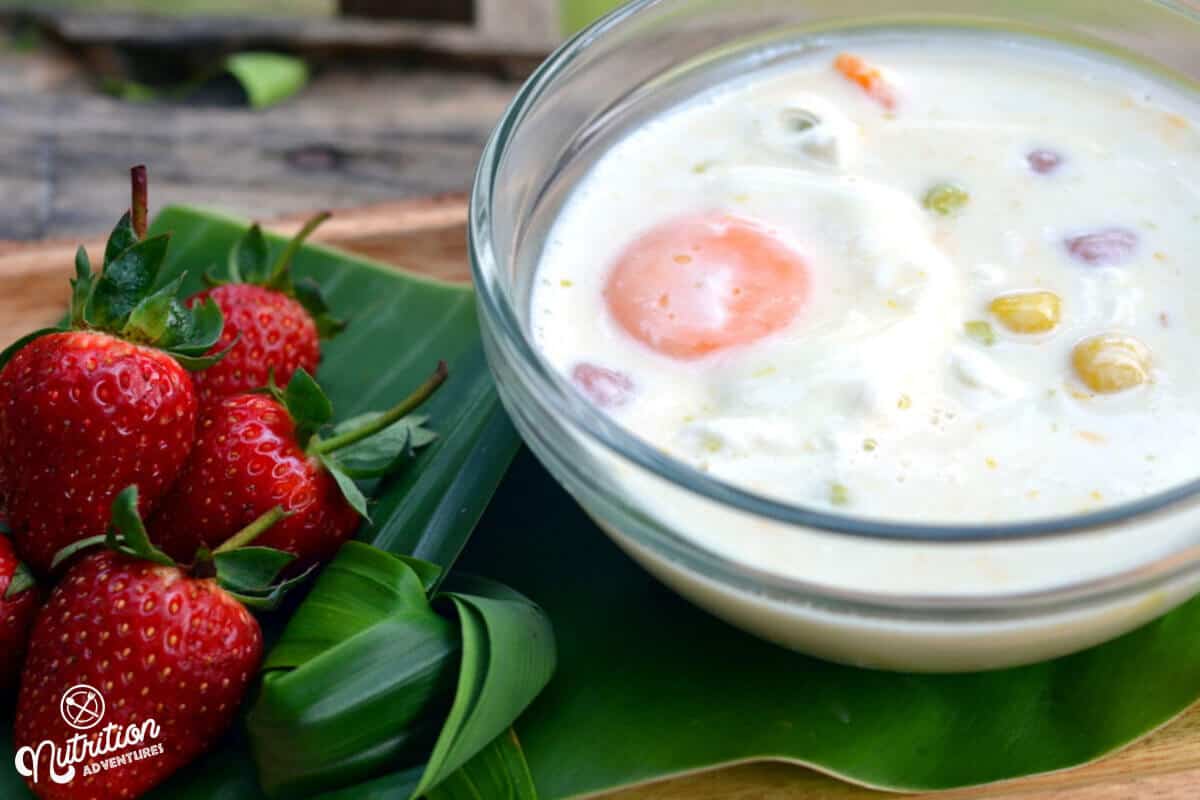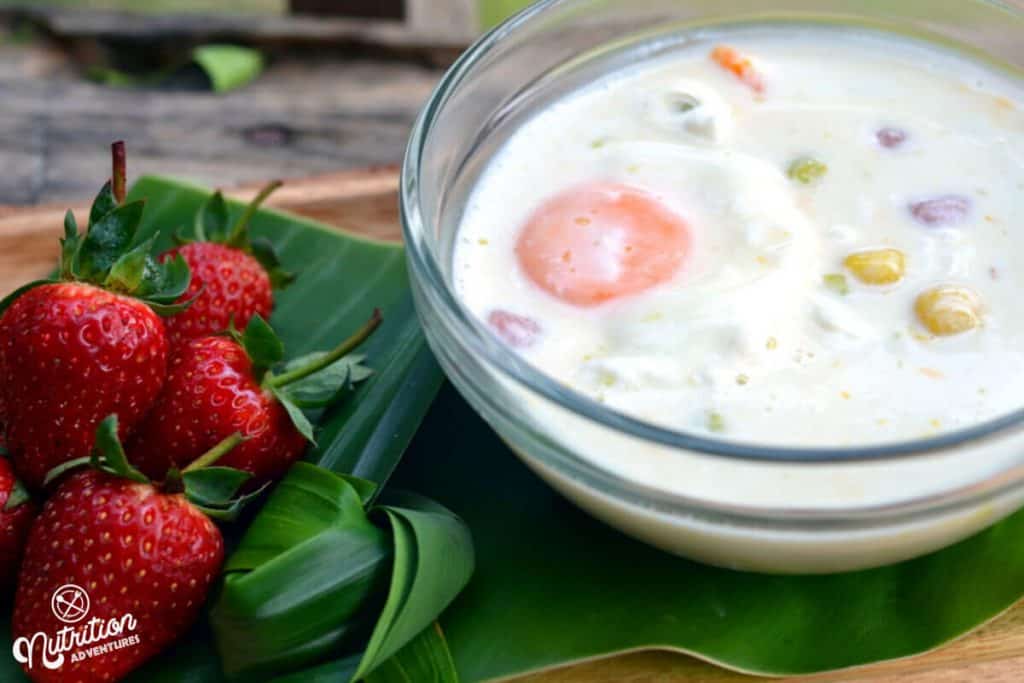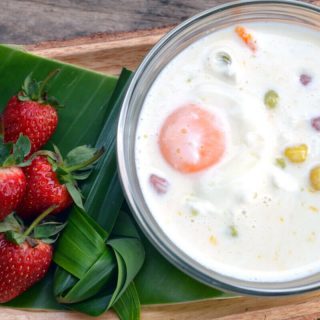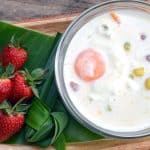 Thai Dessert Bua Loy Khi Wan Recipe Card
Bua Loy is an authentic Thai coconut milk-based pudding dessert. Its an authentic Thai coconut milk based pudding dessert. Our version uses strawberries, avocado, eggs and turmeric along with the traditional (gluten-free) glutinous rice flour.
Ingredients
2

whole

Eggs

500

grams

Coconut milk

1

tsp

Salt

2

tbsp

Honey

use stevia for lower carbs

50

grams

Strawberries

50

grams

Avocado

3

tbsp

Turmeric

300

grams

Rice flower

glutinous rice flower
Instructions
The step by step instructions are included in the blog post above with pictures of each step of the process.

But I will break it down below with numbered steps.

Heat coconut milk in pot (placing a pandan leaf inside is optional)

Make the bua loi glutinous rice balls:

First, we did the strawberry: smash strawberries and mix them with flour, then roll into a big ball

Second we did the avocado: smash avocado and mix with flour a slight bit of water, roll into ball

Third, we did the turmeric: mix with the glutinous flour and some water, roll into a big ball

Spread flour over a cutting board and your hands, then roll each of the bigger balls into small ones.

In a saucepan, heat water and cook these small balls for a few minutes once the water is boiling. When they're all floating, they're ready to be strained.

Strain the hot little bua loy glutinous rice balls and then put them in a bowl of cool water. In a pot over the stove, put salt and honey in with the heated coconut milk

Empty the cool water where the balls are sitting in, and place the bua loy balls gently into the hot, flavored coconut milk.

Then crack and place in 2 whole eggs into the coconut milk. Let them cook inside it.

Once the eggs have cooked through, the whites will be white and the yolk not overcooked, you can serve and enjoy…
Recipe Notes
If you want to make coconut milk from scratch instead of using Aroy-D, it's pretty fun and easy to press the coconut meat and use that milk. However, that's a whole process that can be made much easier if you just use a 100% pure coconut milk, like Aroy-D. It takes a certain type of coconut to make this rich coconut milk. Can't do it with any coconut and have the same results. We'll make a post on how to make coconut milk in the future.
Nutrition Facts
Thai Dessert Bua Loy Khi Wan Recipe Card
Amount Per Serving
Calories 1196
Calories from Fat 522
% Daily Value*
Fat 58g89%
Cholesterol 3mg1%
Sodium 1213mg53%
Potassium 1082mg31%
Carbohydrates 157g52%
Protein 16g32%
Vitamin A 35IU1%
Vitamin C 22.4mg27%
Calcium 80mg8%
Iron 15.1mg84%
* Percent Daily Values are based on a 2000 calorie diet.
Did you make this recipe?
Tag @nutritionadventures on Instagram and hashtag it #nutritionadventures
---
Up Next: Thai Green Curry – A Keto Green Curry
Thanks a ton for coming by and checking out this recipe. We really appreciate your interest! If you have any questions, please don't hesitate to ask us in a comment below, or in a private message via the contact page. Also, if you like this recipe, we would love a share!
Be sure to like us on Facebook and follow us on Twitter so you can be the first to know about our latest recipes and blog posts!