This Thai BBQ Pork recipe named "Moo Yang" (also spelled Muyang) is a quick and easy Thai barbecue recipe that uses spare ribs and a lot of fresh garlic and black pepper cloves.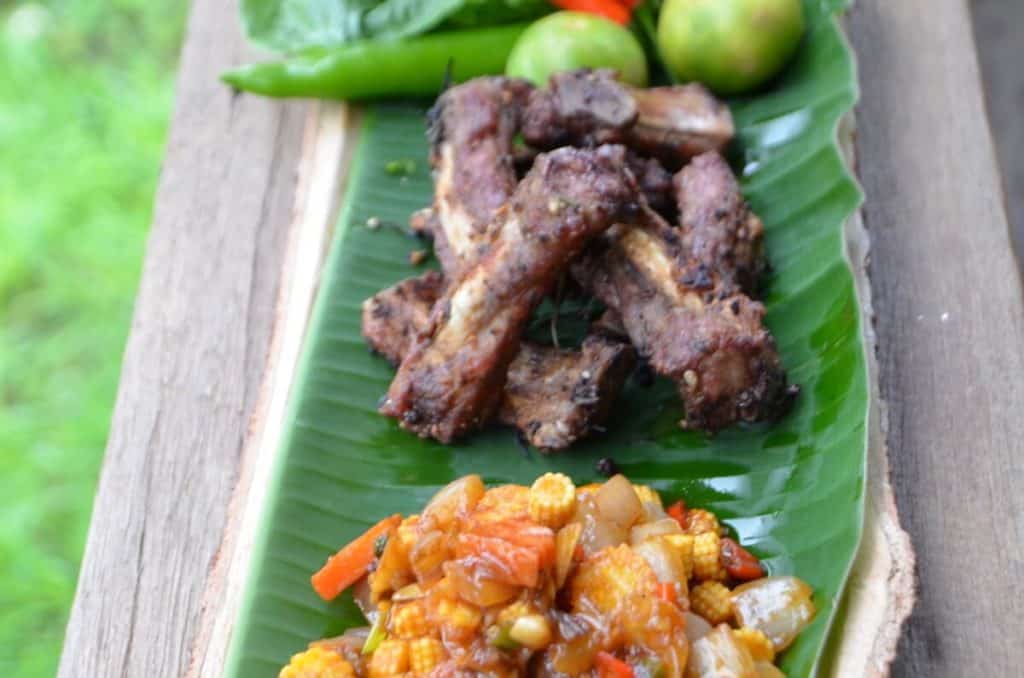 It's one variation of many really tasty original Thai BBQ pork dishes. Moo Yang can also be made with Baby Back Ribs, but the spare ribs are a softer bone and traditionally, these are used instead.
In Thai, "moo" means pork. And the Yang part refers to the barbecuing style.
The only Thai food near me at night are these street food style spots that make this Mooyang and other Thai barbecue recipes. And I'm not complaining. During the day there are tons of great Thai restaurants open, but at nighttime come mostly small Pad Thai spots along with surprisingly delicious Thai BBQ pork spots. They do chicken too. The chicken version is called "Gai Yang."
---
Moo Yang – Thai BBQ Pork Ingredients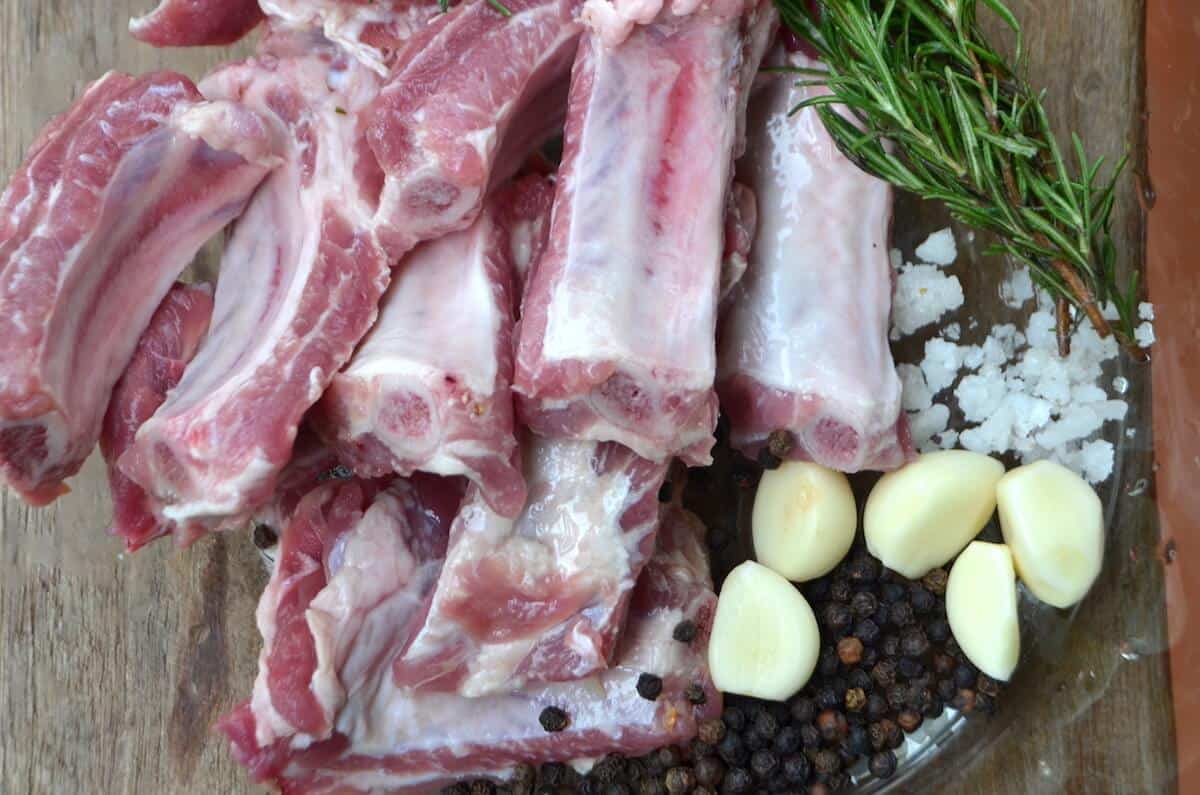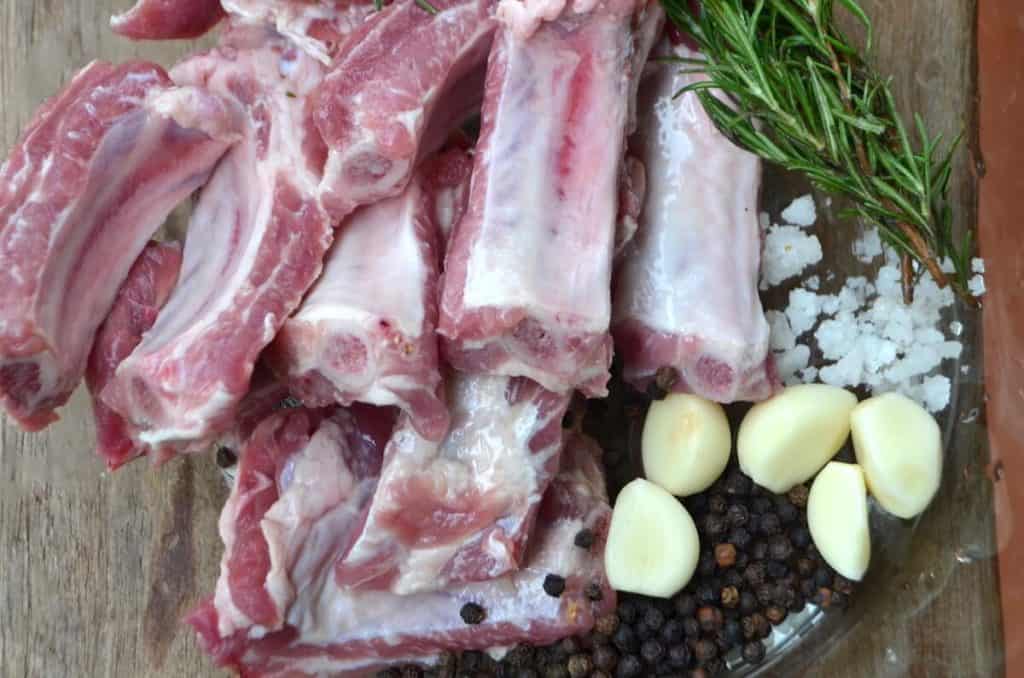 Spare Ribs – 400 grams
Garlic Cloves – 6 whole cloves
Black Pepper – Whole
Rosemary Sprigs
Salt – quarter teaspoon
---
Side Dish Ingredients:
This is not part of an original Thai BBQ Pork Moo Yang recipe.
This side dish is just Ling's spur of the moment creation.
The BBQ pork itself is an authentic Thai BBQ pork recipe though.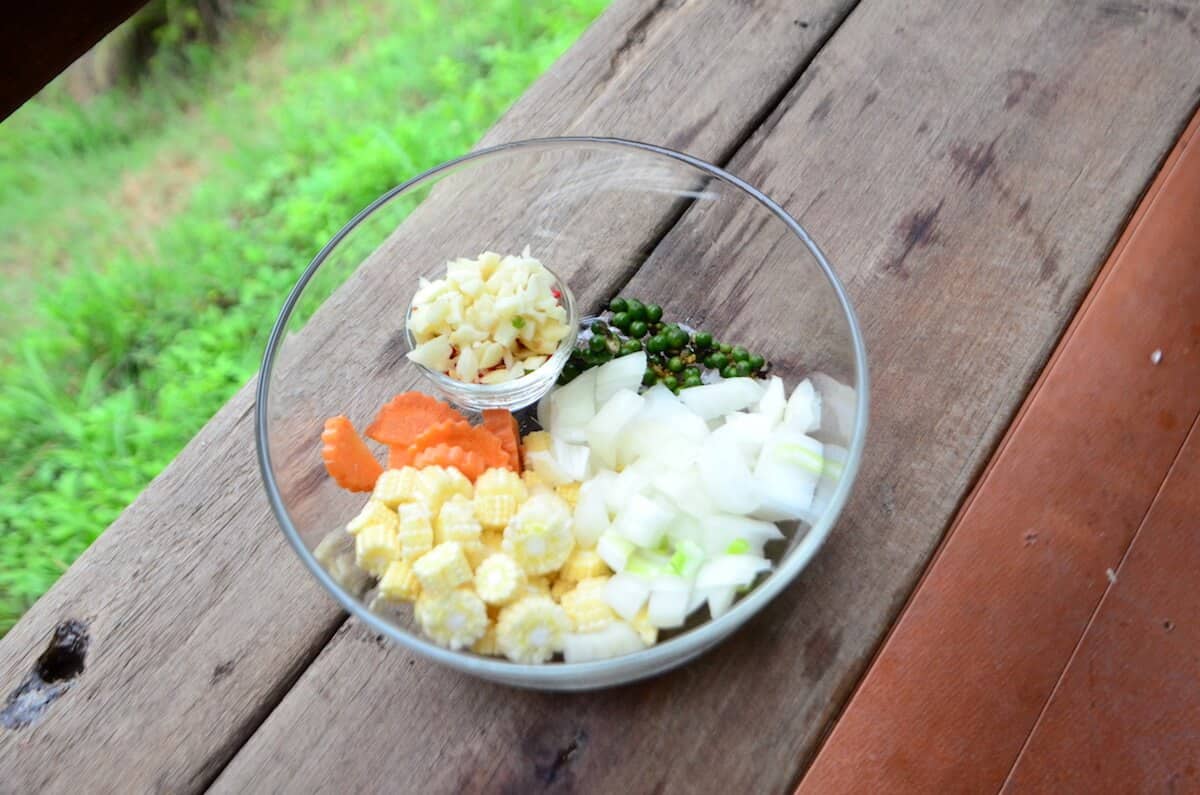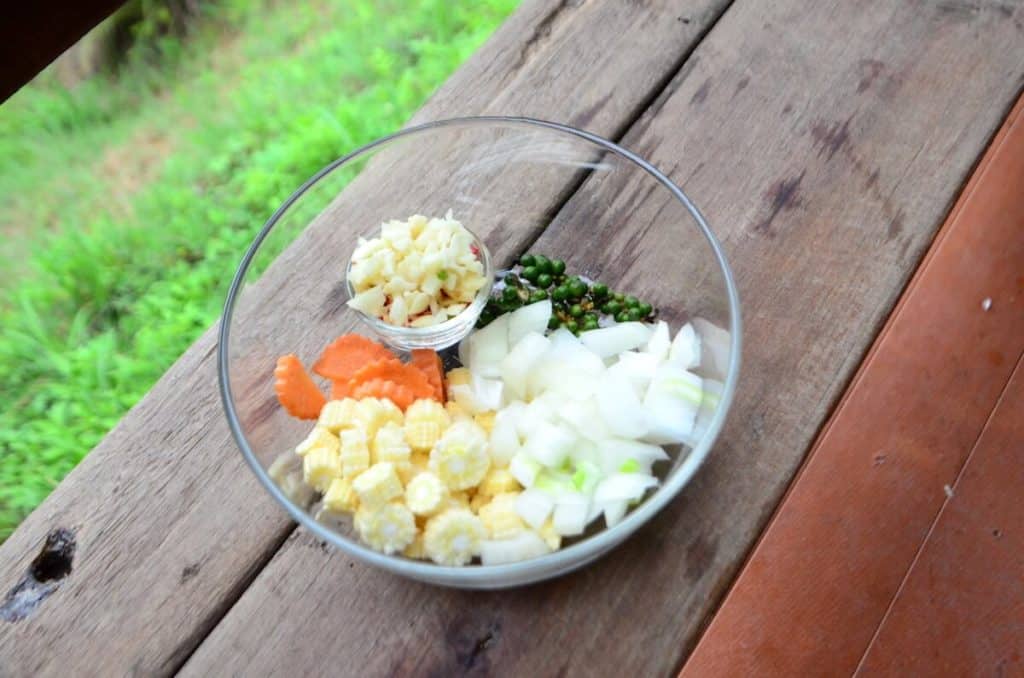 Baby corn – 100 grams
Carrot – 1/2 carrot
White onion – 1 whole, chopped
Fresh black peppercorns (not dried)
Garlic cloves (freshly peeled)
Grass fed butter – 1 tbsp
Thai chili peppers – 2 or 3
Red Chili Paste – 1 tbsp
Oyster Sauce – 1 tbsp
---
Step 1. Thai BBQ Pork Marinade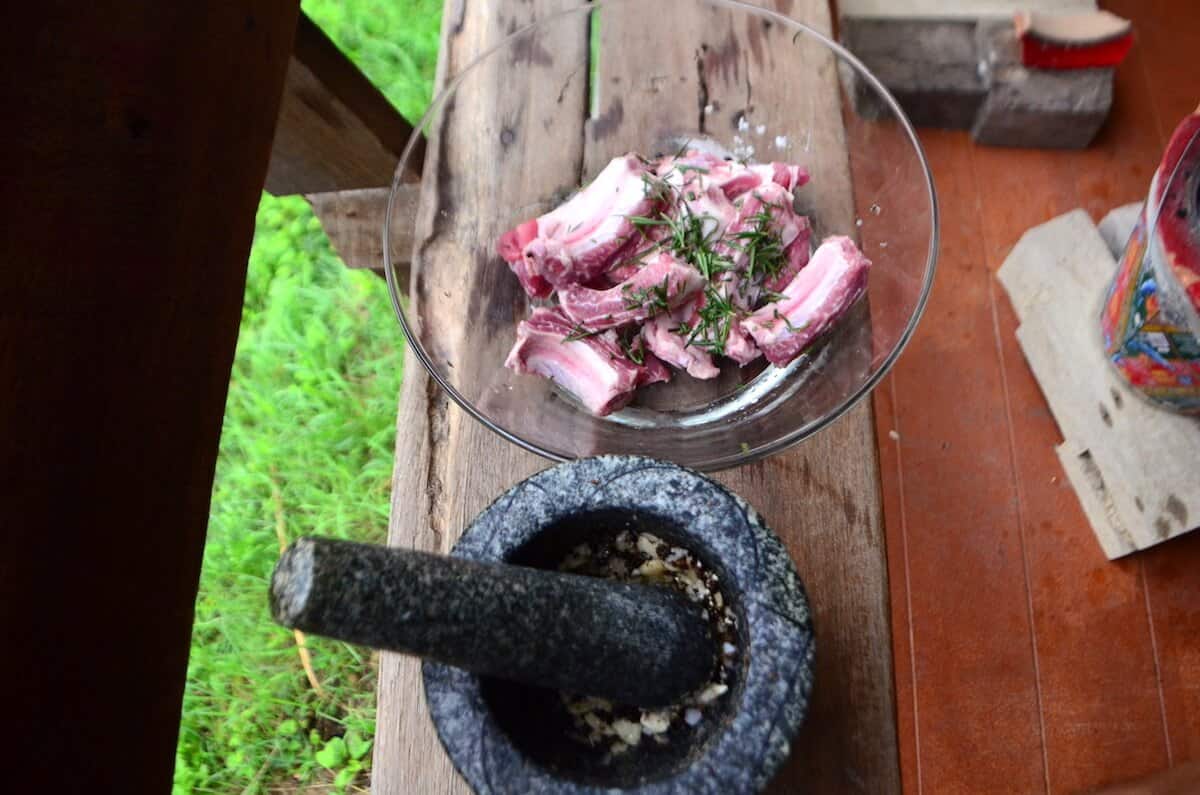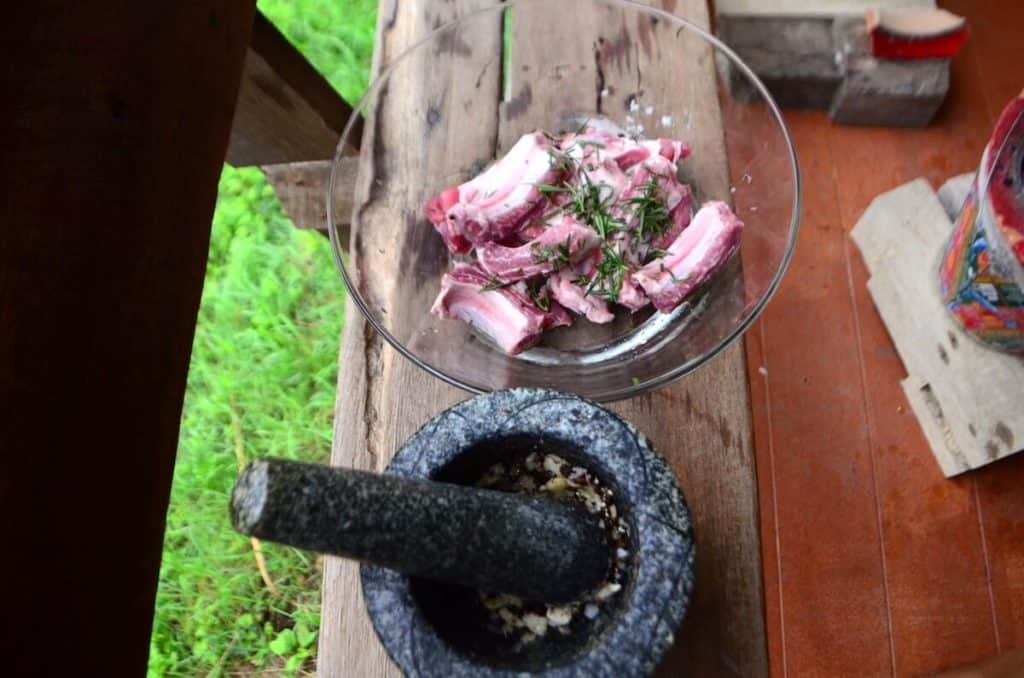 Smash all the ingredients in a mortar and pestle.
Once done, smother the dry marinade on the spare ribs.
First, you put the fresh rosemary on the ribs.
Then, you slather the marinade on top of the rosemary.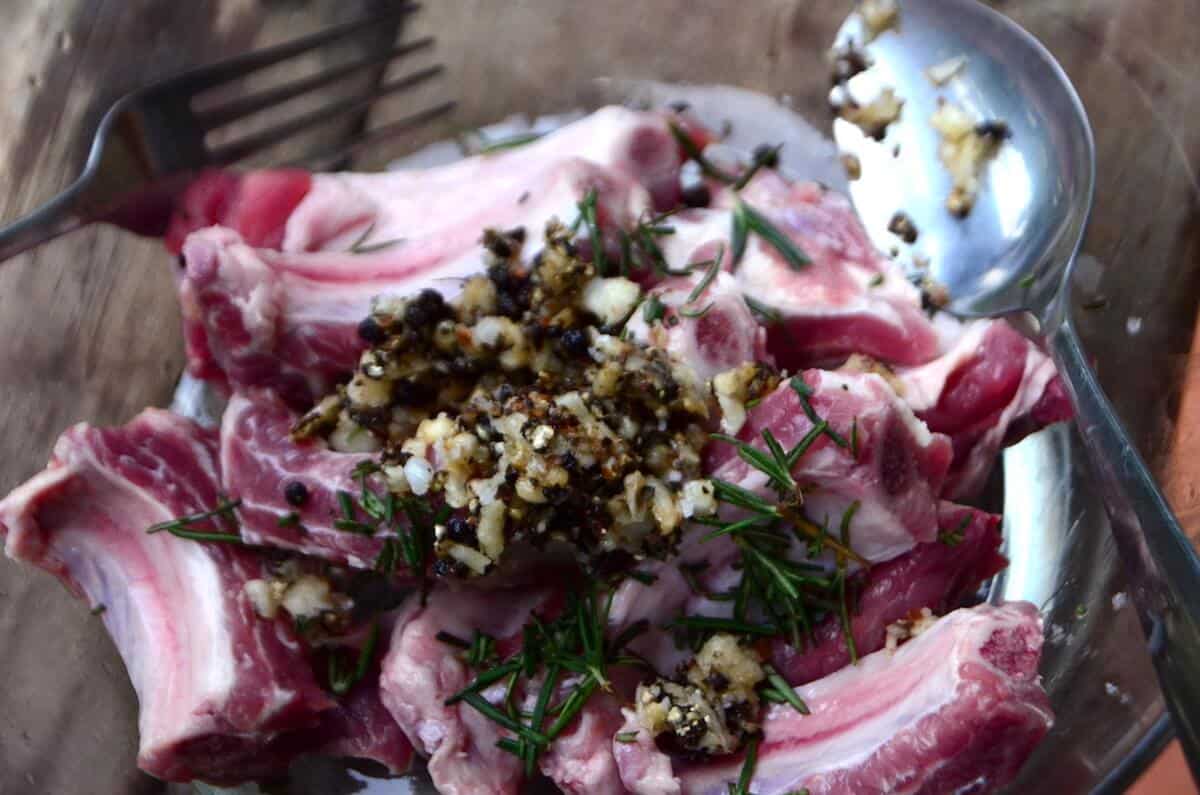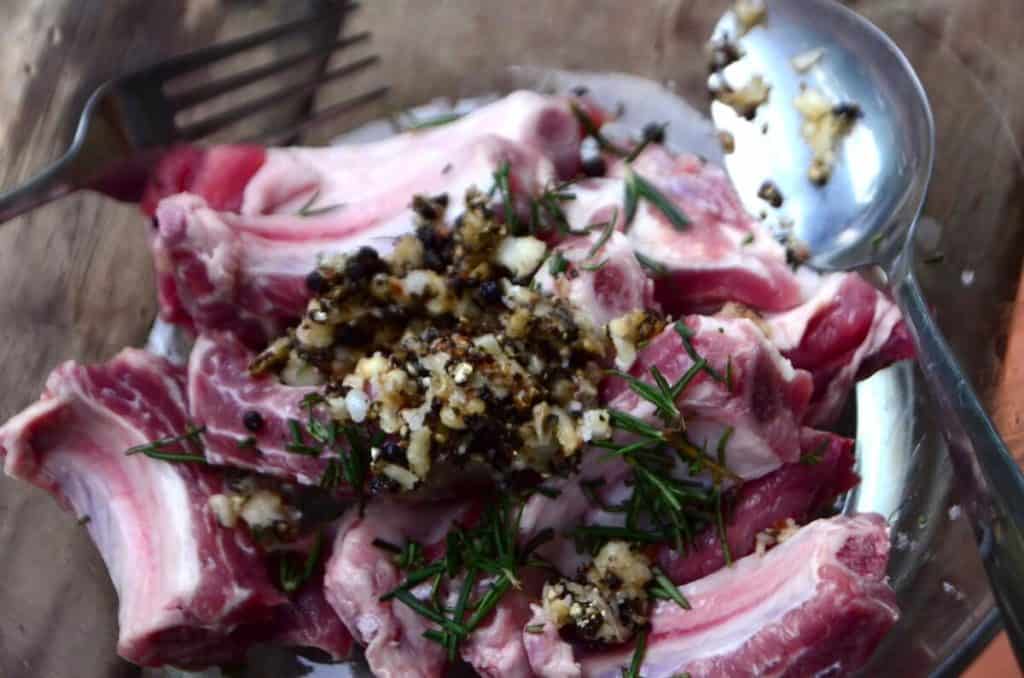 The picture above shows what the marinade should look like after smashing it all together in the mortar and pestle.
It's not a saucy marinade, but it will stick to the raw spare ribs.
This creates a very delicious flavor after it's barbecued.
---
Step 2. Barbecue The Pork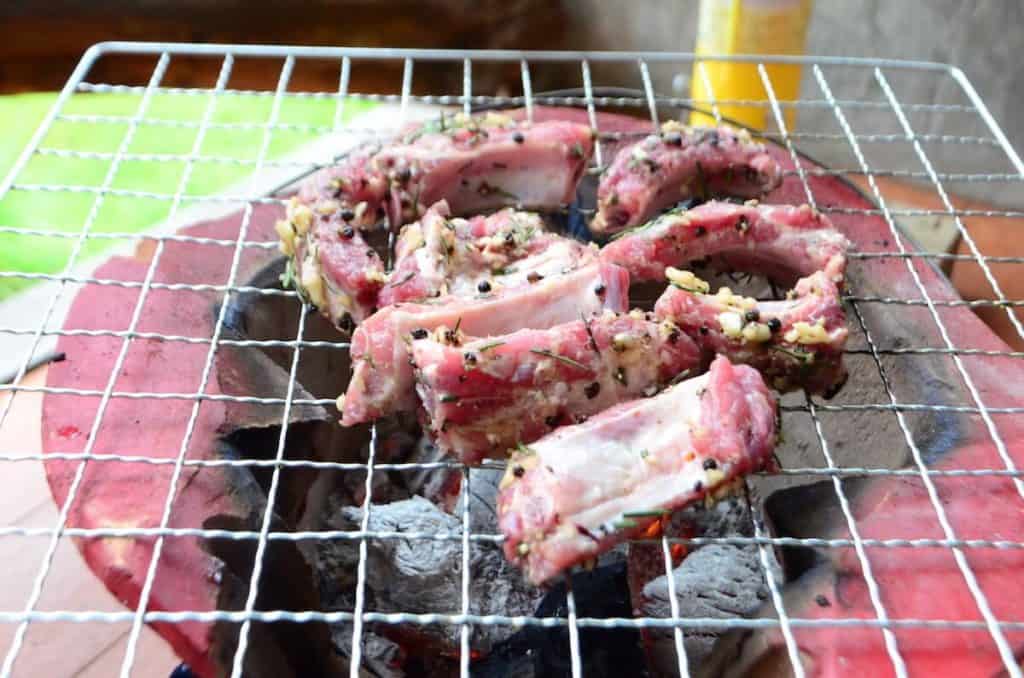 We use a Thai style charcoal grill. It's great for so many different barbecue ideas. However, this can be done on any barbecue or grill.
Chances are you don't have a simple Thai charcoal grill BBQ and more likely a regular barbecue. As long as you're using a charcoal barbecue, it should taste just as it should.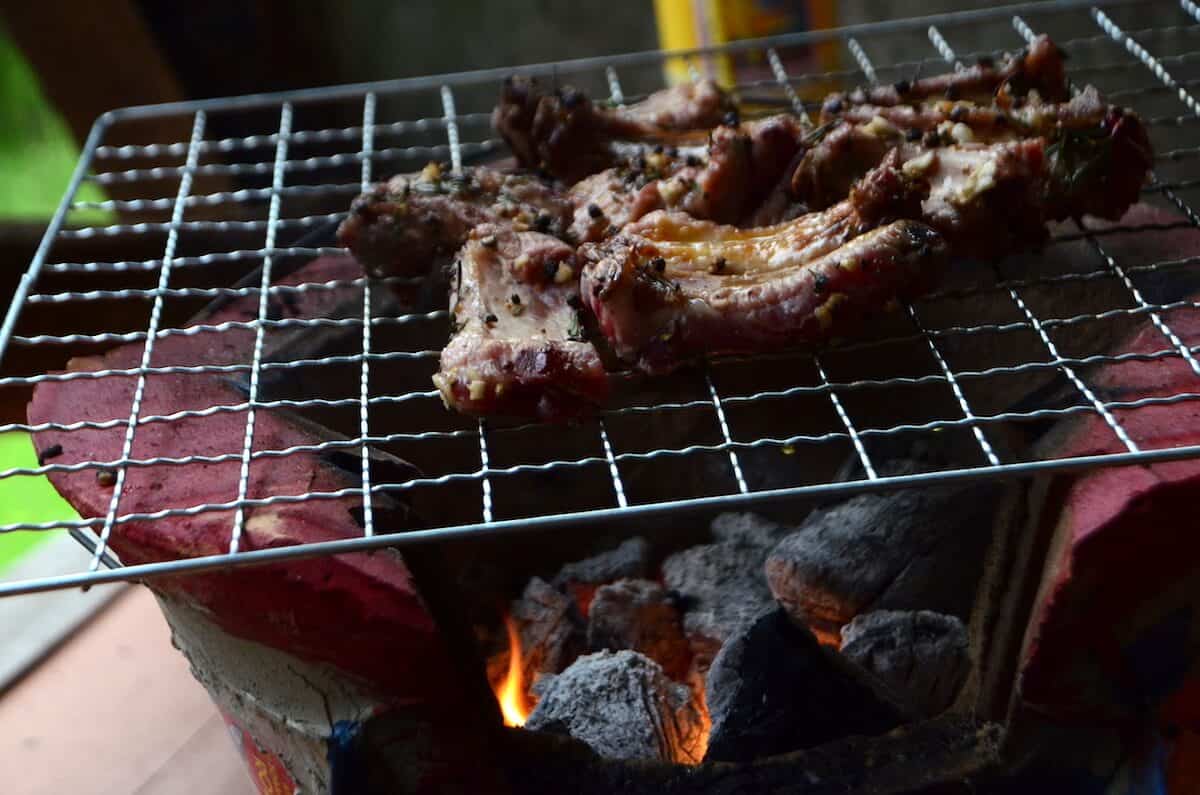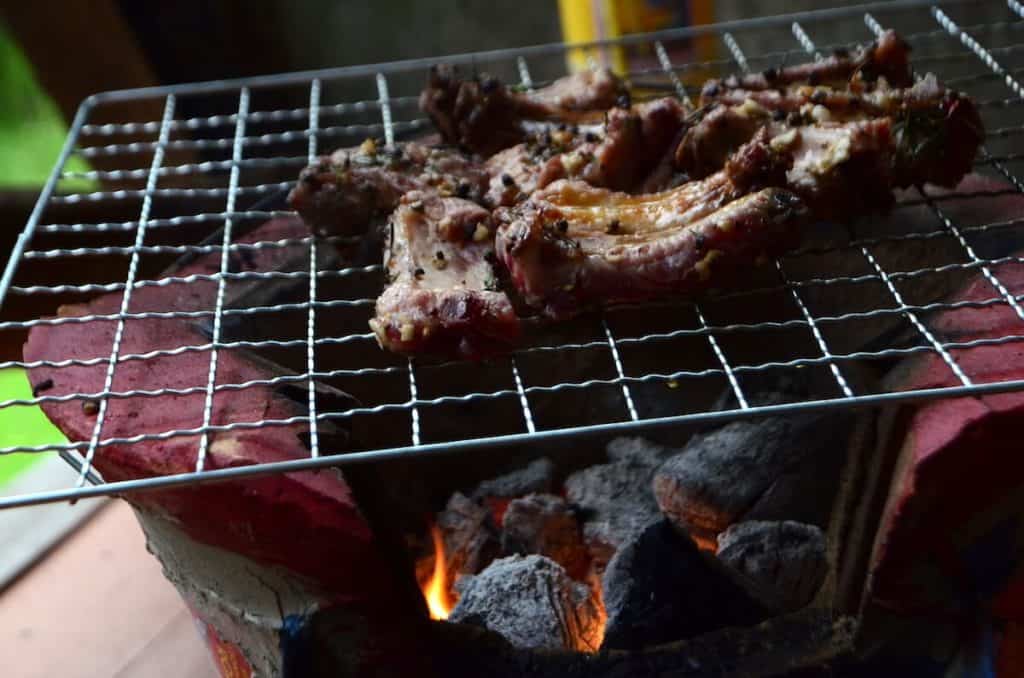 How to barbecue the spare ribs:
This is what the barbecued pork ribs will look like once it's almost done.
It only needs about 10 minutes of cooking, but this will depend on the flames.
You have to flip them over once after cooking one side almost halfway.
From there, just make sure they're looking nice and crispy.
The soft spare ribs will ensure them juicy even though they look a bit dry once barbecued through.
---
Step 3. The Thai BBQ Sauce (not really BBQ sauce)
Next, make the side sauce for the BBQ Pork ribs. It's not really a BBQ Sauce. And it's not really a sauce at all. I can't really say what it is, so I just call it a side dish.
It complimented the BBQ pork ribs perfectly, but it's not part of a traditional Moo Yang at all. Moo Yang is usually served with a side of fresh vegetables like yard beans, basil and cucumber. And often, if you're eating it in the northern Thailand, it will come with a flavorful and spicy tamarind sauce instead of a BBQ sauce.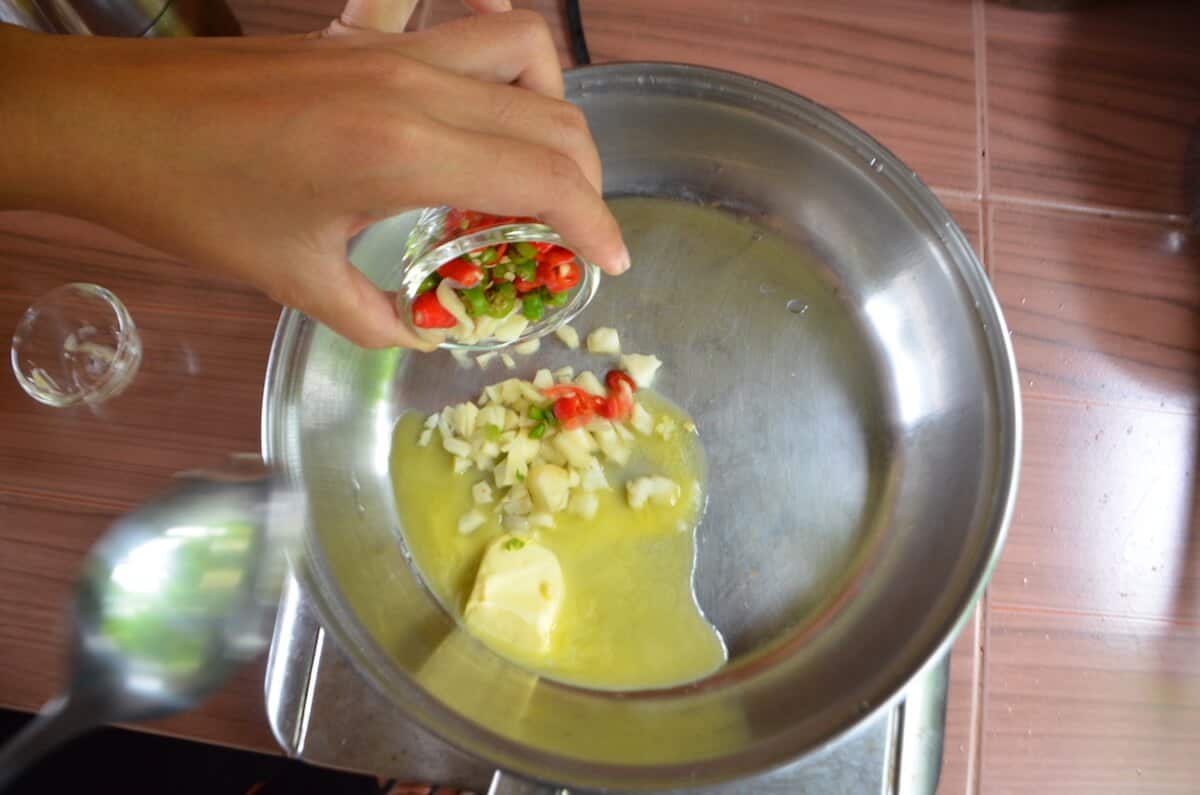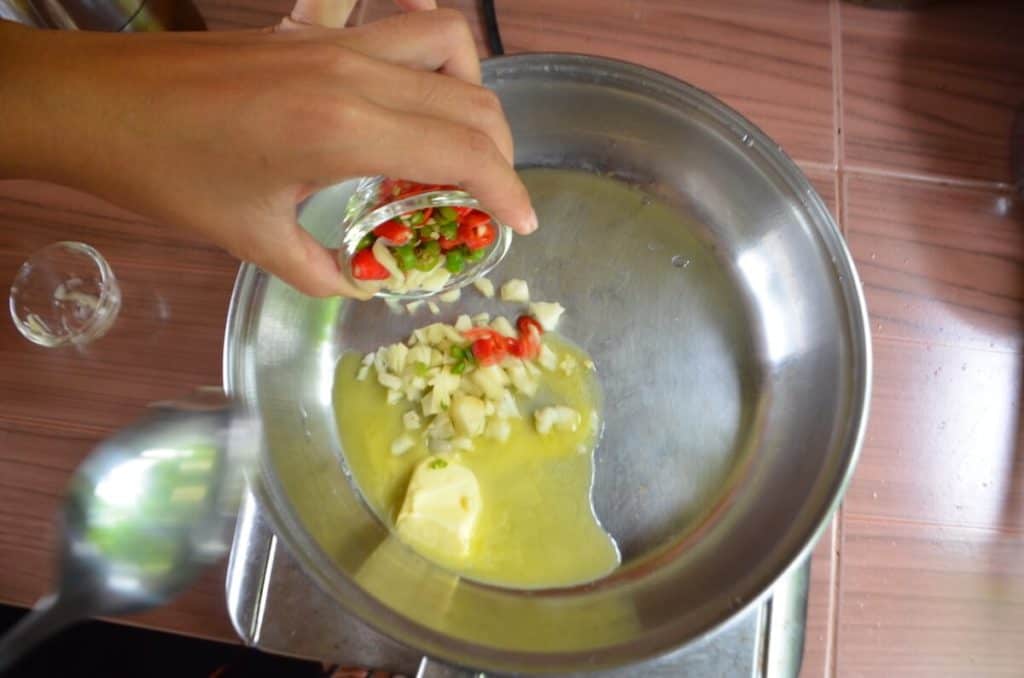 Mince the garlic
Chop the chili peppers
Put butter in the saucepan
Place in garlic and chili peppers first
Place in all ingredients last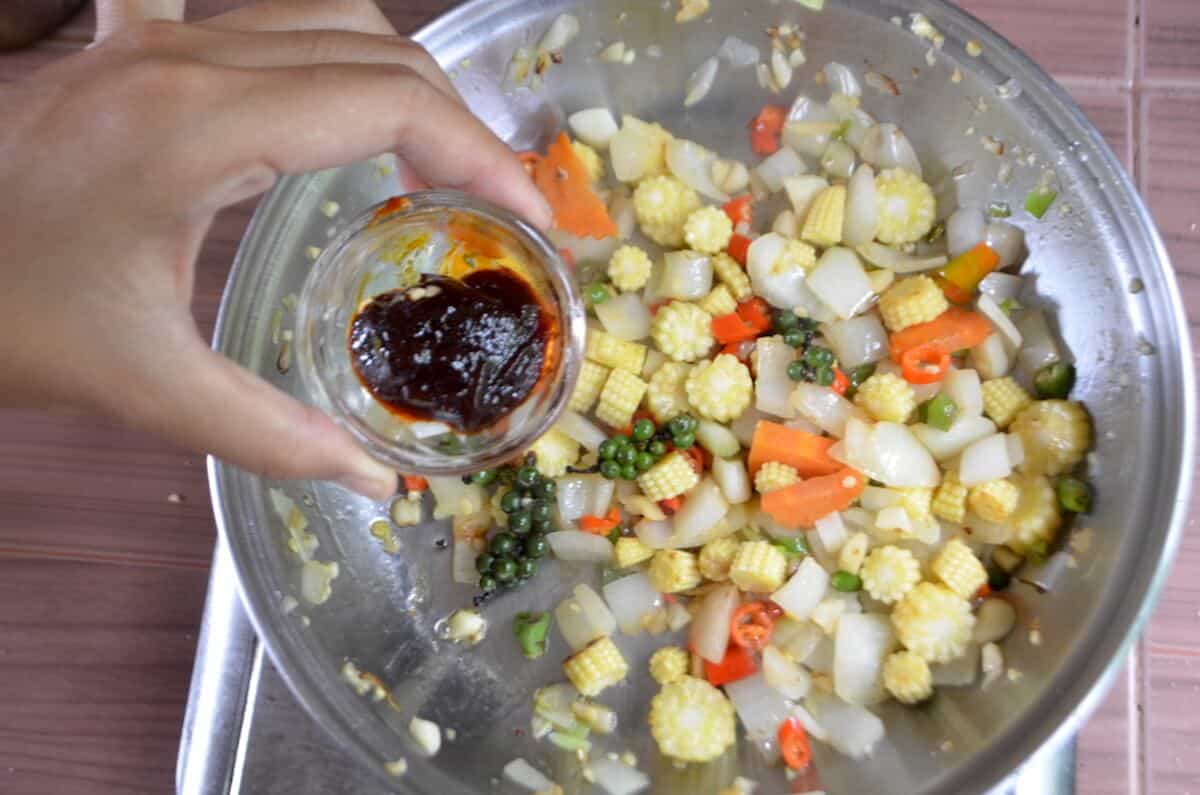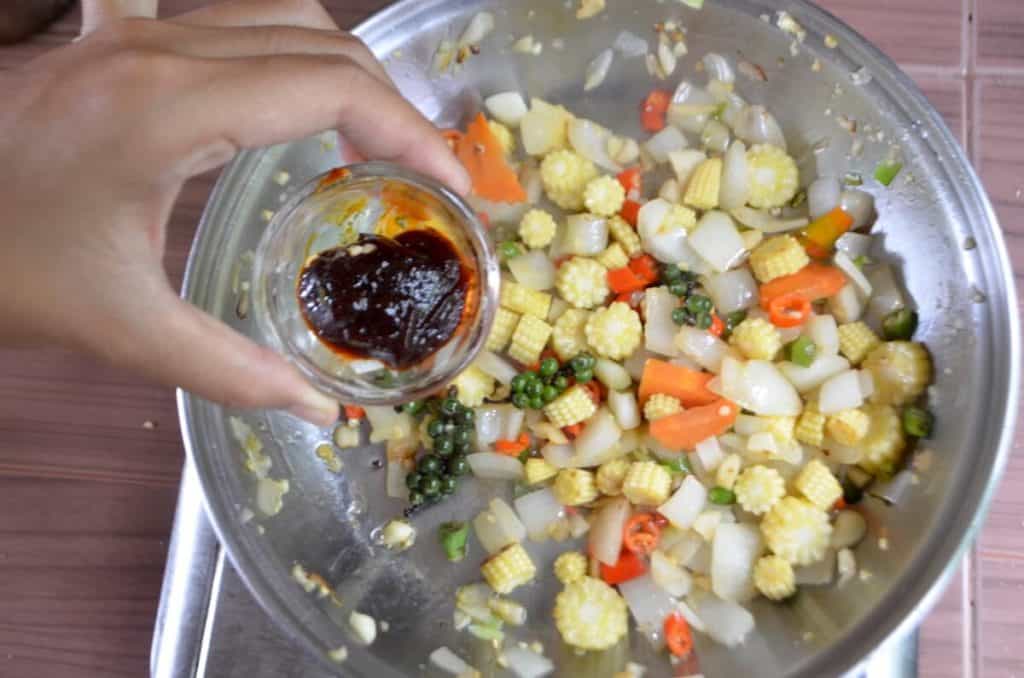 The final two ingredients placed inside are red Thai chili paste and oyster sauce.
Place in red Thai paste sauce next
Place in oyster sauce last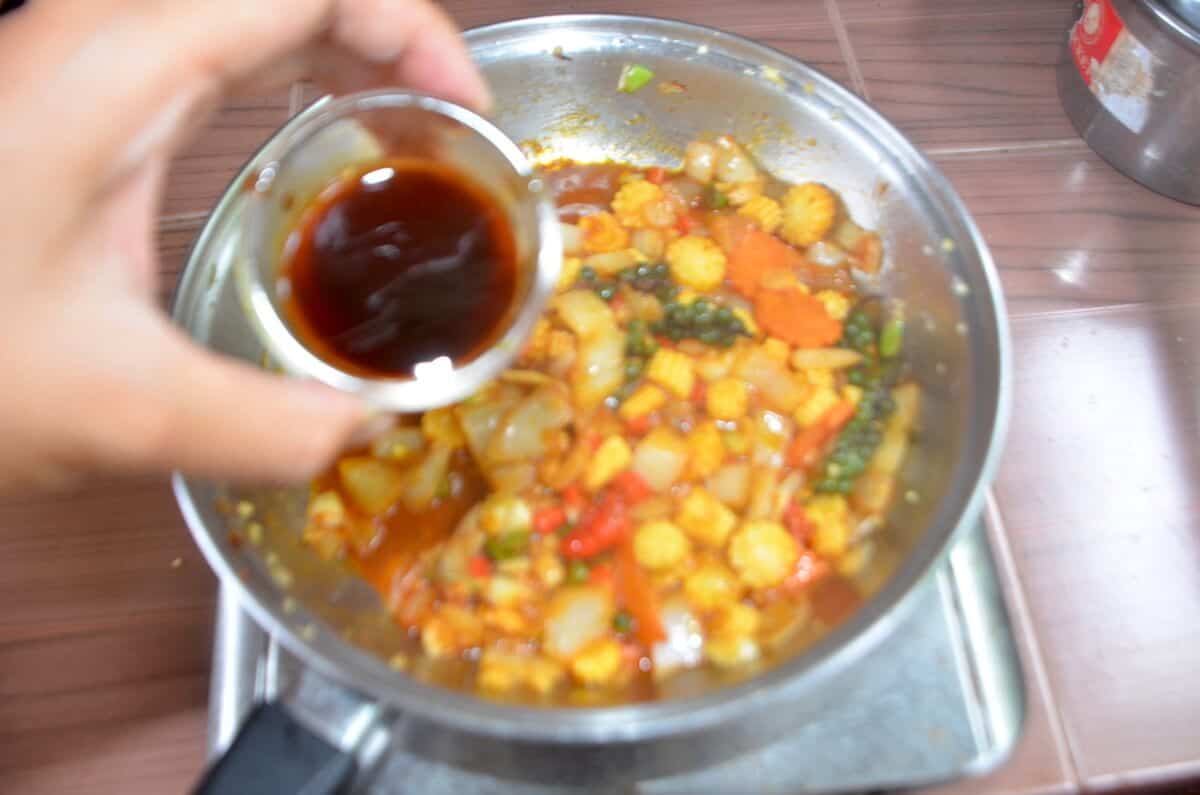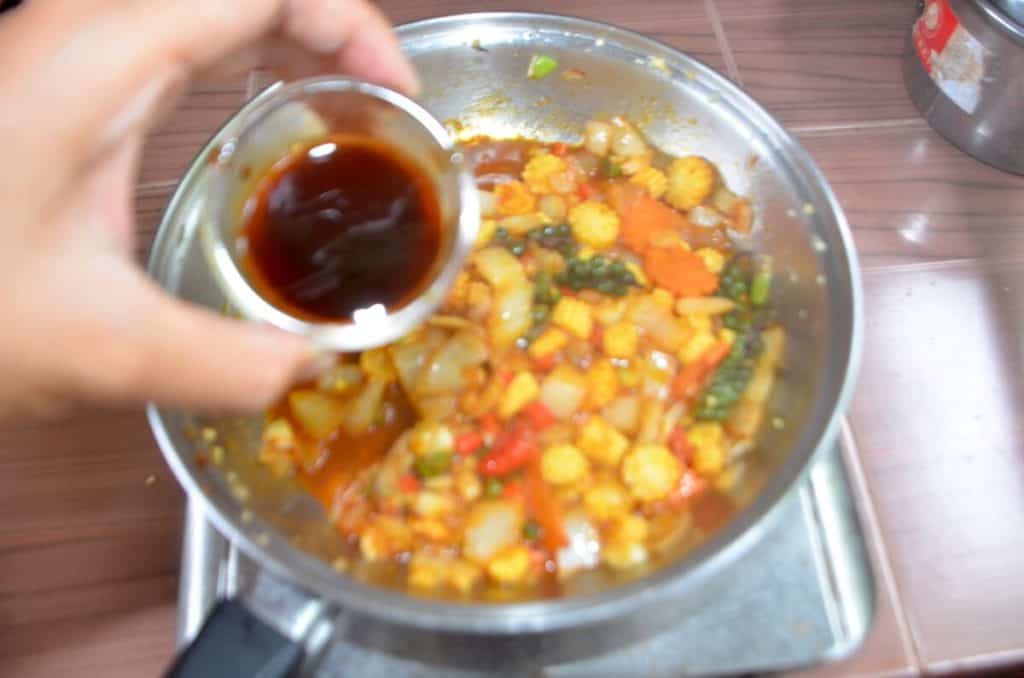 Mix together over medium heat for around 5 minutes or until you see it's ready.
This is the very last step.
Once you're done here, then the dish is ready.
Simply serve and enjoy…
---
Step 4. Plate all the ingredients and enjoy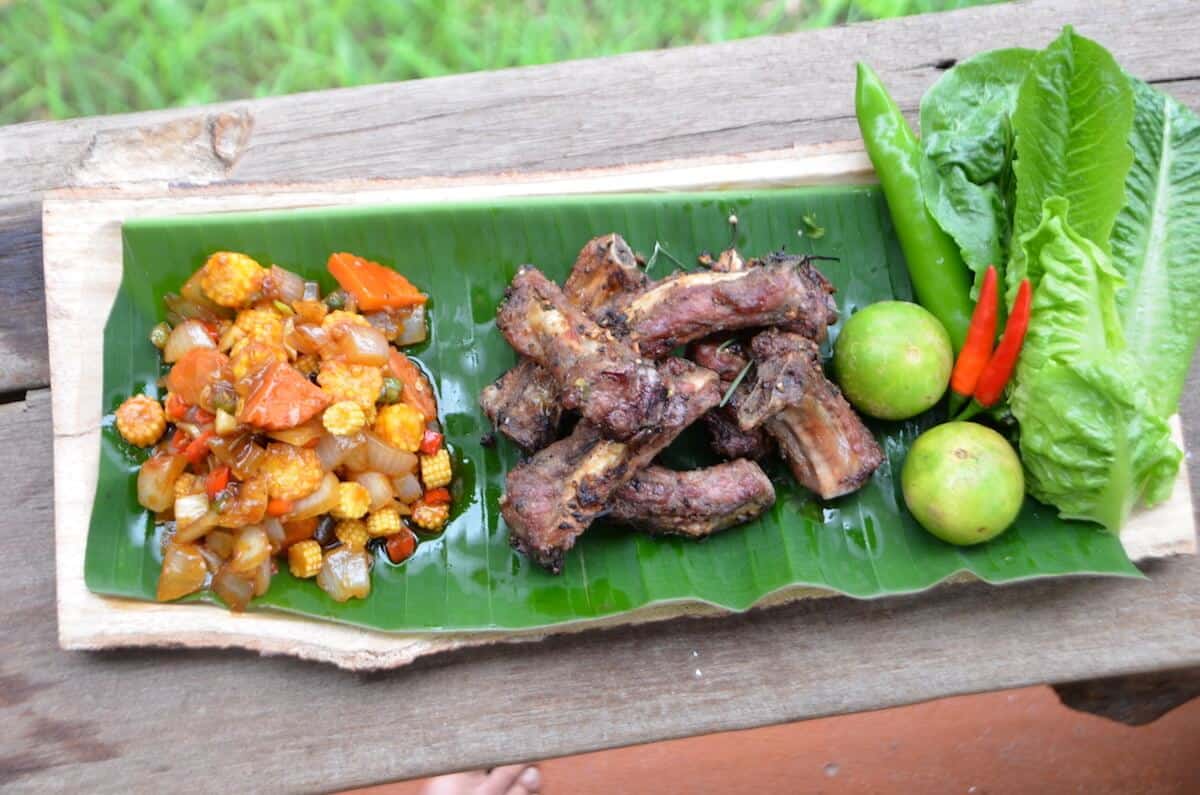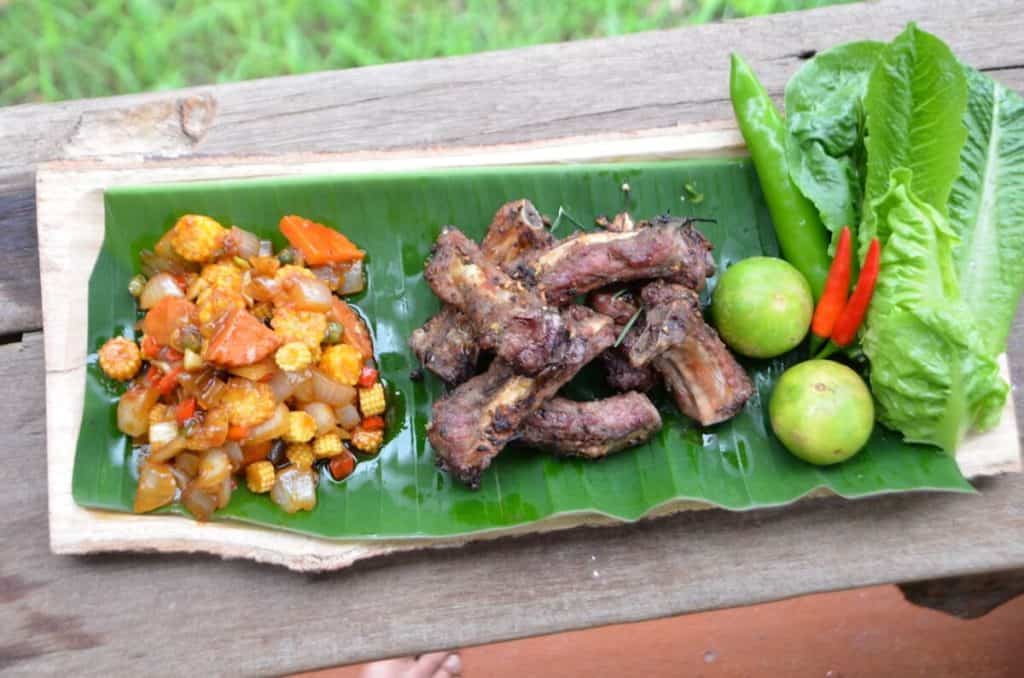 Eat the barbecue pork ribs with anything you like. This random side dish made for a unique and very Thai tasting BBQ pork dinner, but the main part of this recipe is the Moo Yang; the ribs.
It's a perfect backyard bbq recipe to make on a whim.
The mix of rosemary with garlic, salt and peppercorn makes a memorable taste that is also very addicting. These Thai bbq ribs simply wonderful!
Since the side dish is optional, here's what the Thai barbecue pork ribs look like alone. But normally, it will come with the following three items when ordering out in a little local Thai bbq spot:
sticky rice
fresh vegetables
tamarind sauce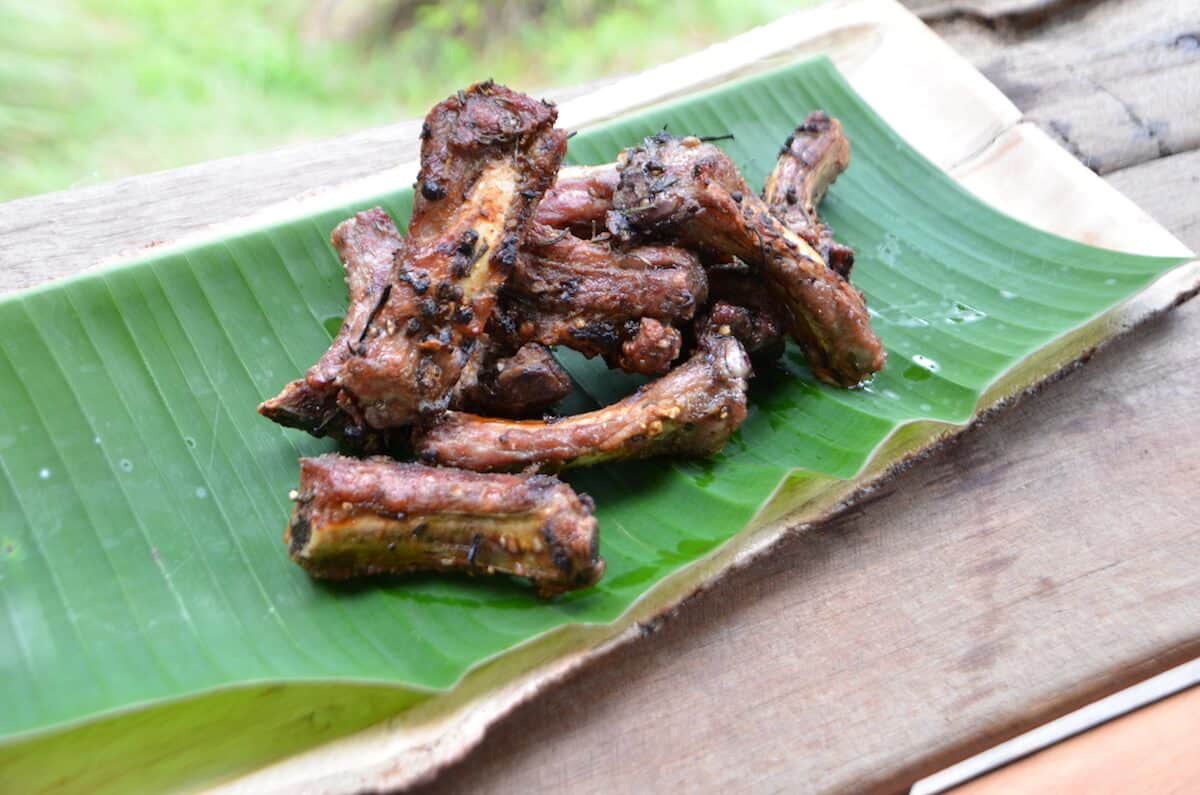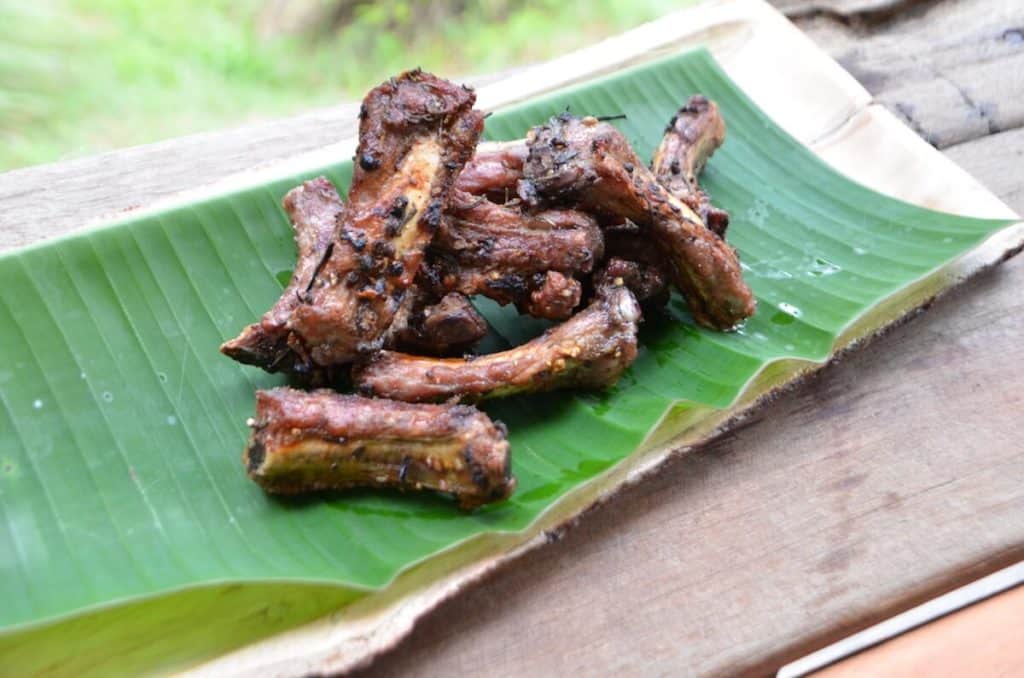 This Thai pork barbecue recipe is one of many we do regularly because it's so easy and fast to make. I'll have to share the shrimp barbecue recipe next because we usually always make the shrimp on the same days we make these spare ribs.
I hope you enjoyed this quick and easy pork bbq recipe.
We have plenty of other Thai pork recipes on the blog you can find here.
---
To print this recipe card, here's the printable version below: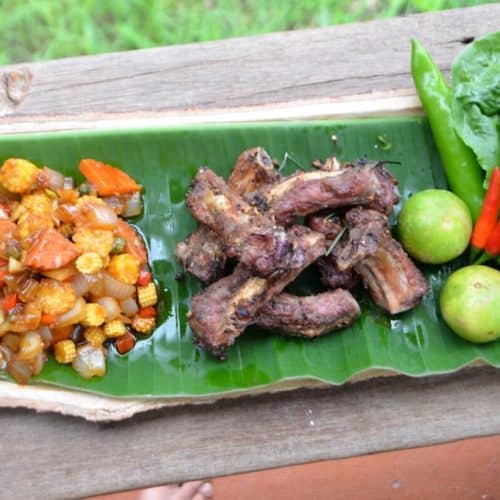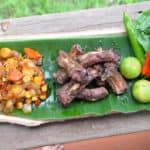 Moo Yang - Thai BBQ Pork
Enjoy this delicious Thai BBQ Pork recipe. The side sauce is something we did, but it's not part of the traditional Thai recipe. Thai's make wonderful side sauces onthe whim, and this is one my wife decided to make on this day.
Ingredients
400

grams

Spare Ribs

6

Whole

Garlic Cloves

peeled

1

tbsp

Black pepper cloves

dried

2

sprigs

Rosemary

fresh

.5

tsp

Sea Salt
Instructions
Make the BBQ Pork marinade

Lather the spare ribs before barbecuing

Flip a few times until ready

Make the side sauce (optional)

As you can see from the pictures above, we use all the sauce ingredients sauteed in butter. The last ingredients added are a wallop of Red Thai chili paste and a tbsp of oyster sauce

That's it! Just plate it all together and you're done! This Thai BBQ pork is a super easy recipe.
Nutrition Facts
Moo Yang - Thai BBQ Pork
Amount Per Serving
Calories 405
Calories from Fat 288
% Daily Value*
Fat 32g49%
Cholesterol 112mg37%
Sodium 696mg30%
Potassium 405mg12%
Carbohydrates 4g1%
Protein 22g44%
Vitamin A 25IU1%
Vitamin C 0.9mg1%
Calcium 49mg5%
Iron 1.8mg10%
* Percent Daily Values are based on a 2000 calorie diet.