This authentic Thai shrimp salad recipe is called Kung Chae Nampla. To this day, this fresh and citrusy raw shrimp dish is a very popular appetizer served throughout all of Thailand.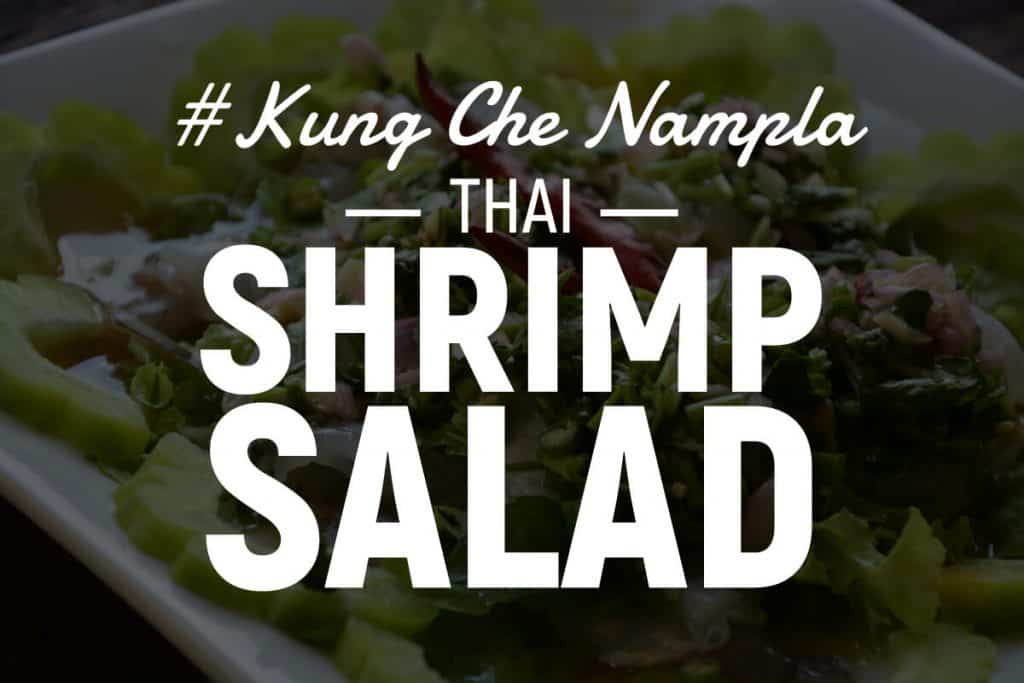 Kung, or Goong Che Nampla is so tasty, you'll overlook the chili pepper pain it brings alongside each bite. It's one of the healthiest shrimp recipes out there, plus it requires no heat for cooking; just soda water, fish sauce and limes.
Note: You can use either fresh raw shrimp or prawns for this recipe.
If you're wondering how to cook raw shrimp, and you're a fan of ceviche, then this shrimp salad recipe will 100% not disappoint.
A 2-Part Thai Salad Recipe:
The first part is where you clean & marinate the raw shrimp in soda water or sparkling water. This helps clean the raw shrimp and it also gives it a nice crisp, adding to the end result. The fish sauce and fresh lime juice marinate helps clean, cook and infuse the shrimp with some flavor before being chilled for at least 20 minutes (and then topped with the prik nampla sauce when served).
Prik nampla sauce is the second half of this recipe. This is an essential ingredient for this shrimp recipe. It comes alongside many Thai seafood recipes. Our version of prik nampla uses no sugar and no soy sauce.
The finished Kung Che Nampla
Combined with the fresh "prik nampla" sauce, the end result is one that you'll remember, and probably make again if you like it because it's so easy to make. It's an easy to cook, healthy shrimp recipe.
Here's a bit from what can be found online about its history. I'll update the backstory when I find out more about it.
Thai Ceviche Backstory
It's history is unclear at the moment, but when looking online, they're saying it's a dish of the early days (1782-1851) of the Rattanakosin era in Thailand. (source) Today it's a popular appetizer throughout all of Thailand and even in neighboring countries like Laos.
Diet Considerations:
Looking for low carb shrimp recipes? This shrimp salad recipe is good for low carb diets like the ketogenic diet, but it's also a great Paleo shrimp recipe. It's gluten-free also. What makes this a keto shrimp recipe is our low carb chili-fish sauce (prik nampla). This prick nampla sauce is traditionally and almost always made with organic palm sugar, soy sauce (and MSG). We hold off on the soy, MSG and sugar as you'll see in the nampla recipe below.
Shrimp Thai Salad Recipe Ingredients: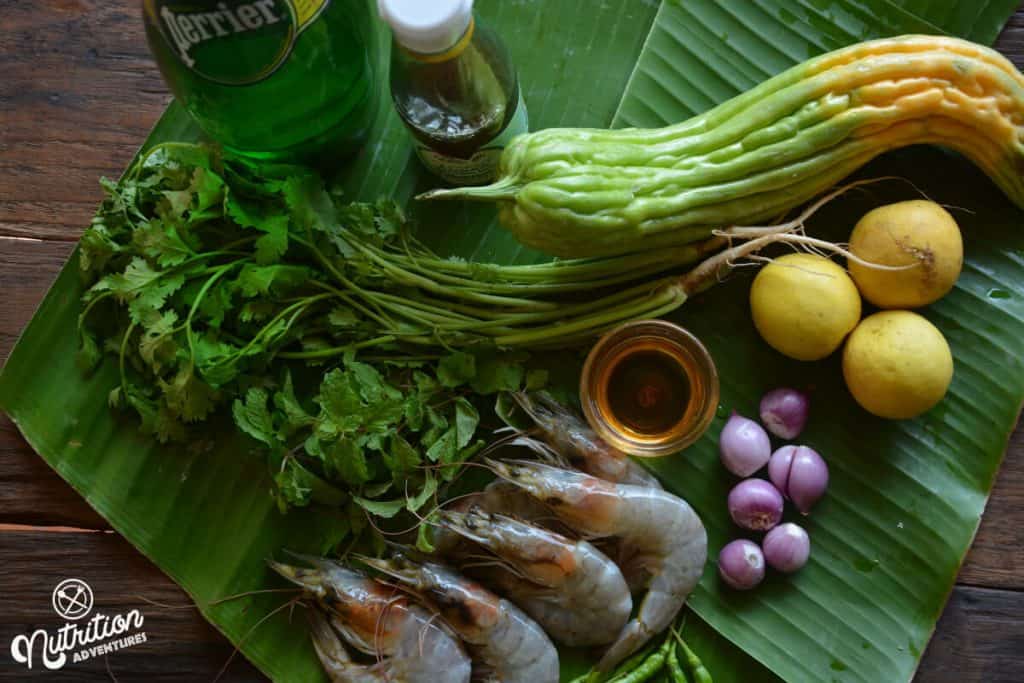 For the shrimp salad:
Lettuce
Bitter gourd
Shrimp (or prawns)
Soda water
Fresh limes
Sea salt
For the Nampla "fish sauce" dressing:
Fresh limes
Fish sauce
Chili peppers
Coconut aminos
Sea Salt
---
Step 1. The Raw Shrimp Marination
De-shell & Filet the raw shrimp
First, you have to de-shell the fresh prawn or fresh shrimp.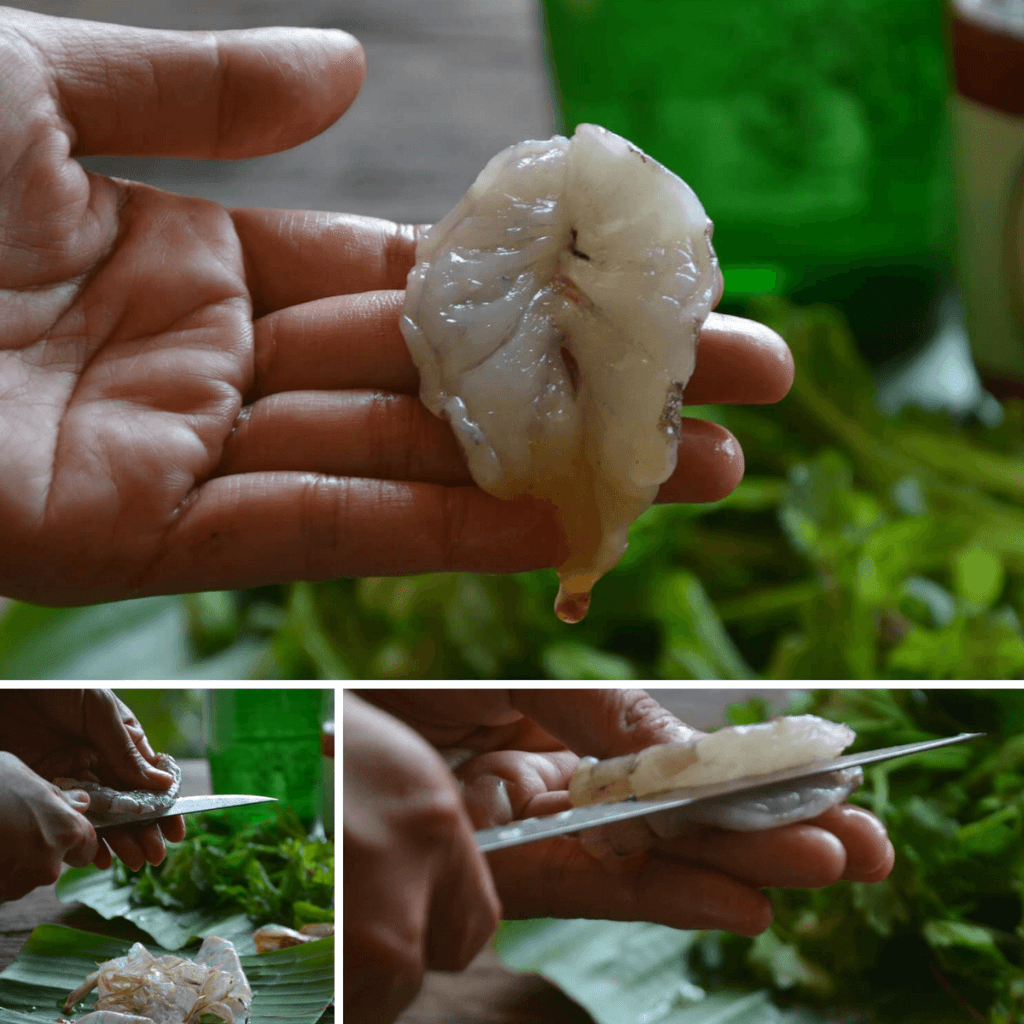 Slice open the shrimp from head to tail.
Leave the inside connected and don't cut all the way through.
You can keep the tail to make this dish more finger-food friendly. The tail can be used as a little handle to eat as an appetizer. I prefer to de-shell and remove the tails to make it easier to eat with a spoon. The tail is a preference thing.
Next, clean the raw shrimp with soda water.
Put your shrimp into a bowl and pour soda water (Or Perrier like we do here) inside to clean it. The sparkling water cleans the raw shrimp and makes it more crispy fresh after the chill.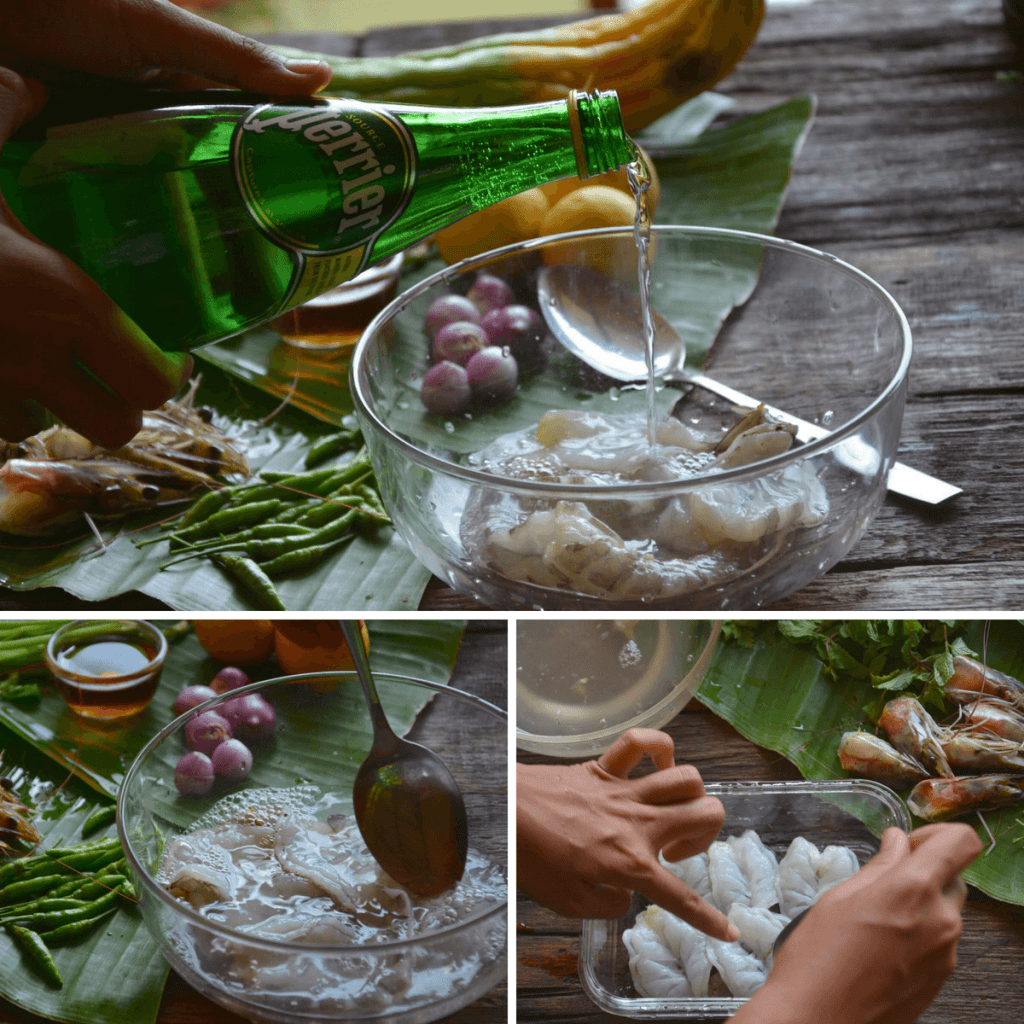 Next, marinate and chill the shrimp.
In a small container, place the open filet shrimp inside
Next, squeeze 3 or 4 fresh lime halves
Put 2 tablespoons of fish sauce on top of the shrimp
Sprinkle in some salt, then chill the shrimp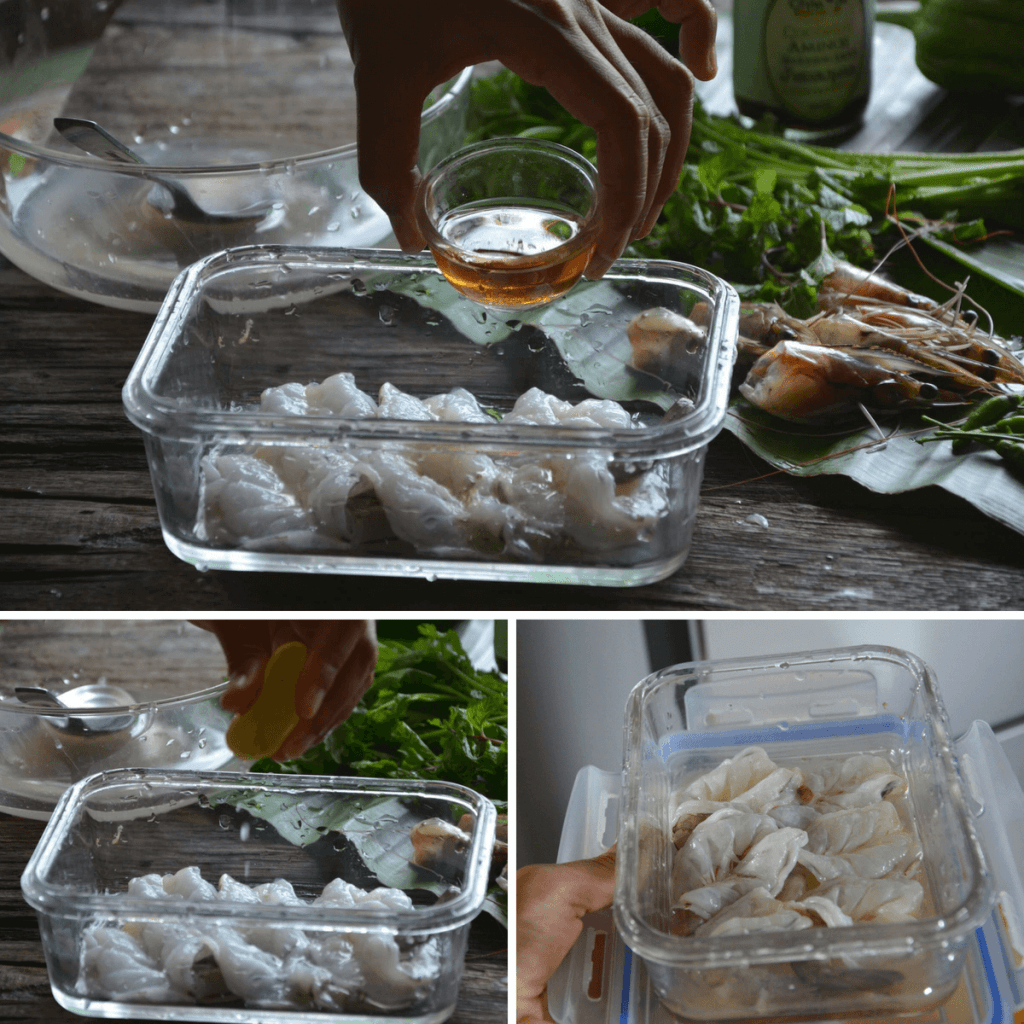 They should be coated and swimming in the lime sauce at the end of this step.
While the shrimp is chilling, cut the bitter gourd and lettuce, and then you'll make the prik nampla sauce.
---
Bitter Gourd & Lettuce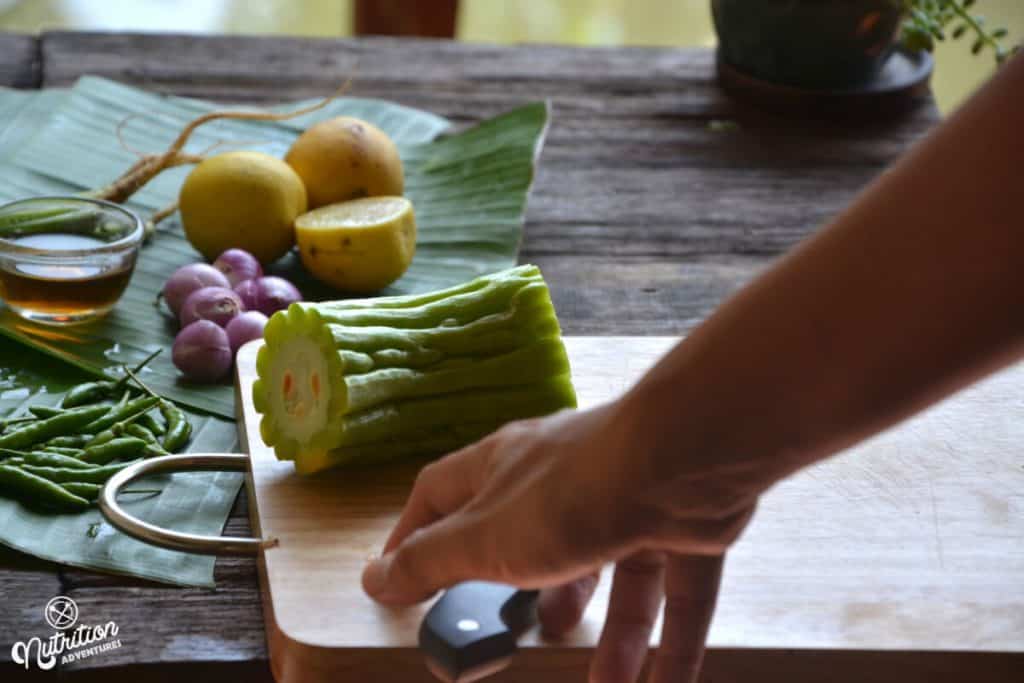 As bitter as it is, the bitter gourd provides an essential balance to this dish between its citric and salty marinated shrimp, the fresh garlic and mint, and all the sweet and spicy nampla sauce's ingredients.
Shave out the inside with a knife or spoon, then slice it fairly thin and place it in cold soda water.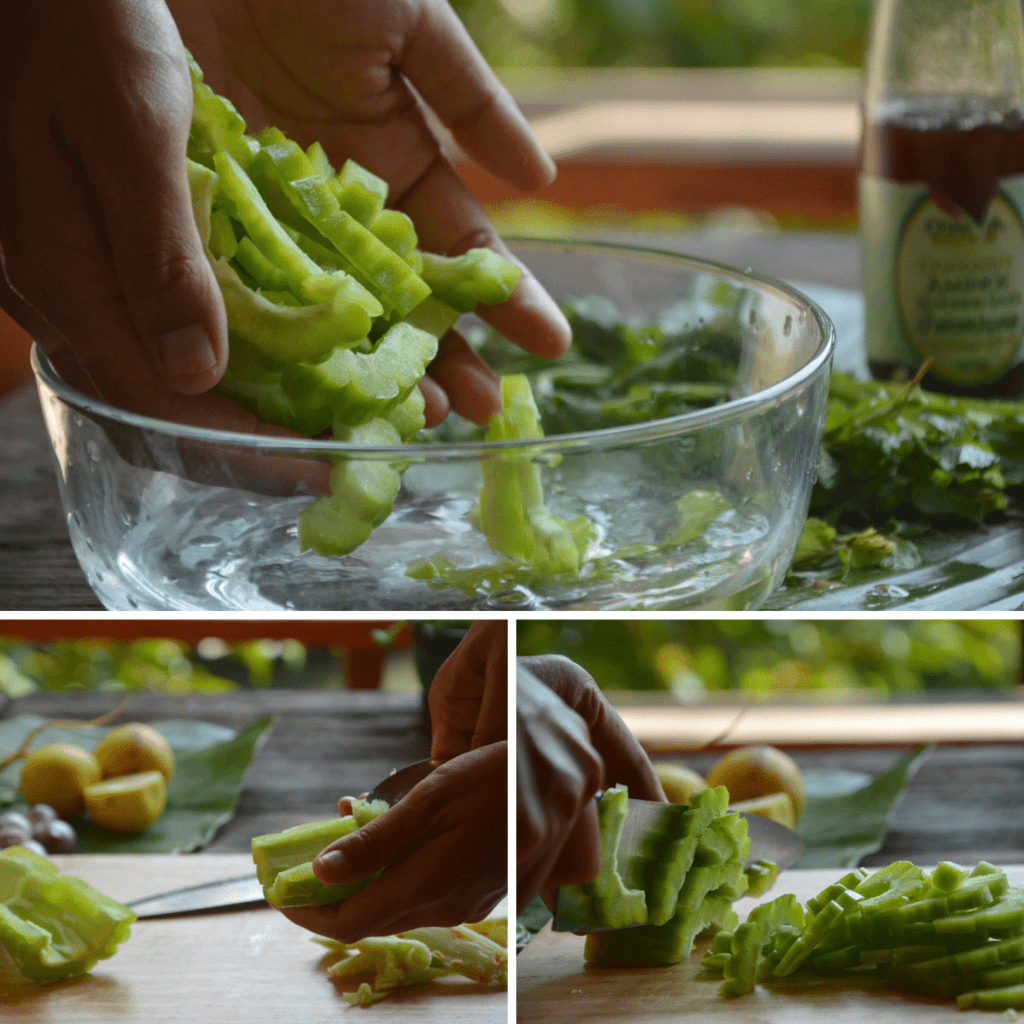 Bitter Gourd: this is a perfect name for this sour and bitter vegetable. It pairs perfectly with the other ingredients at the end though.
Green leaf lettuce is used as a bed to place down first on the plate for the Thai shrimp salad.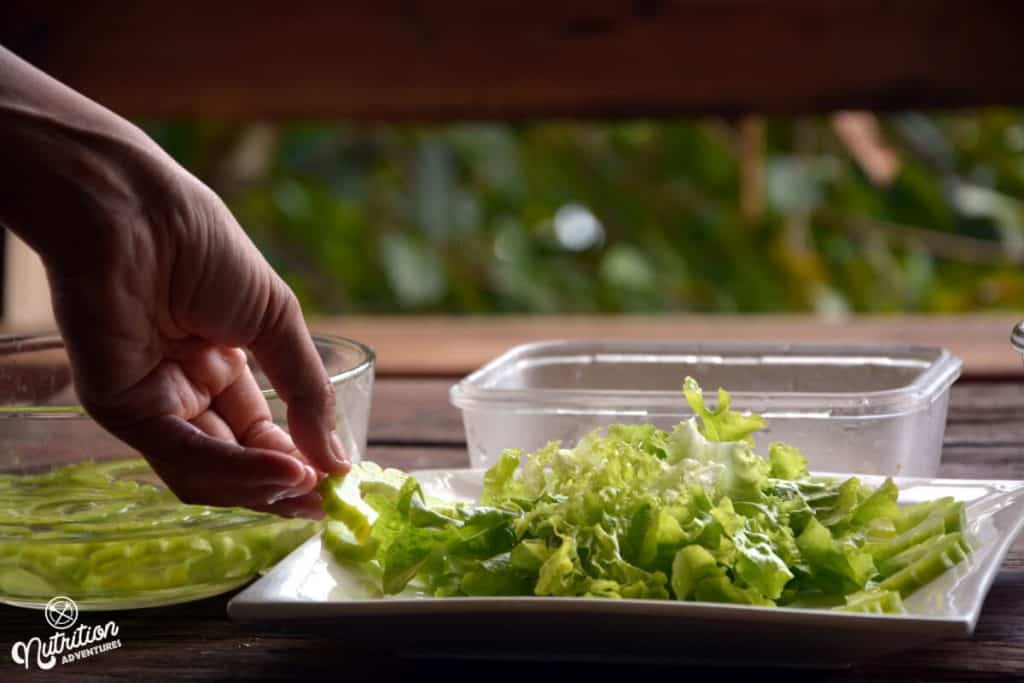 ---
Step 2. Make The Fish Sauce
How To Make Prik Nampla Sauce
"Prik nampla sauce", or Thai Seafood Sauce, is a lime sauce with a sweet and spicy, super tasty kick. Also written out prick nam pla or with many different variations, this sauce is what makes the shrimp salad recipe so good. WIthout this sauce, it wouldn't be a Thai dish.
Prik nampla always uses a fat wad of organic palm sugar. This original palm sugar ingredient adds a nice texture to the sauce as well as a much-needed sweetness. Without the organic palm sugar-soy sauce combination, the coconut aminos combined with the cilantro, shallots and lime juice makes for a more than suitable replacement. It makes it a zero-sugar sauce yet retains 100% of the original flavor, thanks to the coconut aminos.
Step-by-step prik nampla recipe steps:
These are all the ingredients needed to be sliced, then after this put in the fresh lime juice, fish sauce and the coconut aminos (in place of organic palm sugar).
Coriander: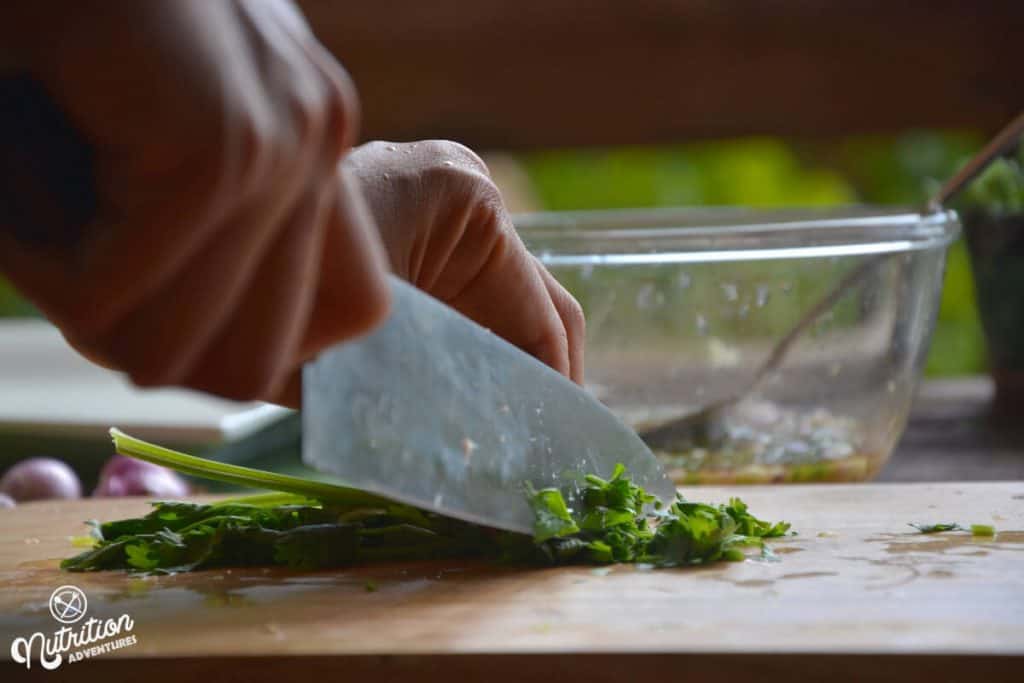 Shallots: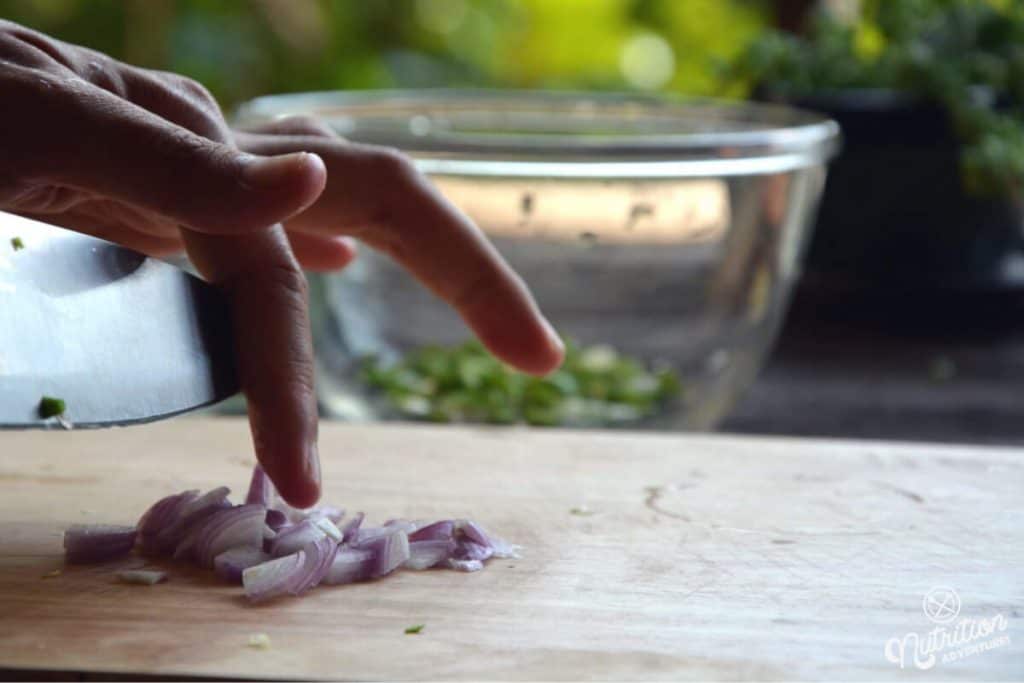 Chili peppers: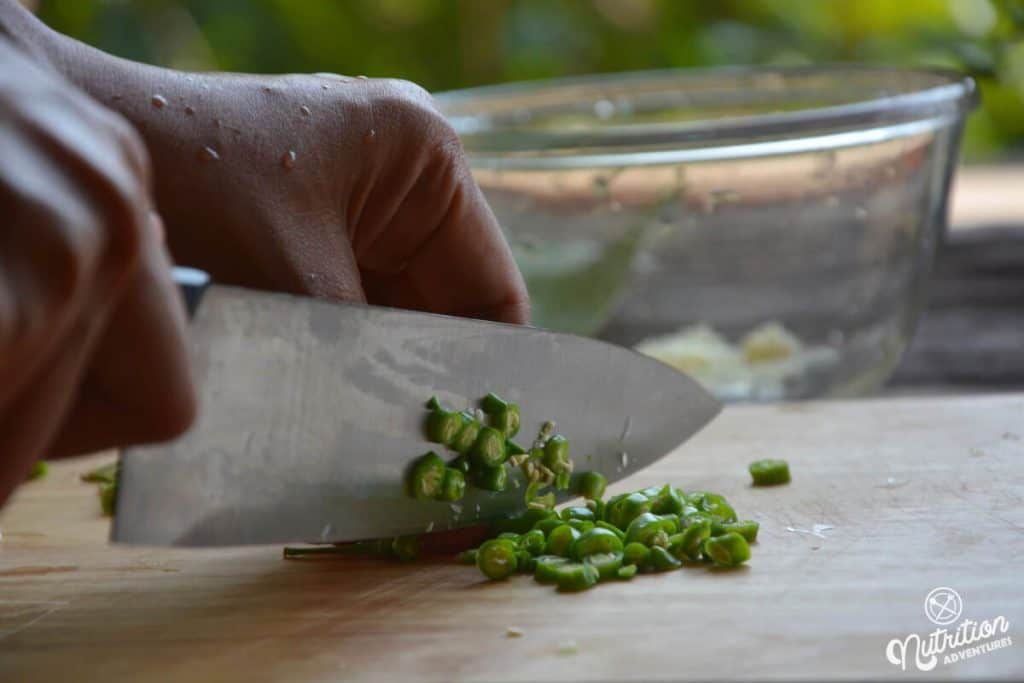 Garlic: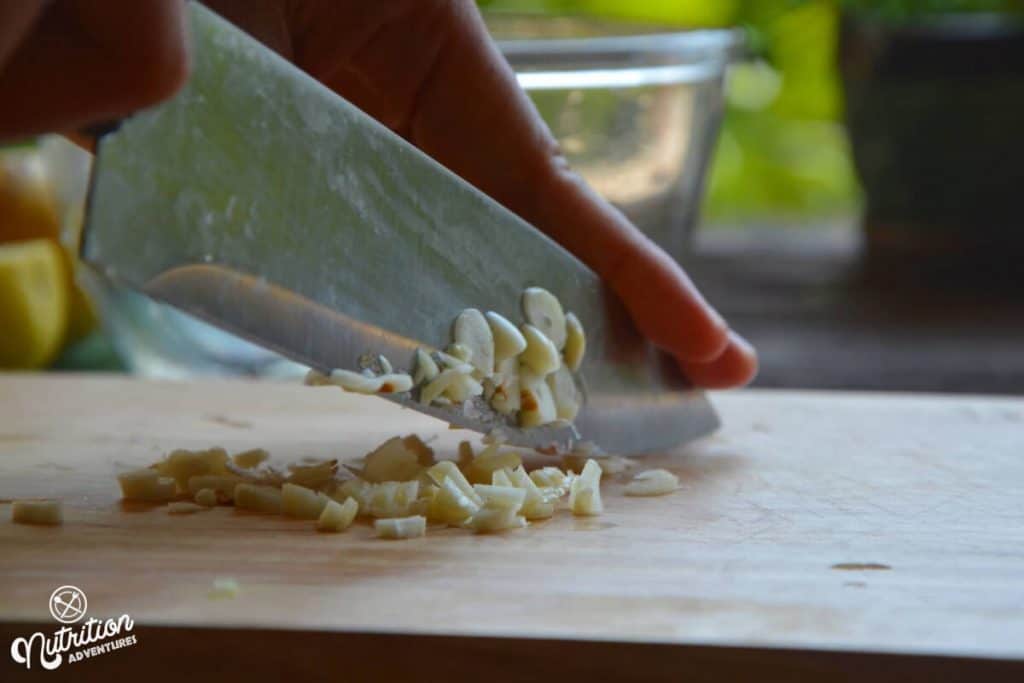 Next,
The limes, coconut aminos & fish sauce: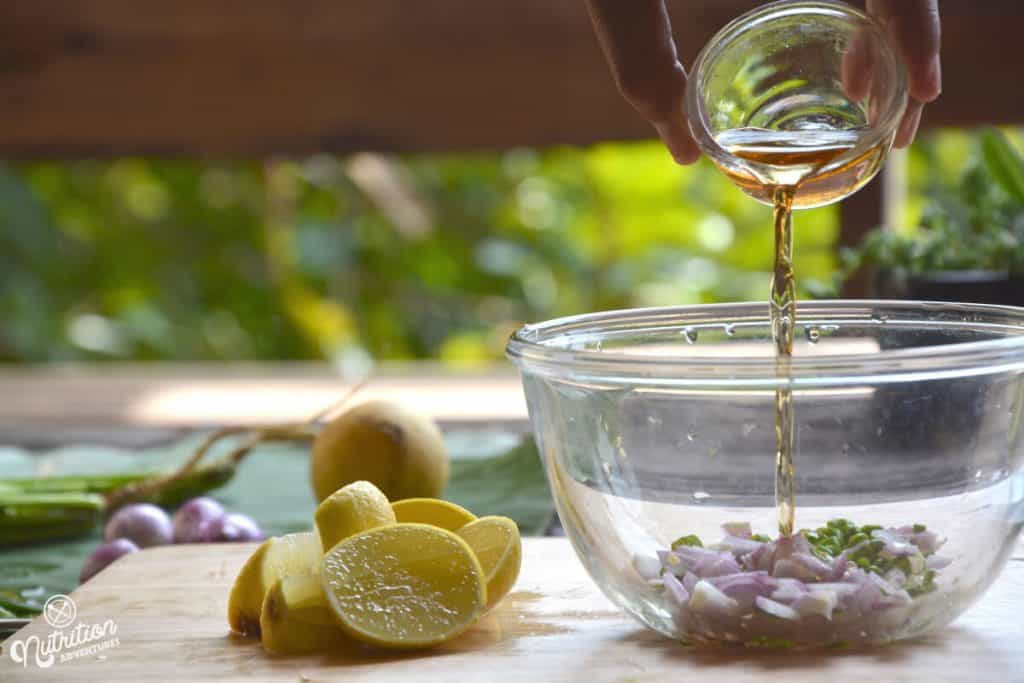 Coconut aminos makes recreating a traditional prik nampla fish sauce possible.
The end result is equal in flavor but without the carbs organic palm sugar would bring. The result really is identical.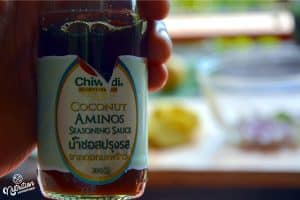 This is the brand we've been using, but they're all good and require
no additives. They should be 100% coconut nectar.
A good quality coconut aminos bottle is easy to find at your local grocery store. If not, or if you prefer to buy online, you can find fish sauce and coconut aminos easily on Amazon.
Fish sauce for the fish sauce: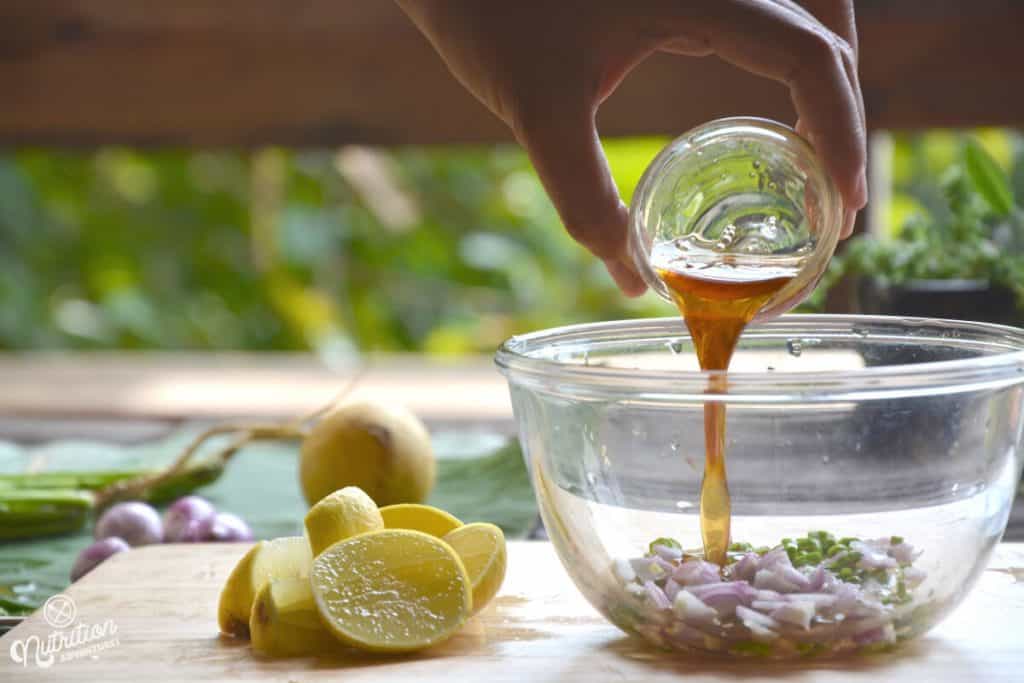 Many fish sauces out there on the market will sneak some added ingredients in that you don't want in there.
This fish sauce in the image has 75% fish, 20% salt and 5% sugar, and that's it. This is the only sugar outside of the natural sweetness of the coconut aminos in this recipe.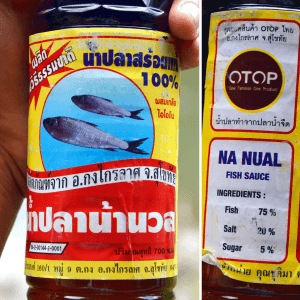 It's a minute amount of sugar in this fish sauce, especially considering the normal traditional prik nampla fish sauce uses a fat wallop of thick organic palm sugar.
This sauce is not only used on this shrimp salad recipe, but it accompanies most all Thai seafood recipes.
Most south-east Asian shrimp recipes will have a similar sauce and Thai uses this nampla sauce.
Fresh-Squeezed Lime Juice:
Slice the limes and squeeze them all into the bowl with the freshly cut fish nampla sauce ingredients: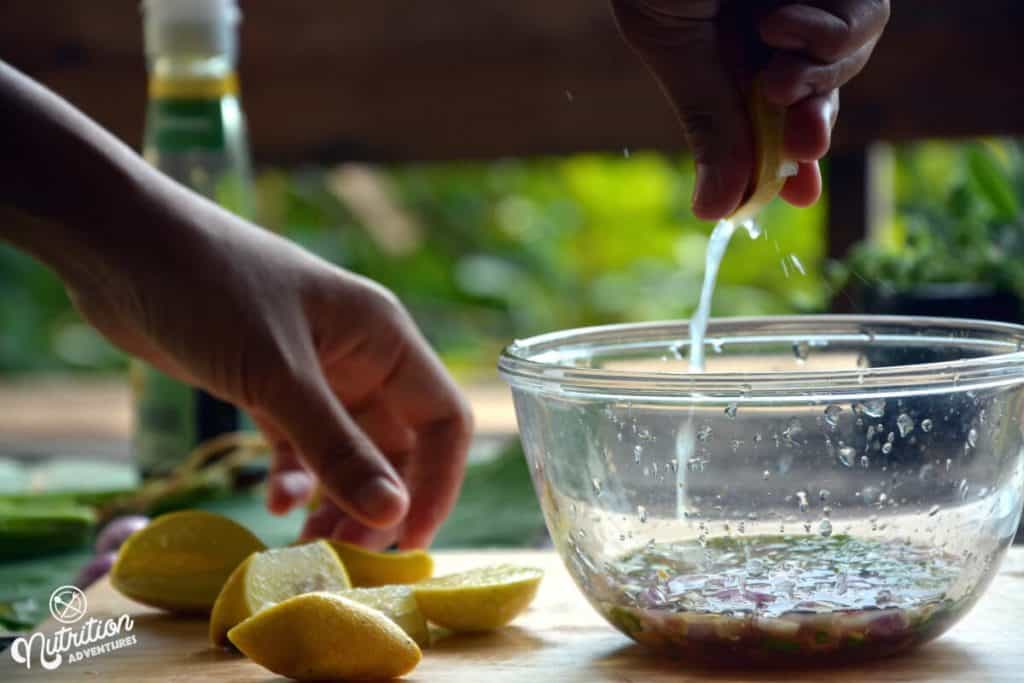 The more generous the better with limes and lemons.
Use whatever you have available. Limes and lemons both can be used.
Mix It All Together
In a bowl,
Put in the chopped shallots, chilis and everything into the bowl and mix with spoon a bit.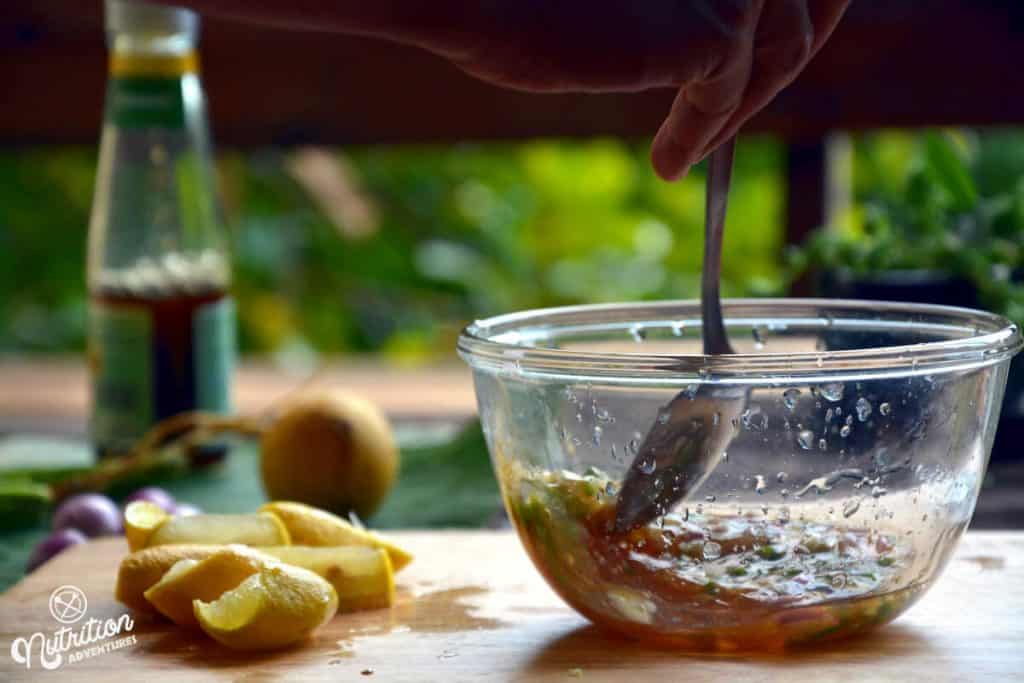 Low Carb

"Prik Nampla" Thai Fish Sauce:

Coconut aminos makes recreating a traditional nampla fish sauce possible. The end result is equal in flavor but without the carbs organic palm sugar would bring.

The result really is identical. This is the brand we've been using, but they're all good and require no additives, just 100% coconut nectar.

Next, pull out the shrimp that's been marinated for 20 minutes in the fridge or on ice.
---
Step 3. Shrimp Salad Recipe Finishing Touches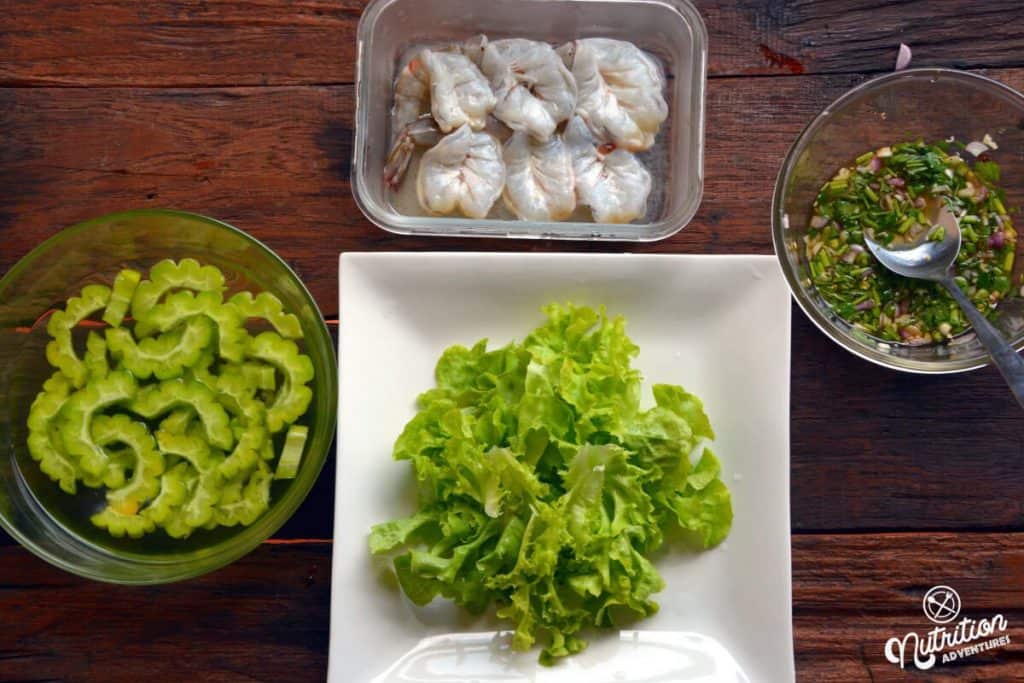 To complete the recipe now, you just need to put it all together.
Place the shrimp on the lettuce
Strain the bitter gourd and circle the plate with it
Then drizzle the nam pla on top
place some chunks of garlic
then place the mint as the final garnish
Drizzle or spoon on the prik nam pla sauce: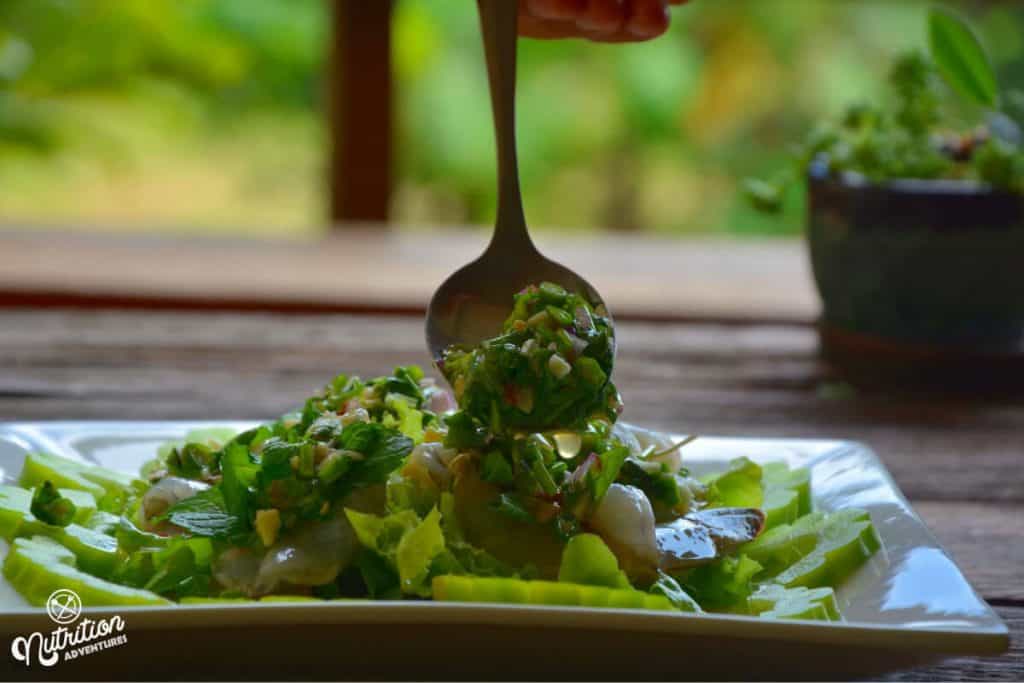 The Kung Chae Nampla is one of the best healthy shrimp recipes out there thanks to the delicious nampla sauce and the unique way of marinating the raw shrimp.
Marinating it overnight in citrus juices is the ceviche way, but with this Thai shrimp recipe, the goal is to marinate the freshly peeled, raw shrimp inside soda water with some salt for only about 20 minutes before plating it, garnishing, serving and eating. These are just about raw and possess a strong kick from the lime, chilis and thick slices of fresh garlic.
It's hard to go wrong with this one: This shrimp salad recipe is easy to work with. It won't let you down as long as you use all these same ingredients.
Thai Shrimp Salad finished result: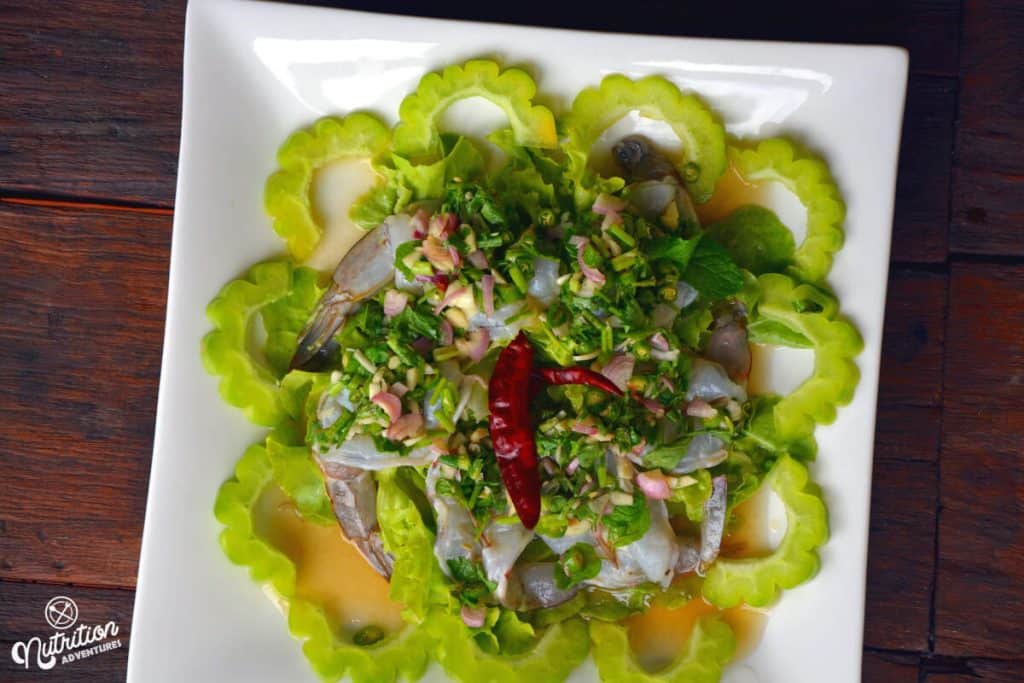 Variety of flavors in each bite:
Between the chunks of garlic, the fried shallots, the prik nampla sauce, fresh lime juice, mint leaf and the chilled "raw" shrimp, each bite is truly an exciting one. Like most Thai food recipes this shrimp salad does not let you down. Don't be afraid to use your fingers, especially if you left your tails attached. It's a tasty food as much as an interactive one.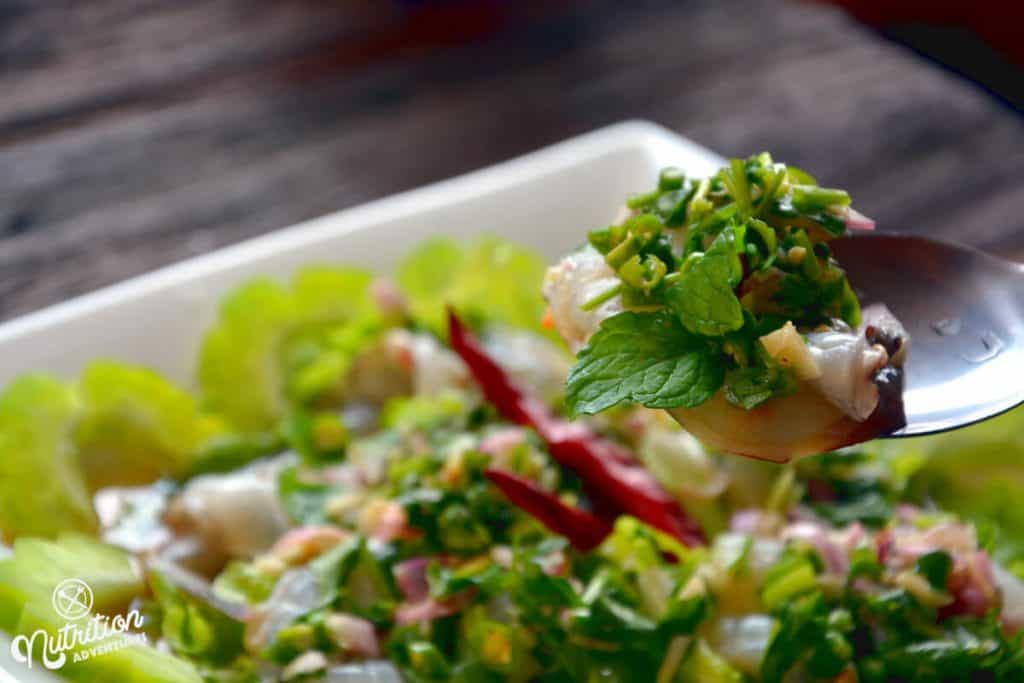 When you get a piece of garlic, a mint leaf, and a nice wallop of your freshly made chili fish sauce all on the same bite, then you will know what this Thai dish is all about.
---
Thai Shrimp Salad Recipe Conclusion:
The final result of the powerfully tasting Thai Shrimp recipe is a sweet, spicy and citrusy raw prawn or raw shrimp salad that I believe even non-seafood people will accept and secretly love. You can see why it's a great appetizer or how it could even be a small dinner recipe for shrimp aficionados.
Here's a printable recipe card below:
Thai Shrimp Salad (Kung Chae Nampla) Recipe Card
This authentic Thai shrimp salad recipe is called Kung Chae Nampla (กุ้งแช่น้ำปลา) which means shrimp in fish sauce.
I call it the Thai Shrimp Salad Recipe.
This is one of the best ways to enjoy a healthy shrimp meal.
It uses no heat to cook, only soda water and lime juice plus fish sauce.
The mix of ingredients used in Kung Chae Nampla makes this a potential new favorite for anyone! It's a perfect hot summer day's light lunch or healthy poolside snack.
Keyword:
shrimp salad recipe
Ingredients
For The Shimp Salad
Lettuce

Bitter gourd

Shrimp (or prawns)

Soda water

Fresh limes

Sea salt
For The Fish Sauce Dressing
Fresh limes

Chili peppers

Sea Salt
---
Looking for easy shrimp recipes?
Goong Che Nam Pla is probably one of the best shrimp recipes for its ease.
This one is easy to make, and fast. The Thai fish sauce is easy to make. It's all pretty simple as long as you have the ingredients. If you're looking for raw shrimp recipes like ceviche or just overall any healthy shrimp recipes, Thai cuisine is a great one to look into. I'd imagine this being good to know for any time you're stranded with fresh shrimp, a handful of limes and fish sauce, but no power.. it could happen!
UP NEXT: [Keto] Shrimp Tom Yum Soup Recipe (With Special Shrimp Head Sauce)
Thanks for coming by the blog.
We have a growing list of Thai seafood recipes so come back to check again! We'd love a recipe SHARE if you liked it!
Related Recipes On Nutrition Adventures:
Free PDF for You: Get Our Top 3 Thai Keto Recipes
Subscribe to our newsletter to receive new recipes we make, blog updates and more & get instant access to the free PDF:
Thanks!
Something went wrong.