If you can't stomach the thought of eating liver, then this Thai larb recipe is for you.
If you can eat liver, but the pasty after-texture that sticks in your mouth ends up making you gag, then this Thai larb recipe is for you. The way the liver is cooked creates a perfect texture for this dish.
I'm not a big fan of liver, but this larb recipe helps me really enjoy it.
It's good to have a palatable liver recipe for those who really don't like it. Liver packs so many nutrients that once you learn why you should have this superfood in your diet, you too will seek out ways to do just that. This recipe's a good one to have for that reason.
What Is Larb?
First of all, it is not pronounced, laRb. It's pronounced Laab or laaahb. The letter "r" is completely silent.
Thai larb is a simple recipe that uses a traditional Thai chili fish sauce, fresh herbs and either meat or liver. The most common one is minced pork.
Low Carb Thai Larb Recipe Ingredients: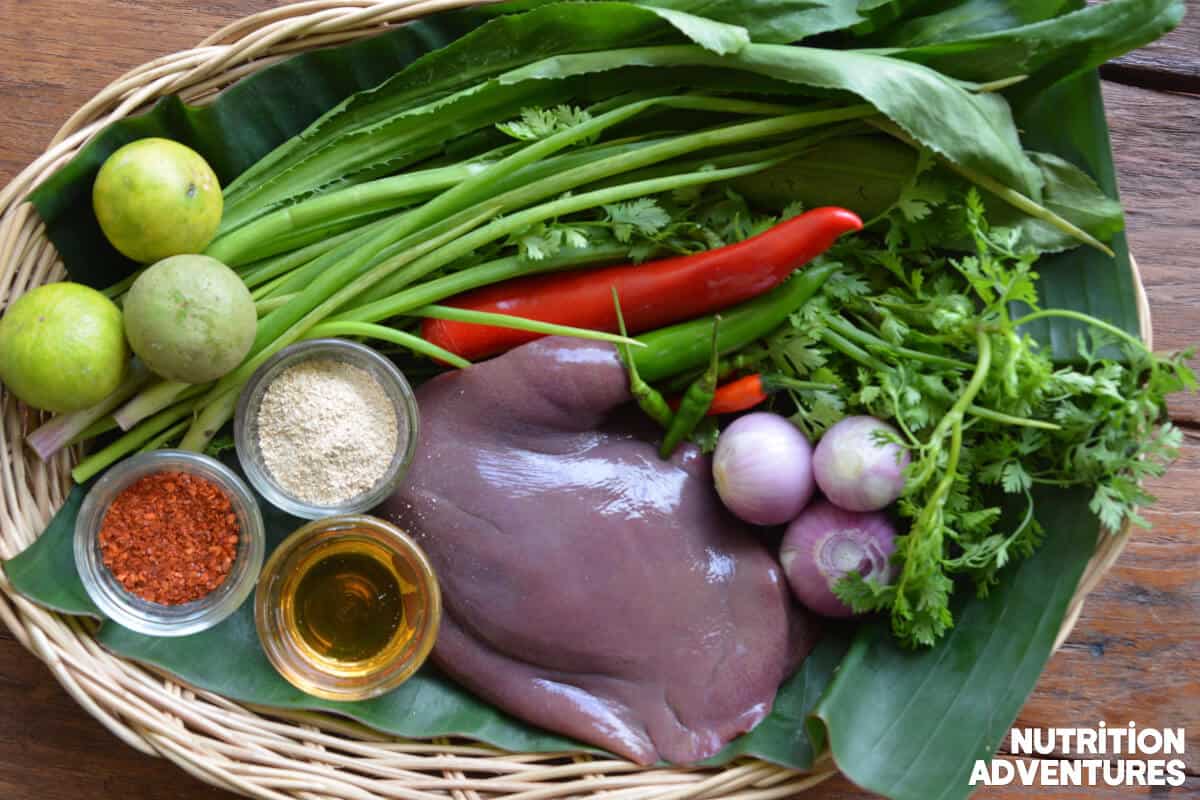 The only ingredient not pictured is the 20 grams of organic palm sugar, about the size of a ping-pong ball. The organic palm sugar can be replaced by a stevia tea we make by brewing fresh stevia leaves (I'll show you how). Replacing the organic palm sugar with stevia tea makes this larb liver recipe even more low carb.
If you're not going to use a stevia tea alternative, organic palm sugar is the way to go. It's the lowest on the GI scale of all natural sugars. And it adds to the grainy texture an authentic Thai laab should have.
Just like many of our other Thai recipes, this laab dish is very easy and fast to make.
The hardest it gets is slicing the raw liver.
Step 1. Slice and dice the liver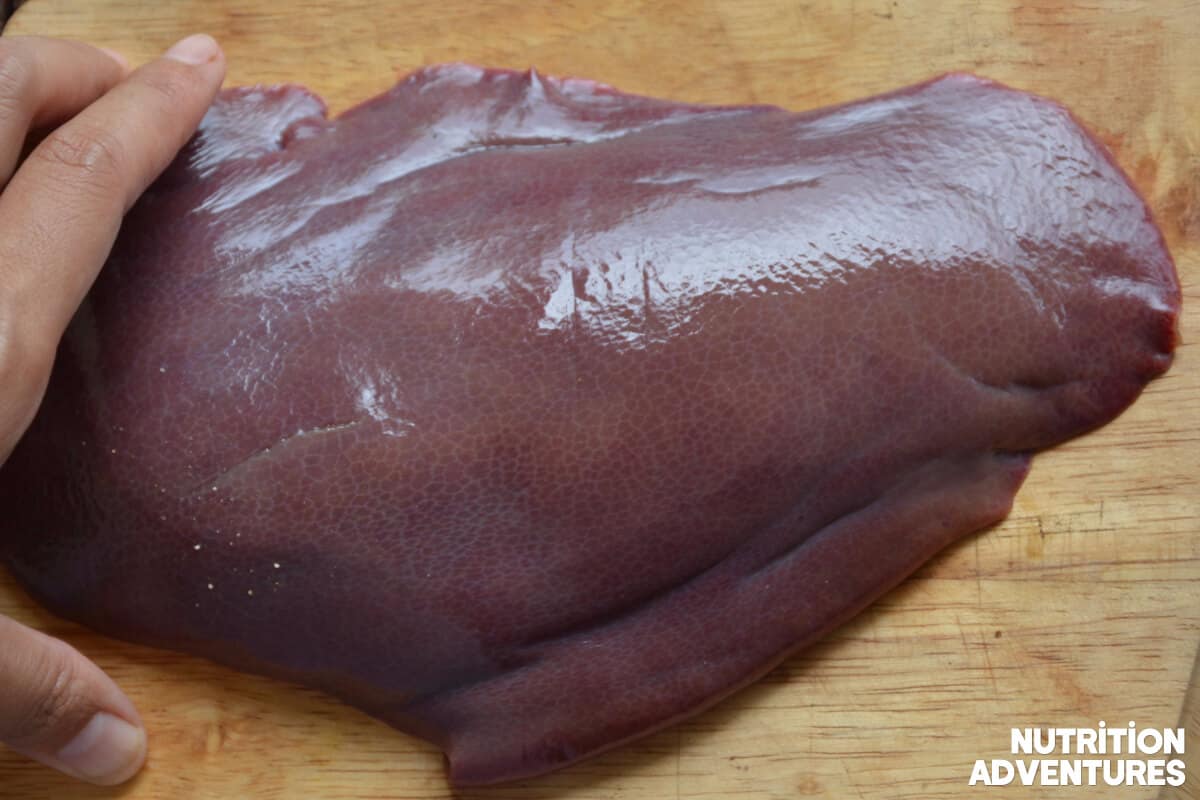 Actually, don't dice it.
You can dice the liver if you want.
We always just slice it like this for this larb recipe: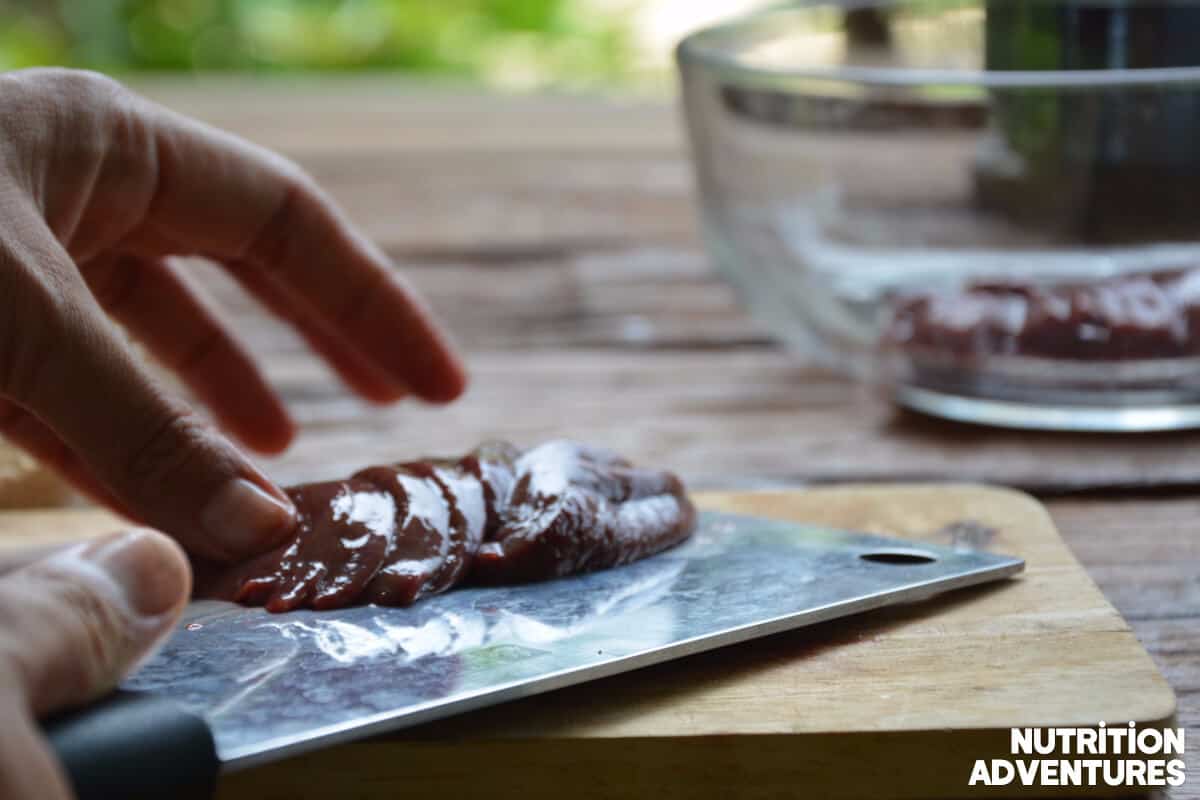 Step 2. Chop the vegetables
Before you start chopping,
Get the water boiling and a bowl ready for the sauce creation.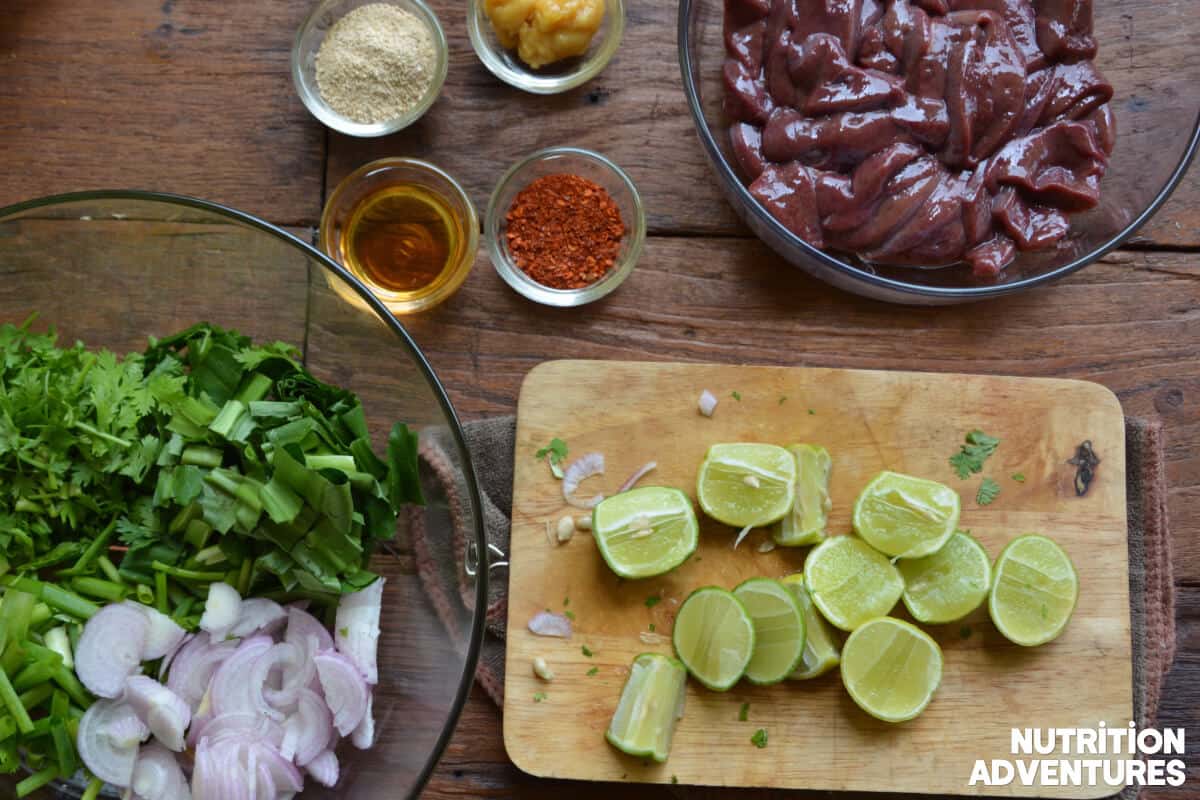 Step 3. Mix the larb sauce ingredients together
When you squeeze the limes, try to leave the seeds out.
Seeds will contain the most lectins, something best to avoid if you can.
To learn more about lectins, I highly suggest picking this book up, The Plant Paradox by Dr. Steven R. Gundry.
Not to sidetrack this recipe post, but here's a quick review of this book.
I still consume lectins, they're unavoidable, but this book changed how I eat and how I cook in many ways.
Here's an excerpt from his book listing page:
Most of us have heard of gluten—a protein found in wheat that causes widespread inflammation in the body. Americans spend billions of dollars on gluten-free diets in an effort to protect their health. But what if we've been missing the root of the problem? In The Plant Paradox, renowned cardiologist Dr. Steven Gundry reveals that gluten is just one variety of a common, and highly toxic, plant-based protein called lectin. Lectins are found not only in grains like wheat but also in the "gluten-free" foods most of us commonly regard as healthy, including many fruits, vegetables, nuts, beans, and conventional dairy products. These proteins, which are found in the seeds, grains, skins, rinds, and leaves of plants, are designed by nature to protect them from predators (including humans). Once ingested, they incite a kind of chemical warfare in our bodies, causing inflammatory reactions that can lead to weight gain and serious health conditions.

At his waitlist-only clinics in California, Dr. Gundry has successfully treated tens of thousands of patients suffering from autoimmune disorders, diabetes, leaky gut syndrome, heart disease, and neurodegenerative diseases with a protocol that detoxes the cells, repairs the gut, and nourishes the body. Now, in The Plant Paradox, he shares this clinically proven program with readers around the world.
ANYWAYS, back to the liver larb recipe..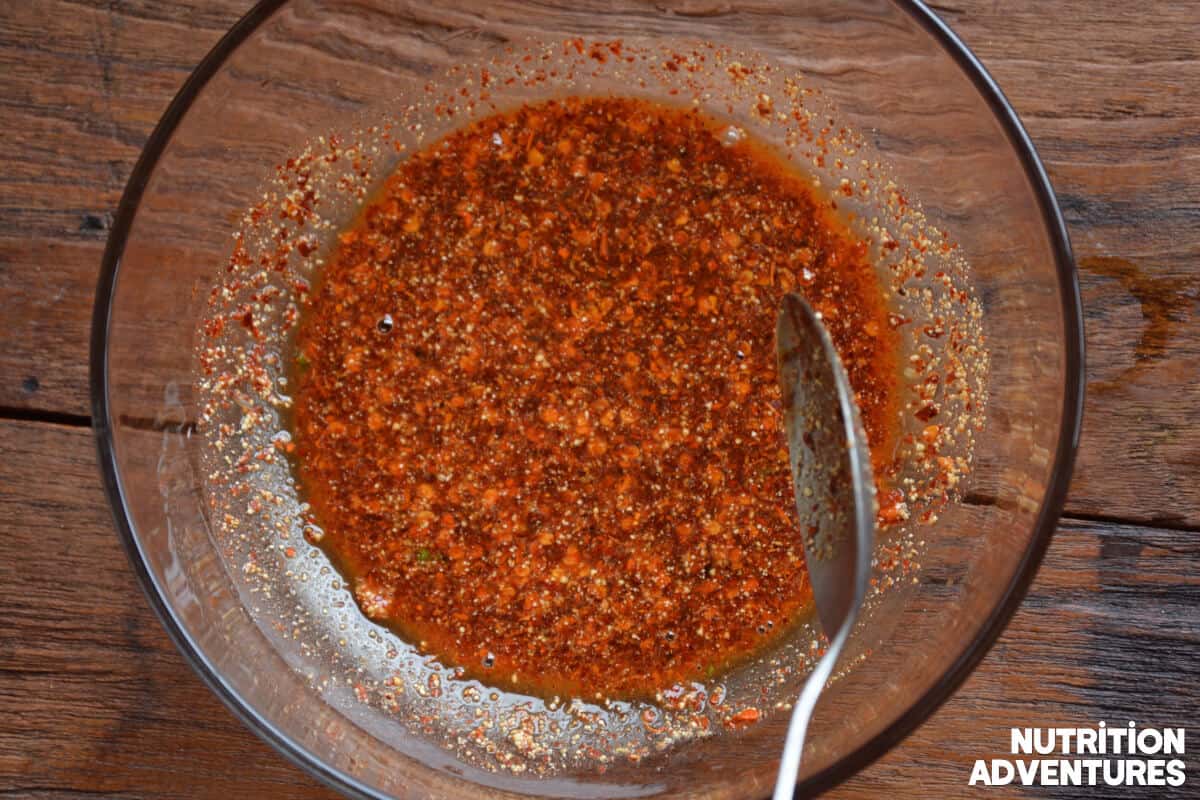 Step 4. Blanch the pork liver
After the water is boiling, let it sit for 30 seconds before plopping the liver in for 45 seconds.
After about a minute, strain.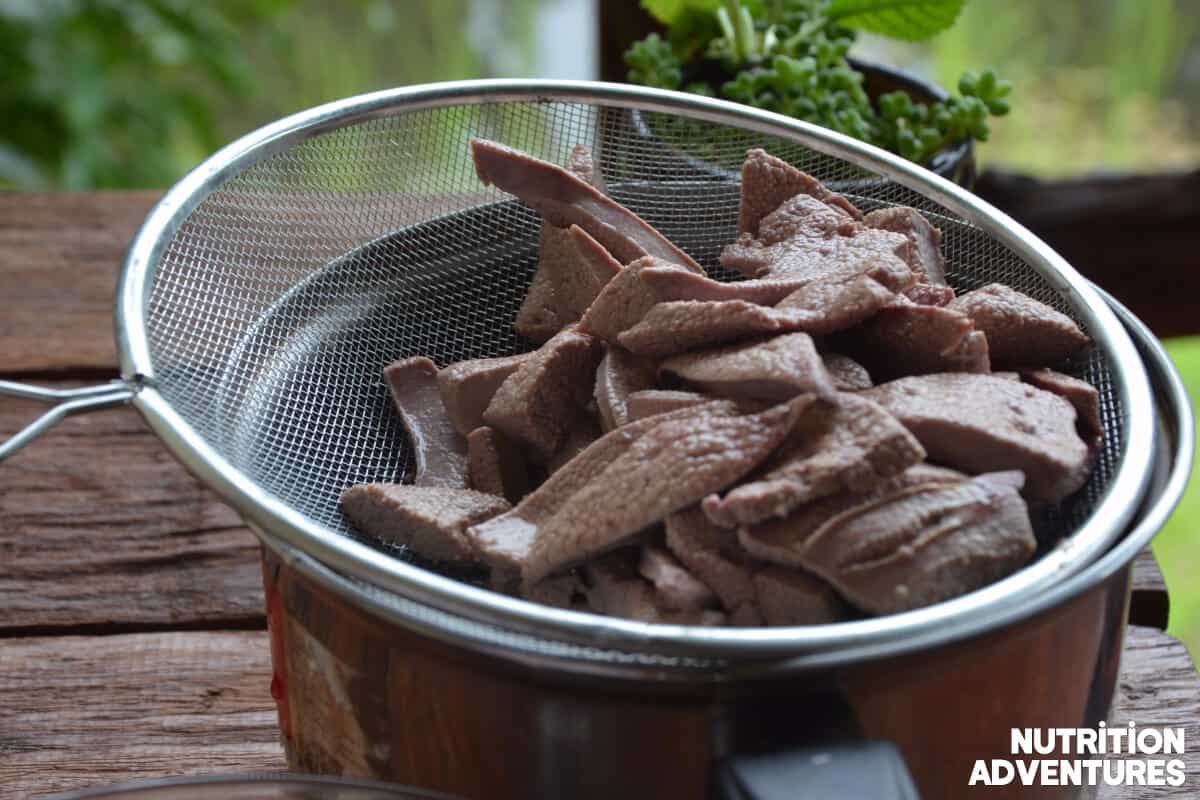 Step 5. Liver Laab Recipe is best served HOT
You want to let it cool just a bit and then eat it before it cools down.
So make the sauce before you blanche, then mix it all together fast.
(if you love liver and can eat it hot or cold, then have at it.. for me, this is one food I have to eat hot).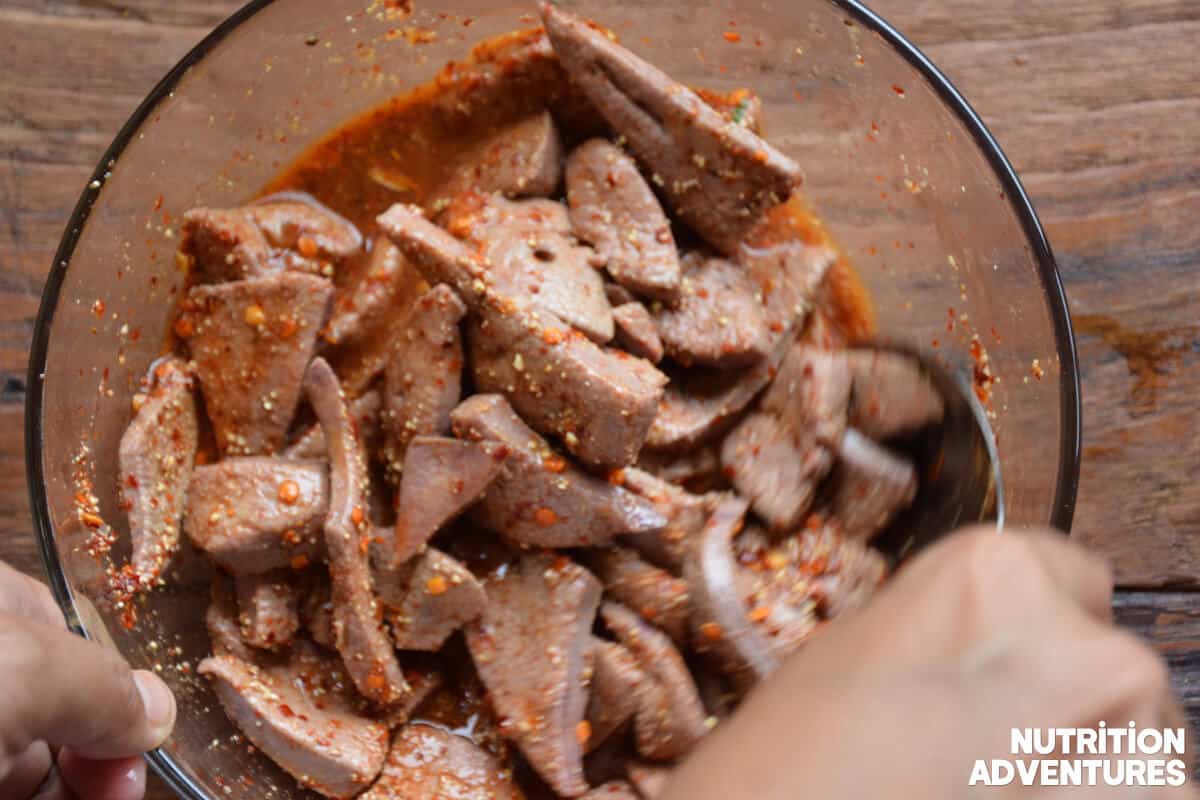 Authentic Isan Style Larb Recipe Finished
That's it!
It's pretty easy, eh?
BTW did you know it's often spelled liver larb or liver larp?
Here's what it will look like when you mix the sauce, liver, and veggies all together: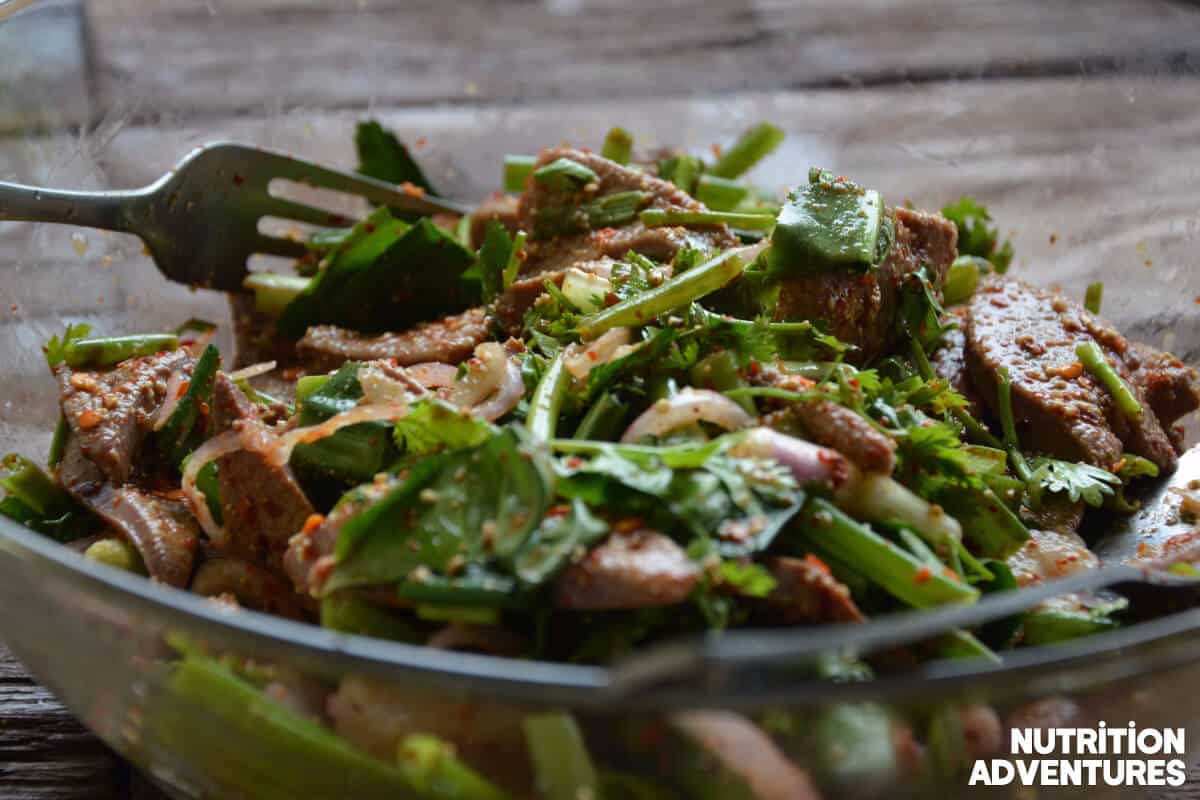 It's like a Thai liver larb salad.
Healthy Laab Mod Details: Traditionally, this dish uses rice powder and organic palm sugar. One successful way to get around these 2 ingredients is to use a basic stevia tea extract with ground sesame instead of rice powder. This will give it a slightly different result, but it will still be very tasty if you blend the right amount of stevia tea in.
If you cut the organic palm sugar in half, this Thai Larb recipe is still a low carb dish.
Liver is a superfood full of amazing nutrients. It can be made without the rice powder and palm sugar, but the organic palm sugar is the authentic way.
I'd try to leave the sugar and rice powder in.
Rice powder is easier replaced as its role is to create a slightly grainy texture. We use ground sesame seeds to replace the rice powder. This was a proper substitute, but rice powder gives a better grainy consistency Thai Liver Larb should have. We have more low carb Thai recipes on the blog for you to choose from as well.
Print
Pork Liver Thai Larb Recipe (Tab Wan) Recipe Card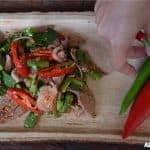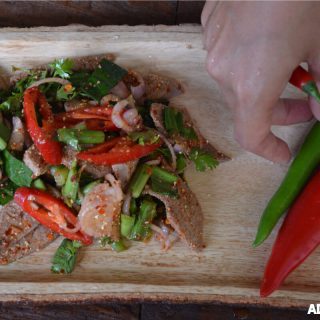 Here she is… the pork liver laab (not pronounced "larb" or "larp").
We hope you enjoy this quick and easy superfood recipe.
Author:
Prep Time:

5 minutes

Cook Time:

10 minutes

Total Time:

15 minutes

Yield:

2 people

Category:

Paleo Recipes

Method:

Blanch

Cuisine:

Thai
Ingredients
Liver, 300 grams
Limes, 3 fresh squeezed
Culantro, 30 grams
Cilantro (coriander), 48 grams
Green onion, 26 grams
Shallots, 3 shallots (76 grams)
Organic Palm Sugar (replace with stevia or honey for lower carb), 20 grams
Rice powder (replace with white rice powder or powdered sesame for lower carb), 18 grams
Dry chili flakes, 7 grams
Fish sauce, 22 grams
Instructions
First, you must slice and dice the ingredients – all of them. You will slice the liver as well as the vegetables while separately creating the laab sauce in a side bowl.
Slice all the ingredients: liver, vegetables, and limes
Start boiling the water
Make the sauce. Put together the palm sugar, rice powder, fish sauce and chili flakes and squeeze all the fresh lime wedges in as well. Mix it all together with a spoon. It should look similar to the red sauce pictured above.
Blanche the liver. Once the water pot is boiling, take it off the pot and let it sit for 30 seconds before putting the raw liver in. Wait 45 seconds and then strain (image above).
Put it all together. At this point you have 3 things – the sauce that's waiting, the chopped vegetables, and the freshly cooked liver. Put them all together in a bowl and mix together.
Enjoy!
The red and green peppers you see in the image are 100% optional (I added them in because it made the picture look better:).
Authentic laab has no red and green peppers, just the veggies that we chopped up before hand.
Notes
If you have any questions, please send me a message or comment below.
We made a video for this blog post!
It's a good way to see how to make this larb recipe with video and we have so many pictures that I just put them together and made a video from them. It might or might not be more convenient for you, but it's just this blog post copied over to video form, so you can follow along with this Thai larb recipe video instead.
Thai Larb Recipe Video:
Free PDF for You: Get Our Top 3 Thai Keto Recipes
Subscribe to our newsletter to receive new recipes we make, blog updates and more & get instant access to the free PDF:
Thanks!
Something went wrong.