One of the best ways to enjoy hard boiled eggs, outside of deviled eggs, is with this Son In Law Eggs recipe. Below are step-by-step image directions that make it easy for you to follow along.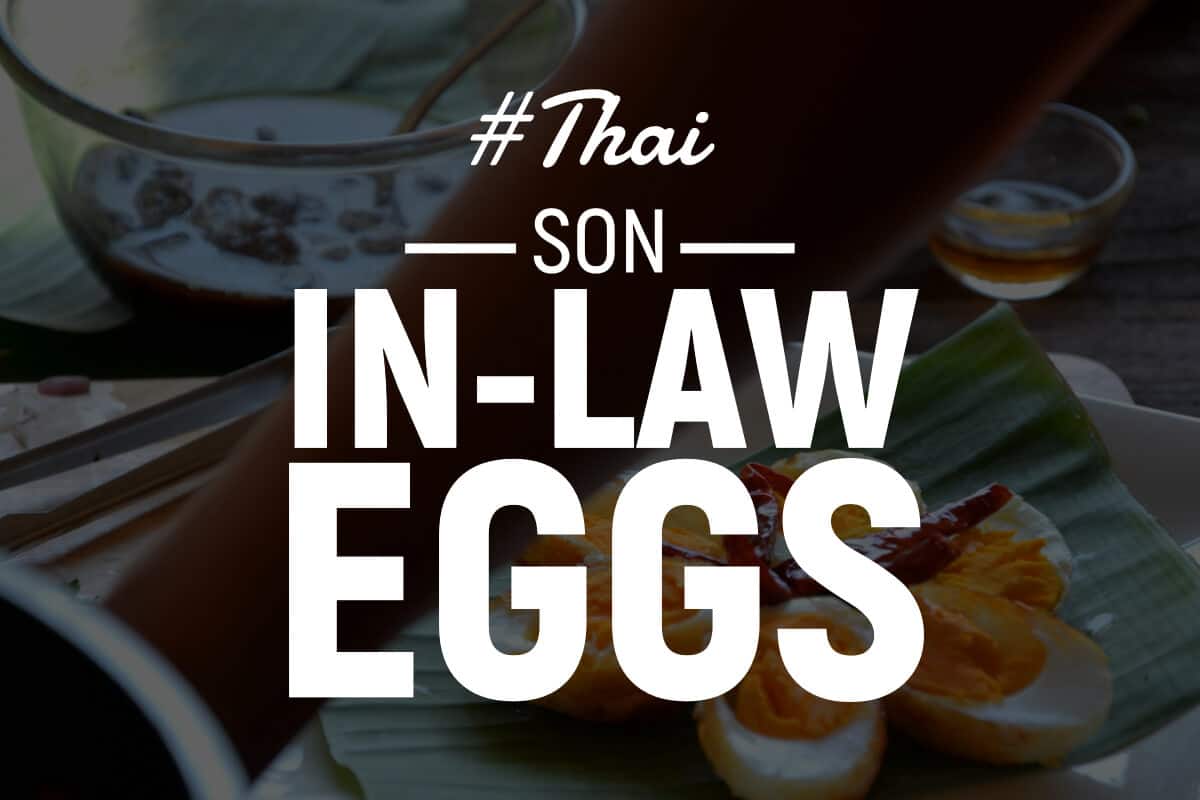 These Son-In-Law Eggs are a traditional Thai recipe popular amongst the kids. But that's not what gives it the name.
Its name has a funny (and ominous) backstory….
---
Why The Name "Son In Law Eggs"?
As the story has it, the Son In Law Eggs recipe gets its name from being the dish a mother serves to their future son-in-law as a way to say,
If you don't take care of my daughter, then these sweet and spicy hard boiled eggs won't come from chicken eggs next time…
You can let your imagination run with that one!
I'm in the position of soon having a Thai mother-in-law, so I hope she never serves me this dish.
These Son-In-Law Eggs pack a flavor punch both sweet and sour thanks to the tamarind sauce and stevia (or sugar) used to make it. We made this tamarind sauce make by squeezing tamarind in warm water and the stevia tea from dried stevia leaves. The coconut aminos (instead of soy sauce) and fish sauce finish off its powerfully, zesty taste.
---
What diets is it suitable for?
It's a perfect dish for all the best healthy diets and lifestyles out there.
It's Paleo worthy
A good Keto breakfast or appetizer
It's a good low carb breakfast recipe
100% gluten-free.
Now onto the recipe step by step instructions with images.
---
Son In Law Eggs Recipe Ingredients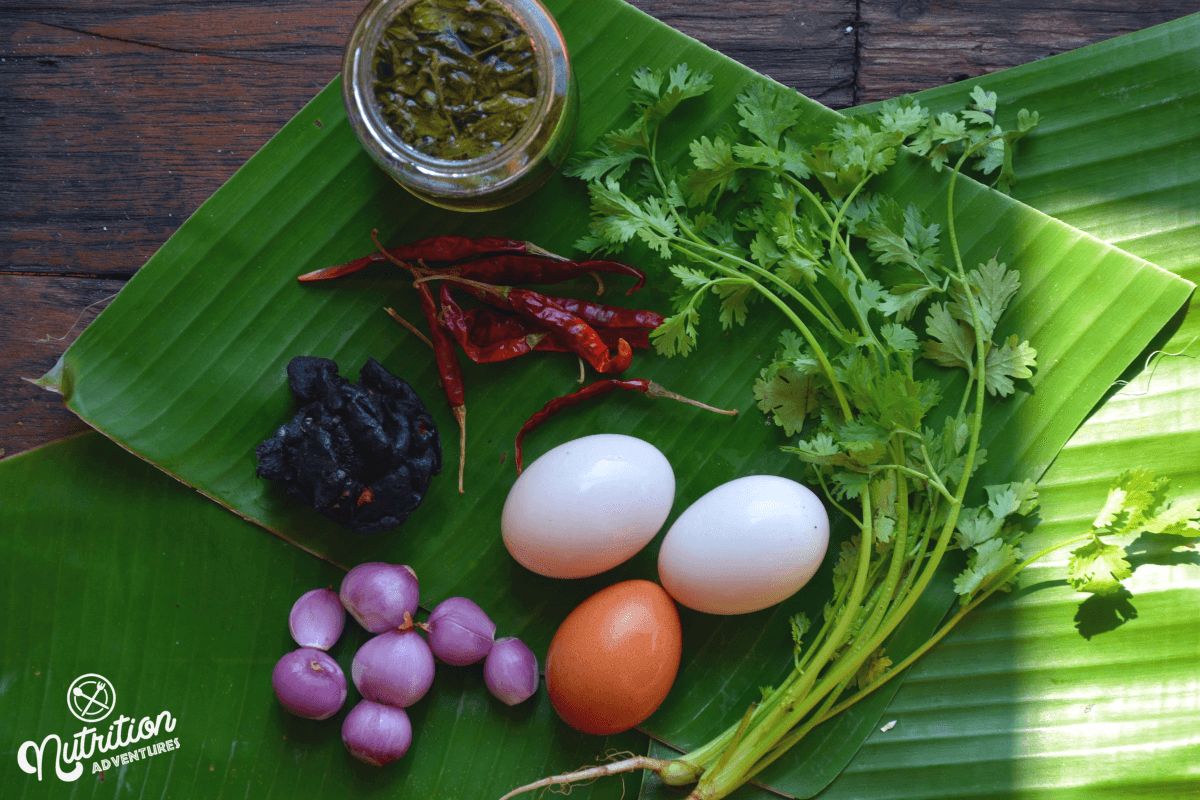 It doesn't have too many ingredients. Here they are listed out:
Eggs
Shallots
Cilantro
Red chili peppers
Stevia leaves (traditional recipe uses organic palm sugar – we use a freshly brewed stevia tea instead)
Coconut aminos (instead of soy sauce – not pictured above)
Tamarind paste (concentrated Tamarind fruit also work great)
Here are its main ingredients that might or might not be easily found at your local market or grocery store. They're all easily attained online:
[amazon box="B00E5VSCQO,B00J8ON86M,B01N571G5V" grid="3″]
Now onto the cooking directions:
---
Step 1. Hard Boil Eggs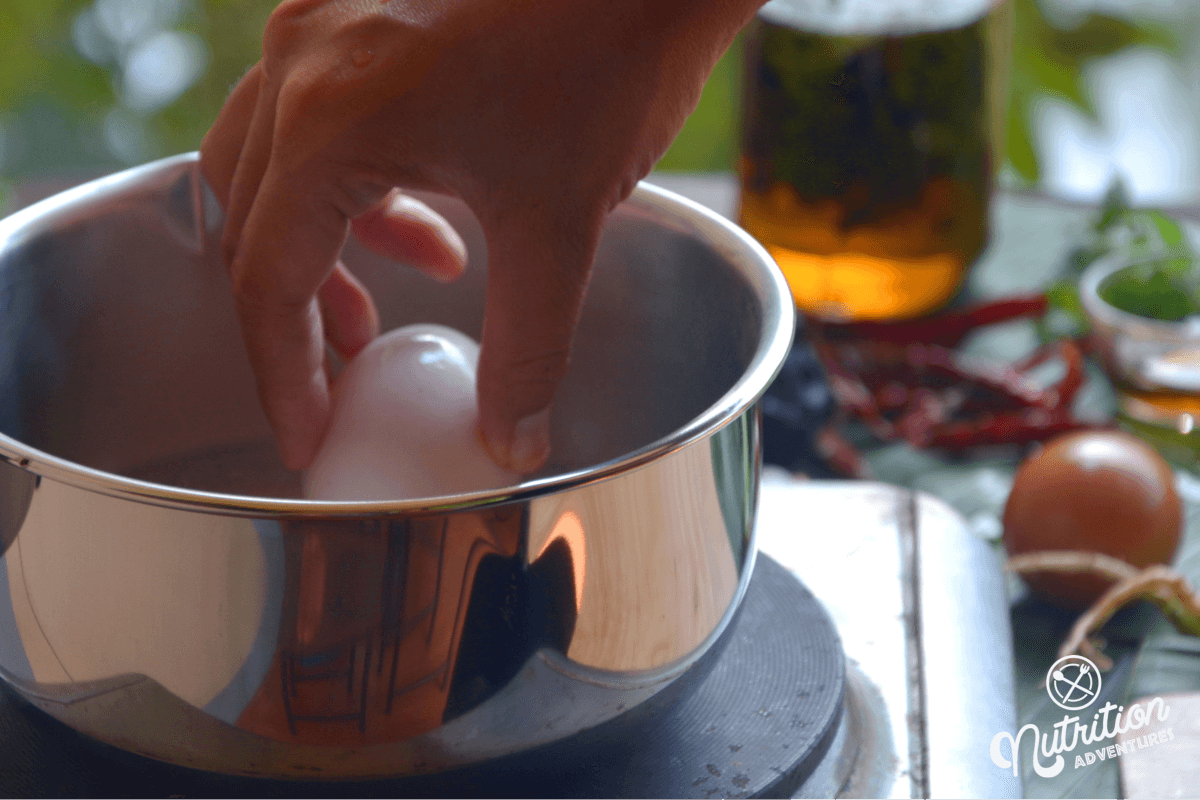 While your eggs are boiling, chop the shallots and the cilantro.
Chop the shallots very fine
Give the cilantro a good chopping too
One your eggs are hardboiled, you need to peel off their shells and then roll them around in hot popping coconut oil or lard for this next step:
---
Step 2. Brown the hard boiled eggs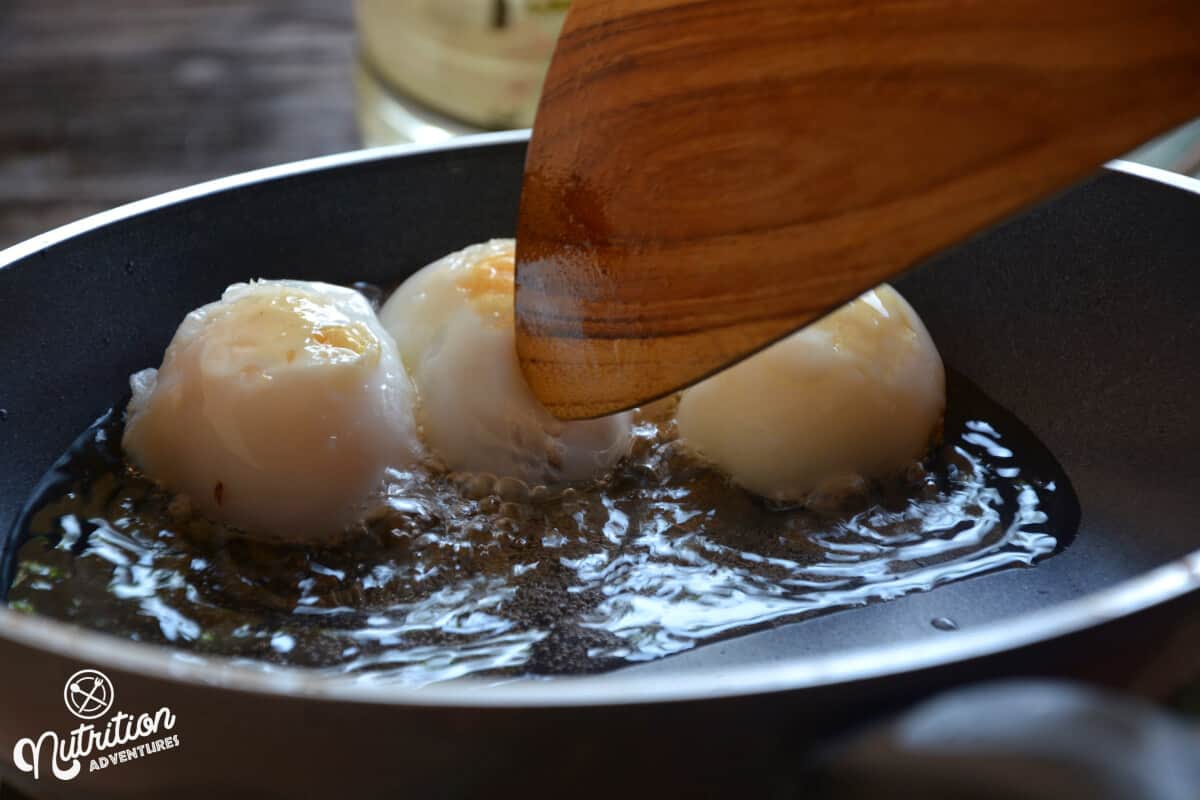 After you boil the eggs, roll them around in coconut oil in your saucepan. This is actually the trickiest part of the whole recipe.
We use coconut oil to do this.
Traditionally, pig fat or lard is used.
Today, if you find this at a restaurant, chances are they will use canola oil (and sugar & soy sauce for the tamarind sauce). We prefer the sugar-free version cooked in healthy oils or lard. That's what this recipe is.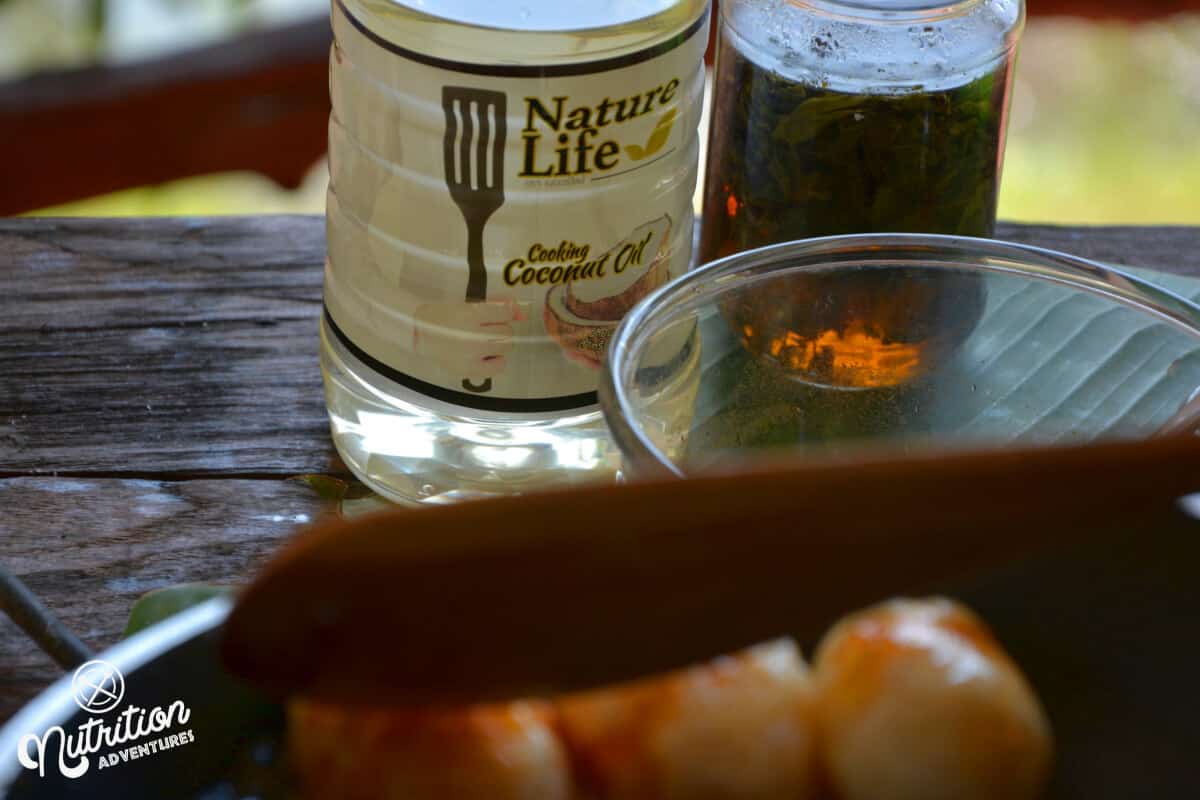 You can brown to preference. Some prefer more brown some less. High heat is best to brown the outside without overcooking the yolks inside. You have to roll the peeled hard boiled eggs in coconut oil to give them that browning the authentic Thai recipe uses.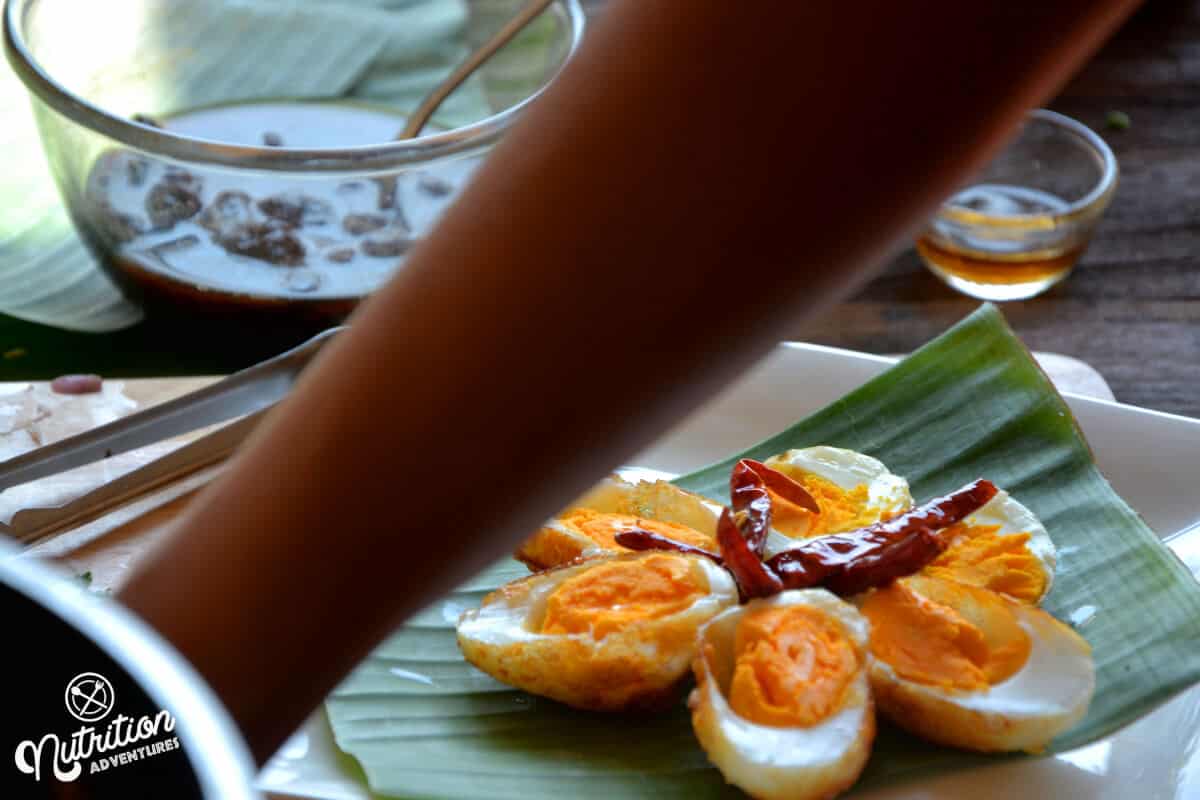 They should look something like this image above.
Slice the eggs in half and set them on the plate you will serve the dish on.
The crispy shallots and chili topping is next:
---
Step 3. Make Crispy Shallot-Chili Pepper Topping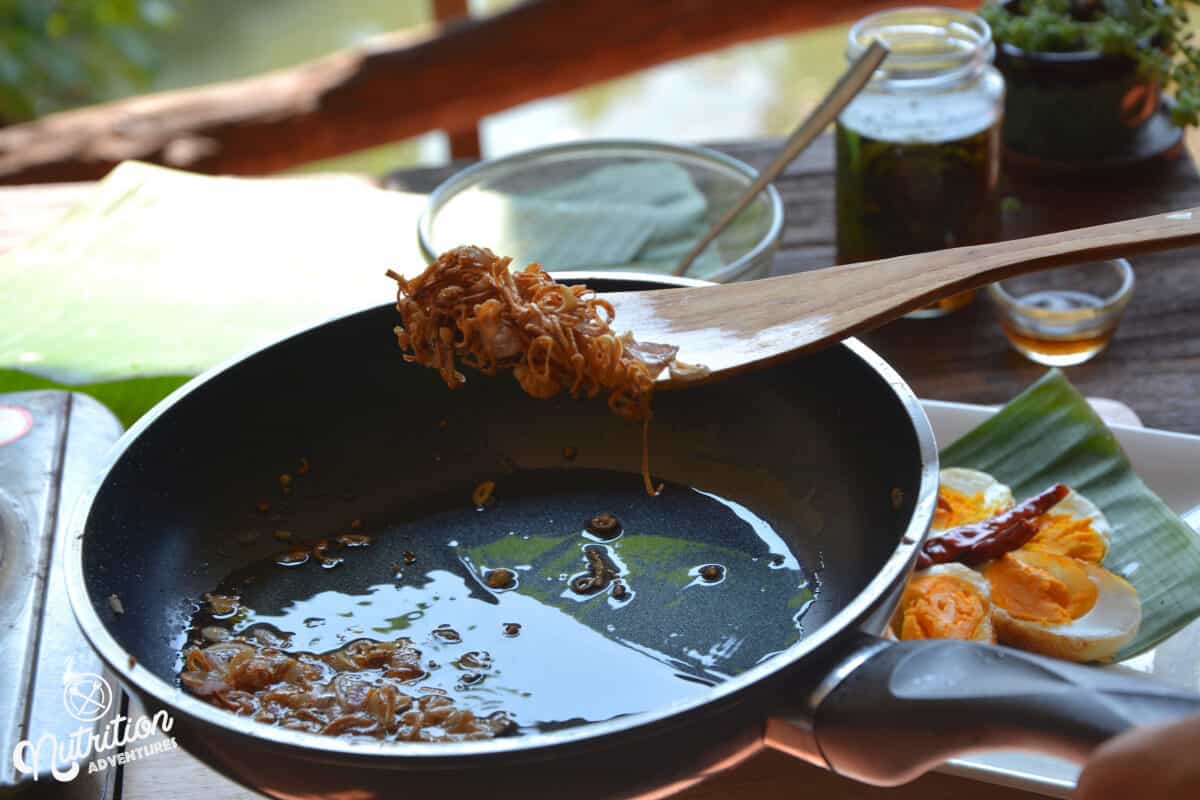 Use the same oil in your saucepan just used to brown the de-shelled eggs, and place in the sliced shallots.
After the shallots have been cooking for a couple minutes and start to brown, add in the red whole chili peppers.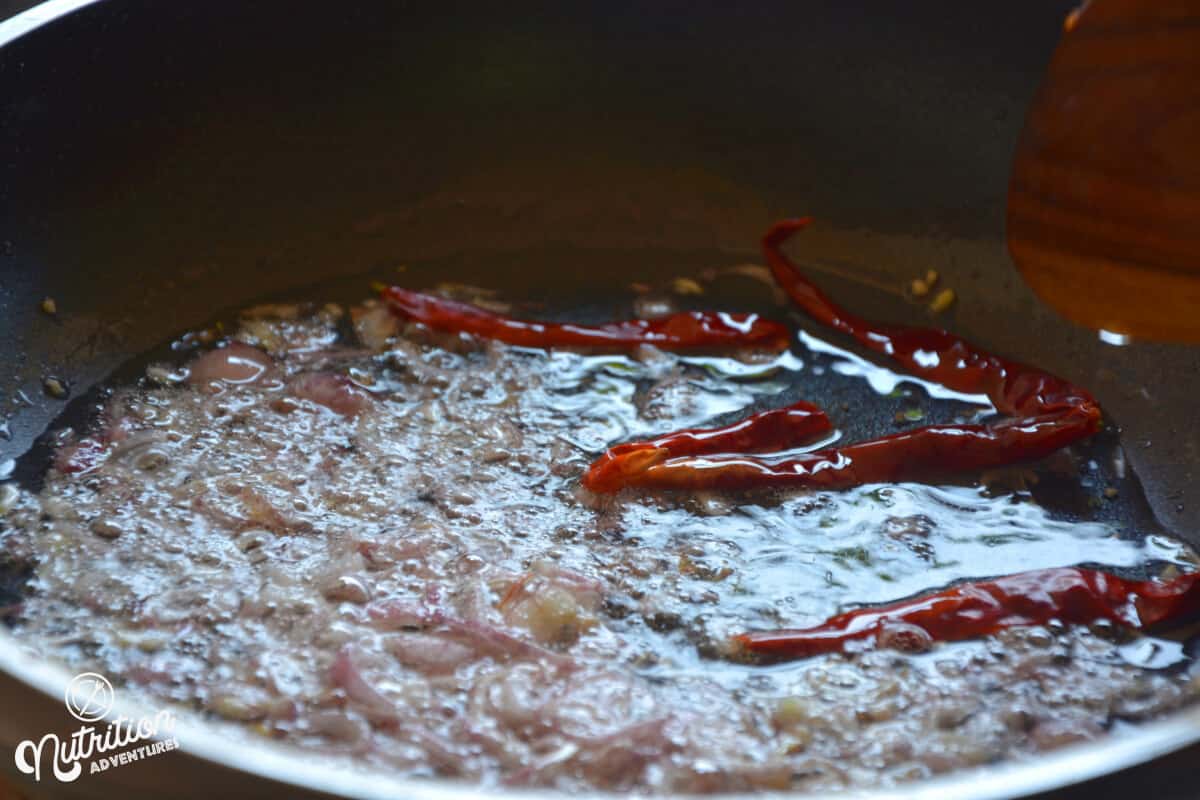 This is what the topping looks like maybe 50% through it's cooking. You can cook to preference, but the traditional way is to get the shallots fully cooked and crispy.
Next, pluck out the chili peppers and place them on top of the freshly sliced hardboiled eggs. Then after that, strain the crispy shallots and place those over the chili peppers, like so: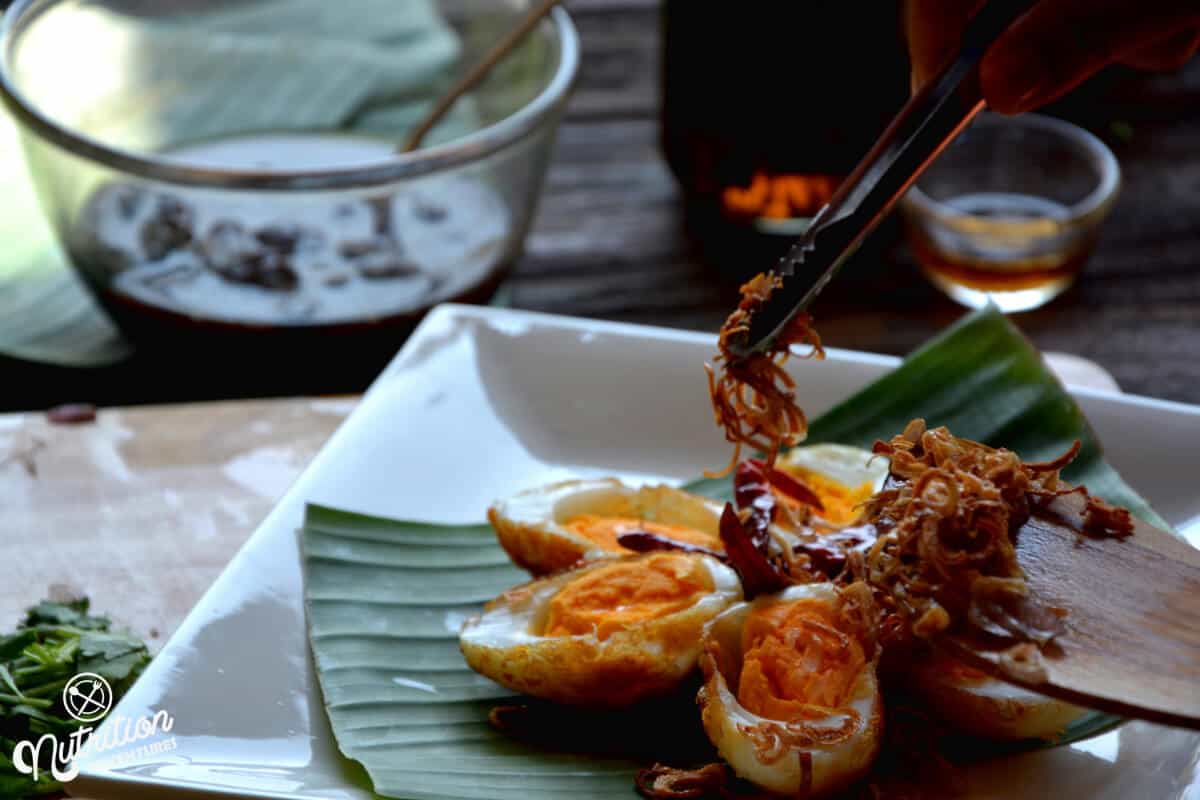 Next, the tamarind sauce. Tamarind fruit (tamarind paste works best) is a very important ingredient for the son in law eggs recipe.
Tamarind is the unique factor of this threatening breakfast recipe that gives it such an exciting flavor.
---
Step 4. Make The Tamarind Sauce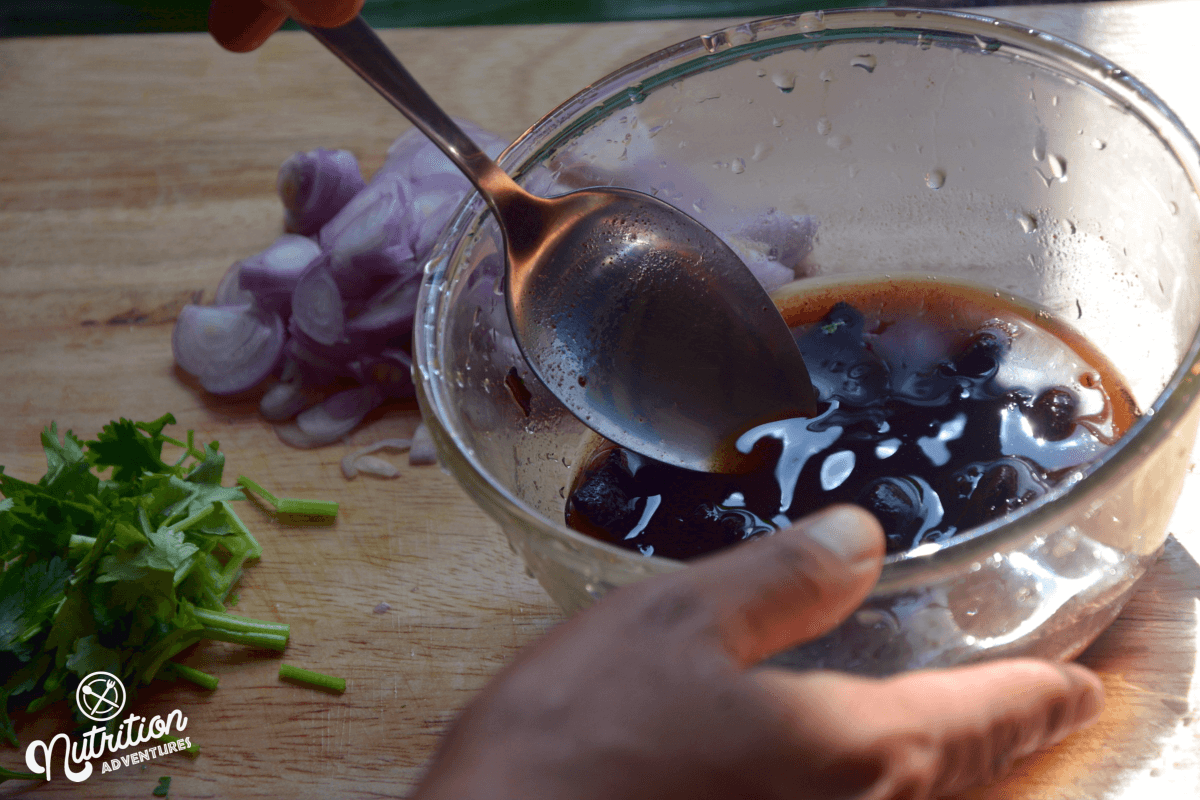 First, smash the tamarind fruit in a bowl filled with hot/warm water.
After you've extracted a lot of the flavor from the tamarind, you'll use the water only.
Note: don't throw away the leftover tamarind because it's still full of great flavor and is great to use for something else like a tamarind fruit sauce. Tamarind is full of good fibers and possesses other digestive health benefits as well. I'll make another recipe blog post to share different ways to use tamarind and link it here in the future.
Next, take the warm "tamarind water" and put it in a saucepan over the stove or hot plate.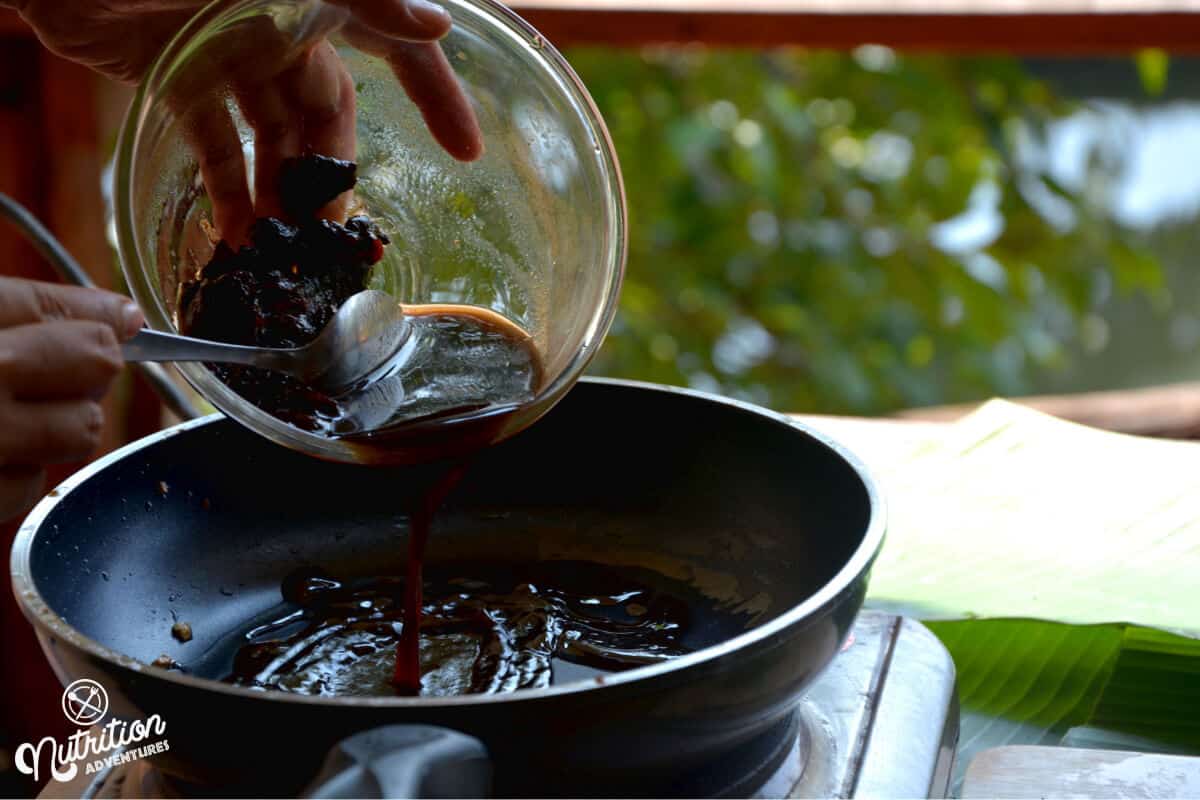 Then put in the stevia tea after a minute.
A tablespoon or two of this tea stevia sweetener is good.
You can add more later if the desired sweetness is not there.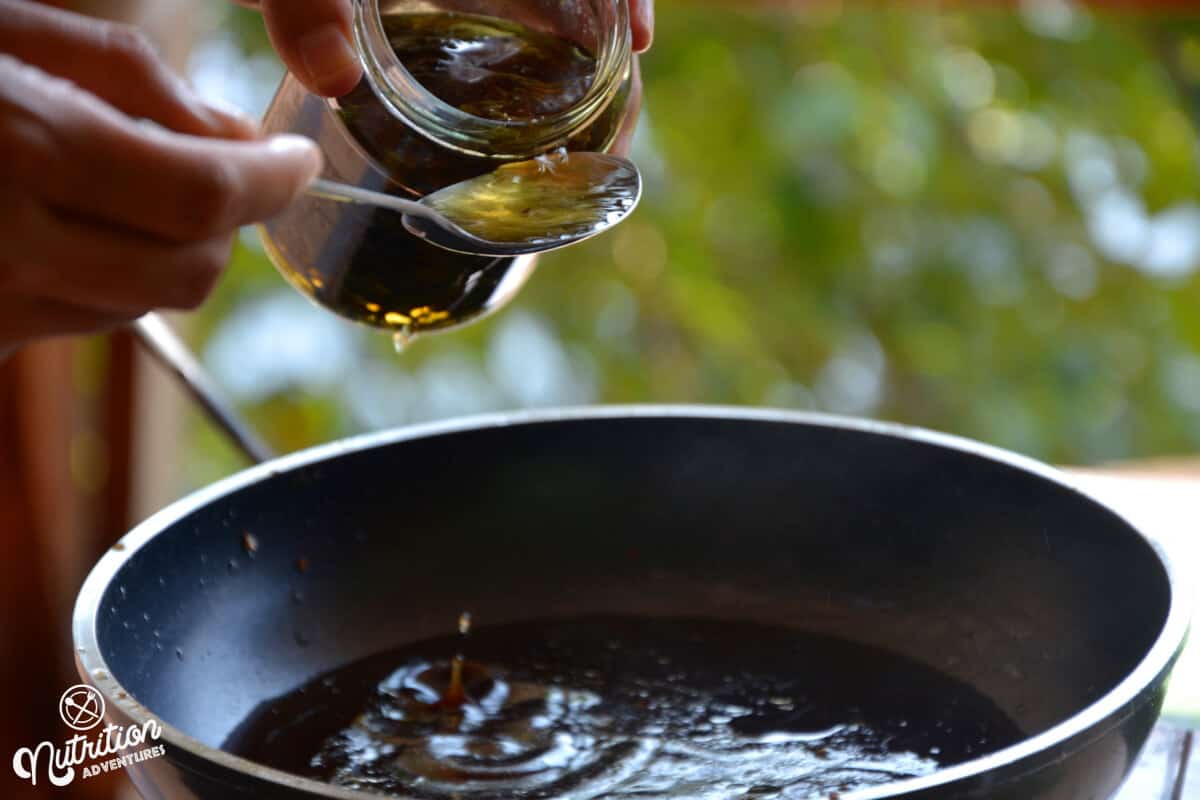 Then put in the rest of the ingredients:
coconut aminos
an optional touch of fish sauce*
Why coconut aminos?
Coconut aminos is a perfect soy sauce alternative for those who can't eat gluten. I prefer it over soy sauce. We have a blog post here about soy sauce vs coconut aminos.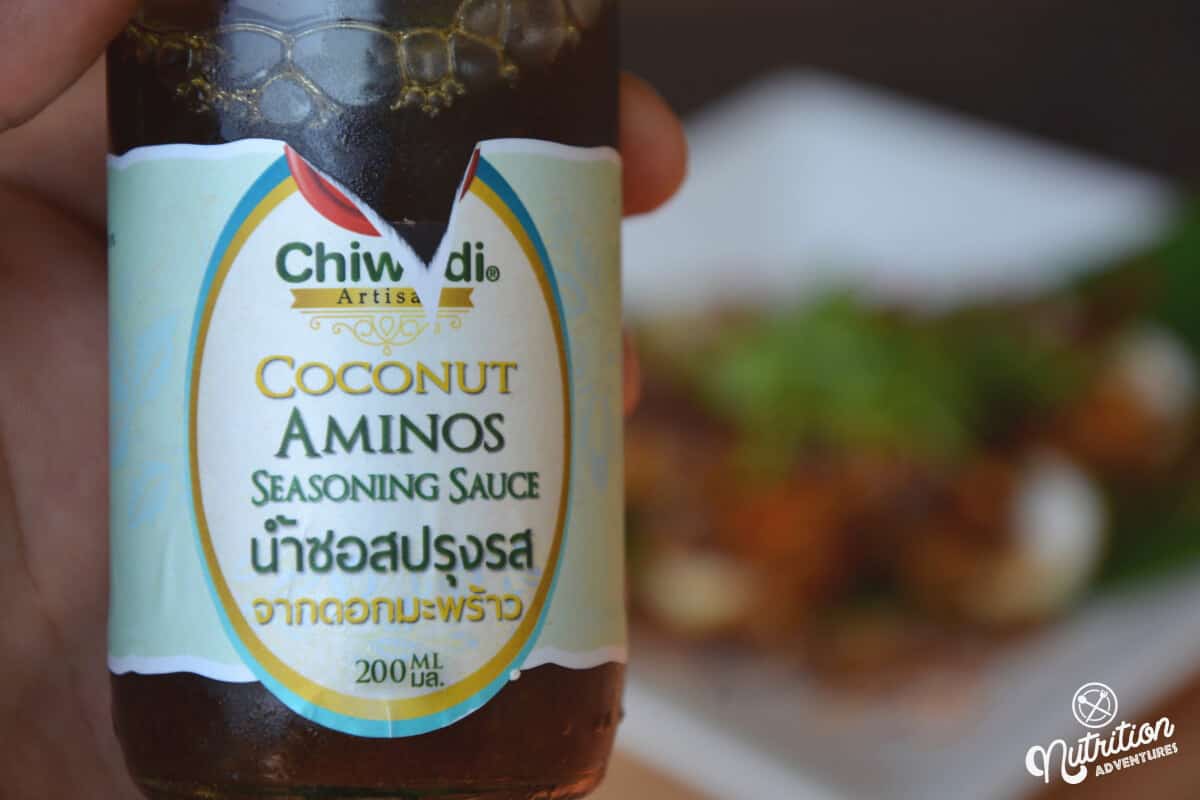 Many authentic Thai recipes (like these son in law eggs) rely on soy sauce. We like to use coconut aminos almost every time as an ideal replacement.
Soy is said to contain phytoestrogens; plant estrogen "endocrine disruptors" that mimic biological estrogen and are associated with hormonal disease & fertility problems.
Most soy sauce in the US has genetically modified ingredients. PLUS, its commercial production produces something similar to MSG.
Soy sauce is not gluten-free.
These are some of the reasons to opt for coconut aminos over soy. You can most likely find it easily at your local market.
Last step of this traditional Thai recipe… drizzle it with the tamarind sauce you just made: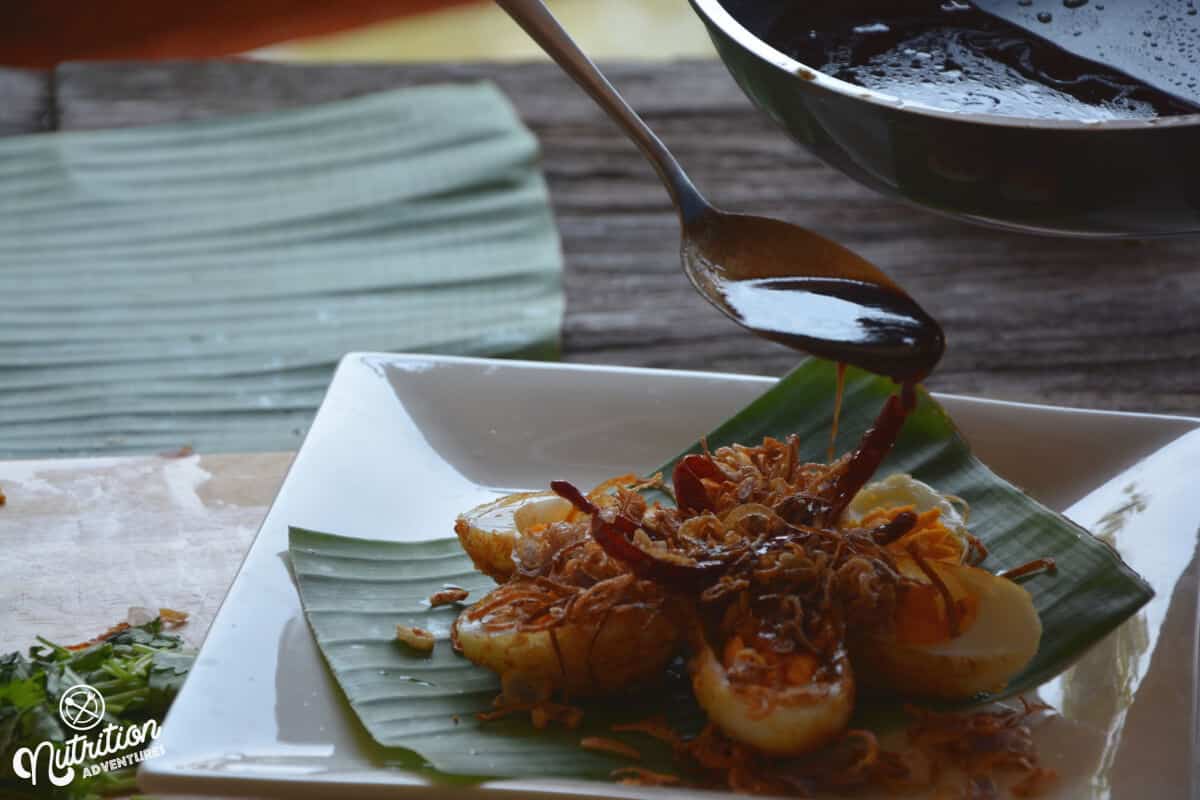 And that's about all there is to the Son In Law Eggs recipe!
You wouldn't think it, but it's pretty quick and easy to make if you have all the ingredients there handy.
---
Step 5. Garnish & Serve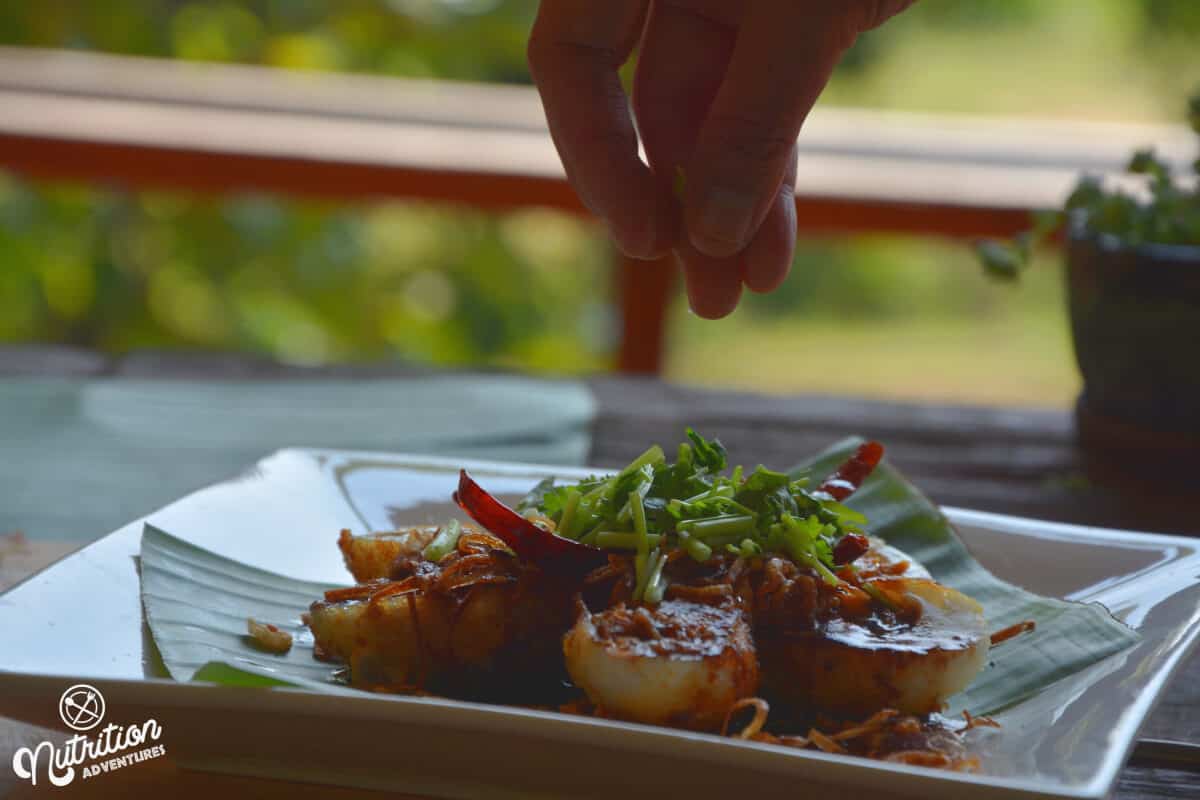 It's a fun one to make.
All in all, it takes around 25 minutes with boil and chopping time included.
FYI: If you ask for Son In Law Eggs here in Thailand they will have no idea what you're asking for.
I wouldn't call it a common street food delicacy, but it is quite common in northern Thailand if you know the name in Thai (Kai Loug Kheu) and ask for it.
Here is the final result of the hardboiled Thai recipe: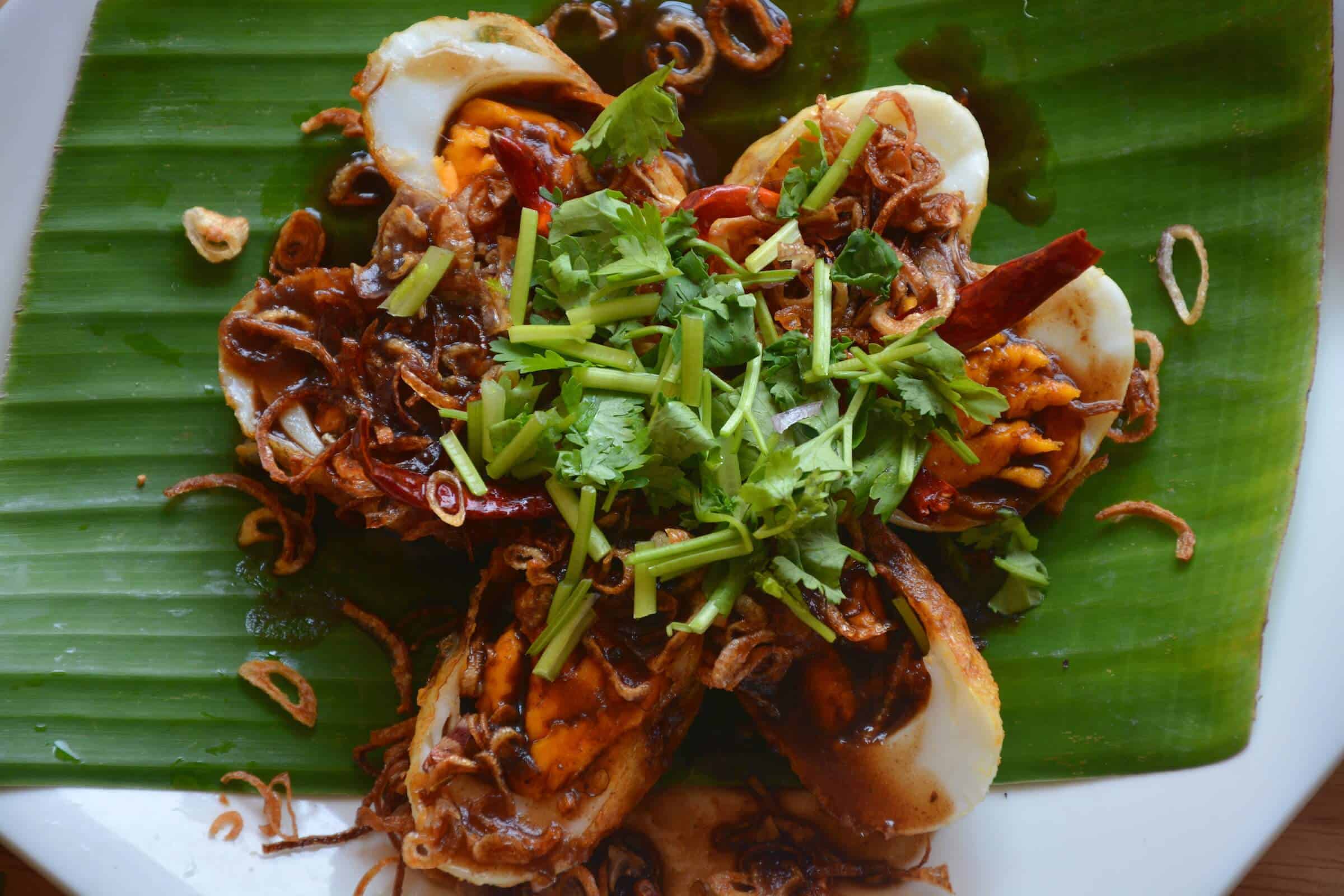 Enjoy! I did very much.
Considering I'm in this exact position right now (my fiance is Thai), I'm feeling safe because my soon to be Thai mother-in-law hasn't made these for me yet. I appreciate my manhood and hope to keep it alive, well and virile!
Luckily, her mom doesn't have the chance to cook for me too often as we're both quite busy with our lives, but occasionally she does cook Ling and I some good home-cooked Northern Thai food… so I'm not out of the woods yet!
If you're looking for a new style of hardboiled eggs to cook up at home, or for a new tamarind sauce recipe, these Son In Law Eggs are a good one to try out.
---
Son In Law Eggs Recipe Card:
Son In Law Eggs Recipe (Kai Loug Kheu) Recipe Card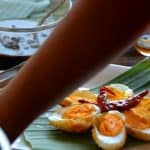 A powerful tasting sweet and sour traditional Thai breakfast.
Son In Law Eggs Backstory:
It gets its name from being the dish a mother serves to her future son-in-law as a warning. The warning says that if you treat her daughter bad, then these eggs will be your precious eggs and not chicken eggs next time! A scary thought indeed…
Needless to say, this has scared many a Thai husband straight over the centuries here in Thailand. Or at least I think it has. Works for me.
Eggs
Shallots
Coconut aminos
Stevia leaves (dried or fresh)
Coconut oil (or lard)
Water (for boiling eggs)
We substitute organic palm sugar with stevia tea freshly brewed from dried stevia leaves
We brown the hardboiled eggs with coconut oil or lard
We use coconut aminos instead of soy sauce
UP NEXT: Eggs with cucumber and chayote recipe, a perfect keto breakfast.
Thanks for coming by our blog! 
If you enjoyed this recipe, we'd appreciate a share or a comment below to let us know how you liked it after trying it out. 
Here are more of our recipes: