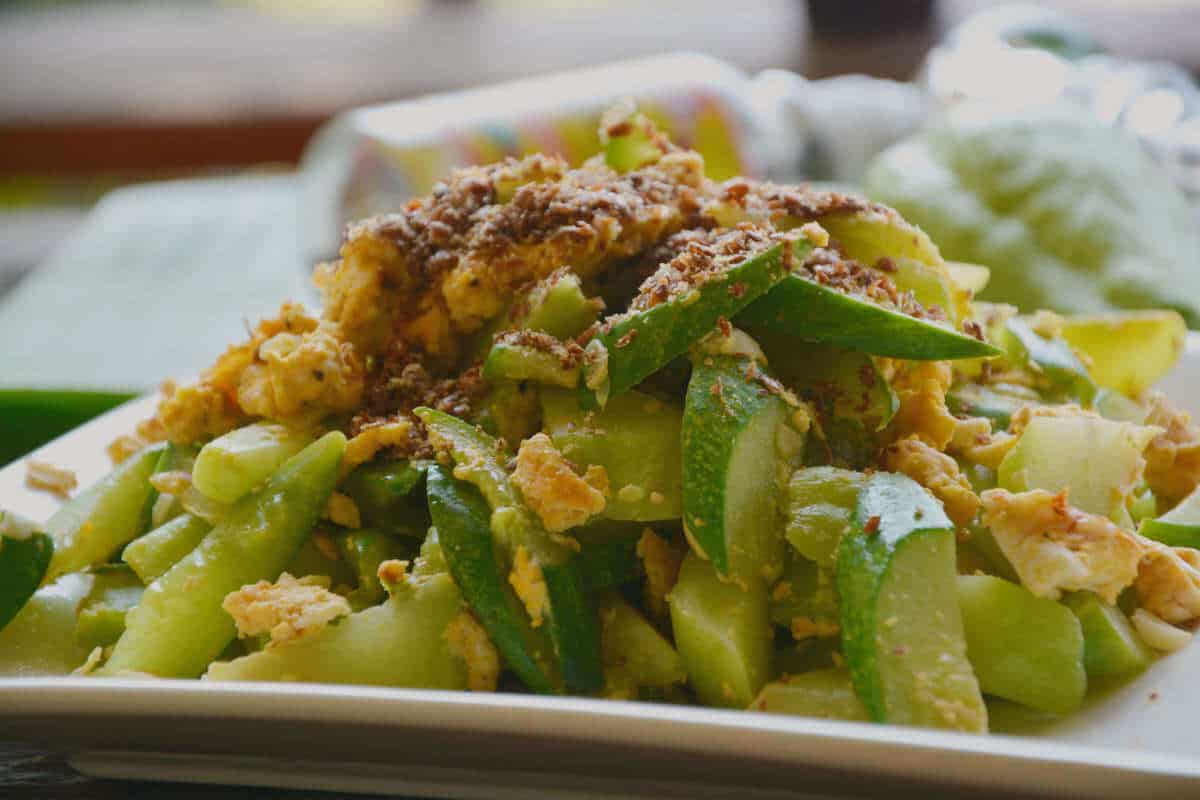 Eggs with Cucumber and Chayote: The Backstory
I first this Thai recipe on the small southern Thai island of Koh Lipe.
After a long day of snorkeling, I was starving.
I had a good breakfast, and now 15 hours later, I was ready to chow down.
The scrambled eggs and cucumber I figured a fast way to satisfy me while waiting for the real dinner.
So I ordered a coconut and the egg and cucumber with chayote,
Here I am, worn out and shady looking as ever,
But loving every bit of this coconut.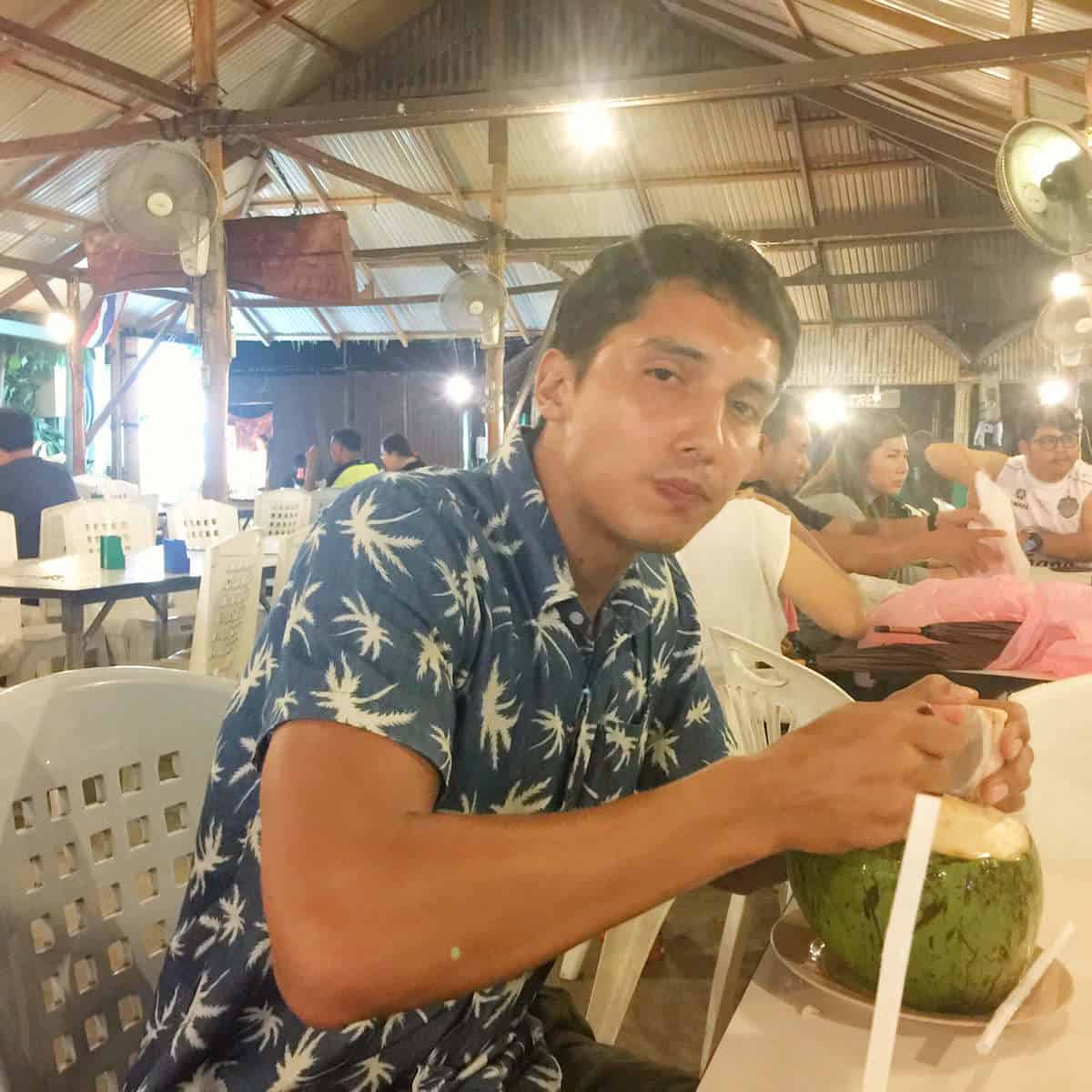 So on my table comes this interesting breakfast-looking dish,
But it's not a breakfast.
It's an any time of day meal.
Thailand is not huge on breakfasts,
But I like to eat this one as a breakfast.
Anyways, the eggs with cucumber and chayote stir fry left an unforgettable impression on me.
The warm cucumber and chayote mixed with the right amount of garlic, salt and eggs just made it happen.
It was cooked perfectly
It satisfied me so much, the fresh seafood and other dishes that came after I didn't even want it.
The sea snails were amazing though.
At this point, I was sold and now I had to recreate it.
2 dishes had this effect on me during this vacation.
The scrambled egg and cucumber with chayote
The fried som tam at our resort called Castaway Resort
So now this recipe is on the site.
And the fried som tam I'll leave for another until I accomplish its recreation to the T.
I'll get to the recipe now…
Eggs with Cucumber and Chayote Thai Stir Fry: The Recipe
Ingredients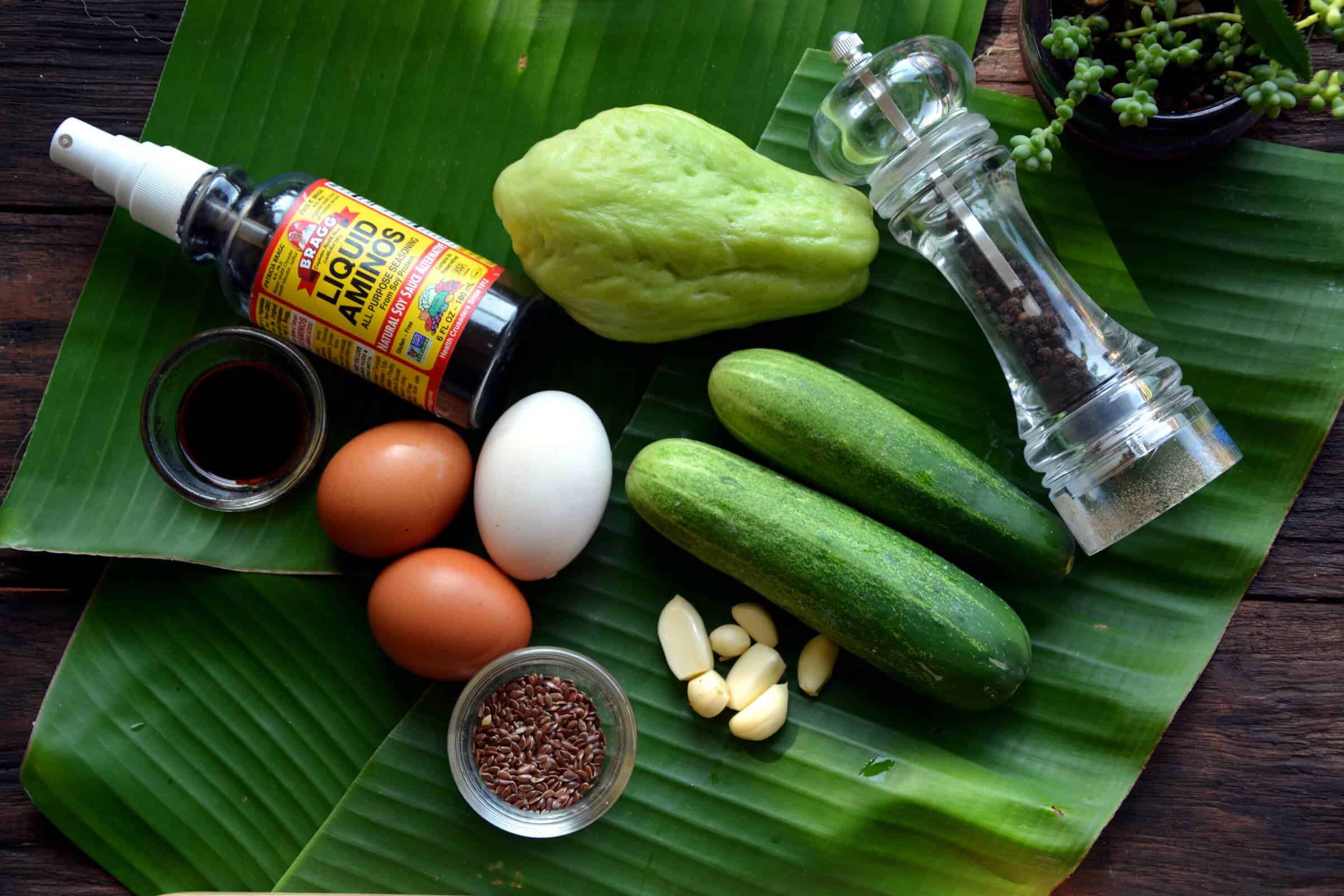 Not too many.
It's a quick one to make.
Chayote was something I'd never cooked with before.
It's a tropical vegetable.
Highly available here in Thailand, South America or more equatorial regions.
If you don't have access to fresh chayote, that's just fine.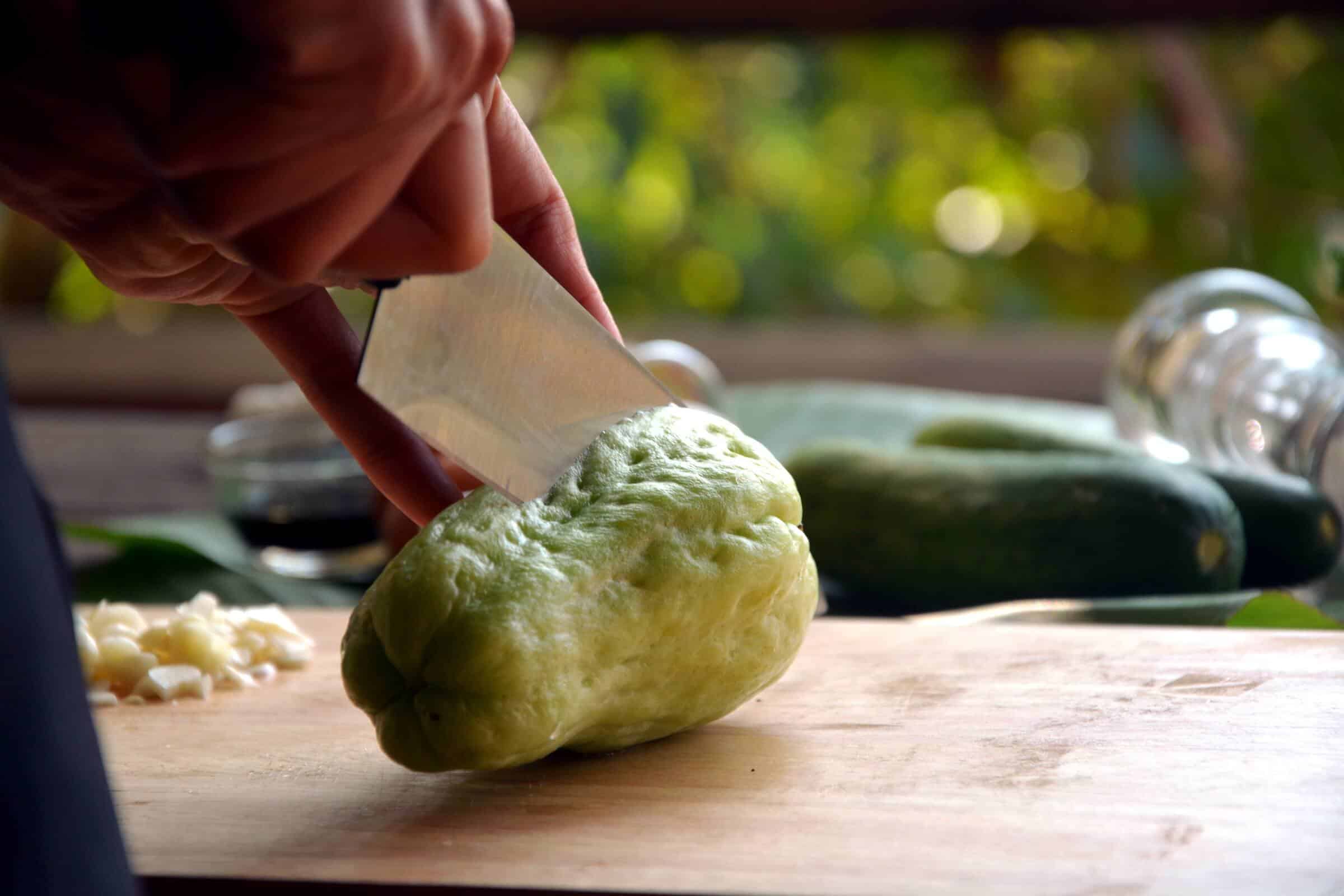 The amazing flavor can be had with just cucumber.
It's [almost] just as good with cucumber alone.
The only thing you'll miss out on is the slightly sweet juiciness of the warm chayote.
I'll include a few images of us slicing the chayote so you see what it looks like in case you do have it available to you.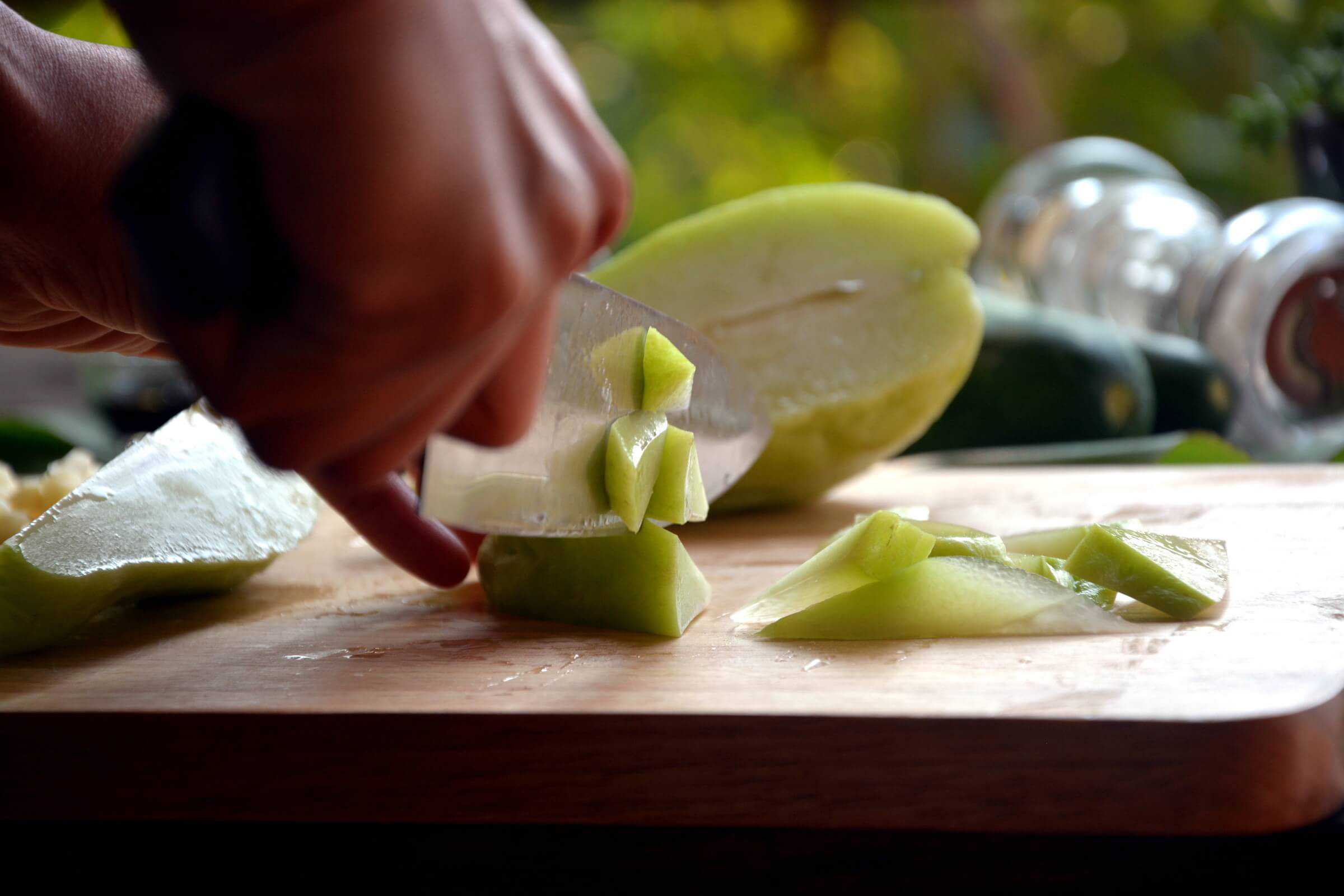 I always confused it with bitter gourd.
But after eating it,
That was a very bad comparison.
Bitter gourd is super bitter,
While chayote is more juicy and sweet.
So first, chop up all the veggies.
Step 1. Chop the vegetables.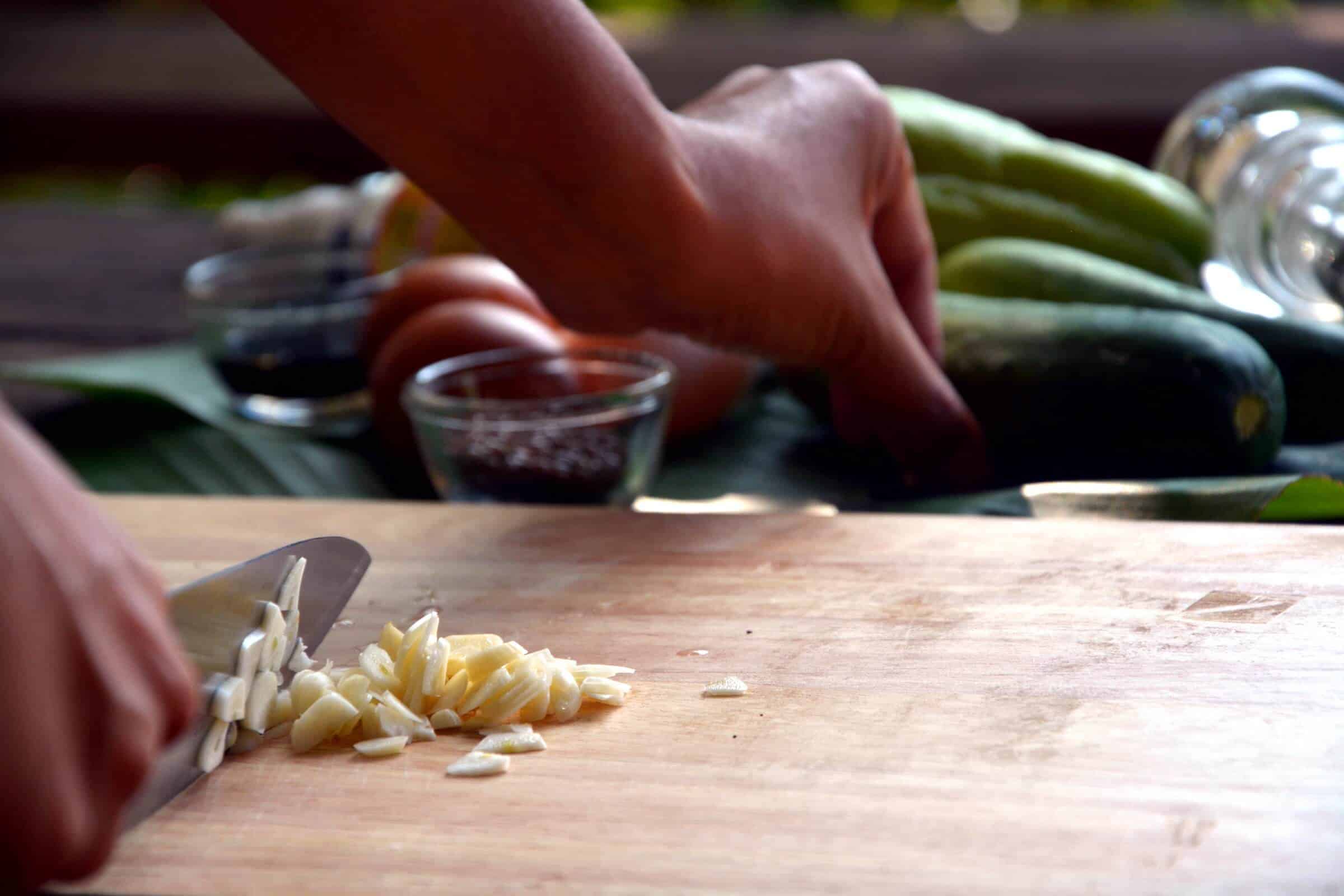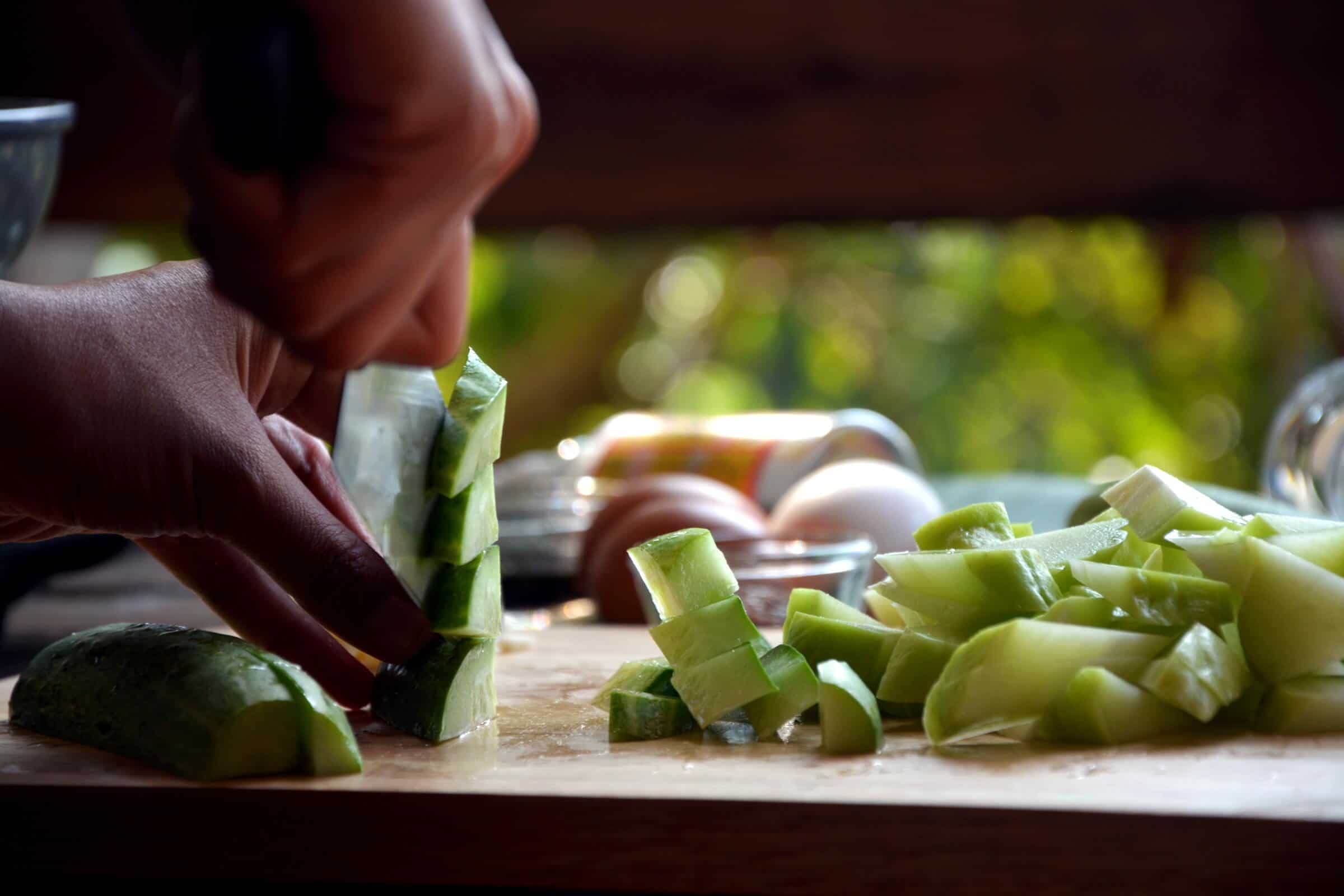 You can see how we chopped them in these pictures.
You don't want to slice them too thin.
Doing this would lose the juicy blocks that soak up the flavors while cooking.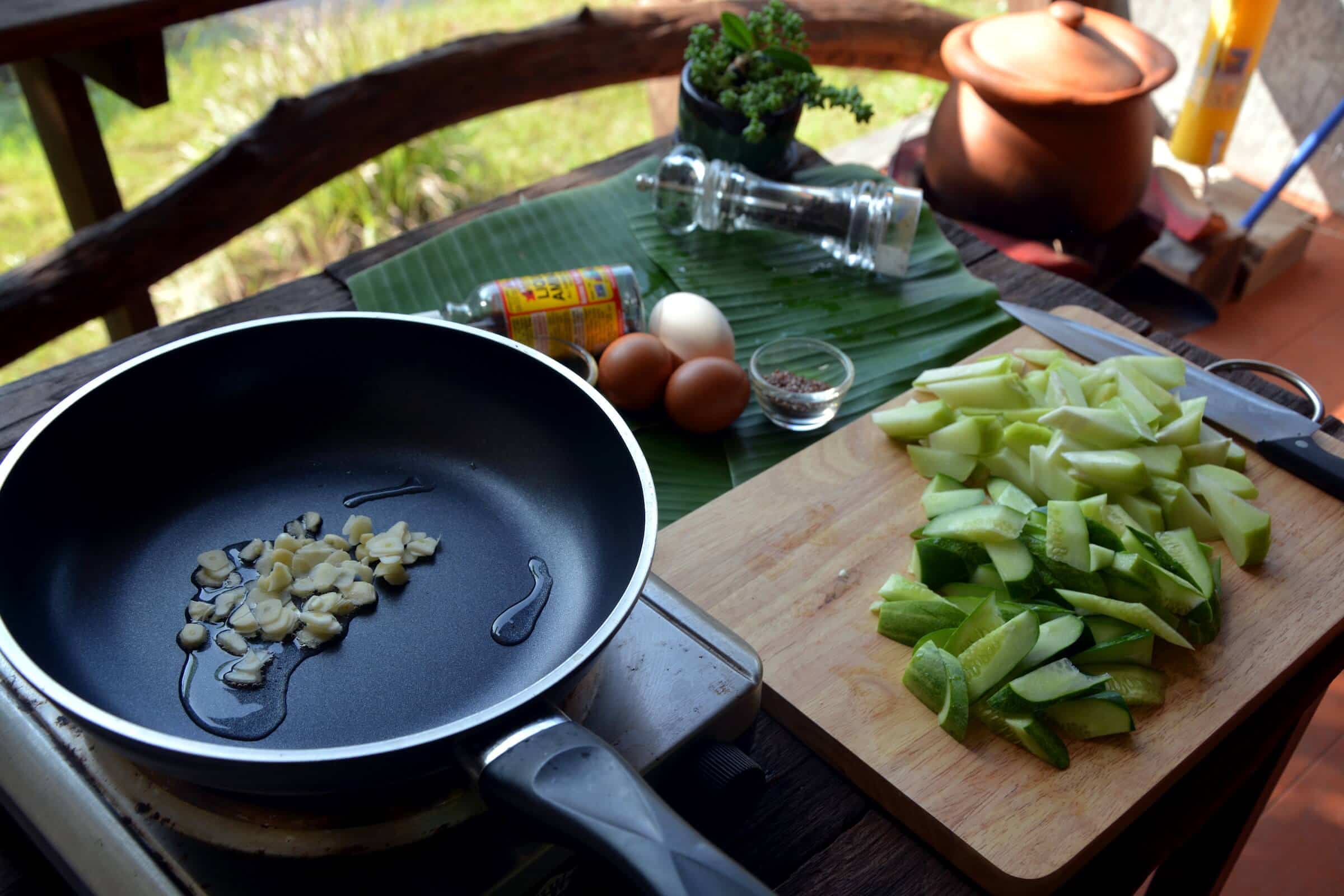 Once you have everything chopped, put the saute on the stove, hot plate, whatever you use..
..and start cooking the sliced garlic in coconut oil over low heat.
You should get the oil heating before plopping the sliced garlic in.
Coconut oil's smoke point is 350 degrees, so you can get it going without overheating cooking oil worries.
Step 2. Cook the garlic, then the vegetables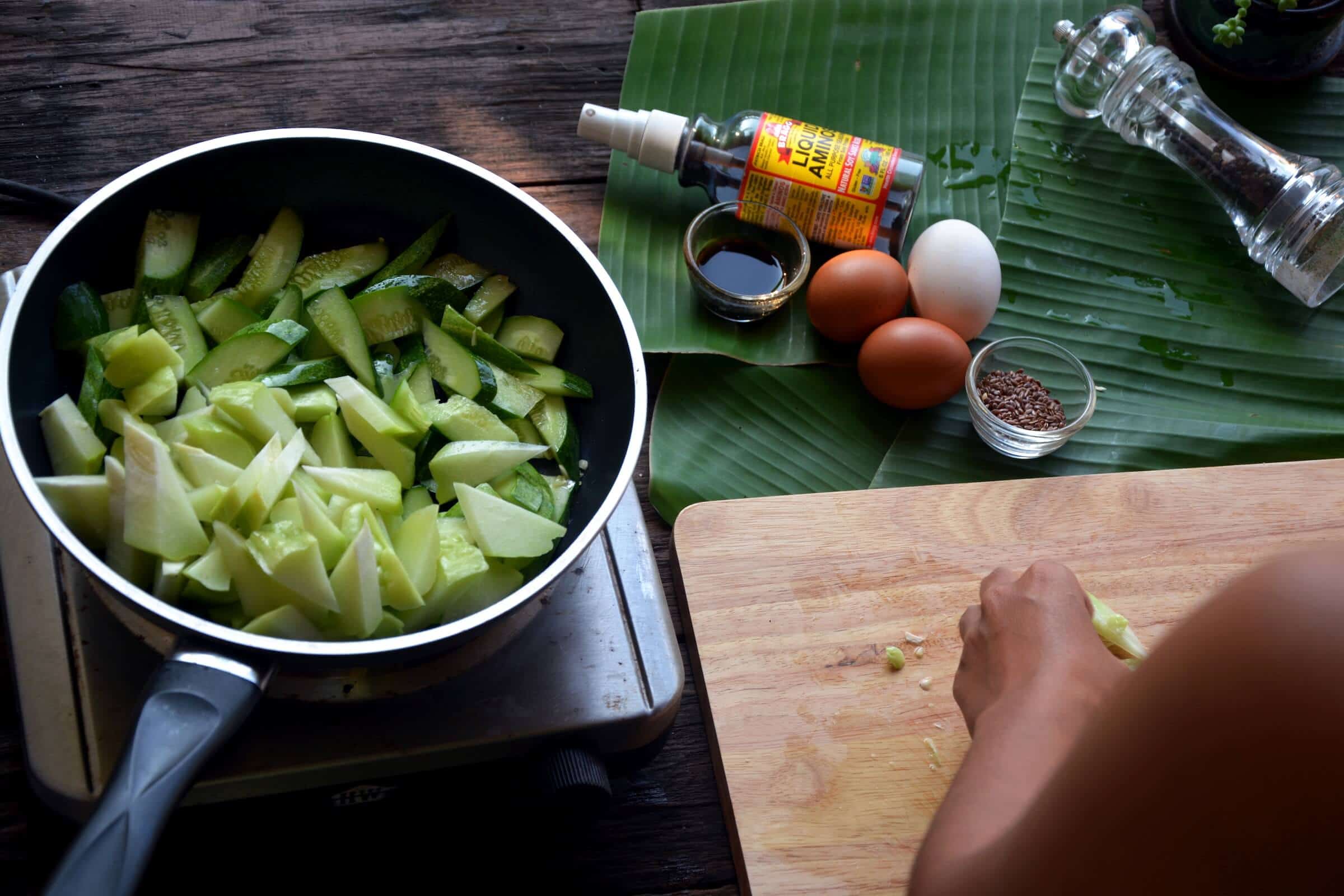 After the garlic is starting to simmer,
Put in the chopped chayote and cucumber.
Once you put them in,
Put black pepper on it to your liking.
Let the cucumber and chayote cook with the garlic and black pepper for maybe 5 minutes over low heat.
Once you see the cucumber or chayote soften up,
Make a little hole in the middle of the saute pan.
This is the secret to making the scrambled eggs look and taste authentic.
Step 3. Add the eggs like this
Create a crater and make sure the pan is oiled up enough with coconut oil,
Then drop in your eggs like so: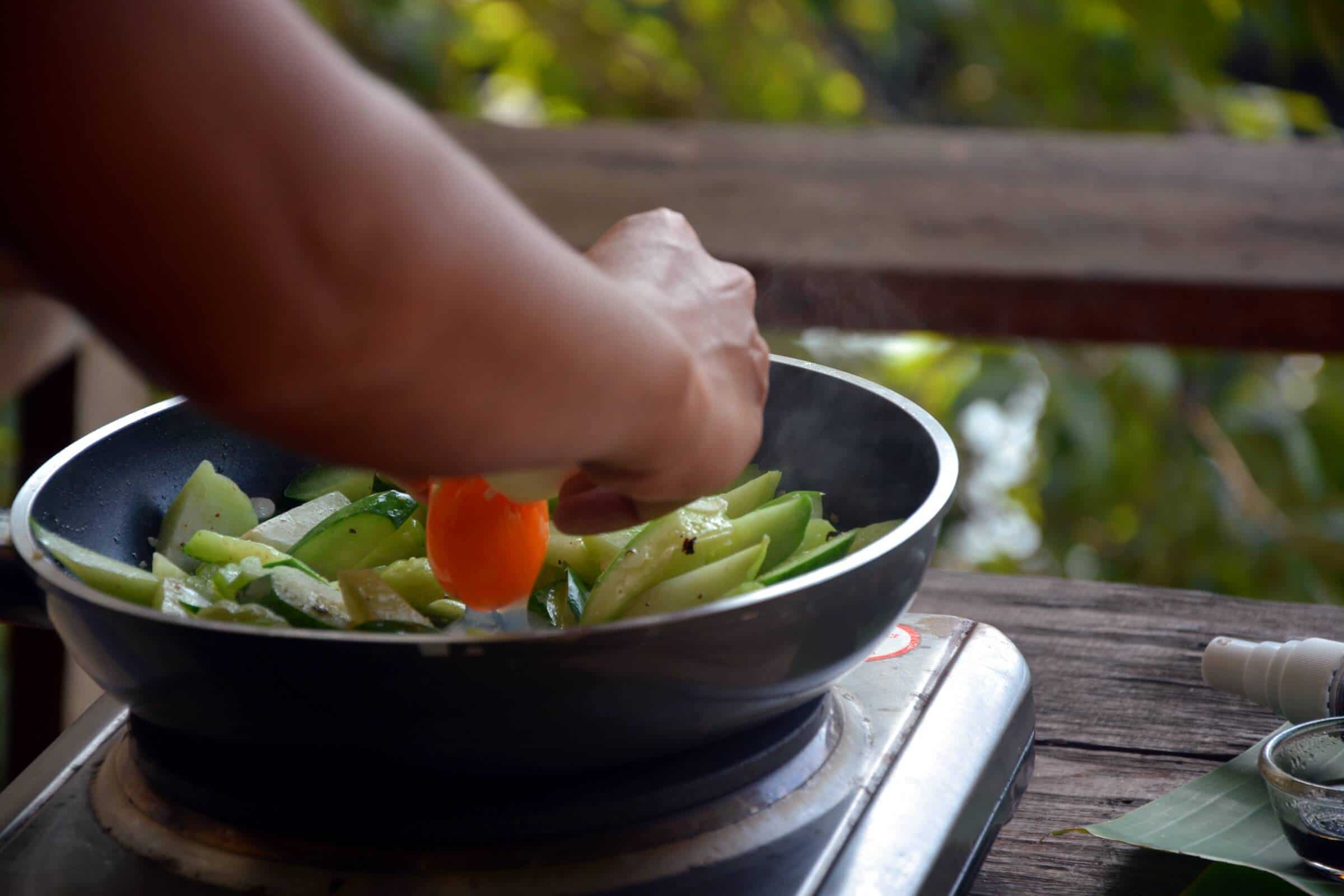 We used duck eggs and chicken eggs.
I like to mix them up.
It's probably more often made with just chicken eggs though.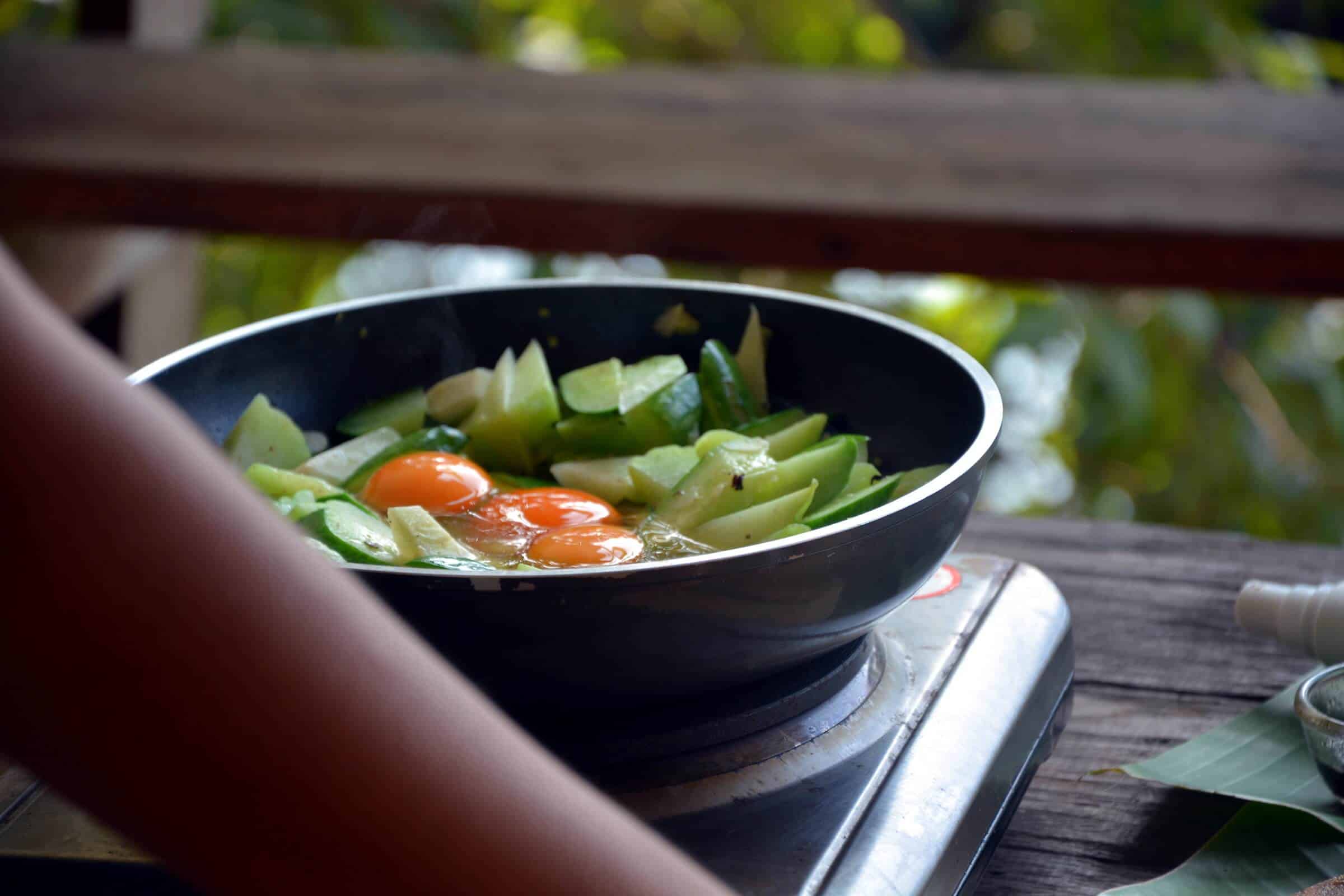 Once your eggs are in your little cucumber-chayote-crater,
..scramble them here.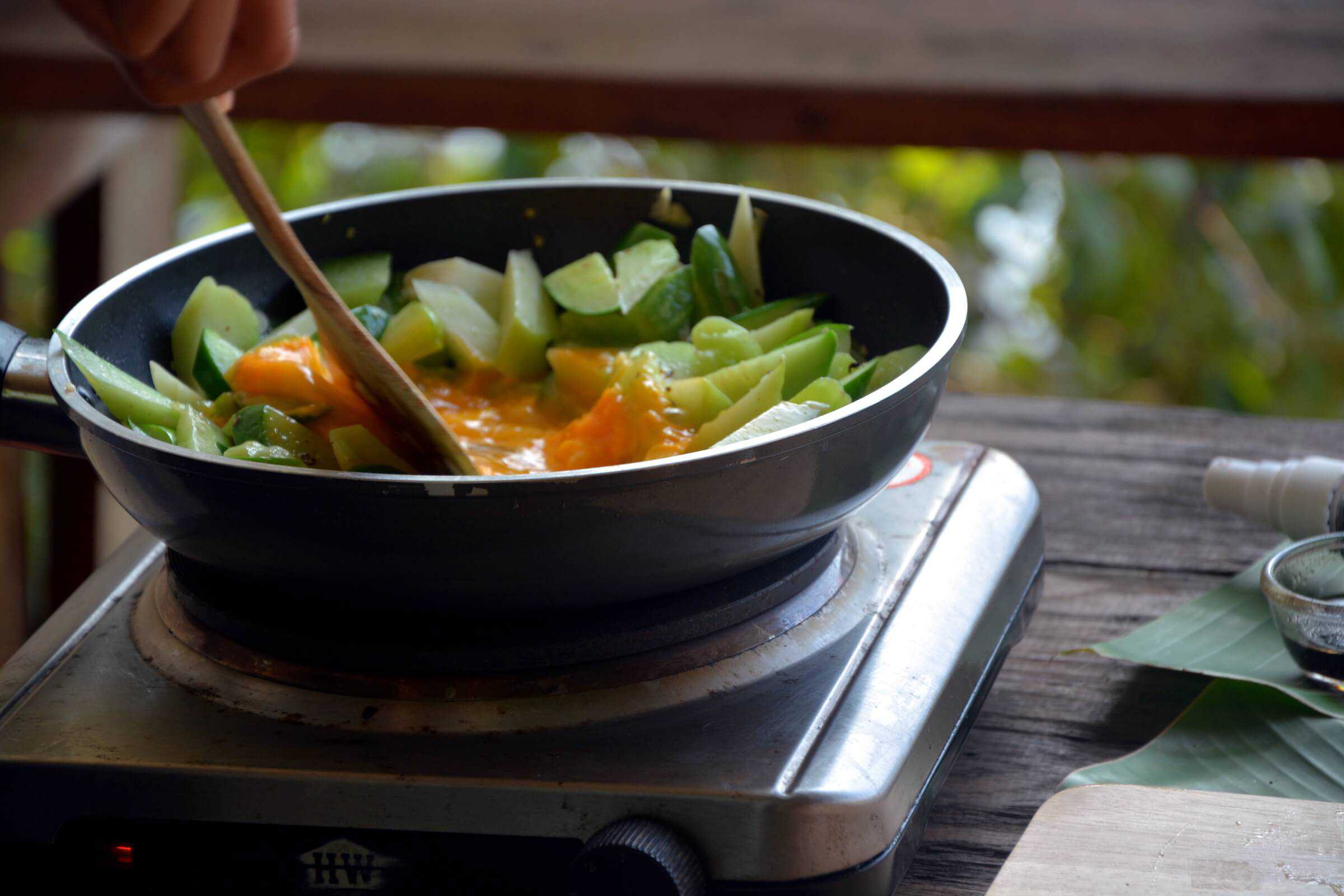 It's important that you don't burn the eggs,
So keep them going over low to medium heat.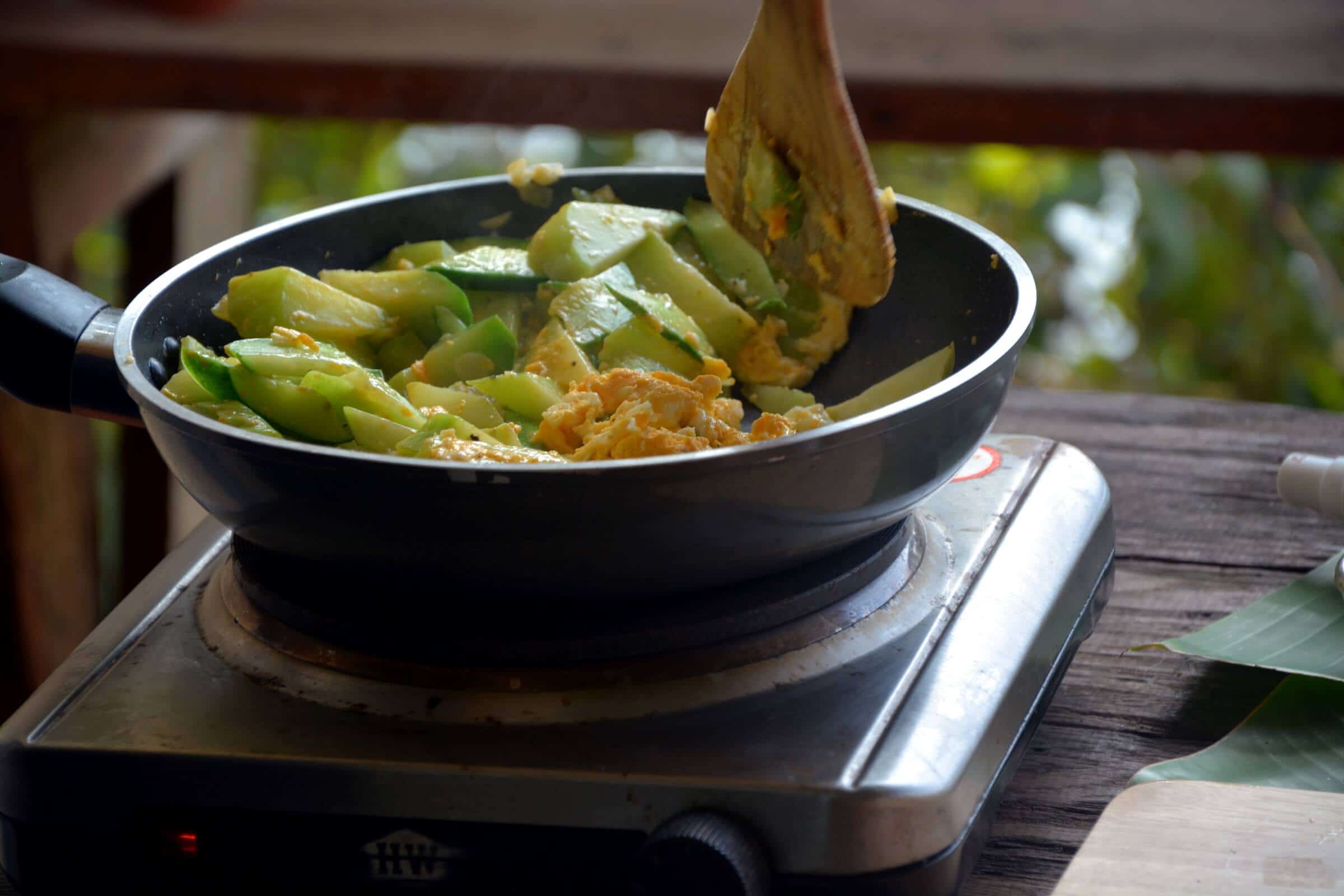 Final Step. Add the rest of the ingredients
I always considered Bragg Liquid Aminos a healthy ingredient.
And I used it often as a soy sauce replacement.
But turns out it's the same thing as using soy sauce.
*Soy Sauce Alternative Note: Since I've stopped using Braggs Liquid Amino, I now use a just as good combination. So for this Eggs with Cucumber and Chayote recipe, replace the 1 Tablespoon of Bragg Liquid Aminos with  1 Tbl Coconut Aminos & 2 tsp fish sauce
For an all natural, fully Paleo compliant alternative, I now use Coconut Aminos mixed with fish sauce to create the exact flavor I'm looking for from Bragg Liquid Aminos.
Coconut Aminos is a far healthier choice.
You can read more about this soy sauce v coconut aminos saga in this blog post I wrote about it).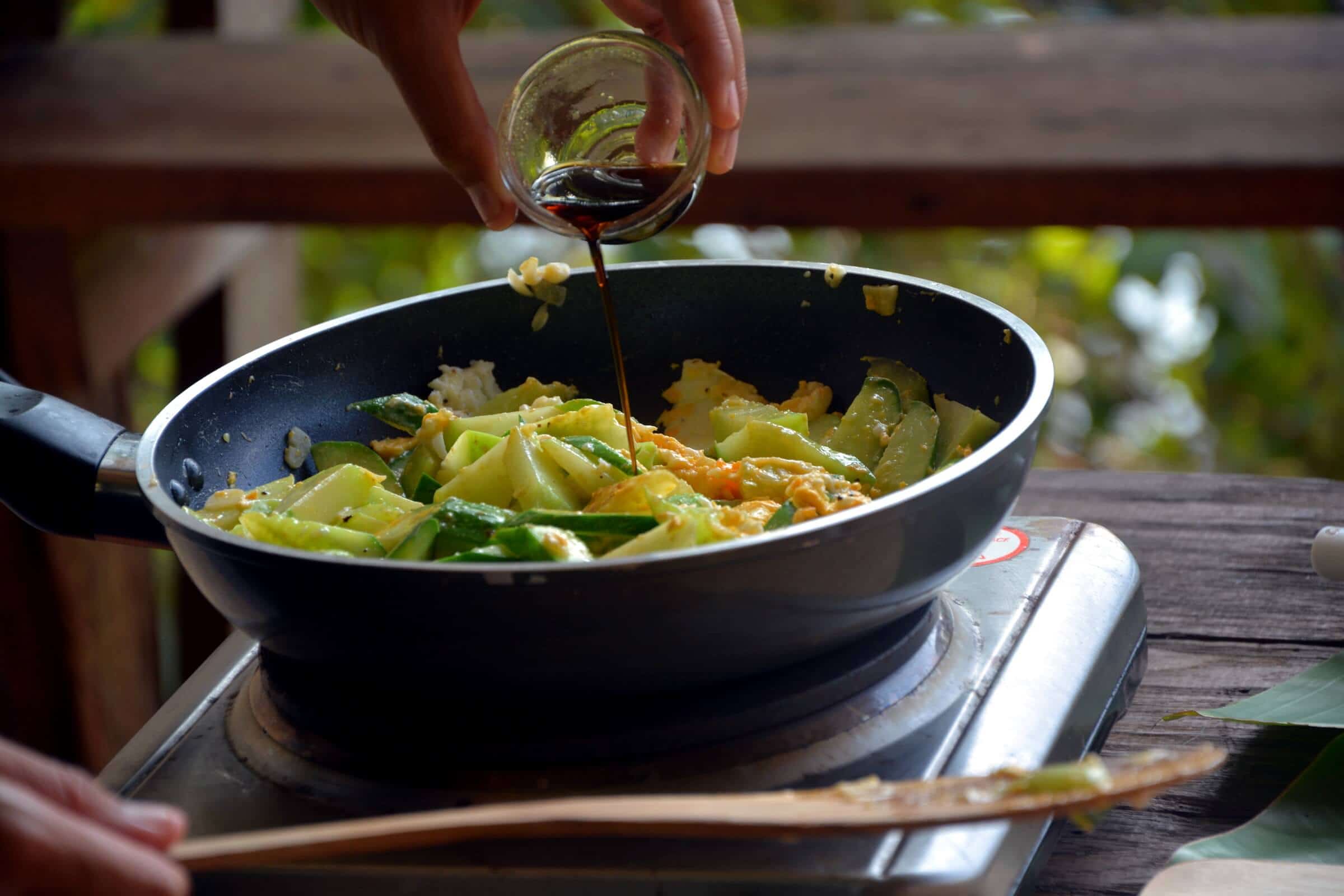 The only modification besides the healthy ingredient swaps was the addition of flax seeds.
I can't help it,
Eggs and crushed flax seed have become synonymous to me.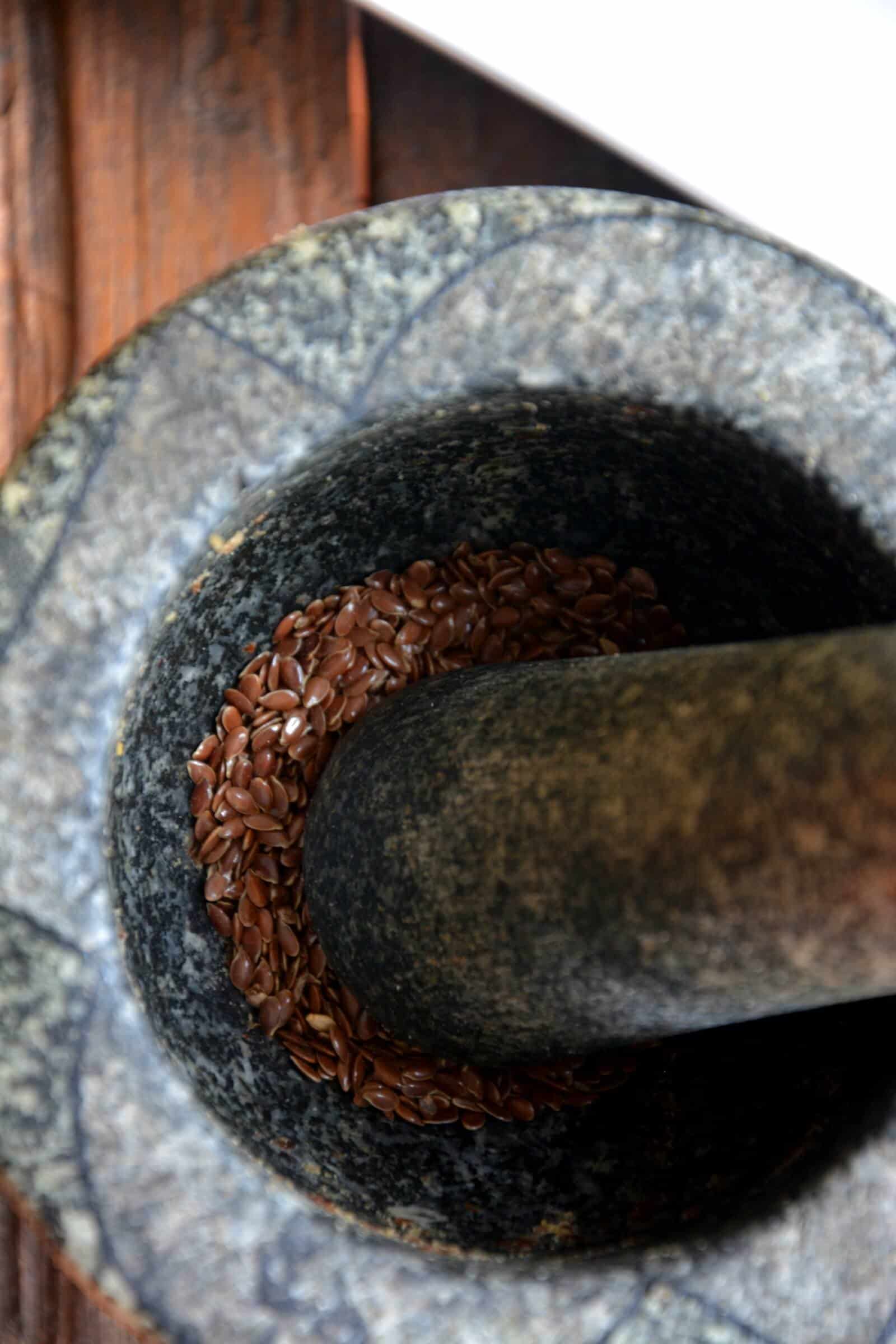 I find eggs the best vehicle to getting my nutrient dense flax seeds in most days of the week.
They soak up the runny yolks and add a slight nice nutty, seedy flavor.
And that's it.
Here's what it looks like when finished: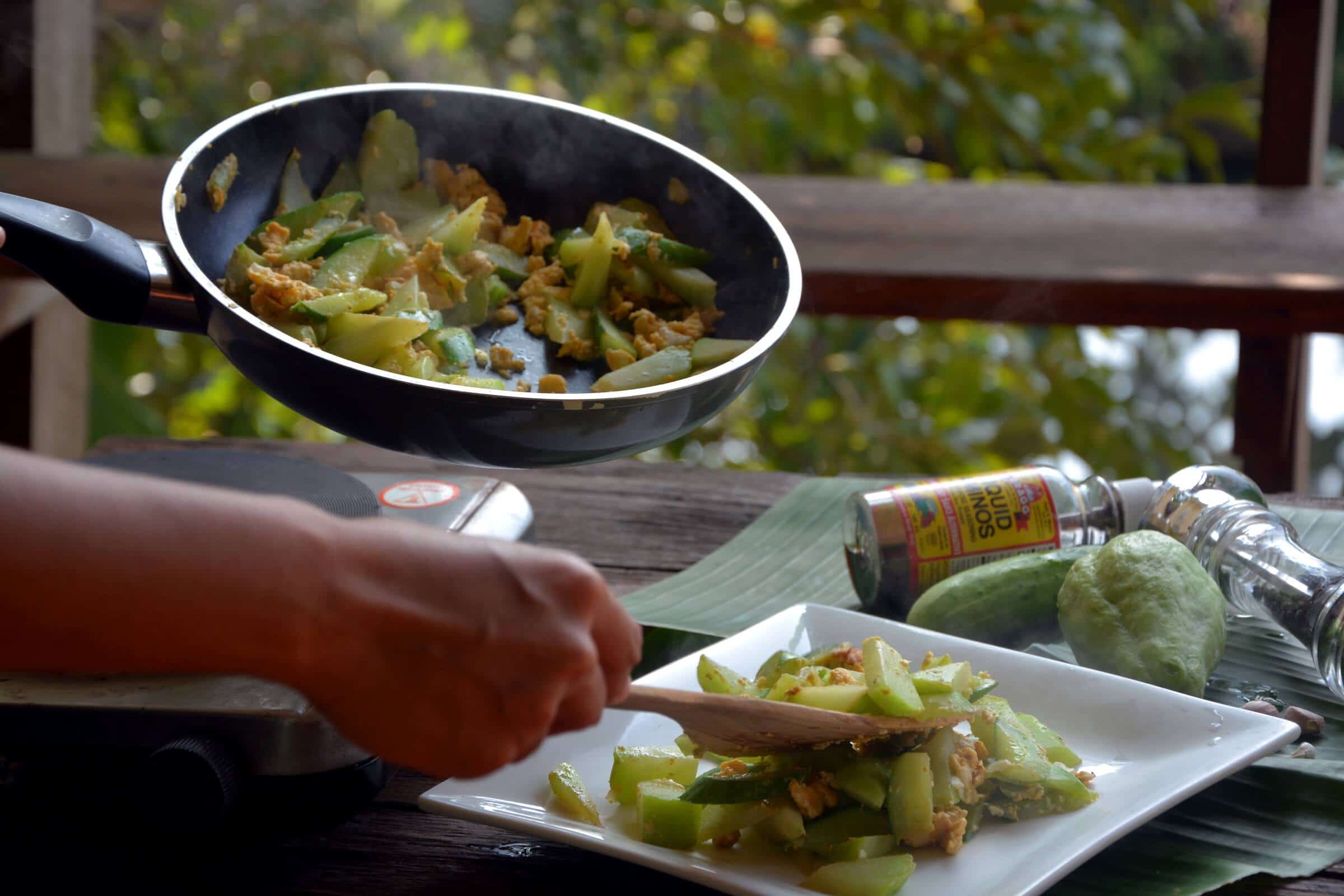 Here's the Instagram post I made about the scrambled eggs and cucumber with chayote:
Within my @nutritionadventures Instagram post,
I mention some really great health benefits I learned about Chayote.
That's exactly how it went down.
I asked Siri about it, and she brought me to an info-packed blog post on chayote from a Dr. Mercola "Food Facts" website.
In this chayote blog post, chayote is said to be "a good storehouse of important nutrients that your body needs."
To learn more about chayote's health benefits, I recommend you check that article out.
I'm now a big chayote fan.
Let me leave you with one last beauty shot of this eggs with cucumber recipe.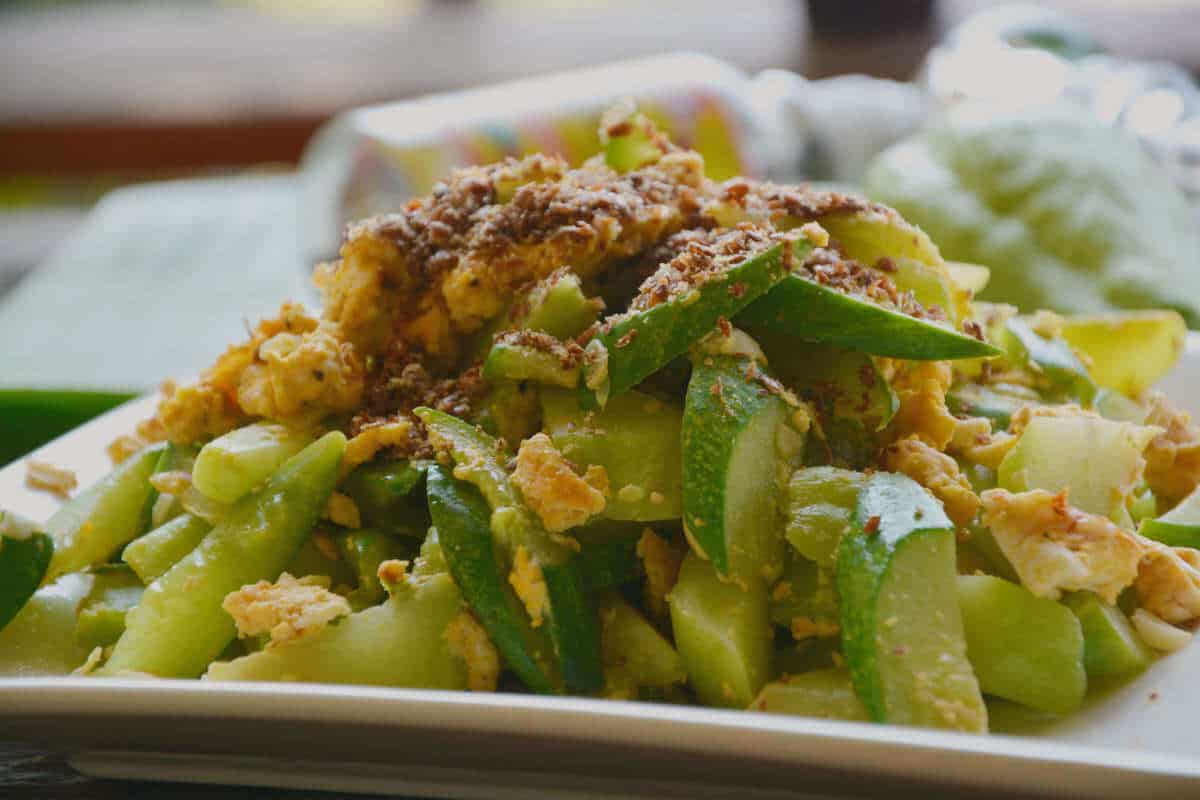 Now for the official & printable, Eggs with Cucumber and Chayote Thai Stir Fry "breakfast" Recipe Card:
Print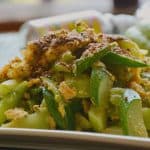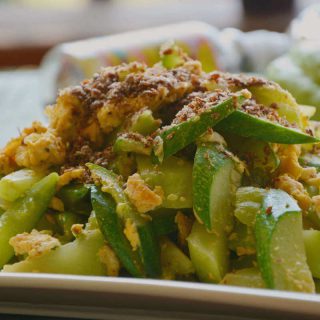 Eggs with Cucumber and Chayote Thai Stir Fry
Author:

John at Nutrition Adventures
---
Description
A flavorful way to enjoy eggs
Scrambled eggs with cucumber and chayote make for a perfect medley of ingredients.
Both for the taste and for the nutrients
It's a perfect keto breakfast that provides you gut healthy fibers, some healthy fats, and a nice little amount of protein with very low to no carbs overall.
---
Ingredients
1 duck egg
2 chicken eggs (optional to use both duck and chicken)
2 medium cucumbers
1 chayote
5 garlic cloves
Flaxseed, 1 tablespoon, freshly ground
Coconut oil, 3 tablespoons
Black pepper, freshly ground
Coconut Aminos, 2 tablespoons
Fish Sauce, 2 teaspoons
Himalayan Salt, to taste
---
Instructions
You can see in-depth recipe instructions in this blog post, both in picture and writing.

I might update this recipe card with a bulleted break down of those instructions in the future.