This Pad Thai recipe is easy to make and features an authentic sauce you might not see in other Pad Thai recipes online, but it's authentic and makes it that much better. If you need a good low carb Pad Thai recipe, this one is made for keto.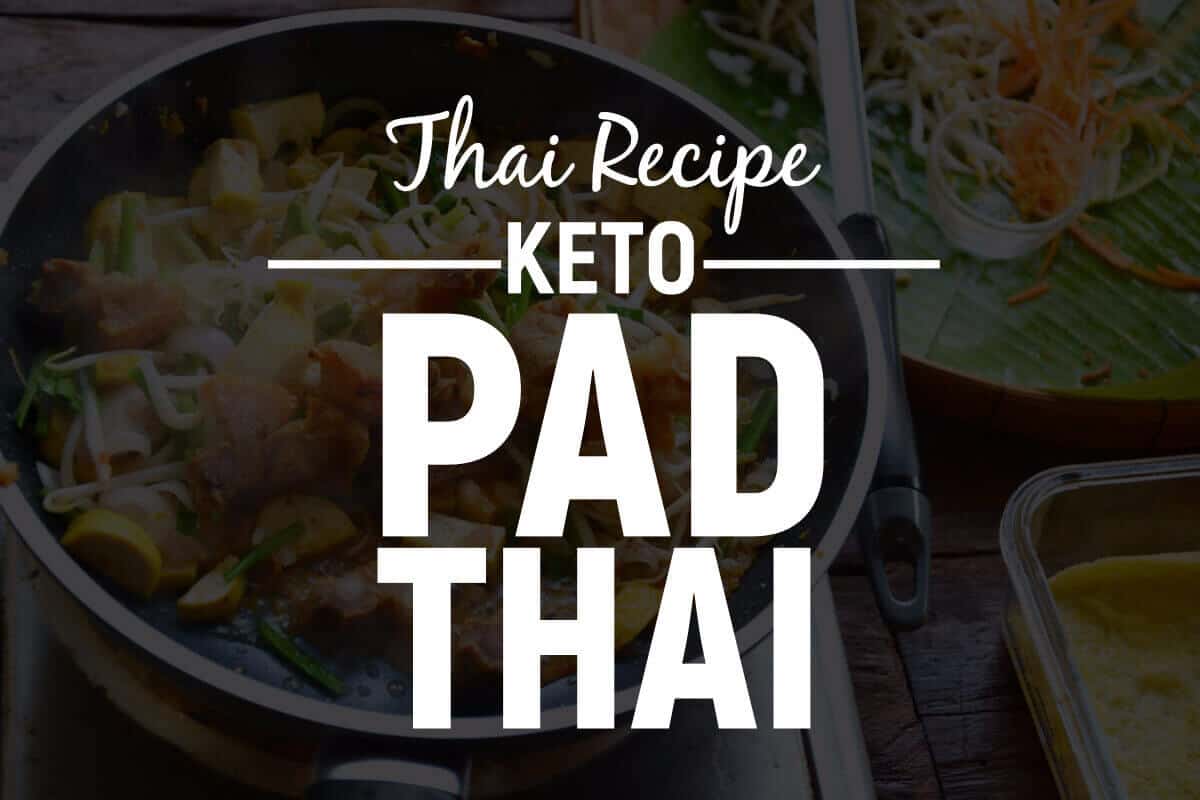 We used vegetable noodles (zoodles and "coodles" if that's what you call carrot noodles) for this to make it a Keto Pad Thai recipe. The veggie noodles used ended up working perfect. Just like real noodles. The texture worked, didn't have much of a taste, and so they were like real noodles minus the wheat and carbs.
---
Our Keto Pad Thai
Pad Thai is probably the most famous Thai street food delicacy there is. It's sold everywhere. Outside of Thailand, you'd be hard-pressed to find a Thai restaurant that doesn't have Pad Thai on the menu. You can usually choose from chicken (pad thai gai), shrimp (goong), or just eggs (pad thai khi).
This recipe is everything you want and need in a Pad Thai, but without the traditional noodle carbs, sugar and canola oil for stir frying.
You'll find various types of Pad Thai recipes online. Ours is low carb and uses the authentic Pad Thai sauce with tamarind. But we use veggie noodles to make it low carb. They do end up not affecting anything and work great as keto options to this great Thai recipe. taste the same (better even). It's a keto Pad Thai with zucchini and carrot noodles. And we replace the sugar and canola oil.
Pad Thai Garnishes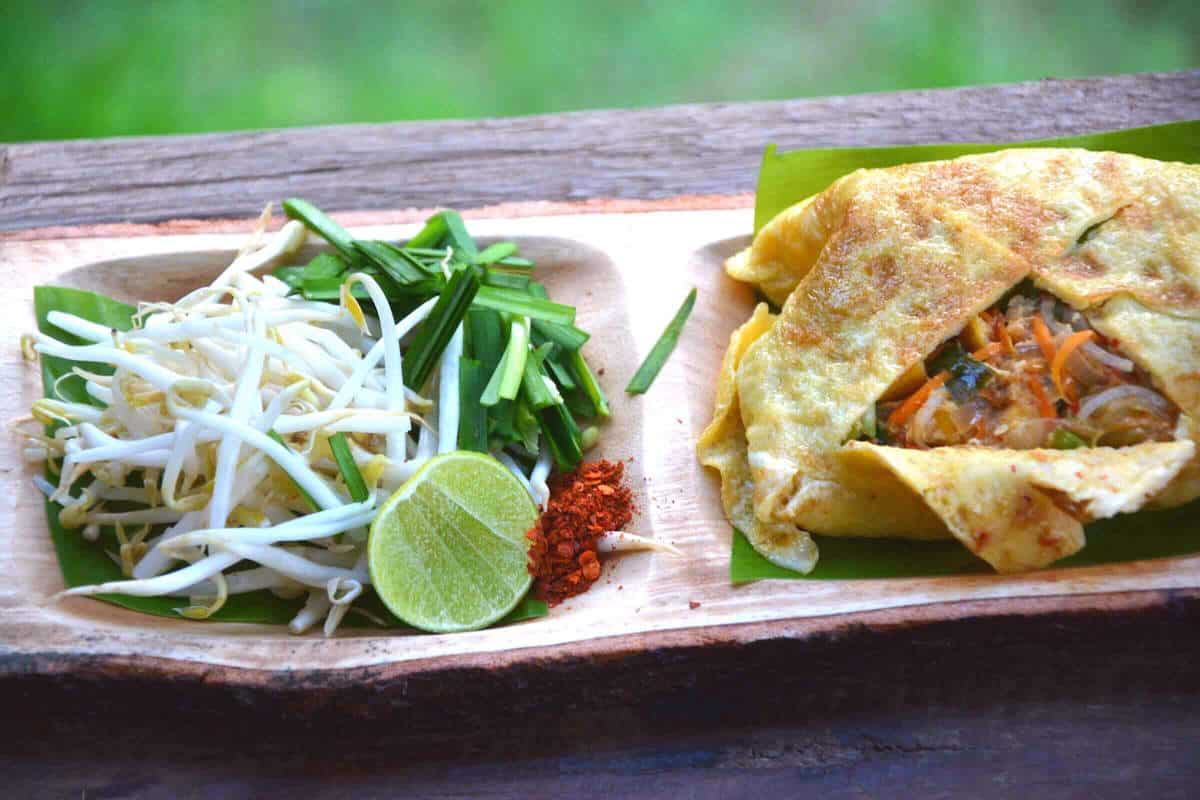 When you order it to-go, it comes with a little fish sauce packet with sliced chilis in it for added flavor or spice if you add them in. And you can put crushed red chili peppers, fresh bean sprouts, chives, and the all-important lime wedge. These are part of the Pad Thai recipe. They always come with Pad Thai. It's like a pepperoni pizza. You need the pepperoni and with Pad Thai you need these garnishes:
bean sprouts
green onion
lime wedge
fish sauce (optional)
red chili flakes (optional)
This Keto Pad Thai recipe has a few simple low carb modifications:
vegetable noodles
walnuts
coconut oil for cooking
On the day we documented this recipe, I had a lot of pork in the freezer and so this recipe uses pork belly. Chicken, egg or shrimp versions are the usuals. We also made a little egg blanket and wrapped it inside to make it like a DIY pad thai where you can mix the ingredients together as you want. Normally the egg blanket is not used, just what's inside it for this one plus the garnishes.
---
Pad Thai Ingredients
Here is what we're cooking with: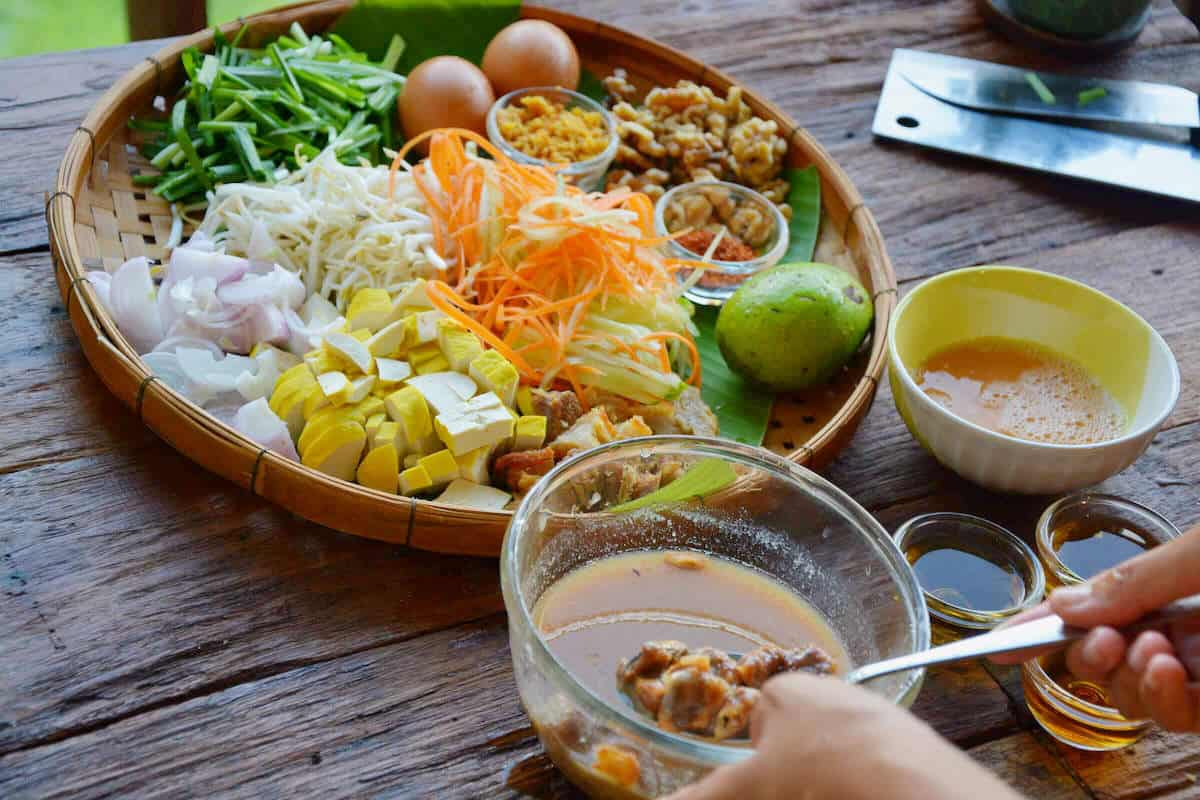 The carrots and zucchini have already been spiralized with my handheld gadget. And the shallots, onions, crispy pork and tofu have already been shopped and sliced.
pork belly (or egg, chicken, shrimp)
organic eggs
tofu
green onion
bean sprouts
tamarind fruit or paste (for Pad Thai sauce)
zucchini noodles
carrot noodles
walnuts
tasteless coconut oil for cooking
shallots
lime
avocado (not a traditional ingredient – my keto modification)
chili flakes
fish sauce
stevia tea (from dried stevia leaves)
coconut aminos (instead of the traditional soy sauce)
In this image above, we've already sliced and peeled all the ingredients. Ling then made a tamarind flavored water by squeezing and squishing around tamarind fruit in a small bowl of mineral water. This is the beginning the of special sauce making…
---
Step 1. Make Pad Thai Sauce with Tamarind Paste
First, you need to make a tamarind-based Pad Thai sauce. You can use fresh tamarind fruit or a canned, bottled or jarred tamarind paste to make the sauce. The paste is already deseeded and easiest to work with.
Making the sauce:
Squeeze and play around with the tamarind paste inside a bowl of room temperature water.
Then, add the red chili flakes and fish sauce to the tamarind water you just made by squeezing the fruit or paste in water.
This is your Pad Thai sauce. Most authentic Pad Thai recipes you'll discover use this tamarind-water for the added flavor.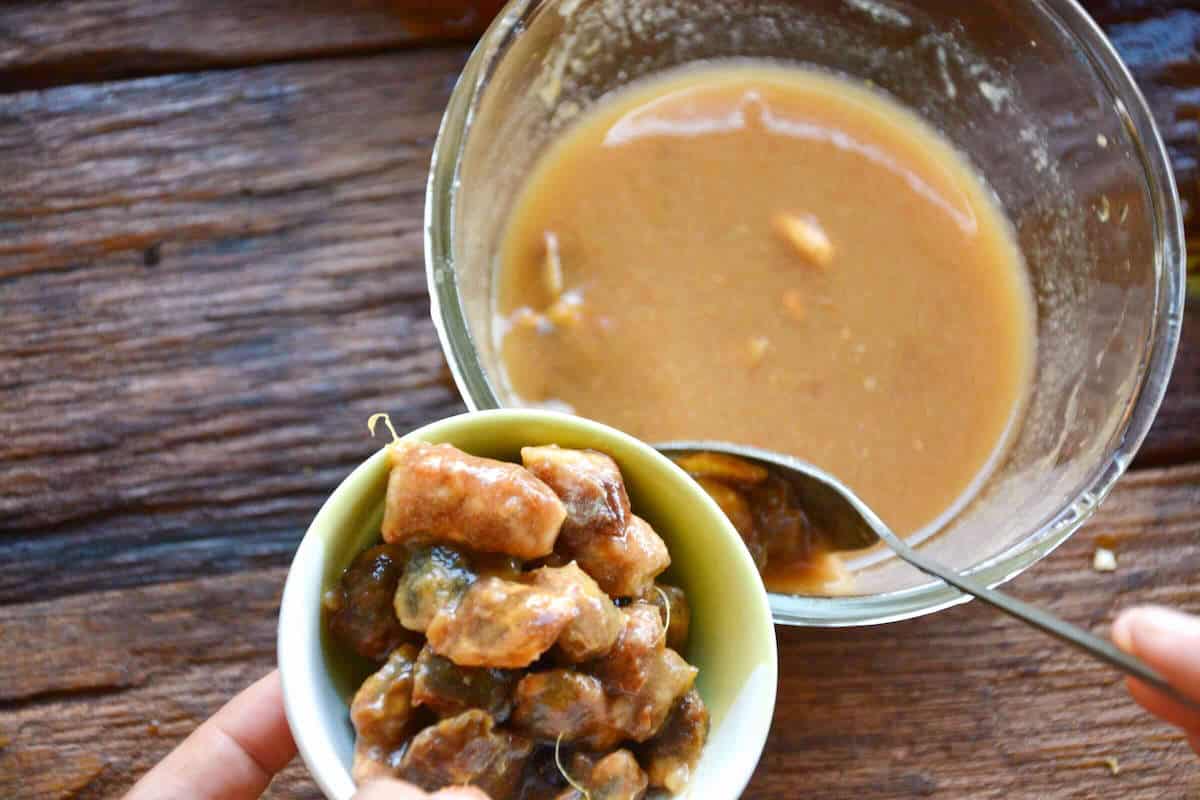 After you've mushed out the flavor from the tamarind, strain it, and you should be left with only the flavored tamarind water.
Then add ingredients to the tamarind water.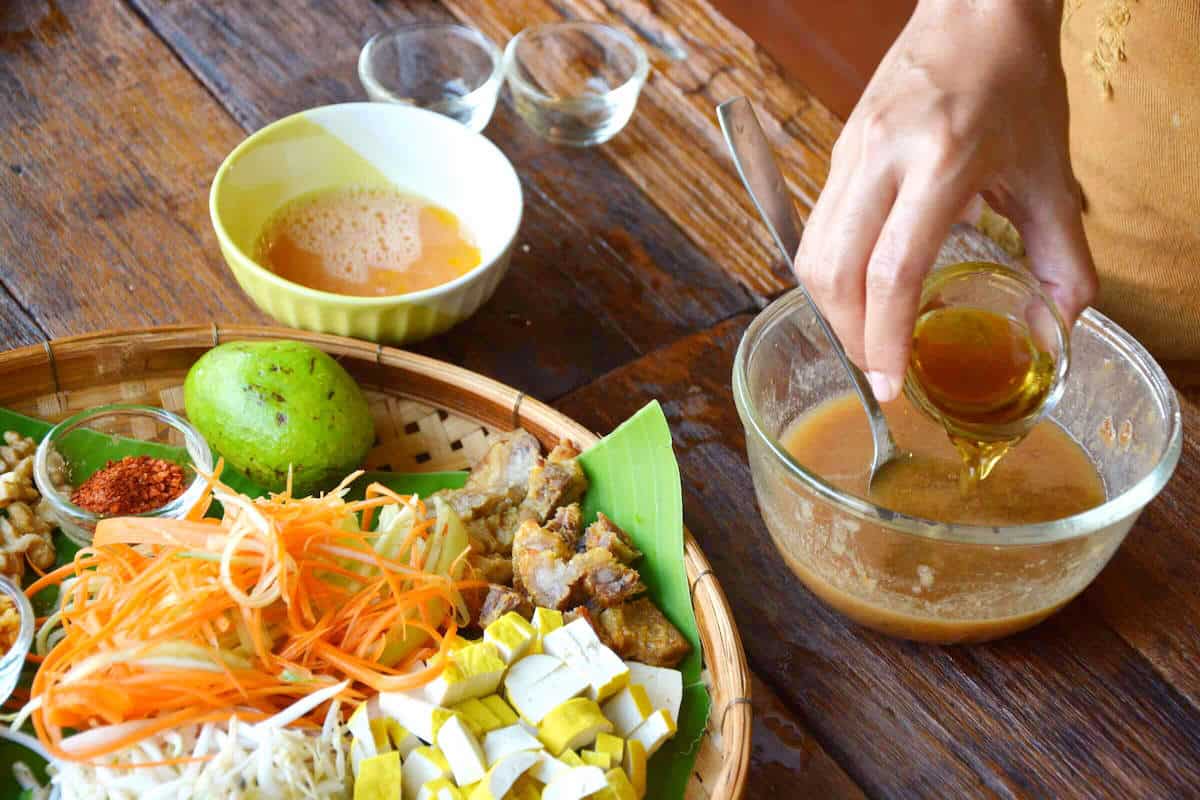 Add these to the tamarind water/sauce you have going: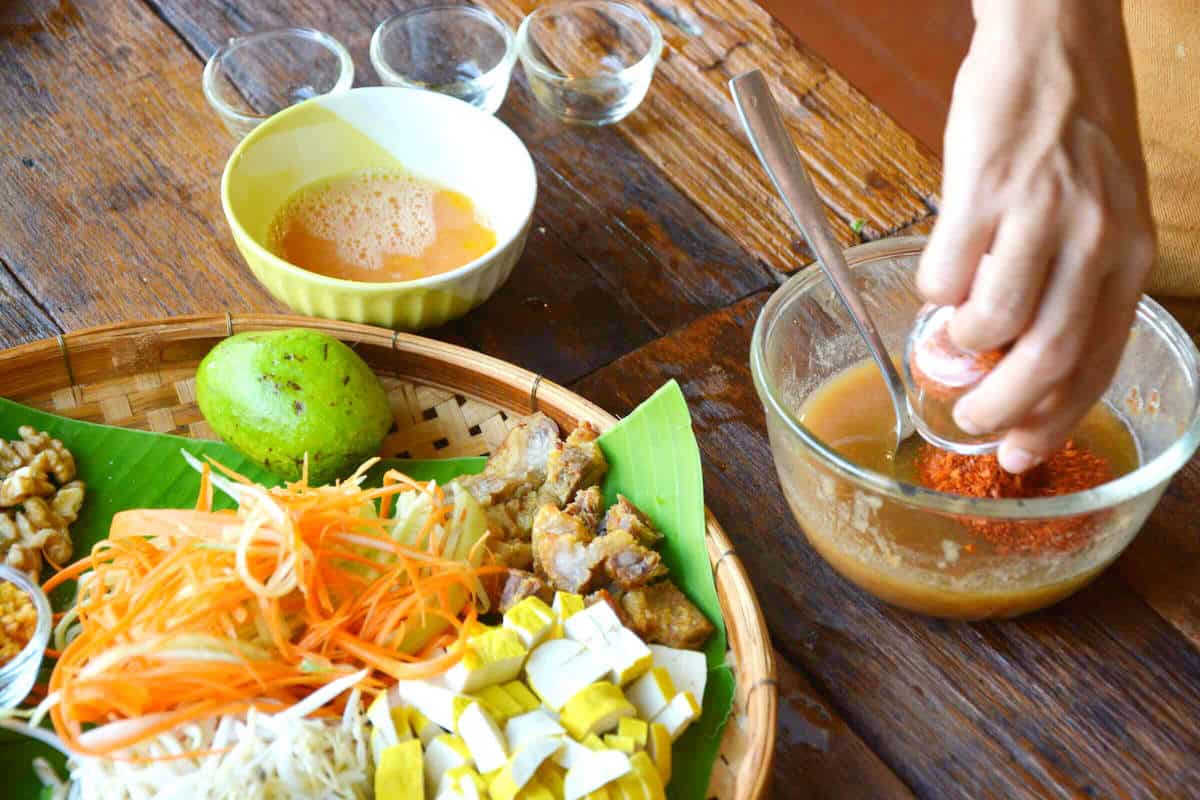 Where to find tamarind fruit?
You can find tamarind online if you can't find it locally. Our keto resources page has the link on the best one to buy online. It stores well, so it's possible to find some fresh, refrigerated tamarind. Tamarind paste works as well.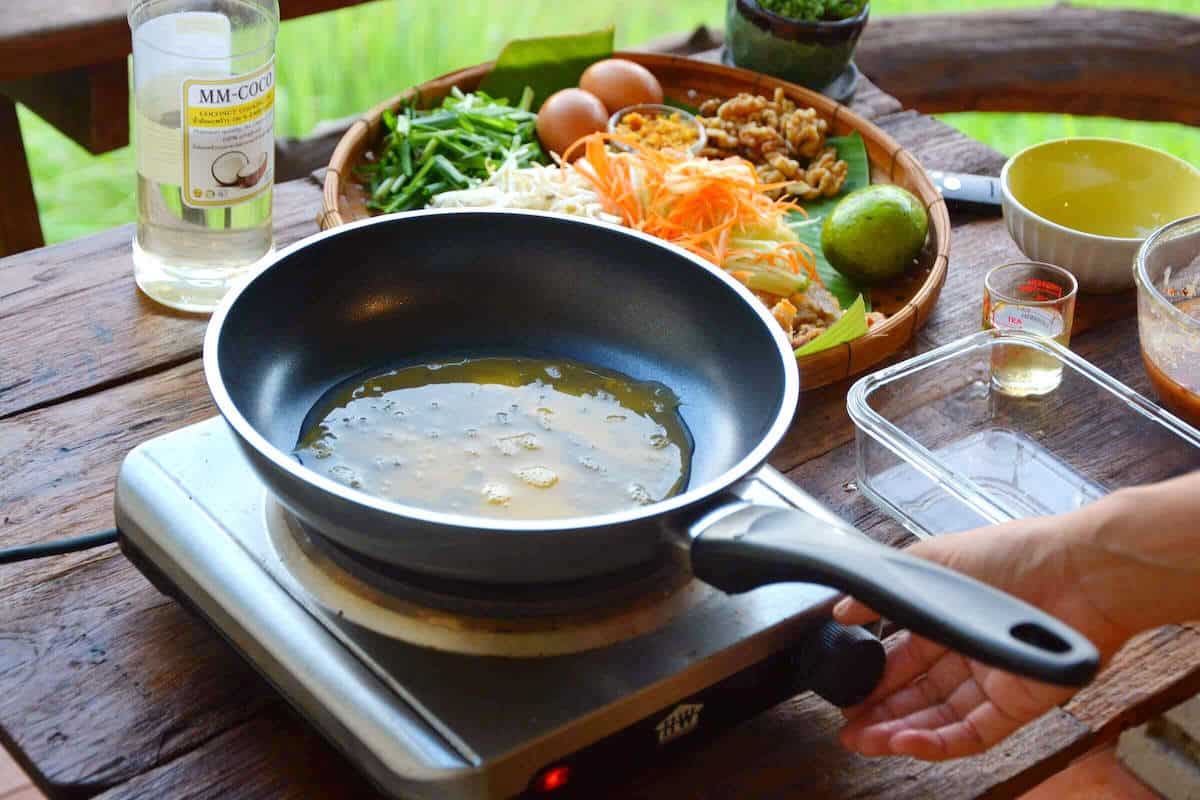 A bit of coconut oil over low heat and just one egg was placed inside.
---
Step 2. Keto Pad Thai Stir Frying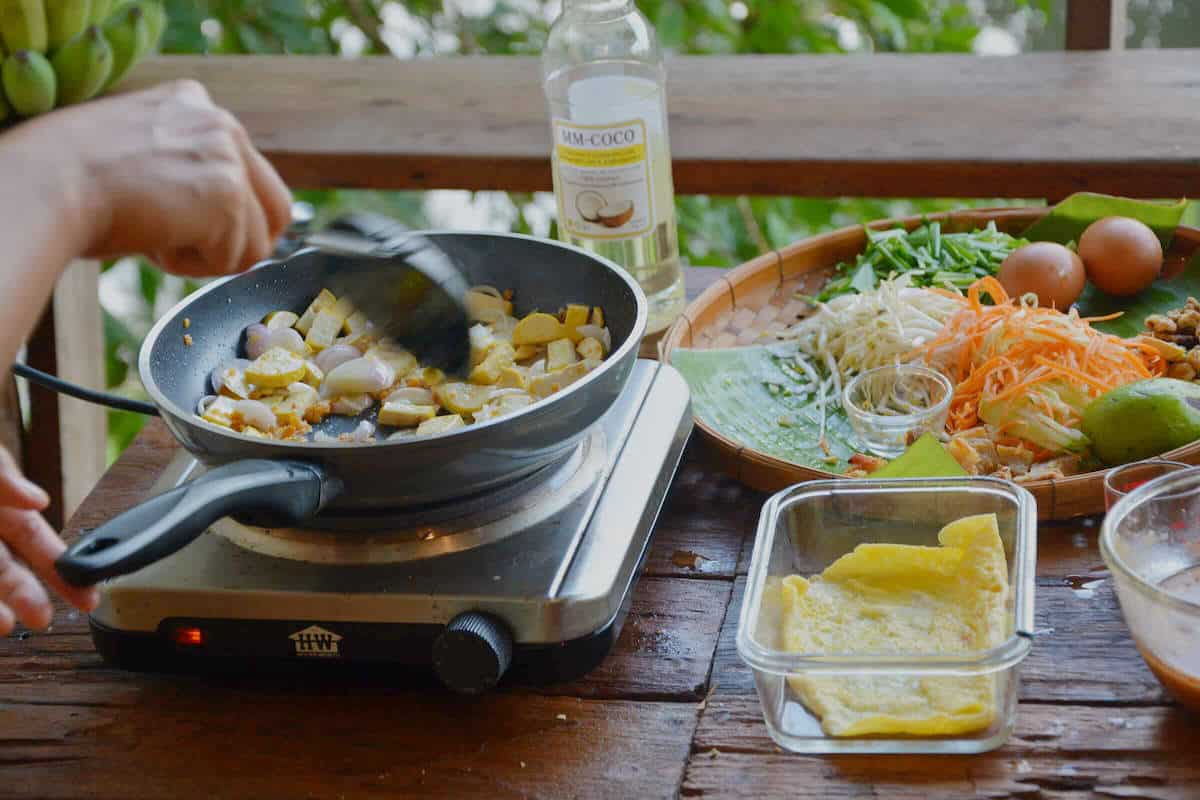 That flap of egg or the egg blanket you see in the glass Tupperware container is the optional part. What I usually do, and prefer to do when not trying to get fancy, is simply scramble in that egg into what we saute at this step.
---
Step 3. Chives and Bean Sprouts
After your little egg blanket is finished, Put the shallots and tofu in the saute pan first. Cook them in some tasteless coconut cooking oil for a bit before adding in more ingredients.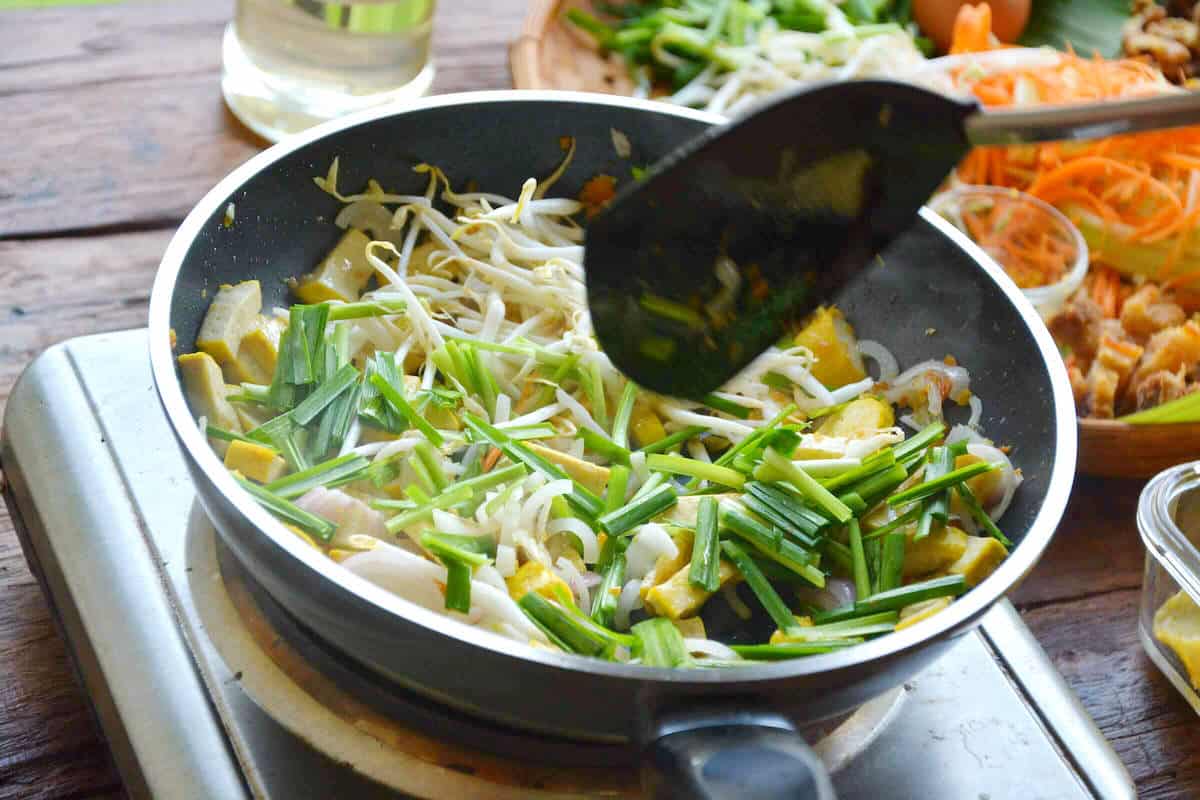 Next, put the bean sprouts and chives in. Continue sauting, mixing over medium heat.
Leave some sprouts on the side, as you will mix in fresh bean sprouts into the finished Pad Thai at the end.
---
Step 4. Add Pad Thai Sauce
Earlier we made a tamarind water and then added these 3 sauces to it: coconut aminos, fish sauce & stevia tea (or organic palm sugar). This is what you now add to the saucepan that's cooking up your chives, bean sprouts, tofu and shallots.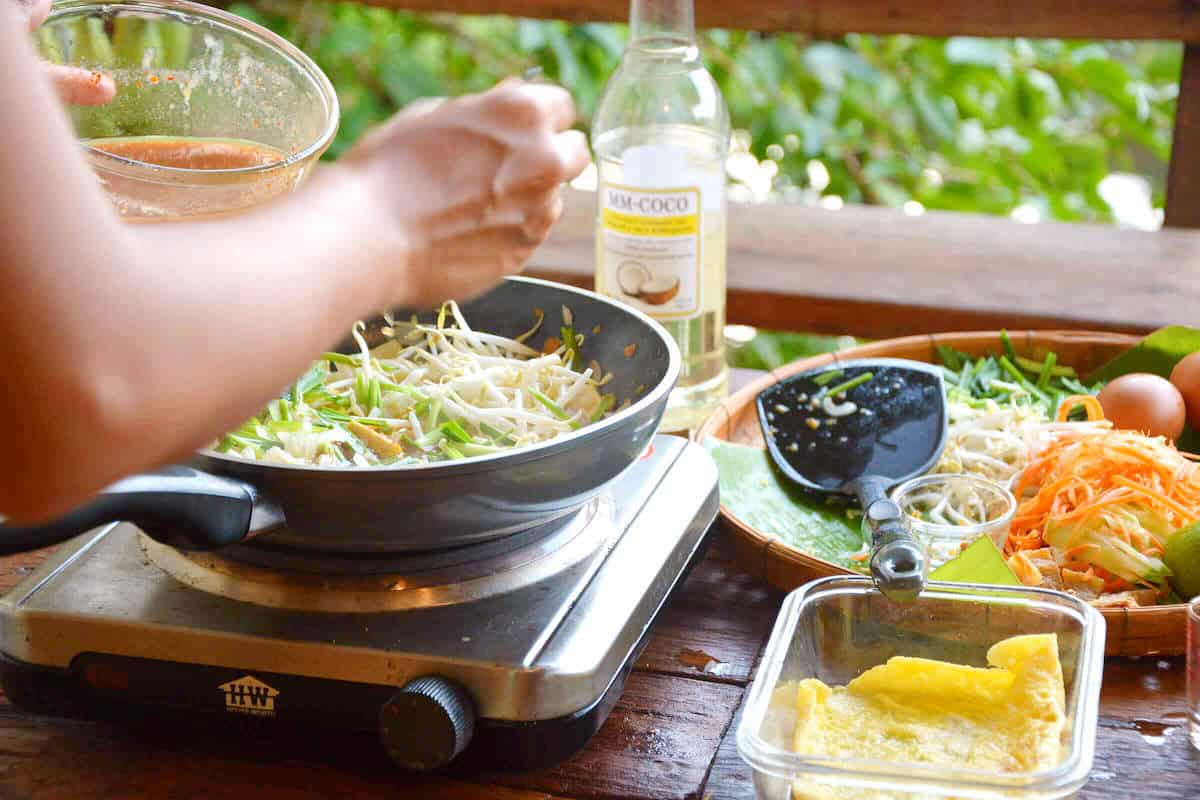 After this step, we add in pork that we previously cooked and battered in coconut oil.
This is where we're at right now: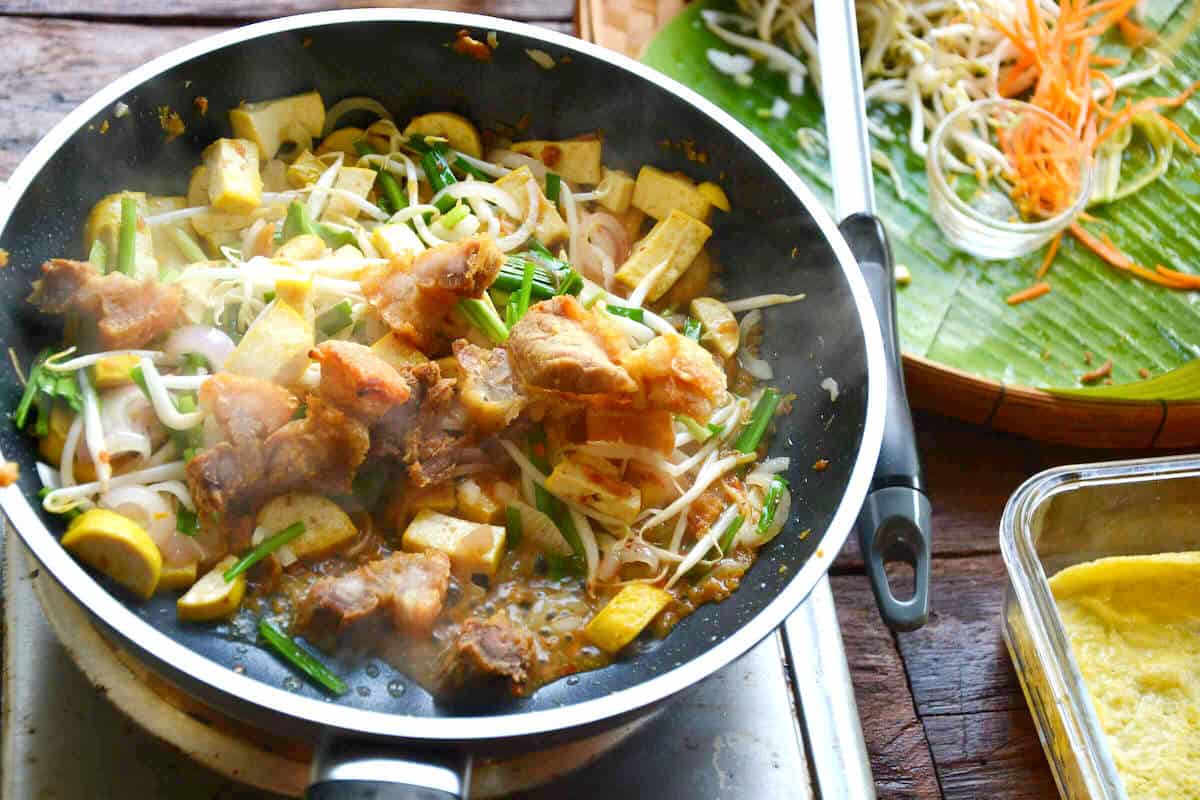 ---
Step 5. Carrot and Zucchini Noodles
You can see we used zucchini and carrot to make our noodles.
You can spiralize your zucchini, or you can use a little handy vegetable spiralizer to make your Pad Thai noodles. This cheap, little veggie spiralizer works perfectly. I've seen those spiralizer machines, but I don't use one currently. I'm sure it's great, but I prefer this little tool in the image below. I really don't want is another wonky tool that requires cleanup and storage, so I just use one of these little awesome veggie noodle making kitchen tools.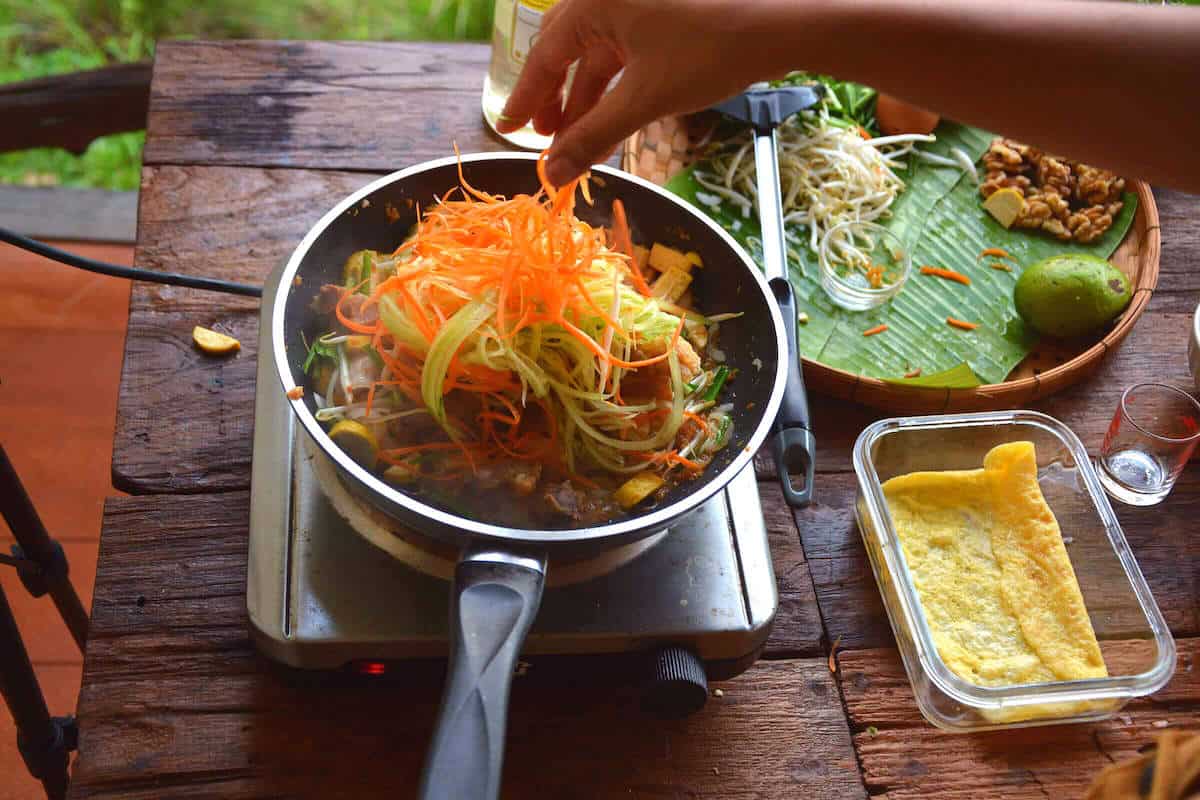 How to use the hand-held vegetable noodle maker:
Wash your carrots and zucchini properly, then shave off the outer layers. Firmly press your vegetable spiralizer against the carrot or zucchini, and slide it away from your body, longways, in one direction. Do this over a bowl to let your vegetable noodles fall down into it.
These will then be tossed into your Pad Thai stir-fry towards the end.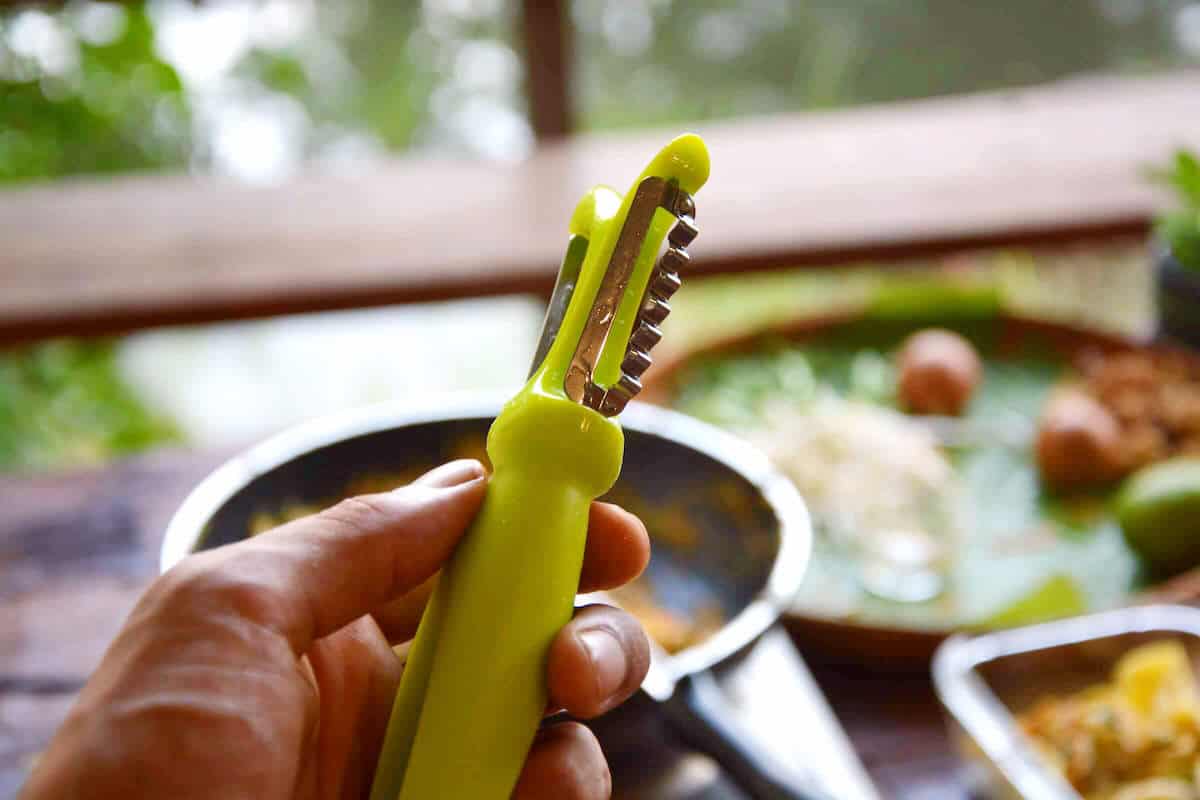 This tiny little thing that I picked up for maybe a dollar or two at the local market works wonders in the kitchen. You can see how nicely it makes noodles.
After you've started cooking your noodles, add another egg to the saute on top of everything else that's cooking.
Like so: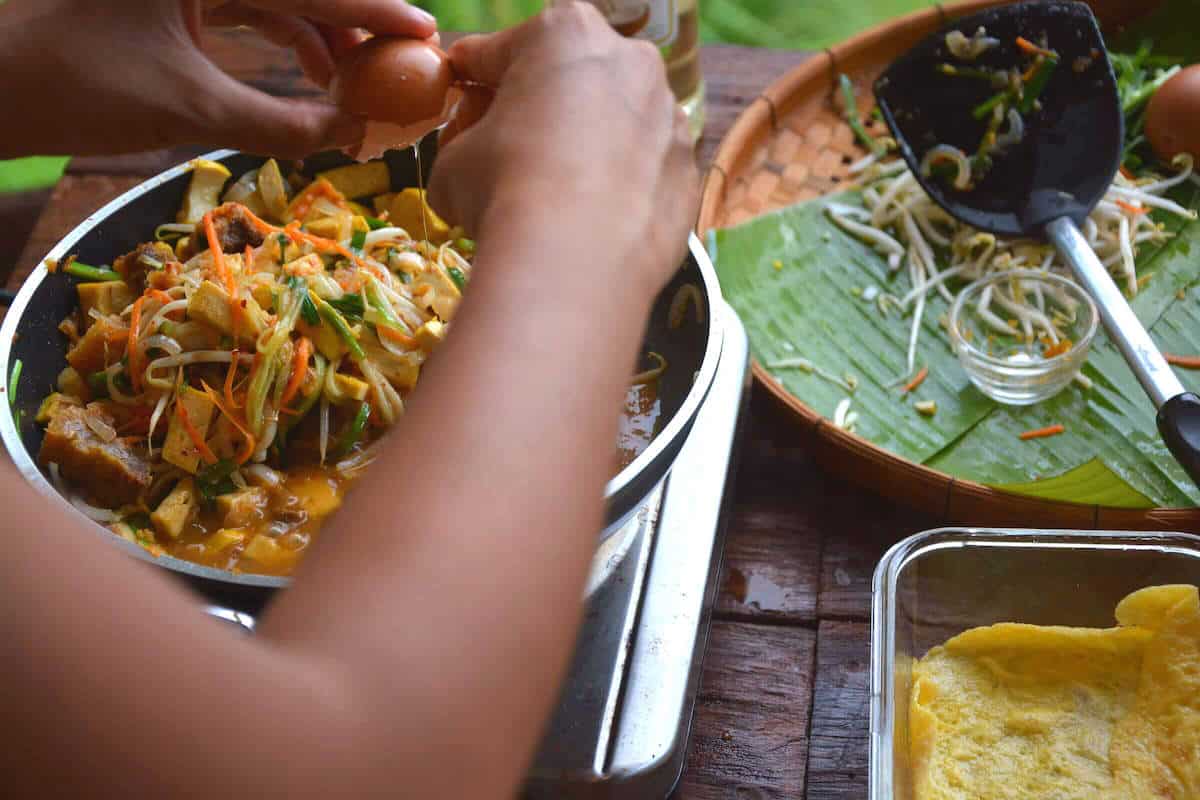 And that's pretty much it for the keto Pad Thai.
Not too bad eh?
I think this is an easy recipe to make.
---
The Finished Keto Pad Thai Recipe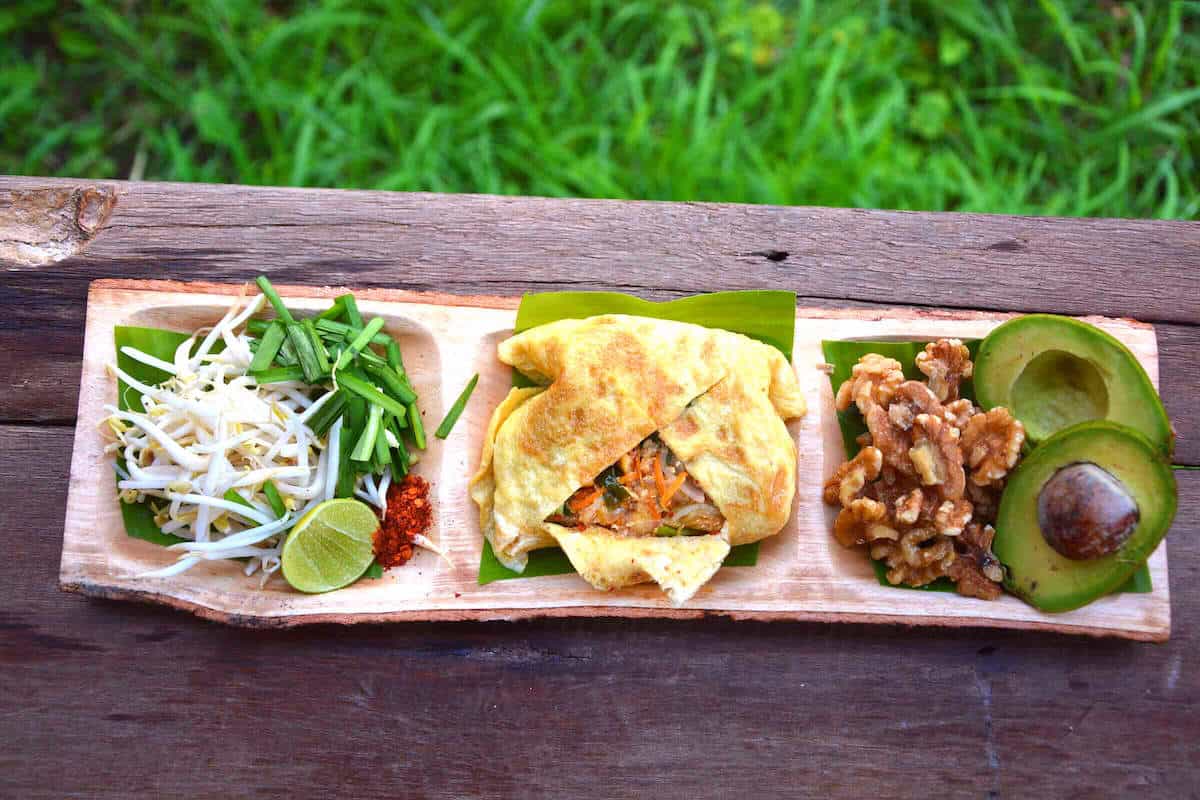 You can see we left fresh bean sprouts on the side as these are mixed into the final Pad Thai once it's finished cooking. We also mix in some fresh chives. Since this is our fancy "Keto" Pad Thai wrapped in an egg blanket, look at how it turned out.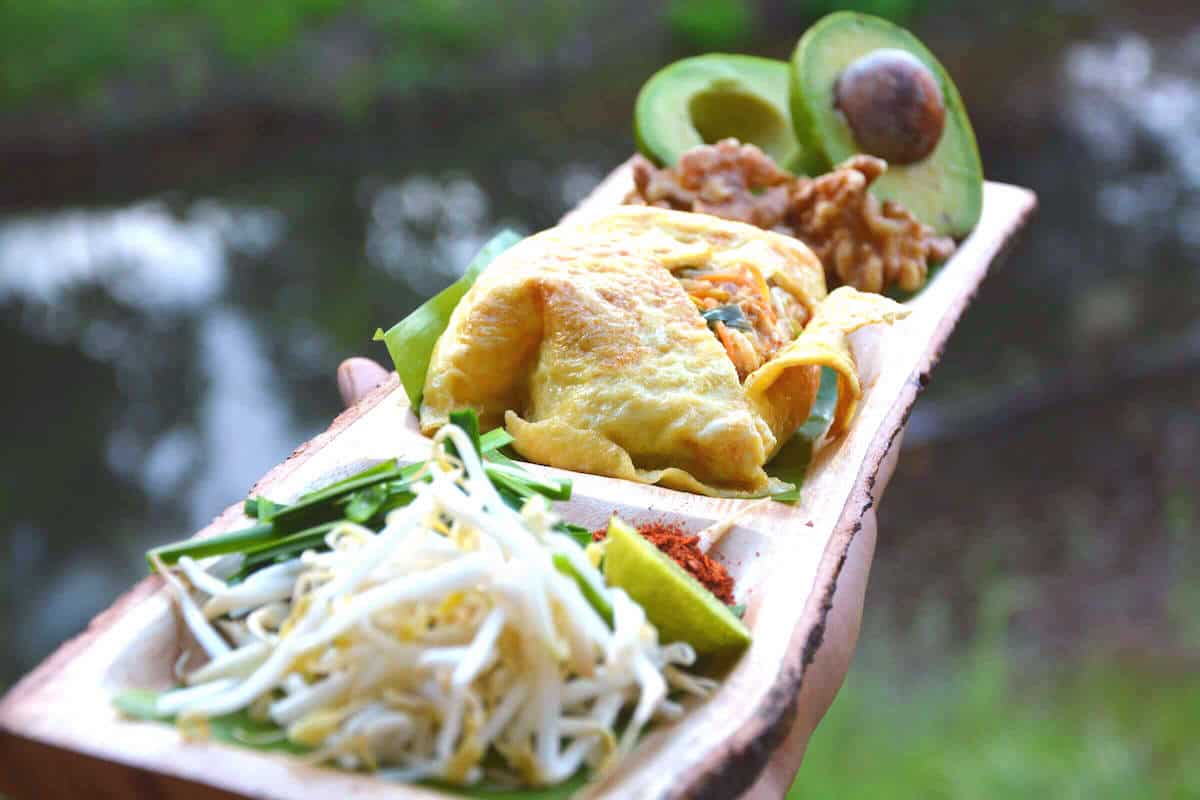 Normally, this is served on a regular plate, stirred together. Then I'd sprinkle fresh, crispy bean sprouts, chili flakes, green onions and lime juice onto it. The walnuts and avocado are my additions. They blend perfectly to these ingredients and help fulfill macronutrient goals for the day if you're on a low carb high fat or ketogenic diet.
Health Mods
For keto and paleo diets.
coconut oil instead of canola oil
walnuts instead of peanuts
avocado because they're in season and they go with all Thai food:)
The avocado helps push this Pad Thai into low carb high fat diet territory. In my experience, and without meaning to brag, eating low carb high fat foods is much easier with great recipes such as our low carb Thai ones. There are many great low carb high fat recipes out on the web as well.
The Authentic Taste Test
The taste factor.. 100% authentic.
Our keto Pad Thai recipe was a success. The stevia tea worked perfect. The carrot and zucchini noodles were a wonderful idea. They do not change the flavor which is the weirdest thing. They simply provide a perfect replacement for noodles. Their texture is very much like noodles and what you end up eating is something that tastes exactly like an authentic Pad Thai, because it is an authentic Pad Thai.. but with a healthy keto + Paleo twist!
Here is the printable Keto Low Carb Pork Belly Pad Thai Recipe Card.
Print
Keto Pad Thai Recipe Card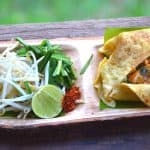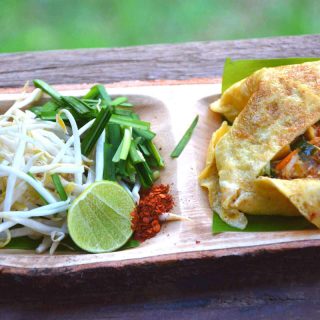 Keto Pad Thai
An authentic Pad Thai recipe made low carb and keto approved. We use carrot and zucchini noodles, tamarind sauce and stevia as a light sugar replacement.
Author:
Prep Time:

5 M

Cook Time:

10 M

Total Time:

15 M

Yield:

3

Category:

Keto

Method:

Stir Fry

Cuisine:

Thai
Ingredients
3 organic eggs

1 cup tofu

½ cup chives

bean sprouts

tamarind fruit

zucchini noodles (super easy to make)

carrot noodles (super easy to make)

walnuts (instead of the traditional peanuts)

coconut oil (instead of the traditional canola oil)

shallots

pork (or egg or chicken)

1 lime

avocado (very optional)

chili flakes

fish sauce

stevia tea (from dried stevia leaves)

coconut aminos (instead of the traditional soy sauce)
Instructions
For the Pork
Boil the pork
Heat up water in a small pot to a boil.
Once boiling, put the pork through an old Thai mother's technique that involves boiling the pork with salt and vinegar in water before frying it to completion in coconut oil (coco oil is just what I do). You don't fry the pork from raw. It's more of a finishing-off fry. Once it starts to bubble and pop you can remove or cook to your likings. Then, chop it up and set it aside for when the Pad Thai is almost ready.
For the Pad Thai
Get the saute ready.
Get the sauce heating and then add in toy and shallots into some coconut oil.
To Assemble
Remove the finished pad thai from the auto onto a plate. Then garnish with freshly washed bean sprouts, green chives (i like to rip these into little pieces as they're stringy if you leave them long). And then add fresh squeezed lime and chili flakes to your likings.
That's all it takes.
If you're opting for chicken Pad Thai or egg Pad Thai, then it's even easier.
Free PDF for You: Get Our Top 3 Thai Keto Recipes
Subscribe to our newsletter to receive new recipes we make, blog updates and more & get instant access to the free PDF:
Thanks!
Something went wrong.