This is an overnight slow cook bone broth recipe. It's a Thai broth soup that we cooked in an original Thai barbecue.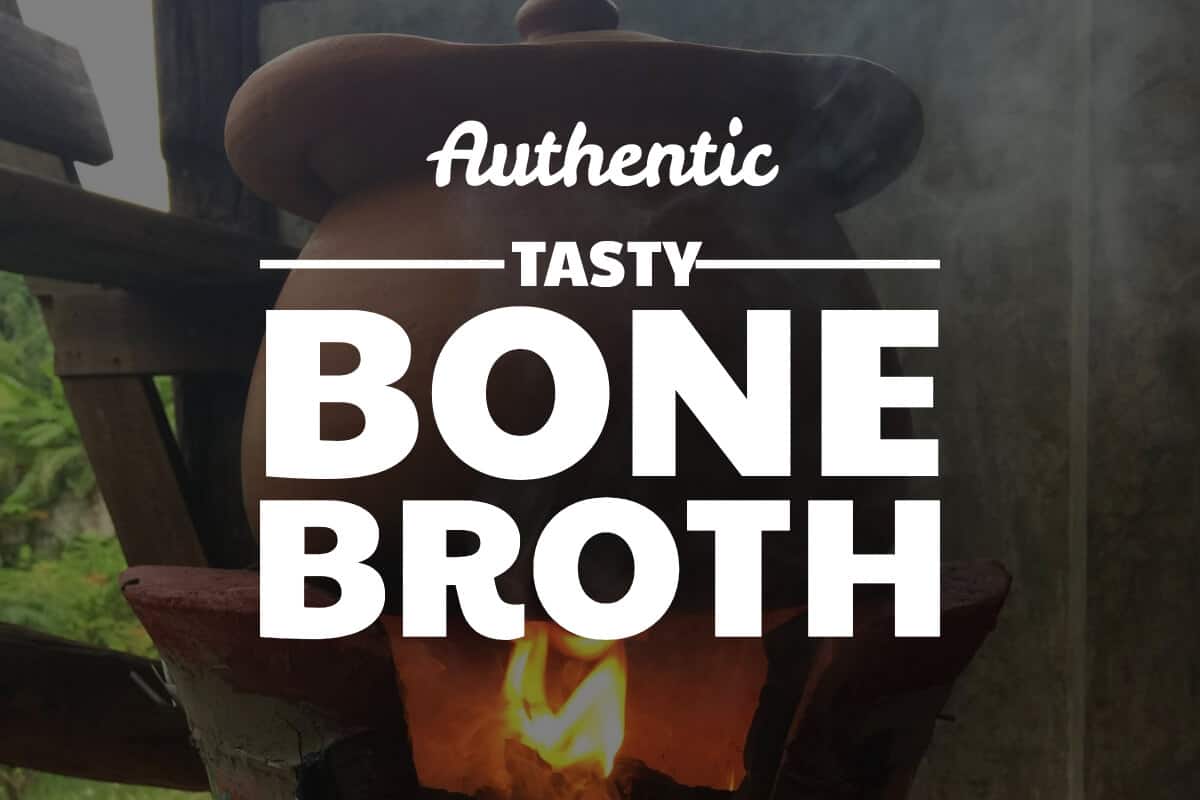 While we were cooking, the sun went down and we let it go through the night. The video clip down below shares the sounds of the night as we cooked this in our little mountain village home in Northern Thailand. And if you listen closely, you can hear a group of Buddhists praying or chanting somewhere out on the mountain.
Slow Cook Bone Broth Recipe
You can make bone broth in a big clay pot over an authentic Thai barbeque decorated with sardine can lids…
…or you can make any type of bone broth in any pot over a stove, crockpot or pressure-cooker.
Our drawn-out bone broth simmer on low heat overnight in a Thai barbeque is not the only way to make this delicious bone soup. If you do an instant pot style bone broth in a pressure cooker, you can do a shorter boil and still have a good final result. Adding vinegar helps extract more nutrients from the bones into the broth. But it's not necessary for the long overnight broth soups.
Slow cook bone broth is so good for you it's crazy. In today's world where leaky gut and other autoimmune diseases are on the rise, it's a good idea to keep your gut as healthy as possible. A good organic bone broth makes that easier to do because bone broth nutrients help seal your gut.
---
Faster Bone Broth Recipes 
If you want to make bone broth fast, a pressure cooker bone broth with vinegar will do it.
The easiest bone broth cooking method is with a crockpot.
Ours here is in a traditional Thai barbeque. It's also pretty easy to do, but needs to be done outside.
If you have the time, a nice 12-hour minimum low to medium heat simmer will make a PERFECT bone broth. Any types of bones work. Lamb, beef, chicken, elk, deer, pork, etc.
---
Broth Ingredients: Herbs & Vegetables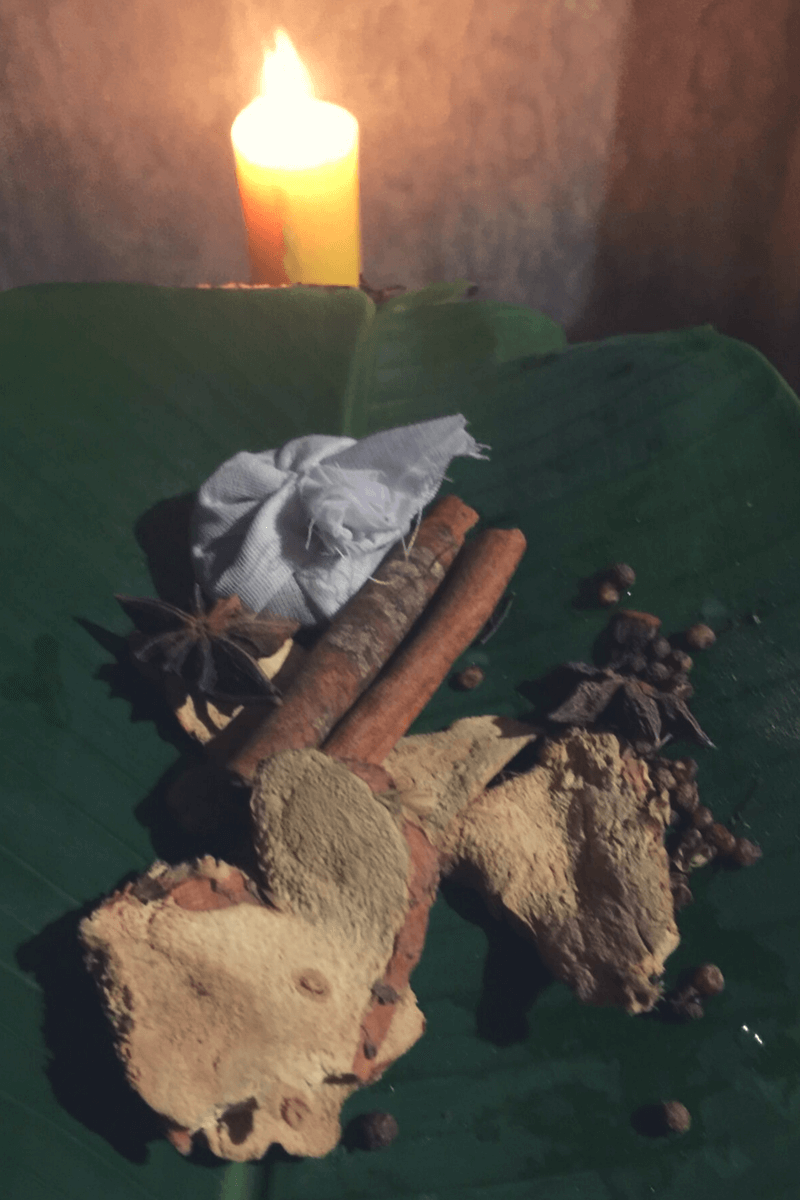 Let me list these out to make it more readable.
White onions, 3 whole
Coriander root, 3 to 5 roots
Fresh or dried galangal
Cinnamon sticks (whole sticks, not powder)
Peppercorn grounds (whole)
Lemongrass stalks, 2
The herbs and vegetables we use consist of 3 whole white onions, coriander roots, fresh and/or dried galangal (we used both), cinnamon sticks, peppercorn, and two sticks of smashed lemongrass. The pouch (pictured) is more of the same ingredients in powdered form which is used here locally to add an extra zest of the already good zest going in, so it's not necessary.
If you can find some type of "Thai Bone Broth" powder pouch and it's ingredients are all natural (no MSG, no sugar), then great, but it's not needed in this bone broth recipe. The herb-pouch is more of the same ingredients in powdered form which we already use.
---
The Bones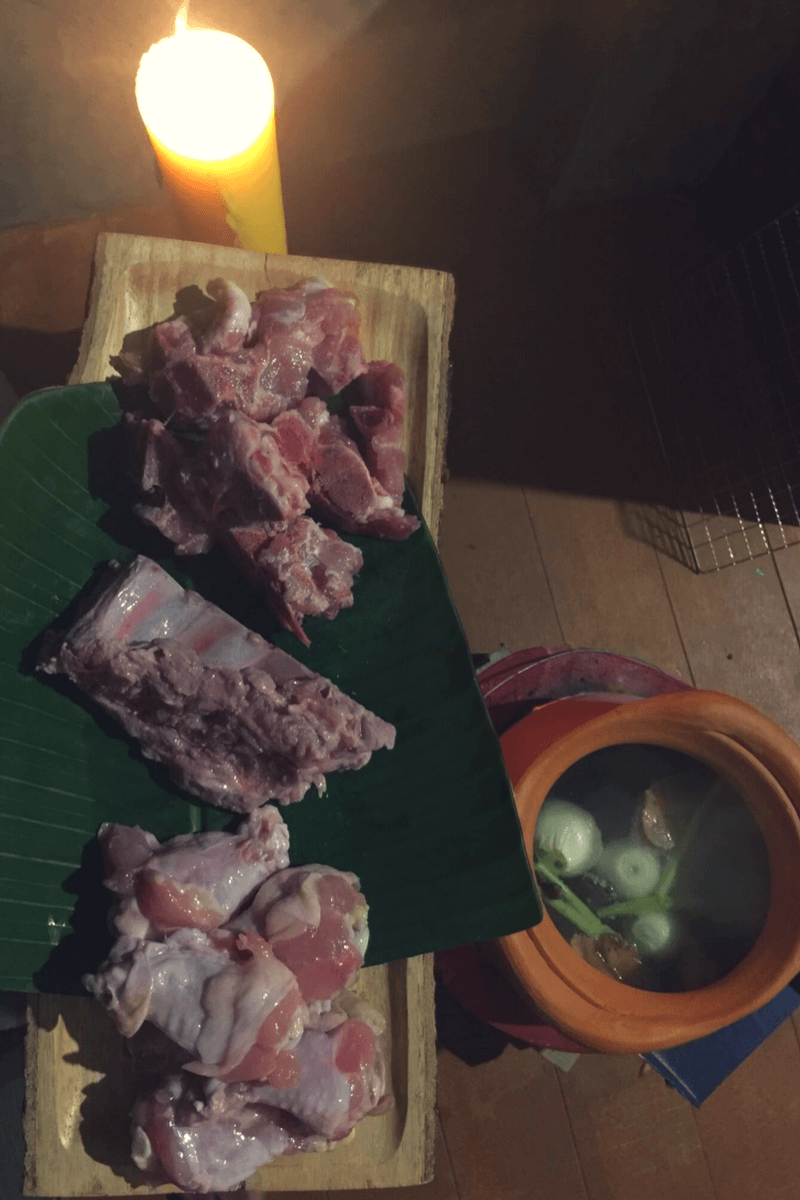 This bone broth recipe used pork rib bones, chicken bones, and that's it.  If you're wondering where to get bones for bone broth, or what type… all bones work. Big, small, medium. They all work beautifully. If you use small to medium size bones in a slow cook bone broth, the bones will melt in your mouth. That's how soft they get. This makes it a bone marrow broth recipe too.
---
Making Bone Broth
Boil water in a pot and put all the herbs inside. Shortly after, put in all your broth bones. Then you just let it cook on low to medium heat for at least 12 hours. The longer the better. Letting it go 24 hours would make this a true slow cook bone broth recipe.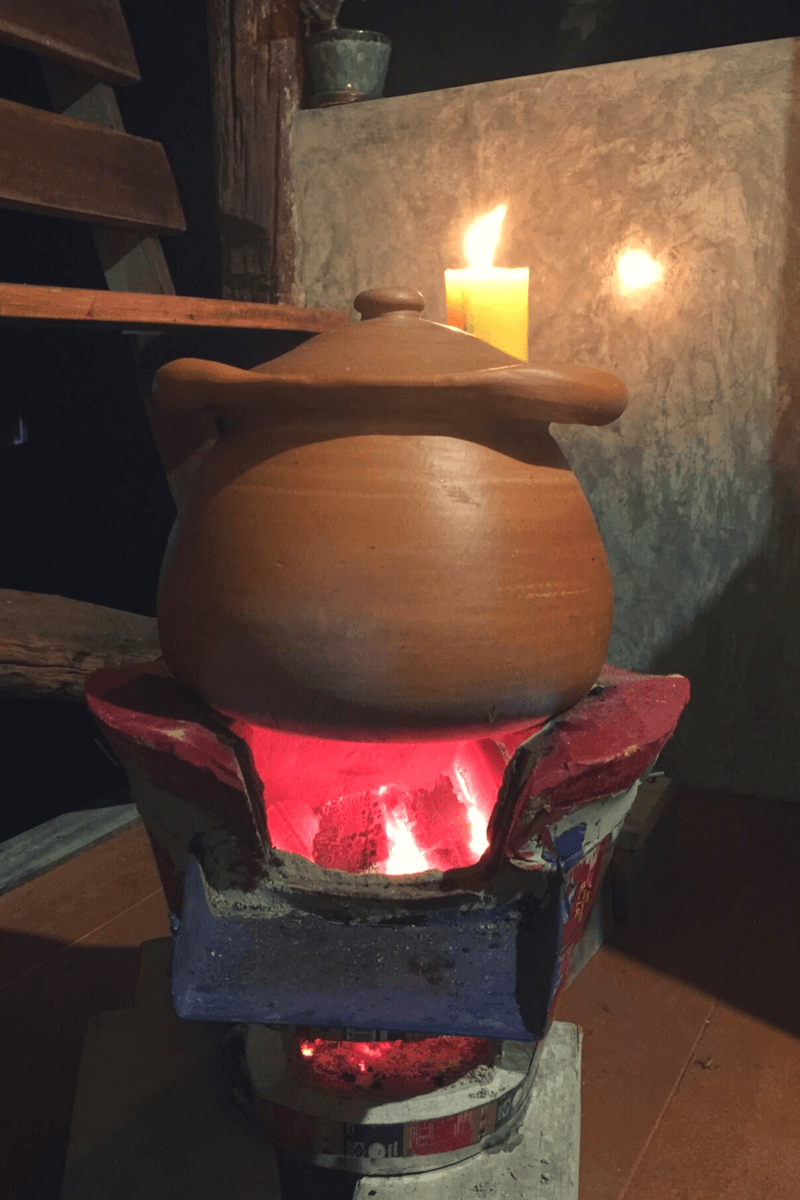 ---
Slow Cooking It Overnight
When you slow cook bones over a long period of time, you extract more nutrients out of them. It helps pull more amino acids, collagen, gelatin, minerals, and vitamins from the bones. The longer you cook, the more nutrients you extract.
This one we slow cooked overnight. It was still hot in the morning, but the coals had gone out. We got them burning again for another 3 hours, then enjoyed the broth for a late breakfast. A crockpot will probably be your best option if you're not cooking outside.
A perfect late breakfast meal it was.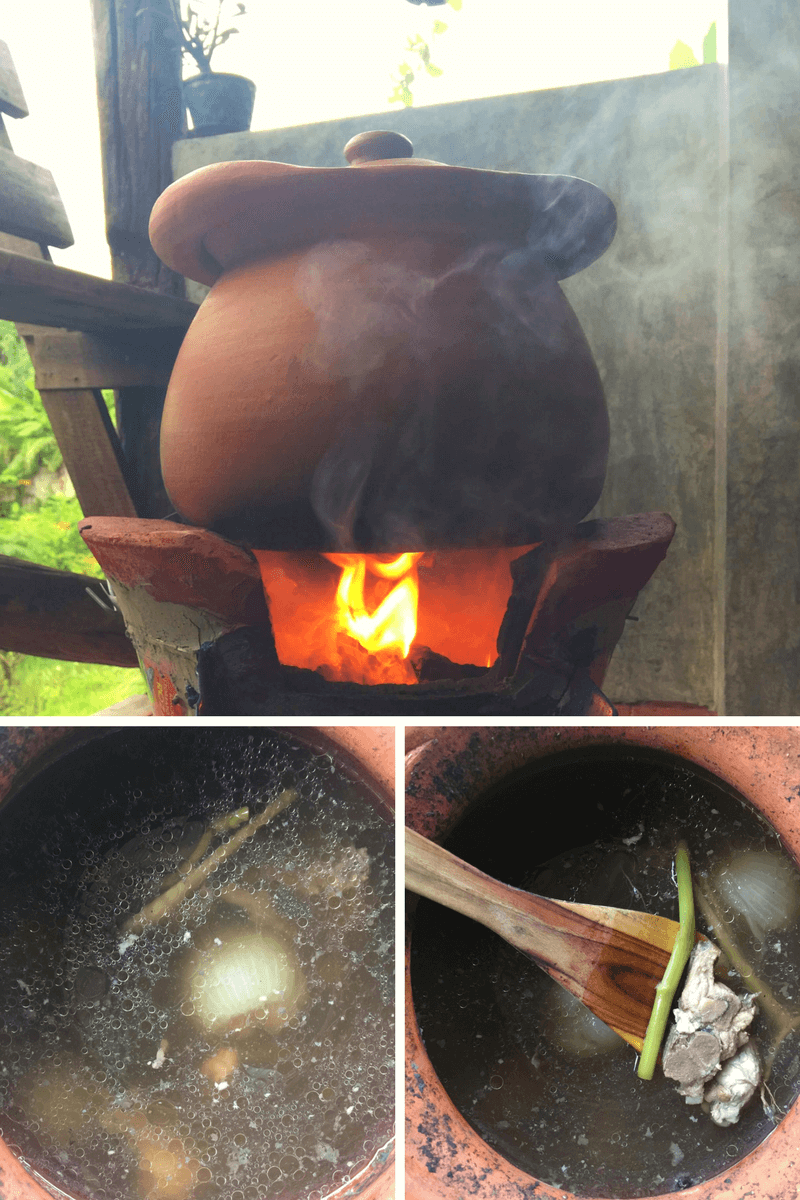 ---
Bone Broth Nutrition
Is bone broth healthy? Yes. Us humans have known about these benefits for thousands of years. This bone broth recipe is nothing unique or new. But for the western Standard American Diet, it is new. That's because bone broth has been pushed aside as a common thing to eat. So that's why I eat bone broth every other day and why we made this bone broth recipe; to reinforce its greatness both in flavor and health benefits.
If you're on a ketogenic diet, making bone broth each week will provide you essential minerals and amino acids a keto diet needs. You'll end up perfecting the craft in no time. If you're fasting, bone broth is ideal. It aids your body and helps it detox while fasting. It'll do this while supporting your muscles and body at the same time during your fast. This is why they have a bone broth diet now.
---
Bone Broth Benefits
From helping leaky gut (gelatin and collagen) to supporting sleep (minerals and glycine), joint and bone health (glucosamine), inflammation (amino acids), skin and hair health. Autoimmune conditions can be activated by a leaky gut, so many eat bone broth to support their arthritis or other Autoimmune related illnesses. Other than bone broth for weight loss, here are more broth heath benefits:
Supports healthy weight loss.
Provides essential nutrients to help heal the lining of your gut
helps your autoimmune conditions.
Keto Diets & Bone Broth: These bone broth nutrients help in many ways. They are essential to everyone, especially to you if you're on a low carb diet and use fat for energy. When you're in ketosis, you excrete more of these precious nutrients through your urine compared to others who are never in ketosis.
An amazing meal to eat at any occasion, broth soup should not be left for special occasions.
---
Our Thai Bone Broth Recipe Results
As we were cooking this, we heard a group out on the mountain doing their Buddhist prayer chant. This was the first time I had ever heard this type of chant without visiting a temple. There is a temple a couple miles or so down the road, so this likely where it came from. That's a far distance for voice to travel though.
This was a slow cook bone broth recipe we cooked overnight. It was still hot in the morning, with the coals recently out. We got the flames going again for another several hours before enjoying the broth for lunch and early dinner.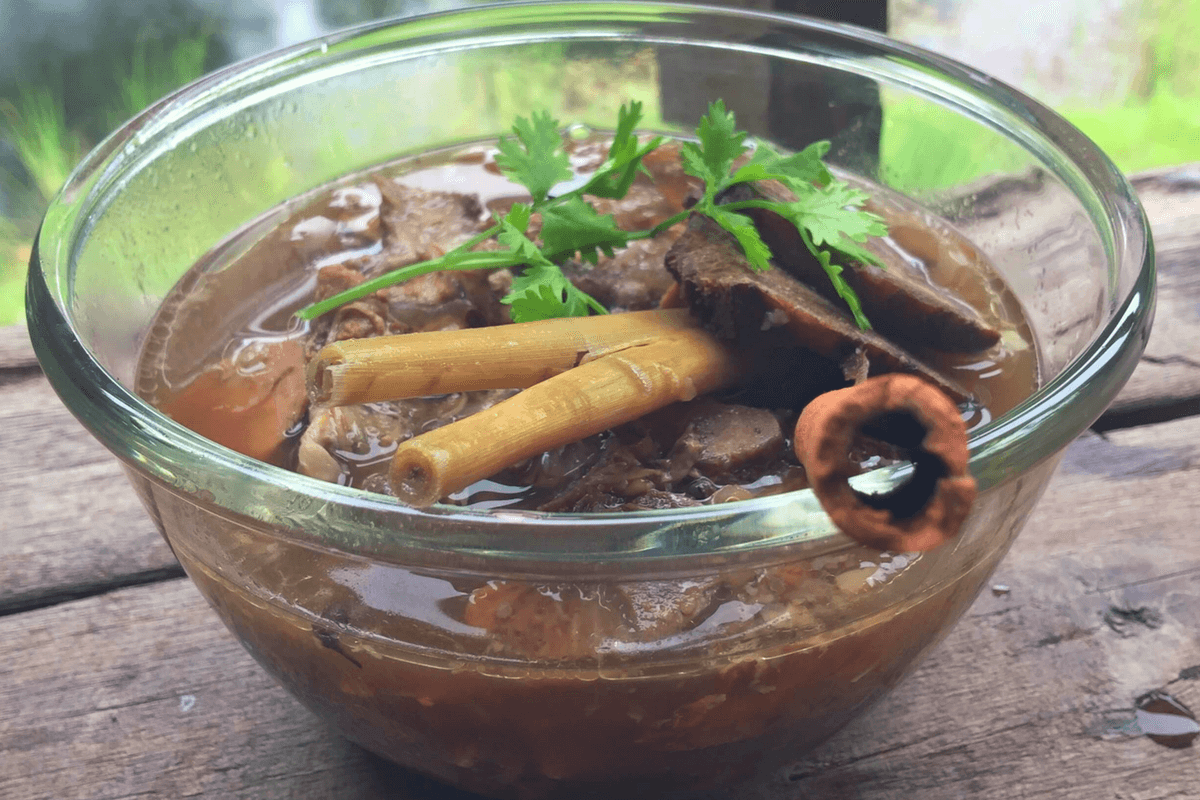 Thanks for coming to our blog.
If you enjoyed this recipe please give it a share on social or with a friend!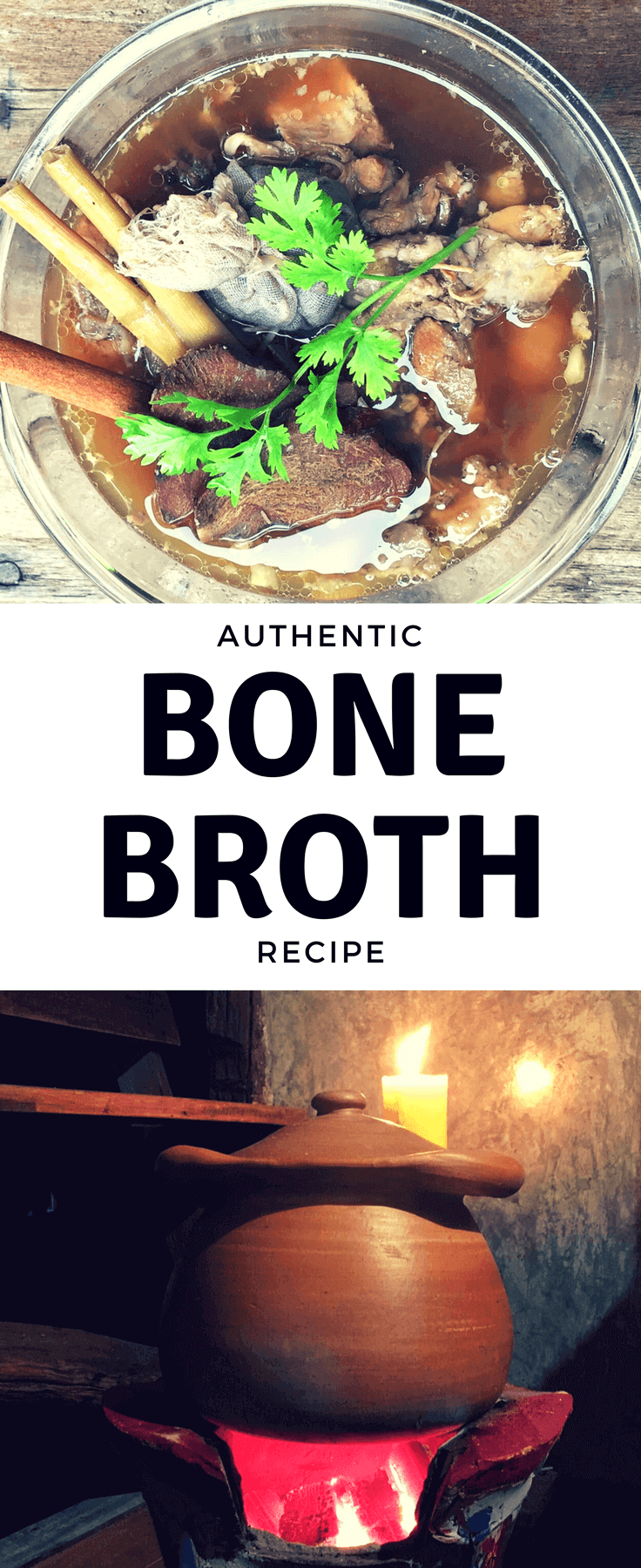 ---
Thai Slow Cook Bone Broth Recipe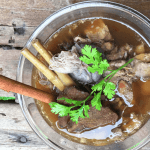 Thai Slow Cook Bone Broth Recipe
We use both chicken and pork bones to slow cook this broth overnight outside.
170 grams pork ribs
300 grams pork bones
300 grams chicken bones
272 grams white onion
12 grams coriander root
35 grams spices (dried galangal, cinnamon sticks, clove, peppercorn)
27 grams lemongrass (fresh stalks)
1 grams sea salt (1 or 2 grams, to taste)
Slow cook these ingredients over low heat for at least 12 hours.

We could have dug in at the 12-hour mark, but instead we decided to let it go on low heat for another 12 hours.

A full 24 hours is not always necessary. The extra time after the first 12 hours will only make the bones that much softer and the bone broth that much more nutritious as it extracts additional nutrients from the bones.
The lemongrass stalks should be smashed then cut in half.
The galangal can be either dried or fresh – whichever is easier for you to attain.
Add salt to taste. It may not be necessary if you have all the spices.
---
UP NEXT: Keto and Paleo Approved Shrimp Tom Yum Soup. A special recipe that includes a shrimp head fat sauce that makes this a truly authentic and flavorful tom yum.