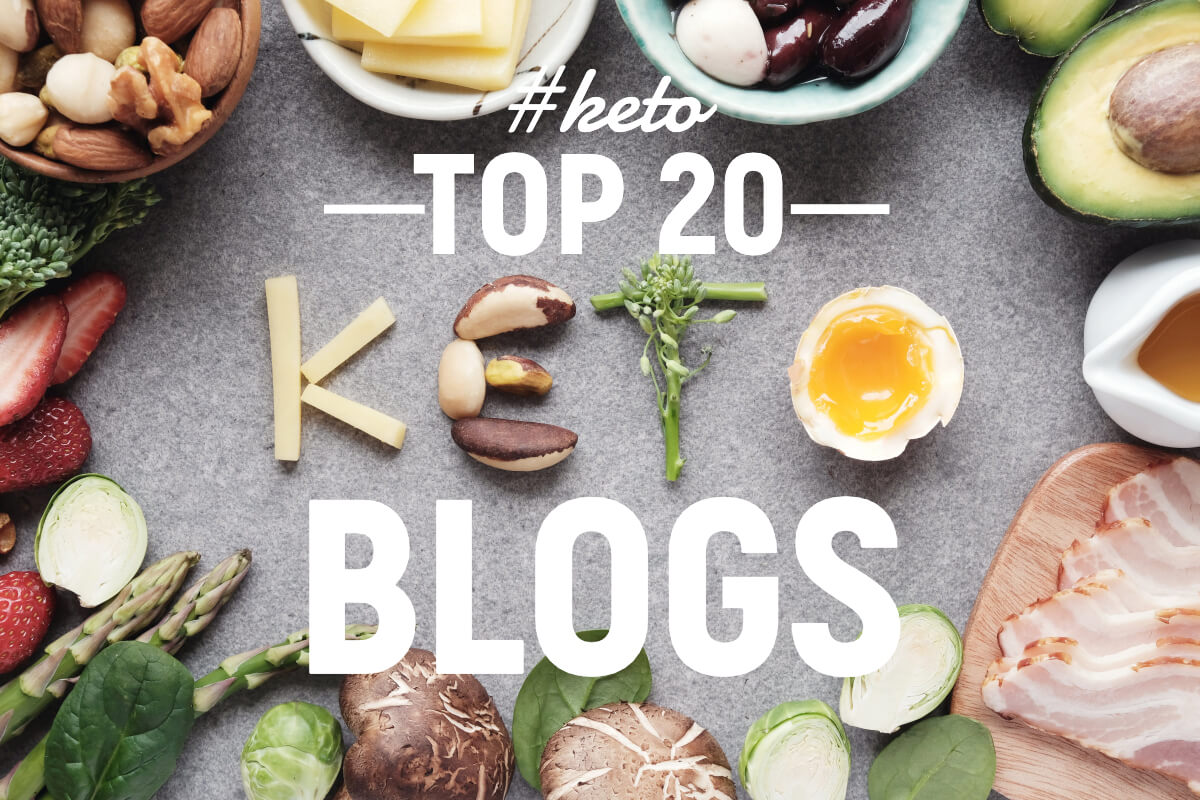 This best keto blogs list shares many great resources whether you're just embarking on the life-changing adventure that is the keto diet, or you've been at it since before they gave these popular diet's names like the "Paleo" or "Keto" diets.
The thing with keto blogs is you find yourself scouring through blog posts, for the knowledge yes, but also for others' personal experiences with it.
It's easy to find good keto diet information to help you lose weight with keto, or to learn how to calculate your keto macros, or find all the recommended keto supplements, but for many, the reason to follow a keto blog is to learn from the journeys of others.
Top 20 Best Keto Diet Blogs To Follow In 2023
Below is a list of the top 20 active keto diet blogs to follow online.
Many of these personally helped me when I started waking up to the fact that we're force-fed false info about nutrition since day 1. I hope they serve you well as well. After the top 5, the best keto diet blogs are not listed in any particular order.
The top 5 keto blogs on this list are my go-to's.
1. Primal Edge Health (Insightful, Though-Provoking Info) – Best site on here for sure
If you've read any of my blog posts around the carnivore keto diet, then you've seen me rave about the Primal Edge Health blog. It's a blog, but the YouTube videos are what make them worthy of claiming the #1 spot on this best keto blogs to follow list. Do yourself a favor, subscribe to Tristan's YouTube channel and follow their blog. You'll be smarter for it. Not just smarter about nutrition, but smarter about life in general. He talks a lot about the agendas currently in place. He's "woke". The term "woke" has been hijacked of course, but PEH are fully aware of the nefarious agendas in place in our world. And the food we eat is a significant avenue for "them" to put these agendas in place.
2. Keto Diet App Blog (In Depth Research, Recipes)
Martina from KetoDietApp.com is no slouch of a blogger. She's on top of it with ketogenic diet cookbooks, smart phone apps, calculators and tons of well-researched articles and guides. A very nice keto blog here. While she doesn't get as personal on everything as much as a traditional blogger would, one like Primal Edge Health above, or maybe Mikhaila Peterson's blog, you get solid information that helps you achieve your keto diet goals and goes above and beyond in answering most questions around the keto topic.
3. Ruled.Me (In-depth research, Forum)
Ruled Me is also no slouch of a blogger. If you're just getting started with your keto weight loss journey, or you're a long time advocate, Ruled.Me has what you need. Keto recipes, keto results posts, books, success posts, and a forum. They have a new Keto Academy too if you're just getting started.
4. Diet Doctor (Evidence based keto info)
If you're just getting going with the keto diet, or are on the fence, needing to be swayed a bit more, Diet Doctor will do the trick. Meal plans, food lists, printabhttps://www.dietdoctor.com/le leaflets, weight loss guides, recipes, videos, and a section for doctors, Dr. Andreas Eenfeldt, MD and the team at Diet Doctor have created one of the more trustworthy keto blogs to follow out there.
5. Ben Greenfield Fitness Blog (Research backed keto info, not boring)
Another blog that is mandatory on the best keto blogs list is Ben Greenfield's blog. He has one of the most popular health and nutrition podcasts also. I put off listening to him for a while. And when I first started, I felt like he was trying to sound like Tim Ferriss. But now he's my favorite podcaster for keto diet info with entertaining and educational commentary. His blog is filled with great ketogenic diet and related info.
6. No Bun Please (traditional blog + more)
Here's a good one. A blog. Not a website with a few posts and a bunch of keto products. Keto products are great, and No Bun Please has a nice shop (especially the PopSocket whatever that is), but the highlight of this blog are the keto blog posts.
7. Ketovangelist (solid keto blog)
Along with The Ketogenic Athlete Podcast, Ketovangelist is a sister site run by the same person, Brian Williamson. This blog has recipes, a keto fitness section, a membership site so you can interact with fellow keto heads, and he's very active. One of my favorite things about Brian is he seems very down to Earth, his favorite band is Demon Hunter (I used to jam them a lot back in the day), and he seems like a good guy. You can't have a top keto blogs list without at least one of Brian's sites. My best keto blogs list features him twice.
8. Fat Burning Man (One of the original keto bloggers)
Abel James started his platform as a popular podcaster. Most his content is delivered through in podcast form, but they then create blog posts from these interviews and post them regularly on his Fat Burning Man blog. They also have many great keto recipes.
9. Mark's Daily Apple (Good research)
Mark Sisson and the team at Mark's Daily Apple produce a lot of content around the keto diet. They have all types of keto recipes and share in depth, well researched articles on the topic as well. They also have a brick and mortar shop now I believe, somewhere near the beaches of Los Angeles.
10. Minimalist Eating (Keto carnivore recipes)
Keto carnivore recipe blogs help show you all the variety that can be had with an animal kingdom-only diet. Minimalist Eating post(ed) often and ha(d) many great carnivore recipes. But they're no longer around and so I've removed the link but left the name up just in case I find out they rebranded and forget to set a redirect.
11. Keto Karma (Recipe focused)
Suzanna Ryan runs the Keto Karma blog. The highlight of her blog are the recipes. She has many great recipes on the blog and she also regularly shares ketogenic diet information as well as related lifestyle posts. Suzanne lost 120 lbs when she went keto. She has a lot of good keto info you can learn from.
12. Keto Connect (Keto recipes)
Keto Connect has a big youtube channel and they do a lot of recipes and share ketogenic diet information. If you like keto youtube bloggers, Keto Connect is a great follow.
13. Livin La Vida Low Carb (OG keto blogger)
Justin Moore's LLVLC is a must-bookmark keto diet blog. His podcast was one of my regular listens and I still learn a lot from it with each show I tune in to. You can also get them in written form on the blog. Definitely one of the best keto blogs right here.
14. Gluten Free Daddy (keto & gluten-free info)
Keto focuses on macros more than the type of food. That was the problem with Adkins. Eating perfect macros, but doing it with bad food is what we often do. That's until you go learn about clean eating, Paleo, etc. AND keto. If you focus on healthy ingredients and avoid gluten, Gluten Free Daddy used to be a great keto blog for you to follow. Today it's a blog called my natural family.
15. My Sweet Keto (dessert recipes and keto blog)
My Sweet Keto is a great site if you're on the search for great fat bomb recipes. As well as her good keto and low carb dessert recipes, she has a blog that's pretty active and focused on the ketogenic diet. There are no dates on the blog posts but she does seem to post often.
16. Healthful Pursuit (keto blog for women)
Here's another one for the ladies. Healthful Pursuit focuses on keto for women. However, most of her information is for both male and females, but her target readers are women as you can pick up from her blog. I recommend anyone going on a keto diet to follow Healthful Pursuit because she shares great keto information.
17. Meat Free Keto (vegan keto blog)
I wanted to include a vegan keto diet blog on this list. After browsing a few of the most informational ones, I noticed many of them stopped posting in 2018. Meat Free Keto is run by a certified holistic nutrition consultant named "Liz."
18. Peace, Love and Low Carb (keto recipes)
This is one of the more established keto recipe blogs out there. Run by Kendra D. Holley, a best-selling cookbook author, Peace, Love and Low Carb seem to talk to women more than men. She won me over when I saw her love of my hometown Temecula, California. If wonderful keto recipes and personal stories are what you're looking for, definitely follow Kendra and her blog.
19. The Ketogenic Athlete (Keto podcast)
Brian Williamson & Danny Vega are behind The Ketogenic Athlete and run a popular keto podcast called Ballistic Health. The domain still states The Ketogenic Athlete, so I think the blog will remain that way, and that's just the title of their show. If keto podcasts are your thing, this is a good blog to bookmark. They don't do text blog posts really. Just the podcast episodes.
20. Nutrition Adventures (Us!)
It would be a little overly humble of me to not include our own blog, Nutrition Adventures – a blog dedicated to helping those looking to better their lives through nutrition, the keto diet and other related ways of eating such as the Paleo diet and the Carnivore diet. We also post product reviews like this 10 best keto meal replacement shakes post.
We only have around 20 keto recipes on the site at the moment, but all are original and all have a lot of love put in them. Most are Thai food classics that we tweak to make keto-friendly. The Keto Tom Yum is the most popular. My favorite is the easy Khao Soi recipe.
My wife, Ling, is a wonderful cook and without her, this blog would be nothing. Nutrition Adventures is run by me, John, with the support of my amazing wife and our happy little boy.
Thanks for coming by!
There are a number of keto blogs that are pretty good but didn't make the list. I hope you got something out of this post!
To repeat, the best keto diet blogs, in my opinion, are the top ones in this list.
The best overall blog is Tristan's at Primal Edge Health. It's info you need to navigate through this world full of lies. To learn about how mainstream lies infiltrate this world and force themselves on us, and to learn more about how to see through them, Primal Edge Health does a good job.
---
If you have any comments about these keto blogs, or recommendations for me to check out and maybe add to my list, please let me know in the comments!
I will update this post each time I come across a new great keto blogger.
Thanks for coming by!
UP NEXT: Ever deal with keto hair loss? It's a scary thing! Luckily it's most likely temporary. Read our keto hair loss blog post to learn more about it!