If you need keto lunch ideas, here are 25 handpicked keto lunches from around the web that I've bookmarked. A couple are from here on our blog too. These keto lunches should help you out and give you some good ideas for when you just don't know what to eat for lunch on your new low carb high fat way of eating. Most are easy, quick to cook and packable in one way or another.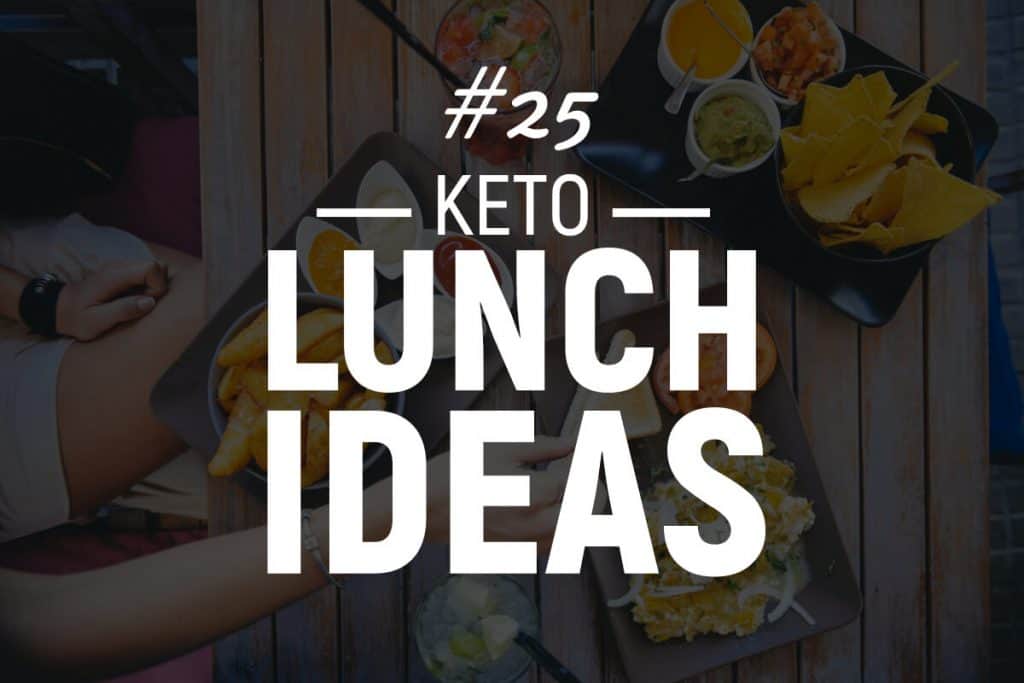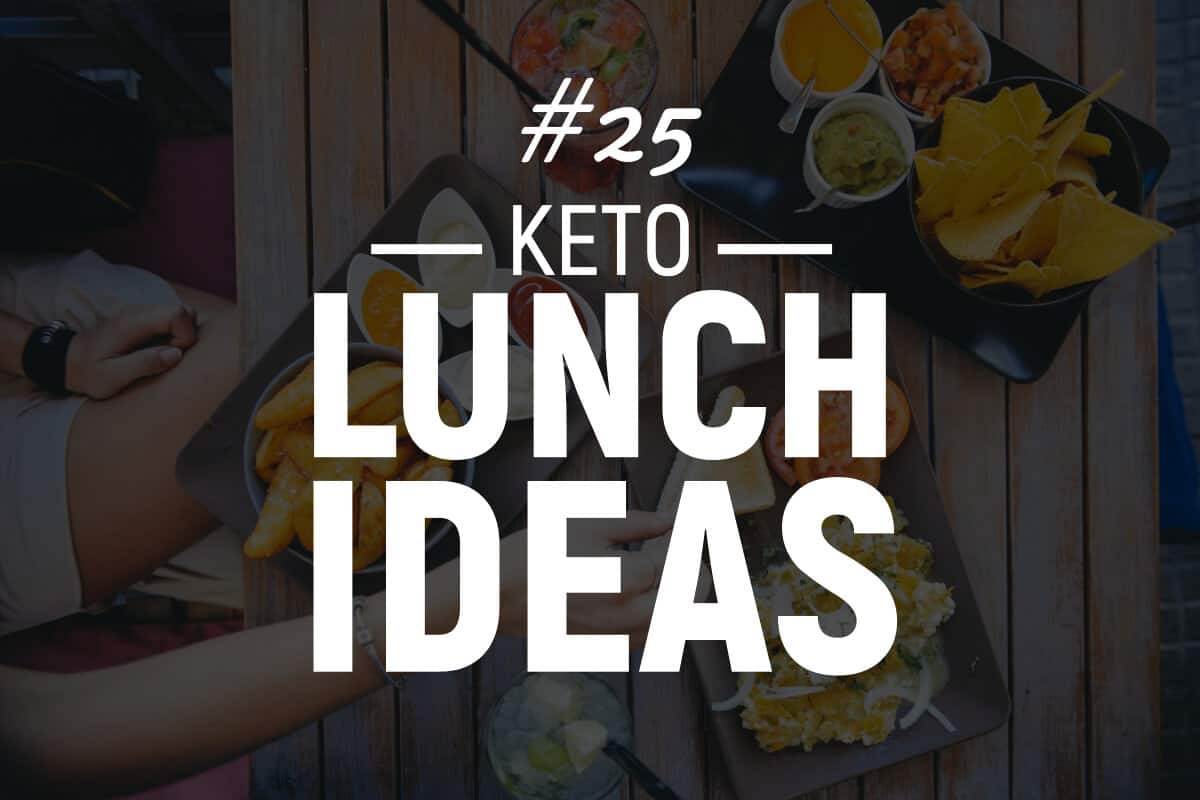 If you're on a low carb diet or a ketogenic diet, easy keto recipes are a must. The world isn't catered to low carb eaters, and because of that, we have to plan around this by cooking at home or strategically eating out. These recipes are good keto luch ideas and I have way more than 25 bookmarked, so I'll have to pick out some more great ones and update this list in the future.
25 Keto Lunch Ideas
Because the pinnacle of the American lunch that I grew up on was a good homemade sandwich, I will start off with a few keto sandwich recipes, and we'll go from there. The table of contents above should help you jump to any recipe by name if you prefer to browse these keto lunch ideas that way.
1. Cauliflower Grilled Cheese
Cauliflower grilled cheese sandwiches are a little known grilled cheese variation that makes it perfect for the ketogenic diet. I like this recipe because the blog post has step by step cooking directions in images. This makes the process extra easy in case you're foreign to the concept of making the sandwich bread from cauliflower. It ends up being pretty easy to make. If you've never made a cauliflower grilled cheese, you will be very happy that you now know about them. These are one of the best keto lunch ideas. Click here for the full keto grilled cheese recipe.
2. Bunless Bacon, Egg & Cheese
I know this one is a breakfast, but I'll eat this bacon, egg and cheese keto mcmuffin for dinner or lunch too. This is a perfect keto lunch that will help power you through the rest of your day. It's best fresh and cooked at home, and it's not the most ideal packable keto lunch if you like runny eggs, but it's good enough that you will figure out ways to eat it at any place or time also. I found this recipe on Delish.
3. Low Carb Reuben Stromboli
If you're a stromboli fan then this keto lunch idea is one you might have already done and perfected. But for the rest of us, learning you can make an equally tasty Reuben sandwich for the ketogenic diet was another one of those days you'll never forget. I found this keto sandwich recipe on All Day I Dream About Food.
4. No Bread BLT
Here is one that you think you could have thought up on your own, or maybe you have already made this. I had never seen this before this recipe. I had to put it on the keto lunch ideas list. The recipe is pretty self-explanatory. I found it on Step Away From The Carbs.
5. Keto Philly Cheesesteak
Anything that resembles a good hamburger or cheeseburger I'm usually a fan of. Recipes like this keto Philly cheese steak help make a keto diet easier. It has 32 grams of fat and only 3 grams of carbs so it's a perfect ketogenic diet worthy sandwich. It uses low carb wraps, that's it's secret ingredient. I found this recipe on Low Carb Maven.
6. Keto Peanut Butter & Jelly Sandwiches
I like this recipe because they make it all from scratch using a mix of coconut flour and almond flour. These keto pb & js are perfect to pack for lunch on the go. The only thing I change from this recipe is the microwaving on high for two minutes step. If you also prefer not to microwave, this can easily be replicated in a little saucepan over the stove. It comes down to using a low carb bread. This is a great quick way to make a keto pb and j. The recipe comes from Keto Size Me.
7. Low Carb Pinwheels
This is a good recipe for a quick way to eat the keto essentials, some protein with healthy fats and a few veggies can be added as well. If you don't slice them into little low carb pinwheels, you can it like a breadless sandwich burrito. The key is in the quality of meat you're using. Many sandwich meats commercially sold can be less than ideal. The full recipe for the pinwheels is on 730 Sage Street.
8. Keto Philly Rolls
You can modify anything to make it low carb and these Keto Philly Rolls are a good example of that. This recipe also show how creative keto lunch ideas can get. The video above from the Killer Ketosis Youtube channel will show you how to make these Keto Philly Rolls.
9. Low Carb Lamb Burgers
If you love lamb, and you love burgers, and you're on a ketogenic diet, then this may be one of the best keto lunch ideas on this. With 21 grams of fat, and only 3 grams of carbs, this is truly a low carb burger worthy of this top keto lunch ideas list. Avocado oil, feta cheese and soy sauce (try coconut aminos if you prefer soy sauce alternatives) are a few of its signature ingredients. I found this lamb keto burger over on AllRecipes.
10. Spinach Mozzarella Stuffed Burgers
With 29 grams of fat and only 1 gram of carbs, plus 36 grams of protein, these spinach mozzarella burgers rival the best In N Out burger there is. This is a keto lunch idea I would have never thought of. Thanks for Pinterest and the many great chefs on there, I found this stuffed burger recipe that makes a perfect keto lunch recipe idea. Click here for the full recipe.
11. Keto Cheese Burger On A Stick
This is a great one if you want to skip the bun as well. Instead of stuffing the beef like the one above, you basically make a shishkabob with cheeseburger ingredients. The end result also looks the same in a funny way. Add the ketchup and you might not know the difference even. The bun will be missing but you get everything else that's good in a burger in each bite still when you layer the ingredients correctly. You can find this keto cheeseburger on a stick recipe here on Crafty Morning.
12. Keto Fries: Zucchini Fries
These keto zucchini fries are not quick to make, but I am including them in this keto lunch ideas recipe list because they're something that can be easily packed and taken on the road. Of course, these are best enjoyed warm and melty-cheesy, but if you're like me, there are times when you enjoy food and there are times (most of them) when you just need the proper nutrition in your body so you can just go about your business. These are great to have packed as a keto snack or to be timed into your keto lunch while fresh. I found these low carb zucchini fries over on AllRecipes.
13. Keto Naan Bread With Melted Garlic Butter
This keto naan bread is what got me to love naan. I love non-keto naan just as much. All naan is the best, just like Indian food. If you're a fan of Indian food, then you'll be happy to know this low carb naan recipe exists. Feel free to order takeout without feeling down about not eating the bread when you have this recipe handy. I found this one on Diet Doctor.
14. Beef Taco Stuffed Avocados
The avocado is the keto mascot. I've seen Enchilada stuff avocados, egg salad stuffed avocados, and right now I am sharing this one, beef taco stuffed avocado. I wonder how many different variations of stuff-avocados there are. I don't know that answer to that, but I can tell you they're all going to be very, very good. Keto lunch ideas with avocado are always great ideas. I found this one via Evolving Table.
15. Avocado Tuna Salad
I had to follow up the Beef Taco avocados with one of the best keto lunch ideas there is.. the avocado tuna bowl. This is one I've been doing for years, even as a kid when I was just hungry. Limes, salt, a tuna can and a ripe avocado can do wonders. This recipe here is slightly different. It's better than my semi bland one. This Avocado Tuna Salad recipe here adds chopped onion and crushed pepper, 2 things I had never combined before in my tuna avocado bowls, but really enjoyed it when I tried this version. This recipe is from Cook Eat Paleo.
16. Cheese Keto Tacos
If you've never seen these cheese taco shells, then you're about to be very surprised and happy. This one might have to take it for the most creative and practical lunch recipe on this list. You melt cheese and form it into a taco shell. When it hardens, you stuff the taco with the ingredients. It's a brilliant keto lunch idea for when you want to cook something up at home that's low carb and ketogenic diet friendly. I found these keto tacos on Homemade Interest.
17. Five Minute Sardines Salad Recipe
Here's one similar to what I eat on day's I really don't want to cook, eat out or anything. When you want bare nutrition that's going to make you feel good inside and out, this recipe is the one. It's quick and easy and when you make it with all these ingredients, plus added limes, it's a wonderful dish. Limes and sardines go hand in hand for me. Salt too. This recipe uses lemon juice and salt, both. I found this keto salad recipe over on Keto Summit.
18. Shrimp & Avocado Salad
Here is one of those naturally easy to make keto lunch ideas. Just like the sardine salad recipe above, this shrimp and avocado salad is easy to make and super healthy. This one, unlike the one above, has avocado. So it will help you hit your keto macros a bit easier. However, avocado can easily be added to anything. For the complete recipe with step by step directions, you can find this keto worthy salad over on The Paleo Mom.
19. Keto Salmon Sushi Bowl
Bowls are always good. And for sushi lovers, they're extra good. Most of us don't usually make sushi for lunch, but if you love sushi and are looking to make something yourself at home, you can still enjoy the authentic taste in a fast and easy way by making one of these low carb sushi bowls. This Keto Salmon Sushi Bowl has seaweed, cauliflower, salmon, soy sauce and all the essential sushi ingredients, but tweaked for ease and also for the ketogenic diet with how low carb it is. I found this recipe on Hey Keto Mama.
20. Salmon Florentine
Since we're on the greens-seafood combo area of these keto lunch ideas, let me add one last one that uses a cooked spinach. This Salmon Florentine recipe is quick and easy to make. It's low carb, salmon is the main ingredient, and it also uses apple cider vinegar, garlic, ghee and a few more ingredients. It's an easy and fast meal to make at home. This would also make a good packable keto lunch. It's high in protein with 49 grams, a decent amount of fat, 22g and low in carbs at 6g. I found this recipe on Ketogasm.
21. Khao Soi Gai
I have to include this one because it's what I ate for lunch 5 days of the week for over 4 years straight. But that's what happens when you live walking distance to the best khao soi spot in the world. We've managed to get pretty close to my favorite little khao soi spot's recipe. This one is quick and easy. It does require some heat and cooking, so it's not the easiest and quickest, but if you don't mind a little cooking, you can enjoy what millions of people eat for lunch every day in Thailand with this khao soi recipe.
22. Garlic Shrimp
Fresh shrimp, butter and garlic are always good ingredients in any recipe, together it's almost too good. This keto lunch recipe can easily be a dinner recipe as well. It's light enough to make it a perfect lunch along with enough fats in it to satiate you. Butter garlic shrimp is never a bad combination, and this recipe is a quick and easy one to follow. No step by step images on this one, but the recipe is clear and easy to follow along. The 5 tablespoons of butter help make this a worthy keto lunch idea. I found this recipe via Real Life Dinner.
23. Keto Fathead Pizza, BBQ Pulled Pork
This keto fathead pizza featuring pulled porks makes for a unique pizza, good at helping you reach your ketogenic diet macronutrient targets. It's a low carb pizza and can be easily personalized, which makes this one of the best keto lunch ideas on this list. With this pizza recipe, each serving (3 pieces) has 6 net carbs. Full recipe here.
24. Jalapeno Poppers
These jalapeno poppers are just as good as the mozzarella and spinach stuffed burgers above.  Ye,s anything with cream cheese is always going to be good. But the combination of jalapenos and cream cheese when cooked like this are something to be experienced. This cream cheese-jalapeno combo is one of the best there is. You can visit the full recipe here on the Wholesome Yum blog.
25. Keto Green Curry Chicken
This one is one of ours. This keto green curry looks like it may take a while to cook, but if you have all the ingredients, then it's about 20 minutes of cooking. This is a good keto lunch idea if you like to cook and are wanting Thai food. The recipe is listed out step by step so you can easily follow along. The end result is a 100% authentic Thai taste. You can click here to jump to the recipe.
Bonus Keto Lunch Idea: Low Carb Jambalaya
With 162 reviews and almost 400 people who have made it, this low carb jambalaya is a wonderful keto lunch idea because it's one of those style of recipes that you just throw a bunch of ingredients together in a saucepan, mix them up with some healthy oil and eat. I'm a fan of these when I'm cooking leftovers at home. This low carb jambalaya has 260 calories, 8.5g fat, 14.5g carbs, 31g protein per serving. It needs more fat, but it's still low carb. I found this recipe via AllRecipes.
---
Do you have any go-to keto lunch ideas you turn to often?
Let us know in the comments!
Up Next: 9 Keto Supplements (Vitamins & Minerals) For A Ketogenic Diet
Be sure to like us on Facebook and follow us on Twitter so you can be the first to know about the latest recipes and blog posts!