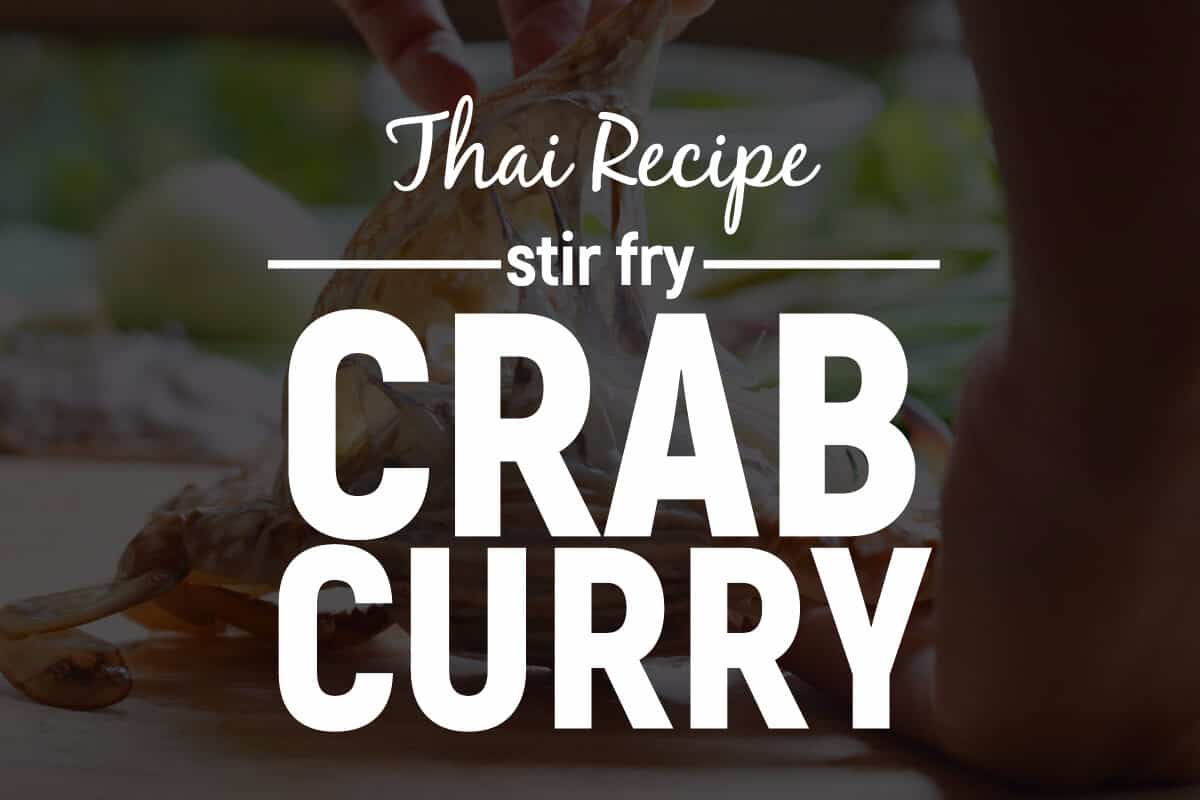 Thai Crab Curry Stir Fry is a perfect way to enjoy crab.
In case you want to know how to say it in Thai, it's pronounced, "Bu Pad Pong Karee" (ปูผัดผงกะหรี่ – Thai spelling).
On a scale of 1 to 10, it's a 10 in flavor, but a 1 in ease of eating. King crab is almost too easy after having a smaller crab stir-fry. Regardless, the taste makes any extra effort cracking open crab shell to attain luscious curried meat fully worth it.
Let us get on to the recipe.
Step 1. Thai Crab Curry Stir Fry Ingredients
Here are all the ingredients laid out.
The only thing not pictured is the coconut oil for sauteeing and the teaspoons of fish sauce used.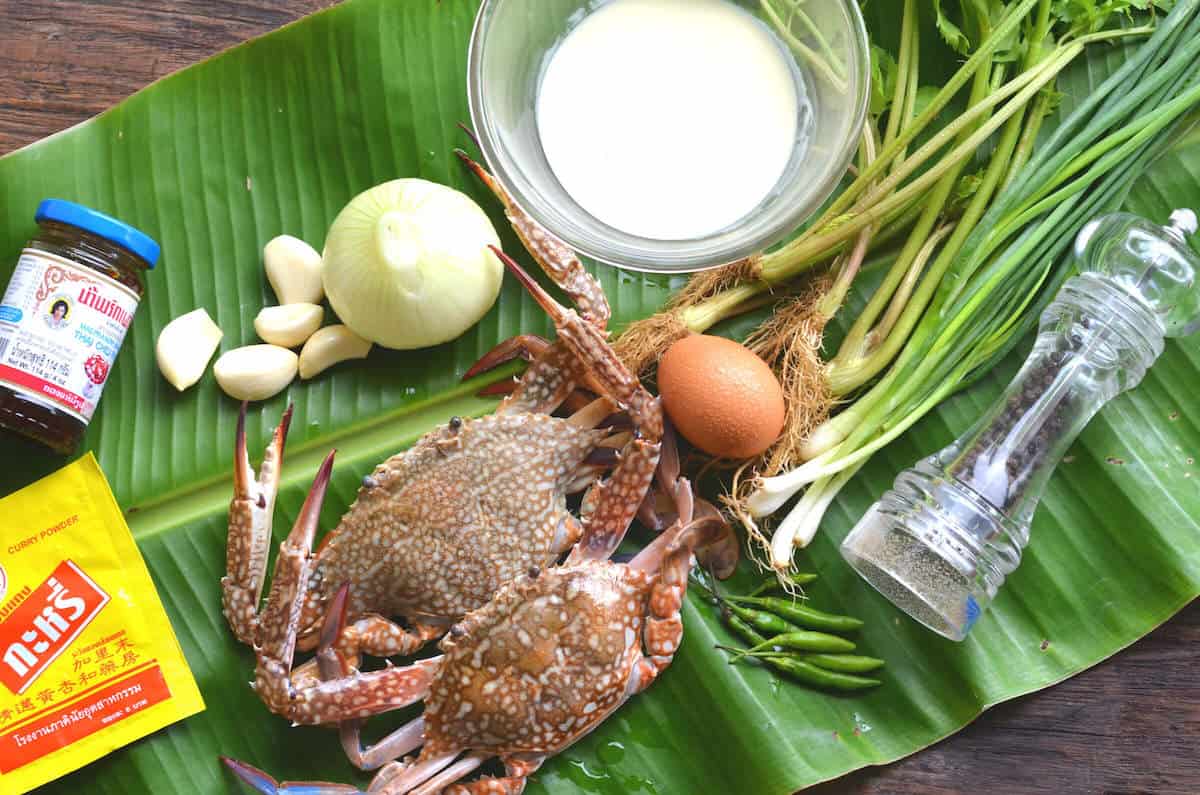 Fresh Crab

Fresh Garlic

2 Eggs

White Onion

Spring Onion

Green Chilis

Thai Parsley

Thai Chili Paste (red)
Coconut Oil (use one with no flavor preferably!)

Heavy Cream
Step 2. De-shell the crab and cut it into quarters
Before cutting the crab, you need to take off its shell.
The crab you see us de-shell in this image is a female crab.
You can tell by the big flap.
Female crabs have eggs inside, which makes them that much more nutritious.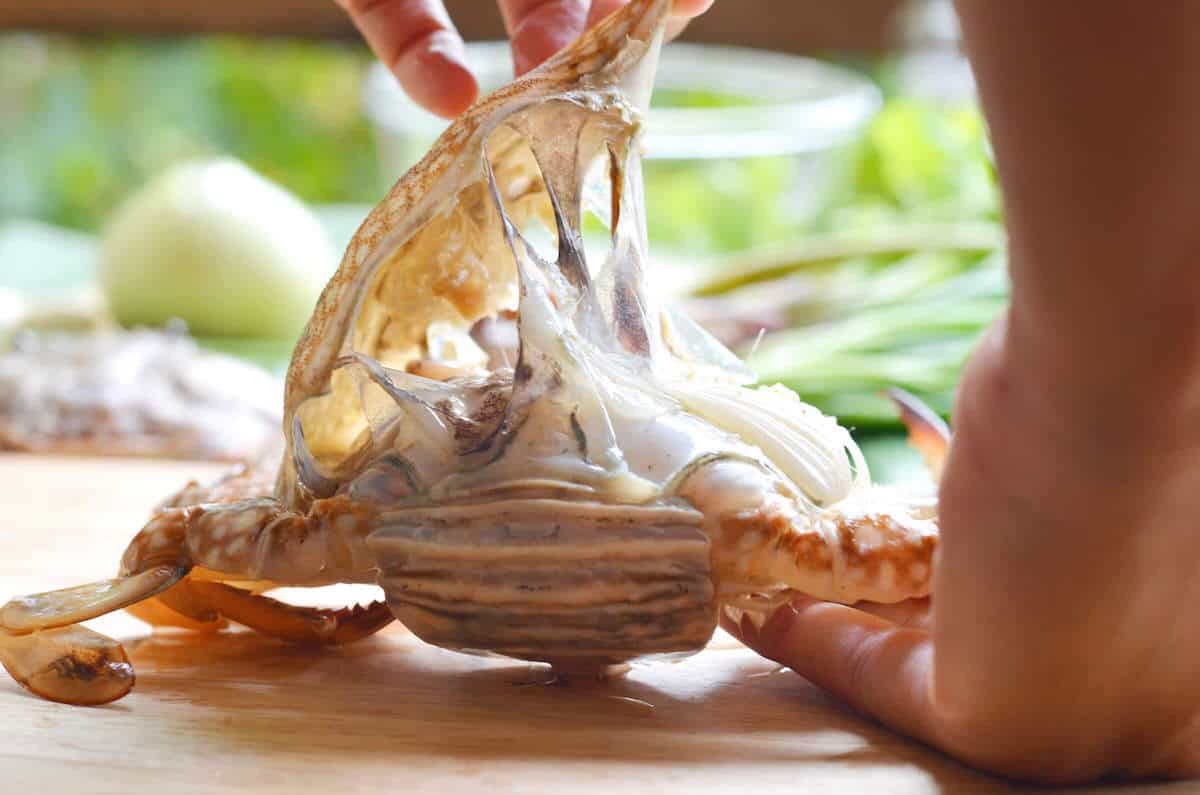 After you take off its shell,
Pull off the legs,
And crush them with something (we use the pestle from our mortar and pestle).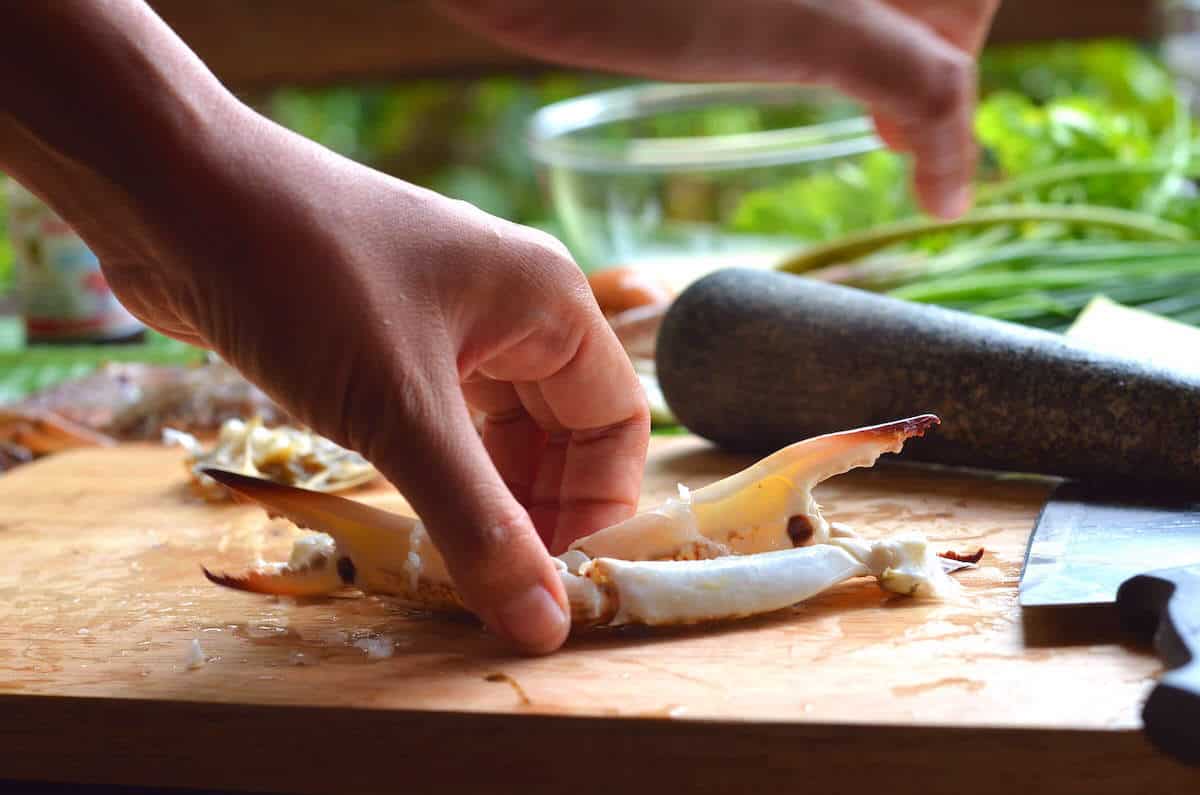 Then cut the crab in half…
And in half again,
This will give you 4 pieces or blocks of crab
And you should have the legs there with their out shell crushed a bit.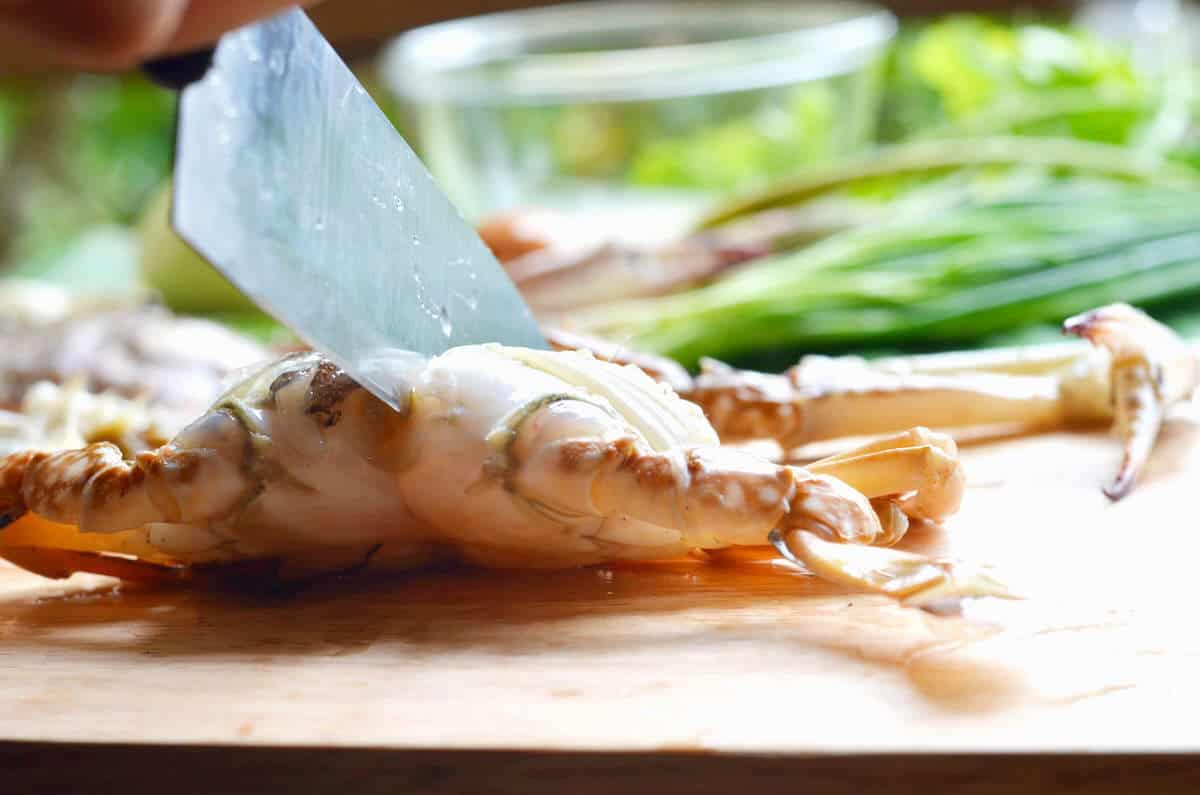 *note: don't throw away the crab's outer shells you pulled off.
These are used during cooking.
You'll put everything into the stir fry, including the outer shell.
Step 3. Chop the garlic, white onion, and chilis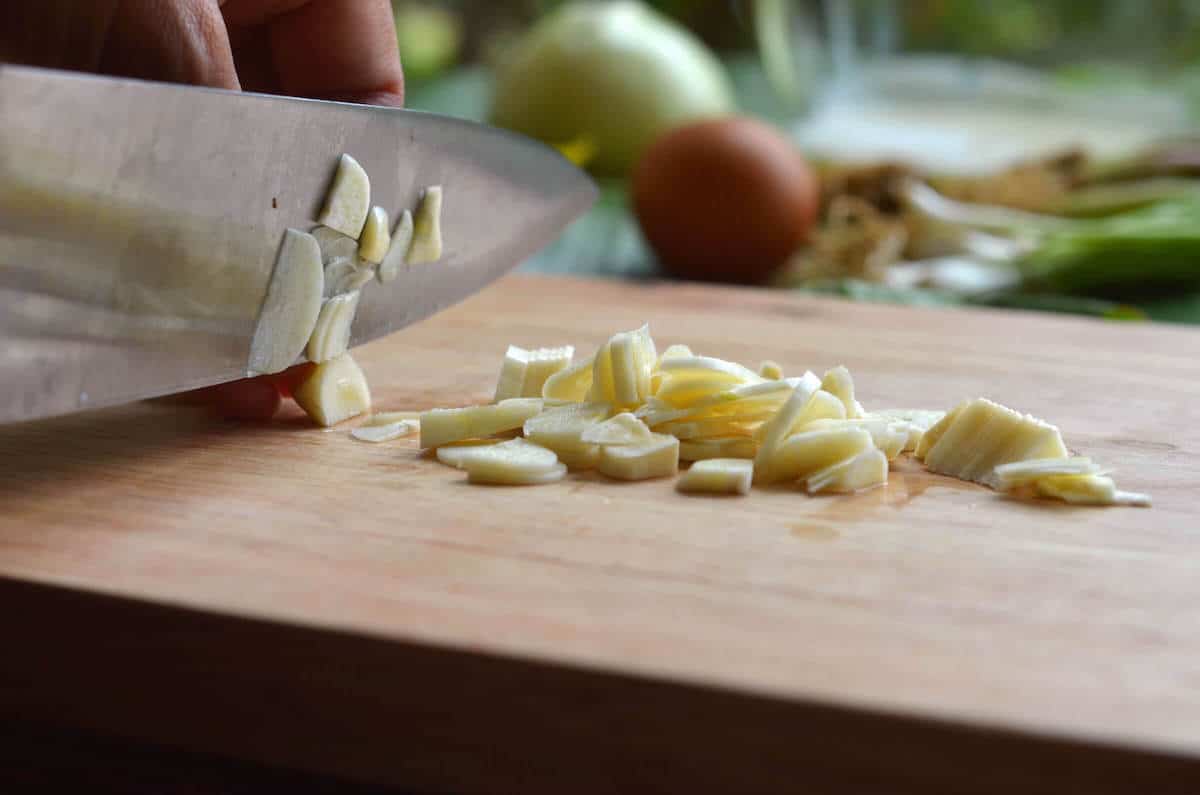 The smaller the slices of garlic, the more flavor you bring out for the next step…
Slice these up after cutting up the crab,
And then get some coconut oil heating in your saute pan.
Once the coconut oil is heated, put in the garlic first.
Then after a couple minutes, put in the sliced chilis.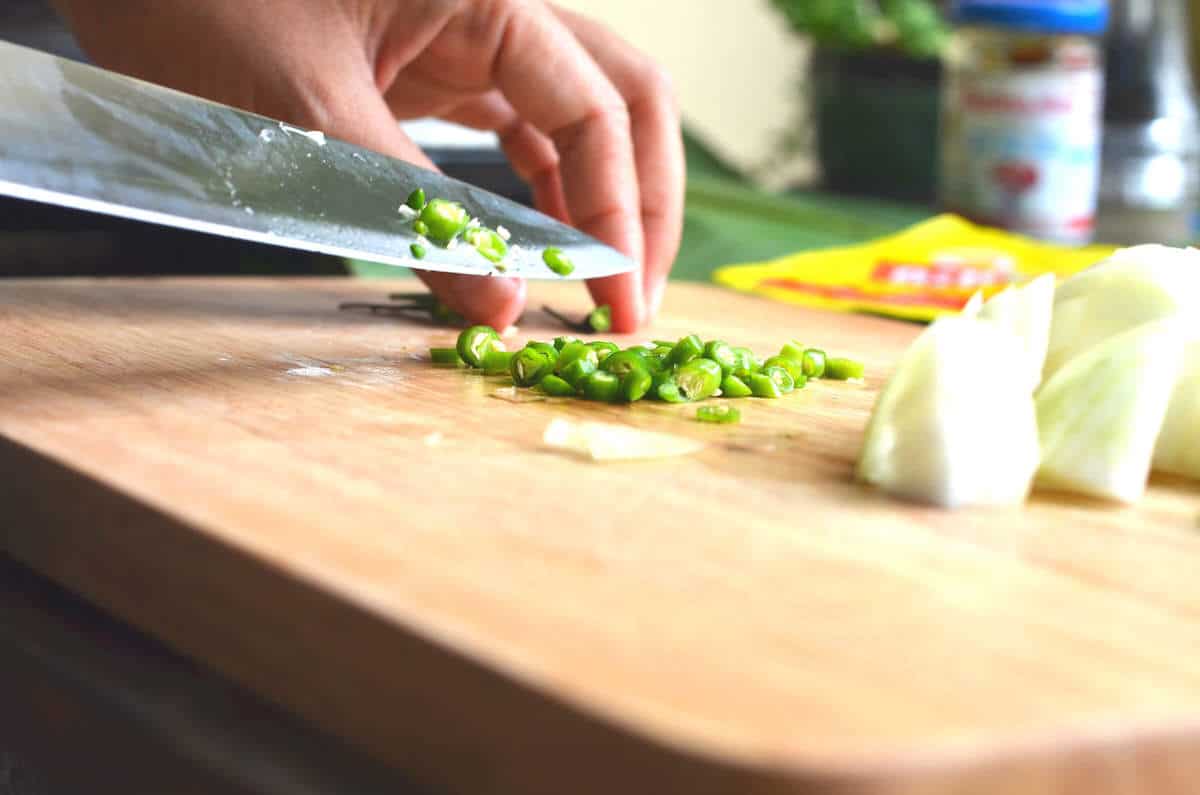 So you should at the point have some very delicious and almost intoxicating smells filling up your house.
*WARNING: You might want to ask kids or sensitive people to walk outside.. fresh chilis cooking up cause you to cough if not well ventilated.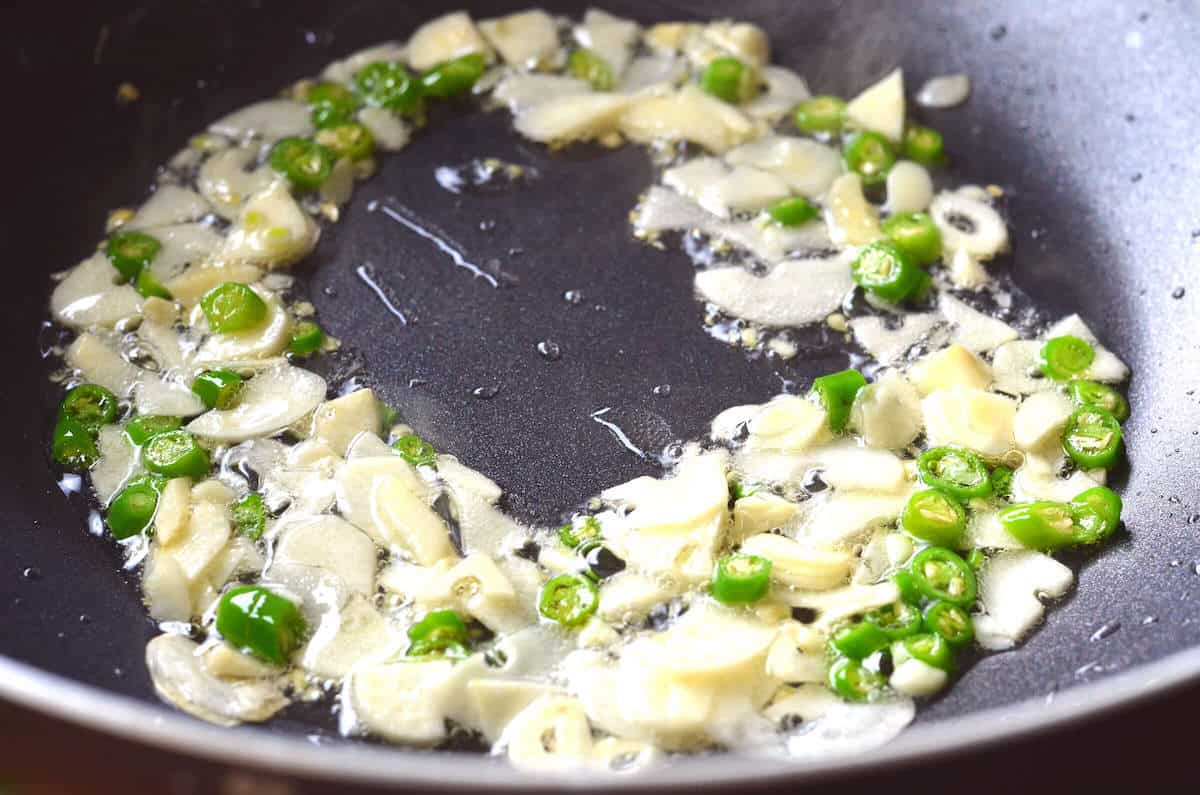 Step 4. Add crab to the garlic mix
In no particular order,
Add in the cracked shell crab legs, the blocks of crab that you cut, and any outer shells you pulled off.
It will look nice a smokey like this: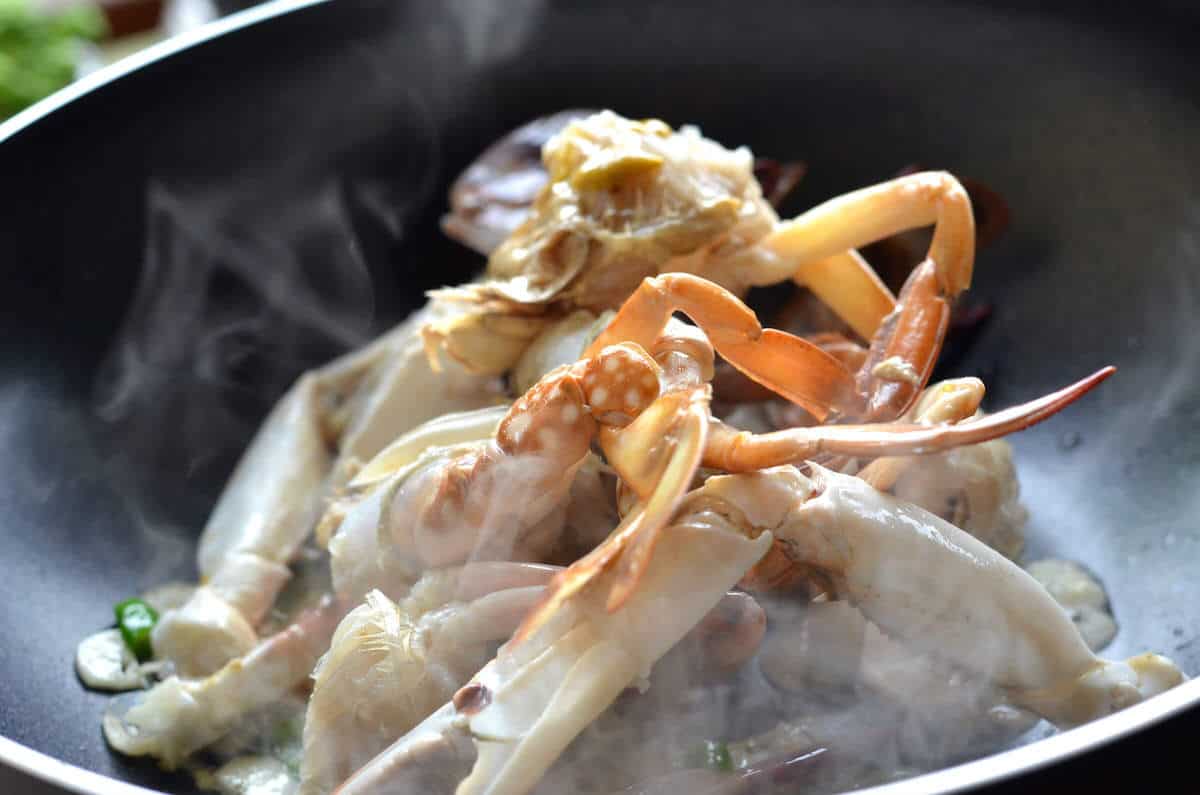 This is when you will add the curry powder.
Along with curry powder, add in crushed black pepper.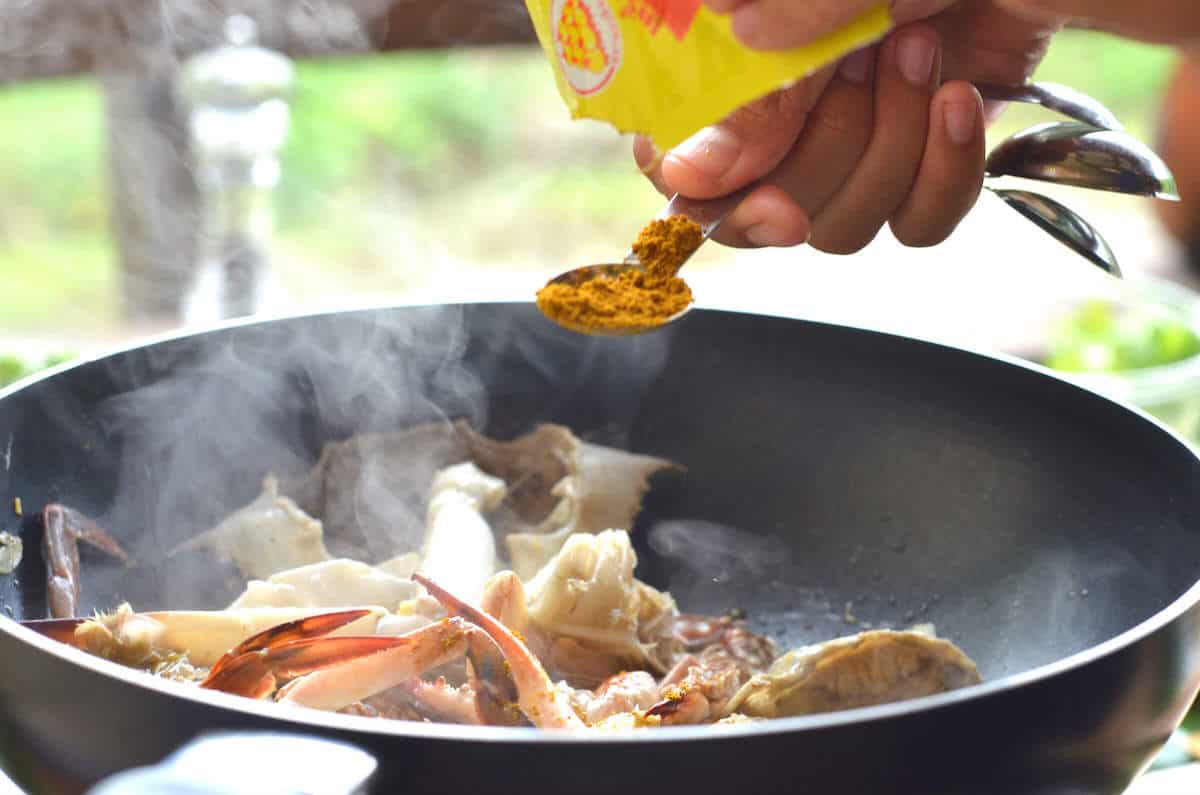 The key with curry powder is to find one with only natural ingredients.
Watch out for any added stuff.
You can find good ones online.
Simply Organic Red Curry Powder is a good curry powder that's certified organic.
This other one, Thai Red Curry Powder, is just as good for this crab curry recipe and many other Thai recipes as well.
This is the one we used for this crab curry stir fry: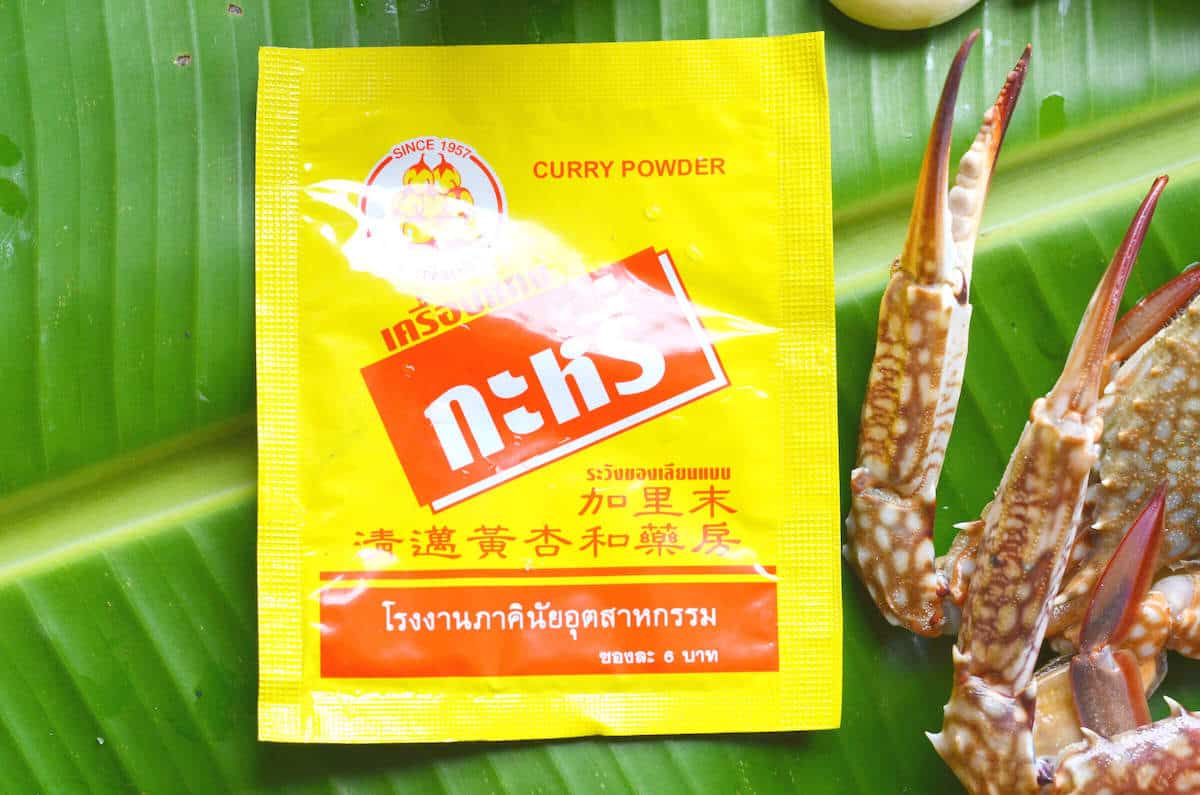 Your local Asian market or perhaps your local grocery store's international isle might have a proper red curry powder as well.
*note: you want RED and you want POWDER – we will use chili paste, but it is not the same as a red curry powder.
Red curry powder is really popular stuff.
It should be very attainable.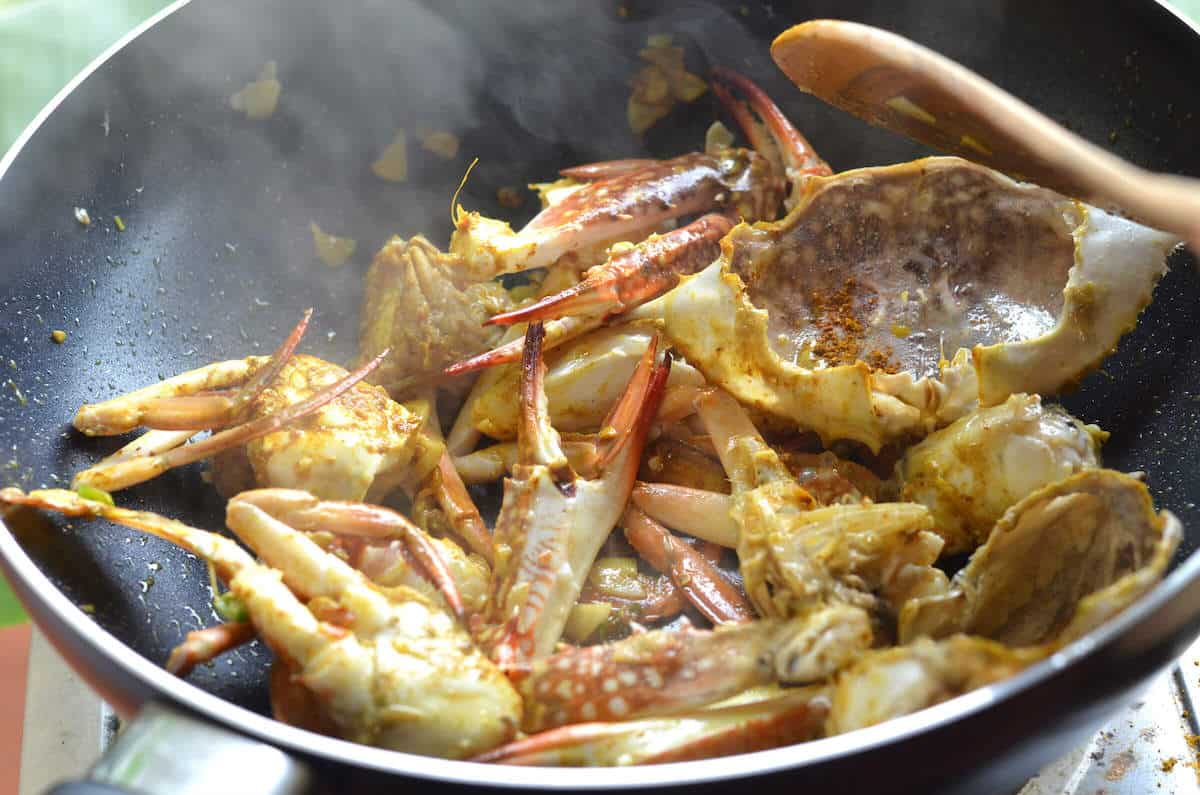 Let the flavors soak into the meat as it cooks.
Stir occasionally.
A ceramic saute is ideal, unfortunately, I cannot find a good one here in my town in Thailand and am working with a teflon coated saute pan:/
I'm extra careful not to scratch it or overheat it.
But I'm on the lookout for a ceramic saute pan.
I might have to ship one here from the states.
Or have a friend or family member come bring me one when they come visit.
As you stir,
Add a bit of coconut oil if needed.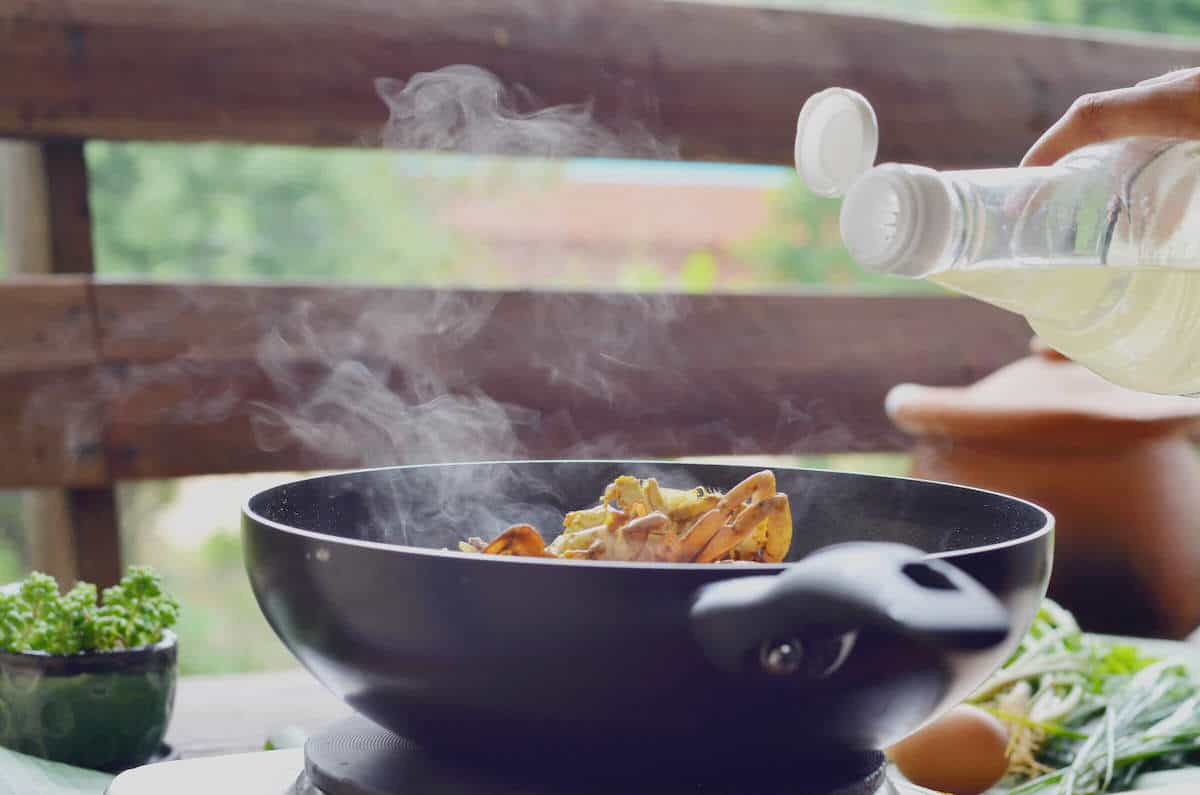 Next, the creamy curry sauce…
Step 5. Make Your Thai Crab Curry Stir Fry Cream Sauce
No crab curry is a real crab curry unless it has the creamy curry sauce.
These are the ingredients in the sauce:
Heavy Cream
Eggs
Red Thai Chili Paste
Fish Sauce
First, put heavy cream in a bowl and crack 2 eggs into it.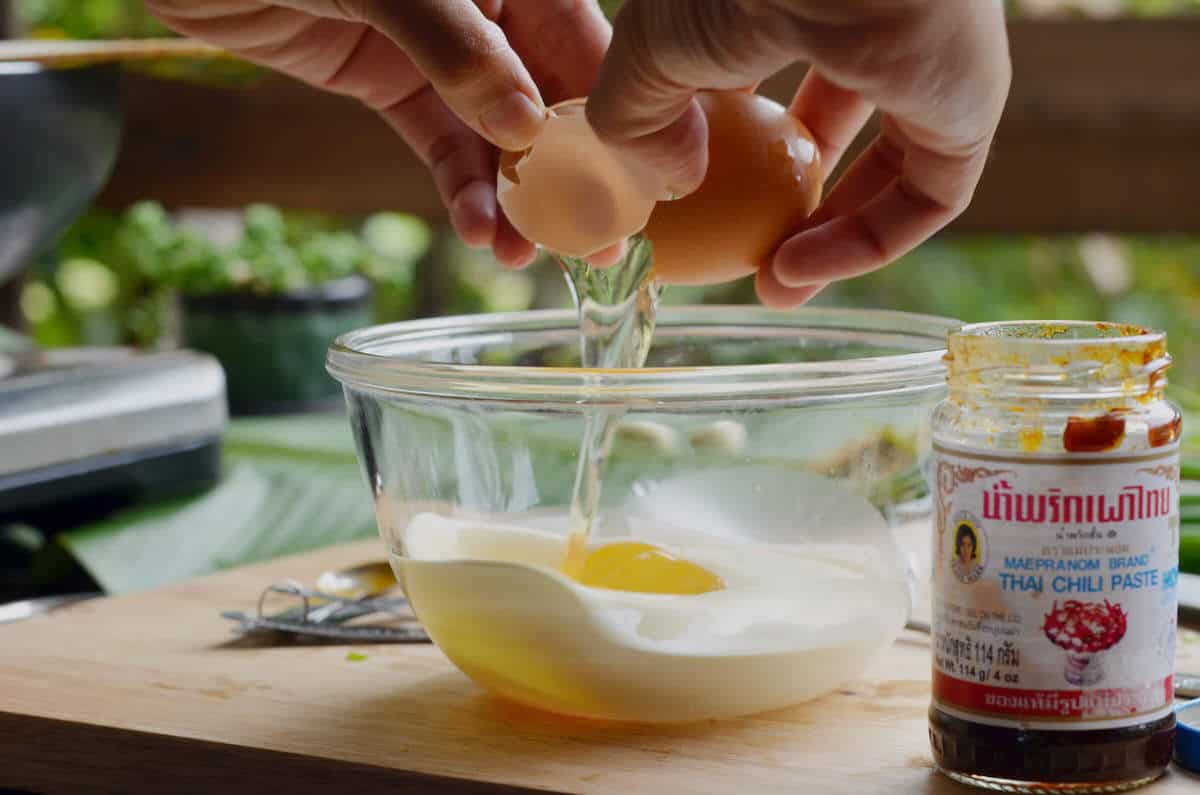 Then you will add the Thai Chili Paste.
This is the one we use.
It's the BEST one you can find here AND in the states.
It's very attainable in both countries.
Here is the same exact Thai Chili Paste we use in our recipes.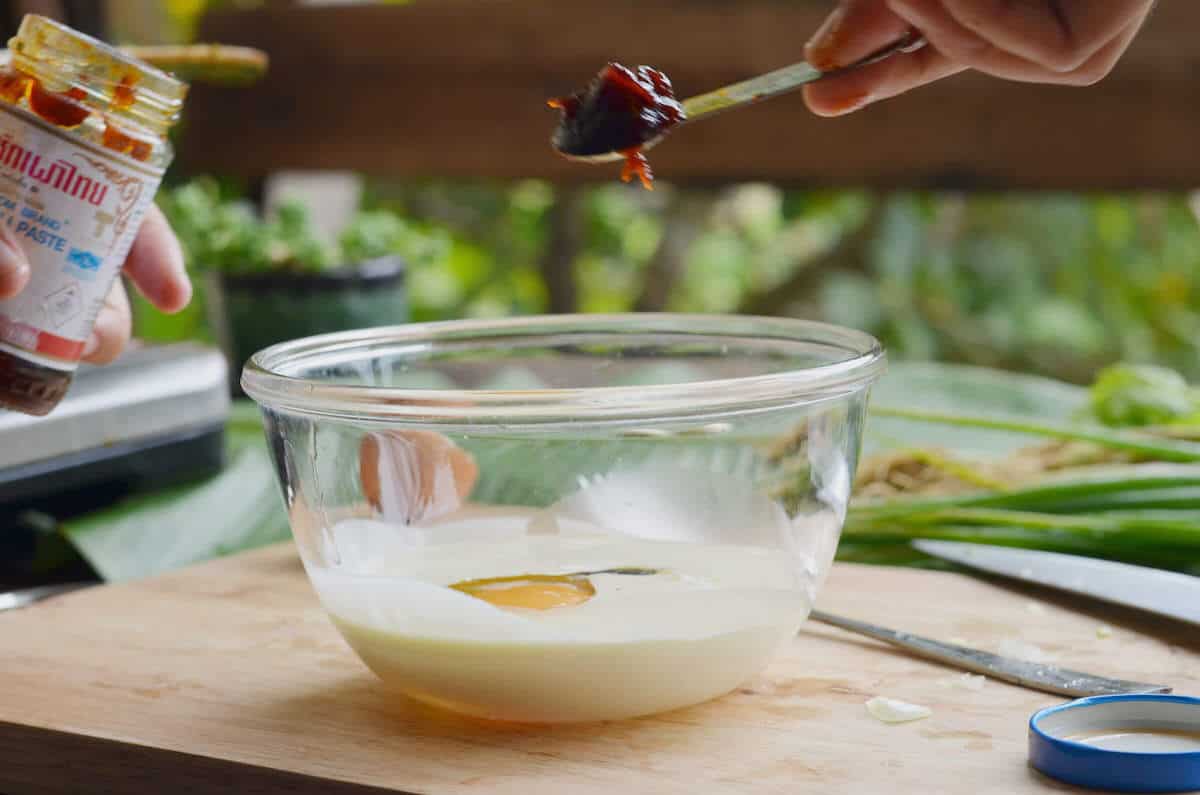 Lastly,
Add in a teaspoon or 2 of fish sauce.
The best fish sauces will be made from ONLY fish (such as anchovies) and salt.
Ours is 90% anchovies and 10% salt.
Red Boat Premium Fish Sauce is a great one you can find in the states.
It's ingredients are only anchovy and salt. It's gluten free and nothing else is added.
Once the eggs, Thai chili paste and fish sauce are in the heavy cream,
Whisk it in the bowl as if you're making scrambled eggs for a minute.
This crab curry cream sauce will turn red: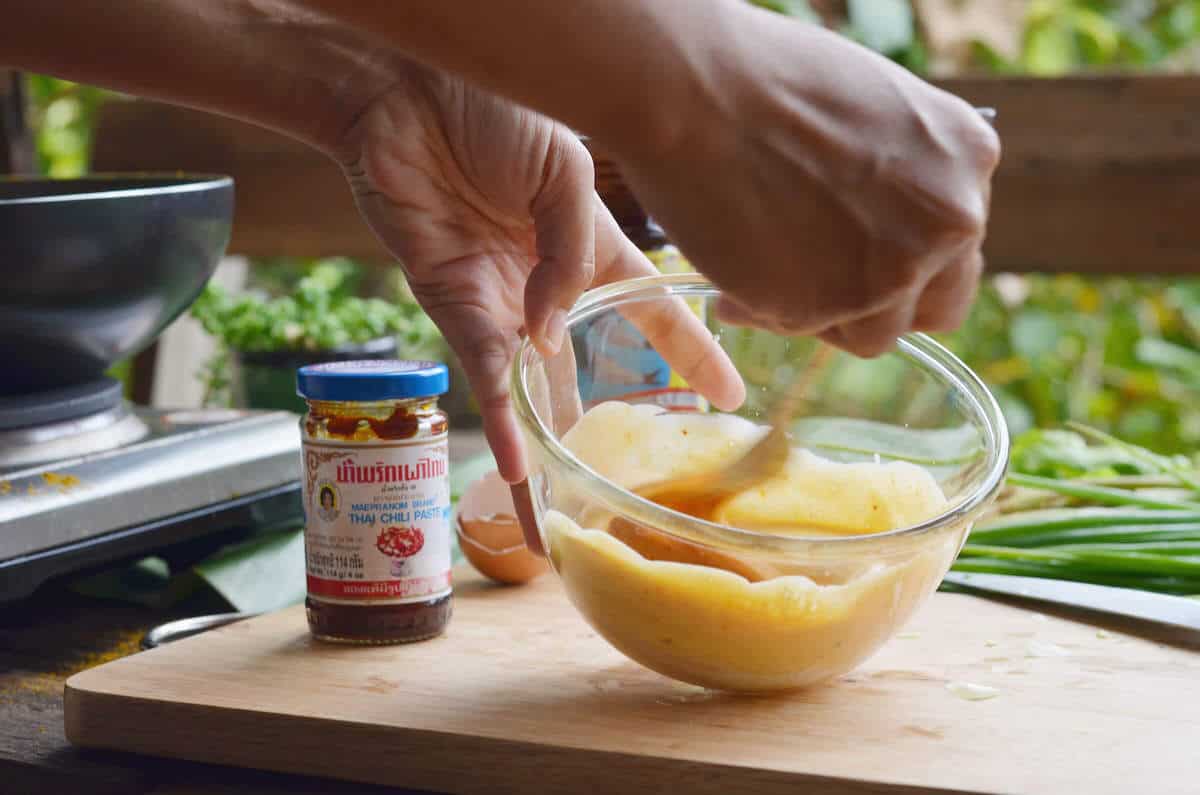 Once it turns red,
And the eggs are nicely blended in,
Add it to your stir-fry that's cooking over low heat.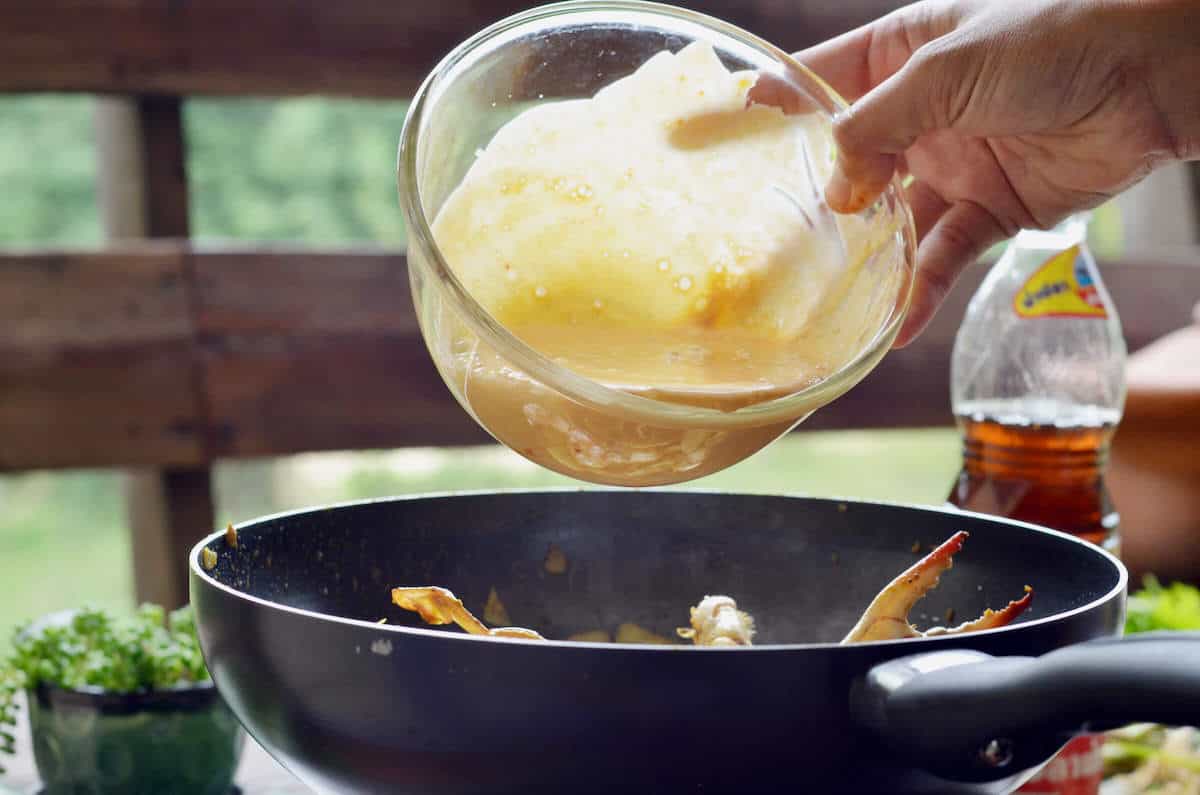 It will look like this:
Soooooo delicious.
Almost finished.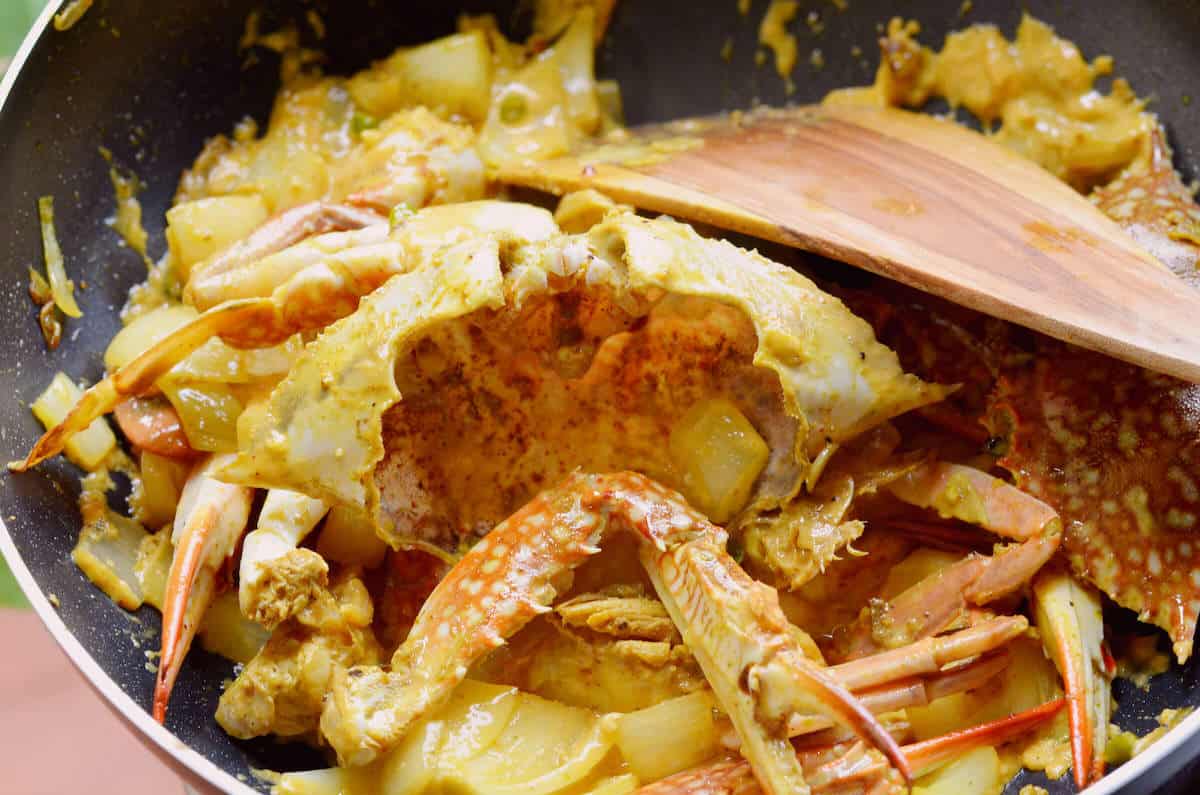 Step 6. Chop the Spring onion and Thai parsley
Chop these 2 up and add them in the saute.
You'll stir them in and then you're done.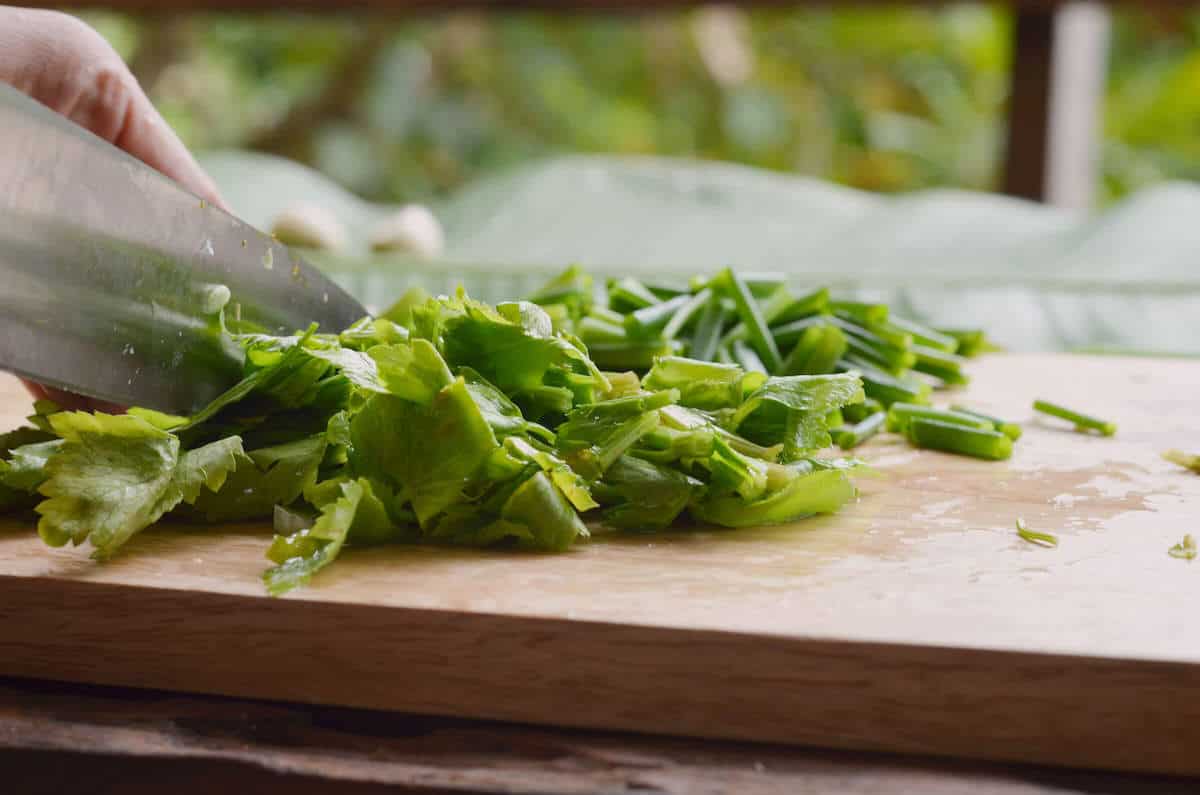 I've included many pictures so you can see the cooking process.
But this recipe is quite easy to make.
The only harsh part is the initial crab dismantling.
You might find the deshelling part fun, or harrowing, but yeah… it's the hardest part of this whole easy-to-make and hard-to-eat (shells) Thai Crab Curry Stir Fry.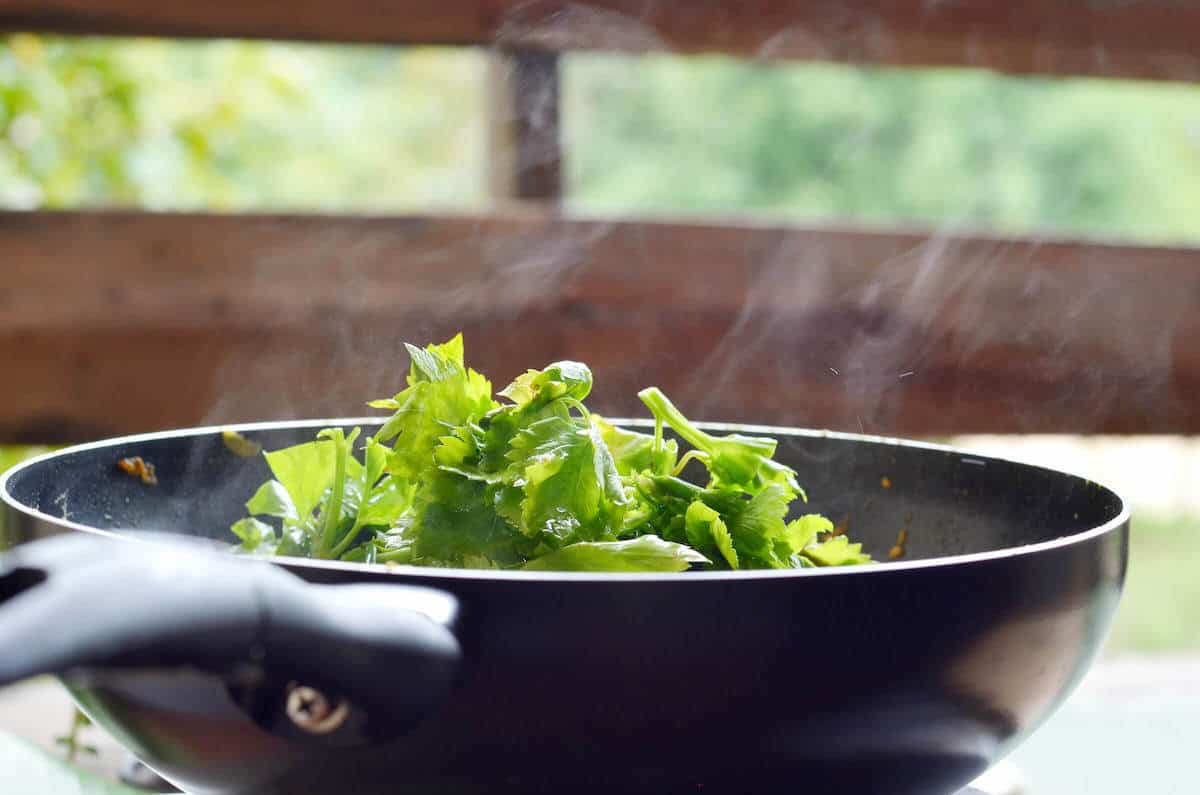 Once you toss in the spring onion and Thai parsley, you're basically done.
You can use any parsley.
It doesn't have to be Thai parsley.
All parsleys are pretty similar.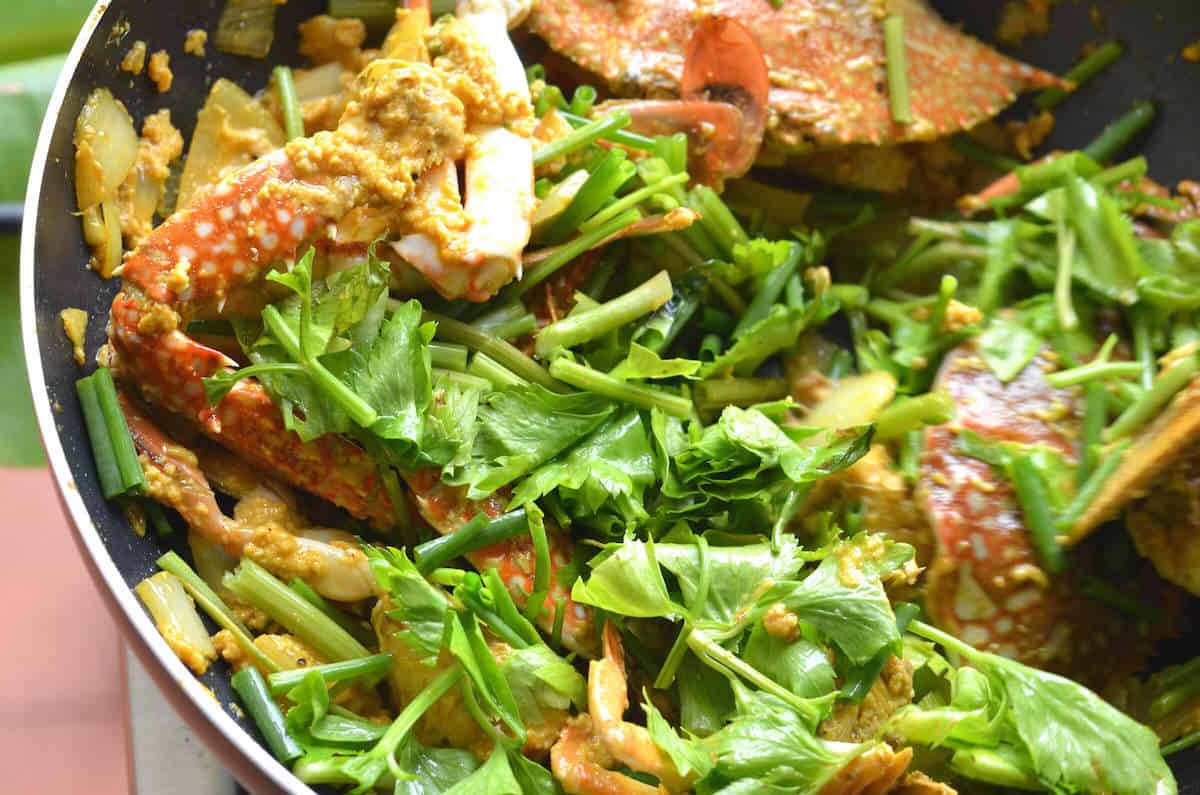 And that's it!
We're done.
This is the final result: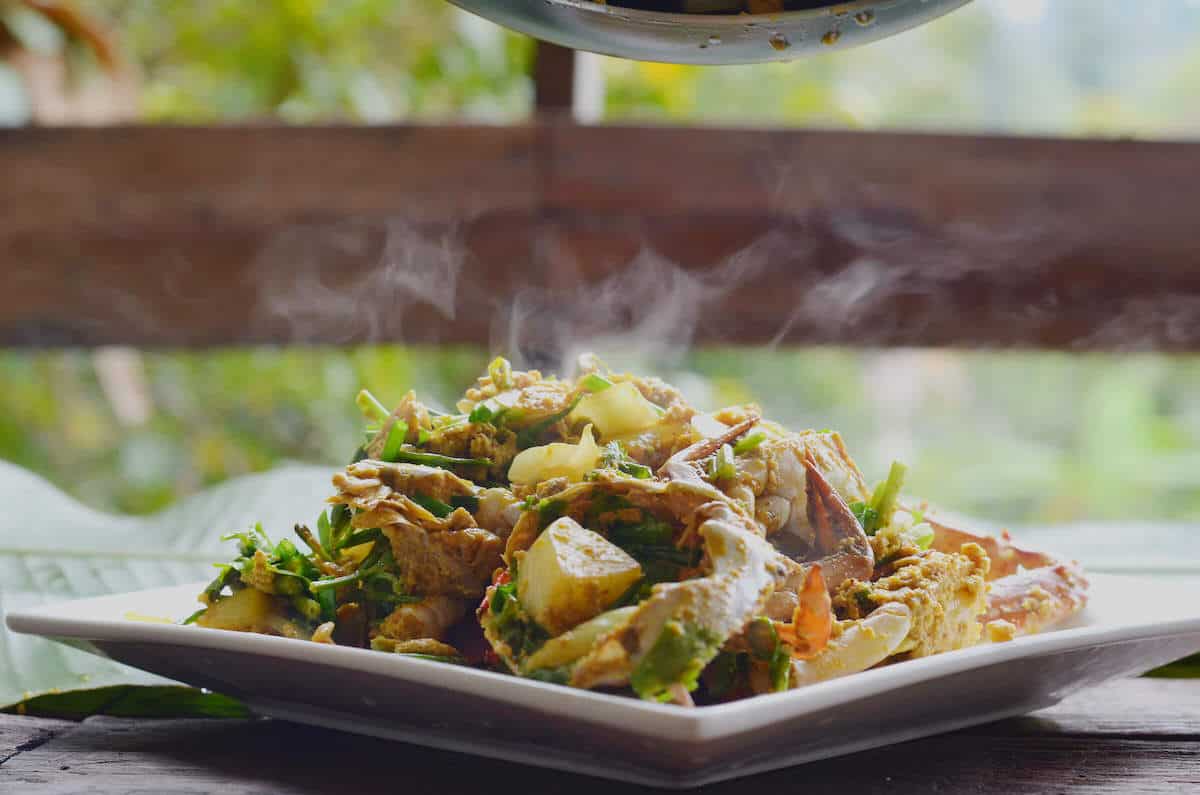 Now get some napkins or a side plate to put your shells, and have fun:)
I hope you enjoy this Crab Curry if you make it!
If you do make it,
Please tag us on Instagram or just send us a message and let me know how it went!
We'd be stoked to hear about it.
Here's one last picture of the Crab Curry Thai Stir Fry recipe.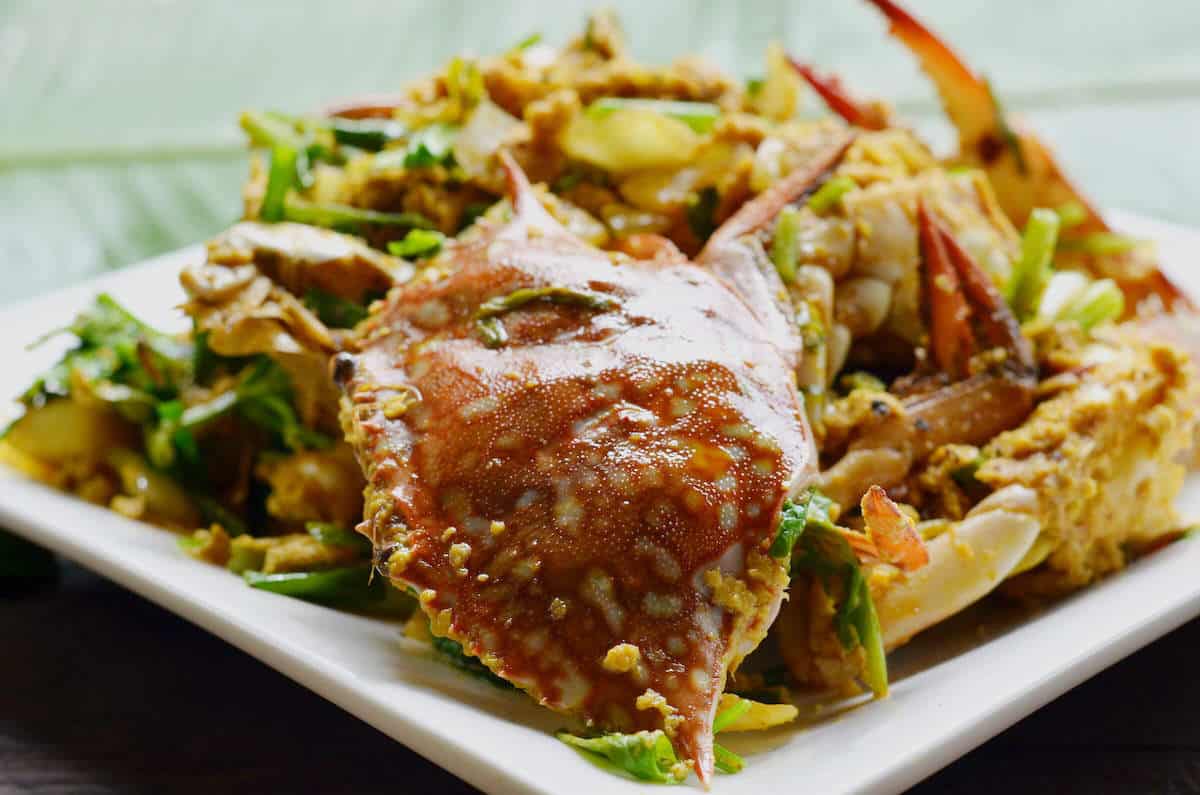 Now for the official recipe card:
Print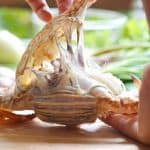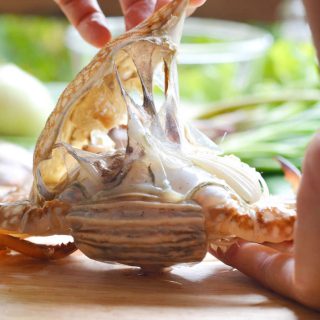 Thai Crab Curry (Bu Pad Pong Karee) Recipe Card
---
Description
Thai Crab Curry is a wonderful, authentic stir-fry recipe to make. We hope you enjoy it!
---
Ingredients
Thai Crab Curry Stir Fry Ingredients:
Fresh Crab

Fresh Garlic

2 Eggs

White Onion

Spring Onion

Green Chilis

Thai Parsley

Thai Chili Paste (red)
Coconut Oil (this one's good because it doesn't give off a coconut oil flavor)

Heavy Cream
---
Instructions
Please review the images and descriptions above for cooking directions.
Our Top 3 Low Carb Thai Recipes Cookbook
Get the cookbook and more interesting stuff to your inbox!
Thanks!
Something went wrong.