Exogenous ketones such as BHB salts and similar products like MCT oil powder help you get into the state of ketosis fast.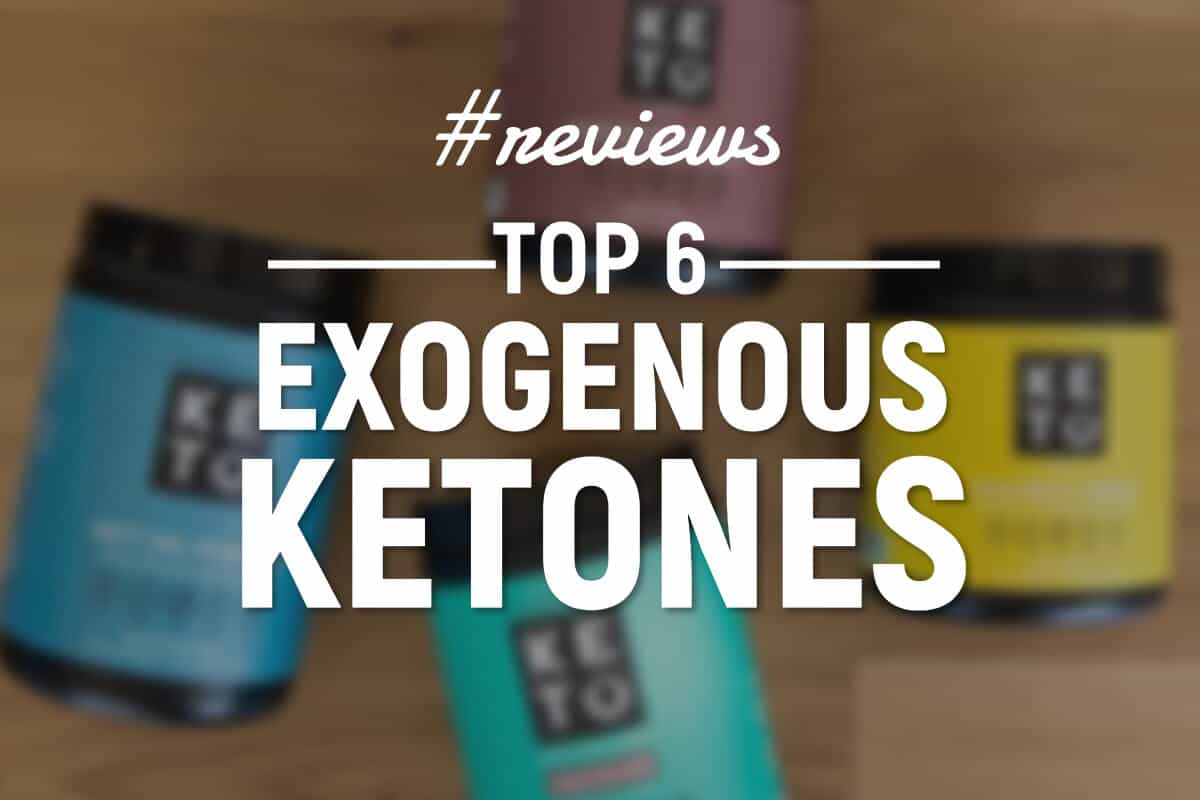 Ketone supplements make it really easy to attain the health benefits of ketosis. They're a tool for the keto-adapted. However, exogenous ketones are also great for those just looking to try keto benefits out. Because of these keto products, anyone is now able to access ketones easily simply by consuming these exogenous forms of ketones.
The 6 Best Exogenous Ketone Supplements
This list of the 6 best exogenous ketones includes one MCT oil powder and five BHB salt products. MCT oils and powders are both a great source of endogenous ketones. The end result is similar. Click Here to jump down straight to the product reviews.
Why Use Exogenous Ketone Supplements?
Exogenous ketones are powerful. They will get you into ketosis whether keto-adapted or not. The benefits of this range from weight loss to sustained mental and physical energy. The benefits are the same as those from nutritional ketosis, however, they're not a substitute for nutritional ketosis. More on that below before we get into the top 6 exogenous ketones for 2023.
The 4 Types Of Ketone Supplements
Esters (direct form not available commercially): Ketone esters link ketone bodies to an alcohol. This is then metabolized in the liver to produce the ketone. These are mostly used in labs for research purposes which might be a good thing because they're said to taste like kaka.
BHB Salts (

direct form

– very popular and proven to work): Most ketone salts are a combination of BHB and wither sodium, calcium or potassium. They're also referred to as ketone mineral salts.
MCT Oil: indirect and also popular.
MCT Oil Powder (indirect, newest keto supplement, be careful of added ingredients).
When To Use Exogenous Ketones
Mental Enhancement: This one's my favorite. Ketones are able to cross the blood-brain barrier with ease. If you're already in keto-adapted, you know the effect. Exogenous ketones give you that same mental boost which helps you focus and gives you more energy.
More Energy: On the subject of energy, did you know exogenous ketones are becoming the new goo? You know those carb-loaded gels long-distance athletes love? Exogenous ketones might take the edge here.
To Reach Higher Ketone Levels: You may be attempting to reach higher levels of ketosis for whatever reasons. Exogenous ketones will help you get higher levels than with your ketogenic diet can do alone.
To Stop Keto Flu: The whole drama over keto flu from your body not breaking down fats for energy yet can be done away with.
To Control Hunger: In the same way a low carb high-fat meal can keep you satiated all day long, when reading product reviews and related articles online you'll notice that many people claim exogenous ketones reduce their hunger. This then makes it help with weight loss as well.
Ketone supplements provide a shortcut to ketosis, so you can reap the health benefits of ketosis, whether keto-adapted or not. When used correctly, exogenous ketones and MCT oil products can be amazing to supplement with. Here are some of the main health benefits received when using them.
Health Benefits Of Exogenous Ketones
Your body loves ketosis. These benefits of it provide some proof of that.
Weight Loss: Thanks to its appetite suppressing qualities, whether on a keto diet or not, exogenous ketones reduce hunger.
Neurodegeneration: Research shows that exogenous ketones may help slow down declined mental abilities from neurodegeneration.
Potentially for cancer
Helps increase mental energy and focus
Helps decrease inflammation
Helps you control blood sugar
The Dangers Of Exogenous Ketones
If you don't exactly have the healthiest diet or lifestyles hear about these benefits of ketosis, exogenous ketones, etc. and think that these are the answer to life… that is not the case.
Many might simply buy the jug because it says chocolate sea salt on it (I love that flavor!) and they heard exogenous ketones were a healthy way to lose weight. While this is true, it's probably best to look into how to factor it into your current lifestyle the healthiest way possible, first.
Should We Use Exogenous Ketones? Ketosis serves a purpose, and it's probably why we're able to survive on this planet. Being able to go without eating and use stored fats for energy is a survival tool and possibly far more as we're now seeing with the keto diet. But it's probably not a good idea to constantly take exogenous ketones and eat a high carb diet (high blood glucose levels). It's not natural for the body to have high blood glucose and use ketones. This is a personal opinion, so
Exogenous ketones are better for some than others. Those who could benefit from these are athletes, military, and people who need a high amount of calories from carbs, yet still want to access ketosis. If you want to enter into a state of ketosis without a high fat diet, these will do it.
What are Ketones?
Acetone
Acetoacetic Acid (AcAc)
Beta-Hydroxybutyric Acid (BHB or beta-hydroxybutyrate)
These ketone bodies are always in our blood.
The Big Deal With Using Ketones For Energy
Compared to our other cellular gasoline (carbs), we can store an unlimited supply of energy from ketones in our body within our fat. When you're reliant on carbohydrates, you're forced to keep your tank partly full as we can only store just over 2,000 calories of glycogen from carbs. An empty carb tank results in carb-withdrawal symptoms from not being able to switch into a ketone or fat burning metabolism.
Once you've become "keto-adapted" you automatically become more of a hybrid person. Just like a hybrid car can switch to gas or electric during times of need, a hybrid keto-adapted person can simply switch into the metabolic state of ketosis during times of need.
This is a bigger deal today than it ever was in our past human history.
How so? It offers a solution to today's high-carb, high-grain dieting side effects (metabolic diseases like type 2 diabetes, for example). In the past, we'd have a much easier time of tapping into a natural state of ketosis when needed.
We've always endogenously produced ketones. Exogenous ketones are a new thing.
Endogenous Ketones v.s. Exogenous Ketones
Endogenous Ketones – When we produce ketones within our own bodies, they're called endogenous ketones. Taken from our Beginner's Guide To The Keto Diet, ketones are molecules created by our liver from fat stores once blood insulin gets low. We naturally produce these ketone molecules when we metabolize fat.
Exogenous Ketones – An artificially produced supplement form of endogenous ketones. If you're supplementing with ketones, they're considered exogenous.
Exogenous ketone supplements provide your body with instant BHB. Instant ketones.
They work within minutes. No matter how much glucose is in your blood at the time, these exogenous ketones put you into ketosis. You then get to take advantage of some of its benefits that range from cognitive function and instant energy to reduced inflammation in your body.
What's Better: Nutritional Ketosis or Exogenous Ketones?
The same question posed in a different way can be, what's better, getting protein from powder or from a grass-fed steak or wild salmon? Omega-3 from supplements or from a variety of healthy wild fish? Just like with health supplements where you consume an isolated nutrient instead of the whole food where it comes from, if it's possible to get what you need from whole food or nutrition, then that's probably the best choice.
Exogenous ketones are not a shortcut to nutritional ketosis, but they do give your body a break from full-time carb usage. They are a tool you can use to get into ketosis if your lifestyle makes it too difficult to do so without them. And they're also a good way to get an increased edge for those who are very on top of their nutrition and performance.
The difference Between BHB Salts, MCT Oil Powders, MCT Oils
BHB Salts v MCT oil – With BHB salts, the ketones are available right away. In comparison, with MCT oil and any other ketone oil made from medium chain triglycerides, your body's cells must process the MCT's to produce ketones. One is indirect while the other is direct. Both work fast.
MCT Oil vs MCT Oil Powder – MCT oil causes many people GI distress, which forces them to take less. The powder is easier on the gut. This lets you take normal doses (and receive more benefits). The oil powder can be mixed with BHB salts, it's easy to travel with, and to cook and bake with.
MCT oil powders don't have that much research out as they're fairly new, and on top of that, many companies use additives and fillers like maltodextrin to help turn the oil into a powder. Perfect Keto is one of the only brands I've seen that doesn't use any of these additives many prefer to avoid in their health products.
How To Choose The Best Exogenous Ketone Supplements
Third party inspections and full disclosure of excipients, additives, and fillers on labels are not required, so when you see a company fully declare everything on their labels, regardless of the ingredients, you know they're a trustworthy brand.
It's good when a company declares every ingredient on their label. Artificial metallic colors, gluten, or unnecessary binders and fillers are something more common in capsules and softgels, but additives and fillers are just as common in MCT powders and BHB salts.
Here is a good piece of information about this I found on this MCT oil vs MCT oil powder article:
"Many MCT powders contain additives and fillers to extend the shelf-life of the product, enhance mixability, improve texture, prevent caking, increase bulk and/or reduce costs of manufacturing.
Some of the most common fillers and additives in MCT powder you should avoid are:
Emulsifiers: Soy/Sunflower lecithin and mono- and diglycerides.
Fillers: Soluble corn fiber, maltodextrin, psyllium husk.
Preservatives: BHA, BHT, TBHQ, sodium benzoate and citric acid.
Thickeners: xanthan gum, glycerol.
Food dyes: Blue No. 1/Brilliant Blue, Blue No. 2/ Indigotine, Green No. 3/ Fast Green, Red No. 3/Erythrosine, Red No. 40/ Allura Red, Yellow No. 5/Tartrazine, Yellow No. 6/Sunset Yellow.
Anti-caking agents: Silicon dioxide, magnesium stearate, stearic acid.
Enhanced food performance: Disodium phosphate.
These additives disrupt the ratio of MCTs to non-MCTs, leaving you with less beneficial fatty acids and more artificial ingredients devoid of any nutritional value."
REVIEW: 6 Best Exogenous Ketone Supplements Of 2023
Now onto the best ketone supplements. All 6 are great products with good customer experiences and reviews. The list contains 1 MCT oil powder and 5 BHB salts. With only 6 products, there's no room for bad quality. This list had 5 last year, but I added a sixth this year.
If you see a lower rating it's likely due to the price and value, a repeatedly bad taste experience from many customers or from quality factors like lacking third-party inspection certificates.
I put the most weight on..
health factors

(additives and fillers, etc.)
second

value

and last,

taste
A great tasting MCT Oil Powder from 100% Coconuts and only one other ingredient, Acacia Fiber
MCT Oil Powder Rating 4.5/5
Perfect Keto MCT Oil Powder is number one on this list for a few different reasons. The company is founded by functional medicine clinician Dr. Anthony Gustin and each ingredient is used in specific amounts to provide maximum ketone benefits. They use zero binders and fillers often found in other MCT oil powders. It's a premium product and they don't make up for it by jacking up the price. However, number 3 on this list has a very similar product at a better value. That's what keeps this from being a complete 5. However, it's quality is one of the very best. This MCT Oil powder is one of the only MCT powders that uses ZERO additives and fillers.
One scoop equals one serving. 30 servings per jug. Each scoop is around 11 grams and you get 10g of MCT Oil Powder per scoop.
Price: 4.5
Quality: 5
Other Ingredients: 5
Our Rating: 4.5
Only 2 Ingredients
100% Coconut MCTs: 70% C8 Caprylic Acid, 30% C10 Capric Acid
Acacia Fiber (good prebiotic fiber): Acacia fiber is a prebiotic with many health benefits in its own right, such as the reduction of inflammation. If you look at other MCT oil powder labels, you'll see the MCT doesn't always come from only coconuts. And they use additives like maltodextrin instead of this acacia fiber.
Highlight Feature: Only 2 ingredients: MCTs from coconut + Acacia Fiber
Ingredients: ZERO Additives and Fillers
Blended to minimize common GI problems associated with MCT oils/exogenous ketones
Lab tested for guaranteed, verified purity
Good ratio: 70% C8, 30% C10
Not too many cons with this one.
Another natural BHB salt supplement option that utilizes goBHB® and avoids the use of unnecessary additives and fillers
Rating 4.5/5
The Sports Research Keto Plus Exogenous Ketones with goBHB® uses a ketone complex to help access ketones for fuel without the low carb diet or fasting. This product is another all-natural option that foregoes the red-40 and instead uses a natural coloring alternative in beet root powder.
One 10.5 gram scoop gives you 6 grams of goBHB®. Their goBHB® is a Ketone Complex blend which includes Calcium Beta-Hydroxybutyrate, Sodium Beta-Hydroxybutyrate, Potassium Beta-Hydroxybutyrate and Magnesium Beta-Hydroxybutyrate. In addition to these, each serving also contains L-Leucine (600mg) and Acetyl L-Carnitine (250mg).
Sports Research Keto+ is proven to boost ketone levels and the product itself has thousands of happy customers that have left reviews. If you like the Raspberry Lemonade flavor, then you cannot go wrong with these Keto +Plus exogenous ketones from Sports Research.
Price: 5
Quality: 4.5
Other Ingredients: 4.5
Our Rating: 4.5
Keto+ uses the goBHB® patented ketone complex.
Highlighted Feature: ZERO Additives or fillers
Zero NET carbs
Flavors: Raspberry Lemonade is this brand's claim to fame in the ketones market.
Easy to use: Mixes great in water and good for baking
Reviews: A very strong review history
Lack of third party inspection certificate
A BHB salt, free of unnecessary additives, fillers, or subscription plans
BHB Salt Rating 5/5
Perfect Keto Base BHB Salt has everything you need in a BHB salt and nothing you don't. For this reason, it shares the number one spot alongside their MCT oil powder as the best exogenous ketone supplements you can find. As far as price and value, many other BHB salts are more expensive, and lesser quality as they use additives and fillers. What gives Perfect Keto Base their edge outside of their proven raw ingredients quality is, taste. BHB salts are hard to make palatable. Perfect Keto has risen above when it comes to taste as well.
Price: 5
Quality: 5
Other Ingredients: 4.5
Our Rating: 5
Perfect Keto Base BHB Salt Other Ingredients: Natural Chocolate Flavor, Citric Acid, and Stevia Leaf.
Highlight Feature: Flavor, Chocolate Sea Salt – little did I know this was my favorite flavor of BHB salts or any health supplement powder now. It also comes in vanilla, coffee and peaches and cream.
Easy to blend: blends as well as it tastes
ZERO NET carbs
High-quality BHB ketones sourced in the US
All natural: No additives, fillers, or unnecessary ingredients like gums
Trustworthy: Lab tested for purity
Not too many cons with this one!
One of the original exogenous ketones. Still used by thousands as their go-to bhb salt.
Total Rating 4/5
KetoSports KetoCaNa is another great quality exogenous ketone supplement. It's not just another, but one of the very first to not bother with additional ingredients but to simply have a solid, well-formulated, clean bhb salt supplement.
Price: 4
Quality: 5
Other Ingredients: 5
Our Rating: 4.5
One of the most trusted BHB salts of all. If the noise online is too much, you cannot go wrong with just going straight with KetoCaNa. It's a quality ketogenic diet BHB supplement.
Proven: Outside of its clean ingredients, KetoCaNa is very popular and has thousands of happy customers that have publicly shared their experiences with this product.
Keto & Paleo friendly: Also gluten free, lactose free, and it's free of animal byproducts.
Clean Ingredients: One scoop provides 19 grams, each containing 55 calories and zero carbohydrates. Each scoop has 1.15g calcium and 11.7g of Beta Hydroxybutyrate
Price: Quality of quantity is always best, but there are other equally great quality exogenous ketones available online or in stores that are less expensive.
A High Quality, All-Natural BHB Salt
Rating 4/5
SHEER Ketones BHB Salts made this top 6 list because they do a good job of avoiding all the common unwanted additives and fillers in BHB salts. It's good to see we have options to choose from when trying to avoid these types of ingredients. SHEER Ketones "other ingredients" include citric acid, fruit and vegetable juice powder for the color, and "natural flavors." It uses a stevia leaf extract (Rebaudioside A).
Price: 5
Quality: 4
Other Ingredients: 4
Our Rating: 4
A popular, well-priced BHB salt that will increase your ketones during times of need.
Highlighted Feature: goBHB "Performance Complex" raw ingredients
Value for the price
A short history of mostly very positive reviews
ZERO carbs and ZERO additives or fillers
While it does have a slight history of positive reviews, I'd like to see more.
There are a couple complaints about this black cherry flavor, but overall most seem to enjoy it.
No third-party inspection certificate that I can see
A High Quality Ketone Blend
Rating 4.5/5
Ketond's Caramel Macchiato Exogenous Ketones round off this Best Exogenous Ketones list and rightfully so due to this fantastic flavor they've produced for their exogenous ketones.
Citrus Mango and Peach are the other two flavors it comes in.
If you're tired of drinking black coffees, perhaps you haven't been able to access some quality organic beans lately.. well, a scoop of this will make any coffee bean taste like it's roasted straight from a Oaxacan mountainside.
Price: 5
Quality: 3.5
Other Ingredients: 3.5
Our Rating: 3.5
The longest lasting high quality exogenous ketones supplement out there..
Highlighted Feature: No proprietary blends of ketone complexes
Value: A good value with 11.7g of BHB per serving
Taste: Caramel Macchiato.. a good-tasting one. Do we need to say more?
This ketond bhb salt blend is well regarded by most customers in both effectiveness and this signature caramel macchiato taste, as seen in their public feedback.
---
The Best Exogenous Ketone Powder?
Perfect Keto Base BHB Salt (Chocolate)
While we know that both MCT Oil Powders and BHB salts are proven supplements to increases ketosis, the winner of a top 6 exogenous ketones list I think should be a true direct form of exogenous ketones; one of the BHB salts. Perfect Keto's BASE takes the win here. The edge ranking factor is its flavor.
With stevia-based flavors like this chocolate one, and the fact that it uses zero additives and tastes great as a BHB salt supplement, this one has to take the W. Perfect Keto are the only 100% coconut MCTs that don't utilize the goMCT™ form, neither a pro or con.
It doesn't have the best value compared to the other BHB salts on this list, but it's the most proven as far as happy customer track record and comes from a good company that makes some of the highest quality keto supplements out there.
Final Thoughts: Exogenous Ketones in 2023
If I had to add one more to the list it would be the Kegenix Prime Lemon Twist Keto BHB Salts with MCT Oil. I like to keep the lists short, but with these keto salts it's hard. There are so many great options available.
This list's products are all from reputable brands, and 5 out of 6 of these are reasonably priced. If any new great options comes out throughout 2023, I will take them into account for this top 6 exogenous ketones review.
---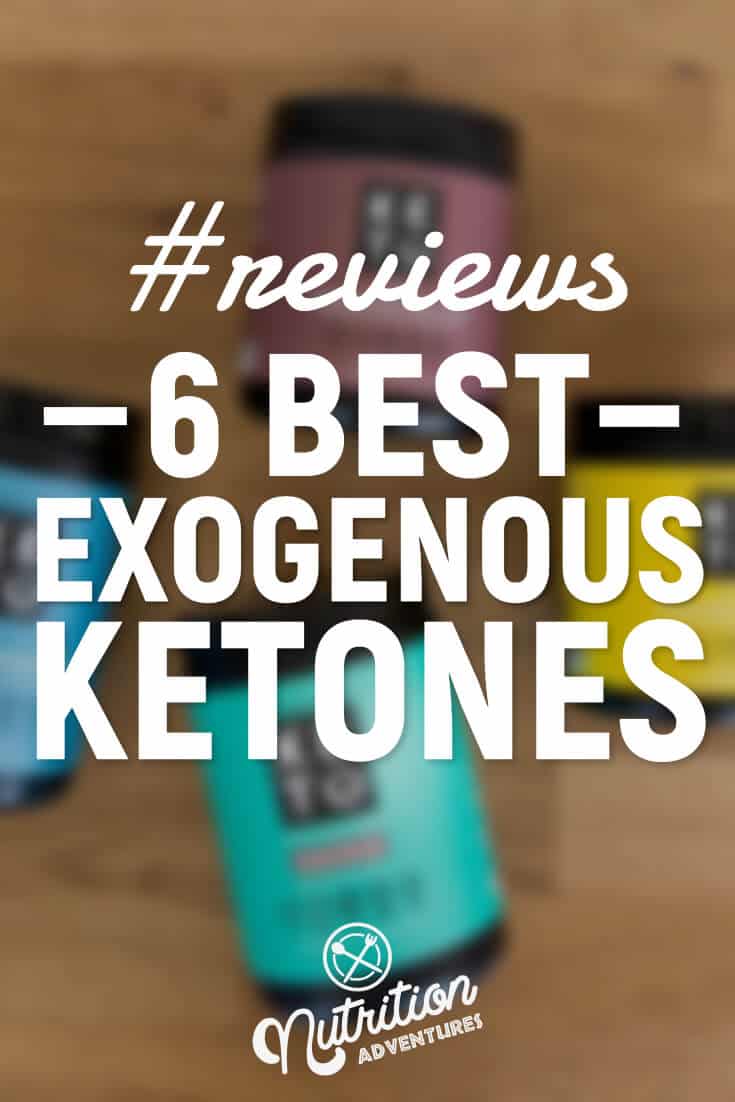 Thank you for coming by the blog!
We have more review posts and also, many healthy recipes we make each month, all catered to the ketogenic diet, the Paleo diet, and gluten-free diets as well. Check those out if you're interested and thanks again for reading the blog.
UP NEXT: The 9 Best Keto Supplements (Vitamins & Minerals, not exogenous ketones, MCTs, etc.).
…from spirulina to trace minerals, these are good supplements to consider if you're on a ketogenic diet. The post shares why, plus the best quality options I can find.
Related Reads From Nutrition Adventures: