Many of the best black garlic benefits come from its active ingredient, allicin. The fact that it is a fermented food is a big clue that black garlic is good for you. But it is this allicin that makes black garlic better than most other fermented foods on a pound to pound health benefits comparison scale. Allicin gives garlic its signature strong odor and flavor when crushed. It's what helps make garlic so healthy to eat.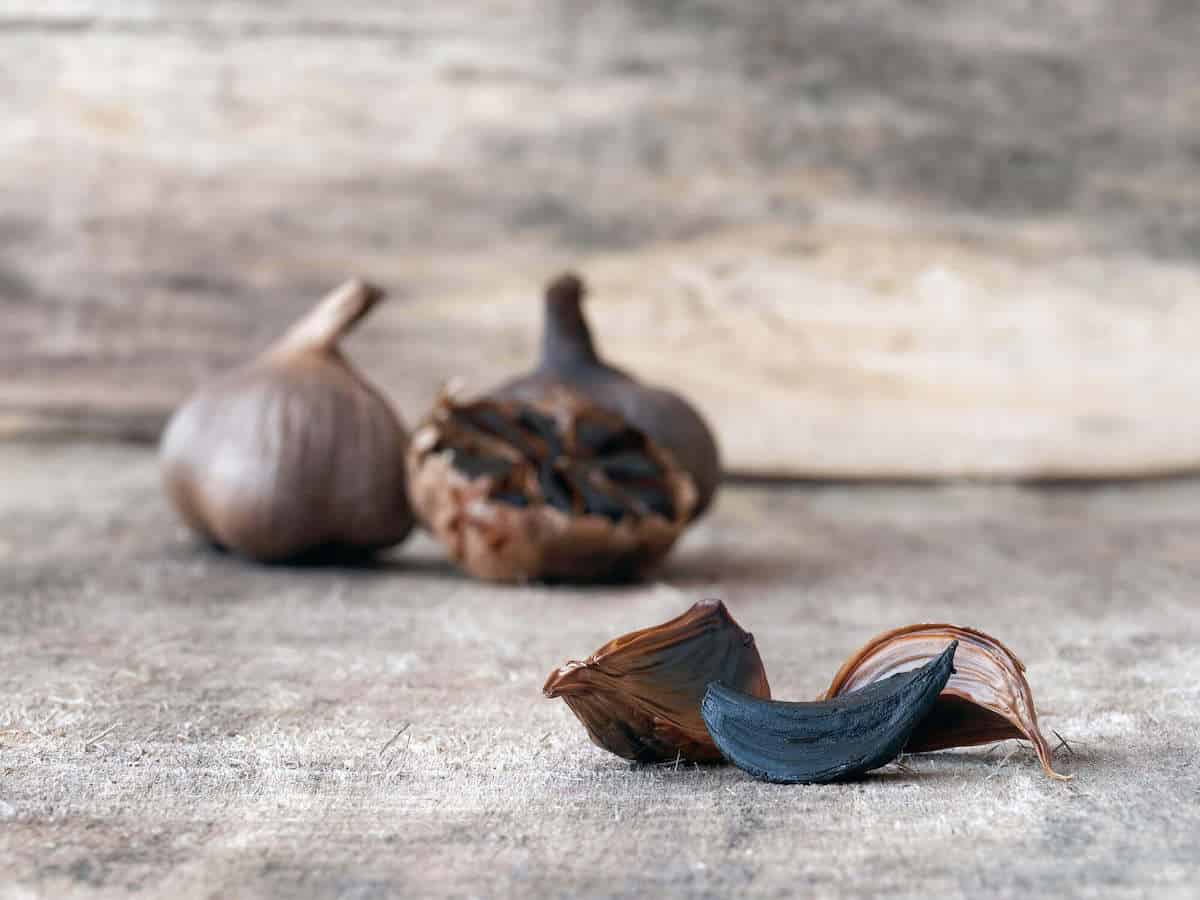 Black garlic is made by fermenting white garlic cloves.
You take a regular garlic clove and then ferment it for 90 to 120 days at a proper temperature and humidity level. The final result is a highly nutritious and fermented black garlic. One of the best black garlic benefits is that the fermentation process transforms it into a sweet and chewy natural gummy-bear like food. The flavor phenomenon reminds me a bit like how some onions become sweet when cooked.
Black Garlic
Black garlic is classified as a vegetable, but it's much different than other vegetable category foods. Garlic grows underground. This keeps it from being an herb because herbs grow above ground. Black garlic is more like an onion or a shallot, thus its vegetable classification.
Once normal raw garlic is fermented, it transforms into a nutritious, soft and sweet natural gummy bear-like vegetable during the fermentation process. This ripening of the white garlic is partly what creates the newfound extra nutritional profile. Through this ripening process, the acrid taste and strong odor are removed and replaced by a sweet flavor.
---
Black Garlic vs Normal Garlic
Black garlic has double the antioxidants compared to normal garlic. It's also fermented, so you get the end-product benefits that regular fermented foods provide.
Fermented black garlic has amino acids, double the antioxidants and is sweet and easier to eat than regular garlic. It can't be used in the same way for cooking because the fermentation process transforms the normal garlic clove into something new and different.
They're each great foods in their own right, at their ideal times, for their right recipes. When measuring nutrient richness, a few standalone cloves of fermented black garlic are more nutritious than a few regular raw garlic cloves.
---
4 Powerful Black Garlic Benefits
When fermented, the bioavailability of garlics nutrients is increased, so your body gets more nutrients from black garlic compared to normal raw garlic. Below are 5 of the top black garlic health benefits.
---
1. High In Bioavailable Nutrients
Black Garlic Nutrition Facts
Black garlic benefits come from its polyphenols, amino acids, antioxidants and all its nutrients and phytochemicals. It contains phytocompounds; your body creates positive responses from these. The table below shares the main active ingredients of black garlic and their health benefits.
| Ingredients | Benefits |
| --- | --- |
| S-Allyl cysteine (SAC) | This natural constituent of fresh garlic is known to help reduce blood viscosity, improve blood circulation, lower cholesterol, prevent atherosclerosis, reduce the occurrence of blood clots and as a potential chemopreventive. |
| Arginine (symbol Arg or R | An amino acid used in the biosynthesis of proteins. Helps stimulate cells to increase collagen production, secretion of growth hormone, and expansion of blood vessels. |
| Polyphenols | Polyphenols help neutralize free radicals and prevent them from doing more damage. They're antioxidants that help boost your body's immune system. |
| Proline | Amino acid that helps slow cellular degradation, build muscle and produce collagen. |
| Leucine | Essential amino acid used in biosynthesis of proteins. Helps control appetite and build muscle. The body cannot synthesize Leucine. It must come from the diet. Black garlic and many protiens are a great source. |
Black garlic has twice the amount of antioxidants compared to normal garlic. Antioxidants protect against excess free radical damage to cells, increasing risks for chronic diseases. Antioxidant-rich foods help keep your immune system and you healthy.
S-Allylcysteine is a derivative of the amino acid cysteine, a natural black garlic component. It's been shown to decrease cancer risk, improve blood circulation and lower cholesterol.
---
Allicin – The Key To Garlic's Power
Allicin content is the key to the healthy black garlic benefits. Allicin is what makes black garlic a "natural antibiotic", proven to eradicate antibiotic resistant bugs (source).
Allicin is what gives it the powerful scent and flavor. The interesting thing about it is that garlictechnically does not even contain allicin. It contains the agents that react together and create a sulfur-rich compound, allicin. Garlic is designed this way and uses allicin as a tool for the garlic plant to protect itself.
So the allicin that comes from "injuring" the garlic is responsible for garlic's pungent odor and strong taste. It's what provides it such a uniqueness as a cooking ingredient.
Allicin has antitumor properties, offers gastrointestinal protection and helps battle oxidative stress. Allicin is known to lower serum cholesterol, "and a significant number of studies of garlic in various forms have demonstrated modest reduction in LDL cholesterol" (source).
---
Sulfur-Rich Phytochemicals
The list of black garlic benefits can get very long. That's why I just decided to consolidate many of them into just these 5 points. More health benefits are derived from the sulfur-rich phytochemicals inside black garlic.
It's said that over 100 different compounds have been found in garlic, derived from the rapid breakdown of allicin. More research is needed to know exactly what biological effects all those compounds have and what this can mean for us.
---
2. Anti-Cancer Properties
Several population studies show that garlic helps reduce risk of certain cancers, like those of the stomach, colon esophagus, pancreas, and breast. (source)
In one cancer.gov article they share how there's evidence showing increased garlic consumption reducing pancreatic cancer risk. They quoted a San Fransisco study that found pancreatic cancer risk 54% lower in those who consumed larger amounts of garlic compared to people who ate less. (source)
Another study coming out of France looks at the role of diet on breast cancer. They took a look at garlic, onion and cereal fibers as protective factors for breast cancer and concluded that yes, breast cancer risk is reduced when eating more of these foods. (source)
Another study showed aged black garlic extract as being able to inhibit colon cancer cell growth, but that further research is needed to see how this works exactly.
There are clinical trials on garlic's anticancer health benefits as well. Clinical trials mean the research studies include people.
One clinical trial included over 5,000 Chinese adults at risk for cancer of the stomach. The researchers compared what happens to those who take a placebo compared to 100mg of selenium every other day and 200mg of synthetic allitridum daily (a garlic extract Chinese medicine has been using for over 3,000 years).
And yes, their findings showed that black garlic helps reduce the risk of stomach cancer.
Quoting the article where I found this study,
In the group that received allitridum and selenium, the risk for all tumors combined was reduced by 33 percent and the risk for stomach cancer was reduced by 52 percent in comparison with the group that received only the placebo.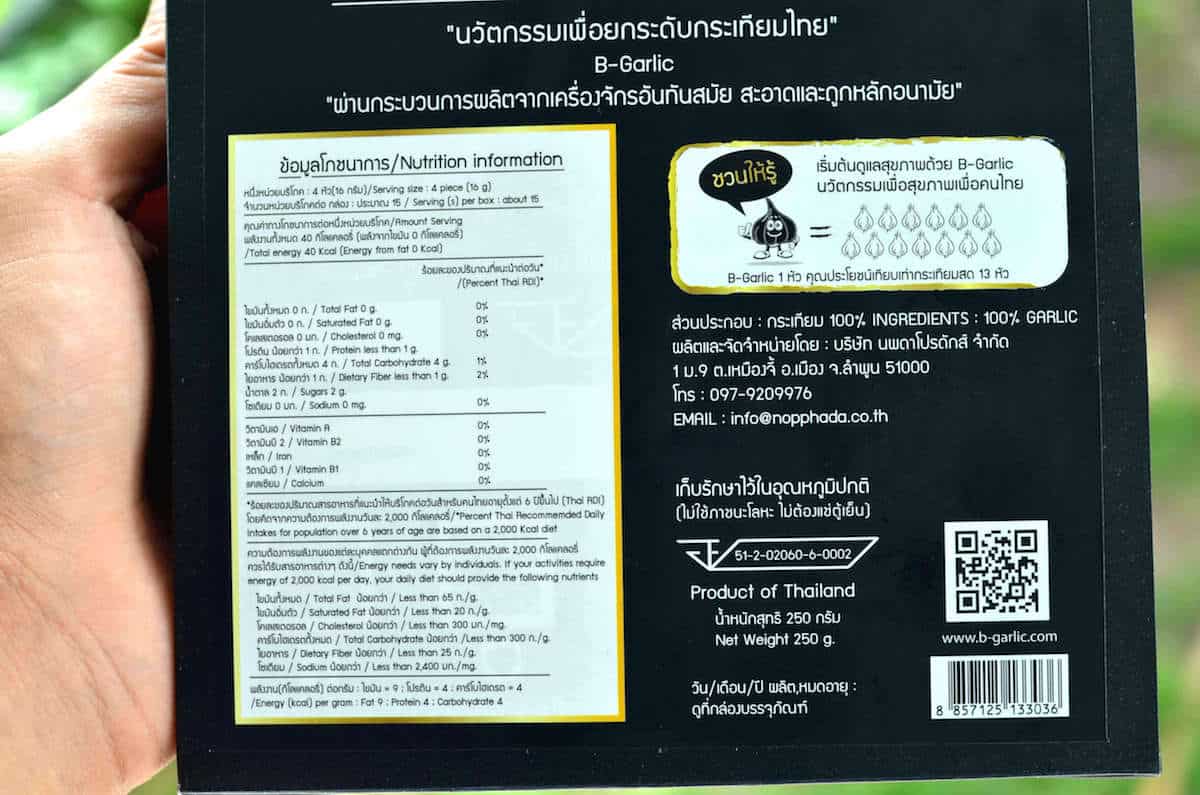 There are several clinical trials and population studies showing that black garlic does possess anticancer properties.
This anticancer black garlic benefits alone make it a good food to start working into your days as a preventative for yourself. Many people like to eat black garlic first thing in the morning on an empty stomach, just like one would take a morning vitamin supplement (but better because it's real food).
---
3. Strengthens Immune System
Black garlic fends off pathogens and aids your immune system in keeping you healthy. It helps fight against pathogens like viruses in your body, bacterias, fungus, candida or other infections.
Heart Health: Black garlic improves cardiovascular health and circulation. It protects against clotting and retards plaque. It also helps reduce blood pressure. (source)
Immune Function: Boosts immune system function which includes antibacterial, anti-fungal, antiviral and anti-parasitic properties. (source)
Body Inflammation: Black garlic helps reduce risk of osteoarthritis. It's really good for leaky gut and gut health overall.
Starting the day with some fermented black garlic benefits helps combat the gut health attacks we face everyday.
---
4. Gut Health & Weight Loss
Black garlic helps fix your gut. It helps stabilize your intestinal flora which helps heal your gut and ultimately, strengthen your immune system. Black garlic helps with digestion by balancing your intestinal flora. A healthy gut and intestinal tract makes all the difference for weight loss, so fermented black garlic is a good functional food for weight loss as well. Whole garlic cloves like these are available online.
---
When To Take Black Garlic
I say take and not eat because I look at it like a vitamin replacement. Alongside morning green juice and Apple Cider Vinegar shot, black garlic pairs perfectly with these as a way to start off the day strong. Benefits of eating black garlic are best first thing in the morning on an empty stomach because that's when you can absorb most of the nutrients easiest.
---
Buying Black Garlic
Black garlic can be purchased in several different forms.
This is a good one. 100% North American grown garlic in whole bulb form like the image.
[amazon box="B00ET5W14A" template="horizontal"]
Whole bulbs of fermented garlic cloves are a great way to enjoy black garlic. They're like little fruit snacks, but 100% natural and they don't get stuck in your teeth as much.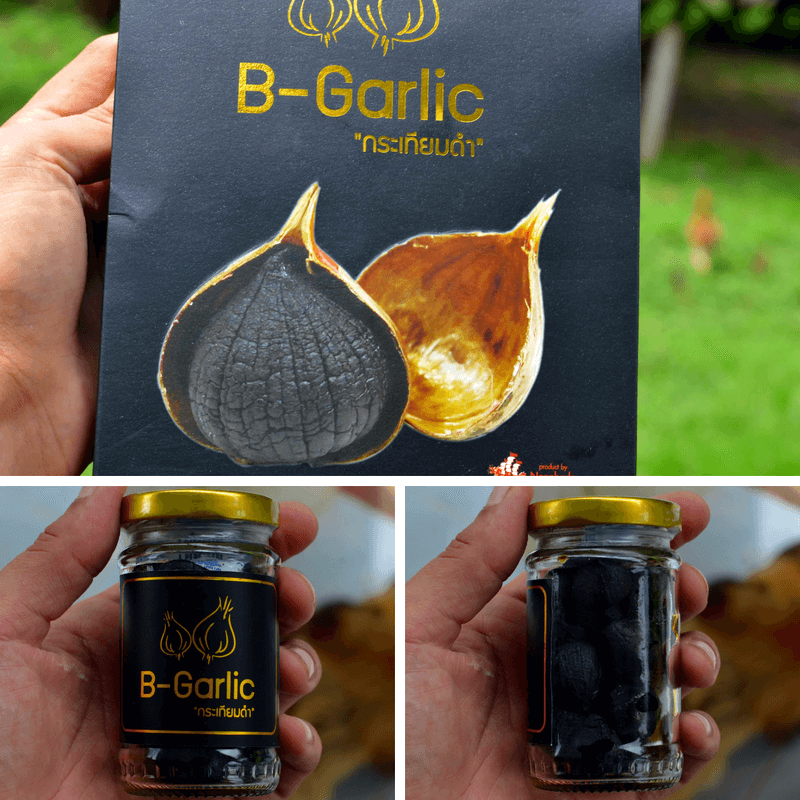 This one is from a local Thai company, B-Garlic. 100% whole garlic cloves, fermented, and then sold at the local farmer's markets around the city. In the states, you have several options to buy from fellow home growers or markets as well online marketplaces.
There are several different types of certified organic fermented black garlic products.
Other types of garlic: 
Whole Bulb, Peeled or Paste
Liquid extract
Black garlic oil
Black garlic supplements (capsules and pills)
Powdered extract
Black garlic butter
Black garlic mayo
Black garlic salt
---
How To Make Black Garlic
To make black garlic at home, you need a black garlic fermenter or a dehydrator where you can keep it at a certain moisture and temperature. Doing it yourself is a cost effective way to enjoy black garlic. Homemade is always best and that goes for black garlic too.
Black garlic can be aged faster at higher temperatures, but even as high as 90 degrees Celsius can affect the flavor negatively. You need a fermenter or dehydrator, the correct moisture and the right temperature to ferment the garlic to perfection.
Moisture
When moisture content of garlic reaches 400-500 g/kg, it can be suitable for eating with that level of softness and elasticity. At 350-400 g/kg, this moisture content makes the black garlic more dry, and not as soft and chewy. If moisture is below 350 g/kg, it will be too hard to eat (source).
Temperature
60 degrees Celsius seems to be the sweet spot for fermented the black garlic. Temperature is key to its final bioactivity, taste and texture. During this thermal processing stage, the more ideal conditions, the more ideal the final black garlic will be.
You can't go wrong with black garlic fermenting
The better the ferment, the more bioavailable the nutrients.
But either way, you still get the black garlic benefits.
Garlic can be consumed at any stage of the process.
If they end up too hard or dry, you can still eat them like that or make a new black garlic recipe with them, then just try again at a different temperature or humidity level. Black garlic can be considered a "superfood" and is a great type of ferment to try to make at home.
CONCLUSION
Now that you know how about all the healthy black garlic benefits, are you going to start eating more black garlic? If you have any black garlic recipes or you decide to try it out, we'd love to hear about your black garlic experiences. Feel free to comment below!
Up Next: 9 Benefits Of Fermented Foods + 2 Easy Ferments To Get Started
Be sure to like us on Facebook and follow us on Twitter so you can be the first to know about the latest recipes and blog posts!
Related Reads: