Fermented foods benefits us humans in so many ways. Learning about these health benefits from fermented food will make you want to start eating a lot more ferments, a lot more often.Whole black garlic cloves is a personal favorite option, and we have a blog post about fermented black garlic there, but you can attain the many health benefits of fermented foods from liquids and beverages too, like kefir from water or milk, or kombucha. Then there's wonderful little side dishes you can create and enjoy often, like kimchi and sauerkraut.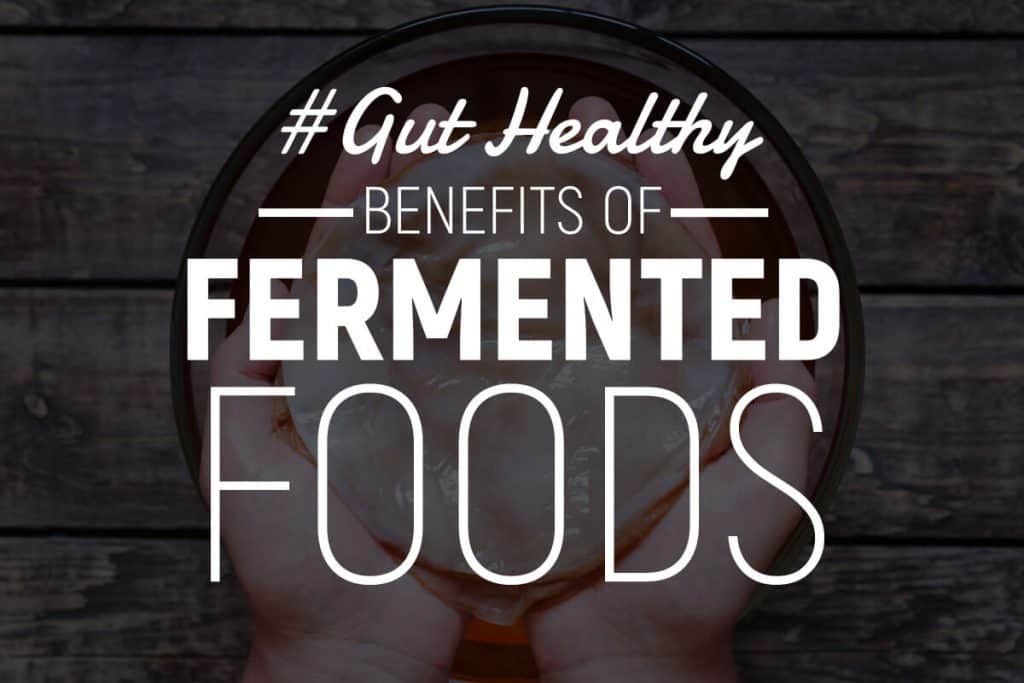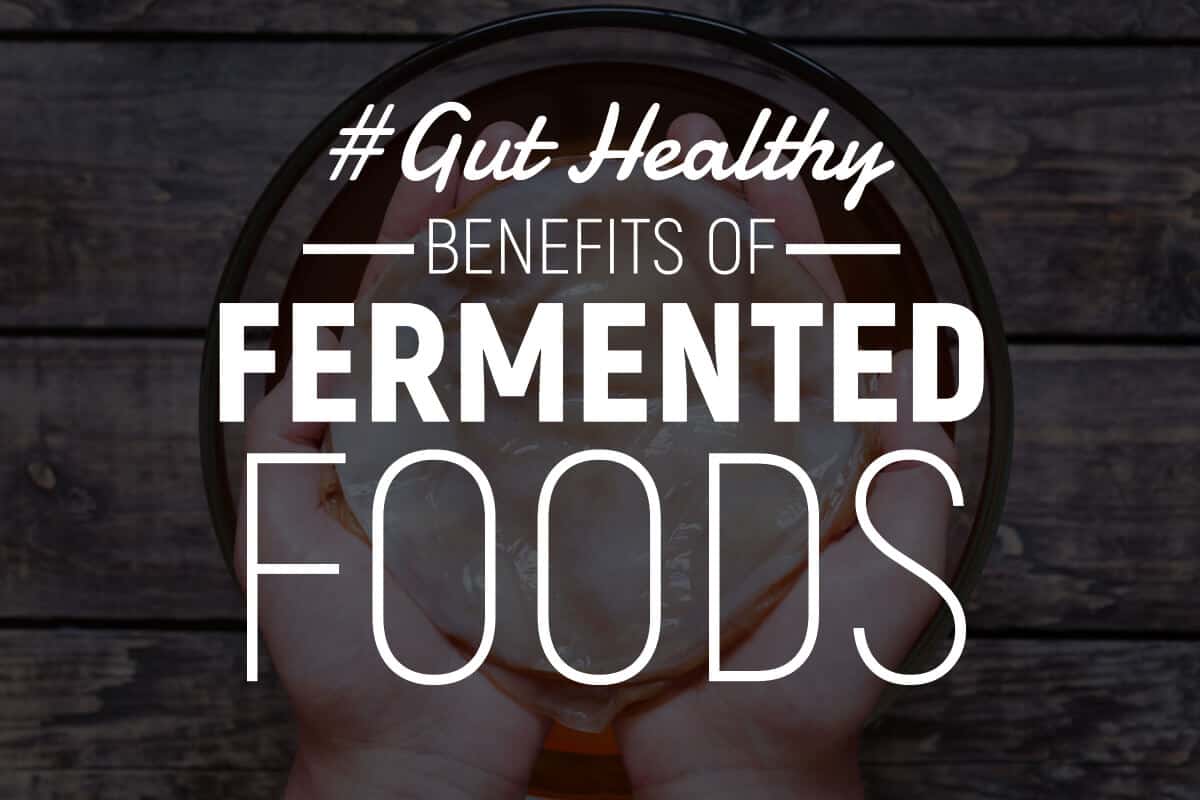 Eating more fermented foods helps your gastrointestinal tract microbial balance, helping ensure a healthier gut. This article will focus on the health benefits of fermented foods, listing out 9 of the main ones. Fermented foods include traditional recipes like miso, kimchi, sauerkraut, yogurt, sourdough bread and also fermented beverages like kombucha, kefir and even beer. 
Fermentation is a metabolic process where sugar is consumed in the absence of oxygen. The products are organic acids, gases, or alcohol. It occurs in yeast and bacteria, and also in oxygen-starved muscle cells, as in the case of lactic acid fermentation. (source)
Here are fermented foods rich in live and active cultures you can start incorporating into your diet:
kefir
yogurt
sauerkraut
kimchi
fermented mushrooms
miso
gouda cheese
tempeh
There are far more fermented foods options than these, however.
Without fermented foods in your diet, you may have a harder time balancing of essential gut bacteria that help you absorb nutrients, digest food and even bolster your immune system. A healthy gut will have you feeling good more often than not. Eating fermented foods seems like a simple no brainer for helping sustain good health.
---
9 Gut Healthy Fermented Foods Benefits
The following 9 health benefits of fermented foods will help you realize why people say it's important to eat something fermented every single day.
1. Brings Us Back To Our Roots
Our microbiome isn't what it used to be. Eating the same fermented foods our ancestors ate can help steer us back in the right direction. Our ancestors didn't have all the artificial preservatives we're so privileged to have today (that's sarcastic). They had fermented foods.
Natural fermentation is as old as human history itself.
The earliest archaeological evidence of fermentation was an alcoholic drink, made from fruit, rice, honey and dates from 7,000 to 6,600 BC in the Neolithic Chinese village of Jiahu and winemaking dates from 6,000 BC, in Georgia, in the Caucasus Area. (source)
Our microbiome isn't what it used to be.
Thanks to current lifestyles and environmental factors that destroy our gut with any chance they get (glyphosate, etc.), our gut microbiome is not as diverse as it was a millenia ago, or even 70 years ago (basically since the inception of mass agriculture). However, eating fermented foods (it's good to shoot for the same ones our ancestors ate) can help steer us back in the right direction.
Luckily, many cultures' fermentation methods and traditions are still in use today, so we can cherish these original fermented foods recipes at home with our family and friends. Every culture has its own traditional fermentation recipes that range from dairy or vegetable-based to organ meats.
Here are some fermentation types by region: (source)
European: Sauerkraut, pickled cucumber, salami, prosciutto, kefir, and many other vegetable based and cultured milk fermented food recipes come from Europe.
Japan: Natto is a Japanese fermented food.
Thailand: Chiang Mai sausage (my personal favorite coming from Thailand.)
More Asian Ferments: kimchi, kombucha, miso, traditional fermented soy sauce, stinky tofu, tempeh, jeruk, amazake, rice beer
Africa: Fermented millet porridge, garri, hibiscus seed, hot pepper sauce, oilseed
Americas: Sourdough bread, elderberry wine, pickled vegetables, chicha
Middle East: Kushuk, torshi, boza
Worldwide: beer, wine, olives, yogurt
Fermentation is the original food preservation method. It's tried and true and those who hold on to their fermented food traditions are healthier because of it. My guess is that they were even more prominent in warmer regions near to the equator because foods in warm, humid climates go bad fast.
---
2. Fermenting Combats Today's War On Gut Health
Before the days of artificial sweeteners, high fructose corn syrup, MSG, trans fats, sodium nitrite, BHT and sulfites, we had salt, and we had fermentation methods. Why we've replaced fermenting with all these harmful food preservatives is beyond me…
Our world has never before been so hostile on our gut. Many environmental factors today serve to destroy our good bacteria and overall gut health.
What is ruining our gut health?
Pesticides from mass agriculture, fluoride in far too many products, chlorine and all the pharmaceuticals that leak in undetected in our water. These two are enough, but that doesn't include all the indoor air pollutants or hormone and antibiotic-stuffed meats.
All these things mess up our gut. Fermented foods come in to save the day.
Some fermented foods possess prebiotic fiber, something that serves as food to the beneficial bacteria in our gut.
Other fermented foods like kefir and yogurt have demonstrated probiotic capabilities and associations with reduced inflammation and improved gut health. (source)
---
3. Helps Replenish Gut Microbiota
The microbiome and its relation to the human body is described by the American Anthropological Association like so,
The human body contains approximately 100 trillion cells, of which more than 90 percent are microbial. These under-explored and mostly nameless microorganisms, collectively known as the human microbiome, weigh about as much as the human brain and harbor an immense diversity of genes that far exceed the functional capacity of our own genome, playing critical roles in digestion, vitamin production, drug metabolism, and immunity.
When a patient question came in on the Gut Microbiota Research & Practice blog asking if live microbes in fermented foods support gut microbiota, the short answer to this is, yes.
They explain how gut microbiota researchers have long observed colonizing microbiota as important to our health (source), but more so than that, they state that today's diets are "significantly lacking in live microbes" as compared to the diets of early man.
As to the why's and how's of this question, I'll quote direct from their article's answer as they've done their due diligence and research on this question about fermented foods and gut microbiota:
Dietary live microbes provide ongoing exposure of our alimentary canal to a fresh source of microbes. Many of these may not survive through the digestive process – our stomach and upper small intestine are harsh environments. But the ones that do survive, and components of the ones that don't, have the potential to interact with the host, impacting immune, neurological, and other host systems.
Dietary live microbes have the ability to positively impact immune, neurological and other host systems.
When you have thriving gut microbiota (I avoid the use of the word "thriving" because it's the latest, greatest, super trendy "healthy word" that everyone and their mom uses, but in this case it really is the proper term to use when referring to gut microbiota :), you are a healthier person.
How The Gut Microbiota Affects Our Health
Dr. Rhonda Patrick is on the cutting edge when it comes to gut microbiota. Her website is FoundMyFitness.com. This is an interview she did with "The Good Gut" authors, Drs. Erica & Justin Sonnenburg.
---
4. Fermented Foods & Mental Health
The gut-brain connection is real.
If you feel bad, sluggish, tired, or are generally unhappy, then look to healing your gut. Stress is bad for your gut, and so are all the environmental factors listed above.
Your mental health is directly related to your gut:
"As our knowledge of the human microbiome increases, including its connection to mental health (for example, anxiety and depression), it is becoming increasingly clear that there are untold connections between our resident microbes and many aspects of physiology."
If you are dealing with anxiety, chronic fatigue, depression and other mental health issues, focus on your gut. By taking care of your gut health, you will cross many potential causes of the issue off the list and find that you are feeling much better. This should be the first place you look (other than to the man up above, etc.).
One of the best ways to better your gut health and improve your mental wellbeing is to consume fermented foods daily. I won't go into fasting in this article, but intermittent fasting is another effective way to heal your gut and feel better. Fermented foods serve as more of a support system.
I'll finish off this 4th benefit of fermented foods with some gut-brain connection factoids. There are multiple online sources that have repeatedly shown this connection is real. It's no longer a pseudo-science mystery. The following information I found and summarized from a related article on PsychCentral.com:
Our intestine contains about 300 to 500 different species of bacteria that can be roughly divided into health-promoting ones, such as Bifidobacteria and Lactobacilli, and harmful ones such as Clostridia.
"Furthermore, a positive influence on nutritional status from fermented foods could lead to improved neurotransmitter and neuropeptide production in the brain."
Probiotic products refer to good gut bacteria. Live-cultured yogurt contains lactobacillus, a beneficial gut bacteria which has shown to reduce "anxiety and depression-like behaviors" under stress.
Antidepressants have an effect on your neurotransmitter called gamma-Aminobutyric acid (GABA). When healthy animals were given lactobacillus in one research study, the positive effects on GABA were similar to antidepressants.
Bifidobacteria is a beneficial bacteria in yogurt. This bacteria helps "maintain adequate levels of the neuropeptide brain-derived neurotrophic factor (BDNF)." This means that it helps you handle stress better as low levels of BDNF are often connected to people suffering from depression.
"Even mild chronic inflammation of the gastrointestinal tract can provoke anxiety and diminish BDNF production in animals"
It's no mystery after learning these things from research that combining good probiotics like lactobacillus and bifidobacterium and taking them can be great for mental health issues.
Compared to a placebo, studies showed probiotics can lower your stress hormone cortisol.
From stress, to anger, anxiety and depression, strengthening your gut through the use of beneficial gut bacteria (probiotics) found in fermented foods has shown time and time again to help with mental health disorders, both minor and severe.
---
5. Fermenting and Heart Disease
We've already learned how consuming fermented food affects intestinal microbiota. Here's an example of this in relation to heart disease.
"Fermentation-enriched bioactive peptides, derived from whey milk protein, may have anti-inflammatory effects and reduce high blood pressure." (source)
In an Ornish.com article on the potential of fermented foods on cardiovascular disease, they cite new studies that show numerous benefits derived from the fermentation process in these foods.
Disruptions in the fine balance of our gut flora can impact our immune system and contribute to immune disorders, obesity, heart disease, and even brain health.
While this article is has a negative outlook on meat, something I tend to not side with, it does highlight the fact that fiber-rich and fermented foods are very beneficial for the gut, and how this directly benefits our cholesterol.
Foods that are rich in fiber and are fermentable, which means non-digestible or undigested carbohydrates, will help to balance gut flora and reduce risk factors such as elevated cholesterol and obesity.
---
6. Supports Weight Loss
The weight loss benefit of fermented foods is one of simple math.
When you eat fermented foods regularly, you help improve your gut. When you improve your gut, you automatically will lose weight.
How so?
If your digestive tract is not well, your body won't be either. This will make it much harder to lose weight.
Weight loss is tied to inflammation. And gut health is tied to reduced inflammation. Pro-inflammatory cytokines are hormones that create inflammation that in turn signal your body's "fat triggers."
"Inflammatory hormones (pro-inflammatory cytokines) cause the cells of your body to become resistant to 'leptin' and 'insulin', the two most important fat regulating hormones. Anything that can reduce chronic inflammation helps address one of main causes of obesity." (source)
Fermented foods and probiotics are used now by more and more physicians, as they're getting hip to the fact that gut health should be a prime focus in our health.
There is something called "probiotic therapy" used for those suffering from obesity. And thus, fermented foods can be an integral long term weight loss tool when it comes to dealing with obesity.
---
7. Better Than Probiotic Supplements
Many fermented foods contain living microorganisms genetically similar to strains used in probiotics. Food is always better than supplementation in my opinion. And when it comes to probiotics, you need to choose quality.
Garden of Life make some great supplements. My wife is currently on their pre-natal multi because she can't swallow capsules. Her blood tests show all vitamin levels sufficient.
For probiotics, the only one I recommend is the one Dr. Rhonda Patrick recommends. She's the go-to expert when it comes to gut-health. And she's very adamant on this VSL3 brand. Therefore, if you are not willing to eat fermented foods for their healthy probiotics, then go for the VSL #3 brand probiotic supplement.
They're double the price, but they're proven to work. Here's a clip from Dr. Patrick's Instagram post on these:
"…the only probiotic that I have seen published data showing it improves gut health." – Dr. Rhonda Patrick
[amazon box="B0014R4RZW" template="horizontal"]
While brands vary, and efficacy is hit or miss with lesser priced products, probiotic supplements do help. However, fermented foods are so easy to make, you only need a bit to attain their benefits, and will save you a lot of money in the long run.
Along with the gut health boosting good bacteria and probiotics, fermented foods also provide you with metabolites and organic acids produced through digestion and fermentation of food you consume.
First of all, let's not get into the debate of whether or not probiotic supplements do anything. According to a well respected medical researcher, VSL3 are the most effective probiotics you can get.
If you're tired of spending money on probiotics then you'll be happy to know fermented foods are packed with all the beneficial gut bacteria that you'd get probiotics for anyways.
Let's take a look at these diverse fermented food probiotics in the table below:
Bioactive Peptides & Live Enzymes
There are more benefits of fermented foods that make them better than probiotic supplements alone. Along with the actual beneficial bacteria (probiotics), the fermentation process produces bioactive peptides, live enzymes and something called "end products."
These are just as beneficial and you won't get them via supplements. Here's a bit more on bioactive peptides. 
Bioactive peptides are generated during the fermentation process.
The functional aspects of fermented foods are mostly related to the concept of probiotic bacteria or the targeted microbial generation of functional molecules, such as bioactive peptides, during food fermentation. (source)
Many potential health benefits of fermented foods come from these bioactive peptides. They've shown "several interesting "bioactivities" related to health promotion." Here's a list of these beneficial "bioactivities" from Science Direct.com:
antihypertensive
opioid
antioxidant
immunomodulating
mucin-stimulating
insulin-mimetic
and antiosteoporotic
---
8. Fermented Food "End Products"
Are you a condiment person?
Maybe you enjoy salt? Ketchup (that's me)? Tabasco or Sriracha?
Well, fermented foods have their own type of self-generating condiment. But it's not a flavor enhancing one. It's a nutrient enhancing condiment and it's referred to as an "end product."
What's does that even mean?
The fermentation process creates more nutrients in food. Here it is properly explained in an article on PubMed:
It is increasingly understood that fermented foods can also have enhanced nutritional and functional properties due to transformation of substrates and formation of bioactive or bioavailable end-products.
There have not been many clinical studies on fermented foods which is not surprising, but the ones that have been performed give evidence to the fact that fermented foods provide a compound set of health benefits.
You have what you start with, the fermented foods. And then you have the end-products from consuming, digesting and then the further fermentation of the fermented foods just consumed.
From what I know, I believe these "end products" are a benefit that you do not get with probiotic supplements. If that's correct, then this is another point for eating fermented foods over supplementing with probiotic supplements.
---
9. Fermenting Is Cheap and Easy To Do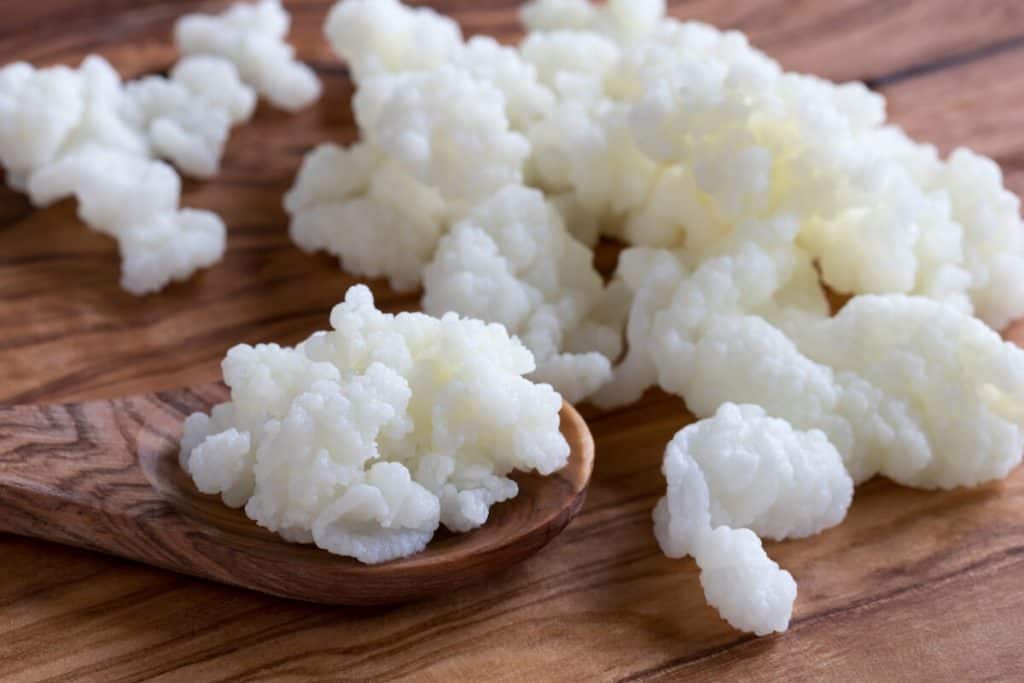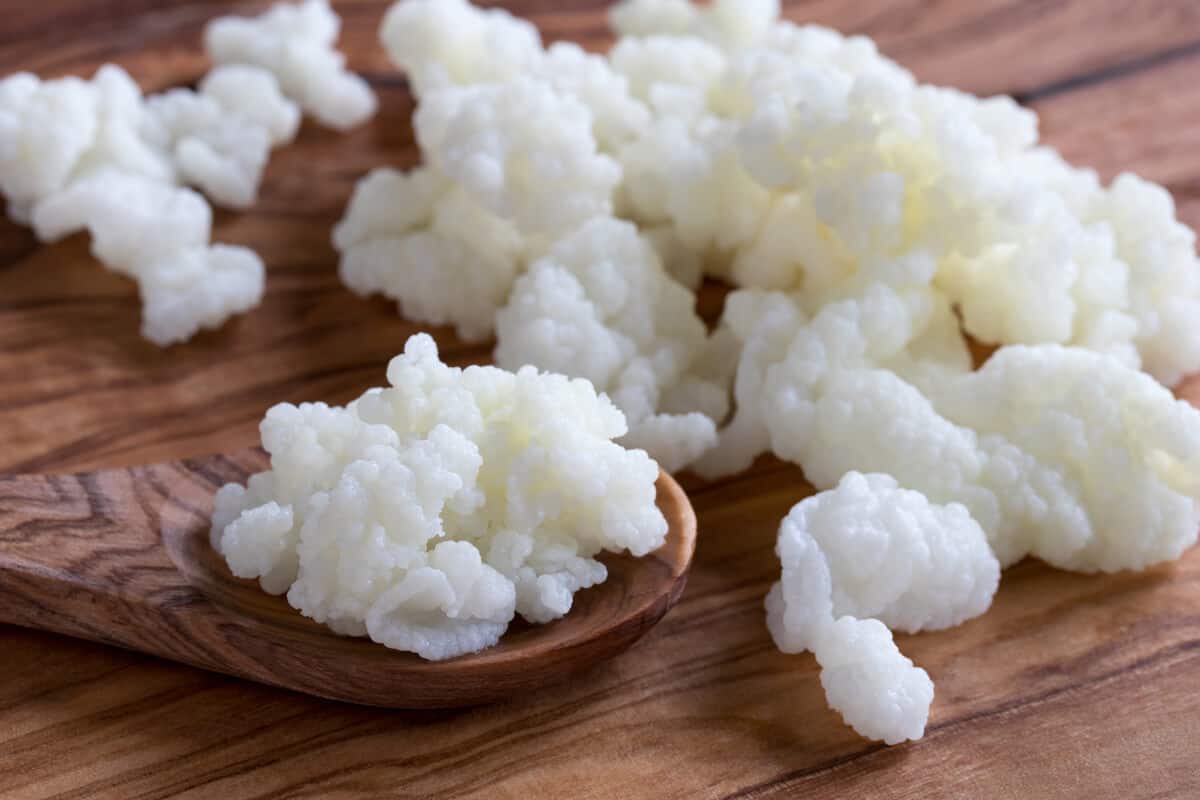 Fermented food products are not always easy to come by depending on where you live. But they're always easy to make yourself at home.
The best part is that fermented foods are one of those type of recipes that you can't really go wrong with, and you might actually do it on accident at times and throw out good fermented food unknowingly, thinking it's gone bad. (be careful though, oftentimes it really has gone bad. There's a fine and important line between safely fermented and moldy, toxic food).
Some types of fermented food are more difficult or time consuming than others, but they're all generally doable for the average non-chef person.
Kombucha might take a bit more preciseness in order to make it delicious (my first batch wasn't that palatable), but even kombucha is easy to make after you learn how you've attained your scoby mushroom.
The best fermented foods for gut health include many others than the usual bok choy or cabbage. You can ferment most foods. If you start fermenting now, in time you'll learn which are your favorites. I like fermenting mushrooms and putting them in my morning eggs and cheese breakfasts.
These are some factors to consider for the best fermented foods for gut health:
ease of making
length of time for fermentation process
fermented dairy preference
fermented meat preference
fermented vegetables
best tasting fermented foods
Many of the traditional fermented recipes according to region I shared above you may not have heard of before. Well the fact is that is just scratching the surface. In Thai culture alone, you will find pretty much everything is fermented. Right now in the fridge we have fermented bamboo, and most the time we have fermented mushrooms as well.
I will update this post with both those recipes.
And I'll take a picture of the fermented bamboo in the morning when the sun is up.
I will end this blog post with a couple easy fermentation foods to look into making…
---
Easy Fermented Foods To Get You Started
If you simply Google "easy fermented foods recipes" you will find many wonderful recipes from fellow food bloggers. It's such a great thing to start experimenting with.
Ling and I plan to keep exploring the wonderful world of fermented foods, so do come back in the future to see any new fermentation recipes we learned to make. You can sign up on the sidebar subscription form to get notified whenever we publish a new recipe or blog post :)
1. Sauerkraut – great starter fermented food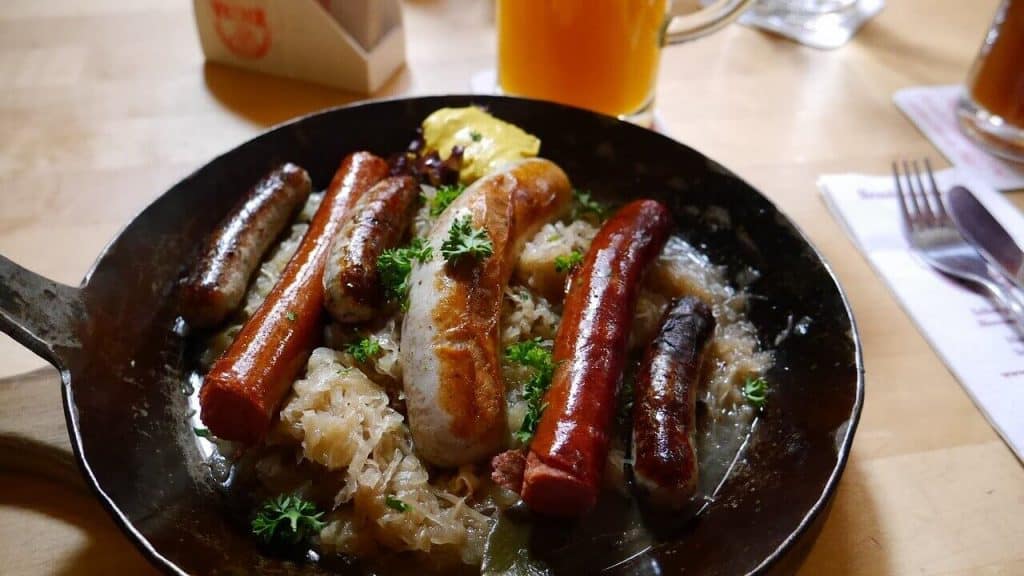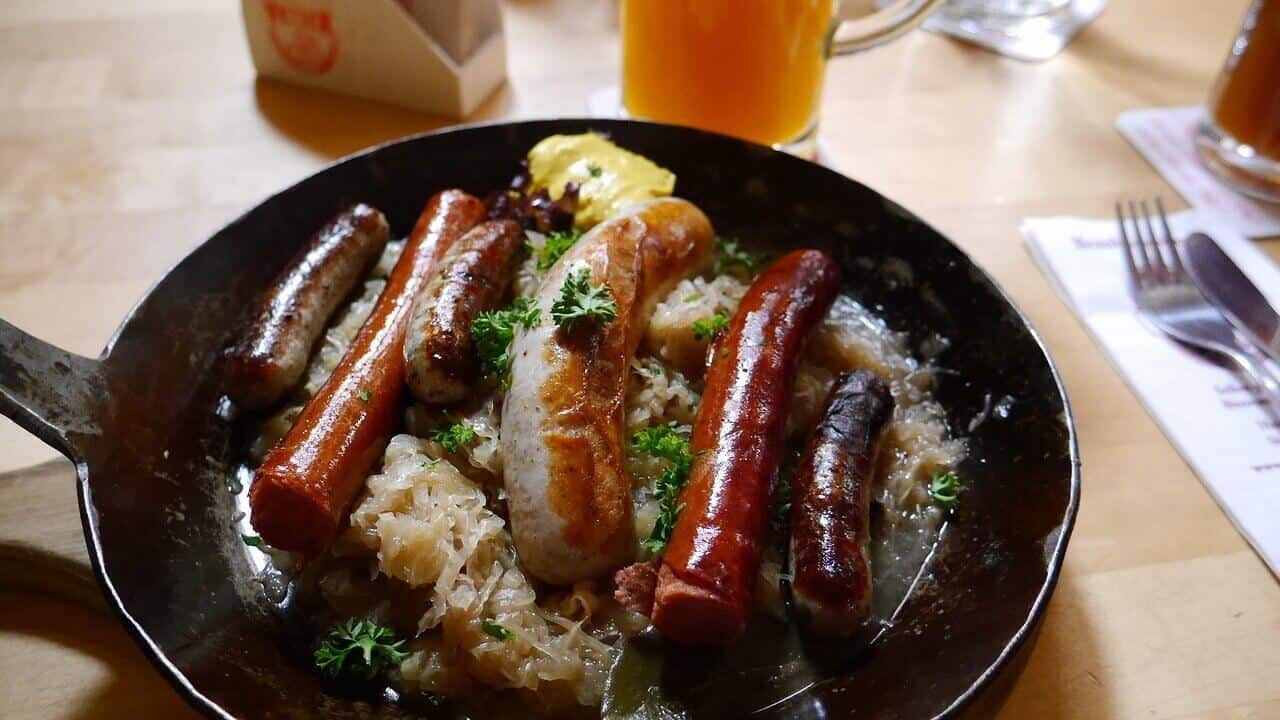 Let's look at one of the more well known fermented foods, sauerkraut (would you believe me if I told you I spelled that word correctly on my first try?)
Sauerkraut provides lactic acid; a natural antimicrobial that helps inhibit pathogenic bacteria. This quality is what makes it not spoil when left out on the table. Because its lactic acid inhibits pathogenic bacteria, when you consume it, you help yourself in the same way. It's truly one of nature's natural antibiotics.. although instead of wiping your gut bacteria out, both the good and bad, it just selects certain pathogenic bacteria strains and takes care of them for you  safe and effectively.
Free of most allergens: most people can handle this type of fermentation (histamine issues)
No dairy required at all to make it
Pairs perfectly with sausage and many meats. That's why it's used on hot dogs.
2. Apple cider vinegar, EVOO, honey & lime.
It's funny how things your mom teaches you as a kid come back years later and then stick with you forever. For me, a certain green juice and  this little gut health boosting trifecta that includes fermented Apple Cider Vinegar (ACV), lime, a dash of honey and extra virgin olive oil in a shot glass.
The honey makes it so you don't even need a chaser.
I never ever, ever, ever, ever thought I could do this. I really disliked ACV outside of using it as a salad dressing ingredient.
But sure enough, I can do this shot.
My theory behind this is that your body makes you accept things (or even like it) when it needs it. Since my body sings every time I take this fermented power shot, it also makes my taste buds accept it. Something I never thought would be possible considering I used to leave the kitchen every time a bottle of ACV was simply opened up.
---
CONCLUSION
Fermenting foods is the best way to preserve food. Before refrigeration we had salt, and we had fermented foods. We also didn't have so may autoimmune diseases. You can do the math.
Thanks so much for coming by the blog. Keep an eye out for more gut healthy posts as this is such a great thing to focus on. Your gut is the key to optimal health. And fermented foods in small amounts daily are sure to become your new go-to once you feel the difference. Do you have any go-to fermented foods you enjoy?
Up Next: 2 Natural Mouthwash Alternatives & Why You Should Use Them
Be sure to like us on Facebook and follow us on Twitter so you can be the first to know about the latest recipes and blog posts!
Related Reads:
Additional Food Fermenting Resources: