Keto meal replacement shakes will come in handy at one point or another in your ketogenic diet day to day life.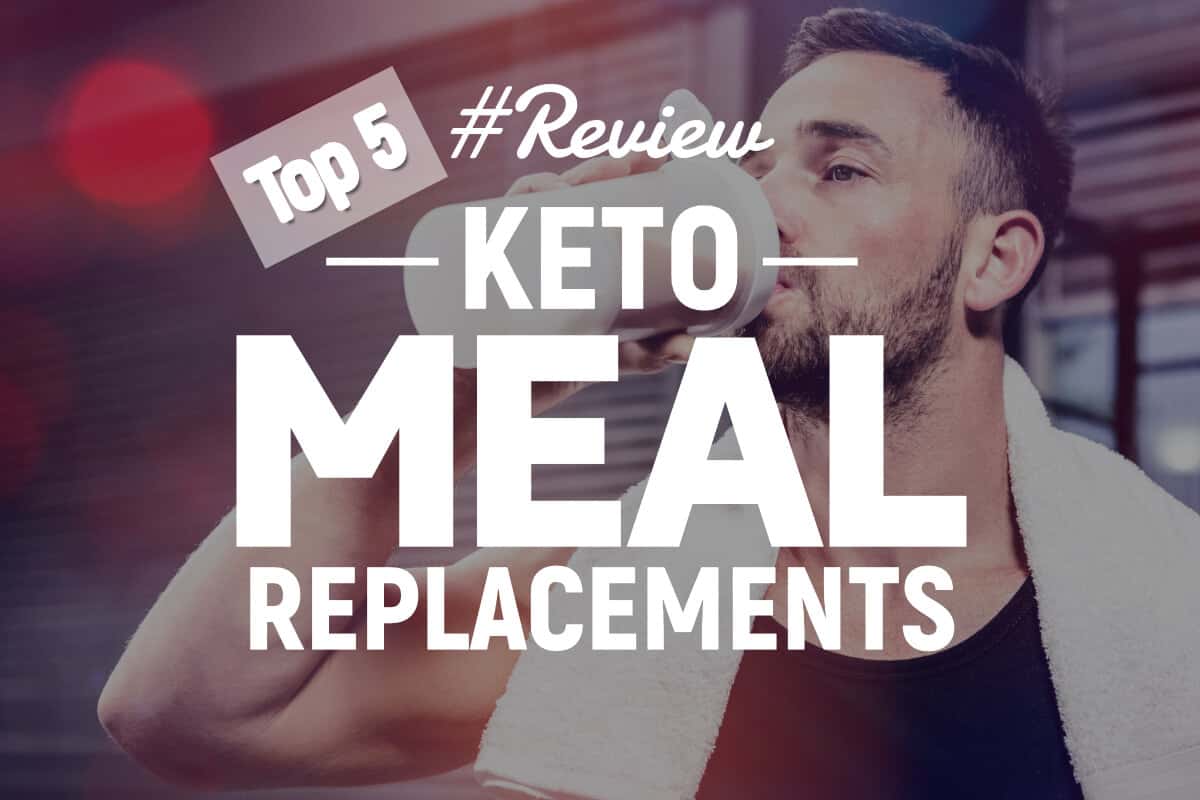 Chances are you have some days where the hustle and bustle is real.
You can't always fast, and you don't want to skimp on calories either.
So on these days where you need proper nutrition, yet it's just not easy to do since you're too busy, a proper ketogenic diet macros meal replacement powder, drink or shake can save the day without making you resort to fast food or anything from 711.
What makes great quality keto friendly meal replacement shakes?
The fat content (amount of fat per scoop or bottle).
And the fat source (quality of fat, whether plant based or animal fat).
The last thing you want are cancer causing trans fats, vegetable oils, fake sweeteners and more horrible added ingredients you can't even spell out.
In order to avoid being duped into buying a Soylent Green-esque keto drink, it's good to do some basic label reading and research before purchasing. And if it has 4 grams of fat per serving that doesn't count as a good keto powder either.
That's where this Top 3 keto shakes review comes in to help.
A good keto meal replacement shake will truly satiate and nourish at the same time.
There are plenty of low carb protein shakes that serve to satisfy your protein needs on the go, but if you're looking to buy a keto meal shake for times of need throughout your weeks, all 5 on this list are worthy options full of good quality fats.
---
5 Best Keto Meal Replacement Shakes of 2023
As we tackle our 2023's goals, these low carb meal replacement shakes can help power you through them. These are the best that I can find out there in terms of quality and fat content.
The best part is that they're not part of any locked-in MLM pricing structure that will make you battle your CC company just to get out of some hidden contract. No, these you can just buy one-off and be happy that you have a keto on the go backup plan for times of need.
---
How These Keto Shakes Are Ranked
Ingredients: The ingredients used and reputation of the company.
Fat Source/Quality: Grass fed animal sources or high quality plant based sources.
Carb Count: Net carbs are the end number to look at for in a low carb meal replacement.
Price: Price and value per serving. I give this one the least weight with a preference on quality over value.
And so with that, let us review the best 3 keto meal replacement shakes for 2023.
---
#1. Ancient Nutrition KETO FEAST (Chocolate)
5/5
Highlight feature: Probiotic and Enzyme blend
Ancient Nutrition KetoFEAST takes the #1 spot on this list because of its quality ingredients and because out of all the keto meal shakes out there right now, this one has the highest amount of fat per scoop at 20 grams each.
KetoFEAST Chocolate Keto Meal Replacement has 15 servings per jug. It has a ton of fat, plus a gut healthy probiotic blend, making it the best value purchase as well.
The Specs:
One 48 gram scoop of the keto mix powder has 20 grams of fat. You get 15 servings of 20 grams of fat. That gives you around 300 grams of fat within each large canister. Additionally, each scoop has 17 grams of protein.
Each serving contains:
20 grams of fat (7 saturated)
17 grams of protein
5 grams of carbohydrates (3 net grams)
Highlight Ingredients:
Some of the best ingredients it has that all the others do not are bone broth, tiger nuts, fermented herbs, probiotics, live probiotics, ACV, and Reishi mushroom, MCT's, Ashwagandha root extract and many other wonderful ingredients. It's definitely one of the best keto meal shake powders available in my opinion. You can see the full list of ingredients on the listing and pictures of the product.
Ingredient Quality: Formulated by Dr. Josh Axe and well-known author-Keto'er, Jordan Rubin
Caffeine: 50mg of caffeine per serving with coffee cherry extract
Special Blend: Unique nutrient dense choices of ingredients
Value: 20 grams of fat per scoop
Gut Health Blend: Live probiotic and enzymes and prebiotic blend
Non-GMO and grain, soy, dairy free
Ancient Nutrition KetoFEAST (15 Servings…
FIRST OF ITS KIND, KETO-FRIENDLY MEAL REPLACEMENT: KetoFEAST is proverbial ìfeastî for the keto dietóa delicious shake and meal replacement…
ESSENTIAL: KetoFEAST Chocolate provides key nutrients the body needs to get in the ìketoî zone, including 17 grams of real whole food bone…
SUPERIOR QUALITY: A delicious, convenient meal replacement drink that is free of dairy, grain, gluten, soy and is non-GMO, KetoFEAST Chocolate…
FAST RESULTS: Easily and smoothly mixes or blends into a keto ìmeal-on-the-goî shake. You can help get yourself into the ìketoî zone with…
TRY IT RISK FREE: Buy with confidence when purchasing exclusively from Ancient Nutrition. Click the "Add to Cart" button to give KetoFEAST…
Taste: there are mixed reviews on the flavor. Some say it's super delicious. Others say it's gross. Luckily there is a vanilla flavored one as well. However at the end of the day, you need something that works. This keto shake works and blends well. You may find it very enjoyable like many others.
---
#2. Ketologie Chocolate Keto Protein Shake (chocolate, vanilla & strawberry)
5/5
Highlight Features: Value + Raving reviews from hundreds of happy keto dieting customers
Ketologie's Keto Protein Shake can easily be #1 on this list as well. The value and keto ratios within this jug make it a #1 choice for your keto meal shake replacement needs.
The only reason it's #2 is because of the superior mix of ingredients KetoFEAST contains in comparison. However, Ketologie is up there as well. Its ingredients include coconut oil, hydrolyzed bovine collagen, and dutch cocoa. It's not quite as an exotic blend, but that is why I love this one too. It has a solid set of a handful of ingredients that are high quality and you get the most bang for you buck along with it.
It seems chocolate is the go-to flavor for keto meal shakes. Ketologie joins the club here with this keto meal replacer powder.
Sweetness factor: It's erythritol based where for sweetness KetoFEAST has a slight amount of real sugar for sweetness instead of erythritol.
The Specs:
450 grams of fat per 1080 gram container.
At 25 grams of fat per 2 scoop serving, you get 450 grams per canister. This is easily the very best value of all the keto meal replacement shakes out there. While 2 scoops of the KetoFEAST gives you 40 grams, its serving size calls for just 1 scoop. This one is formulated to have 2 scoops per serving and lasts much longer than KetoFEAST does with 150 more grams of fat and 3 more servings per container in comparison.
Each serving contains:
25 grams of fat (22g saturated)
14 grams of protein
14 grams of carbohydrates (7 net grams)
Quality & Quantity: You get value and quality here with 450 grams of fat per container. The best value of all quality keto meal shakes I've seen available online.
Sugar Free
Great customer feedback
Perfect keto ratios
No Carbs
Non-GMO
3 Flavors: If you don't like the chocolate, you can go for strawberry or vanilla. There's no wrong option!
I see no cons with this one.
Ketologie Collagen Keto Shake (Chocolate) -…
☑️ Chocolate Keto Protein Shake – 38.1 oz – 14g Protein – 0g Sugar – 0g Net Carbs – 25g Healthy Fats
☑️ Ingredients: Organic Erythritol & Stevia, Cocoa, Type I & III Collagen Peptides, Coconut Oil Powder, Sea Salt
☑️ Perfect For Work & Home – Ideal For Pre & Post Fitness Routines Exercise Or Sports Activities
☑️ Nutritional Gourmet Ketogenic Snack – Help Maintain Daily Ketosis Balance – Naturally Sweetened
☑️ Love Coffee? – Use One Scoop Of Keto Shake And Add To Your Coffee For The Perfect Keto Creamer
---
#3. KetoLogic Ketogenic Meal Replacement Shake
4/5
Highlight Feature: The biggest, longest lasting keto shake out there.
KetoLogic Ketogenic Meal Replacement Shake offers a long lasting low carb weight loss shake. The largest container holds 20 servings, each containing 13 grams of fat. In terms of value, KetoLogic tops the previous two on the list. Although it has more value in servings and scoops per container, the added ingredients list gets a bit long.
The Specs:
KetoLogic has great keto macro ratios. And although it made the cut for fat content per serving, it still doesn't have enough to serve as a true keto meal replacement.
Each serving contains:
13 grams of fat
7 grams of protein
4 grams of net carbs (total carbs minus fiber)
Keto macro ratios
Taste
Customer reviews
Main ingredients: Grass-fed whey protein, MCT oil creamer, and the coconut oil creamer.
Ingredients: The list of ingredients is long and ideally can skip a few of them like the "natural flavors" and the milk protein isolate.
Not enough fat: Each serving only has 13 grams of fat. A true "meal replacement" for the keto diet should have more than that in my opinion. It doesn't have double the serving amount while being almost half the size of fat per scoop as the prior 2 which means that it's more of a keto snack to fill in the gap on days you need to top up in between your meals.
KetoLogic Keto Meal Replacement Shake with…
CONVENIENT AND DELICIOUS: KetoLogic Meal Replacement (MRP) is a convenient and satiating fuel source for anyone, including those on a low-carb or…
PROMOTES FAT LOSS: KetoLogic MRP contains MCT (medium-chain triglycerides) which promote weight loss and fat oxidation while boosting your…
BOOSTS KETONES: Highly ketogenic, KetoLogic MRPs help you get into ketosis when accompanied with a low-carb diet.
SUPPRESSES APPETITE: KetoLogic MRP decreases your appetite and keeps you full and satiated for hours. Replace your breakfast or lunch with one of…
---
---
The Keto Shake Winner: Ancient Nutrition KetoFEAST
Because of its unique blend of healthy ingredients, and trusted purity of ingredients, KetoFEAST is one of the best keto shakes you can buy. Just one 48 gram heaping scoop of the powder gives you 20 grams of fat. 7 coming from saturated fats.
With all the others, a single scoop gives you just over 10 grams of fat.
While the reviews are not as plentiful or raving for Ancient Nutrition's keto shake, I'm sure over time that will change.
Ancient Nutrition, outside of their cool brand name, make the best keto meal replacement shake out there right now.
Besides this one, all five on this list are on the list for a reason. Even the least ranked one here is good. These 5 low carb meal replacements are 5 of the very best. Some have more fat than others.
Some have slightly better ingredients. And some are better priced. But all here are good options.
---
Bonus:
2 More High Quality

 Keto Friendly Meal Replacement Shakes

These three below are great options as well.

The Garden of Life keto mealshake is the most intriguing of these and actually, I might put that one in the top 5 after I try it. I There is not enough data on it to see how it really tastes, but the ingredients are high quality. Garden of Life is a good brand. I'd give this one a shot too.

Ketond didn't make the list because of a few complaints about the taste, more than the ones on the top 5 list. But it still looks like a quality keto meal replacement with good fat content, so I put it down here to make note of it.
---
Conclusion: Best Keto Shakes Of 2023
A keto powder or meal drink should have FAT in it.
If it has just a few grams of fat per scoop, it's not a keto meal replacement shake.
Often you will see "keto shakes" touted as meal replacements.
They're not really meal replacements if they only have 4 grams of fat per serving. If you're on a keto diet, you need fat. These serve as nice snacks if they're low carb and nutrient-dense, but for true keto meal replacements you can start with the ones on this list or others that have similar keto macro ratios and plenty of fat.
---
Thanks for coming by our blog!
If you have any questions, comments, suggestions or corrections, please let me know! You can contact me here, or simply leave a comment below.
UP NEXT: The 6 Best Exogenous Ketones of 2023
Related Reads From Nutrition Adventures: